These cupcakes are for all those people like me who are really not all that awesome at baking but love creating fun goodies. I was cruising down the Halloween aisle at Michaels when I spotted these creepy skeleton hand cupcake toppers. Have you seen these and been tempted? How could I refuse? I was planning on making a slew of cupcakes to try out different creep-tastic ideas anyway. You'll have to excuse me, I totally have a sugar rush right now. Just indulged in another one of these before attempting to share.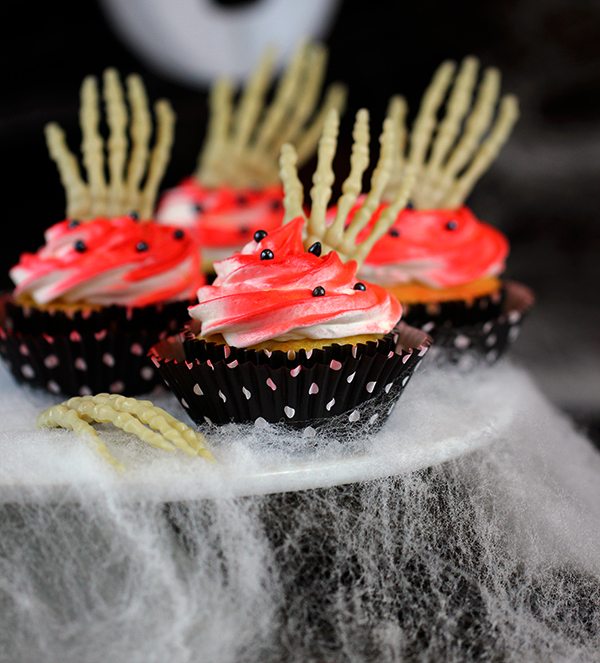 Totally not planned, but I had just finished baking my cupcakes last night before the season premiere of The Walking Dead came on. What timing and how fitting. These could be an official Sunday thing? Why only reserve them for Halloween? Sounds like a plan to me! Did you catch the show? I might be more addicted to it than ever. If that's possible! No worries, I shall not be posting any spoilers here. You definitely need to start from the beginning and zombie crawl your way through the entire series on your own. Just make sure to make some groteque treats to consume while you're doin' it.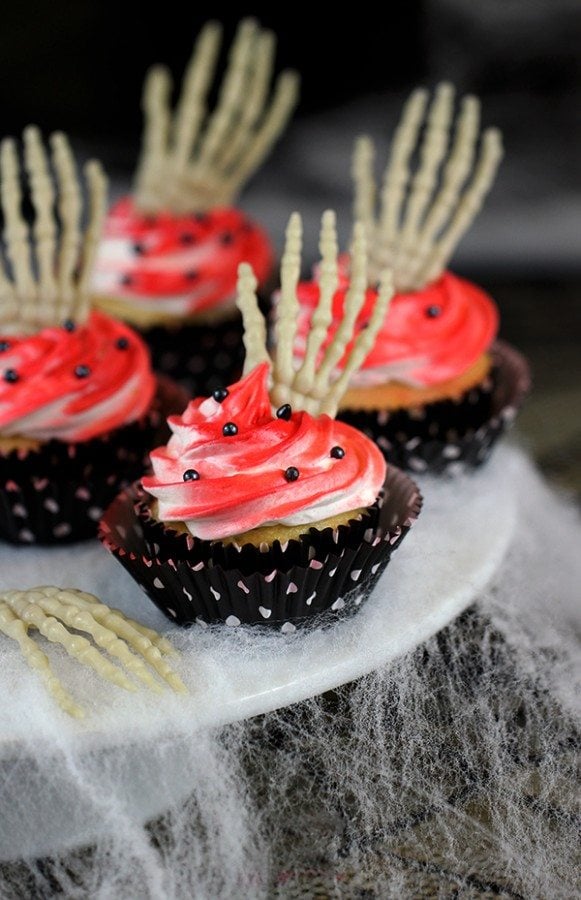 Now back to these Halloween cupcakes that are ever so easy to make. As promised.
Undead Skeleton Hand Cupcakes
Here's what I used to make em':
1 Box White Cake Mix - Prepared as directed for 24 cupcakes (hey make sure to use only egg whites per the directions)
2 Containers White Frosting
Skeleton Hand Cupcake Toppers (The ones I found are "Celebrate It" brand sold at Michaels and are sold in 6 packs.)
Wilton Color Mist in Red
Wilton Polka Dot Cupcake Liners ( I got mine at Kmart)
I made 24 cupcakes using a box of cake mix, you could use any flavor you'd like. After baking, I used a Wilton Dessert Decorator with a star tip to frost the cupcakes. You can frost them any way you're un-dead heart desires. Then to add some gruesome color, I used the Wilton Color Mist. I've been dying, get it.. dying to use their mist. I love it! Just spray on! Let it set until it dries before adding your sugar pearls. I noticed that some of them got melty when I put it on the wet coloring.
And, that my friends is it. Easy, right? Before you go running off to make your own, check out these bloody s'mores!
Have you made Halloween cupcakes before? Did you tune in to The Walking Dead's season premiere?