Today was the absolute perfect autumn day here in little Rhode Island. We watched our football team and spent time walking at the park surrounded with beautiful foliage. I am seriously hoping this weather lasts, keeping my fingers and toes crossed. With the cooler air, I'm totally getting into the Halloween mood big time. I decorated a bit this weekend, put a pretty little pumpkin outside our front door and got to making some spooky treats in anticipation of the most haunted day of the year.
Last week when I was trying to find the perfect icing to use to write on cookies with, I ended up with few that just didn't work. When I tried using Wilton's Red Cookie Icing, it really looked like fresh blood. Since I'd been making some other S'mores treats recently, I had extra graham crackers, marshmallows and Hershey chocolate. Ding, ding. That's when the idea for "bloody s'mores" was born.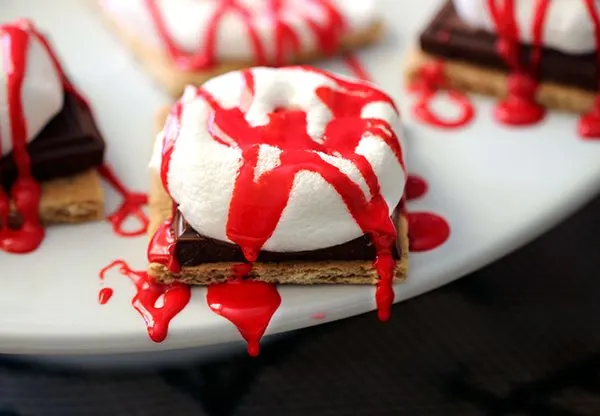 It's so seriously easy and creepy all at once. After warming up chocolate and a marshmallow topped graham cracker in the microwave, all I did was drizzle the cookie icing on top. Oozy, gooey, sweet... blood. Don't be fooled by the gross factor, the cookie icing totally made these extra yum. Plus, you get bloody fingers when you eat them. Don't tell anyone, but I accidentally got some on the bathroom door when I was going to watch my hands after eating one. I'm totally going to leave it there until someone notices. Hoping to give them a little scare. Ha! I'm evil.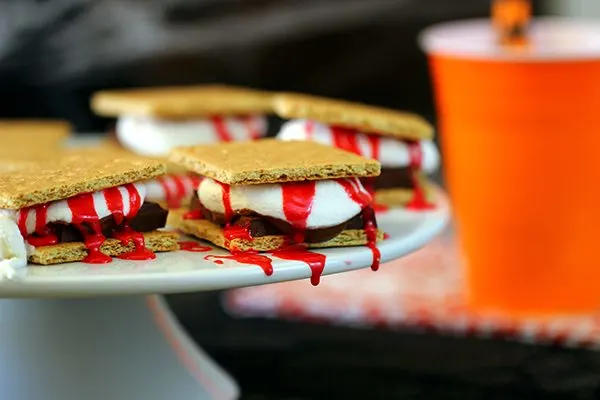 Want to make your own creeptastic S'mores?
Bloody Halloween S'mores
Here's what you need to make your own:
*Graham Cracker Squares
*Marshmallows
*Hershey Chocolate
It's simple. Just melt (2) chocolate squares and one marshmallow on top of ½ a graham cracker. You can do this in a microwave for just a few seconds or in an oven. Cool for a moment and drizzle the red cookie icing on top, the more the better. Top with the other ½ graham cracker and serve.
See? Easy and gory at at once!
So, what are your favorite Halloween treats to make or eat?