Can't believe there is only three weeks until Halloween! How did that happen? Time to start getting a little excited and festive. Isn't it funny how we enjoy getting all creepy? I mean any other month of the year if I stumbled on a faux graveyard scene or a rogue bloody limb, I'd probably lose it.  You'd hear my screaming from another state. I mean Rhode Island is small and all, but trust me my screech would be heard from afar.  This is a sponsored discussion as part of the Kmart Ambassador program, all opinions are my own.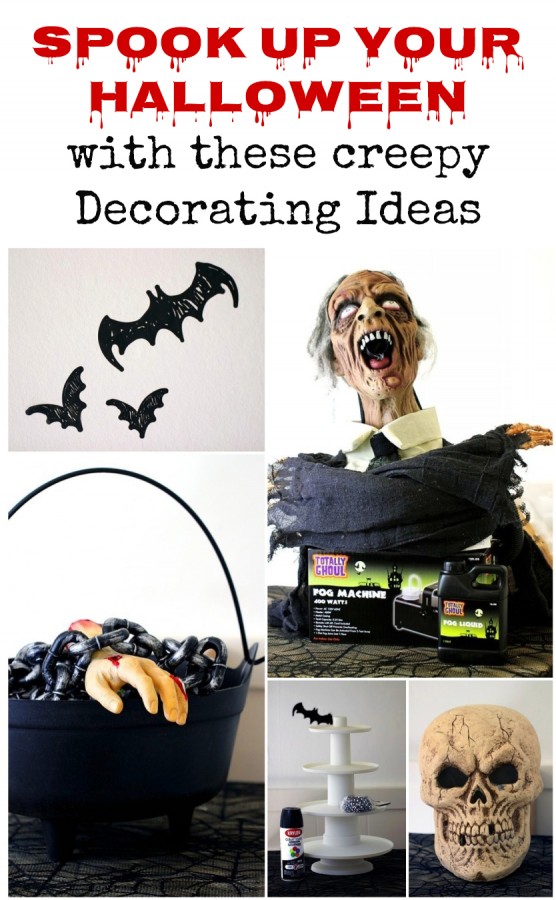 But, on Halloween, we invite in the ghouly, grotesque and gory stuff and it's all in good fun.  We're a peculiar bunch, but I wouldn't have it any other way.  I had a chance to shop at Kmart to check out all of the horribly awesome Halloween goods. Let me tell you, I found some eerie stuff that will horrify for sure! Are you ready to BOO up your holiday with me?
5 Creepy Ideas to Decorate for Halloween
Let's not do a countdown, lets just get straight to the most freaky thing that I found.  Brace yourself, this is scary!
1. Fog Machine. Halloween just wouldn't be the same without that fog. It just makes everything more wretched.  But if you want to add on to the chill factor,  check out this guy that actually attaches to the machine and blows fog out of it's mouth. It also makes awful noises that will make your blood curdle. Eek. For. Real.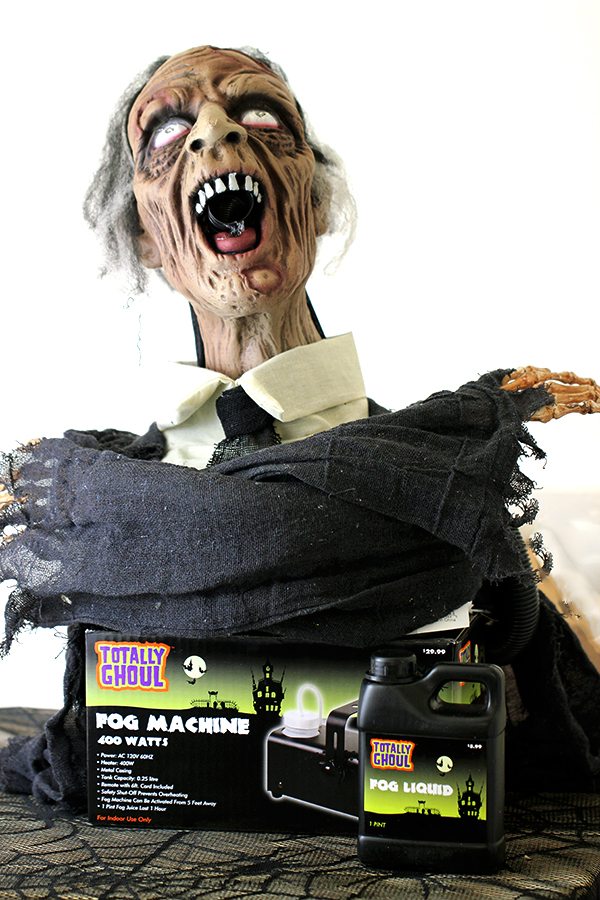 2. Spooky Wall Decals –  It's so easy to make your home a creep-fest by using wall decals. I found that Kmart has a ton of them and they are very inexpensive too. I found a variety for $3 and $4 a set and they come with a lot.  My favorite find were the bats, it came with a set of spooky letters that reads "Be Afraid". Ahhh!
3. Cauldrons –  Halloween just wouldn't be complete without a cauldron brewing up something terrible. I found one that would be perfect for having a limb hanging out of it or some completely rotten treats or festive beverages ready for serving up to a party crowd.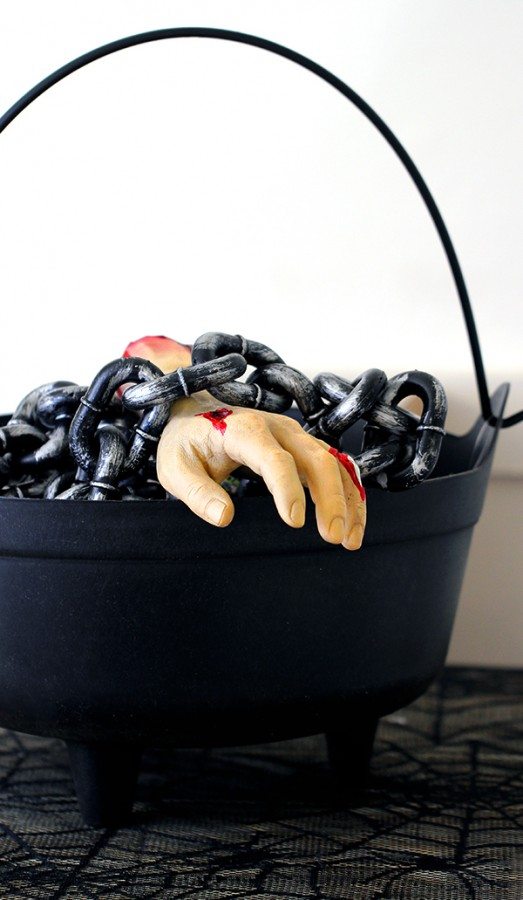 4. Creepy Treats –  No celebration would be complete without complimentary goodies.  I've come up with a really fun idea that I can't wait to share. I found this awesome cupcake serving tray, I am going to paint it black and spatter it with blood (or just red paint, ha). Then, I'm making black on black cupcakes.  Easy, but everything you need for Halloween can be found right at Kmart and that includes baking ingredients too!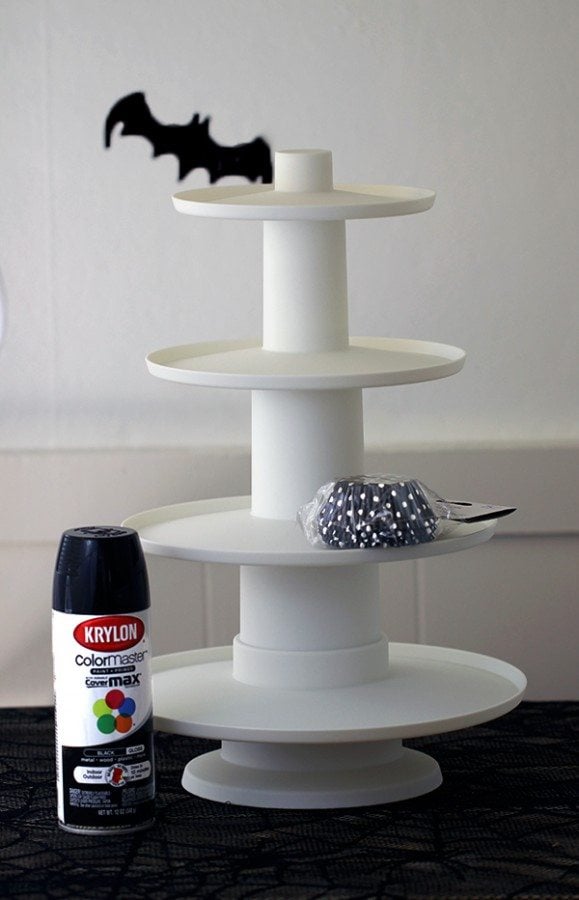 5. Skeletons and Skulls –  Seriously, no spooky soiree is complete without them.  What better way to freak people out than with bones? I scoped out this huge creepy skull, it's battery operated and the eyes light up and change colors with LED Lights.  It's a one way ticket to creep-ville for sure.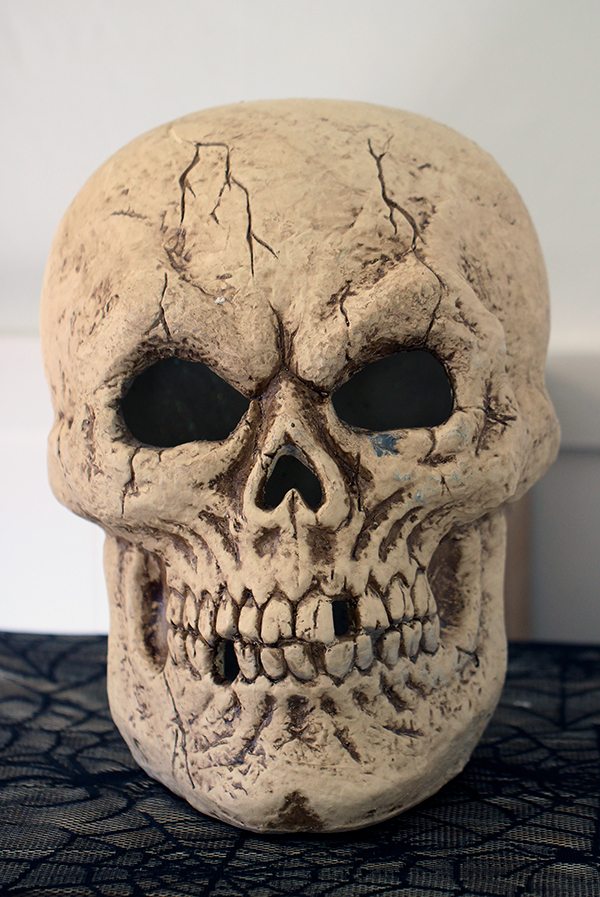 Can't think of one creepy thing on my shopping list that I could find right at Kmart. From spooky eats, to home decor (inside and out) that will scare your pants off, all the way to a huge selection of Halloween costumes.  I just have to mention that Kmart also has a new line of costumes that offer 3-in-1 styles for the price of one!  This means your kids can have something different for all of their Halloween activities. Um, creepy and clever much?
Busy? Don't forget that you can shop Kmart.com online and then use their pick-up in store service.  You can pick your your order, it's so convenient!
Hey. I have disturbingly cool news for you! Make sure to come visit me next week to see how I'm planning a Halloween party this year because (you love me and) you can enter for a chance to win a $200 Kmart Gift Card!  Eeeeeeek!
Do you decorate your home for Halloween? What are your favorite ways to creep your family out?