Nothing says "it's party time" better than candy! No matter what the occasion, a DIY Candy Buffet will delight your guests of all ages. You can create your own whimsical candy bar easily with my budget friendly ideas. Stretch your party budget when you shop at Family Dollar for your favorite candy. Take advantage of their $1 Wow candy such as Jelly Beans, Sour Neon Gummy Worms and Gummy Bears! This post is sponsored by Family Dollar.
I've always loved party planning, but it can be pretty expensive to host. Decorations and food costs add up really fast without a shopping plan. With some creative thinking and DIY ideas can help to shave costs down substantially. A trip to Family Dollar is a must. Let's get into some ways to make a gorgeous party spread using all of these helpful party hacks.
DIY Candy Buffet
The party aisle is one of the first sections that I visit to get party ideas. Let's chat about DIY party decor first. One of my favorite money savers is purchasing gift wrap and using it to decorate. I absolutely fell in love with this pretty rainbow wrap that I found for a great everyday low price at Family Dollar. It's perfect to add a lot of color to a candy party while staying on budget. To start creating your party table, wrap a poster board with your choice of matching wrapping paper and hang it above the center of the table for an instant pop. You can also wrap empty boxes with the matching paper to add more levels to your party table. I did this and used a small windmill to add another cute touch to my table.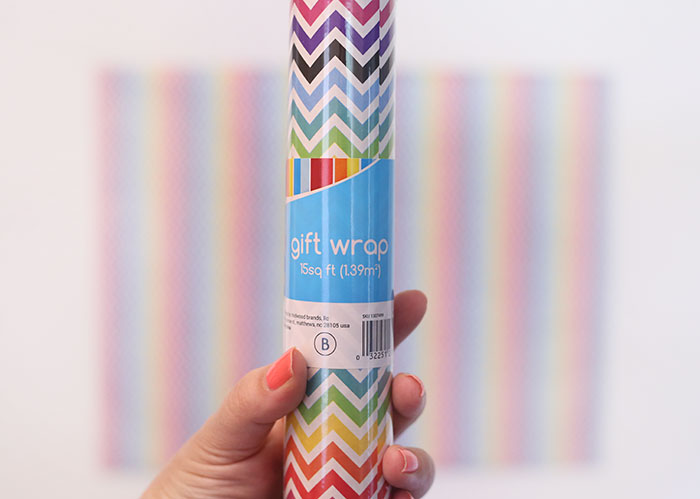 Balloons and banners, oh my! Make a big statement with balloons. Family Dollar offers a variety of balloon color options that I love. I found the perfect color combination for my party that includes pink, blue and purple. To make a really big presentation, I used a variety of balloon sizes and taped them above my party table. It came out so whimsical! For more special touches to take your party over the top, you can use construction paper to make any sized matching banner. I added a mini banner on top of my wrapped poster board to give the look a little extra something.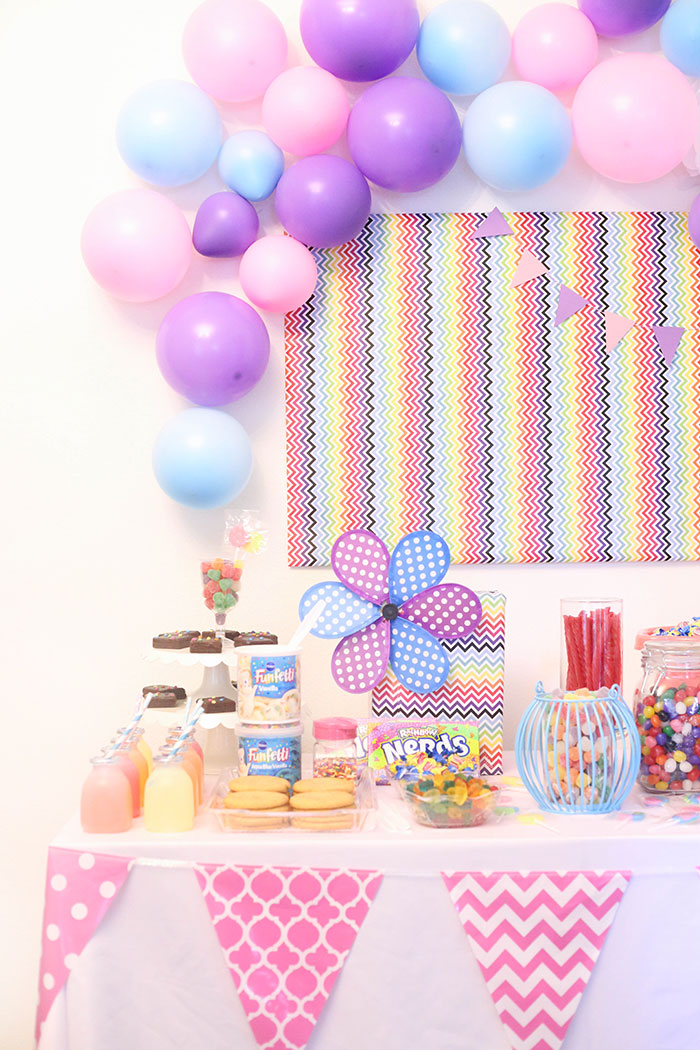 When it comes to filling up your candy buffet with all the best treats, Family Dollar definitely has you covered. From all of your classic favorites to their signature brand $1 Wow offerings, you'll get your sweets fix in no time.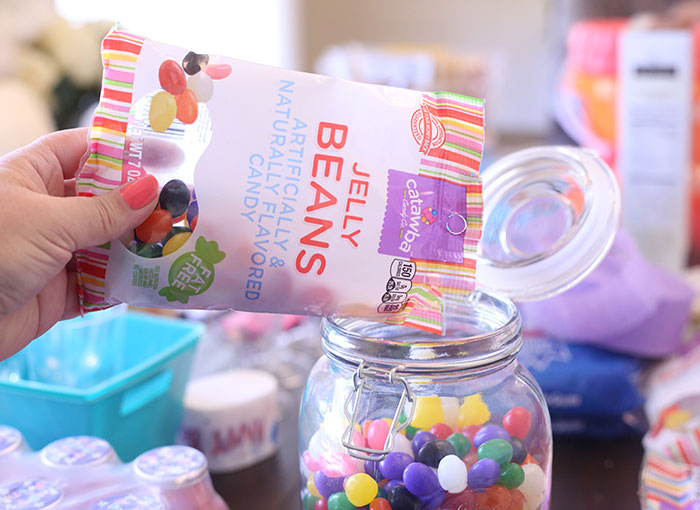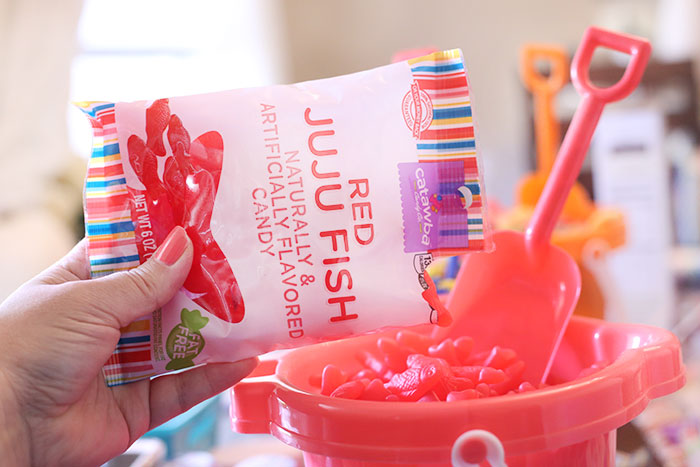 There are so many out of the box ideas for serving up a candy buffet on a budget when you shop at Family Dollar.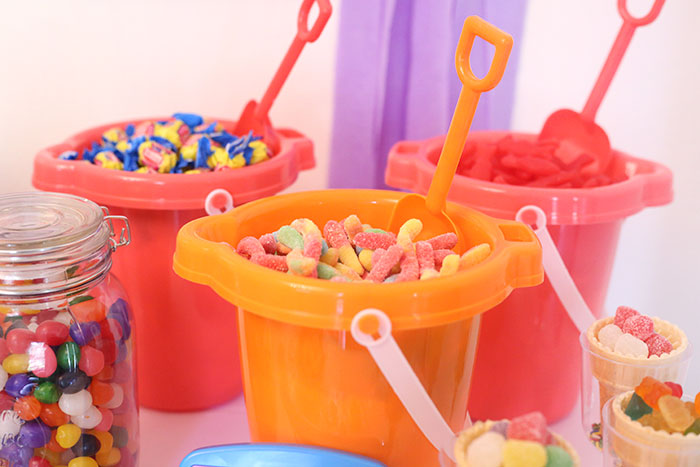 I used a variety of mason style lidded jars, pretty candle holders and mini sand pails with shovels to serve my candy in.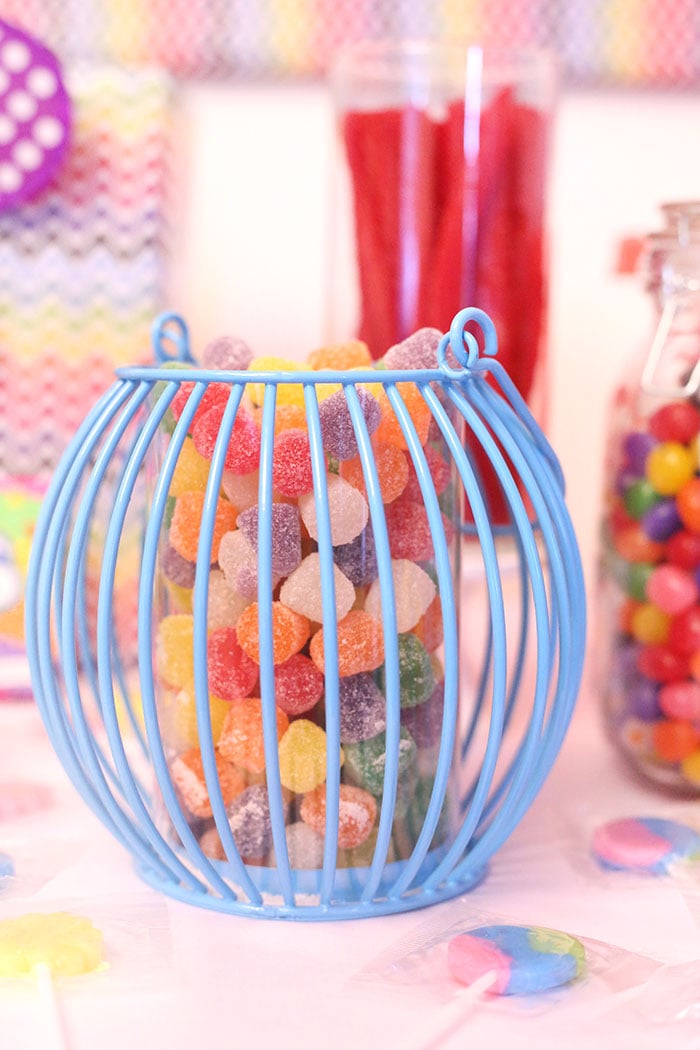 Add more fun to your party by using mini sketch toys as signs.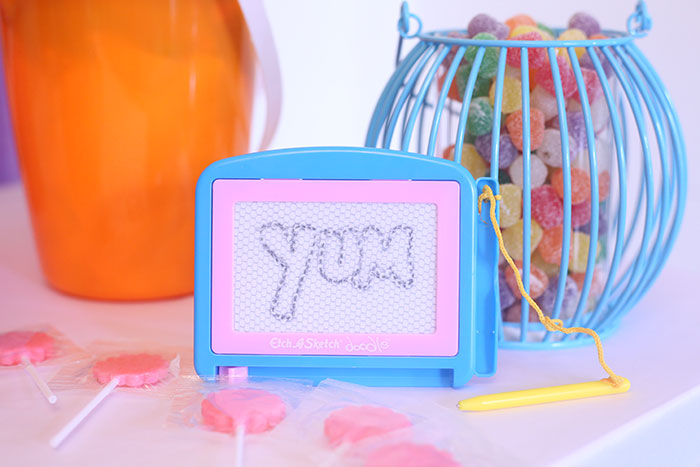 Take your party over the top by adding your own creative twist. I used these tall plastic cups to hold ice cream cones with even more candy inside. Adding sprinkles to the bottom of these cups makes them extra pretty.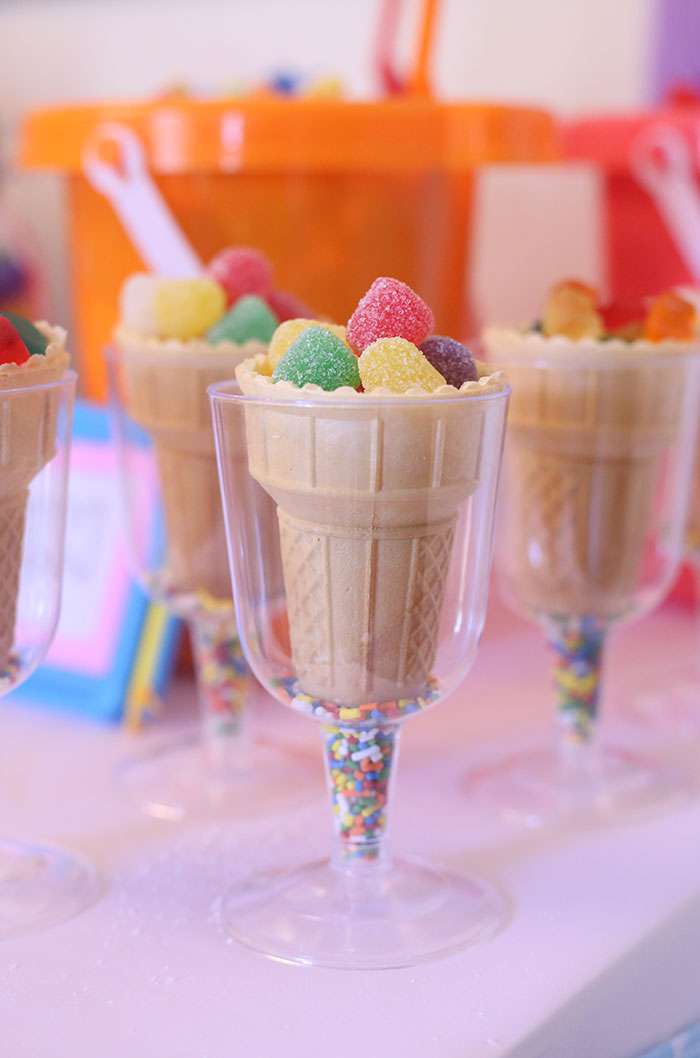 If you want to add some more treats and drinks to your candy buffet, I loved Cosmic Brownies because they have pretty colored sprinkles on top. I also added a section with DIY cookie decoration. Just add frosting and sprinkles and your guests can add candy on top, too.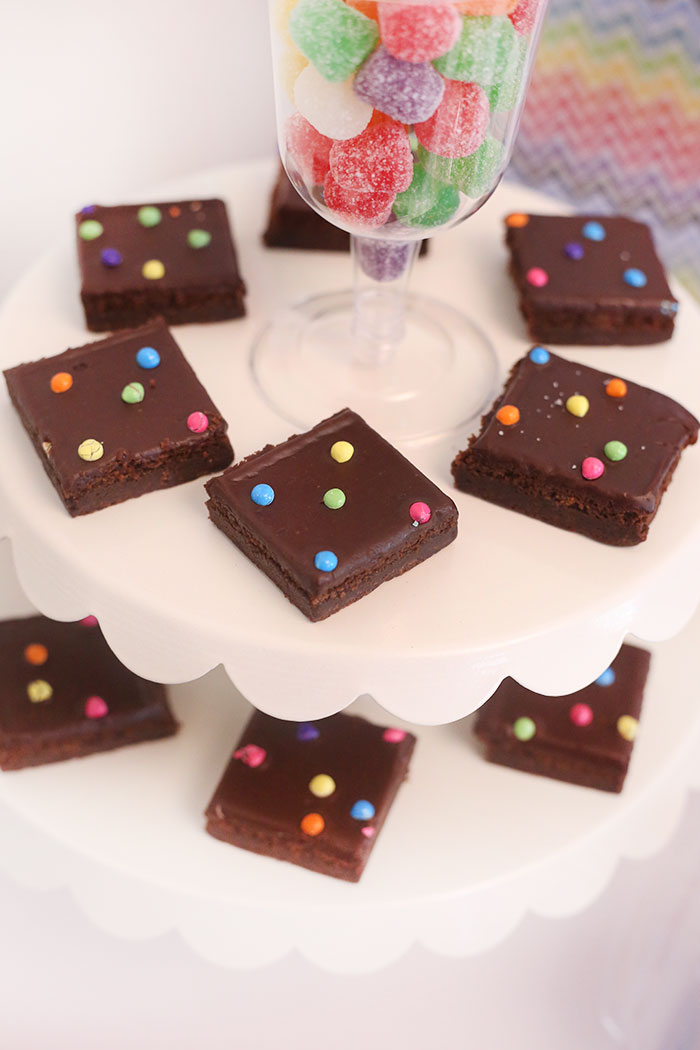 A multipack of fruit drinks added a nice bit of color to the party spread.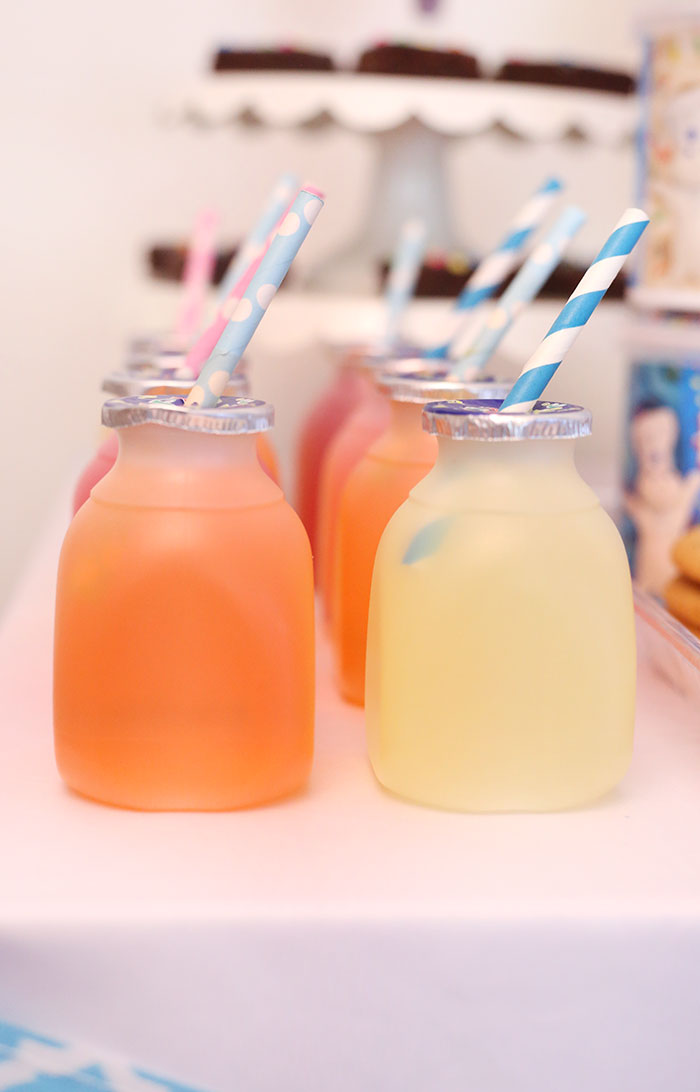 And, that's a wrap. I hope my candy buffet ideas have inspired you to have some fun of your own... and most importantly, save on your next party by shopping at Family Dollar.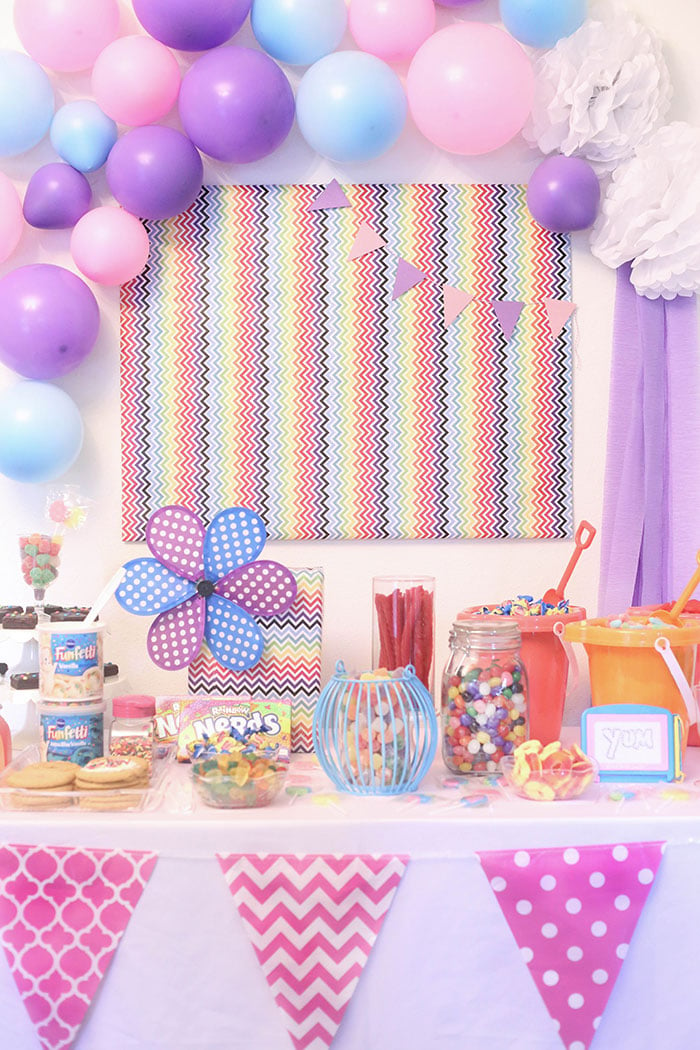 Are you ready to plan your next party?
When are you hosting your own candy buffet?