Halloween is almost here and I finally decorated some pumpkins. I've actually had this idea for nearly a month and never got around to it. Well, better late than never! This was my first time spray painting pumpkins and I have to say it was FUN! I've been busy cooking up Halloween recipes and ideas, it was time to get a little crafty.
Here is what I used for two different spray painted looks. I used a bright gloss orange color in Rust-Oleum Brand and then a gold glitter made my Krylon. Both were purchased right at Walmart.
The glitter spray paint? So cool, I can't wait to use it again… what to spray up next?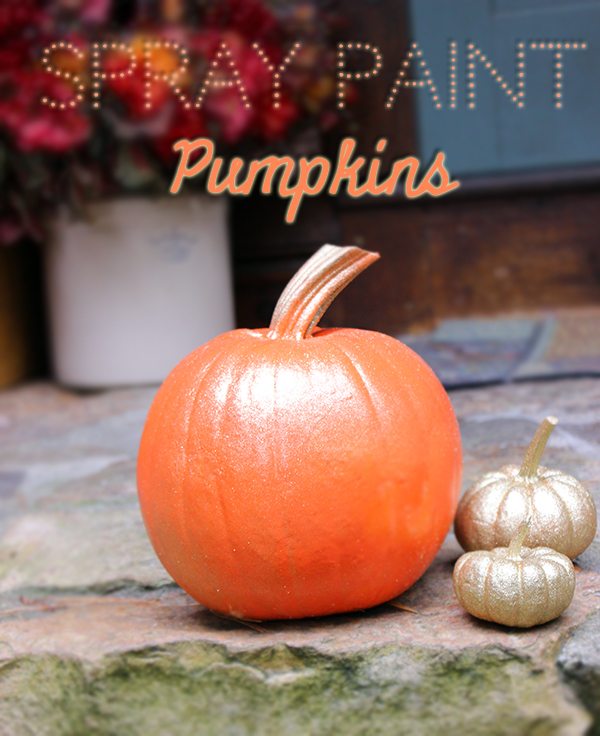 I used old newspaper to spray my pumpkins on, I didn't think anyone would appreciate bright orange or glittery grass. Using the paper can be a little challenge as I learned. Try not to get any wet areas directly on the newspaper because when it dries it will be stuck to the pumpkin, not cool.
The key to spray painting pumpkins is to be patient and plan a bit. Some spray paint will take longer to dry and you'll have to wait for it to dry before you can turn it over or do the bottom. I just did a little spraying, let it sit and just came back throughout the day to finish the job.
SPRAY PAINT TO DECORATE PUMPKINS
The first idea that I had was to use a white pumpkin, figuring it would help the color pop. I am not sure it makes much of a difference though.. probably not much if any. I still did my little orange mini pumpkins with glitter and they turned out great.
For the larger pumpkin, I spray painted with bright orange first which looked pretty cool. The gloss really makes it pop.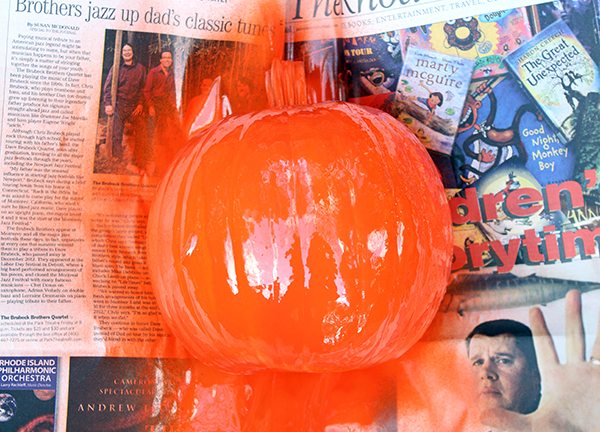 Then I did a thin layer of the glitter spray paint over it. It made a very pretty almost shimmery iridescent effect that I love! Just so whimsical, loving it!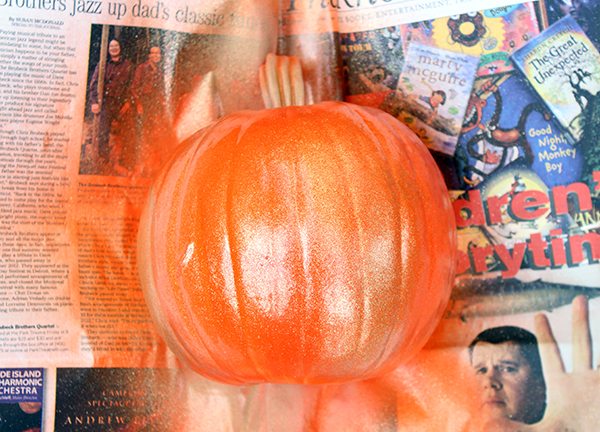 Then I did the little mini pumpkins in all glitter spray. I am totally smitten with these little guys 😉 The glitter spray dries much quicker than the gloss too which is awesome!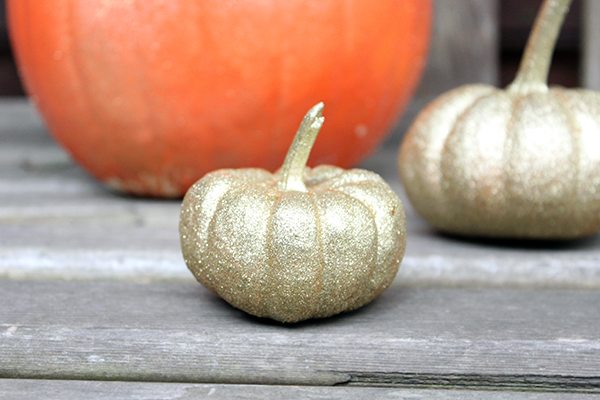 Word of warning, if you leave your spray painted pumpkins out to rot, the spray paint can melt off an stain wood or other finishes. Be sure to discard of them before they rot out on the porch.
MORE PUMPKIN SPRAY PAINT IDEAS
Are you decorating pumpkins this year? How are you decorating or how did you decorate?