This past weekend I was feeling especially domestic. I've also been wanting to use up things that I have on hand in efforts to be resourceful and also save a few bucks on grocery shopping now that the holidays are approaching. So I raided my supplies and noticed that I had a giant container of oats and some rogue white chocolate chips. Dessert in the making? I think so! I made this Oatmeal Bars recipe I found, so easy. It called for chocolate chips, so I simply swapped them out. I was also thinking butterscotch chips would really take this recipe above and beyond too. Will add that to my do make list.
My hubby doesn't normally go for oatmeal cookies, he is a die hard chocolate chip fan…but he really liked these. Said I should definitely make them again and add them to my "do make" list that doesn't actually exist by the way. No arguing there, yum! Perfect comfort treat with many ingredients you probably have on hand already. I couldn't think of a better treat for a lazy fall day at home.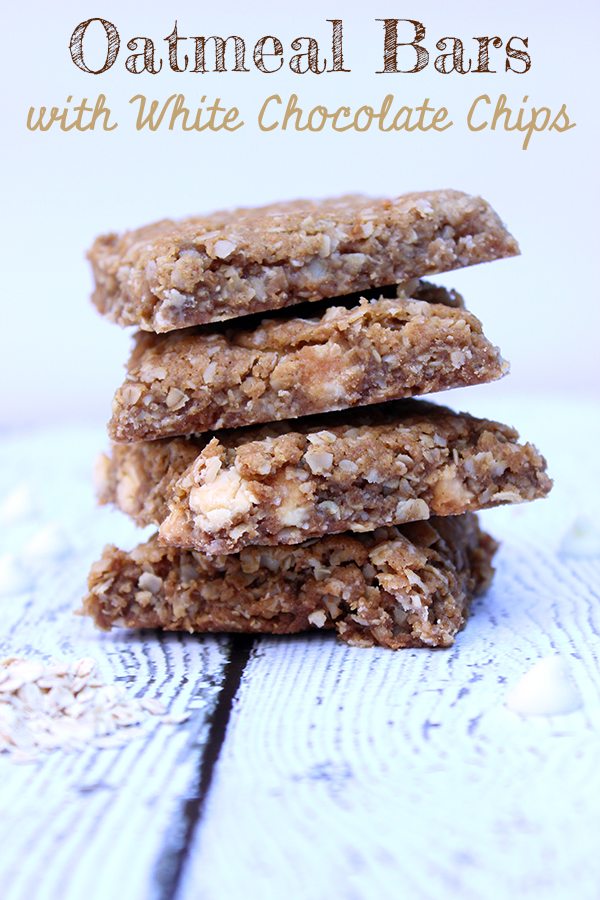 This recipe is adapted from the Oatmeal Bars with Chocolate from Mr. Food. I've reduced the butter content, swapped out all spice for cinnamon and added white chocolate chips instead of chocolate. I've also read that you can reduce the sugar if you desire, I found them to be perfectly and not overly sweet… but everyone's taste buds are different. Hope you likey!

Oatmeal Bars with White Chocolate Chips Recipe
Ingredients
1/2 cup butter (1 stick)
1 tablespoon maple syrup
1 teaspoon baking soda
1/2 teaspoon ground cinnamon
2 cups quick-cooking or old-fashioned rolled oats
1 cup all-purpose flour
1 cup sugar
1/4 cup white chocolate chips
Instructions
Preheat oven to 350° F. Coat a 9- x 13-inch baking dish with cooking spray.
Melt butter and syrup over low heat on stove or in microwave.
In a large bowl, combine butter mixture, baking soda, and cinnamon; mix until blended.
Add rolled oats, flour, sugar, and white chocolate chips. Press dough into baking dish.
Bake 15 to 20 minutes, or until a toothpick inserted in center comes out clean. Let cool 10 minutes then immediately cut into bars; let cool completely then cut through again.
7.8.1.2
60
https://cutefetti.com/oatmeal-bars-with-white-chocolate-chips-recipe/
Now that Halloween is over, I have Thanksgiving and Christmas in sight. Gingerbread and candy canes here I come. (No seriously, I'll be sharing those recipes soon!) Yum!
What are your favorite fall comfort foods?