It's tournament time and I have all the good eats for you! Enter this fun Totino's® Pizza Rolls Charcuterie Board that is perfect for celebrating all the slam dunks ahead! Get ready for crowd-pleasing basketball spread ideas ahead.
This post is sponsored by The National Frozen & Refrigerated Foods Association (NFRA). All opinions are my own. For more inspiration during #FrozenFoodMonth, be sure to check out delicious ideas from NFRA at EasyHomeMeals.com #MFFM2022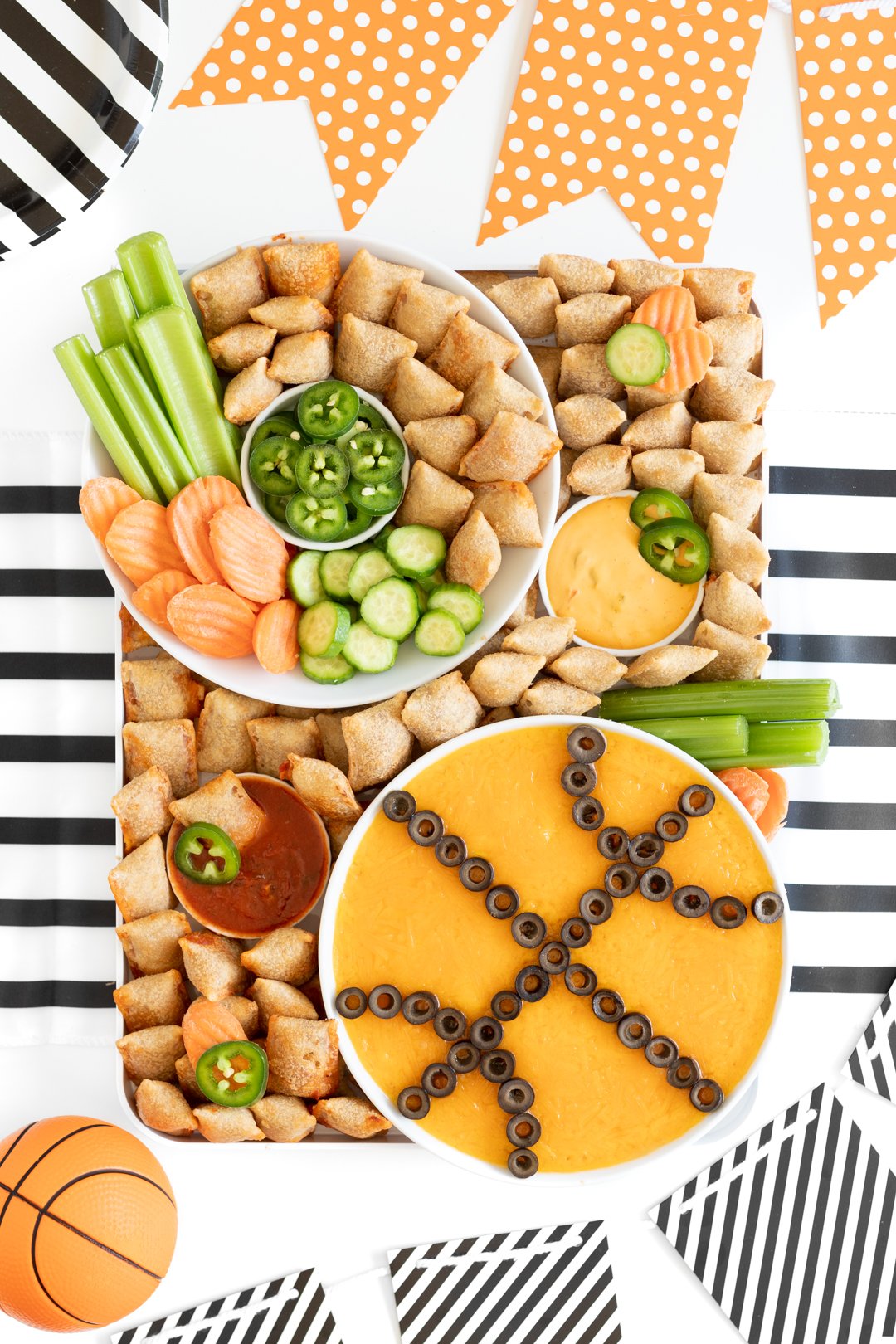 To make a delicious spread, you can choose your favorite Totino's pizza rolls! For this yummy snack board, I chose both Totino's Pepperoni Pizza Rolls as well as Totino's Cheese Pizza Rolls. Add delicious dips and sauces and it's an instant party!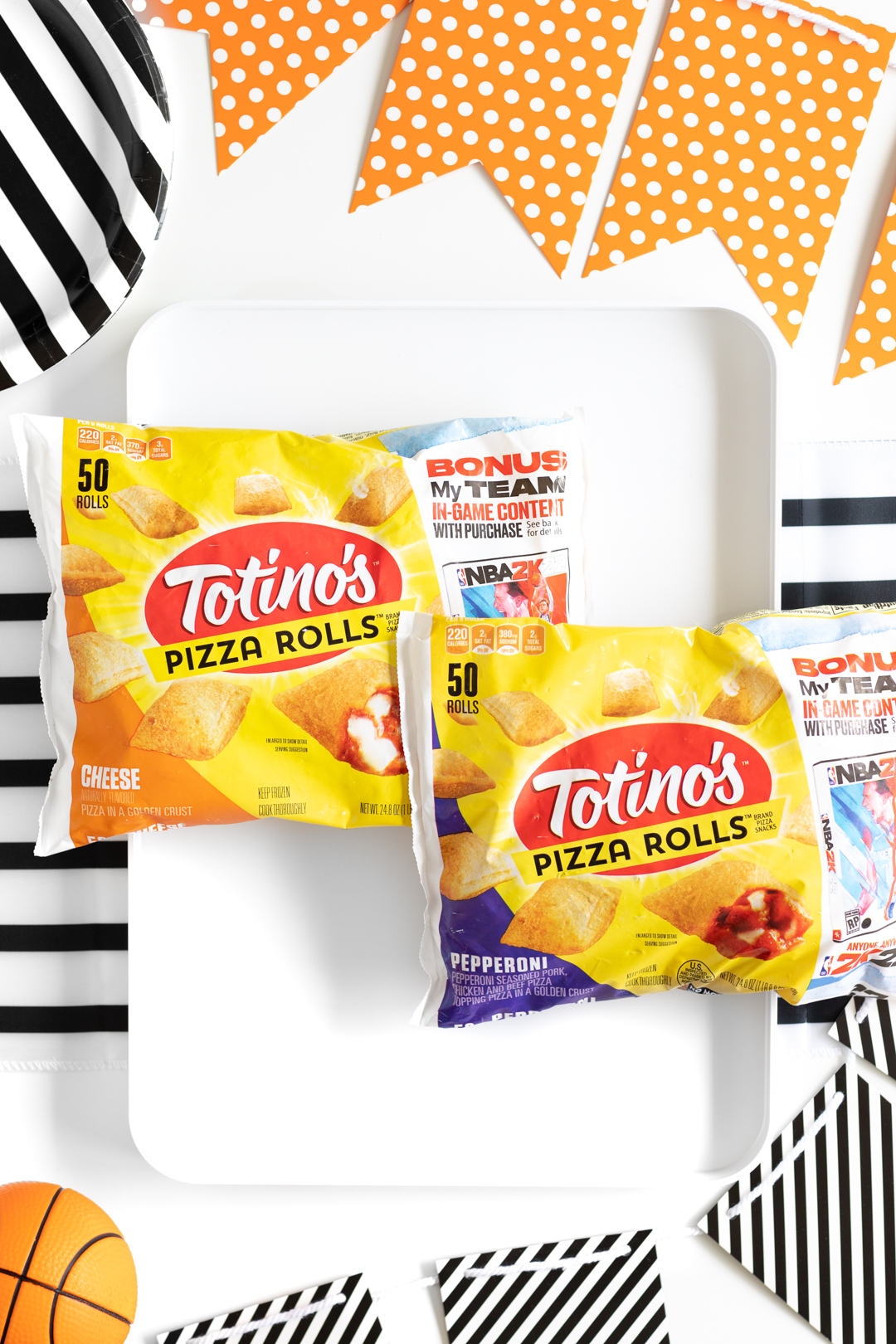 BASKETBALL PIZZA ROLLS CHARCUTERIE BOARD
To make the perfect snack board for game day, Totino's are the best bite-sized and mess-free poppable pizza snacks to include. Let me show you step-by-step how to set up your own ultimate snacking board complete with and easy basketball dip.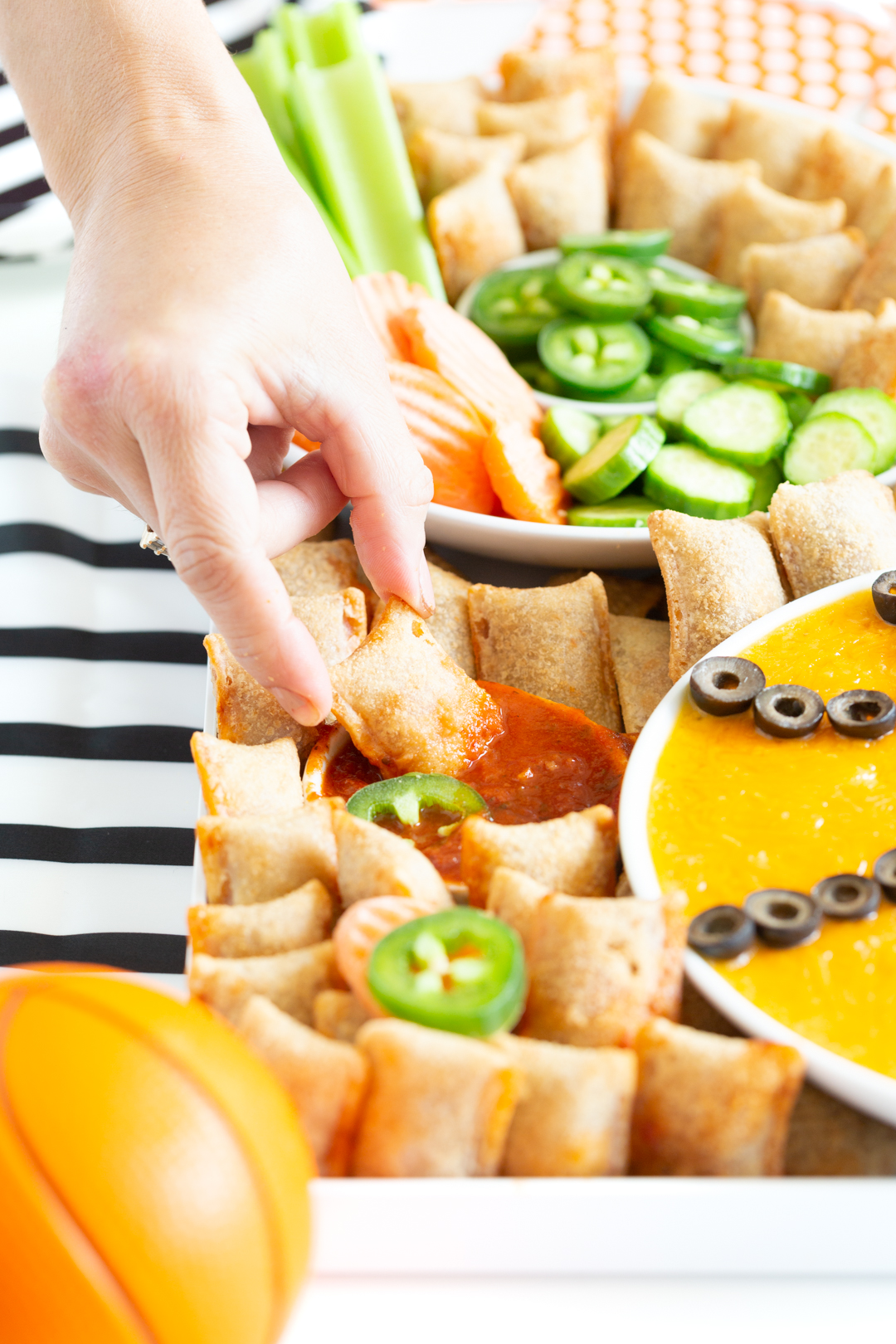 There is so much to love about Totino's Pizza Rolls. Not only are they delicious and well-loved but they're easy to make. You can prepare them in minutes using an oven, microwave, or air-fryer. The convenience of having so many options is a total score.
Let me show you how to use them in an ultimate basketball party spread.
PIZZA ROLLS CHARCUTERIE BOARD INGREDIENTS
You will just need a handful of items and ingredients to create your own epic snack board. Here are some tasty ideas to get you started!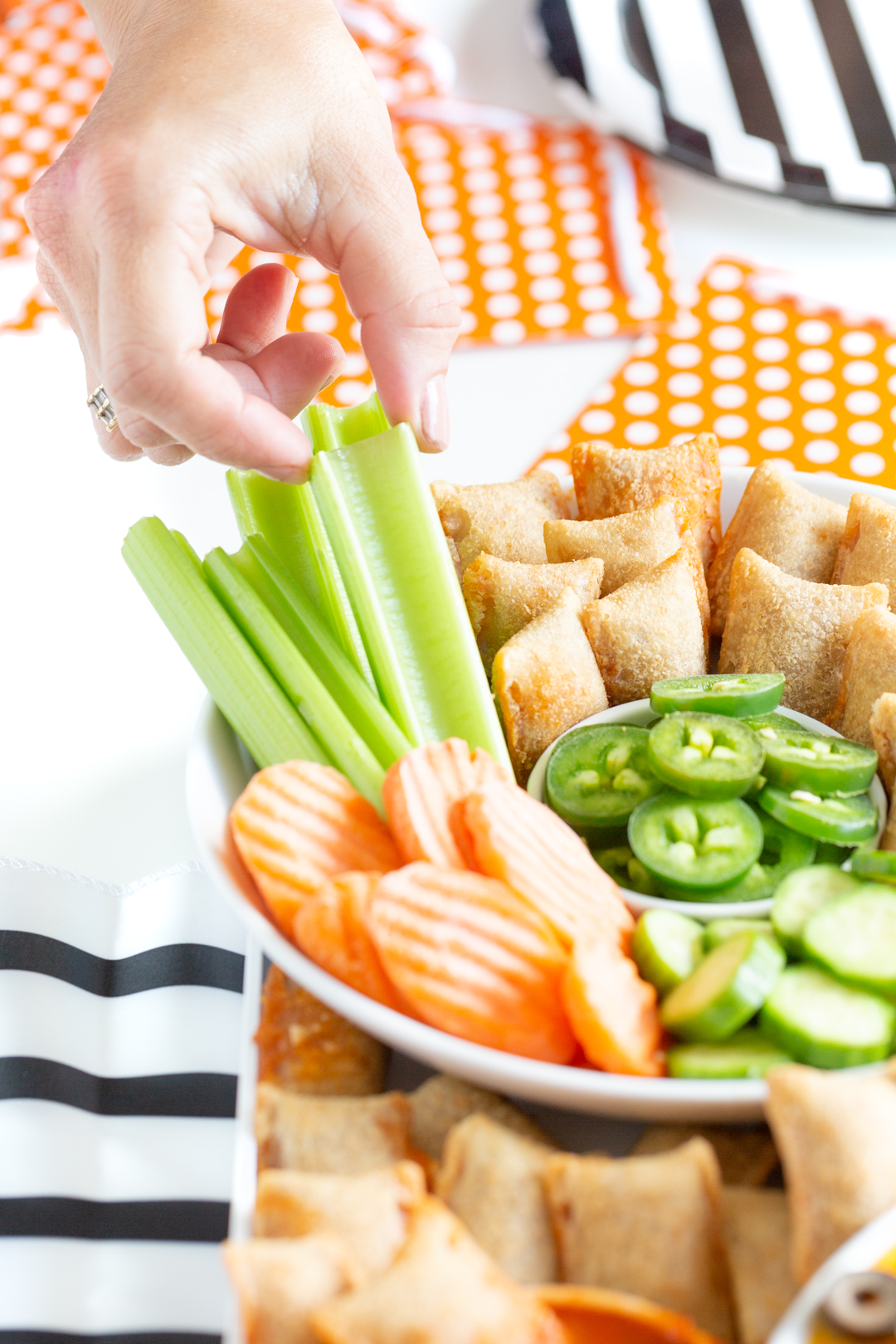 INGREDIENT IDEAS
Here are some thought starters to help you create your own game day snacking tray.
Totino's Pepperoni Pizza Rolls
Totino's Cheese Pizza Rolls
Sauces & Dips (Ranch, Marinara, BBQ, Queso, etc.)
Basketball-Shaped Dip Bowl (See Below)
Veggies for Dipping (Celery, Carrots, Mini Cucumbers)
Garnishes (Sliced Jalapeños, etc.)
You will also need a serving tray and small bowls and dishes to prepare your snack tray.
HOW TO MAKE BASKETBALL DIP
It's surprisingly easy to make a basketball dip in a round bowl. Here is what I used to make mine:
Two Containers of Store-Bought Fiesta Ranch Dip (You can use any flavor)
Finely Shredded Sharp Cheddar Cheese
Sliced Black Olives
Fill a microwave safe bowl with store-bought dip and smooth it out. Carefully cover the top of the dip with your finely shredded cheese.
Place bowl into your microwave and heat in 20 second increments until the cheese is perfectly melted.
Carefully remove your dip from the microwave and decorate the top with the sliced black olives. Start by making an X with the olives. Then, create round lines on each side of the dish. Voila, you now have a yummy dip that looks like a basketball. So fun!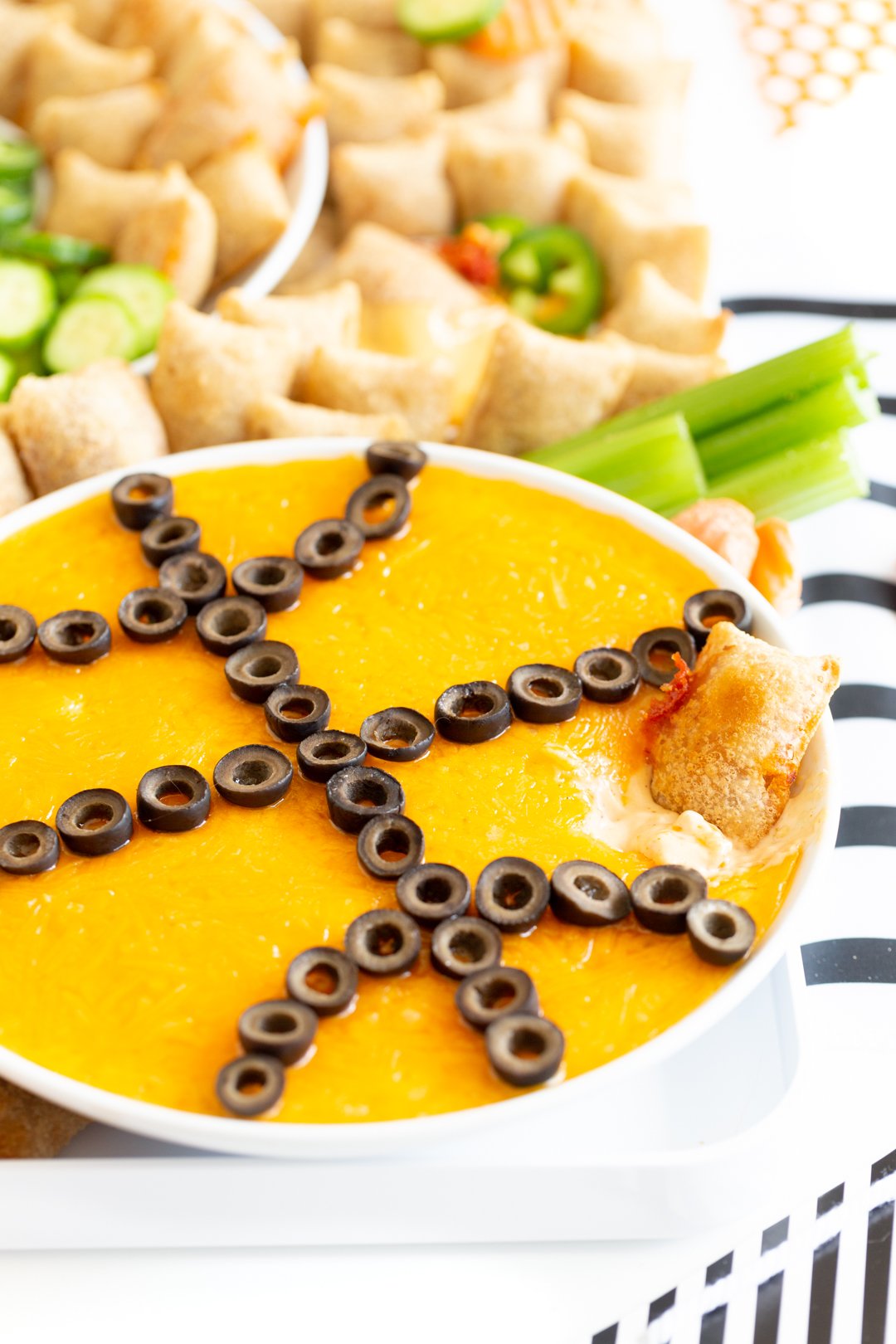 HOW TO MAKE A PIZZA ROLLS CHARCUTERIE BOARD
The first thing to gather is a large serving tray that you will use to serve up your tasty spread on. You will also need a couple of bowls and small dishes for dipping sauces. Knowing which tray you will use will help you plan what you will add to it and how much space you have to fill up.
Start by preparing your choice of Totino's Pizza Rolls. While they are cooking, it's time to start adding all of the basics to your tray. Decide where you will put your larger bowls and smaller dip dishes.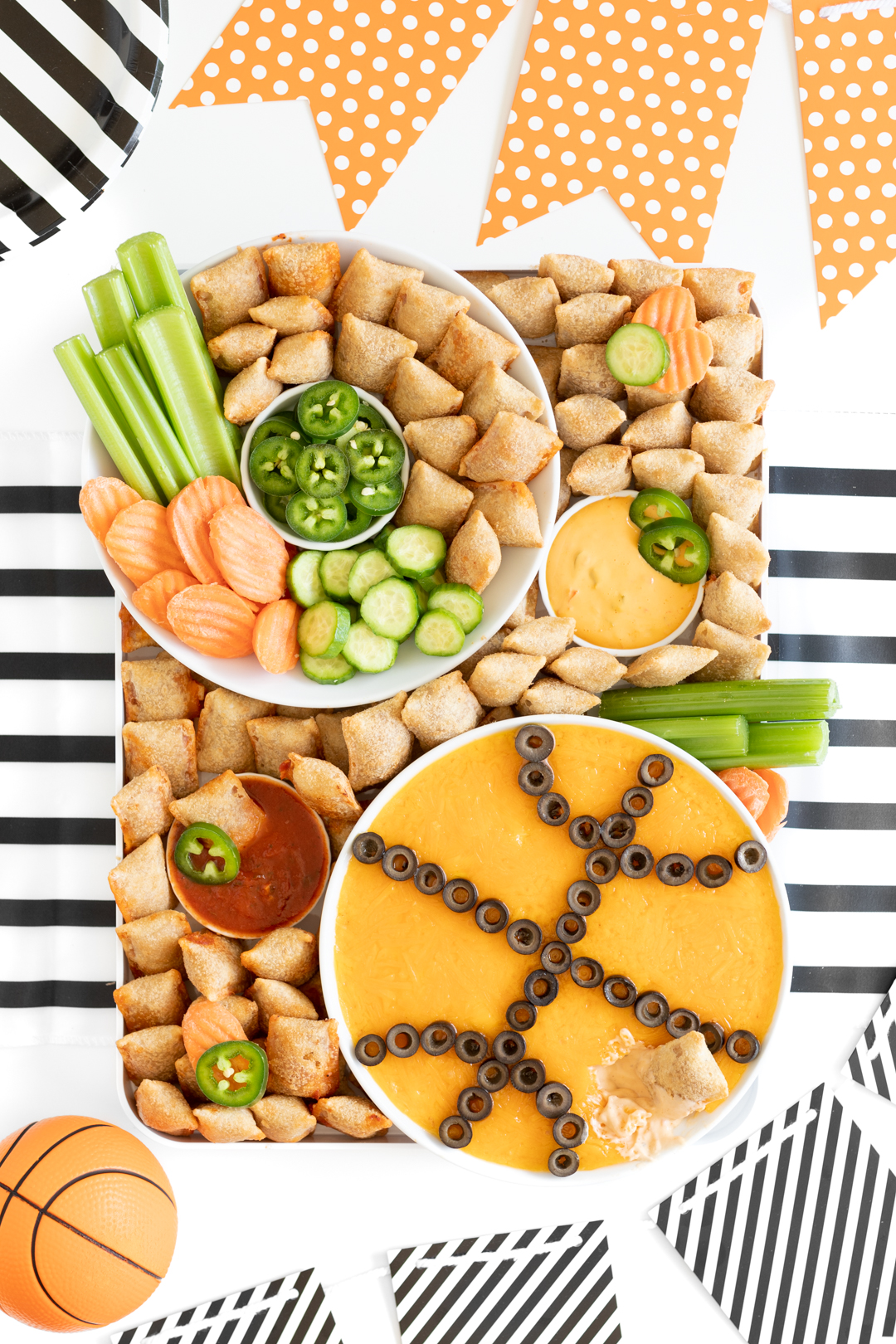 Next, add and layer in your vegetables and add the sauces and dips to the dishes.
Once your Totino's Pizza Rolls are prepared, you can start layering them into all of the empty spaces on the tray. The more you can squeeze in the better!
Finally, go back in and add in some garnishes and veggies in other corners of the tray for that perfect charcuterie aestetic.
Voila! It's done!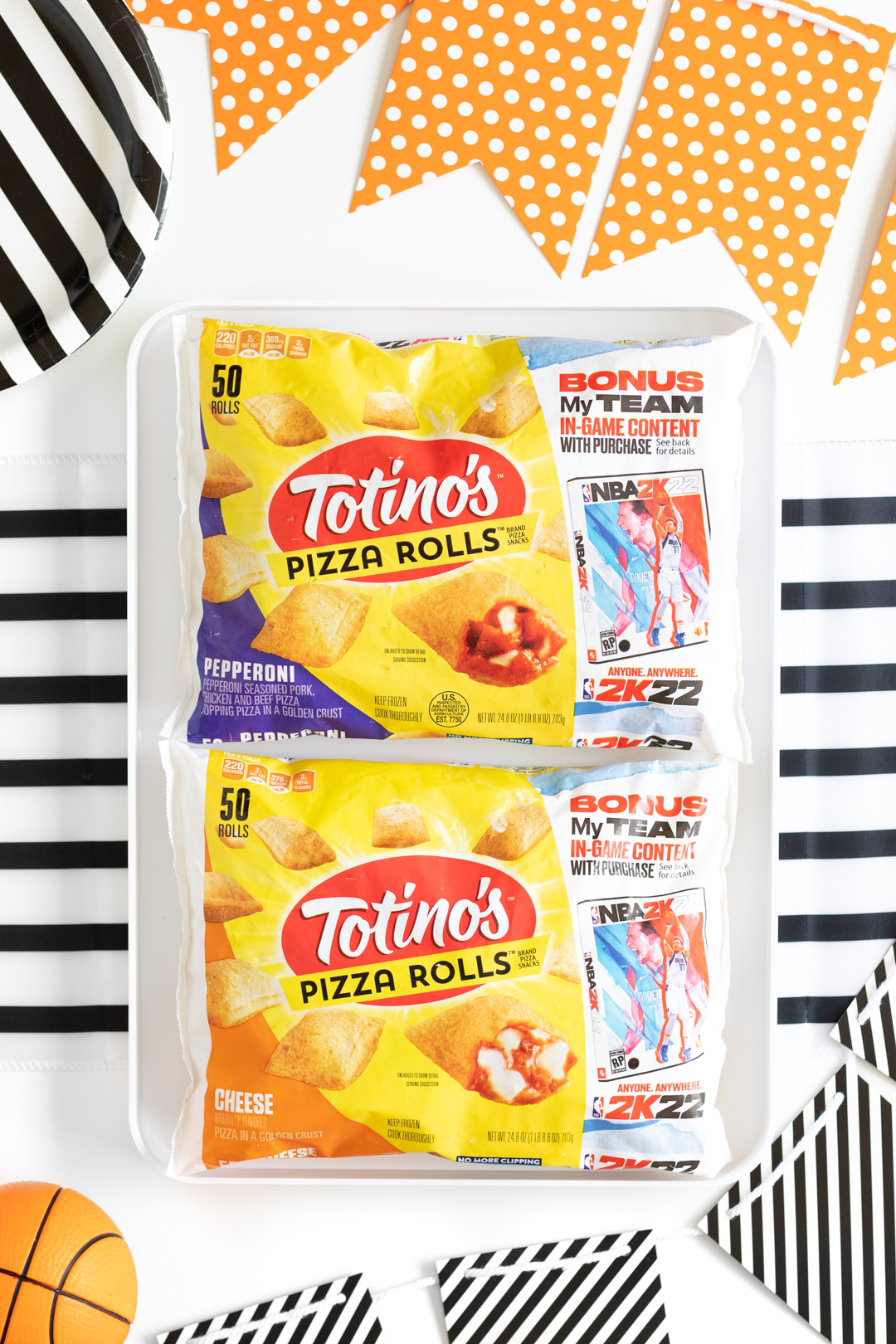 Serve up your wonderful Pizza Rolls Charcuterie Board and get ready for some epic dipping and root for your favorite teams!
Want even more delicious ideas? Be sure to visit Totino's Snack Hacks & Dip Recipes to take your game day to the next level!
Visit Easy Home Meals for great recipe and meal solutions and to enter the March Frozen Food Month Sweepstakes for a chance to win up to $10,000 in prizes!