This post is sponsored by Warner Bros. Pictures.
I'm so excited to share a fun DIY to celebrate the arrival of The LEGO NINJAGO Movie in theaters this Friday (September 22). Check out these inspired treat bags based on the characters including Lloyd, the "Green Ninja". This new adventure stars many familiar names like Dave Franco, Zach Woods, and the legendary Jackie Chan making this a great flick for the whole family. Join me in building the excitement… and possibly unleashing your inner Spinjitzu, too. Get started by watching The LEGO NINJAGO Movie trailer and get ready to have some with me.

The LEGO NINJAGO Movie takes the battle of good vs. evil to all new unexpected levels. Master Builder Lloyd, aka the Green Ninja, along with his secret ninja warrior friends join forces in the battle for NINJAGO City. Led by Master Wu, they set out to defeat evil warlord Garmadon, who turns to be Lloyd's dad. This epic showdown provides a lot of added gut-busting humor throughout the movie.
Confession: I seriously love building excitement before new movies come out by making crafts and recipes. The characters in The LEGO NINJAGO Movie really crack me up and it was ridiculously fun re-creating their faces on these treat bags.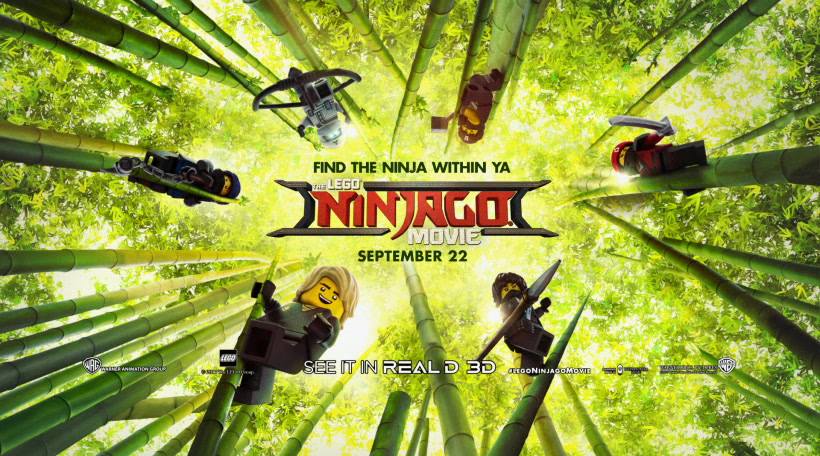 With Halloween coming and kids asking for The LEGO NINJAGO Movie themed parties, these cute and simple treat bags will be perfect. You can even rally the kids and make these together.
The LEGO Ninjago Movie DIY Treat Bags
To make these movie inspired treat bags, you will just need a few supplies. I was able to make these really simply by picking up inexpensive gift bags at my local dollar store. To make the faces, I used foam sheets that I already had on hand and glue sticks to adhere them. That's it.
Here's what you need:
Yellow Gift Bags
Foam Sheets – Multiple Colors
Glue or Glue Stick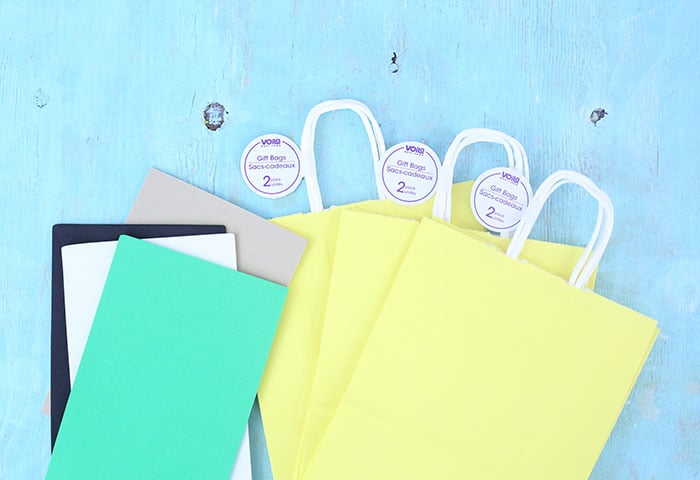 Before you get started, decide which characters from The LEGO NINJAGO Movie you want to create on your bags. I chose to make my treat bags based on these characters:
Master Builder Lloyd, The Green Ninja
Zane, The Ice Ninja
The Mom
To decide on how to shape the faces, find images of the character that you are making.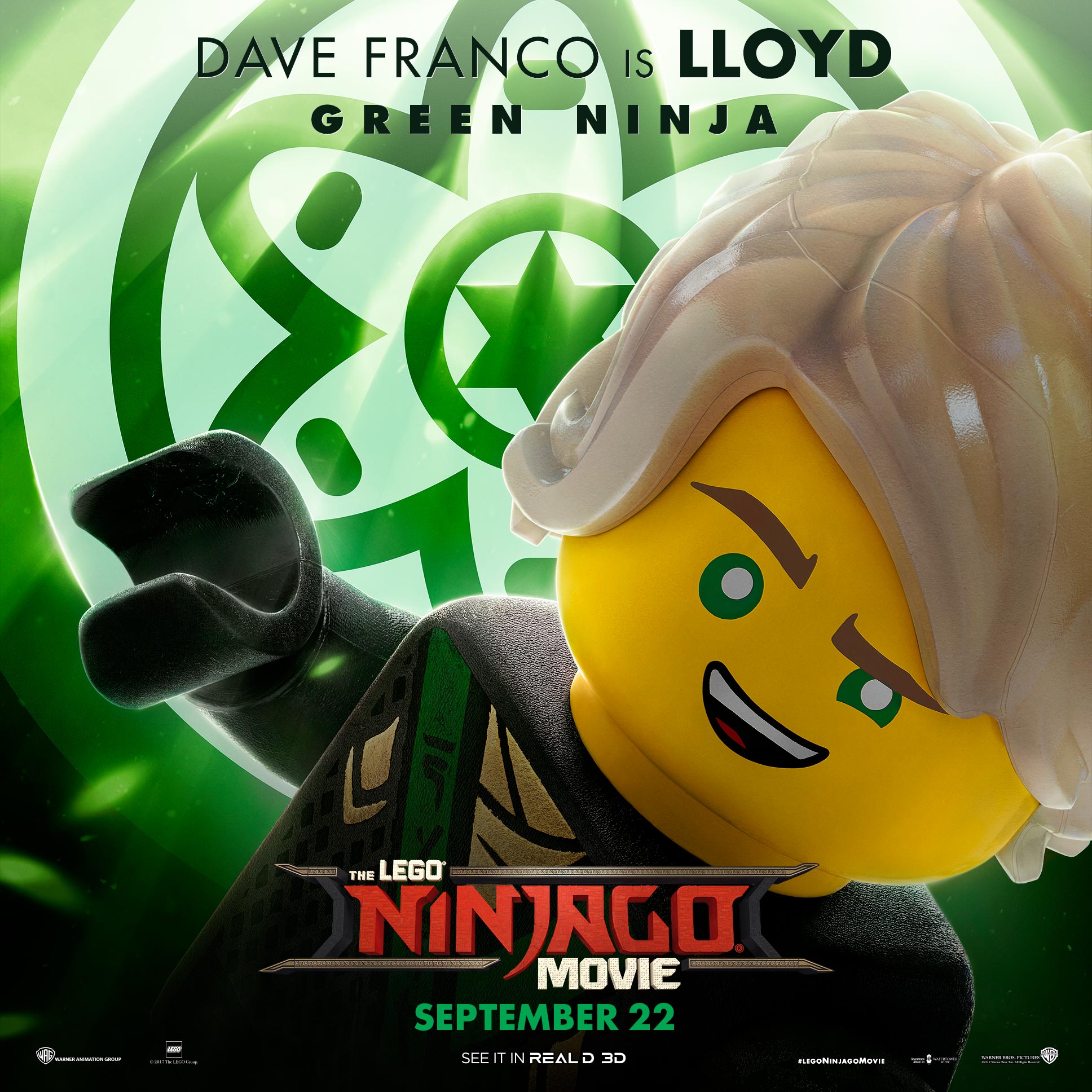 This is where the most fun happens. Get goofy with this. The facial expressions that the characters make are hysterical and you really can't go wrong no matter how you choose to make them. For example, I decided to do two different versions of Master Builder Lloyd. One where he is looking a little cute and happy and another where he's a little more determined to conquer.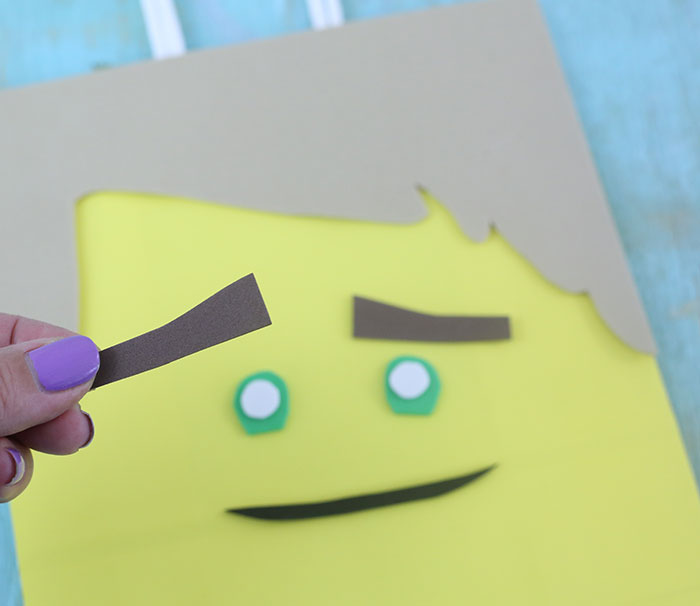 You can also use markers to make some of the facial features. For example, I used a black Sharpie to draw on eyelashes on The Mom.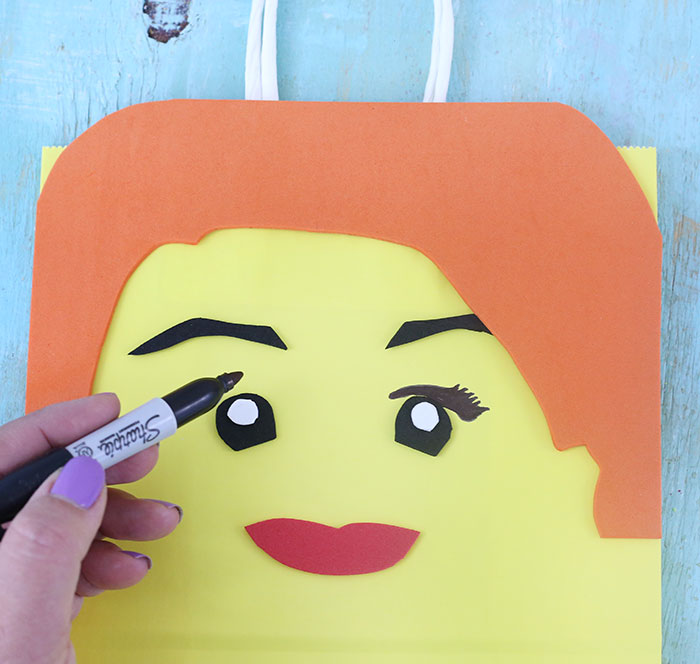 Once all of your faces are planned out, trace and cut them out from your foam.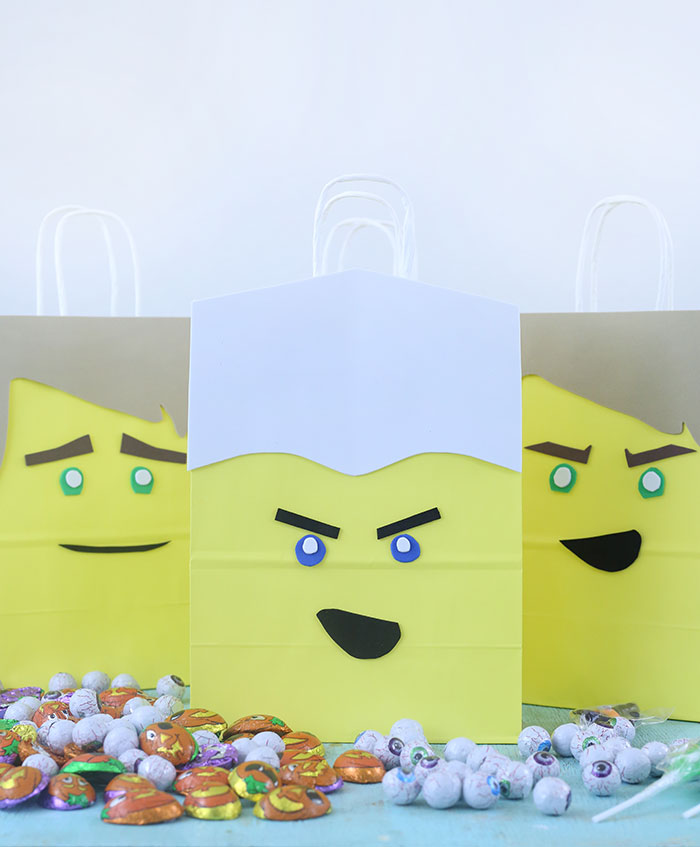 Place them all the way that you want them before using glue or a glue stick to adhere the pieces.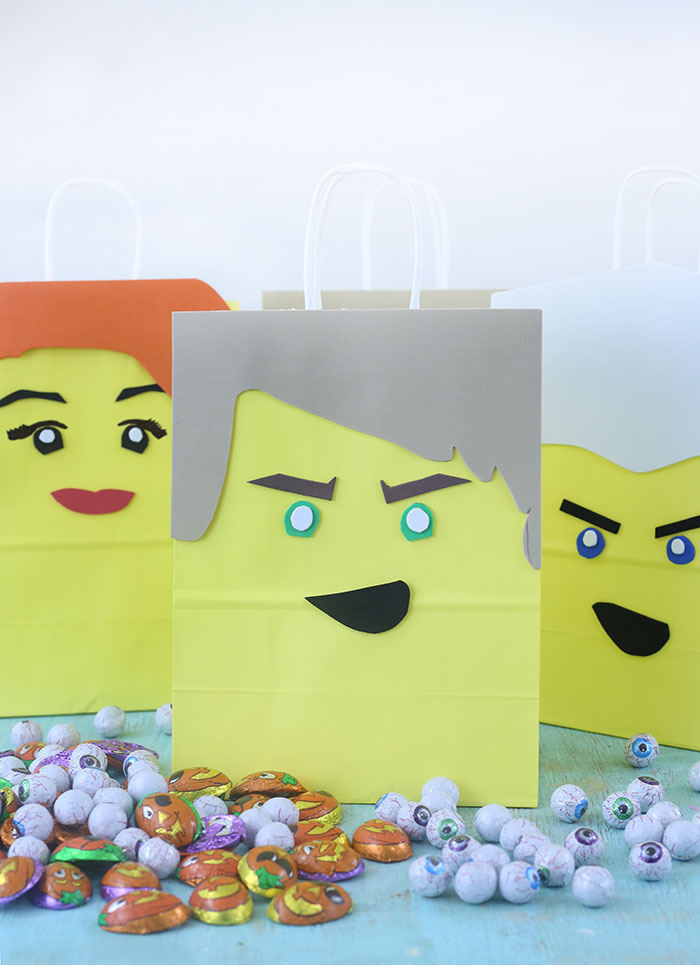 Once everything is dry, your adorable treat bags are good to go!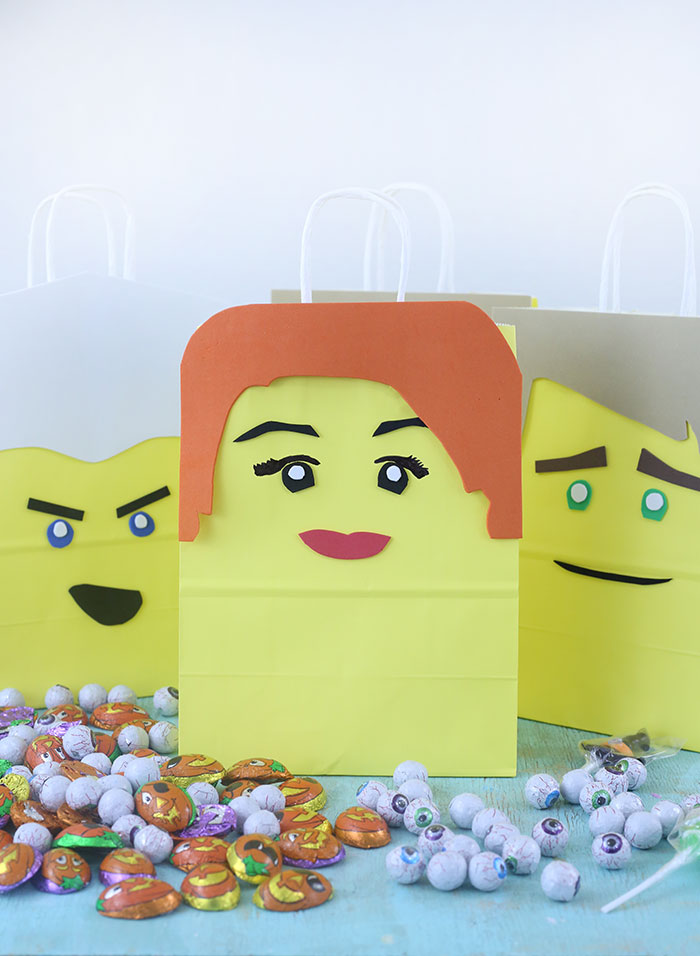 Use these DIY treat bags for trick or treating, as a party activity or even for party favors. They promise to delight!
WATCH THE LEGO NINJAGO MOVIE TRAILER
Stay in the loop: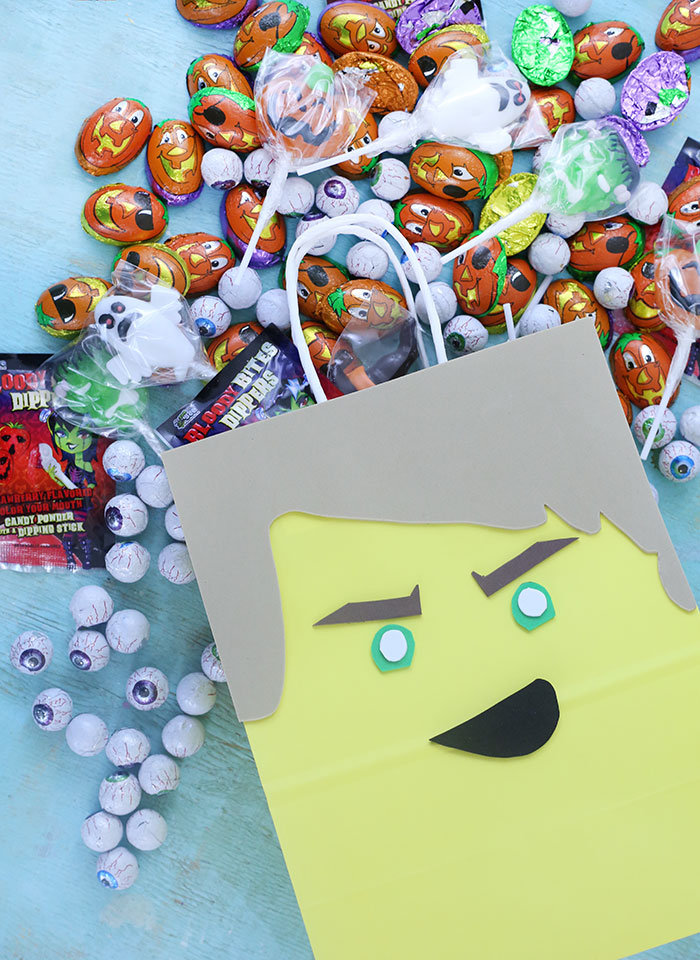 Who is excited to see The LEGO NINJAGO Movie in theaters on September, 22nd?
Want more party ideas?
LEGO inspired Glitter Puking Star Cookies.
Fun LEGO DIY?
Check out this Magnetic Batcave Sign.