This is a sponsored post with Warner Bros. Pictures about The LEGO Batman Movie. All opinions are my own.
The year is just getting started and there are some great movies on the horizon. It's the perfect time of year to rally up the family and head to the theater. Make this month extra memorable and save the date for The LEGO Batman Movie to theaters this weekend. To celebrate the movie, I made a DIY Magnetic LEGO Batcave Sign and you can too.

I'm not what you'd call a big superhero fan out of the box, but this movie trailer had me sold instantly. It's going to be a movie that people of all ages can truly appreciate, it looks seriously funny. What takes it over the top are the voices played by all the right actors. They nailed it with the return of Will Arnett as the voice of LEGO Batman. Brilliant. It's going to be LEGO-rageous.
DIY Magnetic LEGO Batcave Sign
Join me in making the movie experience even better by bringing the fun home. My son has always been a LEGO fan, so this was a fun sign to create. It would also be a great way to play with LEGOs in a whole new way. It's so easy transform LEGO pieces and minifigures into magnets. You can use them on a magnet board, which I'll show you today. You can also just use these The LEGO Batman Movie themed magnets on your refrigerator.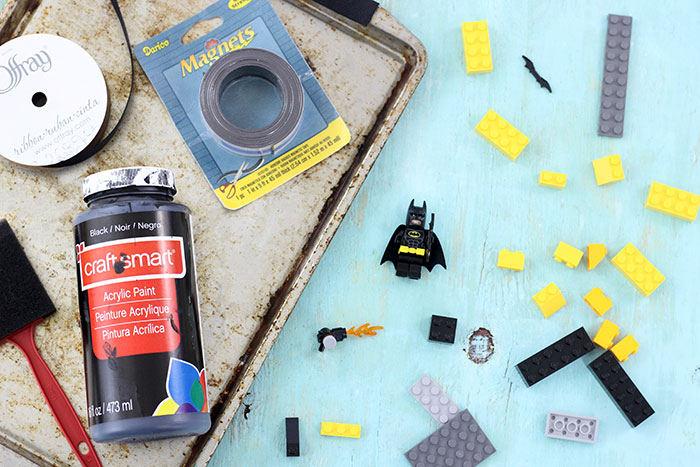 Here's what you need to make a Magnetic LEGO Batcave Sign:
* Baking Sheet, that's magnetic. (new or old) Make sure to test it first.
* Black Paint & Paint Brush. I used Acrylic which will work best with a top coat of Modge Podge to seal the color.
* LEGO Bricks and The LEGO Batman Movie Minifigures. I chose one of The LEGO Batman Movie Sets that included a LEGO Batman Minifigure and a LEGO Classic Set so that I could get plenty of matching colored bricks in black, yellow and various shades of grey.
* Magnets. I like the roll that you can cut out your own custom sizes since the LEGO bricks and minifig sizes vary so much.
* Black Ribbon. If you plan on hanging this as a sign, you'll need some ribbon or matching rope of choice.
* Superglue or any strong fast drying glue like a gluestick to adhere the ribbon to hang your sign and also to adhere your magnets to your LEGO pieces. The sticky backs on the magnets I tried are not strong enough to stick to the LEGO parts.
* Foam Sheets. Black and yellow to make the batman symbol for the top of the sign.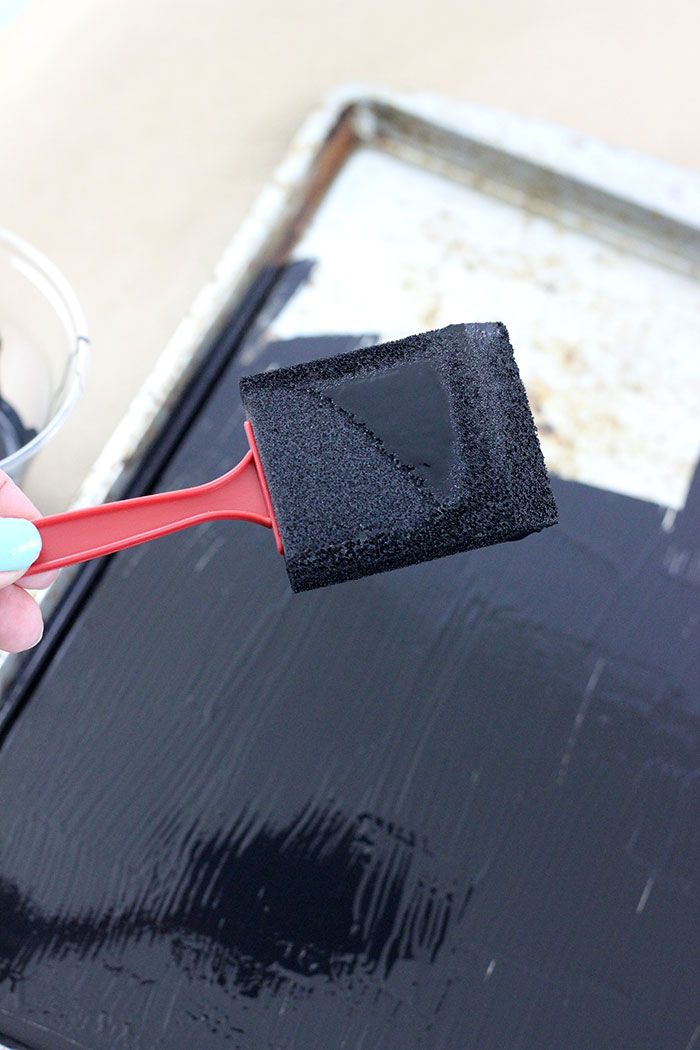 Now that you have everything you need, it's time to get your paint on. Paint your magnetic baking sheet, I did two coats of black. Once that dries, this would be the time to paint your Modge Podge to seal if you want to. While the board is drying, turn your LEGO bricks and minifigures into magnets. If you're using a magnet roll, it's really easy to cut it into the sizes you need just using scissors. Then, glue the magnet cut outs to your pieces. Let dry and set them aside.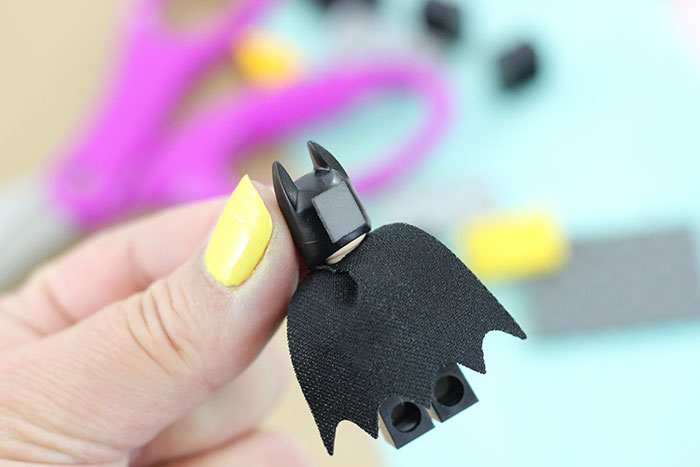 Once your board is dry, measure out how long you want your sign holder to be and trim the ribbon to size. Use glue to adhere it to the back side of the magnetic board.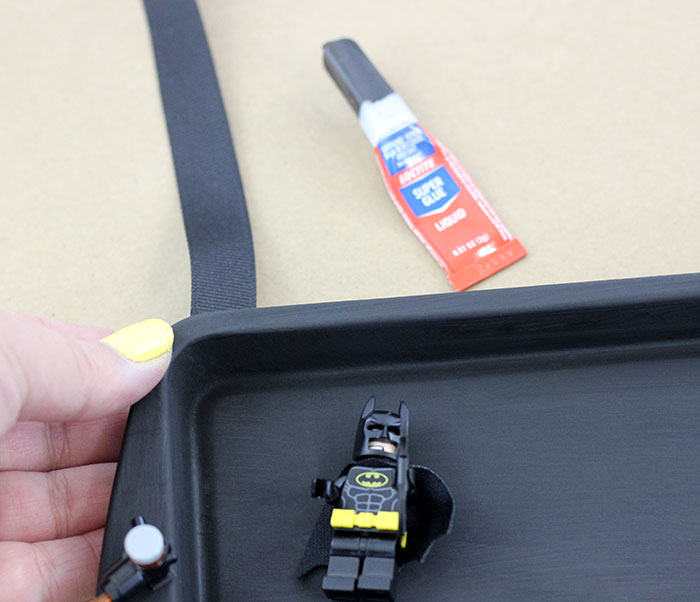 For the final touch, I made a foam magnet in the shape of the Lego Batman symbol. Just print out the shape you want, trace and trim. Then to make it pop, I used a yellow foam sheet to cut a loose shape of the bat to glue to the back. Think of it it like a shadow. After you glue the black symbol to the yellow cut out, you can glue your magnet to the back so that it will stick onto the magnetic board. You can also glue it if you want it to be more permanent.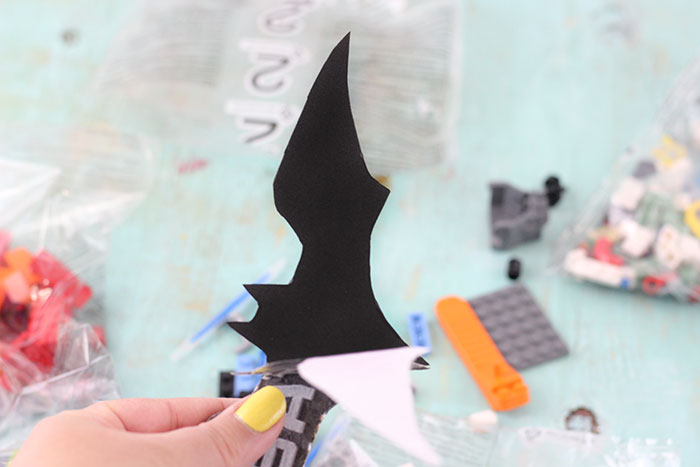 After everything is dry, it's time to put it all together. You can spell Cave on it like I did or even put your child's name on it. Have fun with it!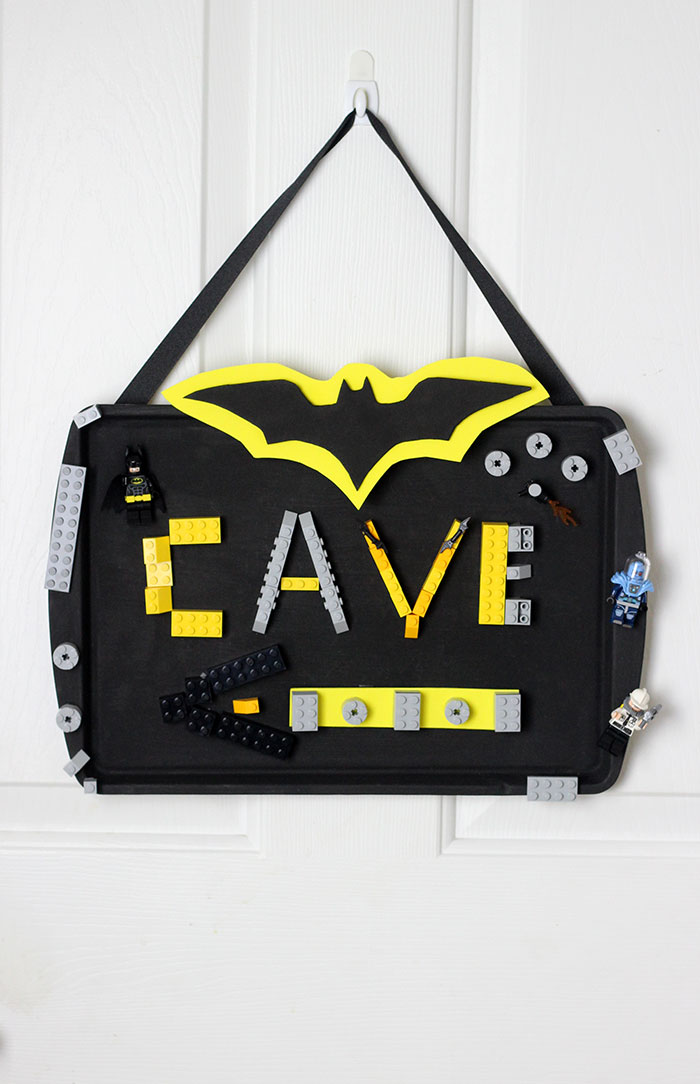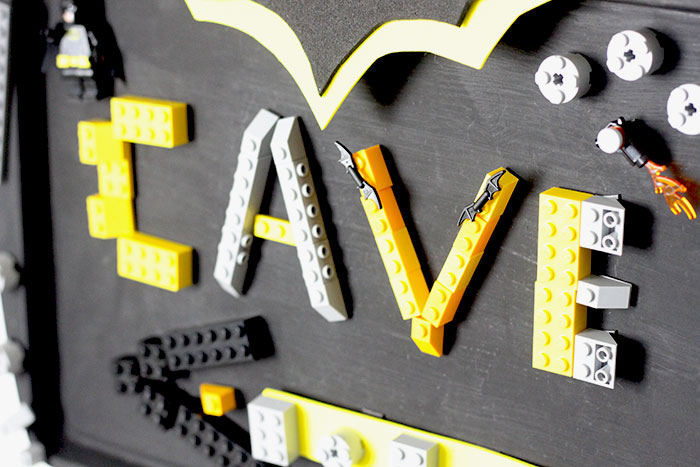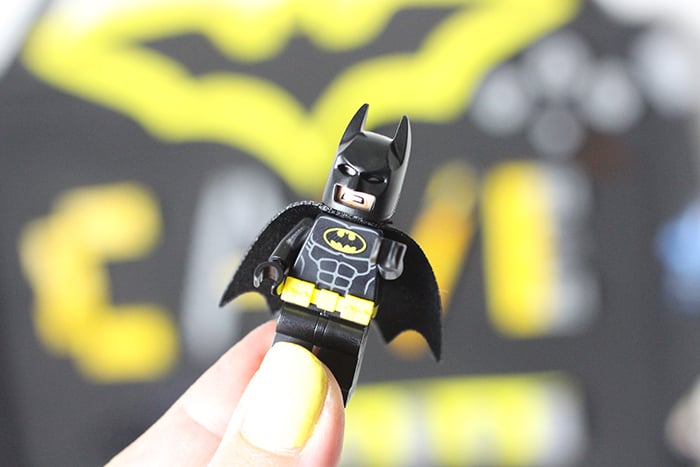 The LEGO Batman Movie is In Theaters this WEEKEND.

Get ready to watch LEGO Batman on the big screen. It's time for some big changes in Gotham and LEGO Batman might have to collaborate to save the city from The Joker. If you loved The LEGO Movie, you're going to love this too. More fun celeb voices you'll hear in this movie include Zach Galifianakis as The Joker and Rosario Dawson as Barbara Gordon and many more.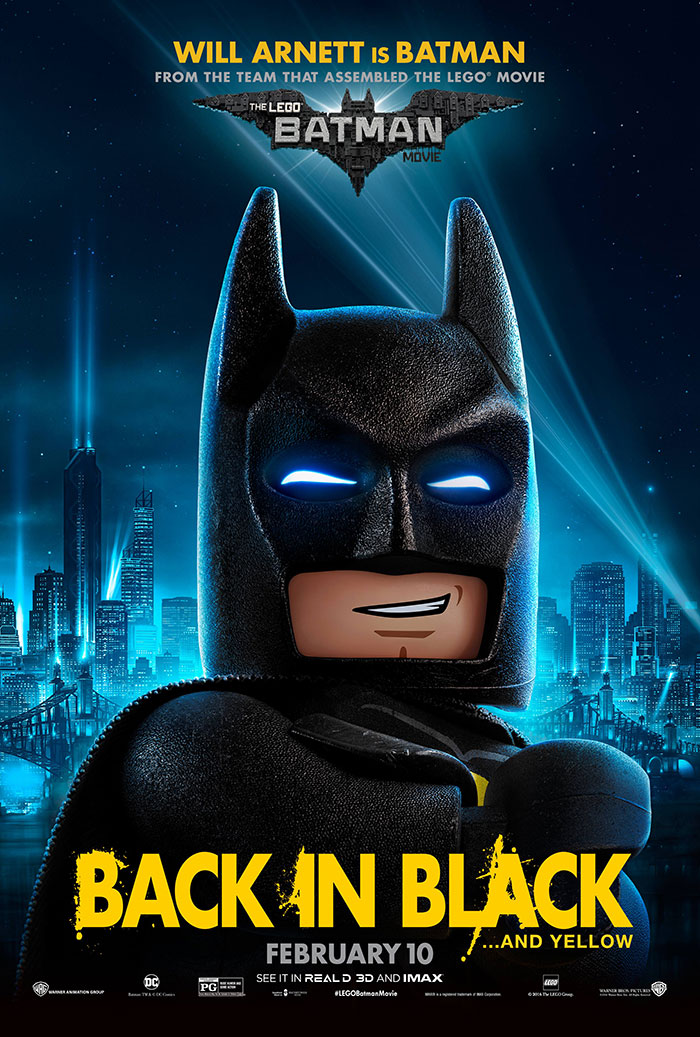 Stay in the loop!
Visit The LEGO Batman Movie Official Site.
Like 'The LEGO Batman Movie on Facebook.
Follow on Twitter and Instagram.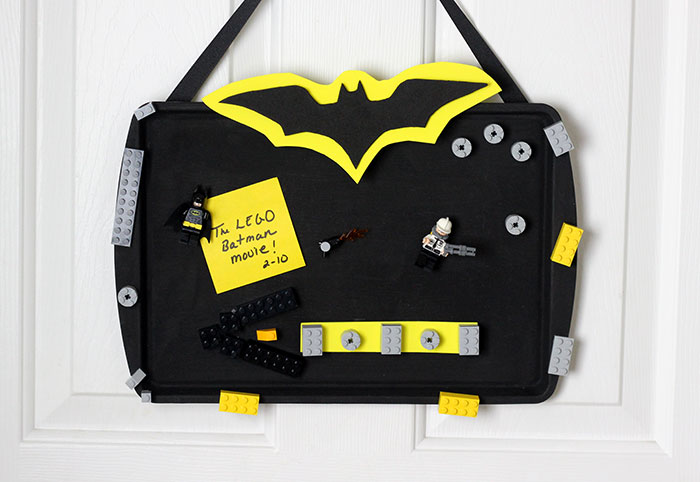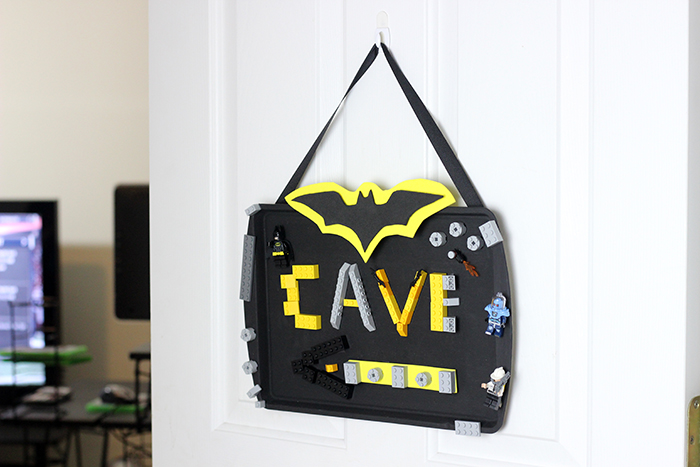 Who are you taking to see The LEGO Batman Movie on 2/10?