This post is in partnership with Lionsgate, all opinions are my own.
I'm so excited to share a fun DIY to celebrate the arrival of My Little Pony: The Movie in theaters this Friday (October 6th). As we're waiting for the movie, I wanted to share something extra special that you can make at home to build excitement… in classic Cutefetti fashion. Today, I'm sharing how to make a Twilight Sparkle DIY Backpack that kids will totally love.

This new movie stars a long list of many familiar names from Emily Blunt to Zoe Saldana making this a great movie for everypony (aka your whole family). Join the Mane 6 – Twilight Sparkle, Applejack, Rainbow Dash, Pinkie Pie, Fluttershy, and Rarity on an epic quest to save Ponyville. Kick off the family fun by watching the My Little Pony: The Movie trailer to get a glimpse of how the magic of friendship can conquer anything. "Friendship will always save the day!" Get ready to unleash your inner pony with me with this super cute crafty DIY.

Twilight Sparkle DIY Backpack
Here's what you need:
Plain Purple Backpack (I used this one)
Foam Sheets (White, Black, Purple, Pink.)
White, Black and Purple for the eyes.
Purple for the ears.
Pink for the mouth.
Black for the eye lashes.
For the "unicorn" horn.
Fleece (Navy Blue, Pink, Purple)
Used for Twilight Sparkle's "hair".
Used for the "unicorn" horn stuffing
To get this all put together, you'll need a glue gun & scissors.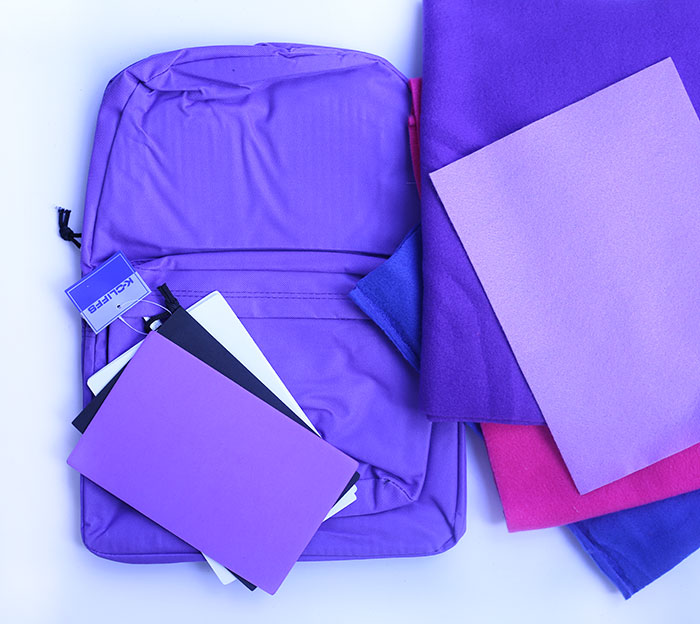 First, start with making Twilight Sparkle's Unicorn Horn with the light purple felt. I made mine about 4 inches long so that it doesn't protrude from the backpack too much. Trim your felt into a 4″ long triangle while leaving about a half inch cut at the top instead of making a point. Then carefully glue both sides lengthwise together using a hot glue gun. It's easiest to start gluing the bottom corners together and letting that set a second before you continue gluing the rest. Since this unicorn horn is so tiny, You really need to take your time to make sure everything aligns together perfectly.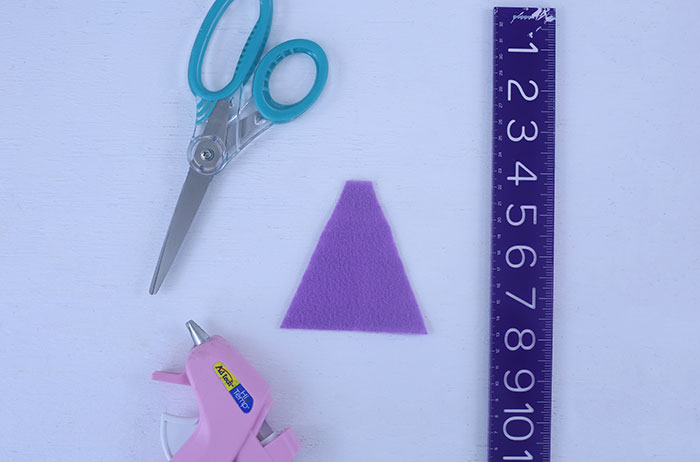 Once the felt and glue is dried, stuff cotton ball pieces inside to make the horn firm. Then press the horn completely flat and trim the bottom of the horn so that both sides back and front are cut straight across to form a perfect circle. Next, cut a circle larger than the bottom of the horn out of the remaining felt. Glue the horn onto the circle and let it dry. Then trim carefully around to remove the excess felt.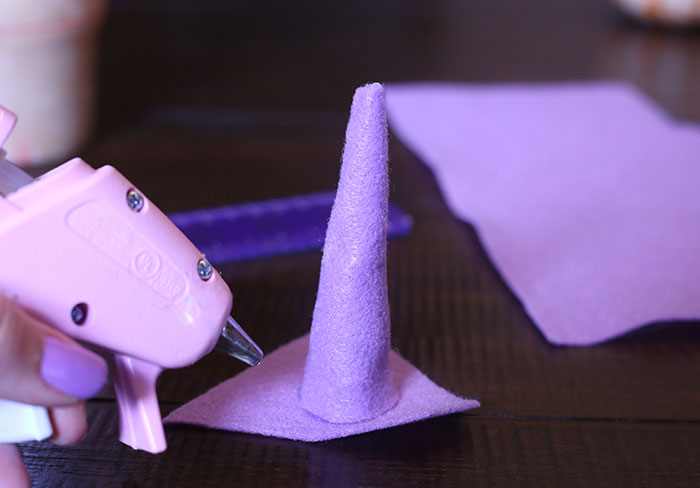 You should now have a perfect triangular unicorn horn in the making.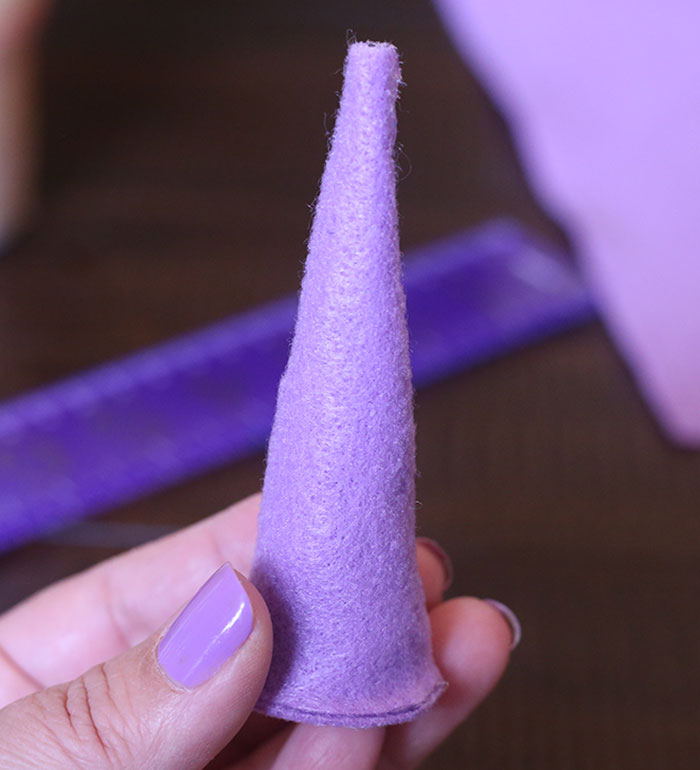 Trim a long strip of the light purple felt to blue around the entire horn so that it looks something like this: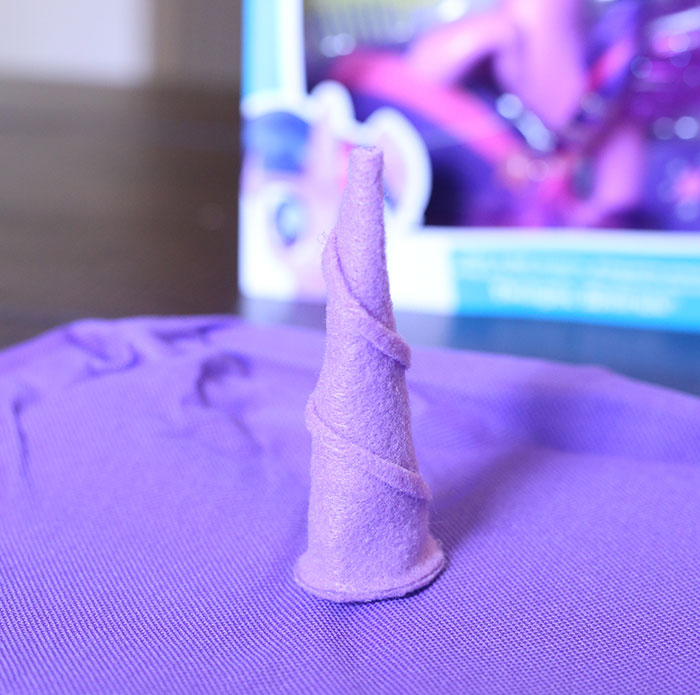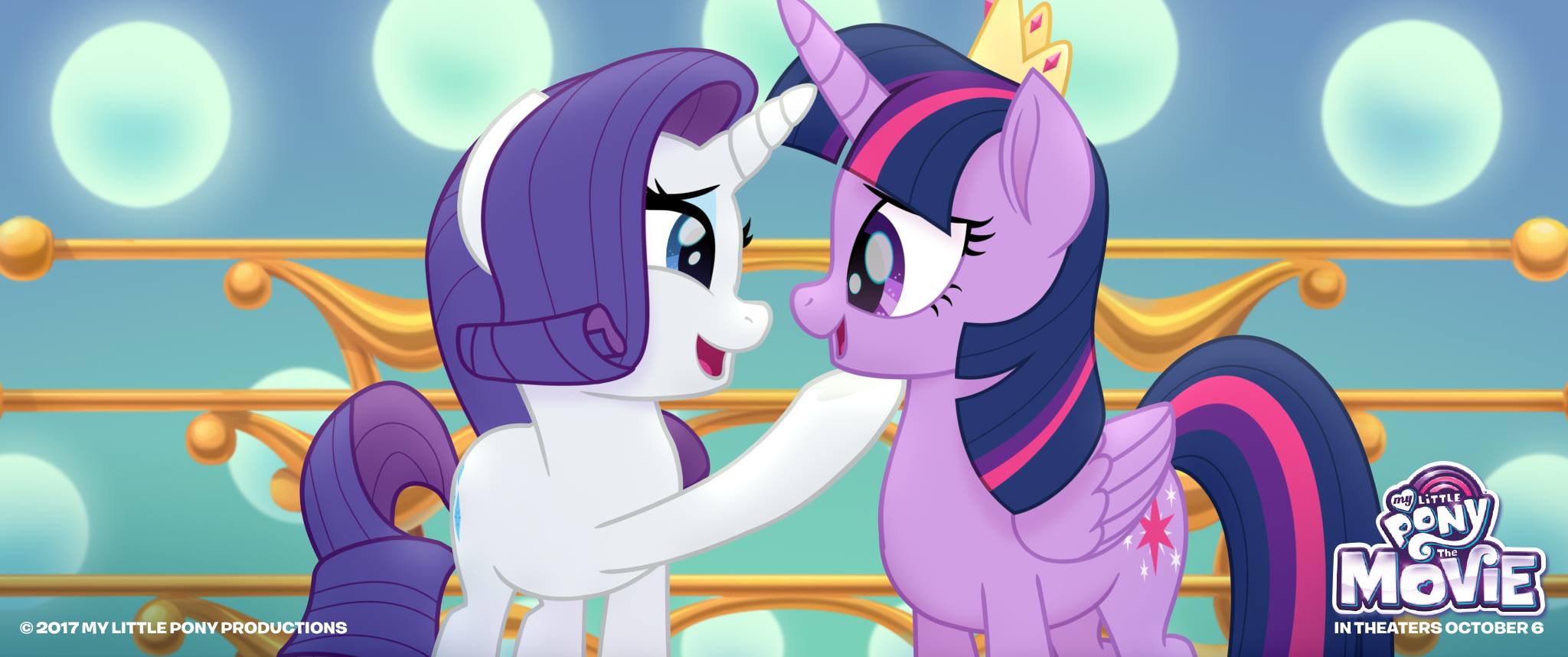 Next let's make twilight sparkle's hair out of fleece. For this project I used a navy blue, purple, and pink fleece. Since Twilight Sparkle's hair is mostly blue, trace a large base piece using the shape of the top of your backpack. Carefully cut it out. And then use a glue gun to adhere it to the top of the bag. Next cut two strips of purple fleece and one strip of pink fleece to finish up the hair. Carefully glue the purple and pink strips on top of the blue.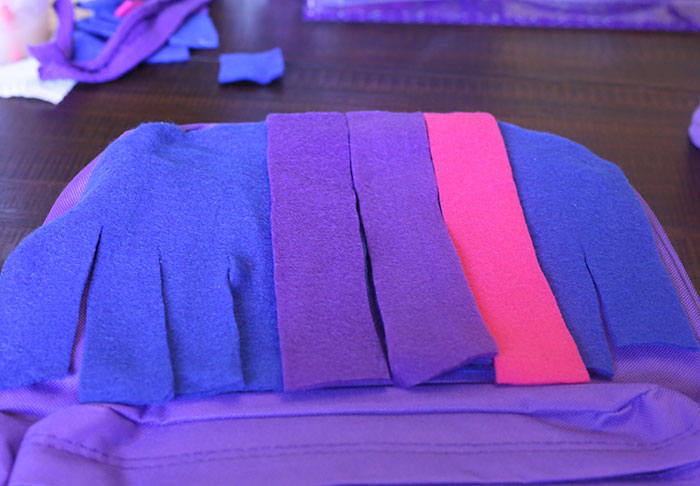 Carefully decide where you want to glue your unicorn on. Should be about in the center both with wise and height wise with in the top portion of your backpack and then attach it and let it dry.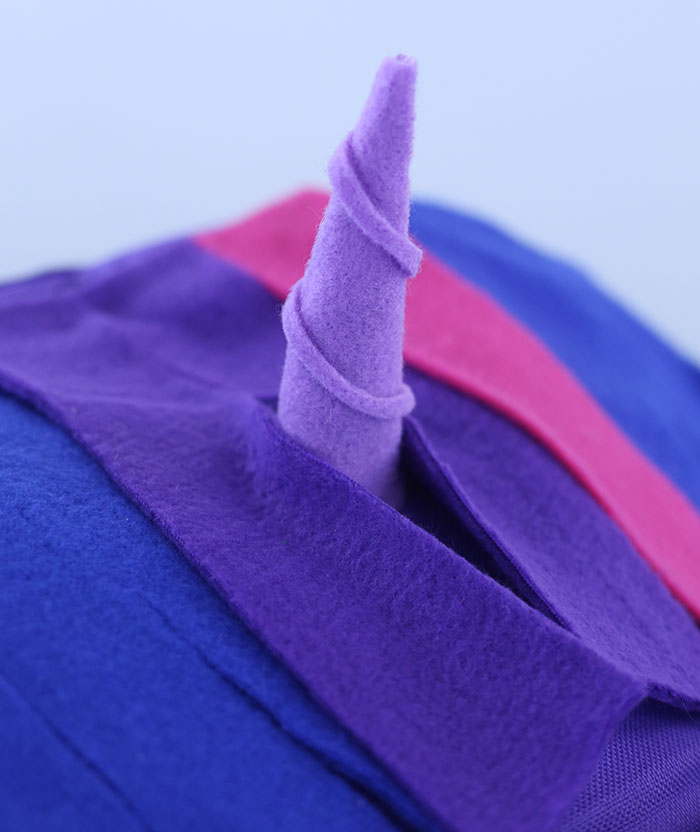 Next on the the eyes which I put together with foam sheets. Using white for the outer eye shape, a layer of purple for the iris and black for the pupil. To decide on the shape of the eyes, I looked closely at various pictures of Twilight Sparkle. Use a pencil to sketch your shape ideas before cutting them out. Use a glue gun to adhere the layers and then carefully glue them onto the bag. Then, if you want to add eyelashes like I did, take little strips of black foam and make little slits along one side and glue them on top of the eyes onto the bag.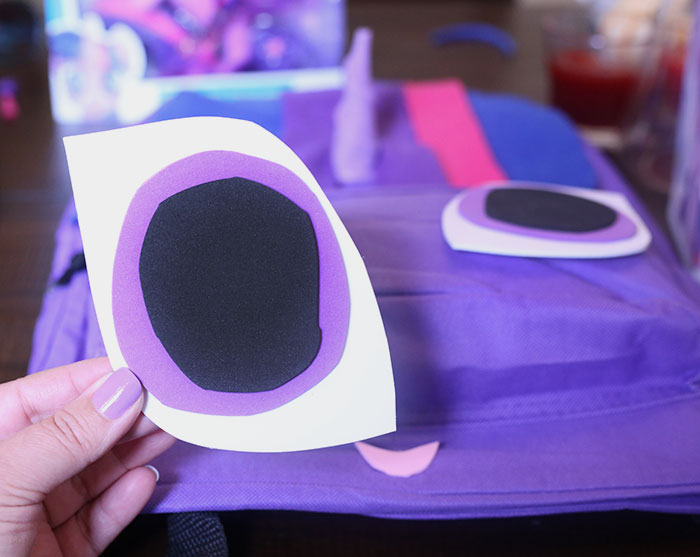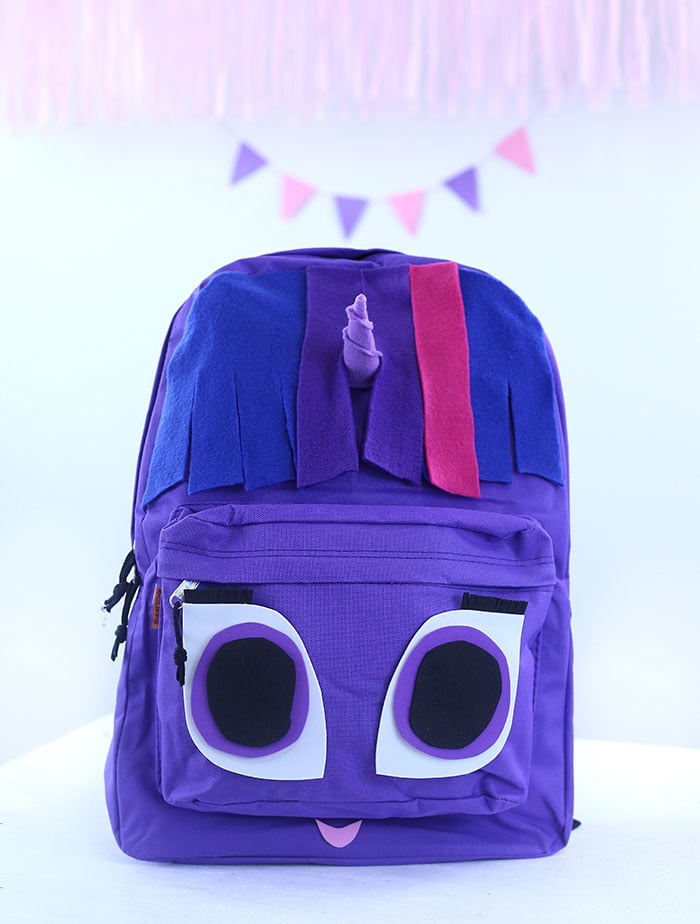 For cute final touches, you can also make a little mouth with a pink foam sheet and tiny little ears with a purple foam sheet. Make sure to glue them on with your glue gun.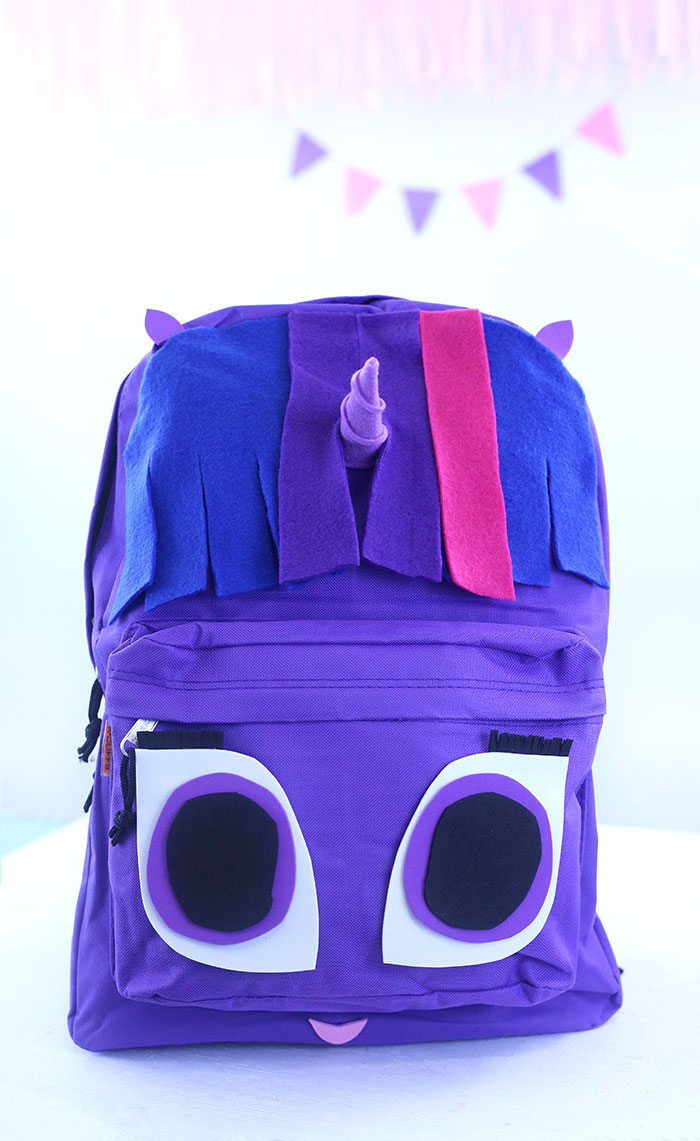 And that's really it! You now have an adorable one of a kind Twilight Sparkle backpack. 😉
MY LITTLE PONY: THE MOVIE TRAILER
Hold on tight, everypony! My Little Pony: The Movie is blasting to theaters on October 6! Check out the trailer now:
Stay in the loop:
Who are you taking to see My Little Pony: The Movie?