Have you ever tried making your own beauty products? Lately, I've been really intrigued by the idea of DIY beauty and other household cleaners. You know I'll share my little experiments as they come. As for today? We did a little 2 ingredient DIY lip balm made with Kool-Aid and shortening. It was super fun, my son got a really big kick out of it. Plus, these would make really cool gifts or party favors!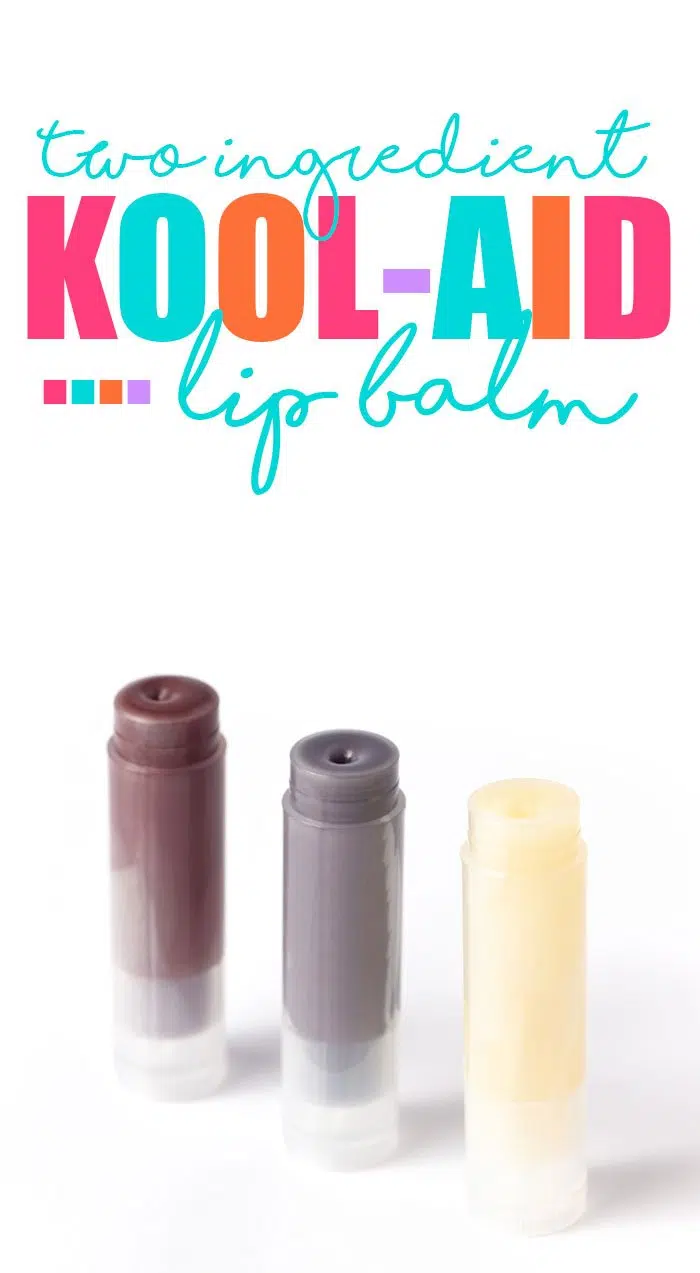 DIY KOOL-AID LIP BALM WITH TWO INGREDIENTS
I mentioned a couple of weeks ago that my mother and I were going through her "catch all" recipe box. It has all types of "to be filed" recipes and things like that in it spanning over 2 decades. Well, one of the fun little treasures that we found inside was a torn out sheet from a magazine or book with a list of "Pantry Potions". I believe the article came from the Almanac and some of the recipes on the page were credited to Joey Green's Incredible Country Store book which I really need to buy. Among the fun recipes included on the page was a Cherry Lip Balm recipe using nothing other than Cherry Kool-Aid and Crisco. I thought that was easy enough for my son and I to do. So, we set out to make some.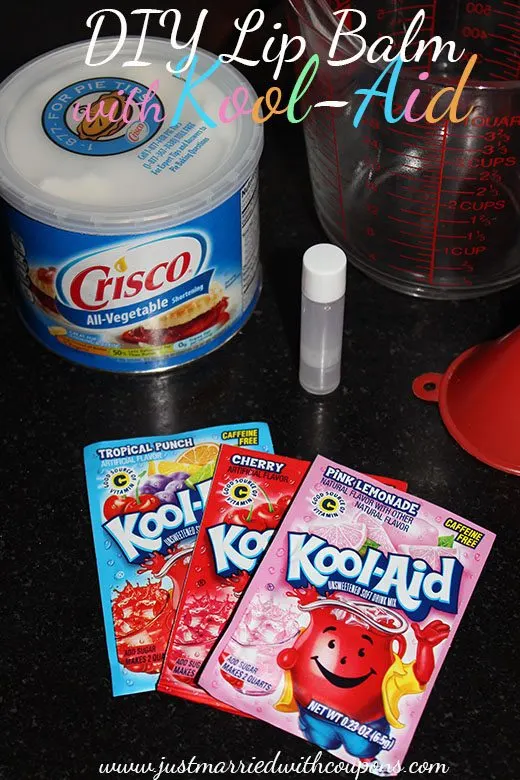 I went ahead and purchased some empty lip balm canisters over at Amazon, but the recipe suggests storing in an empty 35-mm film canister. I didn't have one of those on hand, but you can get all types of creative by up-cycling a small container or re-using a lip balm that you have already used up.
Want to make some too? This is what you'll need to fill 4 empty lip balm canisters:
3 Tablespoons of Shortening (I used Crisco)
1 Pkg of Kool-Aid (your choice of flavor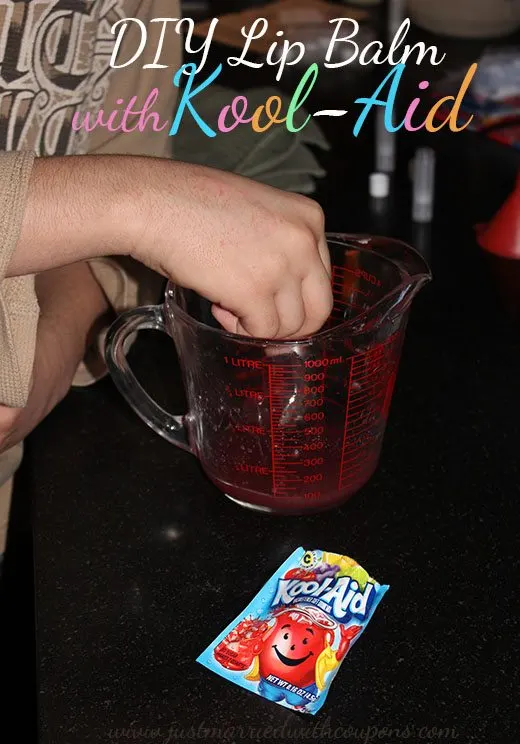 Directions:
Add shortening to a microwave safe bowl. Melt in the microwave in intervals of 30 seconds. (It took about a minute or so for mine to melt, will vary). Remove your shortening and slowly add some of contents of your Kool-Aid package little by little. Stir well and combine before you add more each time. I did two batches and when I added the whole package at once it was nearly impossible to get the lumps out, it seemed to stick together. Once your ingredients are fully combined with no lumps. Simply pour into your canister of choice. If the mixture thickens, just warm again in the microwave. Refrigerate overnight so that the balm can firm up. The recipe above will fit about 4 standard lip balm tubes.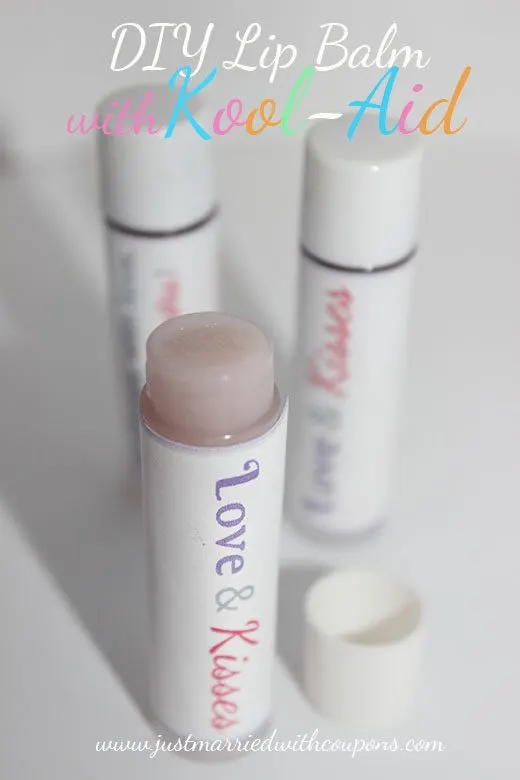 We made some with Pink Lemonade and Tropical Punch Kool-Aid and of course you can choose any flavor your heart desires.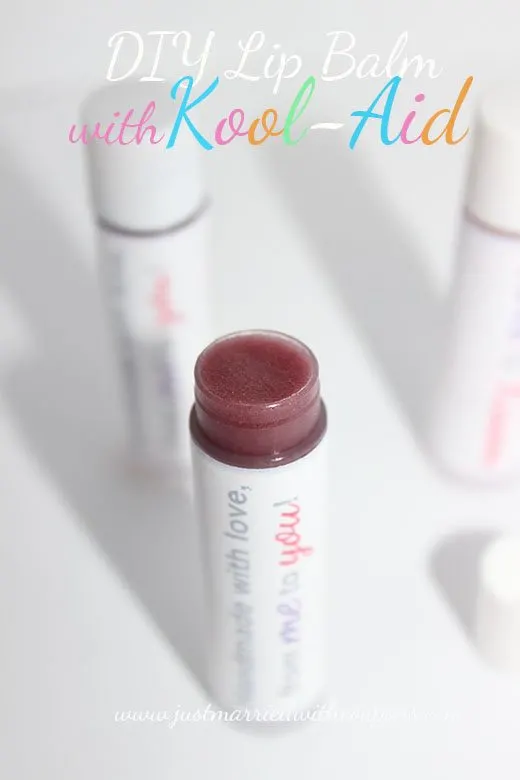 Want to make your lip balm gifty pretty? My hubby and I made some cute labels that will fit a standard lip balm tube.
I used Avery Sticker Project Paper for printing, then adhered them to each tube.


--> Print sheet of 4

Have you ever tried something like this? What did you do?