This new year I'm craving a more peaceful and organized lifestyle.  While I'm in the midst of making big changes and decisions, I've been spending some time checking out new ideas to try. I recently received a complimentary copy of The Essential Guide to Home Herbal Remedies by Melanie Wenzel. All opinions are my own. Making remedies myself has always been a big interest of mine, yet I rarely have been able to spend the time delving in.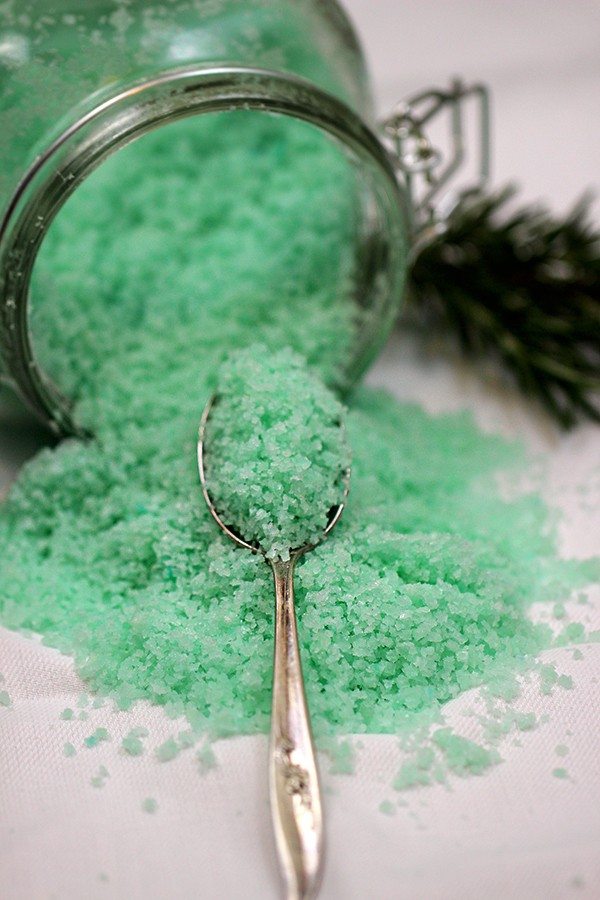 One of the recipes in the book really caught my attention. It's for Spruce Bath Salts.  With only four ingredients, I was game to give this a try. Nothing says relaxation like a luxurious bath. The recipe calls for sea salt, spruce essential oil, green food coloring and… vodka.  I don't drink it, but luckily my mom had some leftover from a holiday party so I snagged hers. I tried looking up ways to avoid using it and couldn't find any definitive reasons to use it either. In reading about bath salt recipes in general, it seems they can get hard and clumpy, I'm hoping the use of alcohol is what helps keep this recipe in good condition.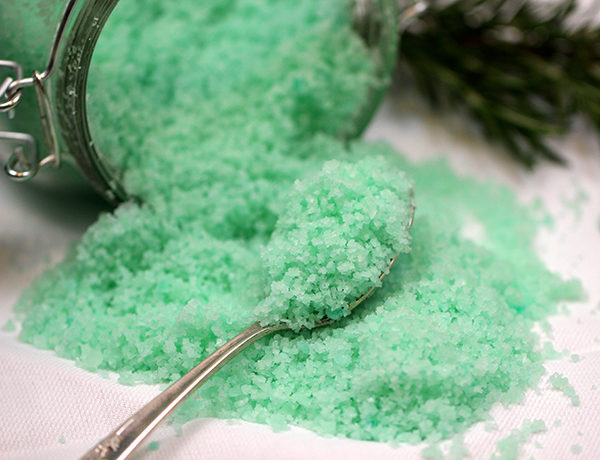 Many of the recipes for home remedies in the Home Herbal Remedies book contain ingredients that I'm not readily familiar with, but they're intriguing still. You'll find recipes for tonics, creams, gels, teas and even some healing food recipes. I love that there are step by step photos to help create them at home. That's a huge bonus as I'm not someone to follow written instruction. Sounds funny, but it's true. I totally confirmed this over Christmas when I "followed" a cake recipe and later realized that I skipped two ingredients. How does one do that? Silly me.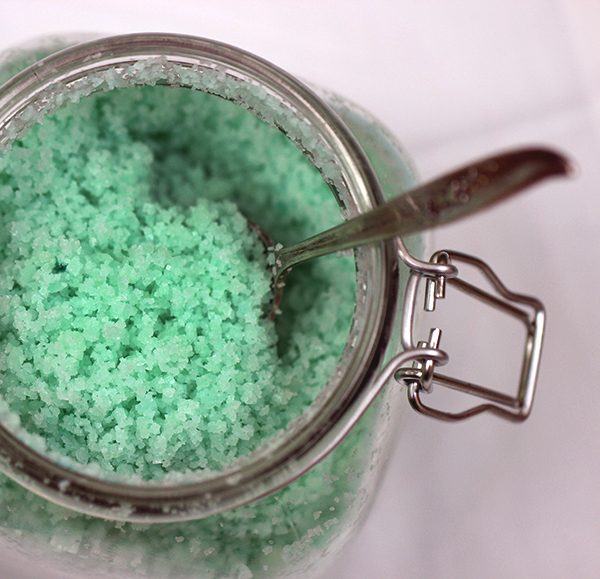 The recipe for Spruce Bath Salts is easy and smells absolutely amazing. However, it can be quite pricey to put together. Pure essential oils can be expensive, I found some more affordable options on Amazon. I used a brand called Nature's Kiss. The recipe does make a huge batch which is a plus and would also make an amazing gift.
Why Spruce Essential Oil?
To be honest, this was the first time I heard about spruce essential oil. I am new to essential oils and really enjoy diffusing them. Way to fake a clean house? Diffuse lemon essential oils! According to Wenzel, this particular oil is good to use for growing pains and muscular tension. When used externally, it's said to help stimulate circulation. When this bath salt with the oil is used in warm water, like a bath, the effects are increased. As an added bonus, it will make your bathroom smell fantastic! The book warns that spruce essential oil should not be used on children under two years old or children that suffer from asthma as it may lead to breathing difficulties.
How to make Spruce Bath Salts
Shelf Life: The salts will keep for 1 year in a dry place. How to use? Add about 2 tbsp of the bath salt to a full bathtub of warm water.
➘Decorative resealable glass container (4 cups/1L)
➘1 & 1/2 lbs of sea salt (This is the brand I used)
➘5 Tsp of Spruce Essential Oil
➘1 Tbsp of Vodka
➘Green Food Coloring (I used 5 drops)
Pour sea salt into container, add essential oil and vodka. Add food coloring if desired. Seal and shake vigorously until mixed evenly.
The Essential Guide to Home Herbal Remedies by Melanie Wenzel is available at Amazon.com for purchase.
 Have you ever tried making your own scented bath salts?