If you can start out the week on a good note, the rest will totally fall into place. I'm inviting you to join me on a tasty adventure this Monday with exciting recipes like this Creamy Lime Black Bean & Corn Salsa. Yum. This simple recipe can be served as a tasty dip appetizer or even a side dish. With just a handful of ingredients and ton of fun flavor, my family loved this. This is a sponsored post with Mirum about Mix It Up Mondays, all opinions are my own.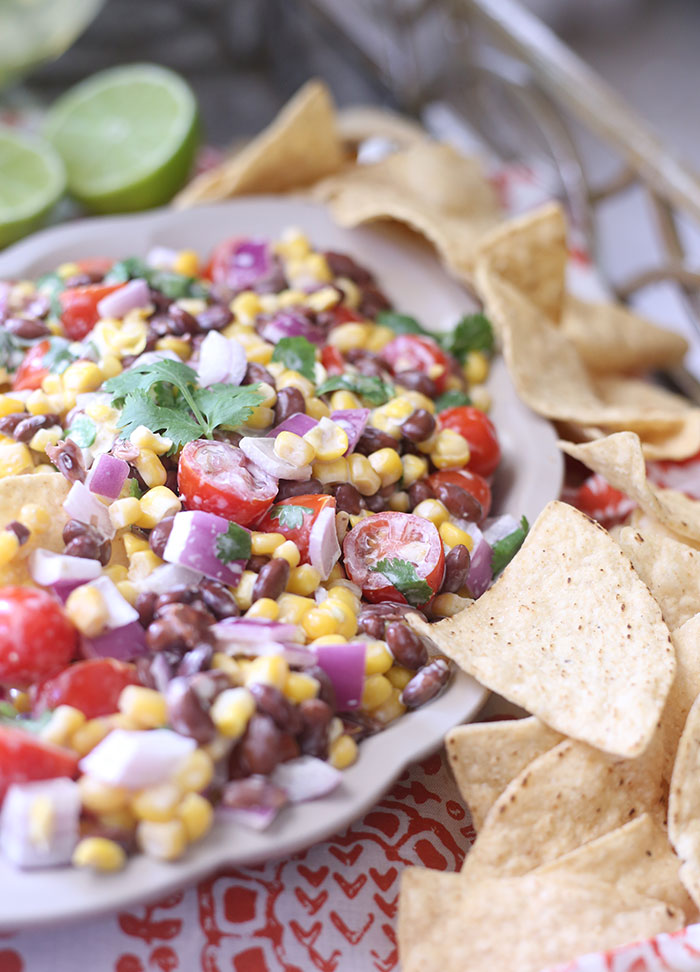 Let's face it, it's kind of hard to serve recipes that your whole family will love. The truth is that my husband is even more "selective" with food than my son is. Trying to summon recipes that will be an instant win is definitely a challenge. Trying to figure out what to serve can be mind boggling for me at times to say the least, nevermind trying to squeeze in the time to shop and cook. Are you with me?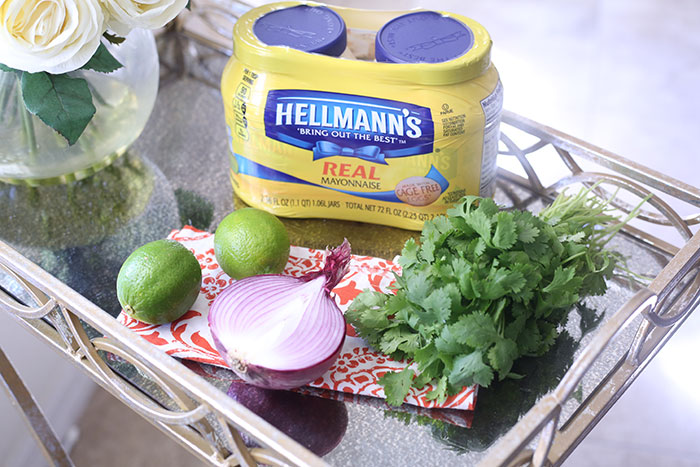 When I heard about Mix It Up Mondays with Sam's Club to try something new, I was totally in. The idea of kicking things up a notch at home totally resonates with me. I love celebrating the little things if I can, but it takes effort on my part…especially when we're back to the weekly routine all over again. Since mondays have a bad wrap (hey, rightfully so), I'n happy to spread the word about these yummy fresh recipes to inspire you to start the week on the right foot. You'll find recipes and tasty videos for inspiration like Black Bean and Corn Salsa recipe that I'm sharing today:
Are you ready to mix it up on Mondays? Here's how to make this yummy black bean & corn salsa.
Creamy Lime Black Bean & Corn Salsa Recipe
The flavor of fresh lime and the creaminess of Hellmann's Mayonnaise come together perfectly in this mouthwatering recipe.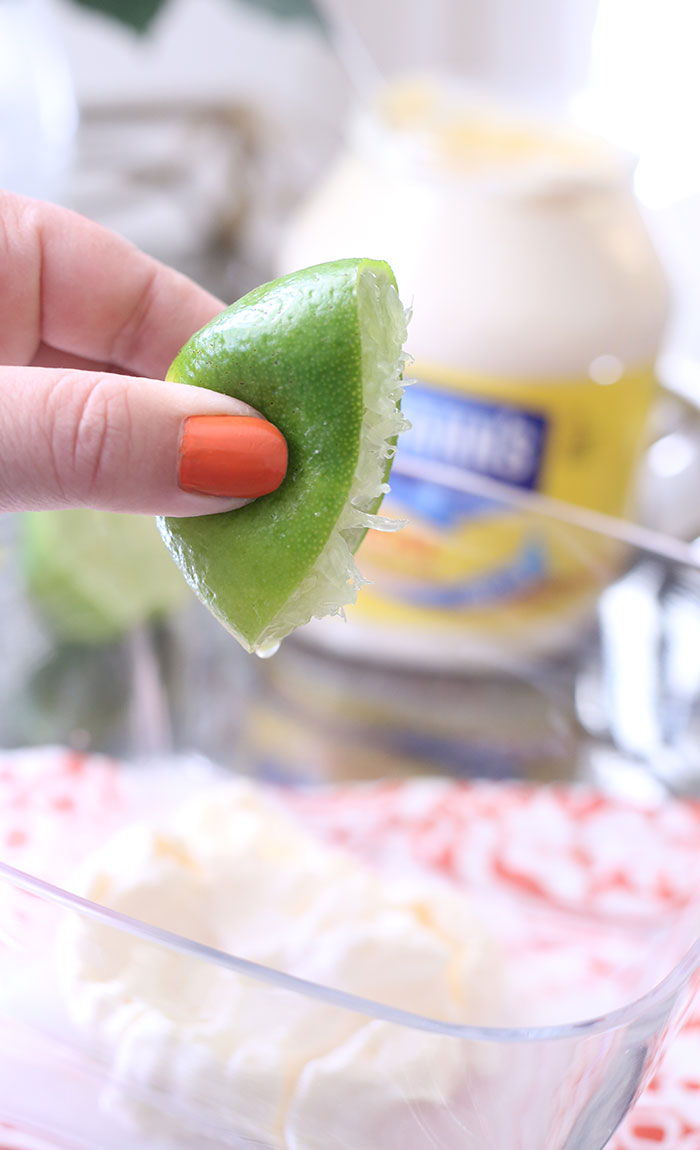 Along with corn and black beans, this recipe calls grape or cherry tomatoes, red onion and fresh cilantro.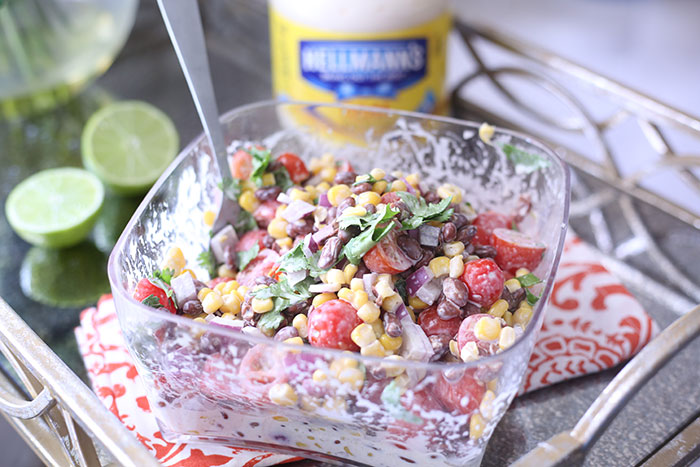 You can make the entire recipe in just one bowl and soon as the ingredients are blended, it's ready to eat.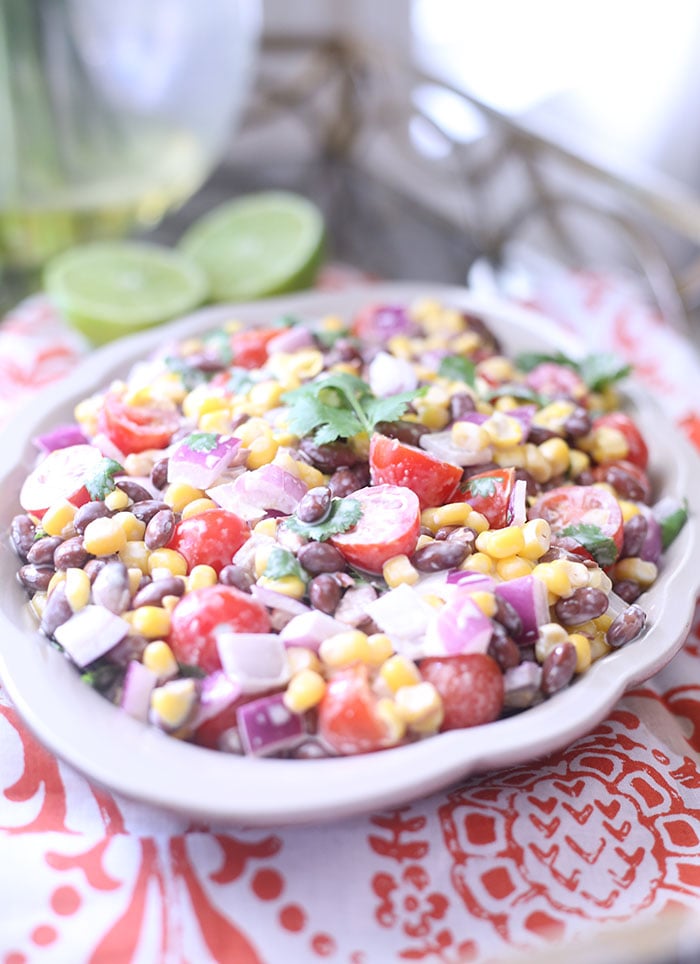 This recipe seriously rocked my day. Yum.
Sound mouth-watering? Print this recipe and join the fun this coming Monday: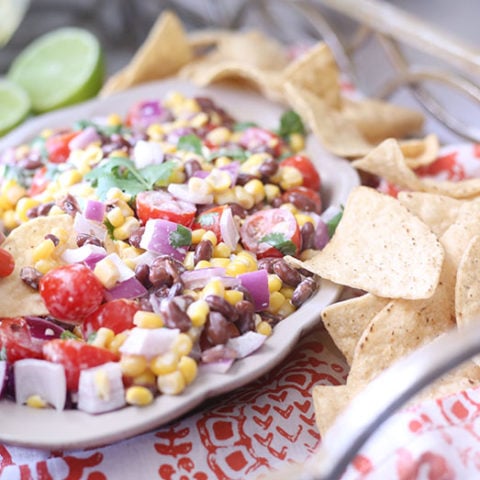 Creamy Lime Black Bean & Corn Salsa
Yield: 6

Prep Time: 15 minutes

Total Time: 15 minutes

Easy twist on Mexican dip comes together with easy ingredients.
Ingredients
1/4 cup Hellmann's® Real Mayonnaise
2 Tbsp. lime juice
1/2 tsp. ground cumin
1 can (19 oz.) black beans, rinsed and drained
1 can (11 oz.) whole kernel corn, drained
1 cup grape tomatoes or cherry tomatoes, halved
1/2 cup chopped red onion
2 Tbsp. chopped fresh cilantro
Instructions
In a medium sized bowl, blend Hellmann's®, lime juice and cumin and stir in all of the remaining ingredients until combined. Serve as a side dish or as a delicious dip.
Nutrition Information:
Yield: 6 Serving Size: 1
Amount Per Serving:Calories: 54Total Fat: 0gSaturated Fat: 0gTrans Fat: 0gUnsaturated Fat: 0gCholesterol: 0mgSodium: 111mgCarbohydrates: 12gFiber: 2gSugar: 4gProtein: 2g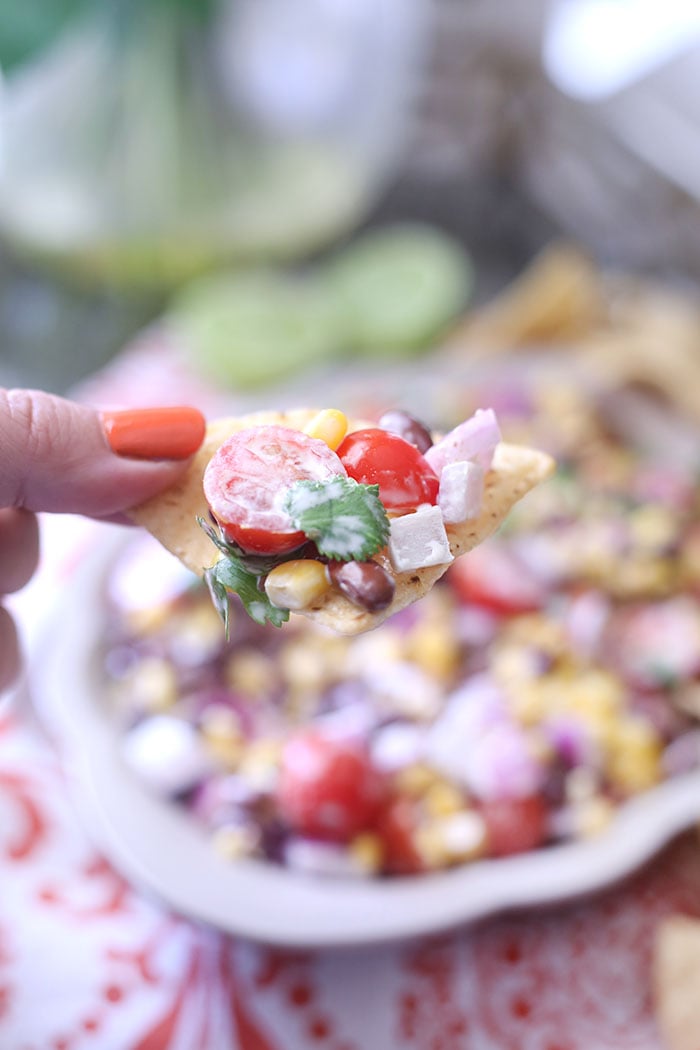 Love this recipe idea? Make sure to tap into these Mix It Up Mondays recipes now.
If you haven't shopped at Sam's Club in a while, there are fresh ways to shop and save yourself a ton of time. If you're as busy as me, you're going to really appreciate these convenient shopping hacks.
Time Saving Shopping Tips at Sam's Club:
Scan & Go App: I just used this on my visit to Sam's Club. I cannot believe how incredible this is. Listen. You can literally shop the store and scan as you go. THEN pay directly on your PHONE. You don't have to go through check out. Total WOW. Big time saver.
Order Ahead to Pick Up: You can actually place an order online and schedule a pick up. You can do this on your home computer or right on the Sam's Club app.
Subscriptions: This is also new to me. I'm a huge fan of using subscription services on everyday necessities. You can actually have these items shipped to your door at home when you subscribe. Never run out of basics!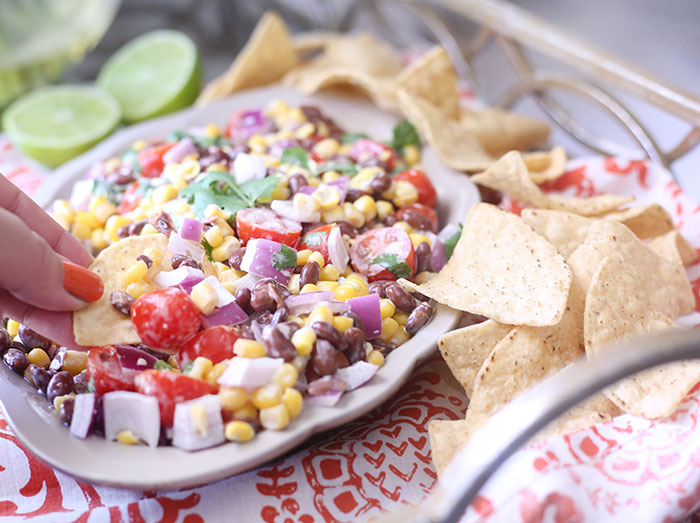 Are you up for making Mondays more fun? Which of these Mix It Up Mondays recipes would be a hit with your family?