This is a sponsored post as a part of my Cool Food Panel participation with the National Frozen and Refrigerated Foods Association (NFRA), all opinions are my own.
Now that we're almost in the swing of things with back to school, keeping dinner delicious and exciting has been on my mind. The best meal moments happen when I get a little creative and these Pierogi Nachos were an easy win. With the help of Mrs. T's Pierogies, this delish addition to dinner can be made in just minutes. Seriously ready in less than 25 minutes and that's just monumental around here.

I've been enjoying Mrs. T's Pierogies forever. My mom used to make these when I was younger and I always looked forward to those nights. A little secret? My favorite thing way to enjoy them is with some soy sauce. Yum. It's been awhile since I had them, so I was extra excited to come up with an all new delicious recipe with their tasty pierogies.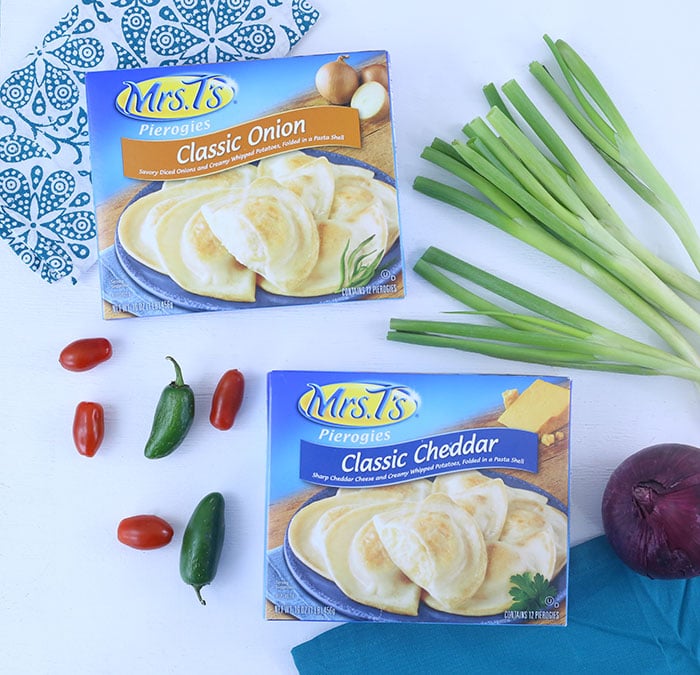 Mrs. T's Pierogies are the ultimate comfort food right from your freezer. The best thing about frozen foods is that you can keep stocked up and easily make a unique meal any night of the week. If you haven't tried them yet or if it's been a while, you might be surprised at how many varieties are available. With flavors such as Five Cheese Pizza to Loaded Baked Potato, you could try a new flavor every night of the week.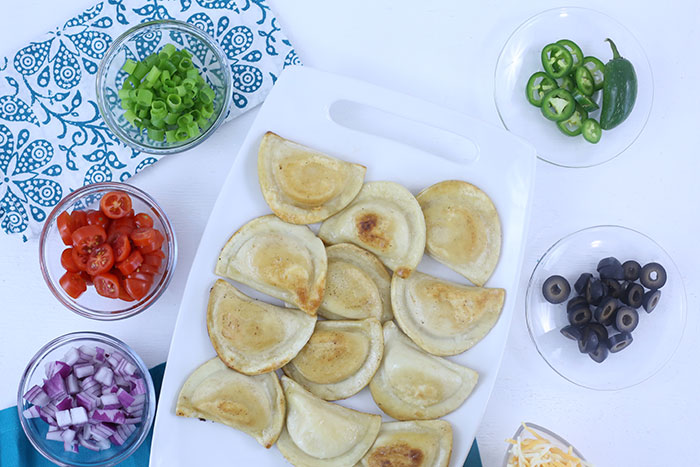 I'm all about keeping things tasty around here with as little fuss as possible. My tasty twist on traditional nachos using Mrs. T's Pierogies fits the bill. It's a great way to surprise your family with something exceptional.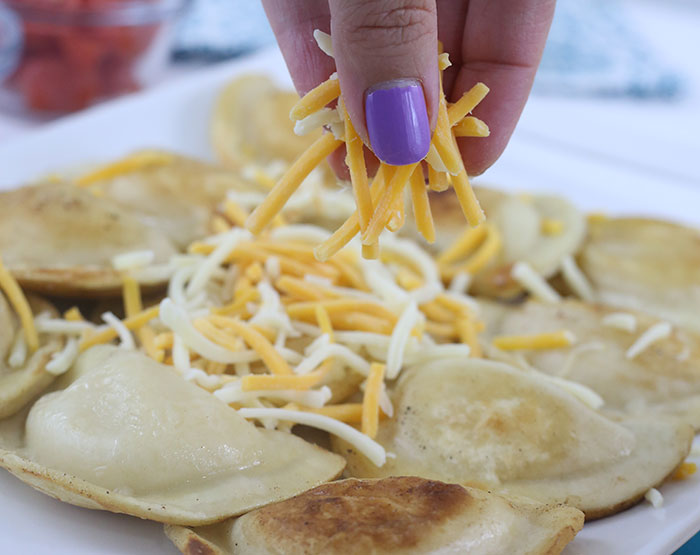 For this easy recipe, I chose to use the Classic Cheddar flavor. When it comes to nachos, the cheesier the better. Let's dig in!
Pierogi Nachos Recipe
To make these nachos, follow the saute directions on the package of your favorite Mrs. T's Pierogies. Mine cooked in about 16 minutes on the stove top. Once they're cooked, sprinkle some cheese on top and broil until it's melted. All of your favorite nacho toppings will make your pierogi nachos extra delicious. Some of my favorite toppings are tomatoes, onions, green onions, black olives and of course, cheese. The sky's the limit! With so many options, you could make all different varieties of toppings to keep things fresh for dinner.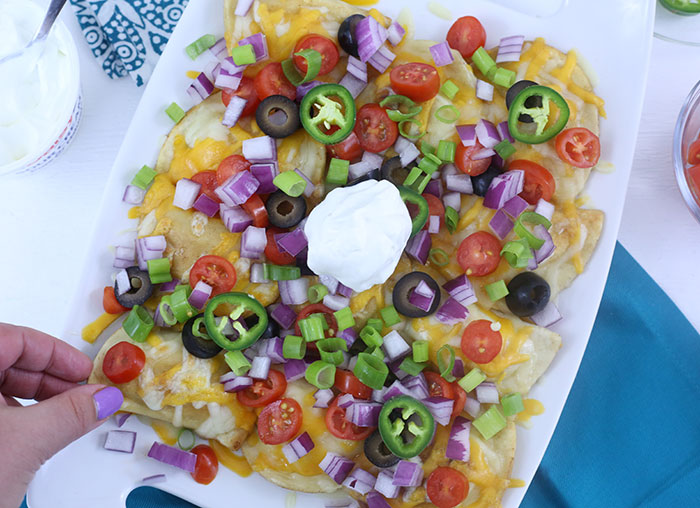 Here are some simple tasty topping ideas to start off with:
Shredded Cheese
Chopped Tomatoes
Chopped Red Onion
Green Onions
Jalapeno Slices
Refried Beans or Beans
Sour Cream
Salsa
Guacamole
To take these pierogi nachos to the next level, I topped them off with rich and creamy Daisy brand Sour Cream. I've been using their sour cream for quite some time, but I literally just realized that their sour cream has no additives or preservatives. Total score.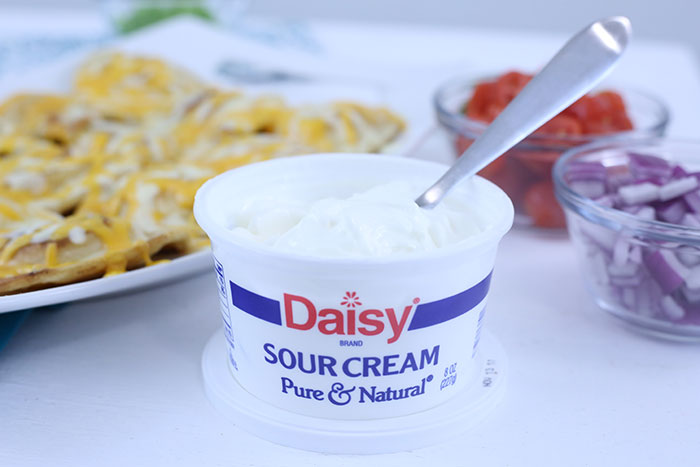 Oh this cheesy delicious goodness is all too delicious. These nacho toppings work really well with the cheesy pierogi goodness.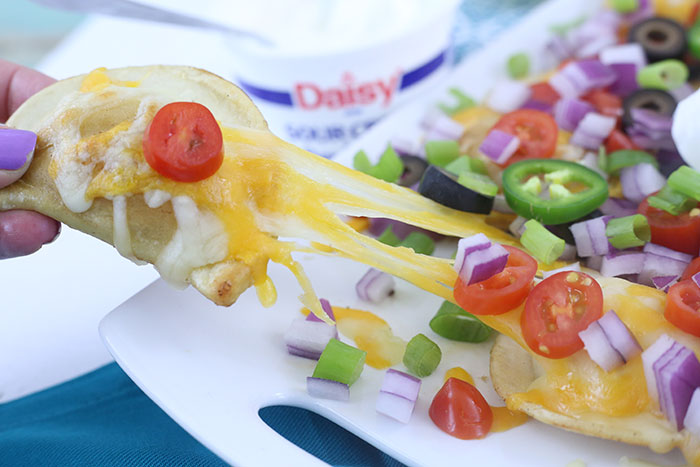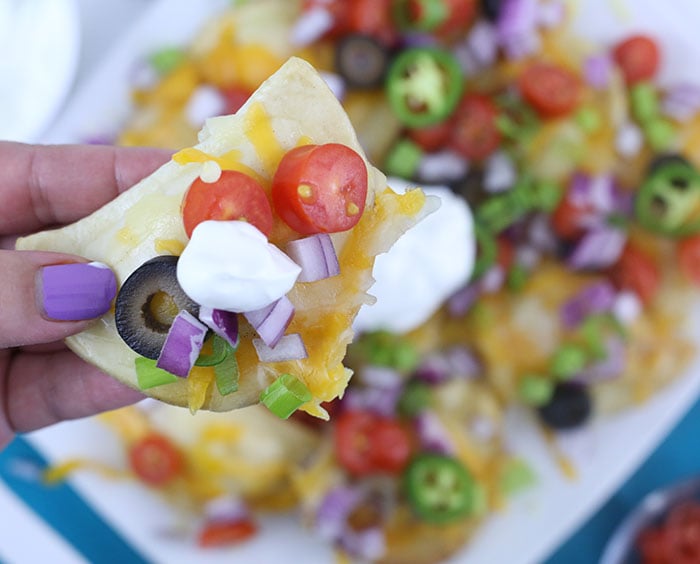 Elevate dinner tonight with Mrs. T's Pierogies and Daisy Sour Cream.
What would you add to your Pierogi Nachos?