Why yes, I'm quite obsessed with candy charcuterie boards. I have some really fun ideas and this was one of them. Enter a fun pastel unicorn themed candy charcuterie board that's perfect for birthday celebrations, sleepovers and any kind of event where there are teens and tweens. So excited to share what I used to make this cute unicorn dessert tray. There may be affiliate links in this post, all opinions are my own.

The fun pastel theme makes these treats extra popping. From adorable unicorn poop marshmallows to my favorite unicorn candy bracelets, kids are going to love this. This is definitely one of my fav candy dessert boards to date.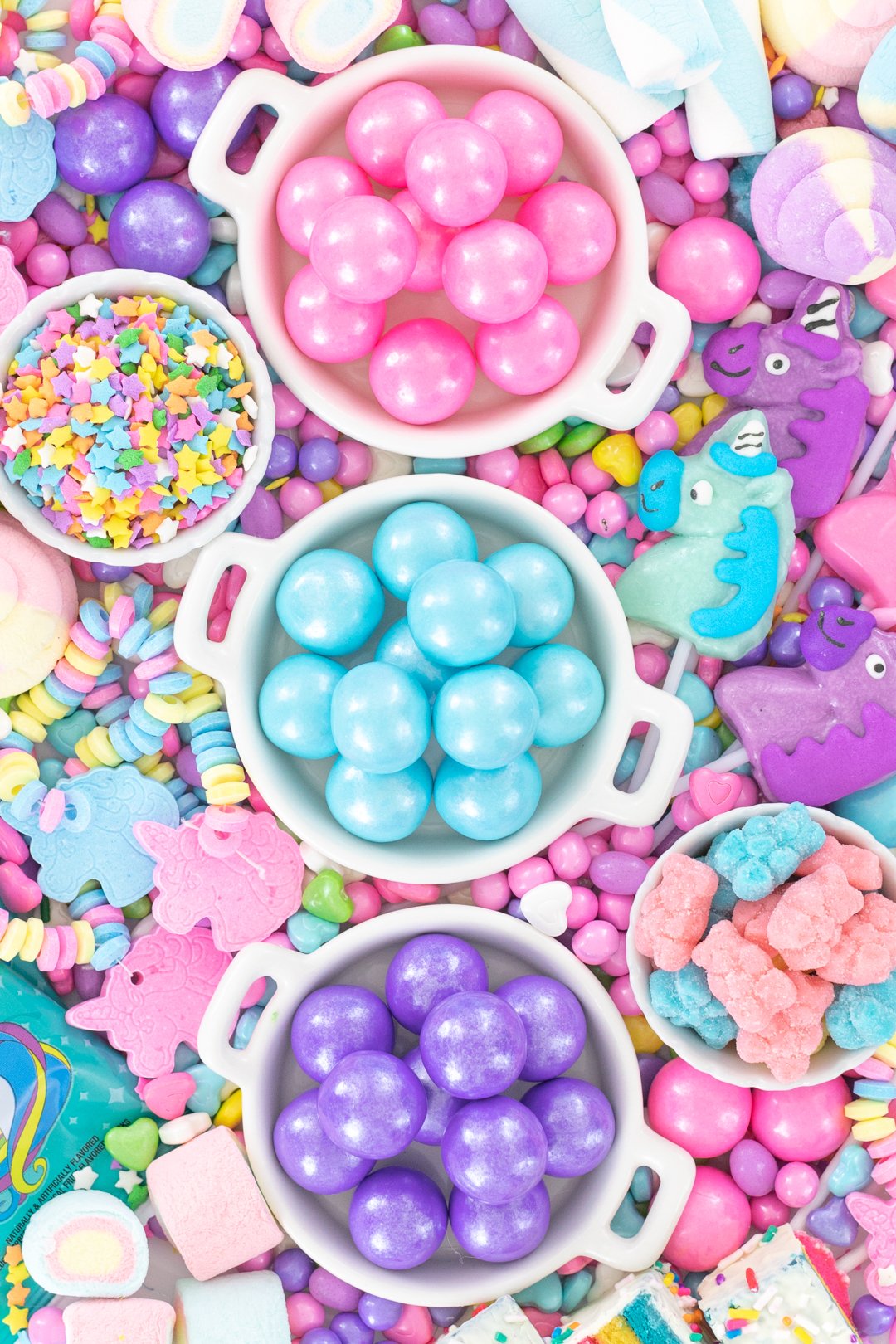 UNICORN PARTY CANDY BOARD
If you are looking for unicorn party ideas, you are totally in the right place. Creating a colorful unicorn board full of pretty pastel and unicorn candies will spark a lot of joy at any celebration. You can make this into a pretty tray or board like I did or you can just use this list of candy to make your own dessert candy bar or buffet.
These unicorn shaped candies also make great party favor bag ingredients. I've searched high and low for pastel favorites and put them together for your convenience. I present you with the best unicorn candy for your parties and celebrations.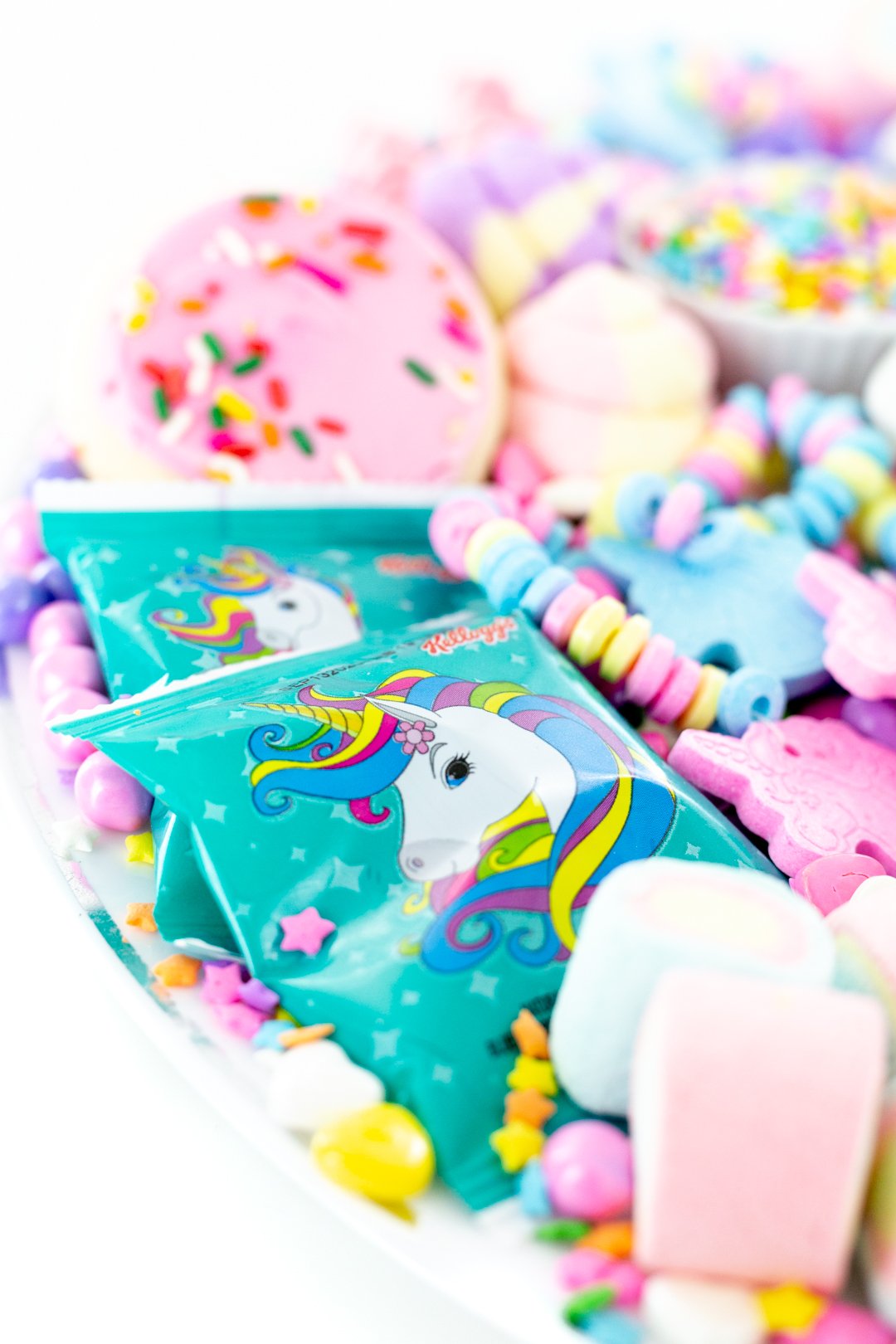 UNICORN CANDY
Unicorn Poop. These marshmallow poops are adorable, here.
Unicorn Lollipops, here.
Kellogg's Unicorn Fruit Snacks, here.
Unicorn Candy Bracelets, here.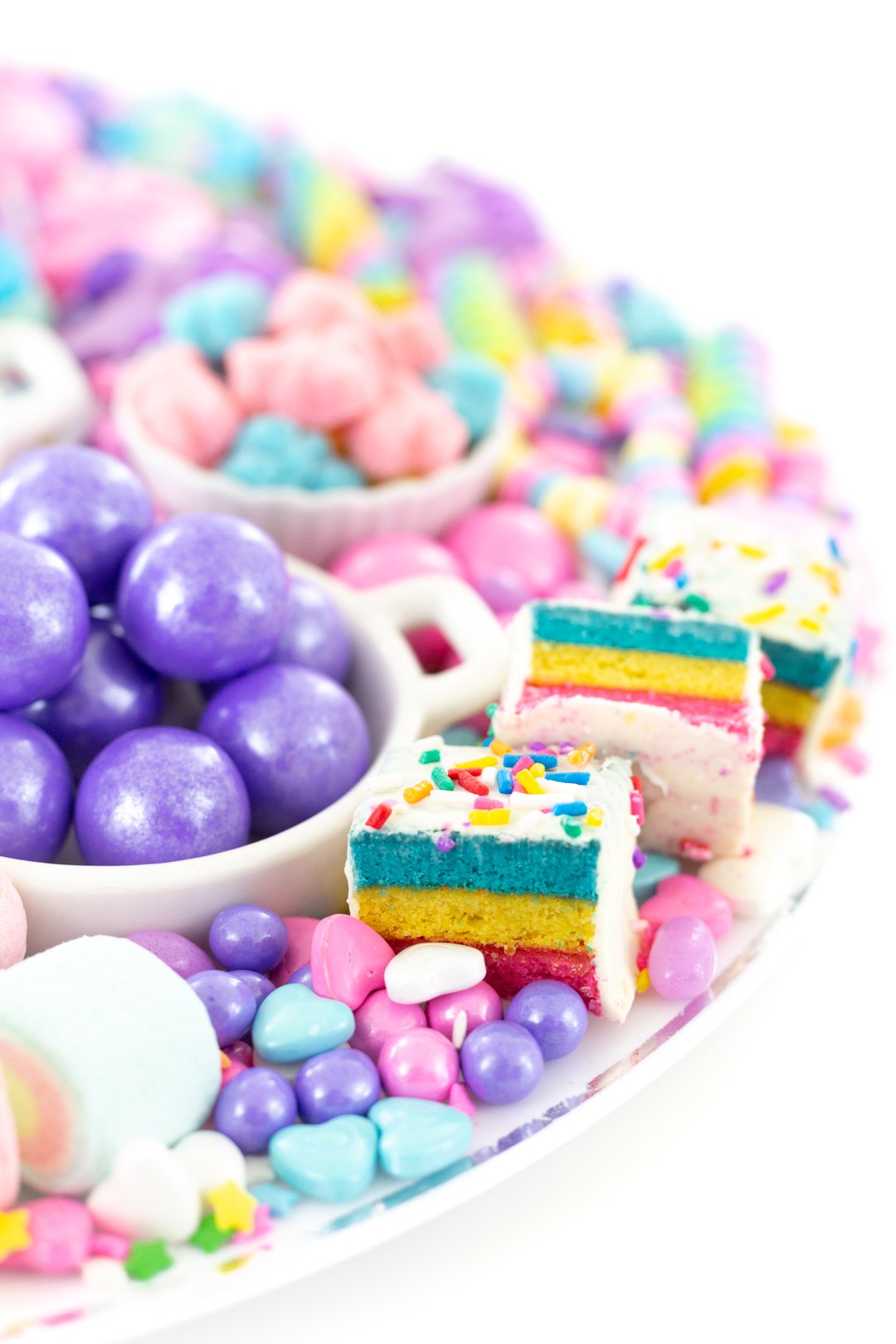 PASTEL CANDY
Pastel Gummy Bears, here.
Pastel Cake Bites, here.
Pastel Cookies. Lofthouse if you can find them or even Target has their own pretty pink ones that I like.
Marshmallow Poles, Light Blue Striped, here.
Star Sprinkles from Betty Crocker. They sell these all over, but here is a link for a visual.
Pastel Gumballs. Pink, here. Purple here, Blue here.
Pink Twirl Lollipops, here
Pastel Twirl Multi Colored Lollipops. I found mine at a local store, but these are fairly similar here.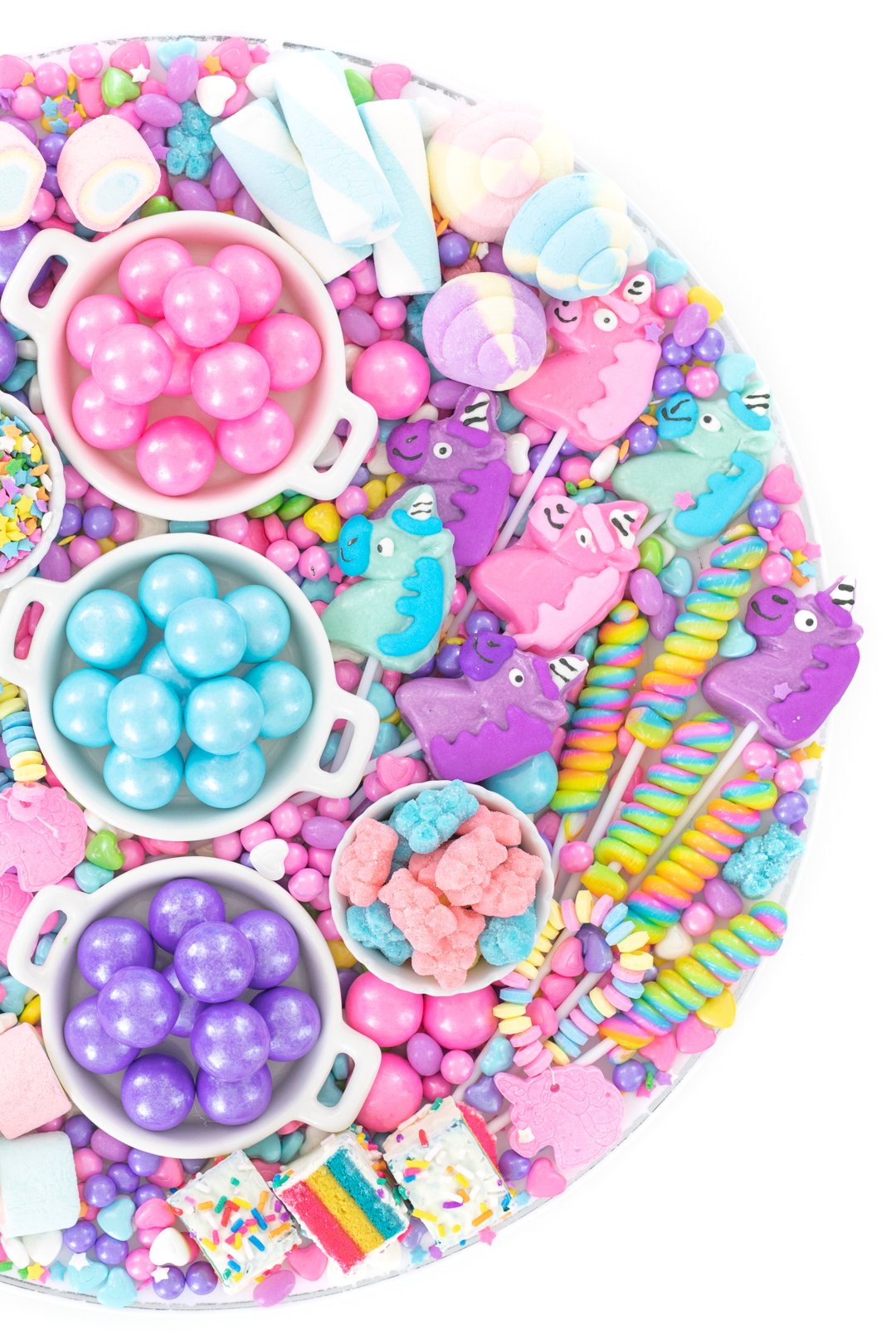 FILLER CANDIES
To make the candy board or tray feel fuller. I like to add a base of smaller candies and sprinkles in between the larger featured items.
Here are some ideas on what I used for this board:
Pastel Purple Jelly Beans, here.
Mini Pastel Heart Candies, here.
Pastel Star Sprinkles that I linked to above.
Shimmer Pink and Lavender Sixlets from Color It Candy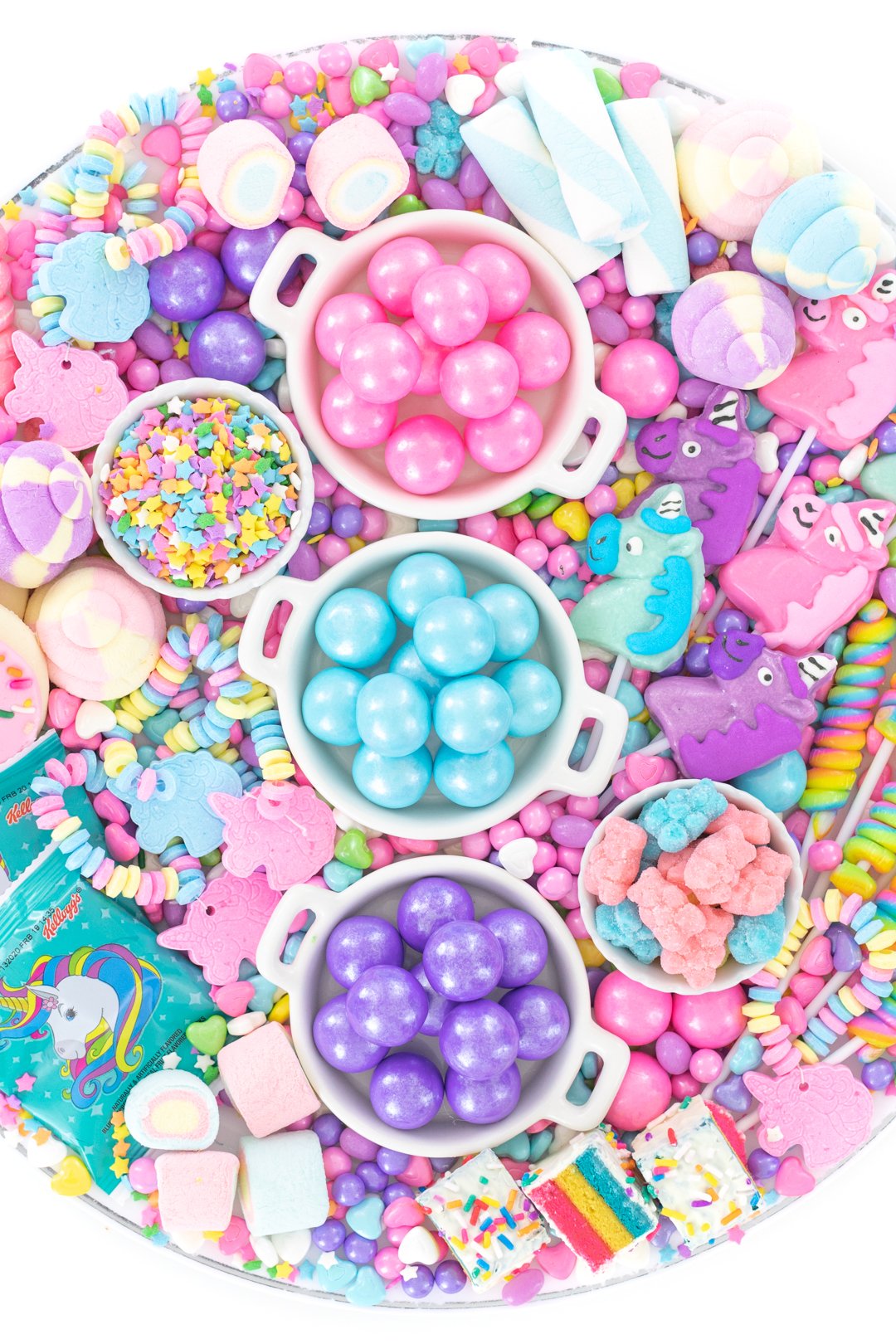 HOW TO MAKE A CANDY CHARCUTERIE BOARD
Select a large tray or board to use to serve your unicorn goodies on.

Use little mini serving dishes to separate treats if you like. It will help to add visual interest.

Place all of your mini dishes down onto the tray first before starting.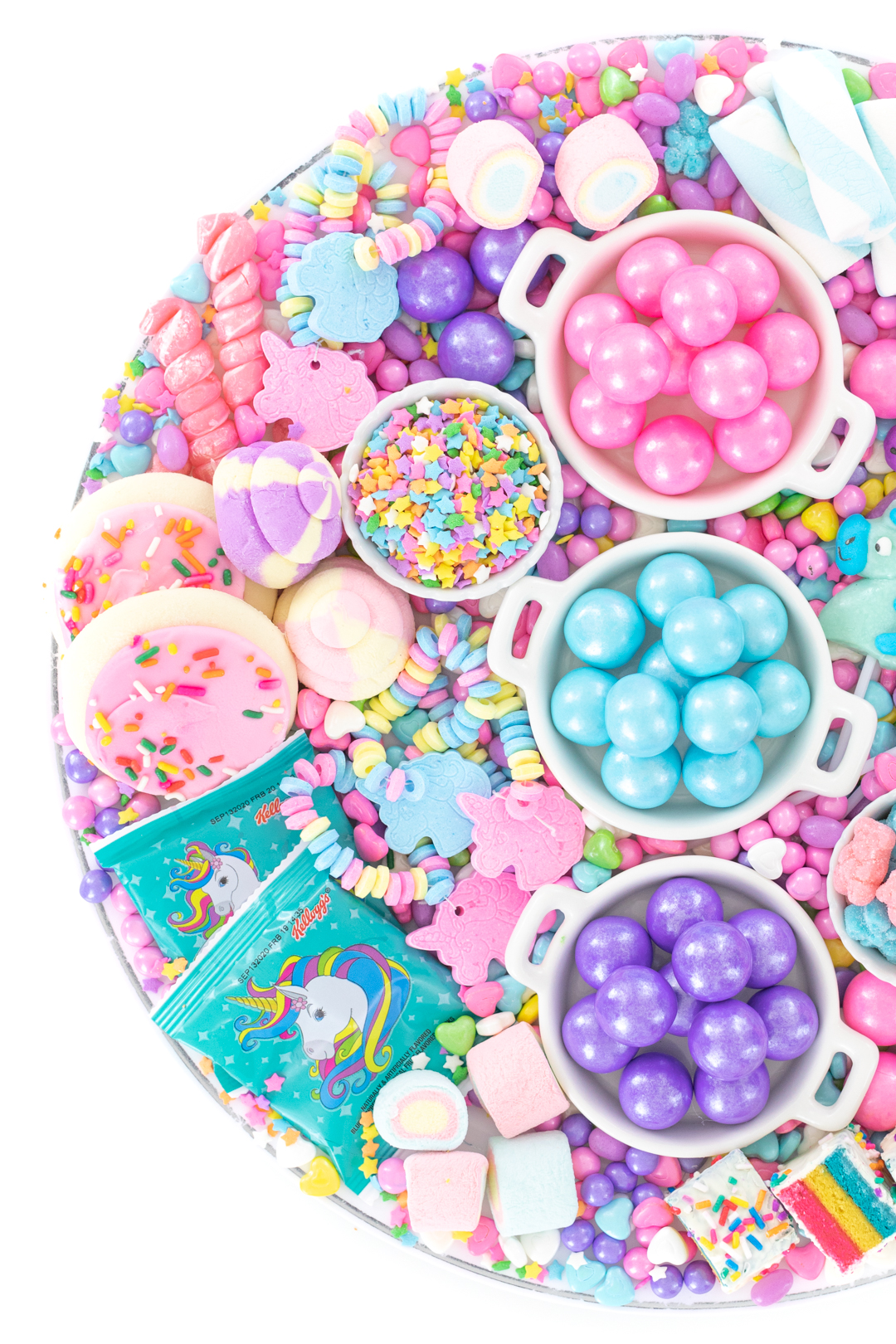 Add a layer of your "filler" candies to cover the entire board and in between any dishes.

Add all of your main treats and candies, separate and alternate by color to add more visual interest.

Once everything is in place, go back and fill in any empty spots with more of the "filler" candies and sprinkles.
Voila! You now have the perfect unicorn party dessert!
Get the printable list of candies and instructions below.
MORE UNICORN PARTY DESSERTS
These popular unicorn sundaes are everything with their gorgeous pastel layers.
Simply unicorn milkshakes that are perfectly pastel.
Unicorn Donuts are so much fun, especially this quick donut idea here.
Also these are my favorite unicorn poop cookies ever over here.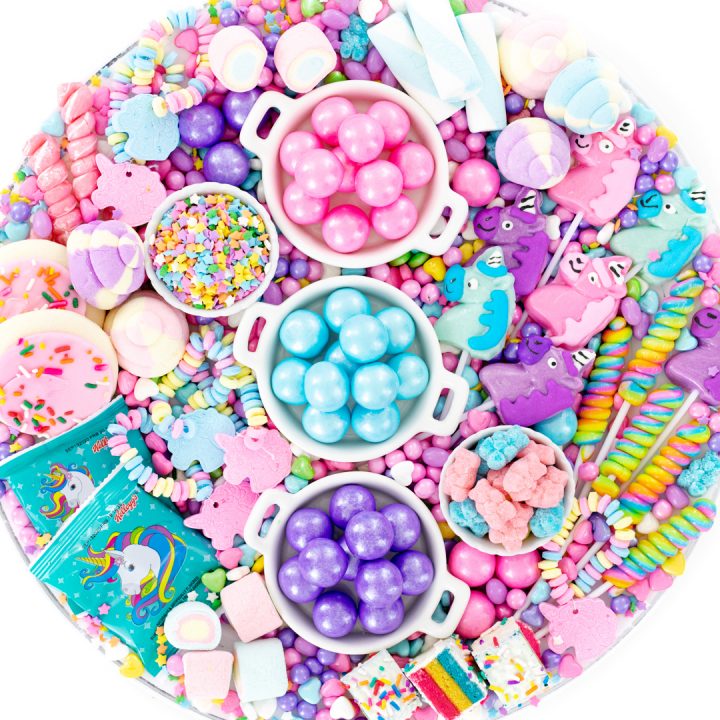 Unicorn Candy Charcuterie Board
Magical Unicorn Candy Charcuterie Board with Pastel Treats, Gumballs and Unicorn Shaped Candy.
Ingredients
Kellogg's Unicorn Fruit Snack
Unicorn Lollipops Candy Suckers
Unicorn Candy Bracelet
Unicorn Poop Marshmallow Candy
Sweetworks Celebrations Shimmer Pastel Hearts
Pastel Gummy Bears Candy
Puffy Poles Light Blue & White Jumbo Marshmallow Twists
The Original Cakebites Ultimate Party Cake
COLORSPLASH LOLLIPOPS Pearl Baby Pink
Pastel Shimmer Gumballs by Color It Candy (Pink, Blue & Purple)
Pastel Star Sprinkles by Betty Crocker
Pastel Shimmer Sixlets by Color It Candy (Pink, Lavender)
Smarty Stop Jelly Beans Grape, Light Purple
Instructions
Choose tray or board to use to serve your candies
Add little mini serving dishes to separate candies and add interest.
Place any mini dishes down first onto your tray.
Add a base layer of your "filler" candies.
Add all of your main candies, try to separate/alternate by color to add interest.
Fill in any empty spots with more filler candies.