Shamrock cookies anyone? This fun party idea is so simple but fun for St. Patrick's day. In case you haven't noticed, I've been really into DIY dessert decorating party ideas lately. I totally couldn't let this fun holiday pass by without a festive nod. This party station idea can be your entire party theme or it can be an activity station for a party.
It's also a fun party favor idea. Just set out some rainbow baggies so guests can take their creations with them. So many options!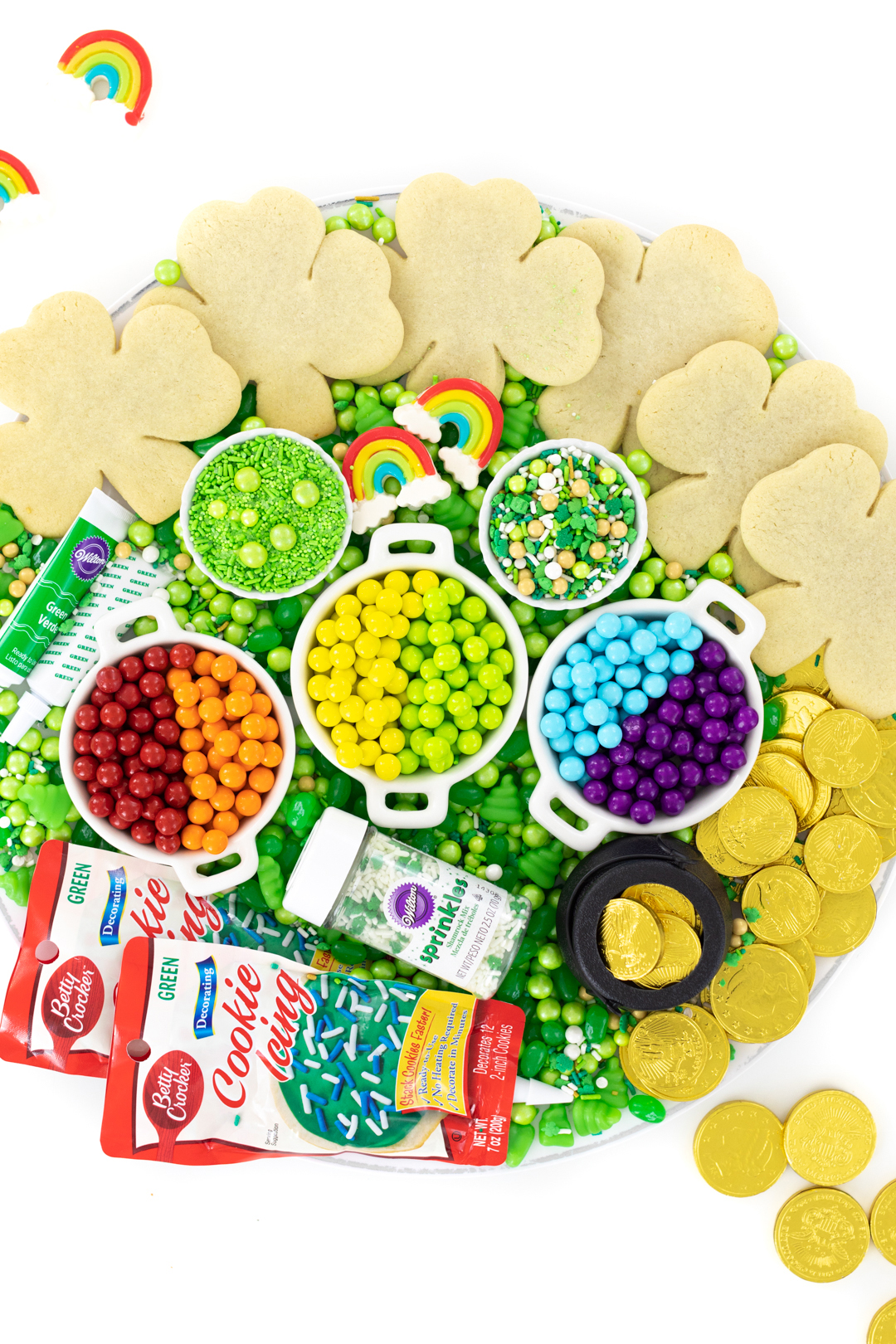 Add a dash of rainbow goodness and you have and you have yourself one of the best no fuss St. Patrick's Day party ideas for 2020. Can you taste the sweet shamrock sugar cookies now? I can. Totally yum fest.
The possibilities are so endless with this. Would be great for a school and classroom parties, at-home parties for kids or even adults, club parties and birthday parties in March.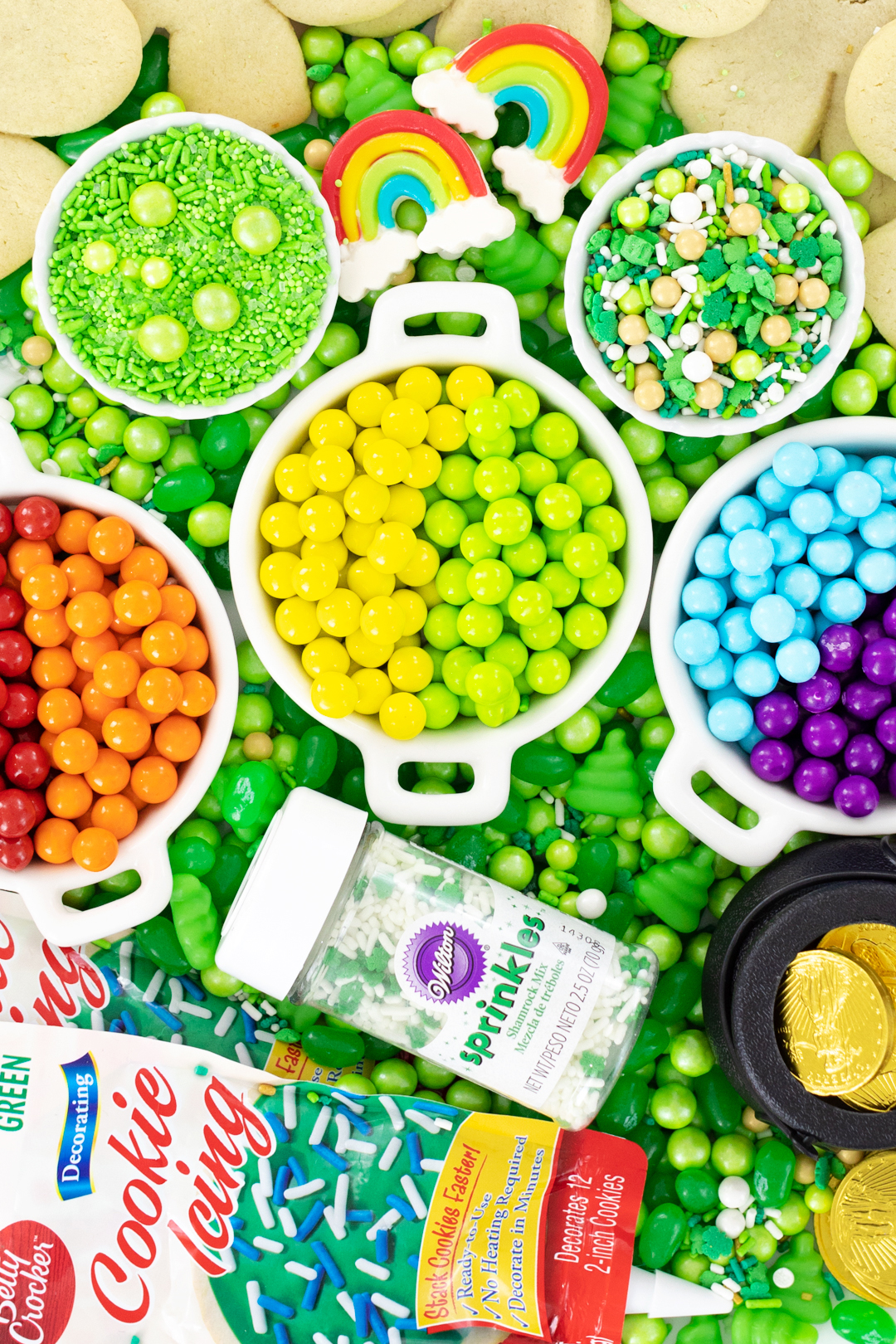 COOKIE DECORATING PARTY FOR ST. PATRICK'S DAY
Looking for the perfect St. Patrick's Day Treats? A cute little DIY cookie station will be the perfect way to celebrate this very green holiday. Set out a variety of candies and sprinkles to get your party started. Throw in some shamrock shaped balloons and you have yourself a well-planned party. Nobody has to know how little effort it really took to come up with and set up. Secret is totally safe with me. This cute idea will make for very memorable and totally cute St. Patrick's Day Desserts.
DIY ST. PATRICK'S DAY COOKIES
First thing to do is choose which St. Patrick's Day cookies you will serve. I love Shamrock cookies for this, but you could do other things like Leprechaun, pot of gold, rainbow or even just plain cookies.
(Get a more in-depth version of the list of items used to make mine at the bottom of this post.)
Plain Shamrock Shaped Cookies
Cookie Icings & Decorating Icings
Green + Rainbow Candies
Small Icing Decorations
Pretty St. Patrick's Day Sprinkles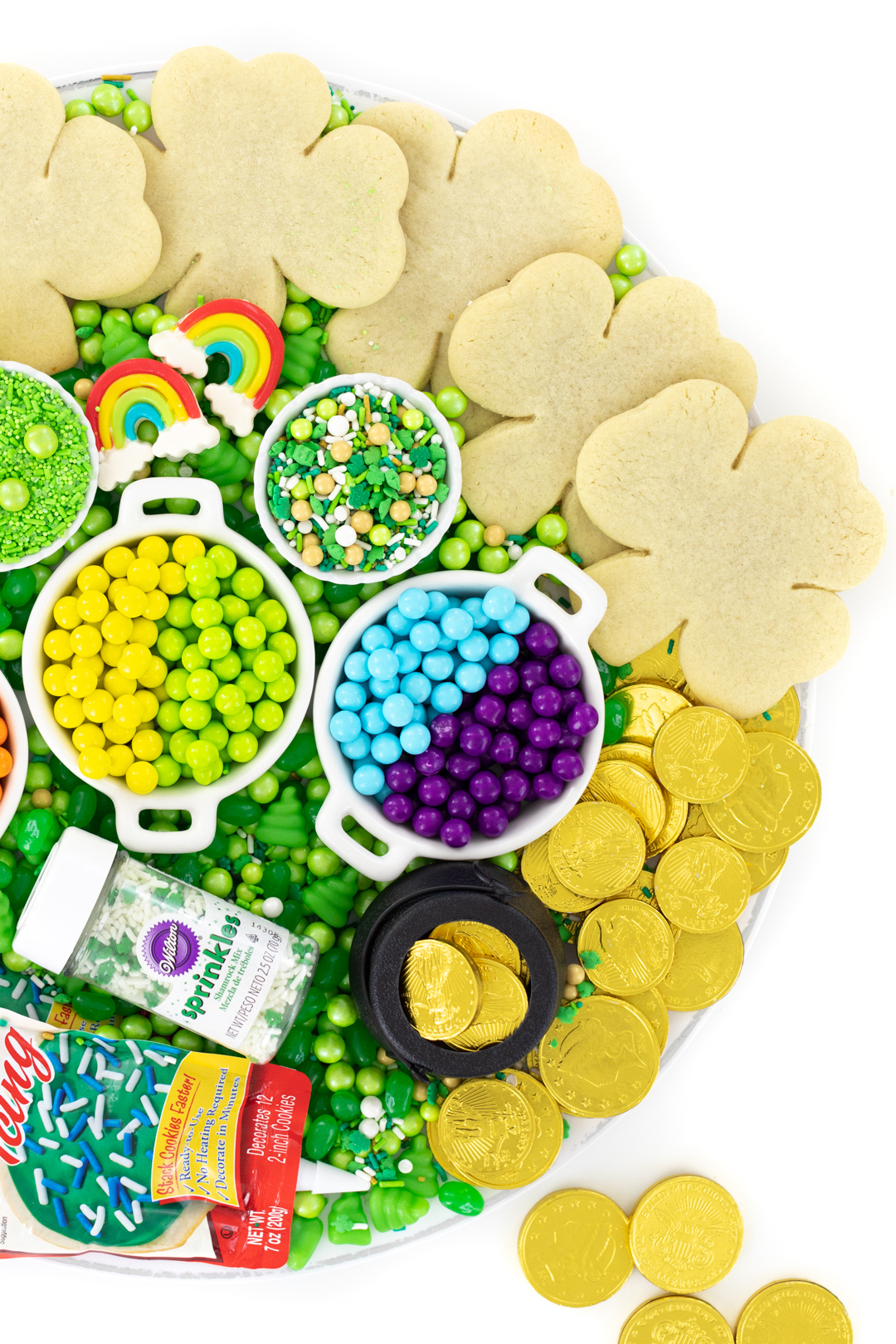 To make your cookie dessert board look even cuter, you can add a mini pot of gold and fill it with gold chocolate coins and other quirky themed candies.
I added some Leprechaun Poop for an added funny bonus. They are so cute!
For another similar idea that you might want to check out for a visual reference, I actually used some of the same candies and elements from my St. Paddy's themed candy charcuterie board. Totally loaded up with all of the best candy and treats.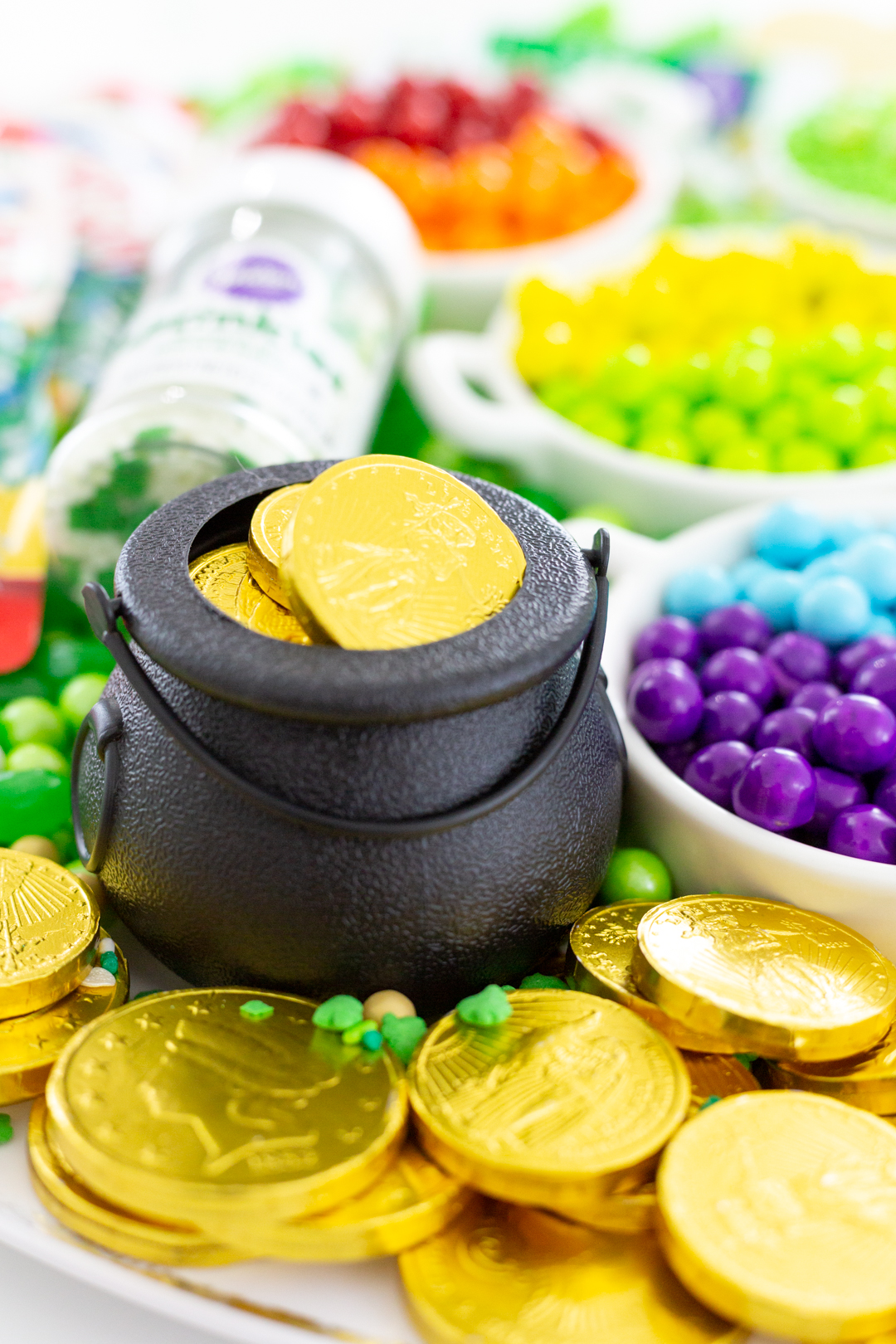 I loved adding candies in rainbow colors to give this cookie tray some popping variety. If you prefer, you can stick to just green.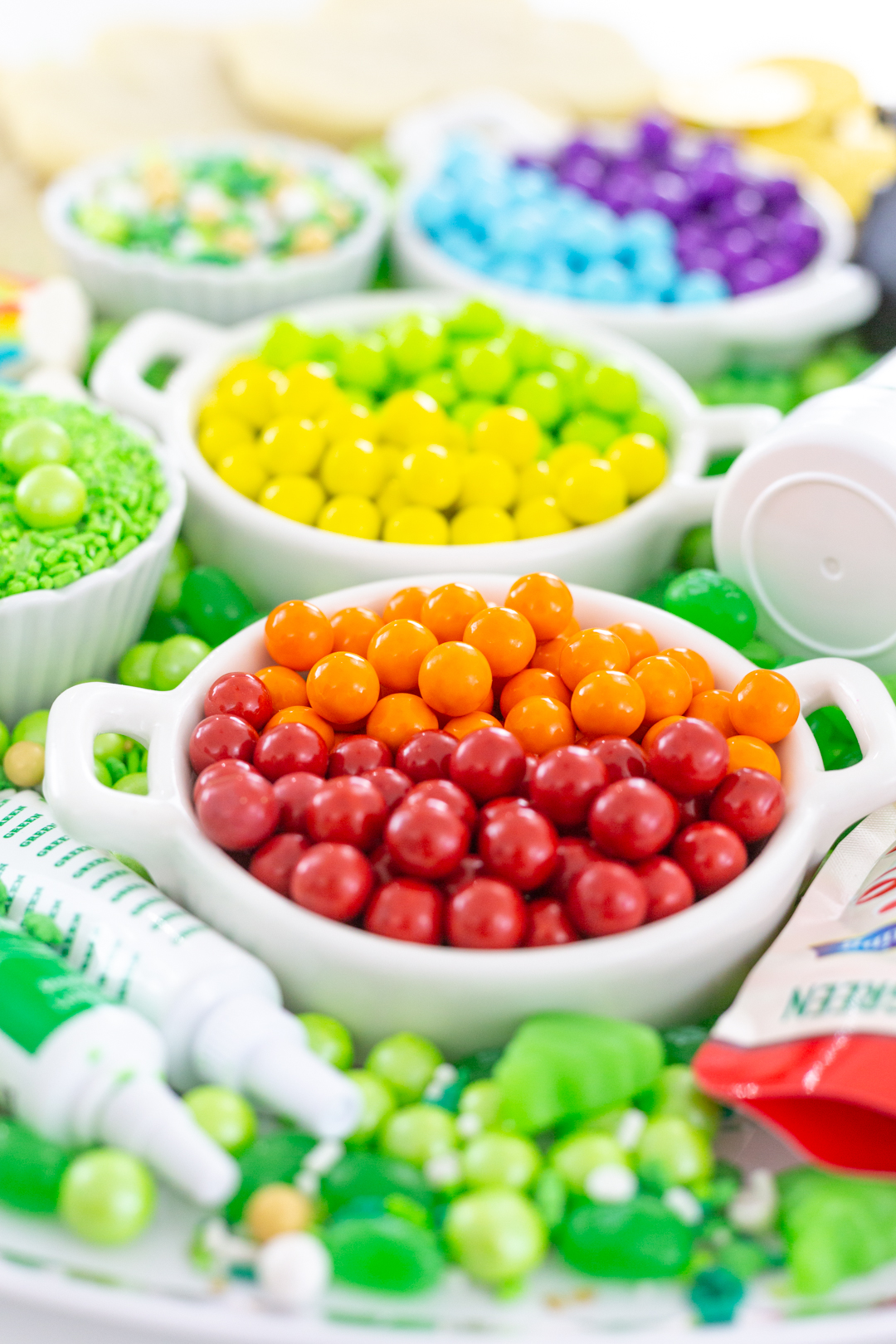 My trick to making my dessert charcuterie boards look extra awesome is to fill it out completely. Adding a layer of smaller candies and sprinkles around and in between the cookies and main decorating tools is a great way to do that.
You can also use little mini dishes to separate some of the smaller ingredients, especially St. Patty's day sprinkles.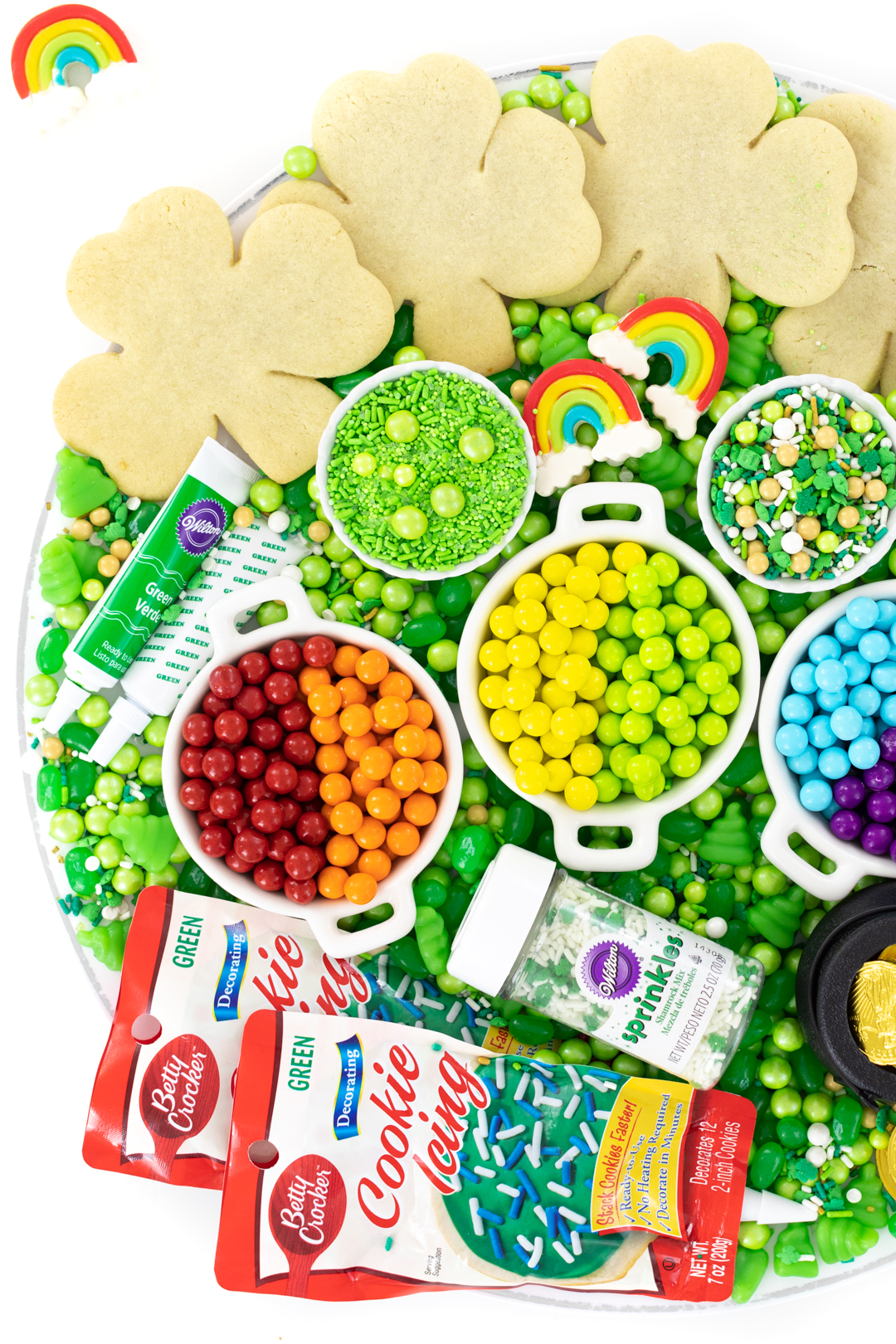 DESSERT DECORATING PARTY IDEAS
Here is another DIY Cookie Decorating party with heart cookies.
How about cupcakes? This pretty pastel party is the cutest.
These wooftastic dog bone cookie decorating party is perfect for Paw Patrol or Clifford fans.
St. Patrick's Day Cookie Party
Bake shamrock shaped cookies and set out a variety of St. Patrick's Day candies and colorful sprinkles and you will have an instant party!

As an Amazon Associate and member of other affiliate programs, I earn from qualifying purchases.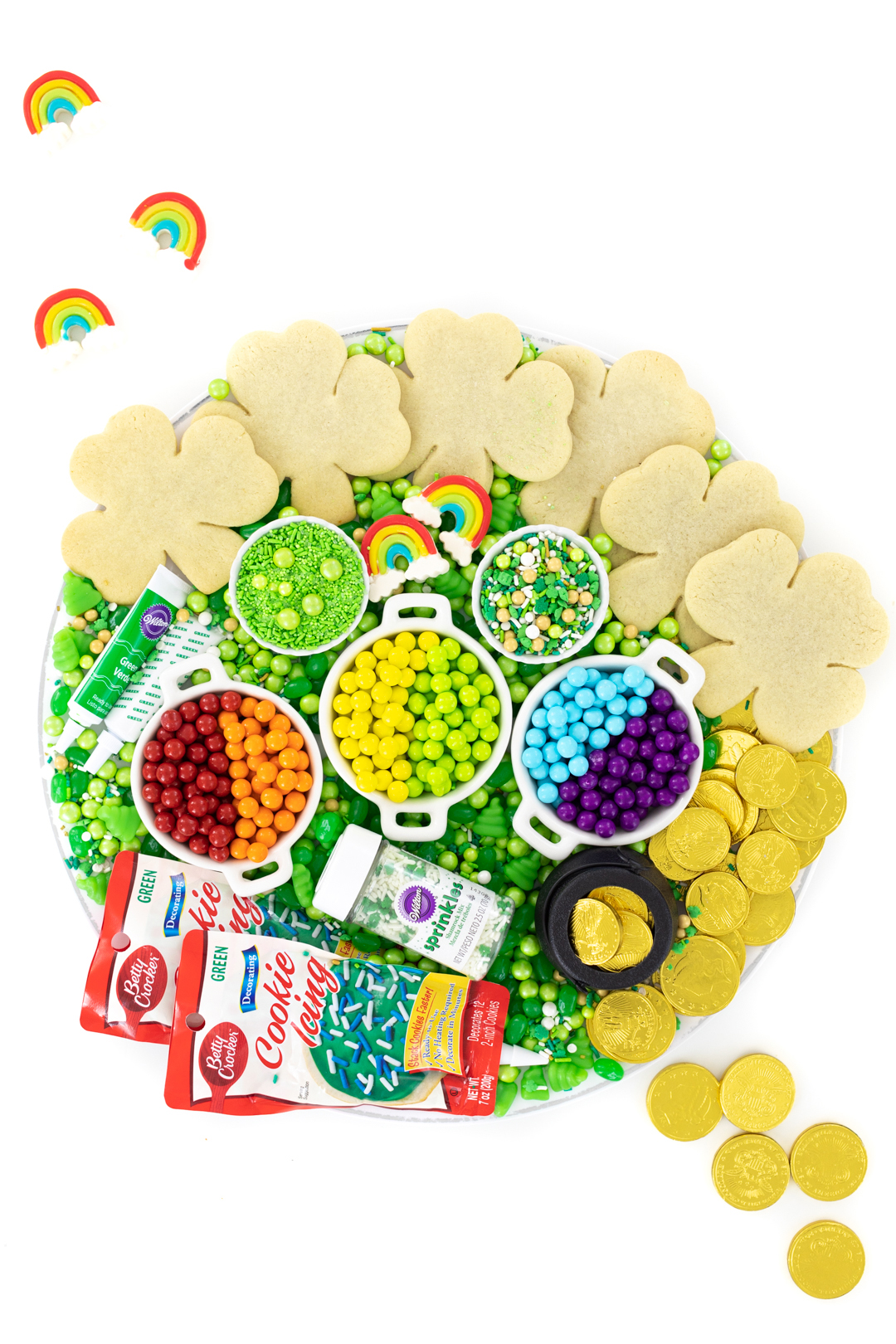 Are you hosting a St. Patrick's Day Party this year?