Looking for fun ideas for a Valentine's day party? This DIY Cookie Decorating party will make for tasty fun and is great for all ages. Bake up some heart shaped cookies and set out a variety of Valentine's Day candies and colorful sprinkles and you will have an instant party!
This sweet idea is also great to use as a Valentine's Day activity for larger parties. It can really be as small or large as you need and is all too easy to set up. Set up some cellophane bags and bows and your guests can even take treats home with them as party favors.
If you have come looking for creative party ideas that are EASY, you have come to the right place. I have simple and clever ideas galore. Let me share some candies and sprinkles to help you get started deciding how to set up your own DIY cookie station for V-day, too!
COOKIE DECORATING PARTY FOR VALENTINE'S DAY
A cute little DIY cookie station will be the perfect way to celebrate this sweet holiday of love. Break out the candies and sprinkles to get this party started. Throw in some balloons and you have yourself a full fledged and well-planned party. Nobody has to know how little effort it really took. Secret is totally safe with me.
DIY VALENTINE'S DAY COOKIES
Here are the basics that you need to set up your own party table below:
(Get a more in-depth printable version at the bottom of this post.)
Plain Heart Shaped Cookies
Cookie Icings & Decorating Icings
Heart Shaped Candies
Small Valentine's Day Candies and Chocolates
Small Icing Decorations
Pretty Sprinkle Mixes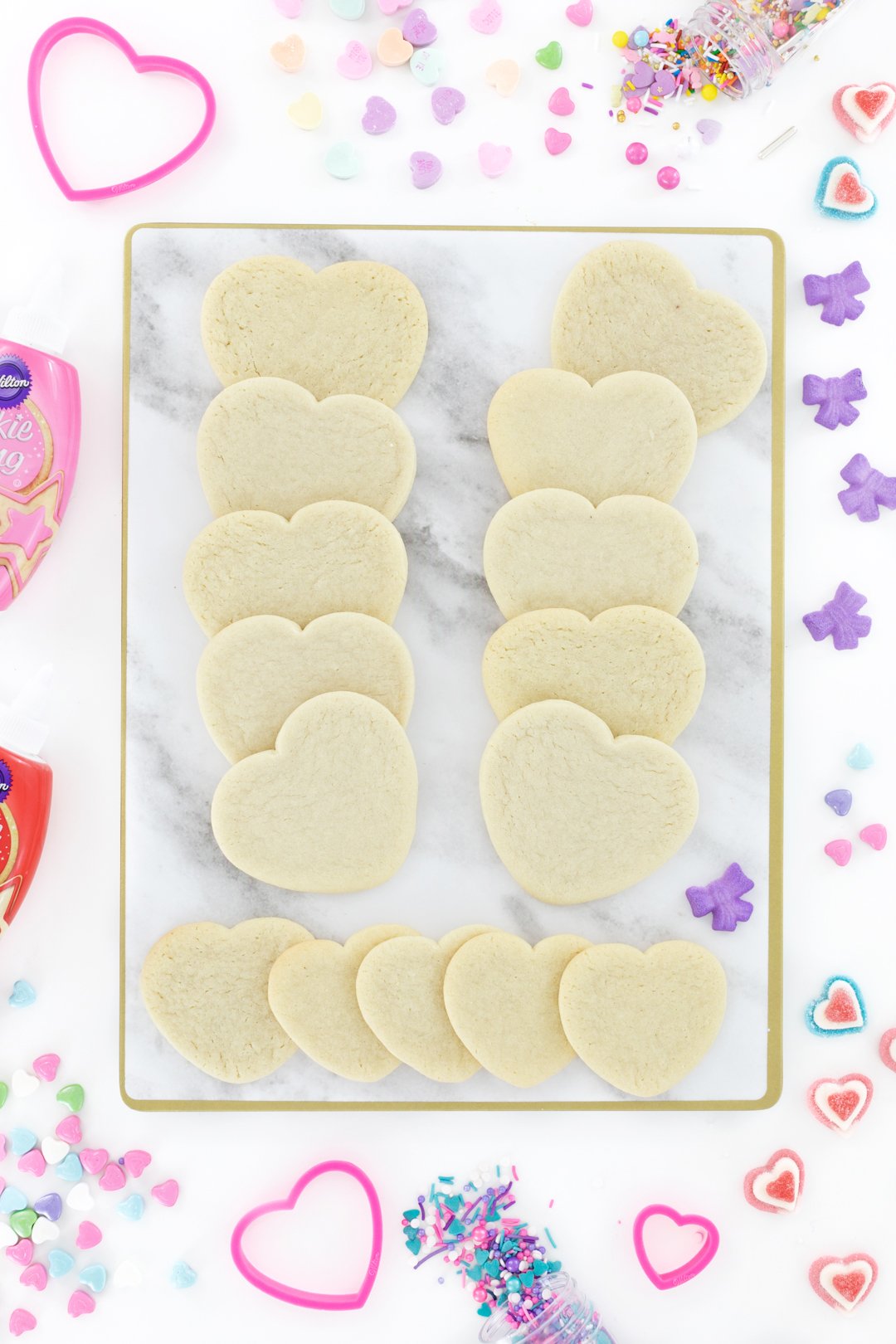 What I love about this cute little party idea is that it's SO flexible. You can choose any kind of cookie, icings and decorations to make it your own. You could host this Valentine's day spread twenty times and make it unique each time. You can also use this idea for literally any occasion just by changing the cookie theme. Christmas, Easter, birthdays, you name it.
Set out a tray of plain heart-shaped cookies, icings and little small dishes of all of the possible cookie toppings that everyone can choose from.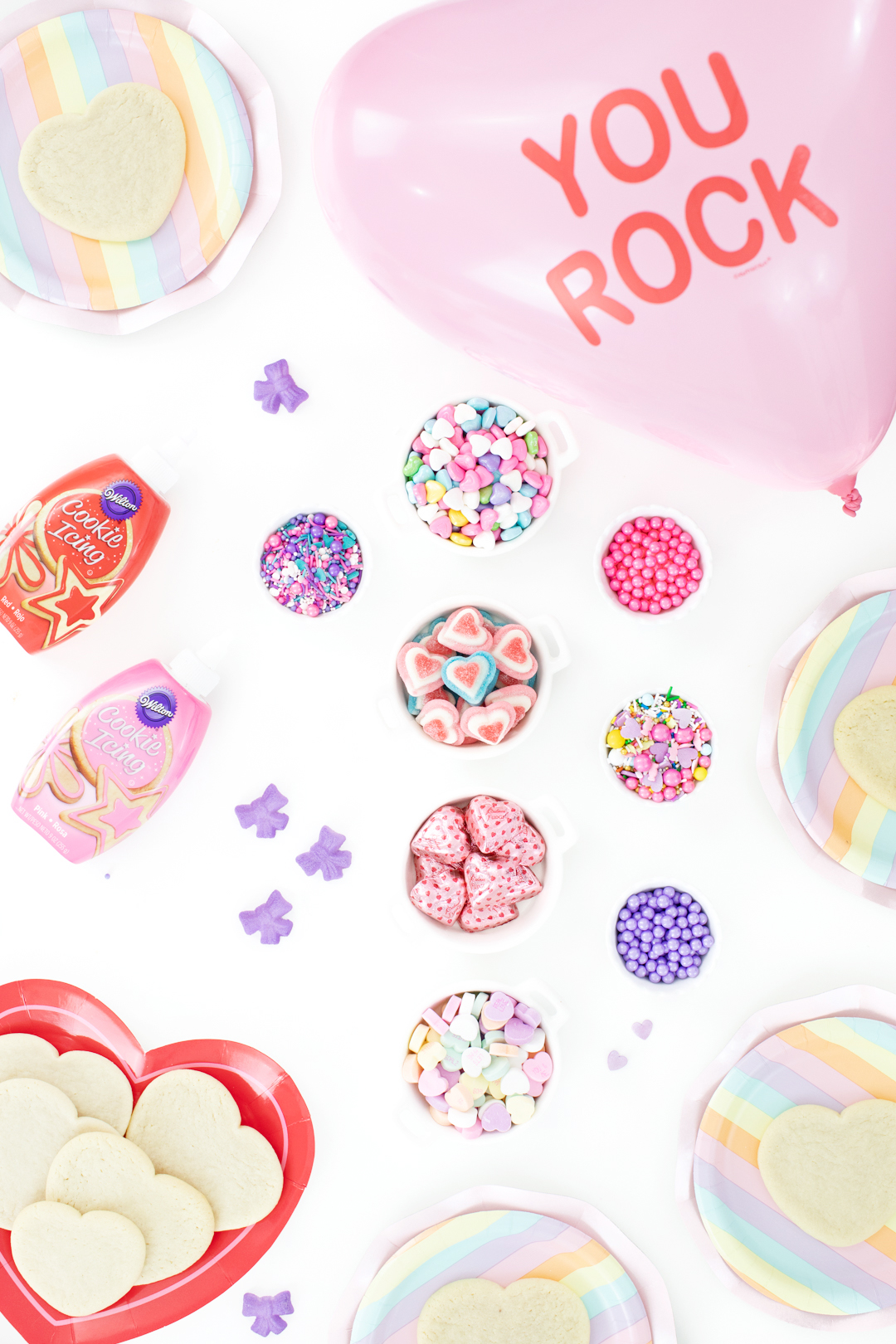 Alternately, depending on your party size, you can also put everything on one tray (plain cookies and all decorations). This would make for a fun and trendy Valentine's Day dessert board option that guests will have fun with.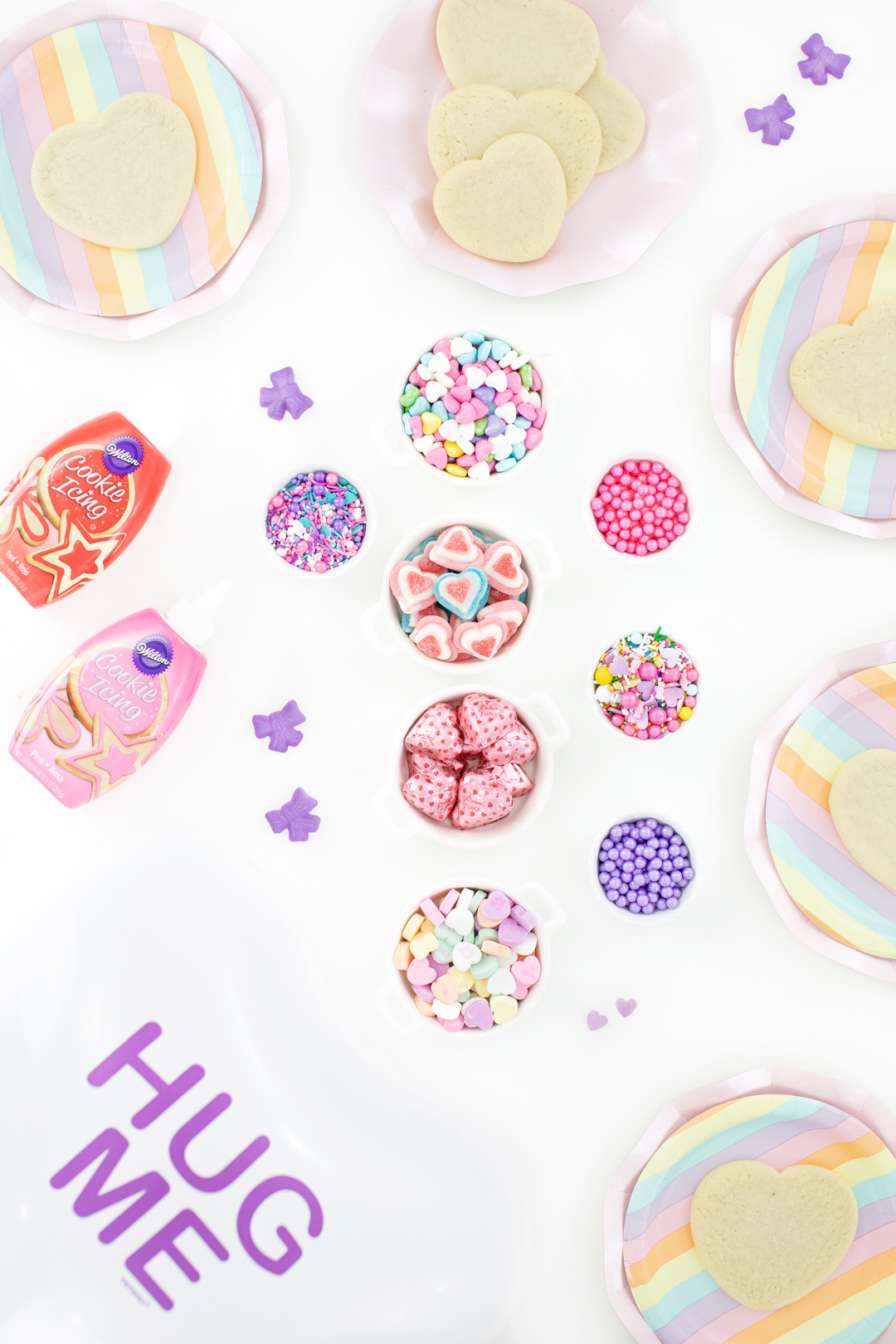 If you are doing a large party, you could set a tray like this in the center of each party table.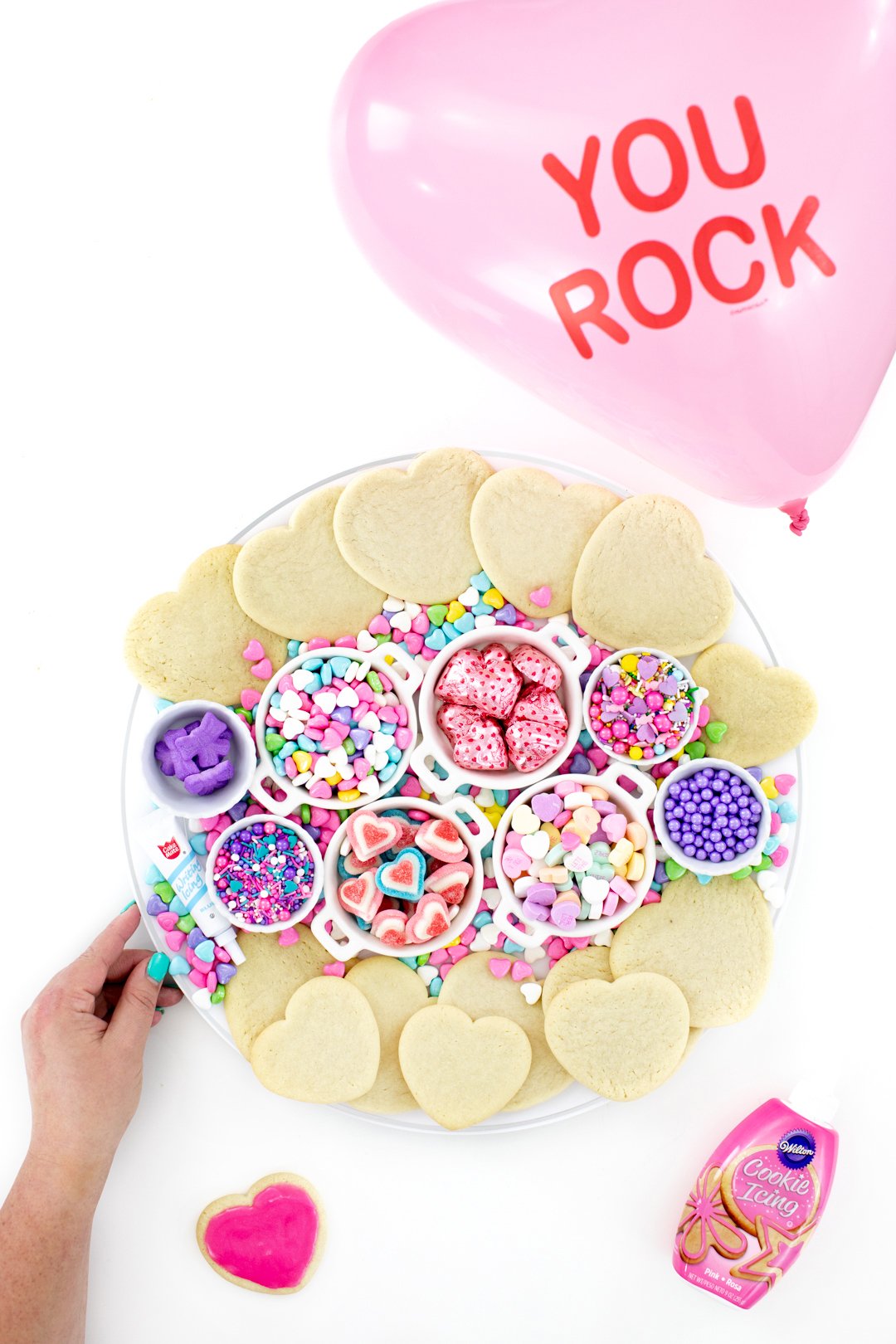 So many sweet possibilities!
VALENTINE'S DAY PARTY FAVORS
Looking for something extra special that party guests will remember?
Set up a Valentine's Day Cookie Decorating table and provide cellophane bags and bows so that they can take their treats home with them.
Easy and brilliant if you ask me.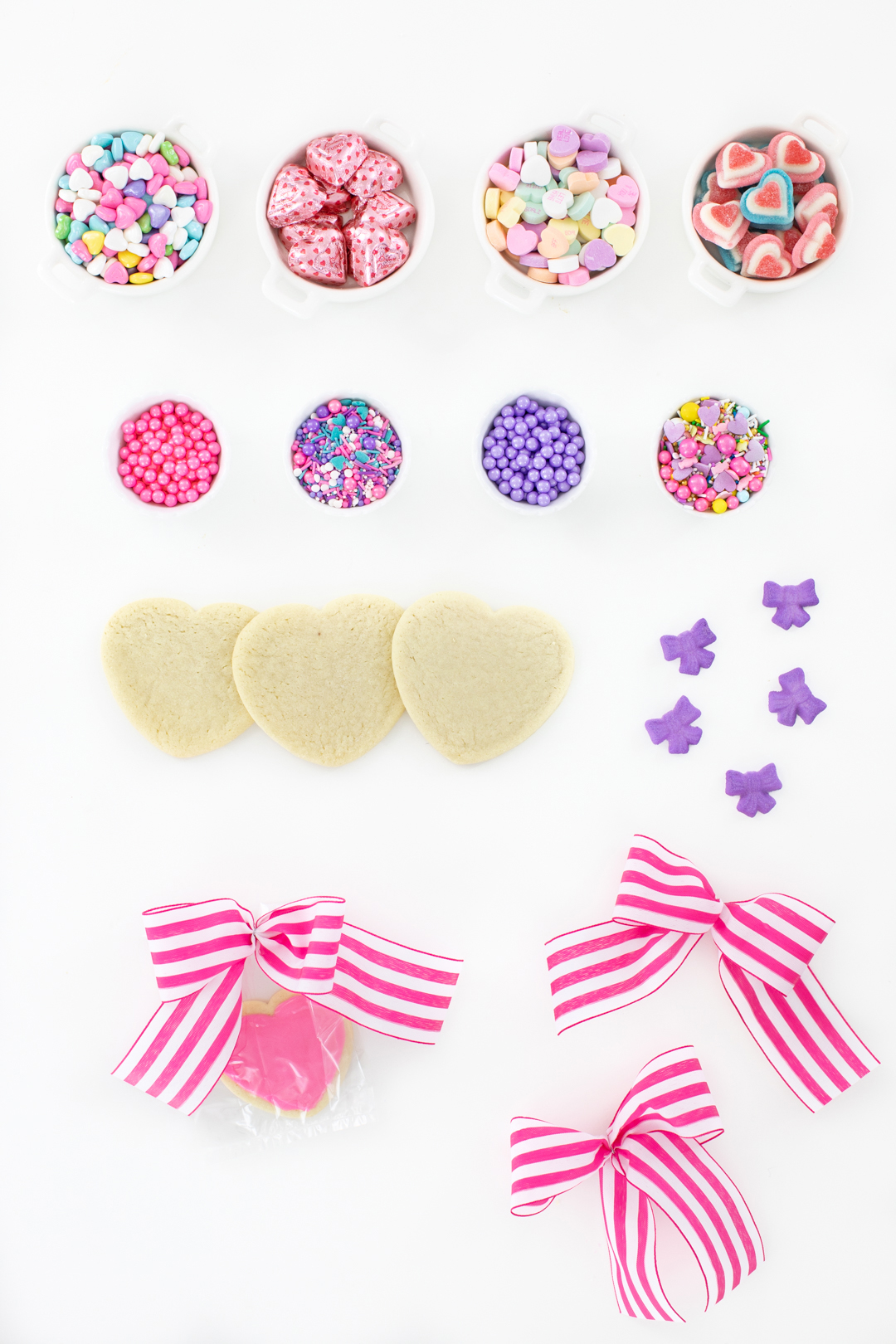 EASY VALENTINE'S DAY IDEAS
Here are more ideas to celebrate:
Valentine's Day Ice Cream Bar Ideas.
Minnie Mouse Cupcakes that are pretty as can be.
DIY Cookie Tag Printables.
Valentine's Day Cookie Decorating Party
Bake up some heart shaped cookies and set out a variety of Valentine's Day candies and colorful sprinkles and you will have an instant party!