Are you hungry for another easy recipe that your family will love? What about taking a classic pasta dish and taking it to an all new level? A recipe that's as easy as it is delicious? Feeling hungry, yet? You know that I'm a big fan of shortcuts that make life a little more delicious. Aren't you? Let's kick off this week with a delicious no boil spaghetti and meatball casserole! Mmm. This post is sponsored.

Pasta is no doubt the ultimate comfort food. It's like a blank canvas just waiting to be flavored up and the possibilities are endless. The beauty in it all is that it's so easy to do. You could easily serve up pasta every night and never serve it the same way twice. When it comes to making it an even easier dinner to make, I've been really impressed with the Bertolli Riserva sauces. Seriously, have you tried them yet??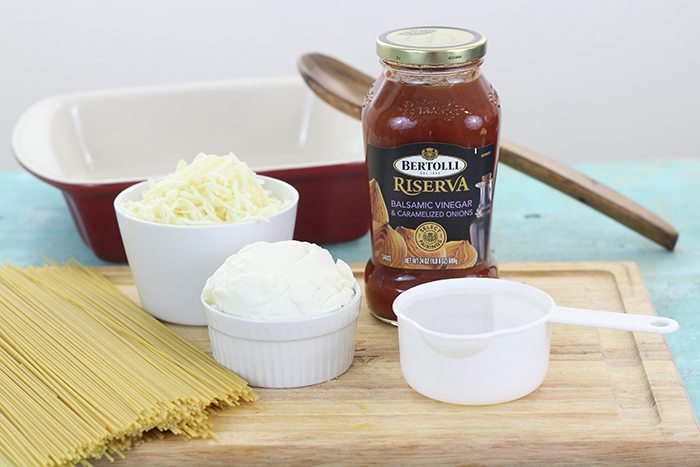 They've been an instant favorite over the last few months. Today, I'm tossing this quick dinner together with Bertolli Riserva Balsamic Vinegar & Caramelized Onions. The combination of Balsamic Vinegar complements the sweetness in the caramelizes onion for a mouth full of flavor with none of the fuss. Right up my ally indeed!
To shave time and another dirty pot, I wanted to try out a no-boil spaghetti casserole and the flavors come together fantastically. While casseroles take a little time in the oven, it's a great way to take some time to unwind and tidy up the kitchen before it's time to eat. This sauce a wonderful deep, rich color thanks to the tangy Balsamic Vinegar.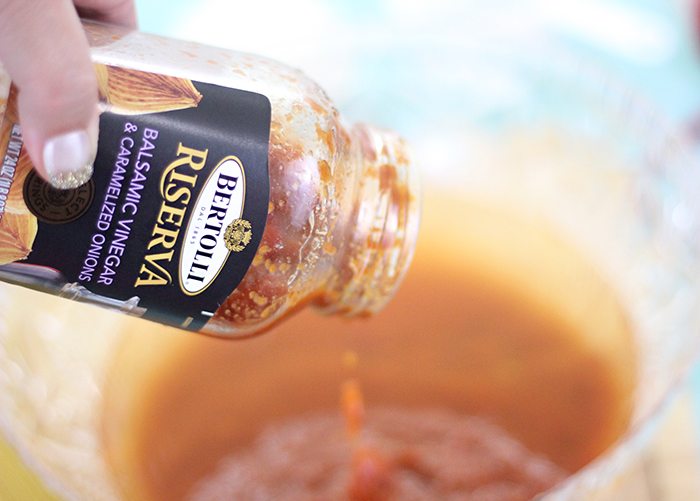 To make this recipe, you just need a large bowl and a casserole dish. First, you combine most of the ingredients in the large bowl. The Bertolli Sauce, water followed by Ricotta cheese and Parmesan Cheese. Sounds good already, doesn't it? Then, we add the dry spaghetti in by taking a small handful and breaking into 5-6 pieces each (about 1" to 1.5" each). The smaller the better.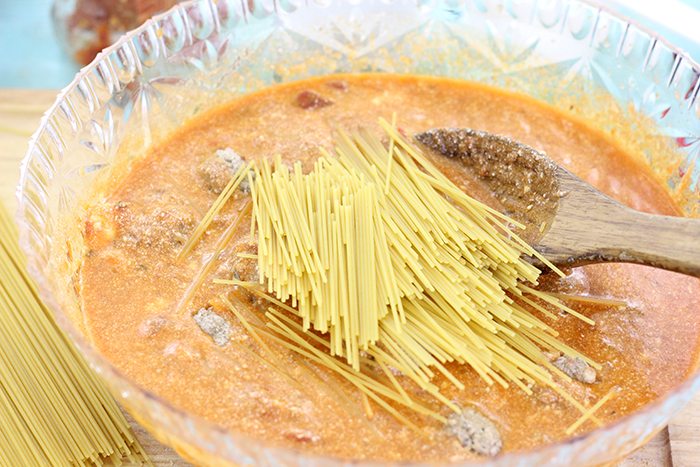 Mix together as best you can. Then, place the frozen meatballs evenly into your casserole dish. The spaghetti mix gets poured over top. Covering the casserole dish snugly with foil will help the magic begin. After cooking for 55 minutes, you add a layer of oozy gooey Mozzerella cheese. Nom. After it's melted, dinner is about ready to serve!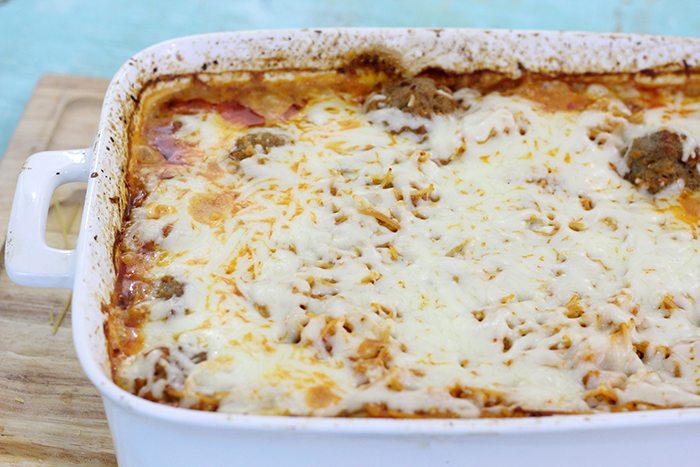 Looks yummy, right? Serve up with an easy salad and dinner is ready to be enjoyed. While my casserole was baking, I whipped up salad and cleaned up the kitchen. When dinner was ready, I was completely relaxed and ready to enjoy some quality time with my family. That's my kind of night!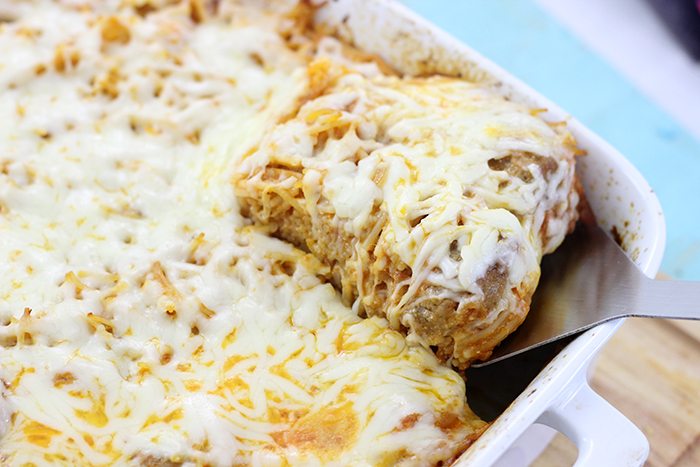 The Bertolli sauce and water work together to get the spaghetti to the perfect casserole consistency. I've already made this recipe twice, it's an instant hit.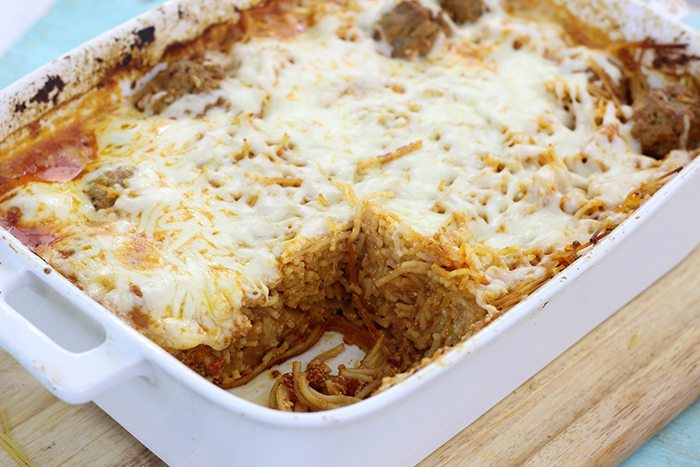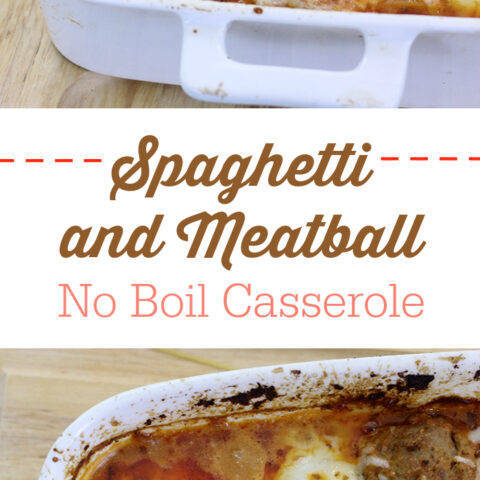 No Boil Spaghetti and Meatball Casserole
Ingredients
1 24oz Jar + 1 Cup of Bertolli Riserva Balsamic Vinegar and Caramelized Onion sauce
16 oz Frozen Meatballs (Homestyle or Italian)
1lb of Dry Spaghetti
1 cup Ricotta Cheese
2 cups of Shredded Mozzarella Cheese
½ Cup Grated Parmesan Cheese
2 cups Water
Instructions
Preheat your oven to 400°. In a large bowl, combine Bertolli Sauce and water followed by the Ricotta cheese and Parmesan Cheese. Add the dry spaghetti in by taking a small handful and breaking into 5-6 pieces each (about 1" to 1.5" each). The smaller the better. Mix together as best you can. Place the frozen meatballs evenly into a 13 x 9-inch casserole dish and then pour the spaghetti mix over top evenly. Press the spaghetti down, you want to cover it in as much liquid as possible. You made add a few more tablespoons of water if your spaghetti is not mostly covered in the liquid. Cover the dish very tightly with aluminum foil and bake for 55 minutes. Finally, remove the foil and evenly sprinkle the mozzarella cheese over the top of the casserole. Bake uncovered for 7 minutes or until the cheese is melted. Let casserole sit for about 10 minutes before serving as it will be very hot.