Ever get served ads online that inspired you to buy something immediately? Well this is that for me. I was minding my business, scrolling down my Facebook feed when I see an advertisement for Halloween Flamingo Lawn Ornaments. Now, I had seen some before and I thought they looked hideous. But these are perfect in all of their simple Halloween colored perfection. I could not resist the idea of turning the You've Been Flocked idea into a Halloween one. This post may contain affiliate links.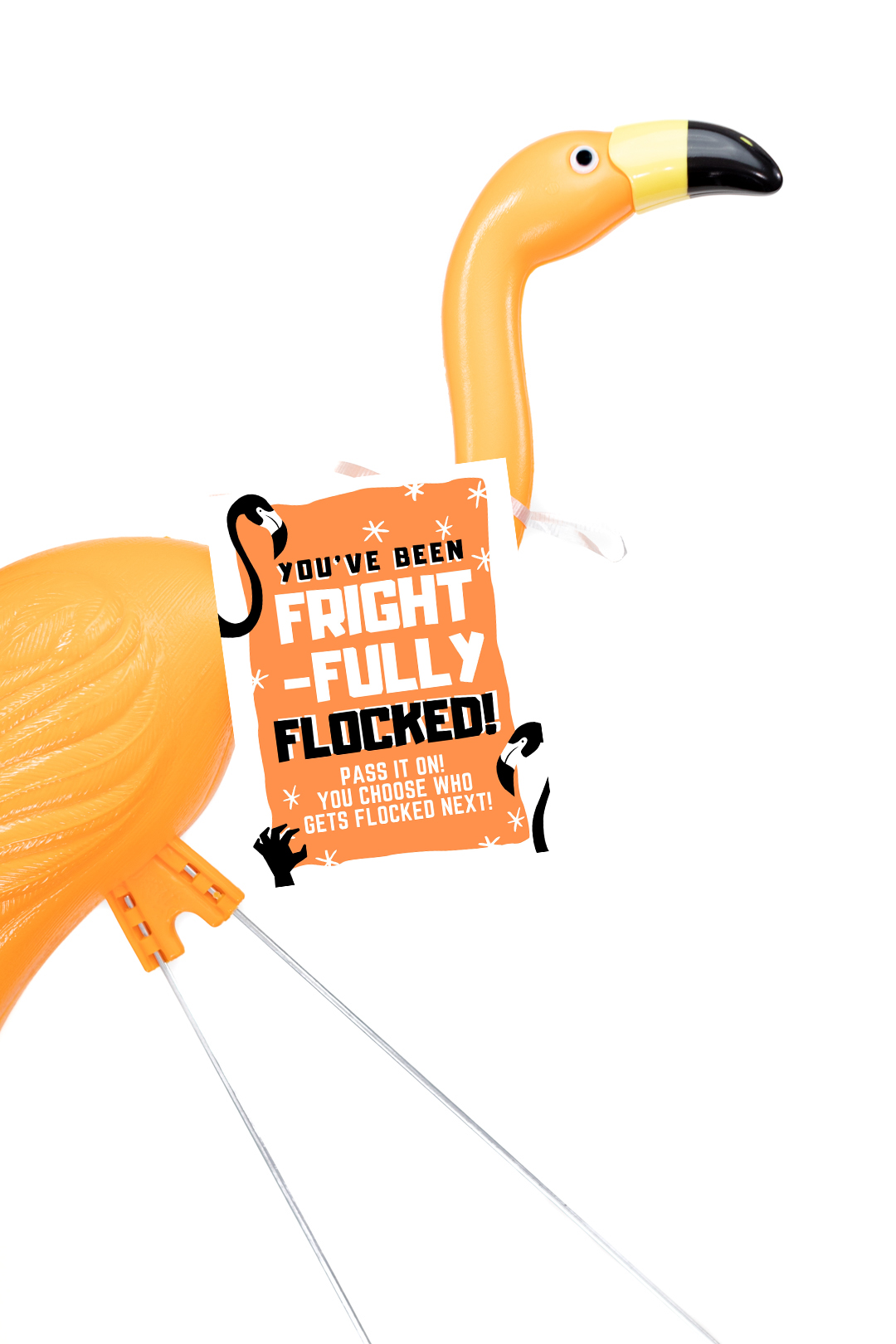 This is kind of along the lines of a You've Been Booed surprise or Booing Basket or Boo'd or Boo'ed. So many spelling possibilities. So basically like that but with Halloween-inspired Flamingo Lawn Ornaments.
Basically like a surprise gift that inspired others to pay it forward to keep it going.
HALLOWEEN YOU'VE BEEN FLOCKED IDEAS
Looking for unique and easy Halloween ideas? I totally have your back. If you have never heard of the idea of "flocking", let me do a super quick rundown. The traditional idea is that you stick plastic flamingos in someone's yard to surprise them. Then, most often, people are encouraged to then take those same flamingos and "flock" someone else to keep it going.
So, this is basically the Halloween twist on that that I decided to call "You've Been Frightfully Flocked".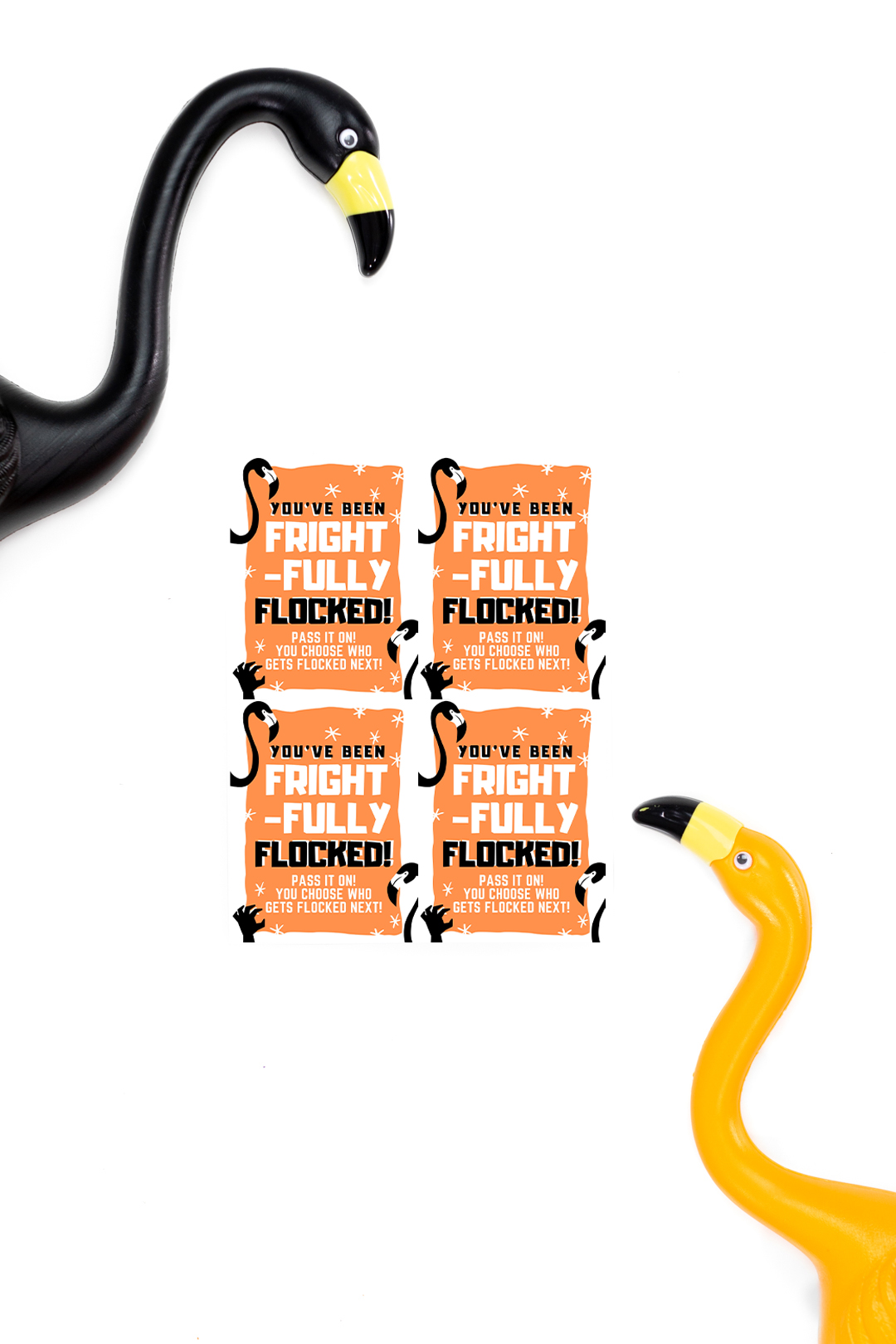 You could do this with traditional pink flamingo yard ornaments, it would totally work. However, if you can get your hands on some Halloween-themed flamingo, it will be even more cool. I found a set of black and orange ones but I've also seen skeleton style flamingos as well.

You may also want to simply paint or spray paint some pink ones if you have some on hand. A little makeover will make them extra frightful for this purpose.
Before we get started, I wanted to share this free "Frightfully Flocked" printable download!
You've Been Frightfully Flocked – 4 per page (pdf)
After all, it would not be a flocking if you didn't add this fun note to tell the recipient.
Once you get your hands on the yard flamingos you want to use and the printable "flocking tags" the rest if the fun part. Who will you be flocking? When can you head over to surprise them with these fun lawn decorations?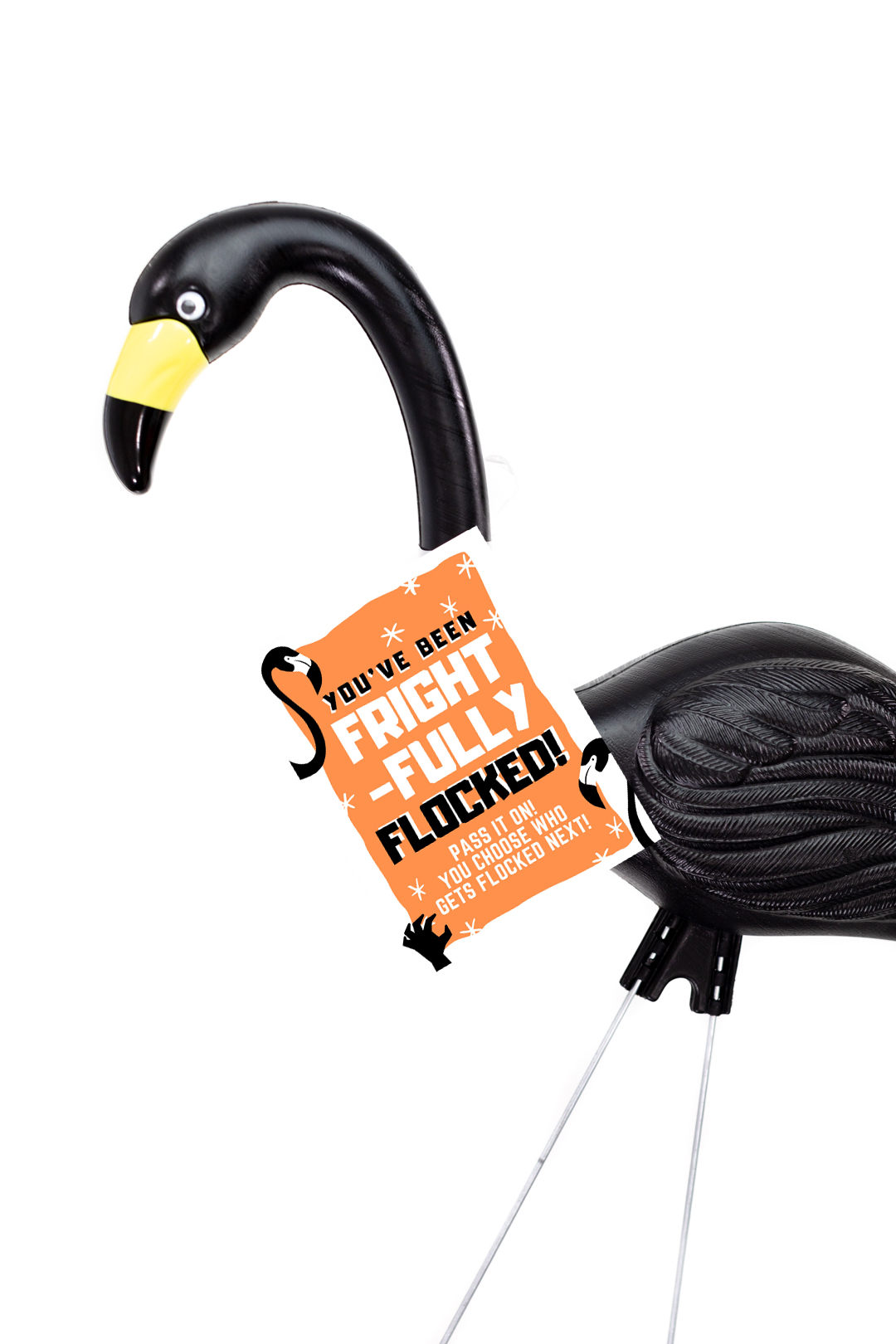 Probably best if you sneak by while they aren't home or early in the morning when they may be sleeping. Just make sure you don't trip security or frighten neighbors. Make sure to use your best judgement to keep this fun. Better yet, coordinate with of of their family members if you can to find the best time to do this!
If your recipient lives in an apartment, you could try sticking this in a large planter outdoors or if it's not windy, you could lean it against something.
Print your tags and either tie or tape them on to secure them and deliver.
The printable tag encourages them to choose the next Halloween "flocking" victim.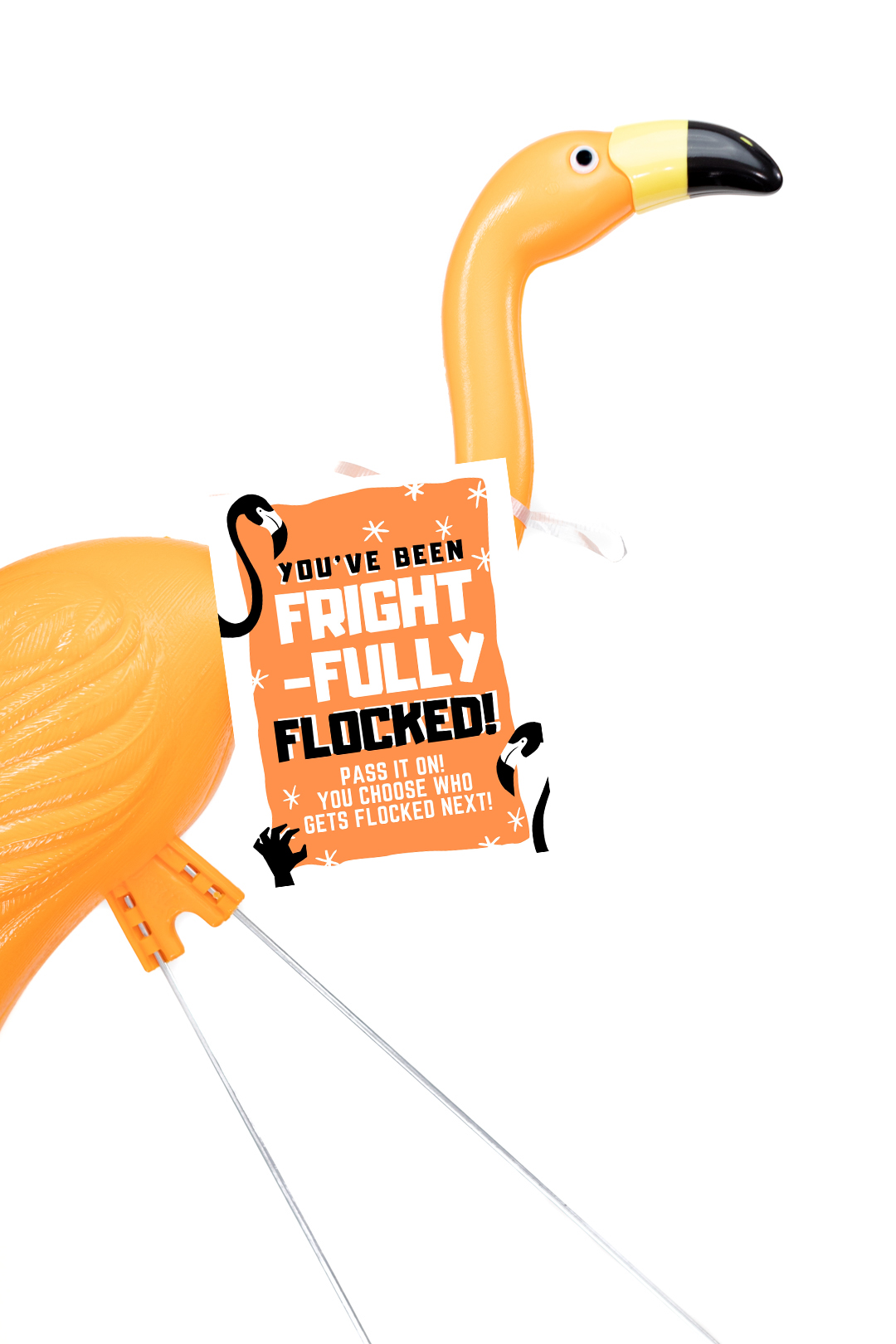 This can be endless fun!
Just don't be surprised if these frightening flamingos end up back in your yard. 😉
Love this idea? You will also love this fun diy Halloween Surprise: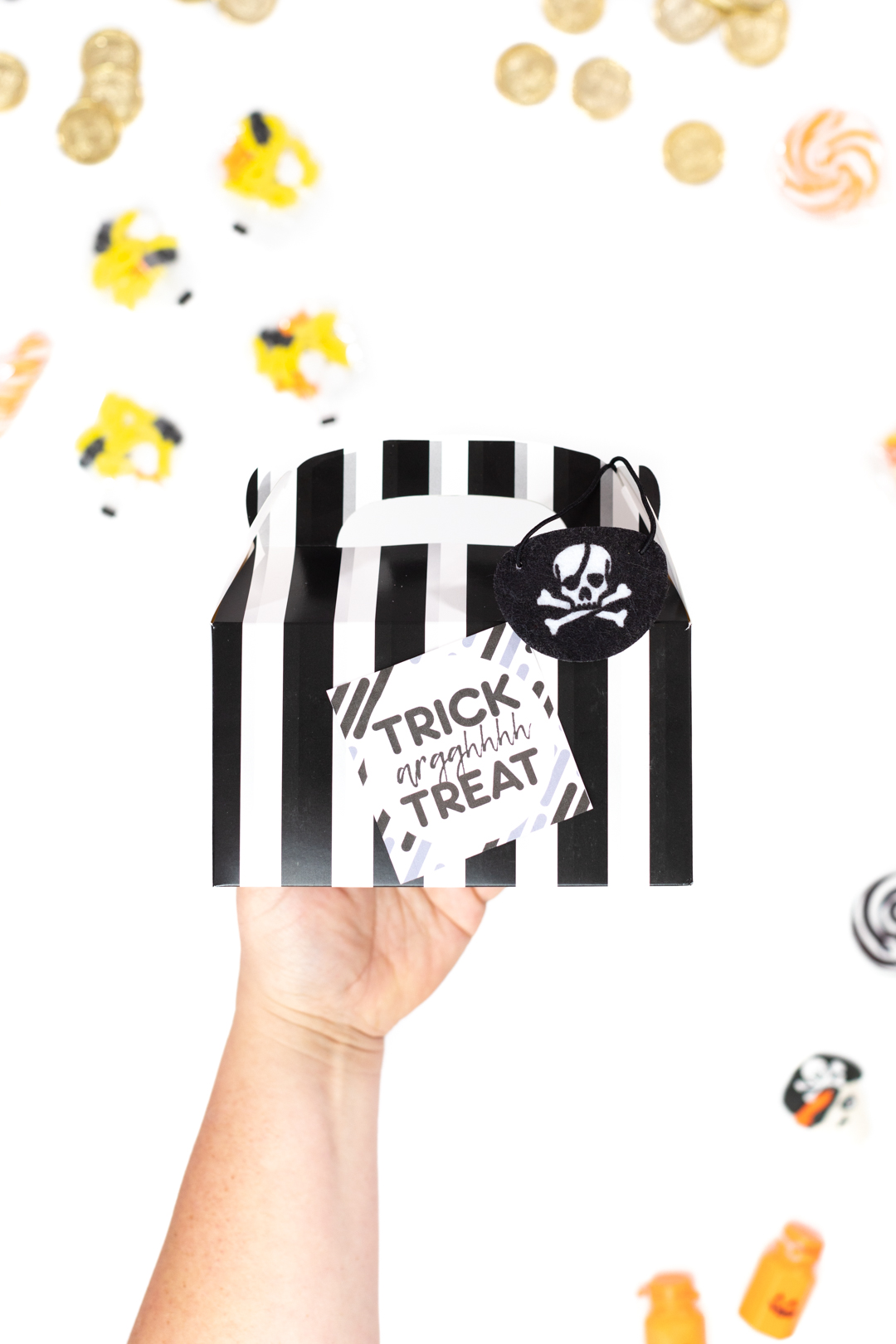 Click on Pirate Gift Boxes to get the easy tutorial and free printable gift tag.
The question! Who will you frightfully flock this Halloween?