Halloween movie night? Hocus Pocus party? This delicious themed candy board will be the talk of your festivities. With carefully selected pops of colors and treats, this is an instant hit. Let me who you witches w'sup with a quick and easy fly-by of how to make your own delish dessert board loaded with sweet favorites. This post may contain affiliate links.
This yummy candy charcuterie board is just perfect for all Halloween celebrations both spooky and sweet.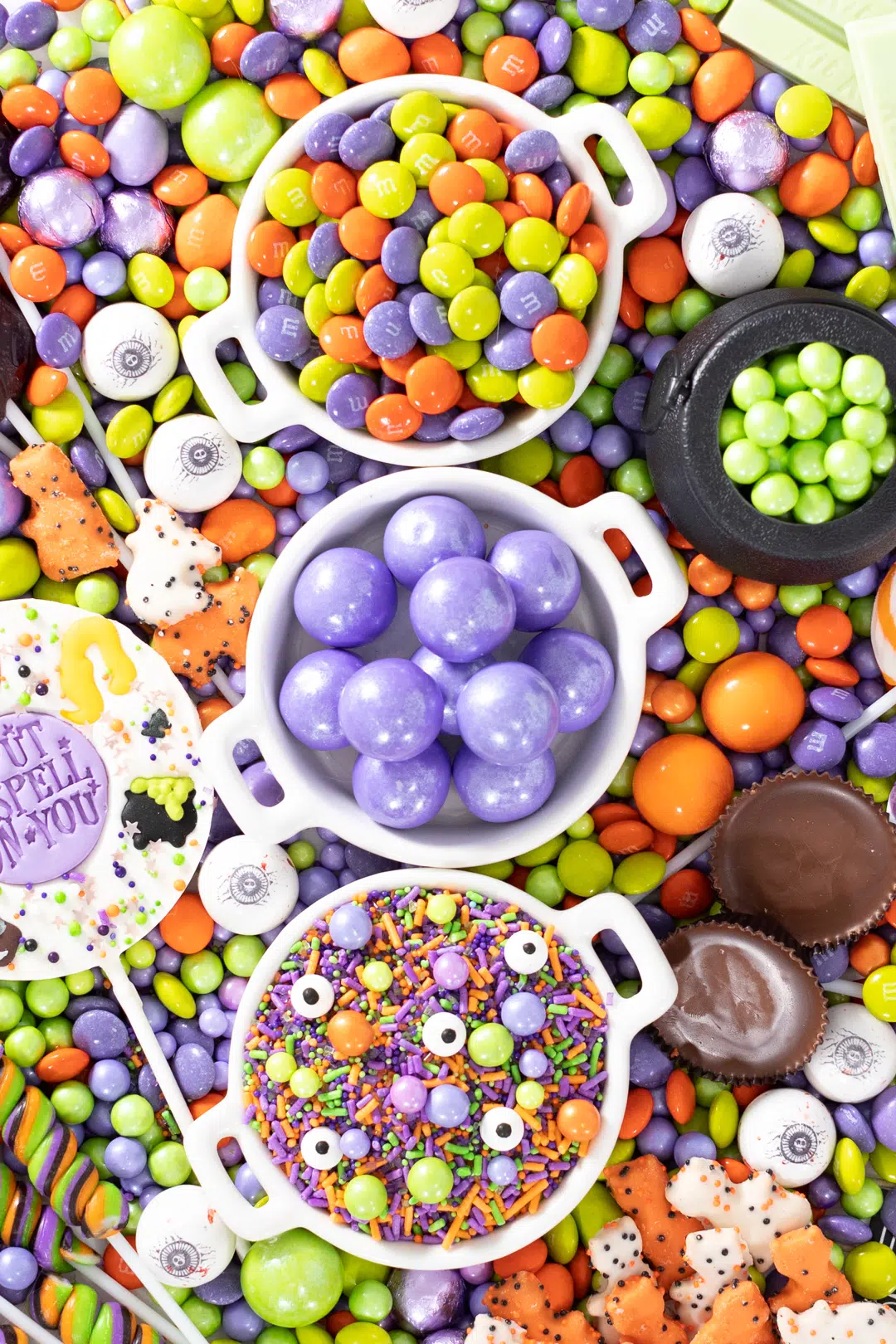 Witch better have my candy!
HOCUS POCUS PARTY CANDY TRAY
From Binx inspired black cat candies and treats to spooky eyeballs, this spread of Hocus Pocus themed treats is the best.
As most of my candy boards, I try to stick to 4 or less colors with just a few exceptions. This one is no different. The main colors for this are purple, green orange and black. It helps to pick your colors before picking out your candies.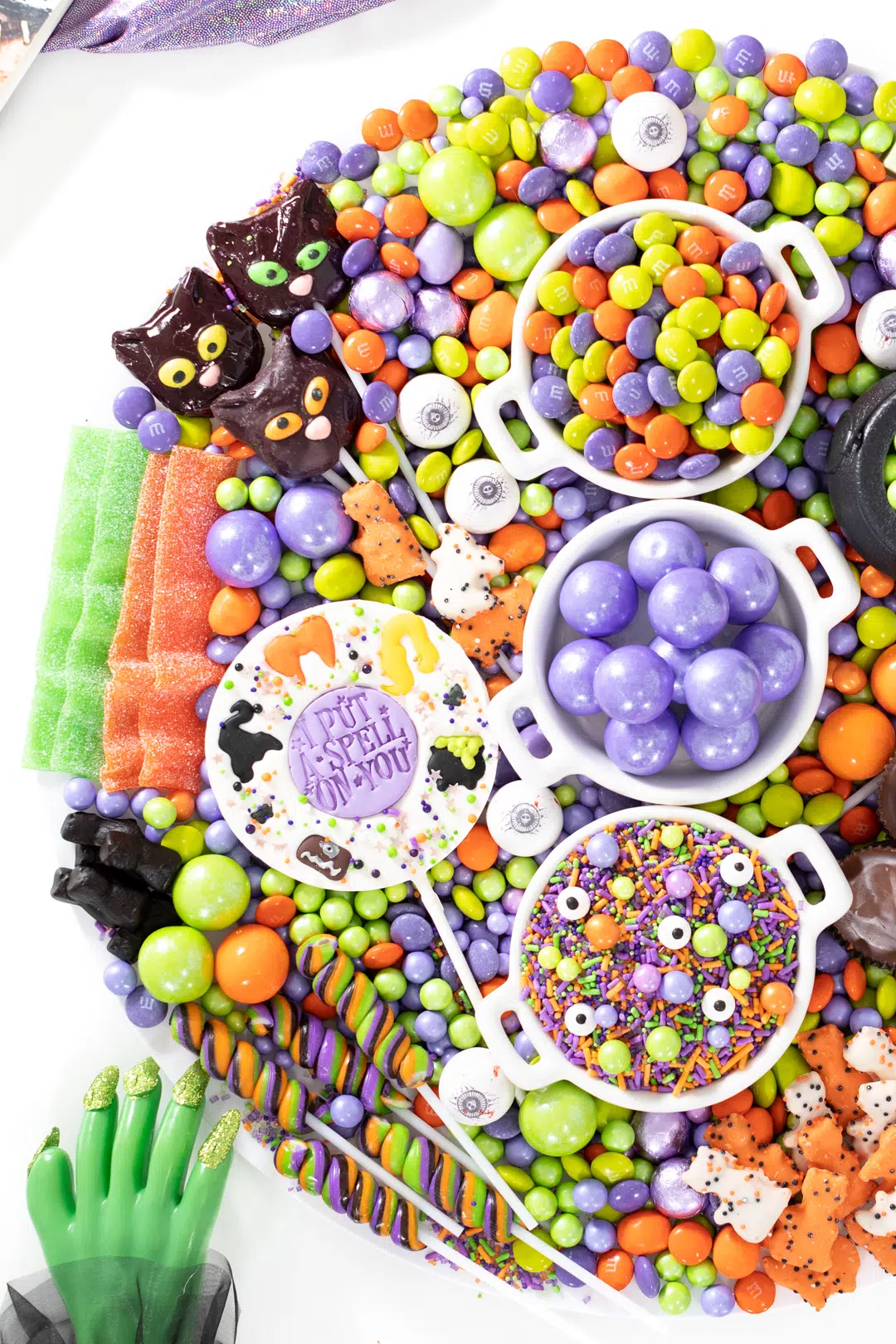 That way you can stick to your theme easily and also make your candy display really pop. It really does make a difference. Then, I start to pick the best candies and treats to make the theming pop. Black cat lollipops were a must.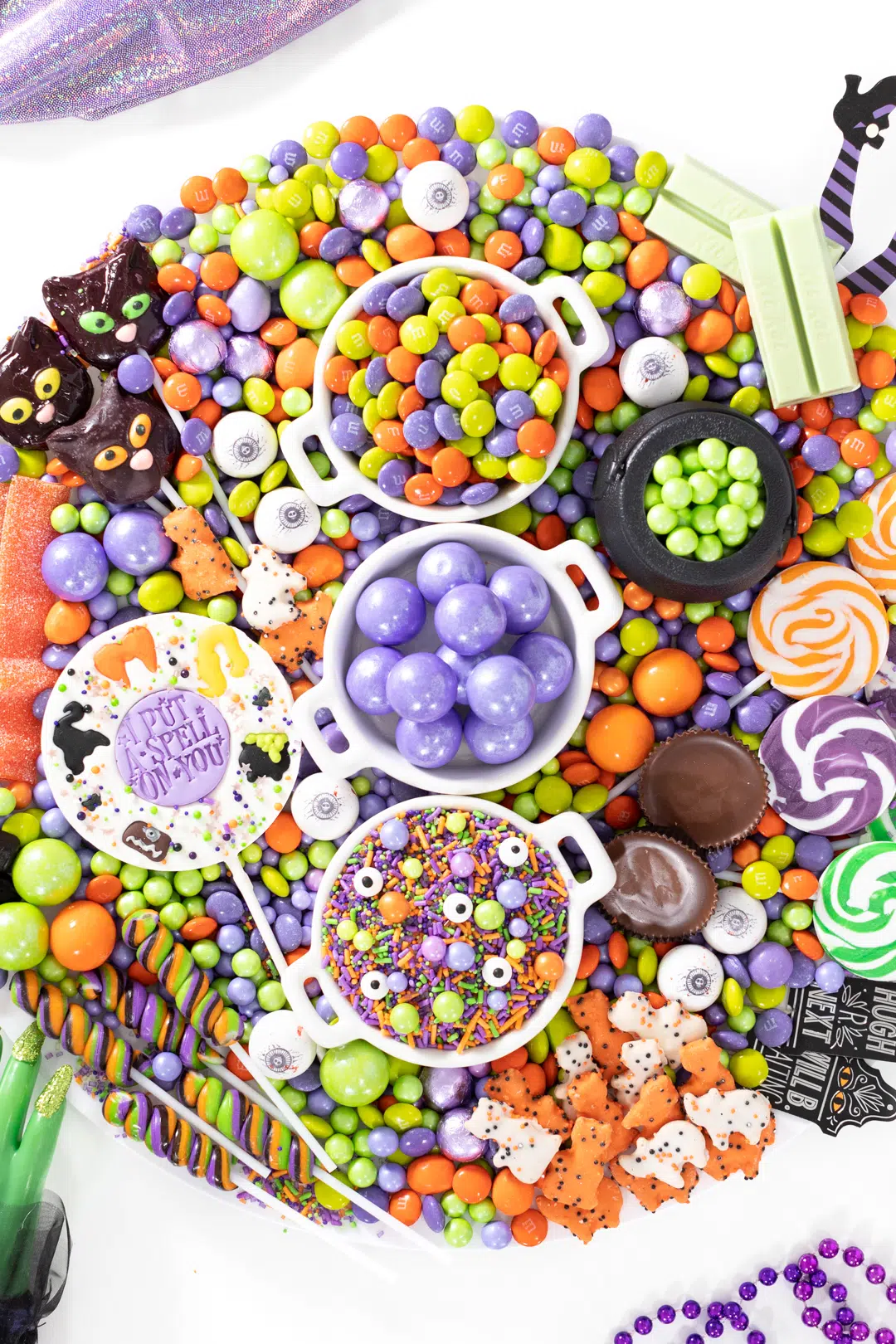 Something a little creepy like eyeball gumballs were much-needed and then some witch inspired options like tombstone and witch cupcake toppers added in help to decorate the board and take it to the next level.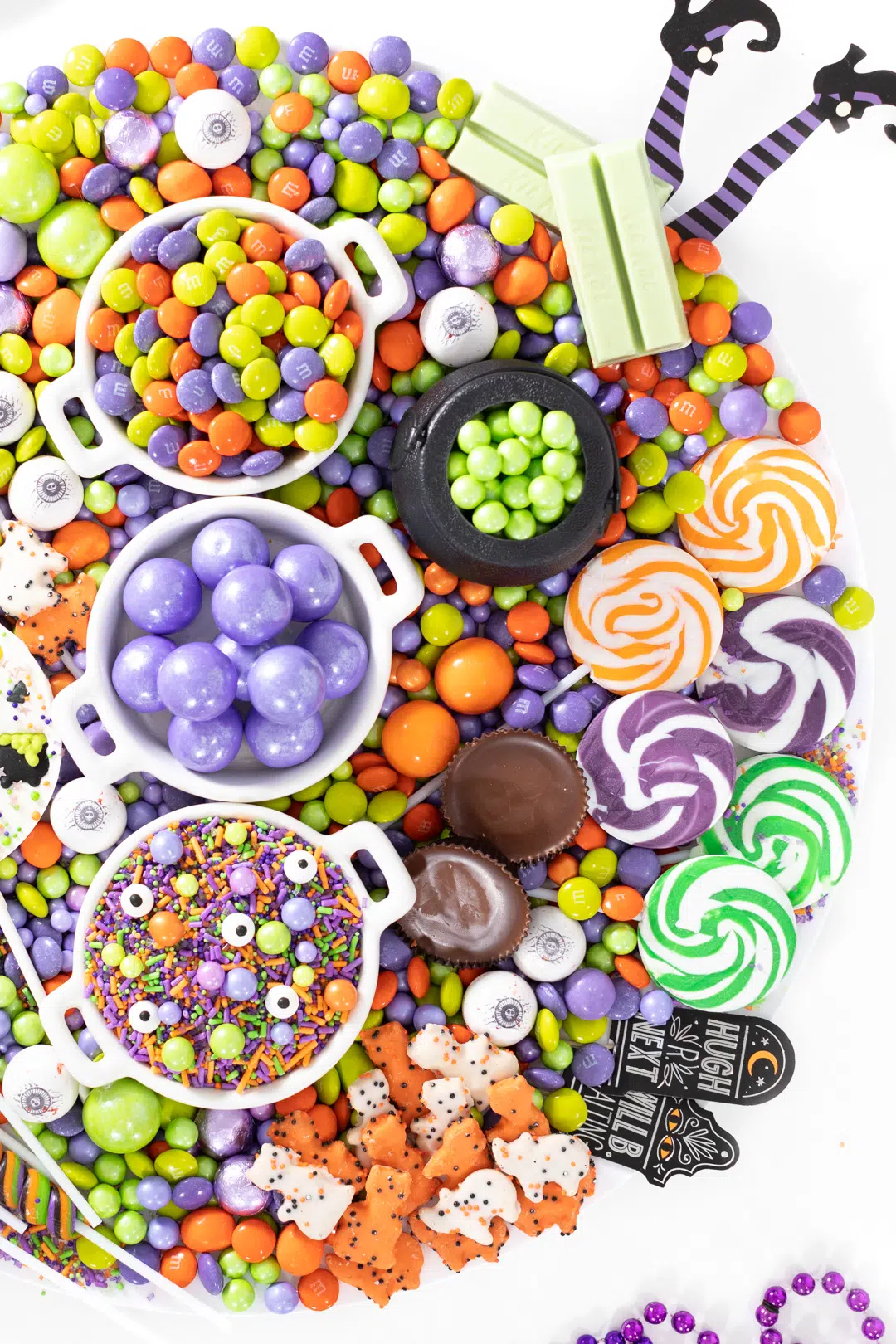 Another fun touch is to use a mini cauldron to add candy to. I thought little green candies would give off the perfect witch cauldron vibe.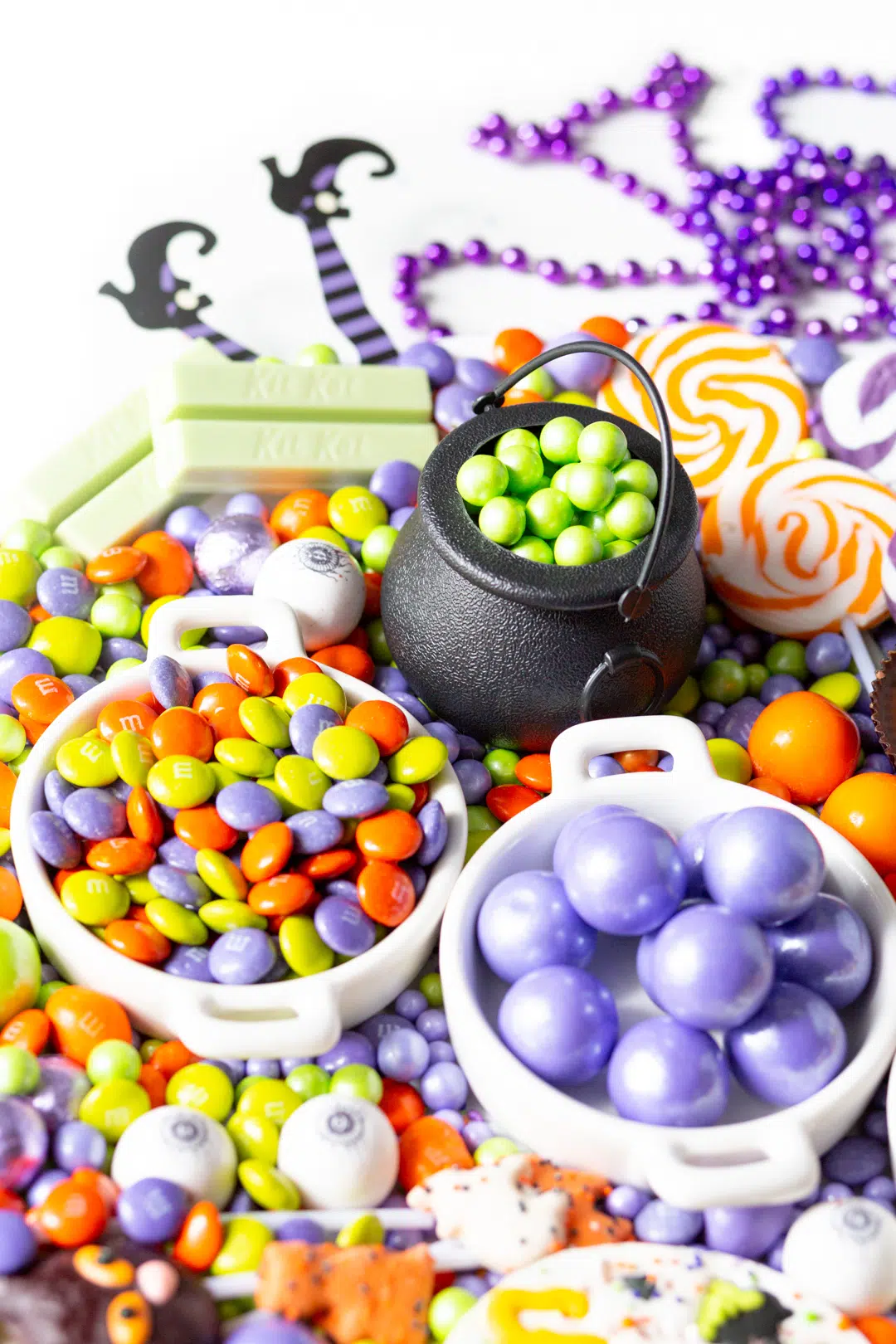 After I get some specialty candies, I fill in the rest with color-themed selections like sour candies, gumballs, foil-wrapped chocolates, cookies and swirl lollipops. I ordered a gorgeous Hocus Pocus themed chocolate lollipop from seller Treats by Taryn on Etsy but it's not available at this time. She did a stunning job!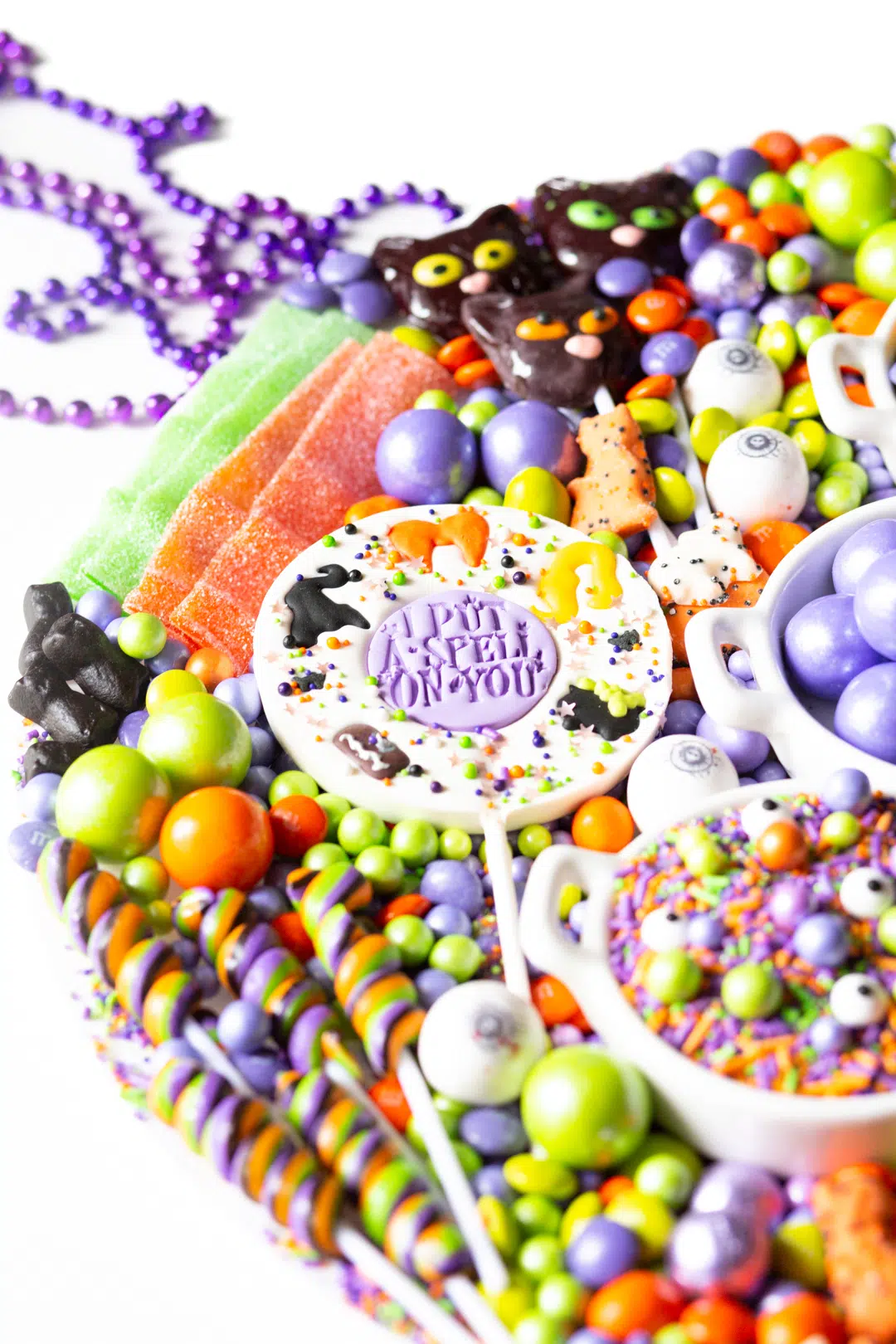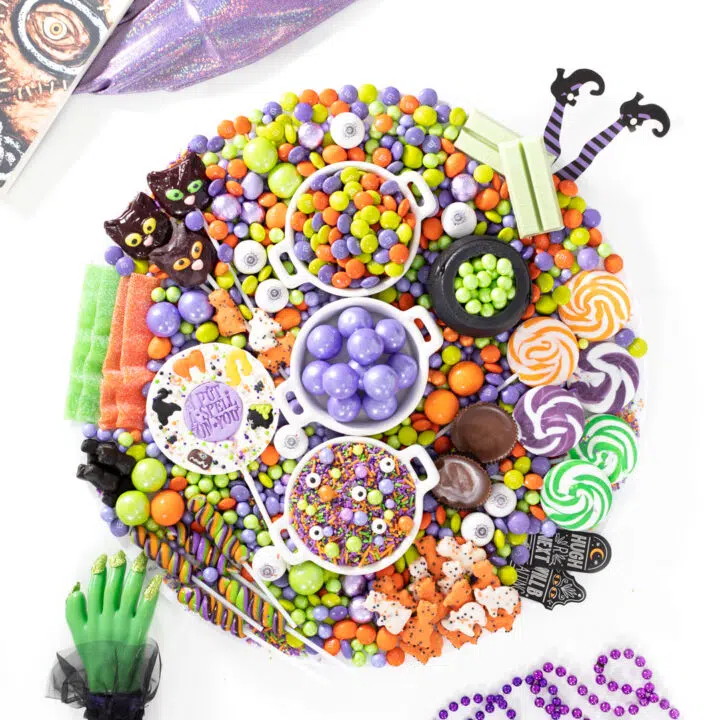 Hocus Pocus Candy Board
Themed party candy board for Hocus Pocus movie. Perfect Halloween dessert or movie night treat.
Ingredients
Hocus Pocus Chocolate Lollipop
Black Cat Lollipops
Black Cat Licorices
Shimmer Purple Gumballs
Green Gumballs
Orange Gumballs
Eyeball Gumballs
Halloween M&Ms
Purple Foil Wrapped Chocolates
Reese's Peanut Butter Cups
Witch Kit-Kat
Orange Swirl Lollipops
Green Swirl Lollipops
Purple Swirl Lollipops
Halloween Swirl Lollipops
Halloween Sprinkles
Small Candy Eyes
Mother's Halloween Cookies
Haribo Sour Streamers
Shimmer Lavender Sixlets
Witch Leg Cupcake Topper
Tombstone Cupcake Topper
Instructions
Pick your serving board or tray.
Choose color theme. No more than 4 colors.
Select your Hocus Pocus inspired candies.
Gather small dishes/ mini cauldrons for the smaller candies.
Place larger treats down first while alternating the varieties/colors so that they pop.
Fill up empty spaces with smaller candies and sprinkles.