This shop has been compensated by Collective Bias, Inc. and its advertiser. All opinions are mine alone. #EggoWafflesOnWheels #EggoWaffleBar #CollectiveBias
Have you ever celebrated a Friendaversary? Take this year's celebration to the next level with an ultimate Eggo Waffle bar party spread for adult besties. This is the perfect night-in filled with the best breakfast eats and treats reminiscent of the good old days when girl's only sleepovers were EVERYTHING. This cute and quirky foodie spread is set up with a trendy meets old school vibe. Think the 80s and 90's with a fun and super happy twist that will remind you of those endless carefree days spent with your BFFs.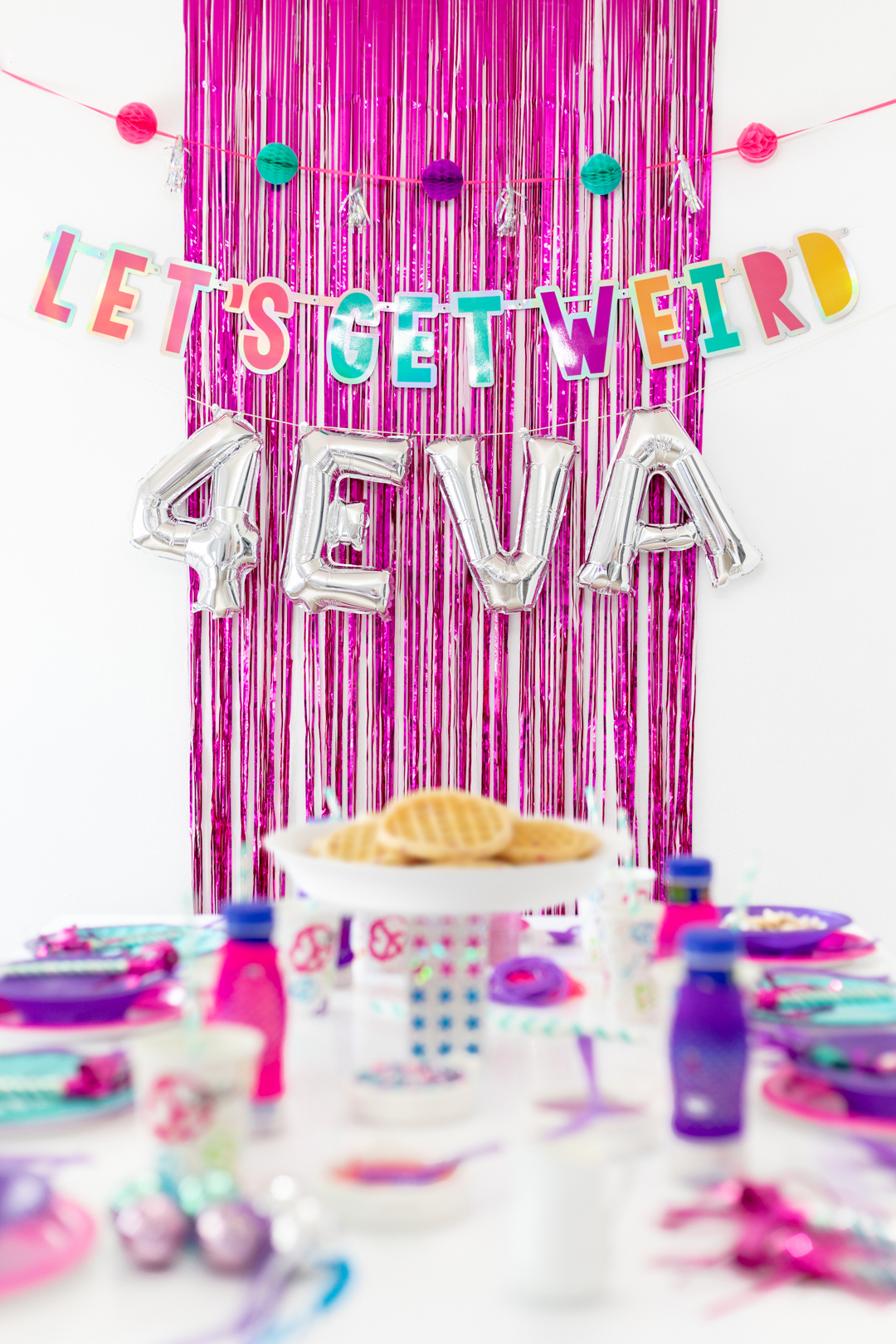 Have you heard? Kellogg's is traveling around the country with their Eggo Waffle Truck Bar! It's a great way to sample some delish Eggo Waffle combos and get recipe inspo in person. Check out this Eggo Waffle Bar Truck locator to see when you can make your visit at a local Walmart, too. Speaking of waffle bars and food trucks, I'm sharing more ways to enjoy Eggo Waffles today with this unique waffle bar party ideas featuring delish options available at Walmart. Easy, peasy!
THE 80'S- 90'S PARTY IDEAS
If you love unique party themes, you are going to love this throwback style twist to celebrate a friendaversary. With the best sleepover style foods to the best old school inspired party decorations, you will love this offbeat celebration. But first. Let's talk about that.
What is a friendaversary? It's a friend anniversary. One day a year that you celebrate the day or time frame that you met your bestie. It's basically just another fun excuse to have some FUN. We all need it. We all want it. Let's do this with a fun themed brunch ideas that everyone will love.
(Hover over the photo below and click through to purchase items for your party!)
HOW TO SET UP A WAFFLE BAR
The star player on this party table is the Eggo Strawberry Waffles! I loved the fun shape and the fluffy texture for this unique celebration! Their waffles are the perfect solution for feeding party guests and make for a tasty meal or playful dessert. Let's get our creativity on with these inspired eats. Get your jelly bracelets on and let's party!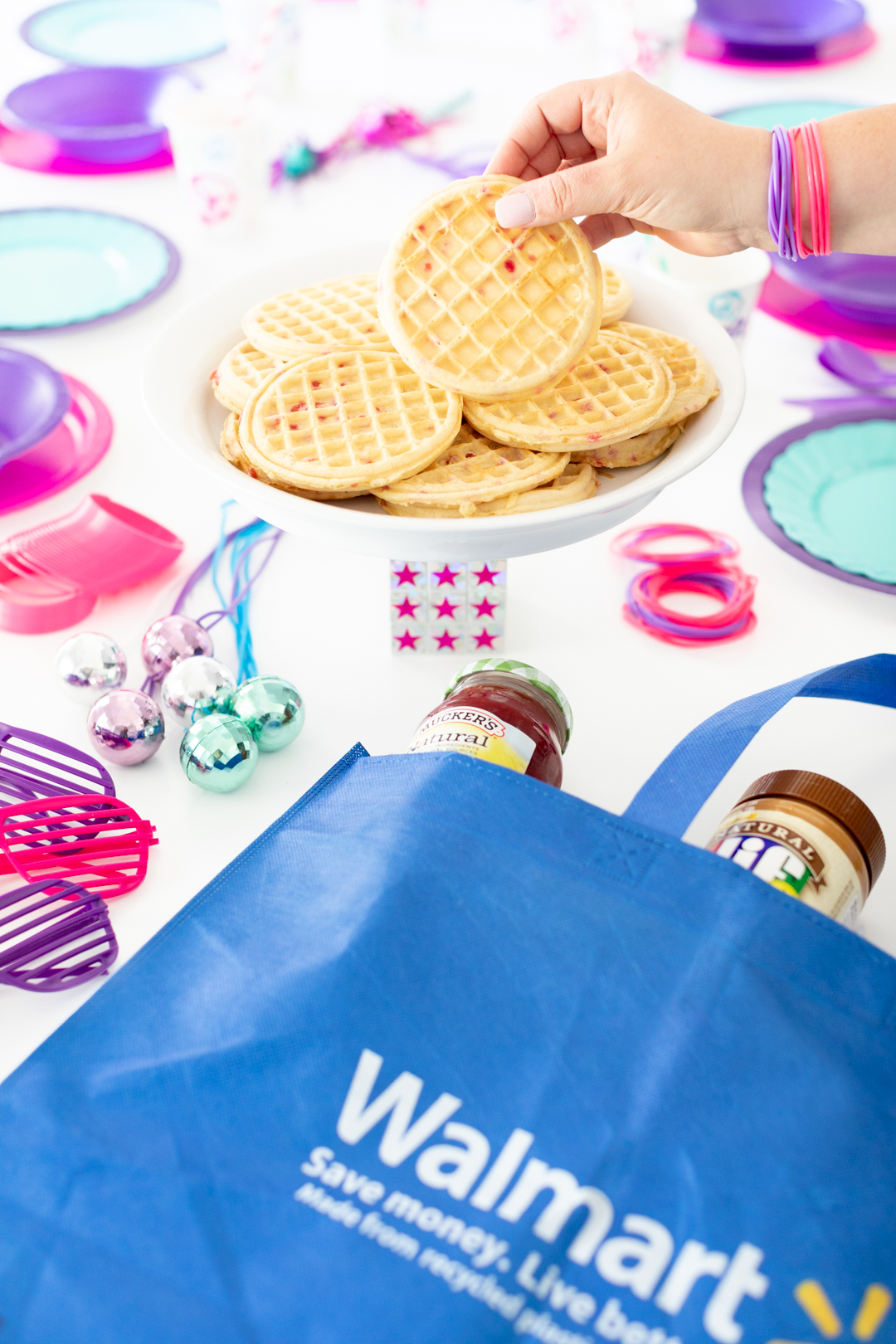 You can toast the Eggo Waffles to add to your party table or set up a toaster so that everyone can help themselves. Both ideas totally work!
Eggo Waffle Bar Toppings
My favorite part about a waffle bar is having toppings to choose from. It's so fun! Let's go over some of the many tasty things to add to your party table.
Jellies & jams. Try Smucker's®'s Natural Strawberry Fruit Spread for a perfectly sweet Eggo Waffle topper that's made with handpicked strawberries.
Nut butters like Jif Natural Creamy Peanut Butter. It's made with Fresh Roasted Peanuts and it spreads over Eggo Strawberry Waffles beautifully. Yum.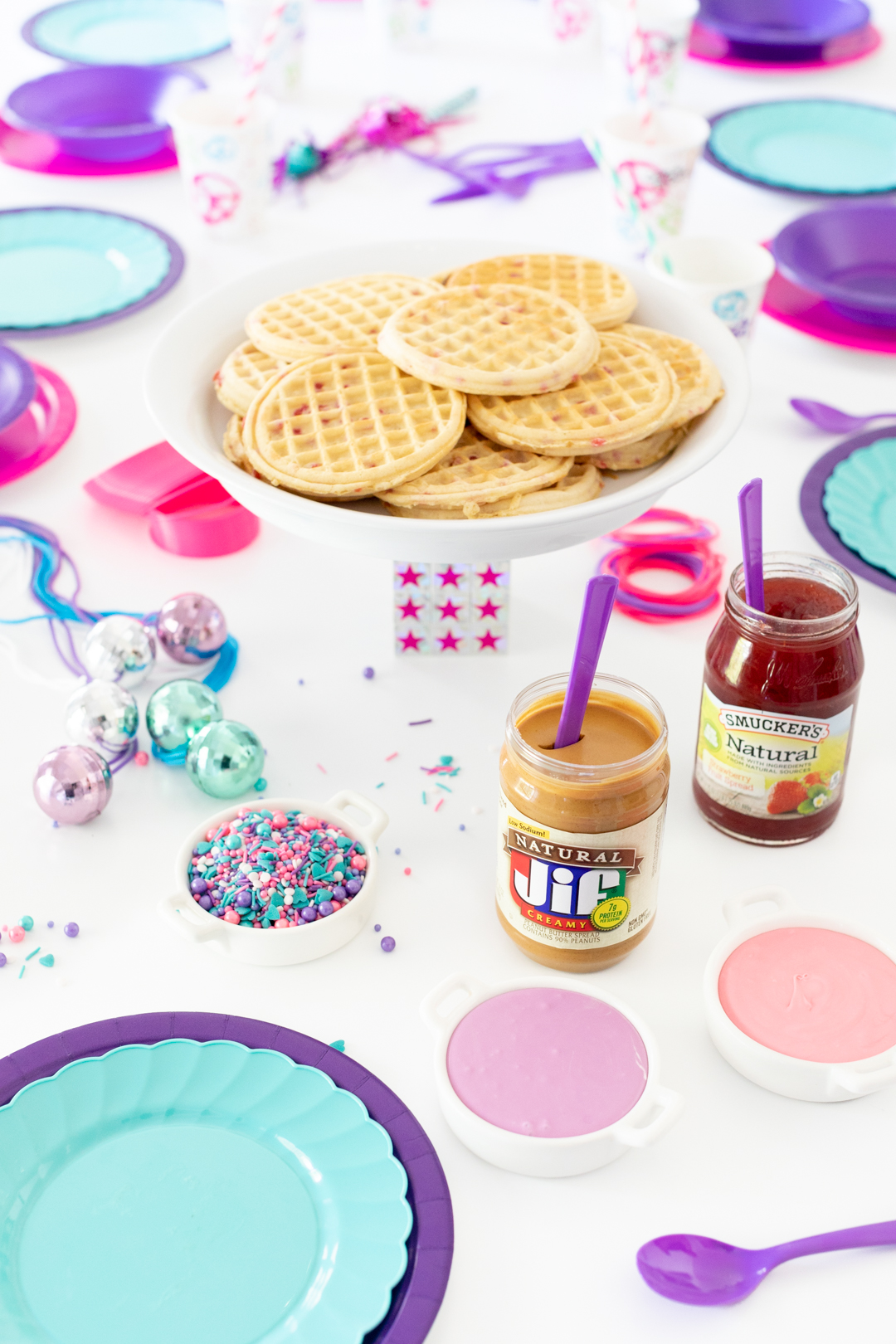 Colorful Icings
Colorful Sprinkles
Spreads like Country Crock® Original Buttery Spread. It's made from real, simple ingredients for those delish comforting waffles mom used to prepare for you.
Syrups like chocolate, caramel, and strawberry

Ice Cream – check out Blue Bunny®'s signature Bunny Tracks® flavor. It's made with caramel and fudge swirls, chocolaty covered peanuts, and chocolaty peanut butter bunnies in their dreamy vanilla ice cream. Sound yummy?

Whipped Cream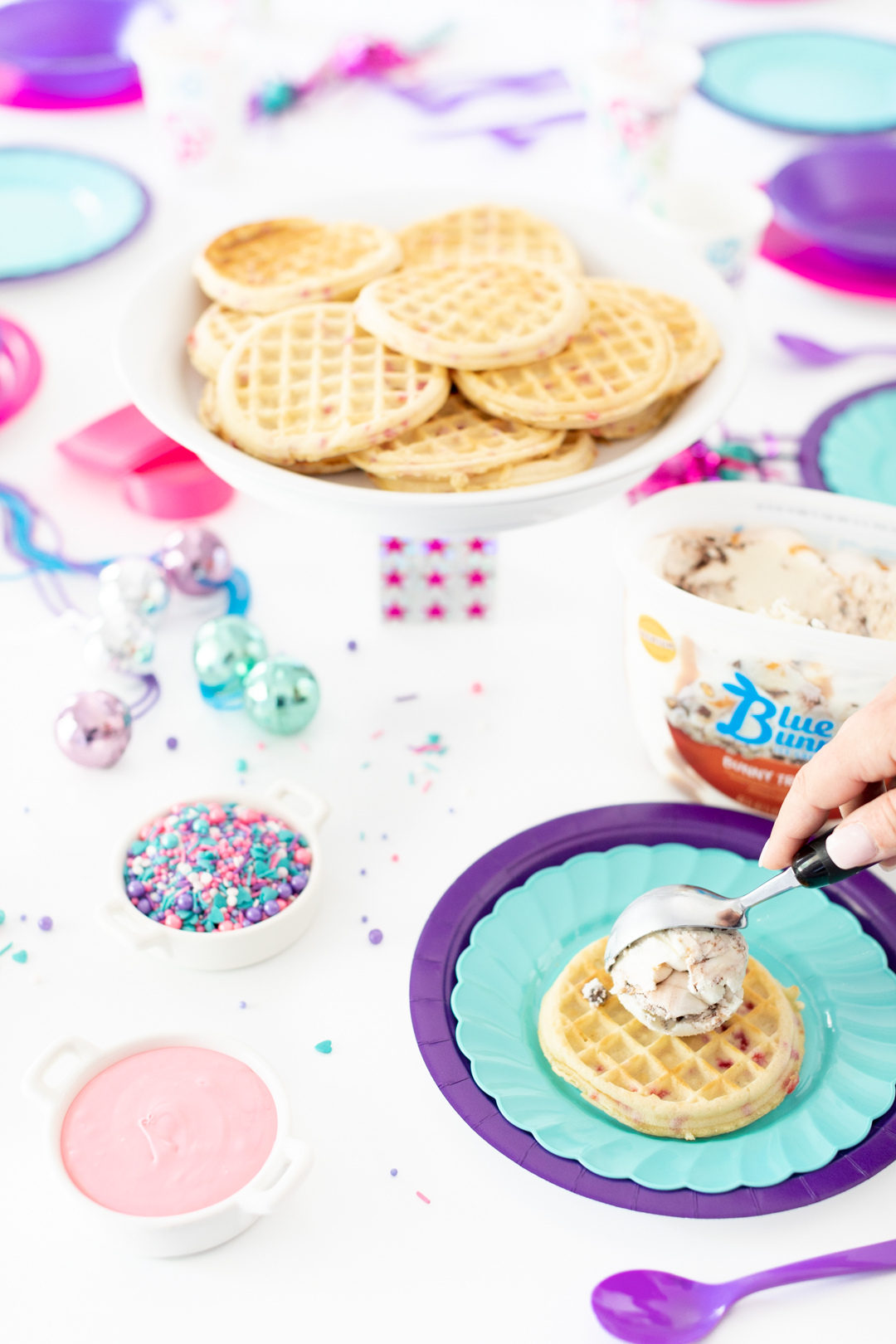 Chopped Nuts and Granolas

Fresh Fruits or Fruit Sauces

Honey – For a unique twist with sweet AND heat, add Mike's Hot Honey to your Eggo Waffle bar. It's delish honey with a kick thanks to Brazilian chili peppers. Fun!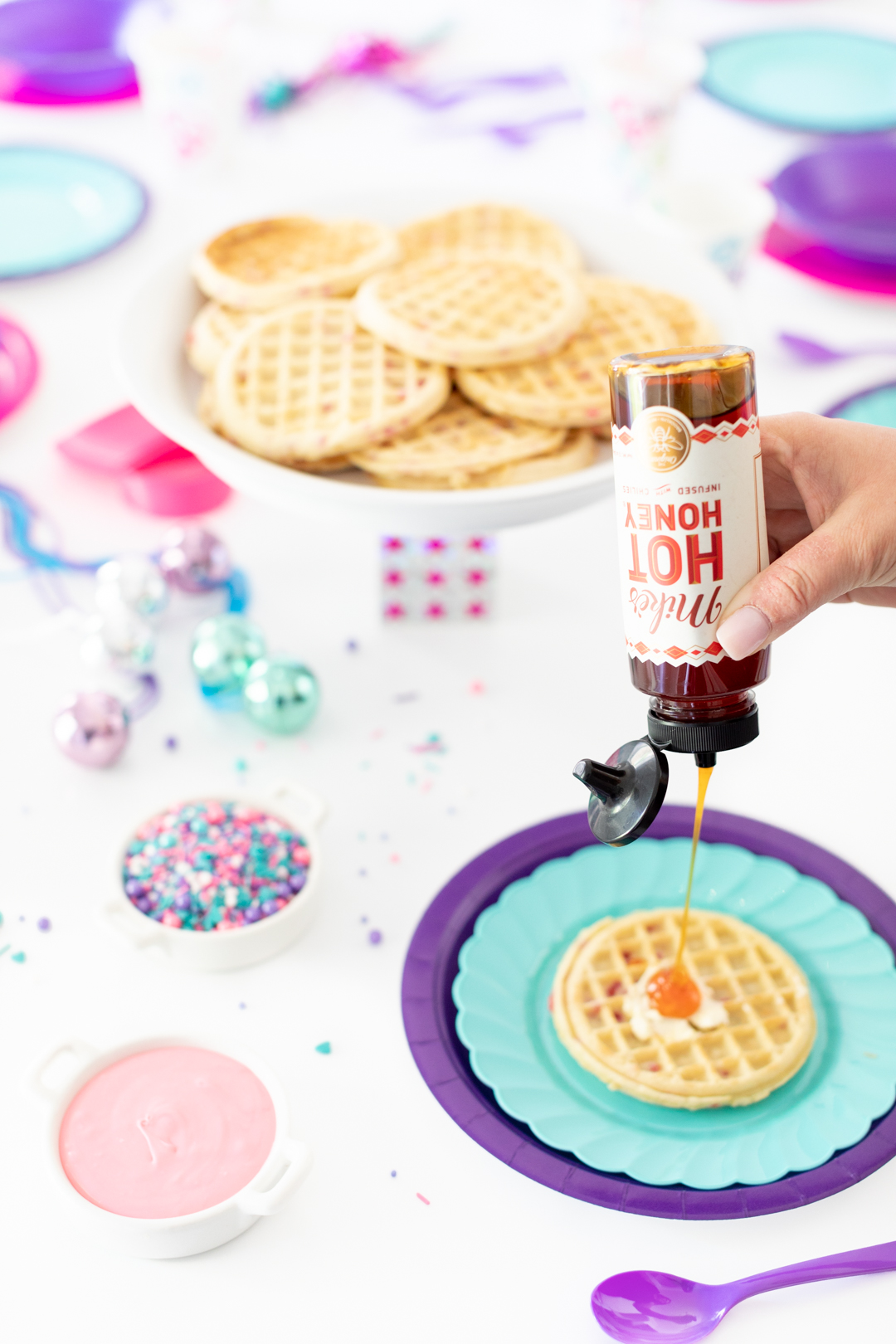 Yum! These are a great starting point, but feel free to get even more creative with it. What were your fav waffle toppings as a kid?
Don't forget to add more Eggo Waffle bar add ons.
Fruit salads or whole fruits to grab

Breakfast meats like Johnsonville Original Breakfast Links available at Walmart. Added bonus? Their links are made with no artificial flavors or colors.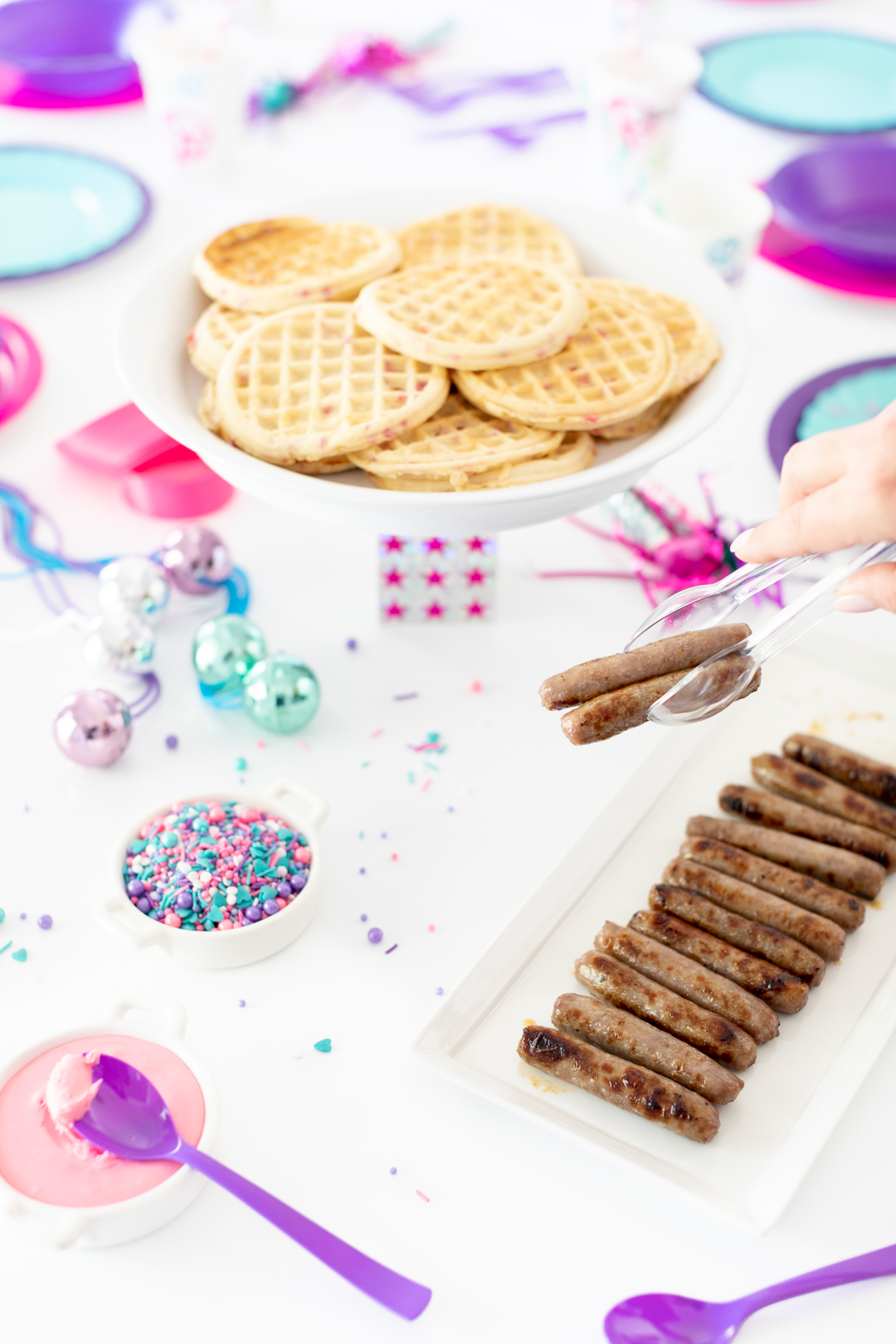 Cereal like Pop-Tarts™ Cereal Strawberry which is a available at Walmart – perfect for that fun childhood vibe! Yes, your fav Pop-Tarts™ which is a are now in cereal form with each bite is being filled and frosted.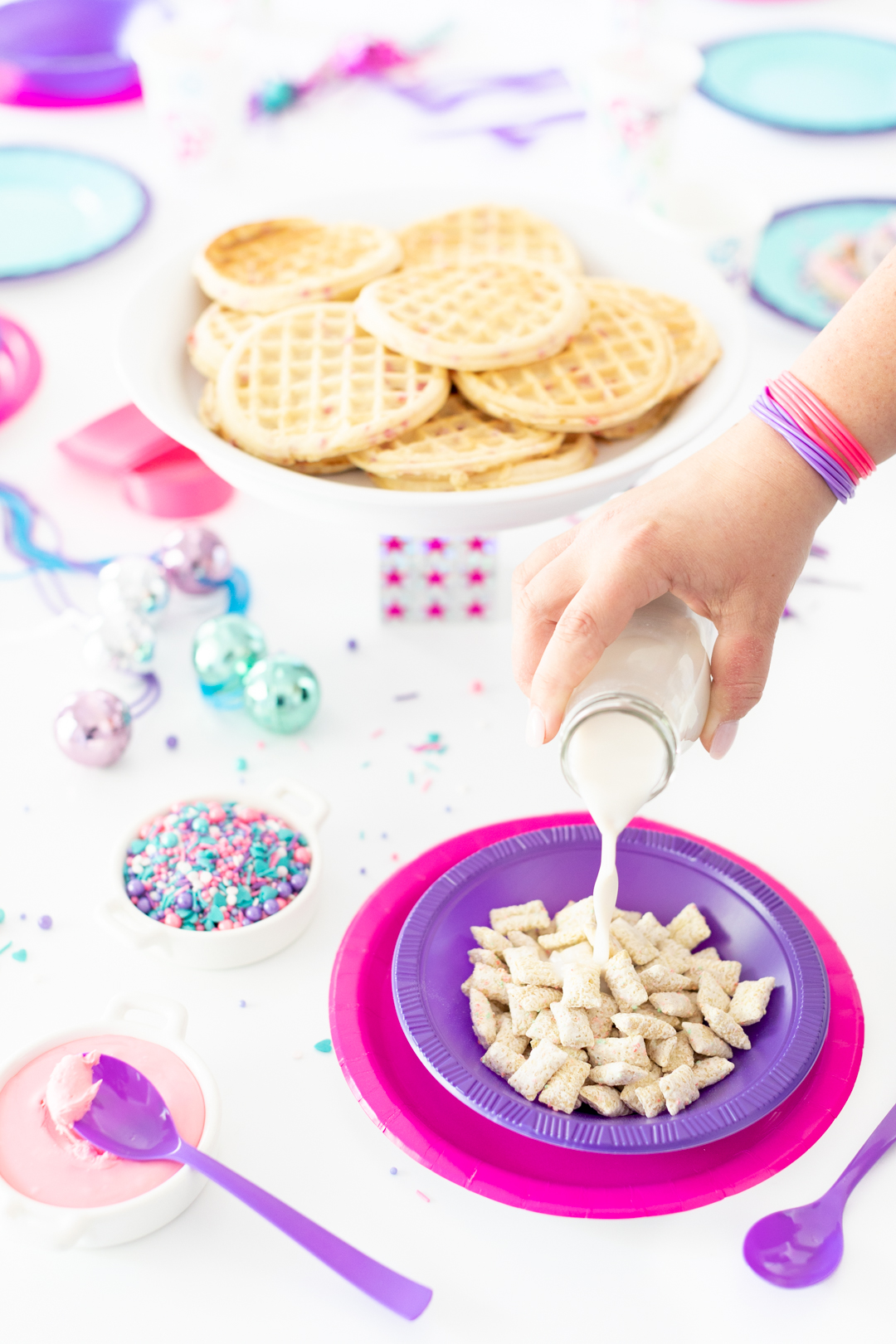 Now that you have your Eggo Waffle toppings and brunch sides set up, the rest is the extra fun part.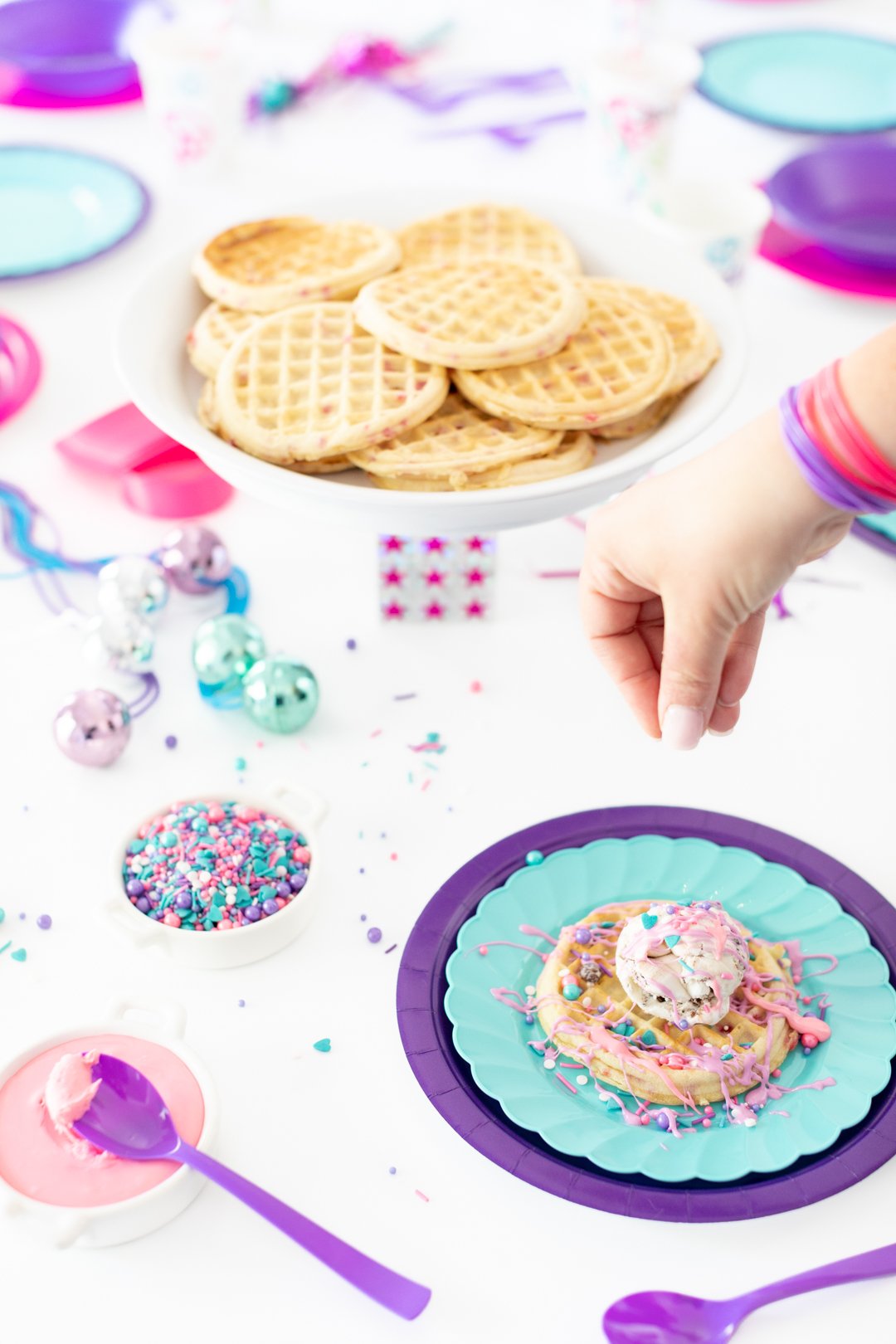 Your guests are going to love making their own lighthearted and tasty creations.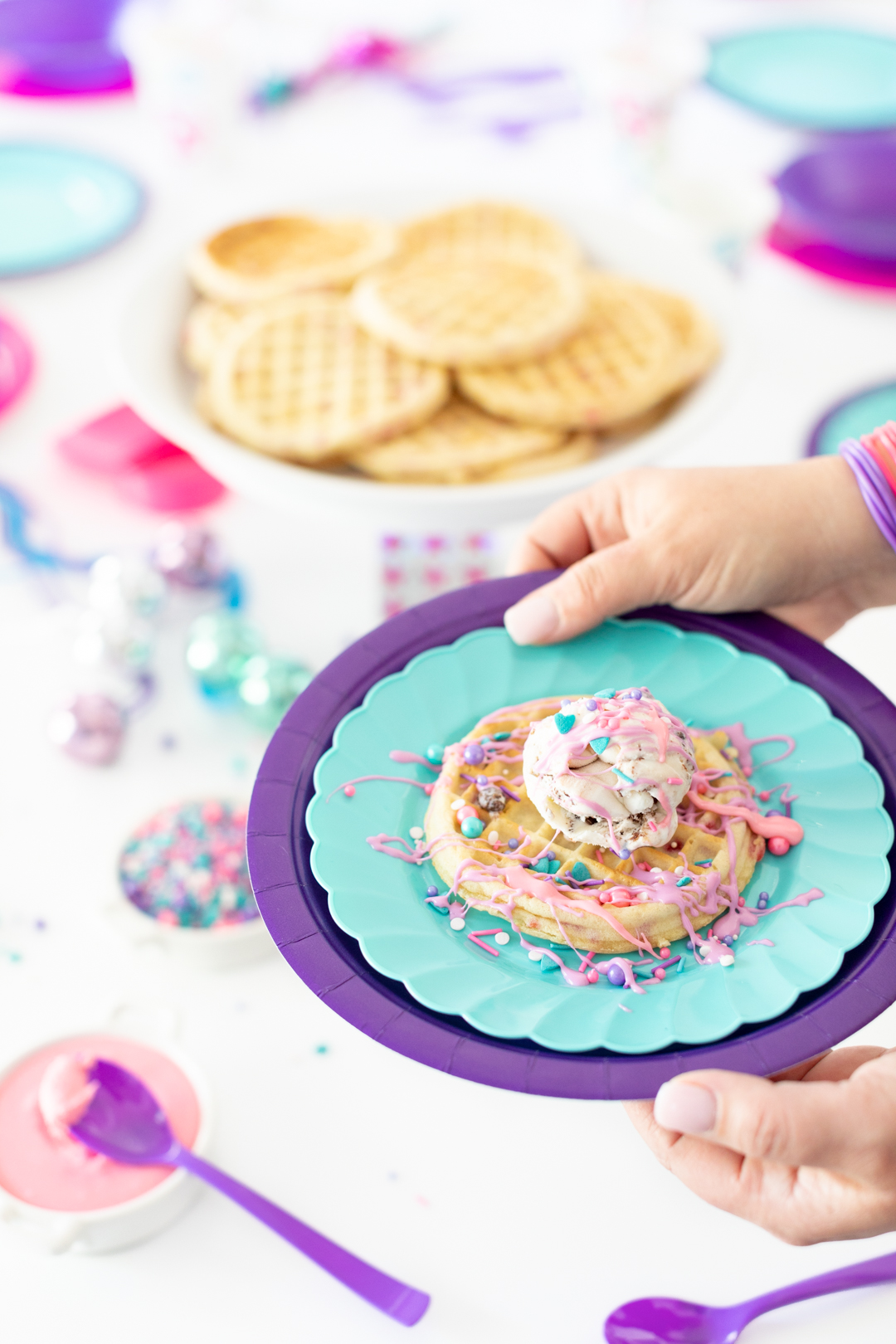 Sip, sip… hooray! Don't forget to offer beverages!
I just tried 1850 Pioneer Blend Coffee for the first time and was impressed with the bold and smooth flavor. It would make the perfect addition to the adult sleepover vibe. Their fire-roasted coffee beans lend to less bitterness. Score!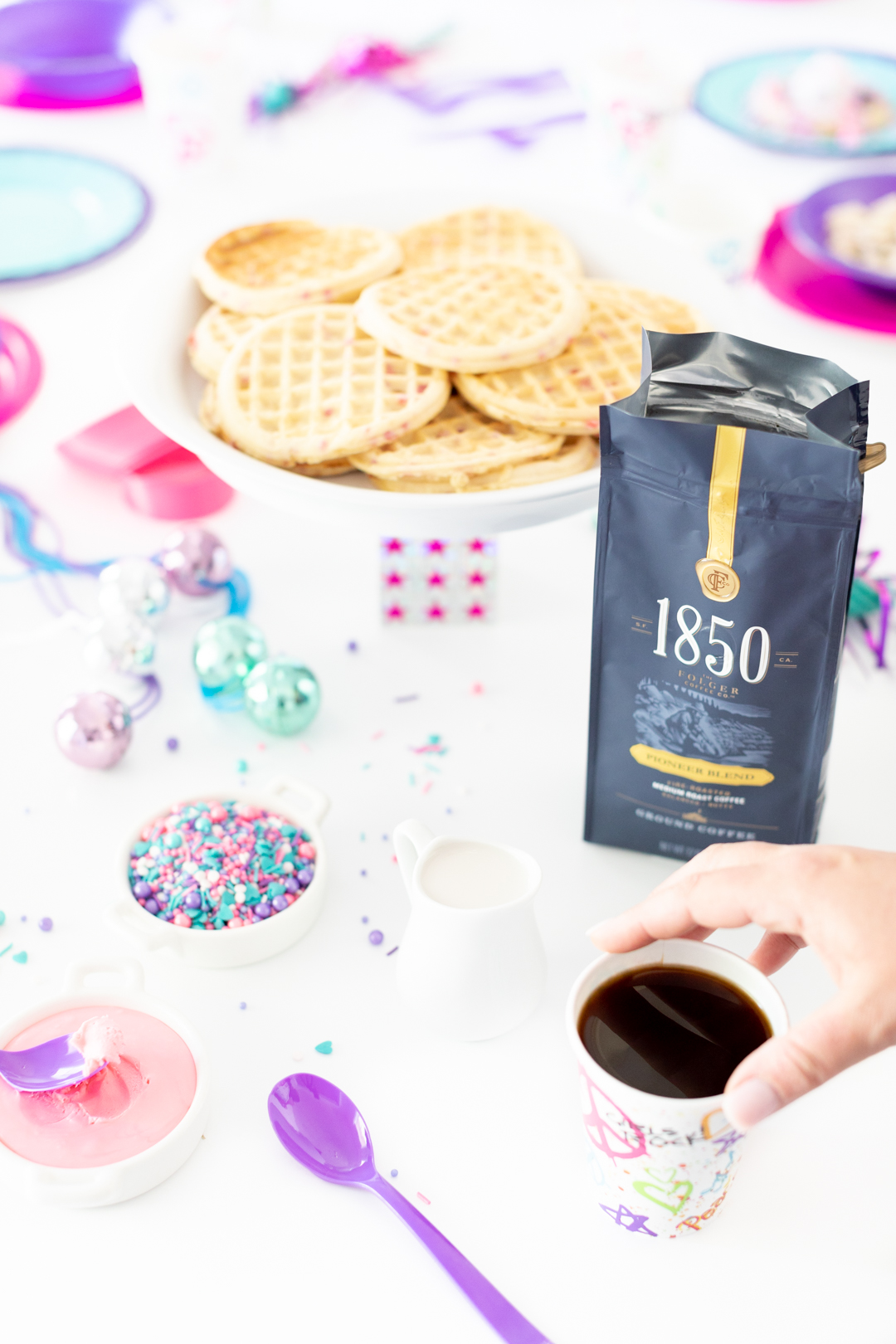 EASY OLD SCHOOL PARTY DECORATIONS
I love decorating for parties, especially for a fun theme like this one. Getting creative is the name of the game. Letter balloons and banners are a great place to start and then the rest will easily fall into place. For an 80's and 90's party, bright, big and bold is totally the way to go. Have fun with it. Just promise me whatever you spell with your letter balloons that you'll include "4-eva" at the end?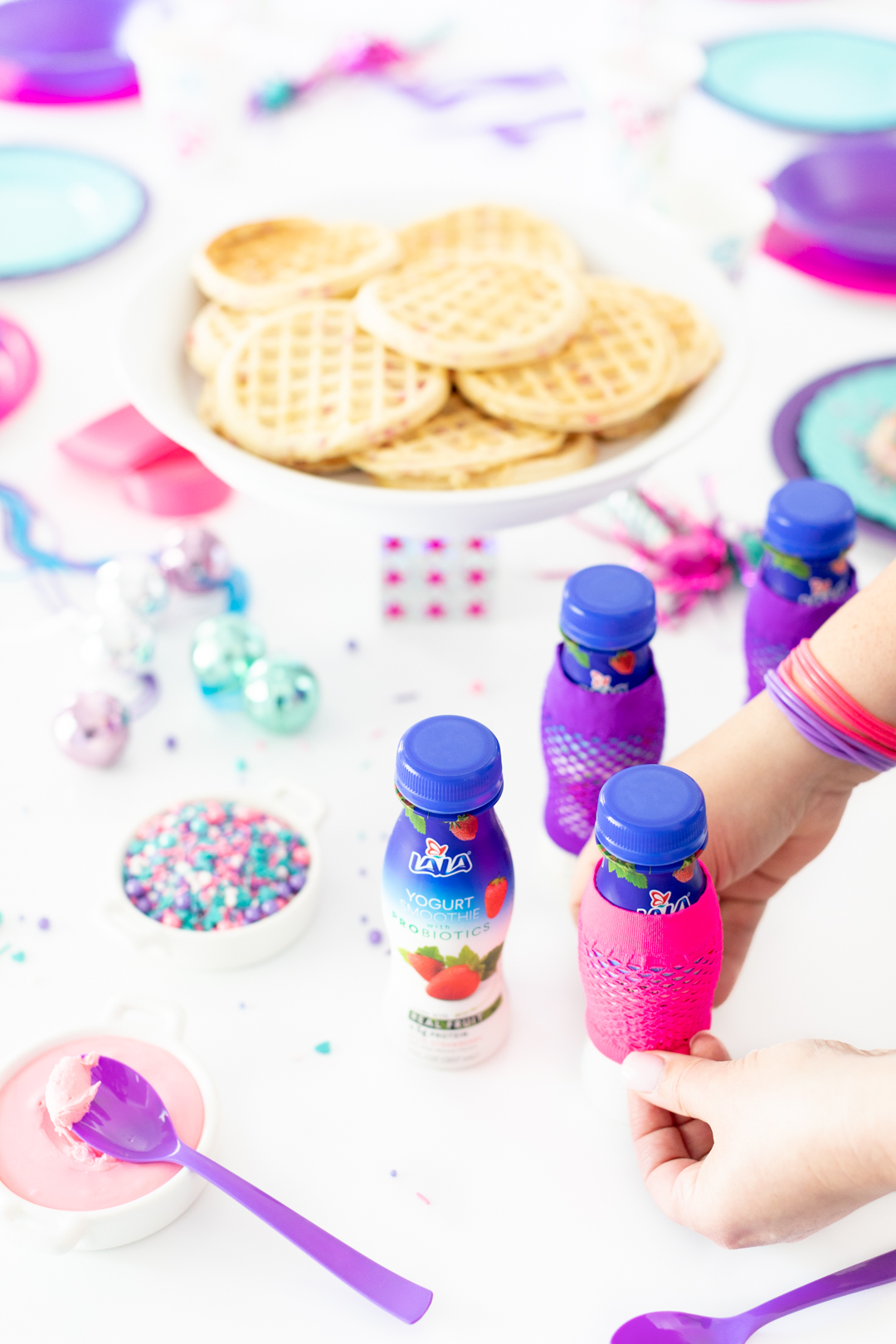 Other special touches?
Add fingerless fishnet gloves over single serve drinks like LALA Probiotic Yogurt Smoothies. Seriously, how cool do they look? Their probiotic smoothies are made with real fruit and natural ingredients making them the perfect compliment to your Eggo Waffle bar.

Jelly bracelets – can be used for party favors and table decor

Disco ball necklaces – perfect for party favors and decor

80's & 90's classic toys perfect for party favors, decor & party games

Bright bold, neon or fluorescent colored decorations and flatware
The sky's the limit, my friends!
Head to Walmart to shop for your next Eggo Waffle Bar party! From food to decor, they have it all.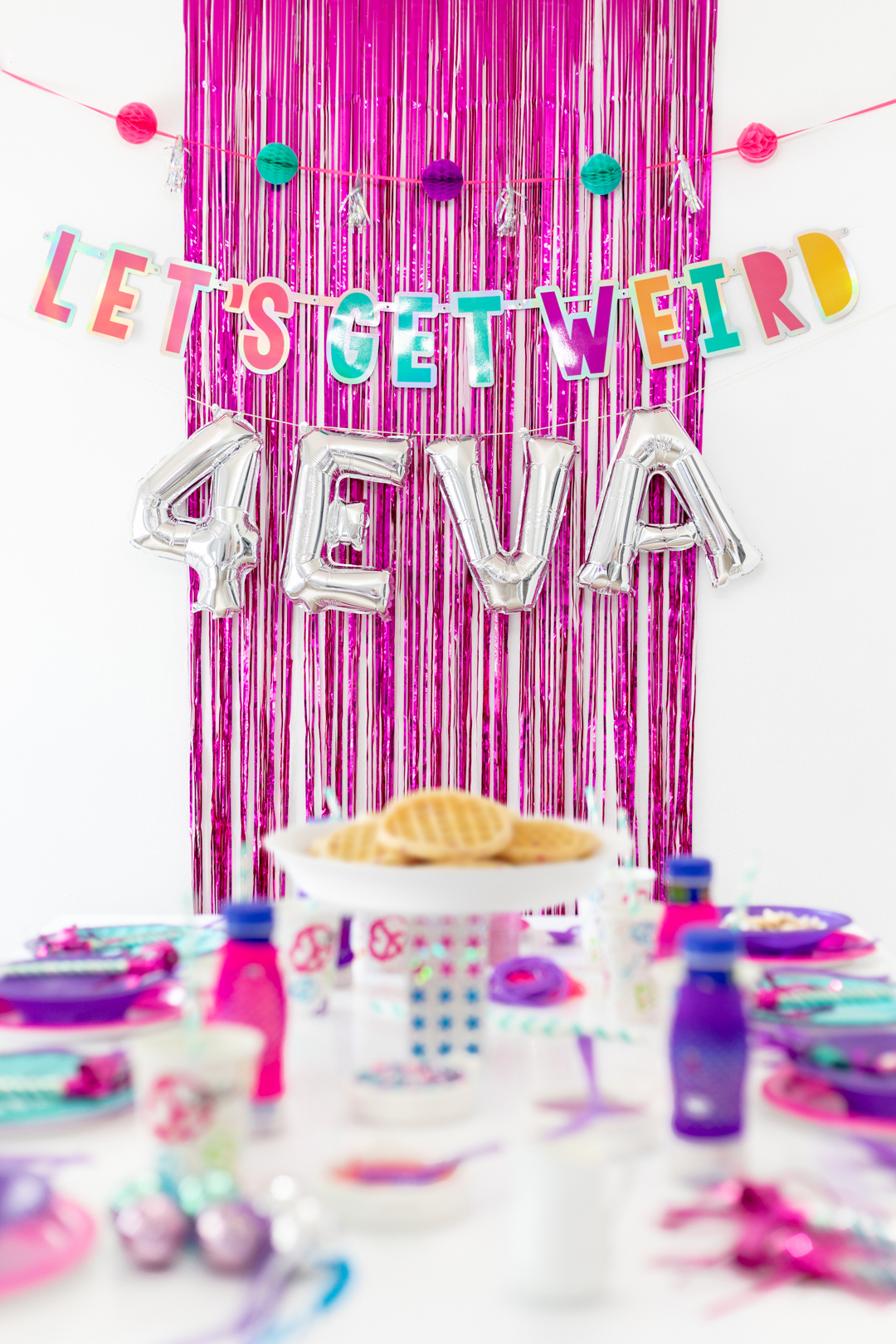 Check to find an Eggo Waffle Bar Truck near you for more delish waffle inspiration! I went last year and it was SO yum!
How would you give an Eggo Waffle twist to upcoming celebrations? I'd love to hear your ideas.