Last week-ish, I had shared my pumpkin slow cooker project. I boasted lots of yummy pumpkin goodies, sorry it's taken me forever to share this fun pumpkin cheesecake recipe. I'm mostly sorry because I've been selfishly enjoying it over here and that's just not my style. Sharing is caring. Still needing to make that pumpkin s'mores ice cream, I promise I'm getting there. Things have been crazy busy lately. I'm sure you can relate!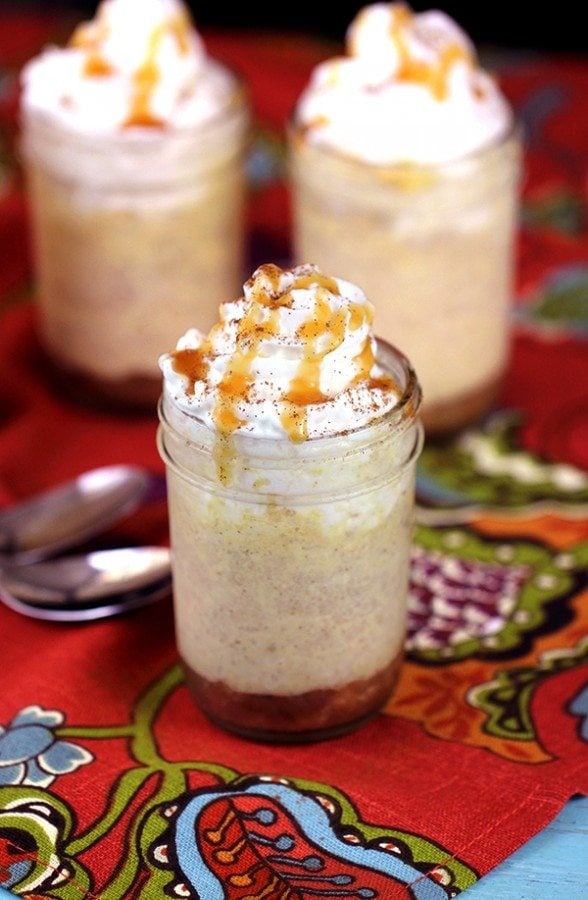 Quite some time ago I picked up a Taste of Home Magazine with Slow Cooker Meals and what do you know, they had a cheesecake recipe. I've seen it done before, but never tried until about a month ago. Totally messed that up! Goes along with that other baking mix up I did with those Oh Henry Bars. That's when I originally had the idea to take the recipe I'd found and turn it into a pumpkin cheesecake. For that particular recipe, you need a 6" spring form pan. The measurements for the recipe take that into consideration of course. Don't know what made me think I could ADD stuff to the recipe and not have it blow up and boil over all into my Crock Pot. Well, lesson learned friends. Lesson learned.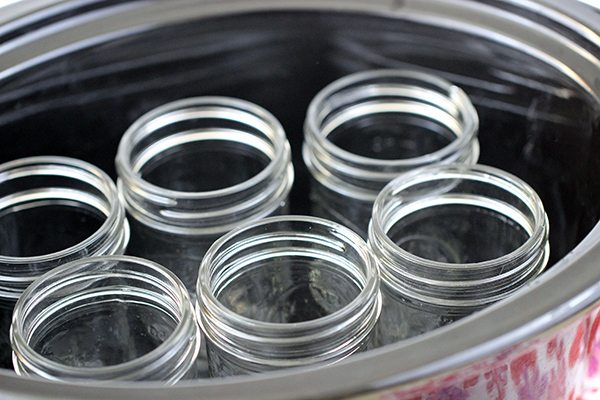 So, this time I used pint sized mason jars instead. I just couldn't think of a reasonable way to cut down the original recipe. This was my first time using them in the slow cooker and it won't be the last. Such a cool way to cook and already have the goodies all ready to serve as is. The key to being successful at this recipe is to make sure your slow cooker can handle fitting the mason jars. So, before attempting I'm suggesting that you do a hands on measurement. I was able to fit SIX into my 5 quart slow cooker. If you can't fit six, you might want to cut down on the recipe or do a couple of batches. I haven't tried it any other way as of yet.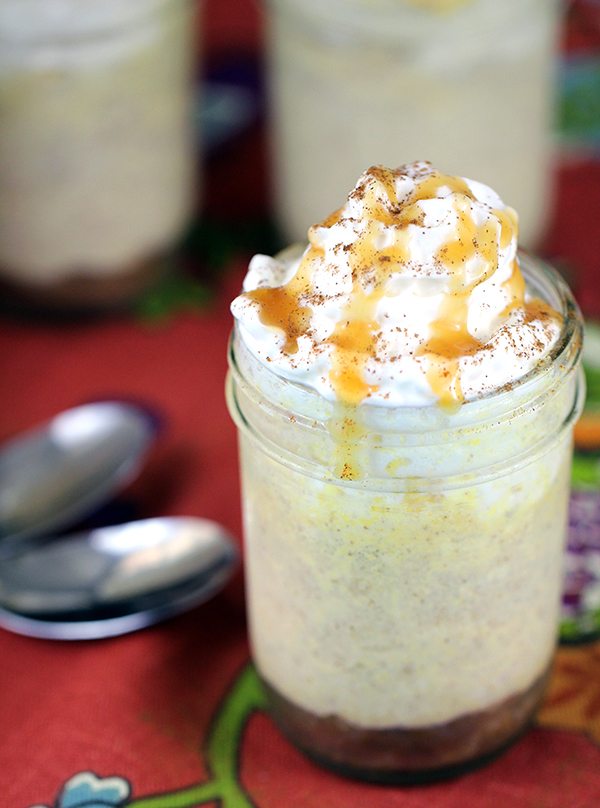 Would you like to try pumpkin cheesecake in your own slow cooker? Here's what I did!
Recipe adapted from Taste of Home Slow Cooker Meals Magazine 2014.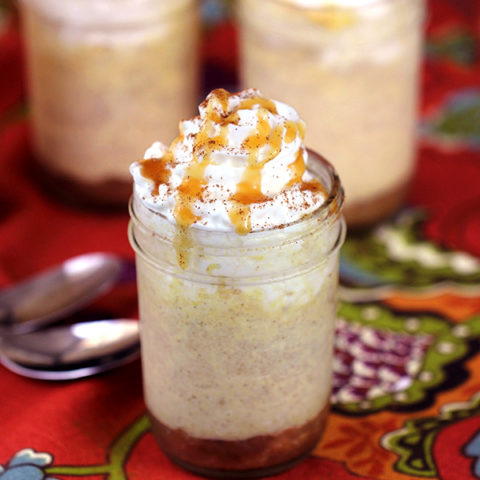 Pumpkin Cheesecake in the Slow Cooker
Ingredients
1 Cup of Pumpkin puree
¾ Cup Crushed graham cracker crumbs
1 Tbsp. sugar plus ⅔ cup sugar, divided
½ Tsp. Ground Cinnamon, divided into ¼ each.
½ Tsp. Pumpkin Spice
2 Packages cream cheese softened (8 oz each)
½ Cup sour cream
2 Tsp. vanilla extract
3 Eggs lightly beaten
2 & ½ Tbsp. Melted Butter
(6) ½ pint mason jars
5 Quart Slow Cooker
Paper Towel
Instructions
Prepare the crust: In a small bowl mix ¾ graham crumbs, 1 tablespoon sugar, ¼ teaspoon cinnamon, 2 & ½ TBS Melted Butter. Evenly divide between your (6) mason jars for the bottom layer.
Beat softened cream cheese, ⅔ cup Sugar, Sour cream, Vanilla, remaining Cinnamon and Pumpkin Spice and eggs on medium until completely smooth and combined.
Pour cheesecake filling over the graham crust evenly. You'll want to make sure not to overfill any, there should be a good inch or so left over after evenly distributing. This will allow room for rising which will happen during cooking.
Add about an inch of water to the bottom of your slow cooker, place your filled mason jars on top. Layer Paper Towel over the top of the slow cooker and place the cover on top. This will absorb condensation. Cook on HIGH for 2 Hours. Turn off heat. Let sit covered for 1 hour. Then immediately remove and set in the refrigerator. Cover and let sit overnight.
Top with caramel, whipped cream and ground cinnamon if desired.
Mmm. Really delicious stuff and a great way to kick off fall. Have you ever made a dessert in your slow cooker? What did you make?