Delicious food brings people together, and choosing just the right combinations will make them stay longer. This Hearty Charcuterie Snack Board featuring Eckrich Li'l Smokies promises to lure your loved ones in, so that you can create new holiday memories around the table. Best part is, no one will be going home hungry when you fill your board with these tasty and hearty picks this holiday season. My mom used to serve Eckrich Li'l Smokies with BBQ sauce, so I'm bringing her recipe back with a festive twist that easily feed a crowd this year. This is a sponsored post, all opinions are my own.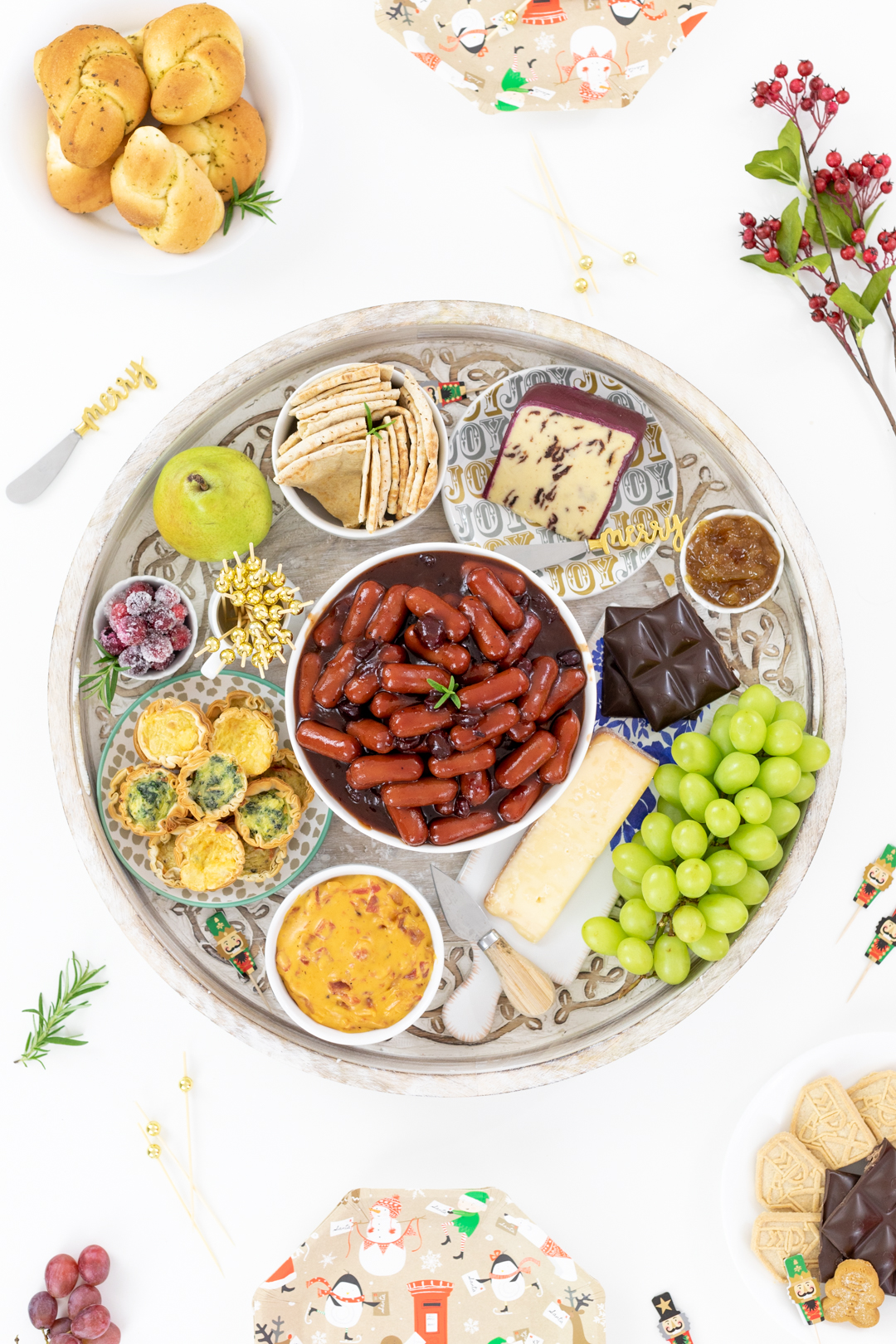 I'm so excited to share my delicious snack board today with ingredients that are not only tasty, but SO easy to put together for a low stress holiday gathering. You know that I'm all about the holiday hacks, but without sacrificing the flavor or any of the joyful moments along the way. It's a great time to get the family involved with prep! Not only will it help save time, but you'll be making new memories in the kitchen together.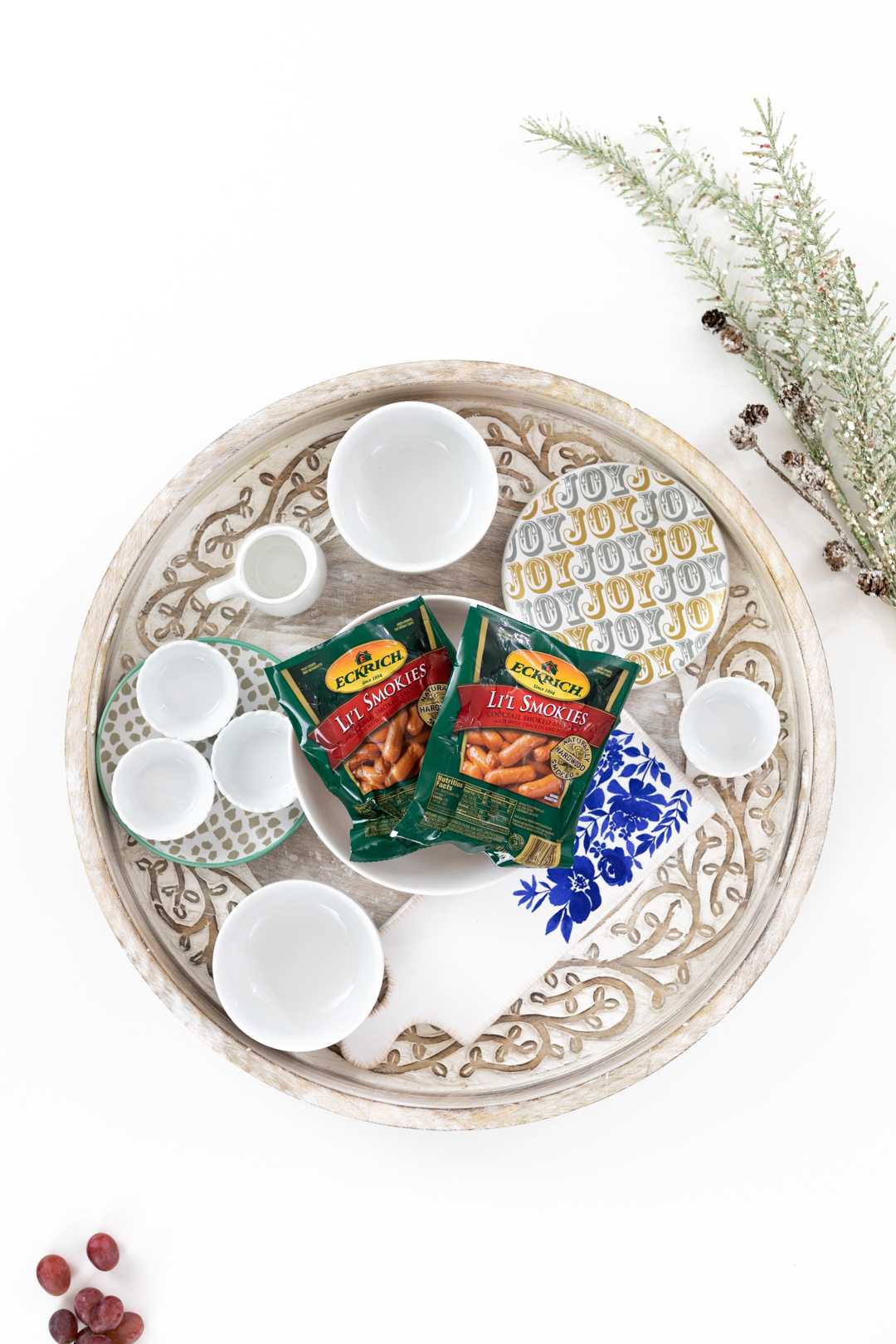 That's why Eckrich Li'l Smokies Original Cocktail Smoked Sausage makes for the perfect star player today. They're hearty and easy to customize, with flavor making them totally deserving to be at the center of the table. This snack board is such a great idea that I'm really surprised it hadn't crossed my mind much earlier and I know it's going to be fab to serve up to my guests. With only 15 minutes to prep and prepare, it makes for the perfect fuss-free and filling option for serving a crowd. Add a handful of wholesome ingredients that complement each other, and I guarantee your guests will eat it right up. Let me share some delish and simple thought starters to help kick off your holiday planning.
HEARTY CHARCUTERIE SNACK BOARD IDEAS
From Eckrich Li'l Smokies Original Cocktail Smoked Sausage, to other appetizers like spreads, breads and cheeses, I have you covered with this list of hearty starters that can easily fill up a large charcuterie board. For this board, I let the serving tray and the ingredients really do all the talking. Simple was best for set up.
I pulled out a variety of smaller serving bowls, plates, and spreaders to fill the space. This allowed me to easily plan all of my ingredients and not to get carried away with over-filling it with things that really weren't needed. I love how it all came together. Let me share all the goodness that I selected to get the party started and encourage bonding over food. Is there really a better way to connect? This show-stopping food spread that you can create with your family can be the start of a great tradition.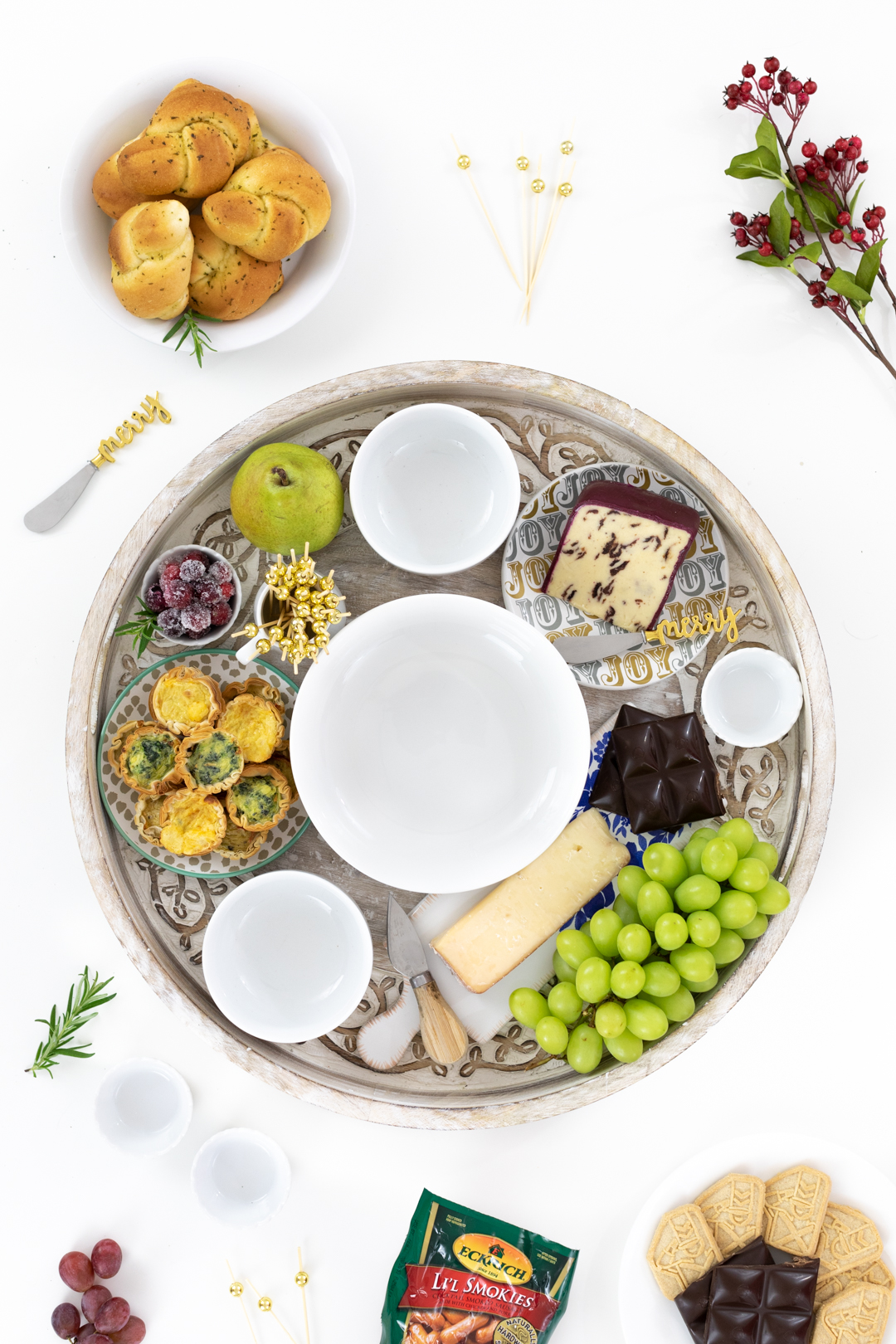 HEARTY APPETIZERS
Here are my ideas on how to fill your holiday snack board with substantial ingredients.
Eckrich

Li'l Smokies Original Cocktail Smoked Sausage

prepared with smokey BBQ sauce and whole berry cranberry sauce for a festive twist. Include festive cocktail picks.

Selection of cheeses. I chose both raspberry and cranberry infused cheeses.

Fresh fruit, like red and green grapes, is always a vibrant and tasty addition.

Premade appetizers from the freezer, such as mini quiches which are my ultimate favorite.

Warm and hearty dips.

Breads, such as garlic knots and pita wedges.

Crackers and breadsticks.

Sweet snacks, like festive cookies and chocolates.
HOW TO PREPARE LI'L SMOKIES
Adding festive flavor to your Li'l Smokies Original Cocktail Smoked Sausage is so easy. A classic favorite is to prepare with a bottle of your favorite BBQ sauce on the stove top. For this fun twist, add a 18oz bottle of BBQ sauce along with a 14oz can of whole berry cranberry sauce. Cook on medium heat until completely warmed. Stir frequently. They are ready in about ten minutes.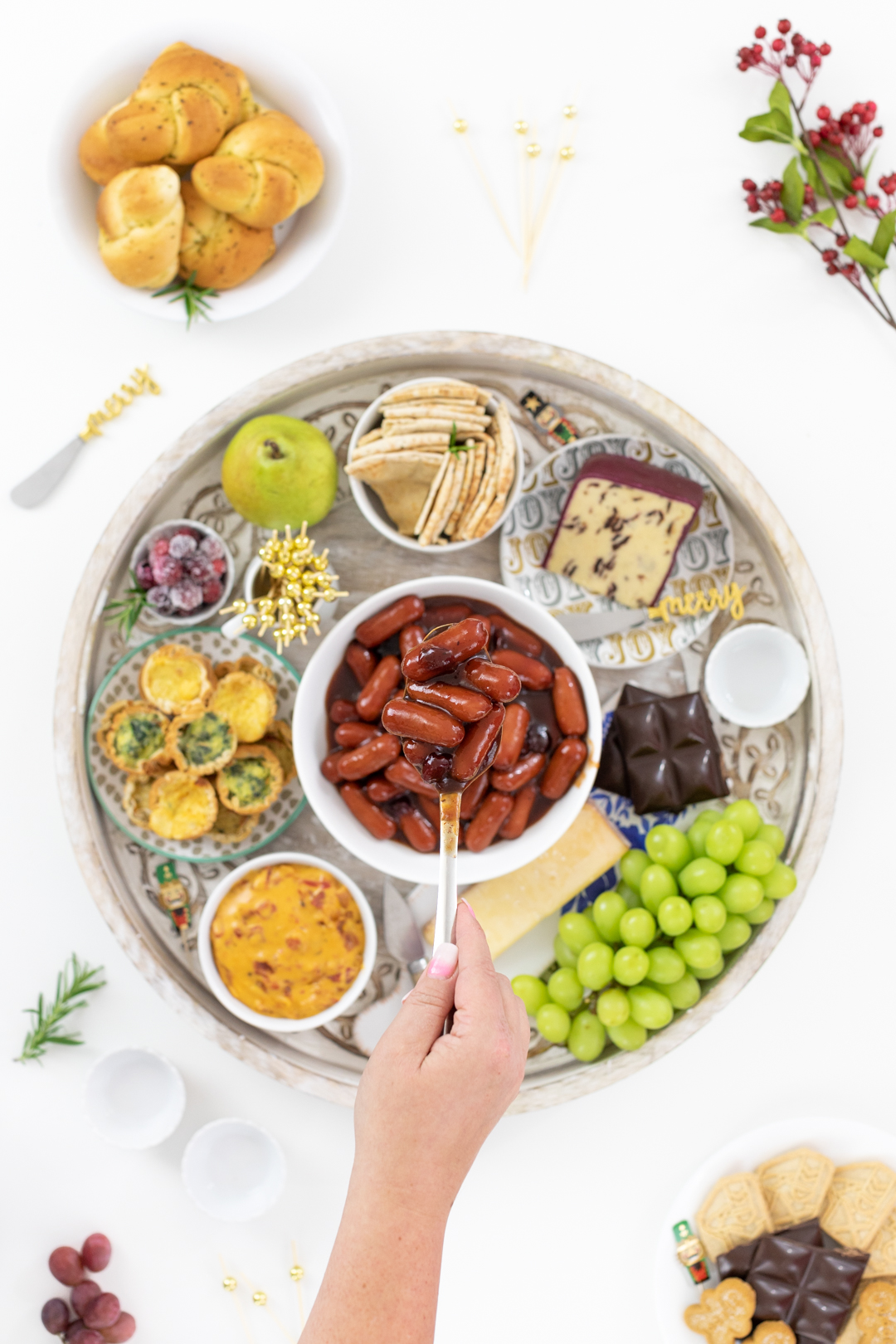 Add them to a serving bowl and be sure to provide some pretty cocktail picks so that everyone can grab them easily. Then watch them disappear before your eyes. There's nothing quite like holiday magic.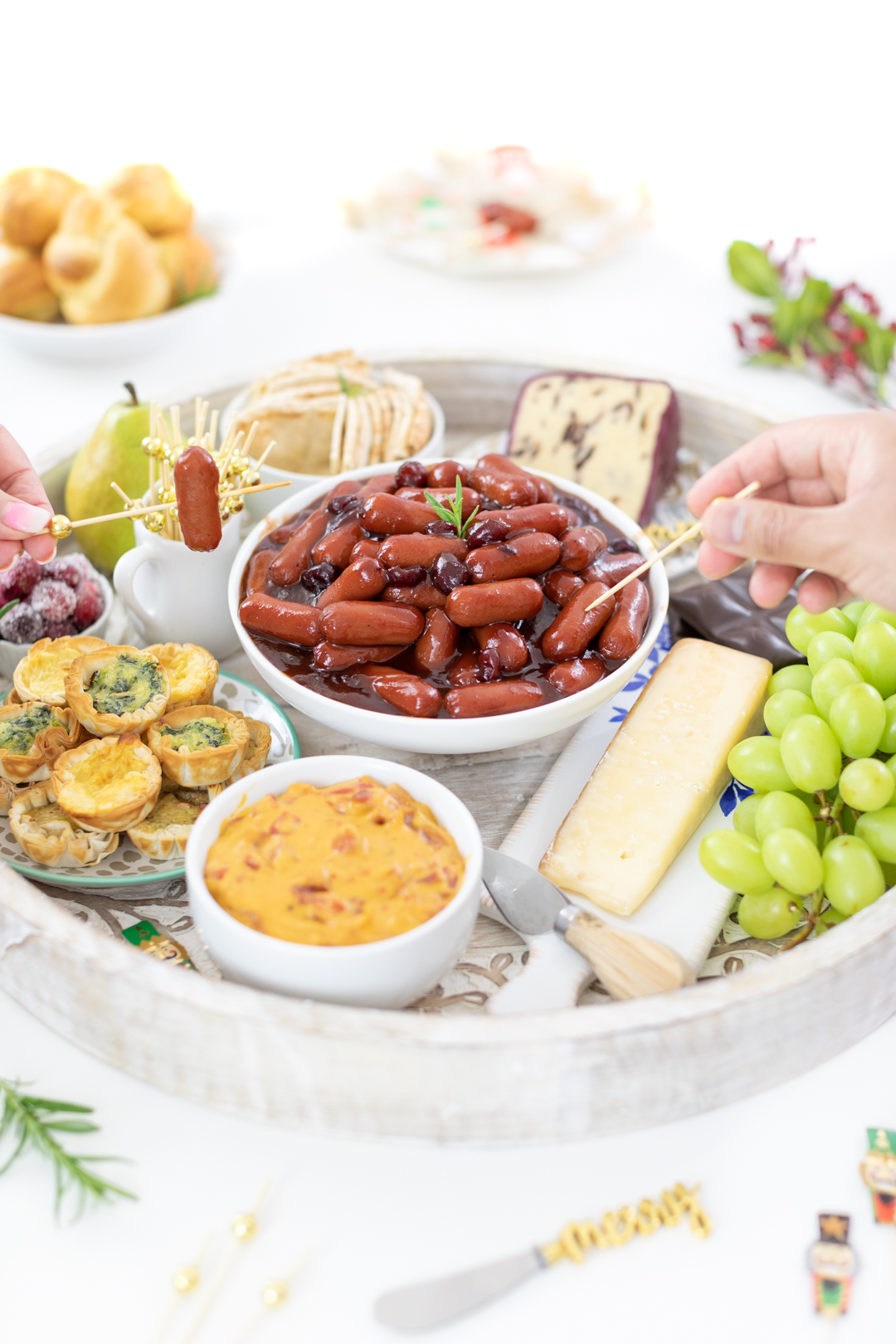 DECORATE A HOLIDAY CHARCUTERIE SNACK BOARD
To make your snack tray extra festive, you can add simple garnishes.
Here are the ideas that I used for this spread:
Fresh Rosemary

Sugared Cranberries

Variety of Festive Food Picks

D'Anjou Pears

Themed Holiday Plates and Serving Utensils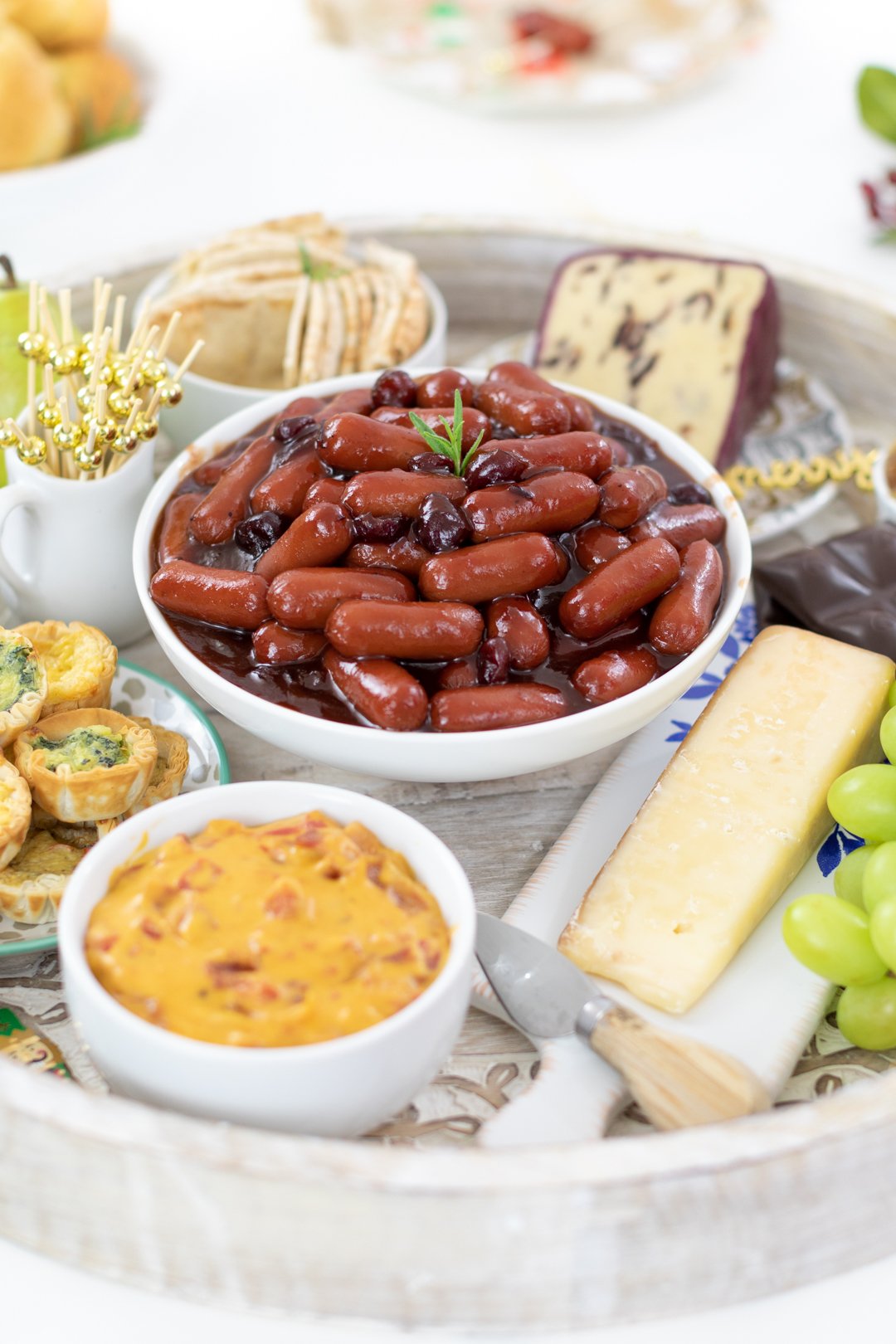 And that's a wrap! I hope that this tasty tray of goodness inspires you to be the host with the most this season. It has all the makings of success between easy-to-prepare foods to delicious options that your guests will love. Total win.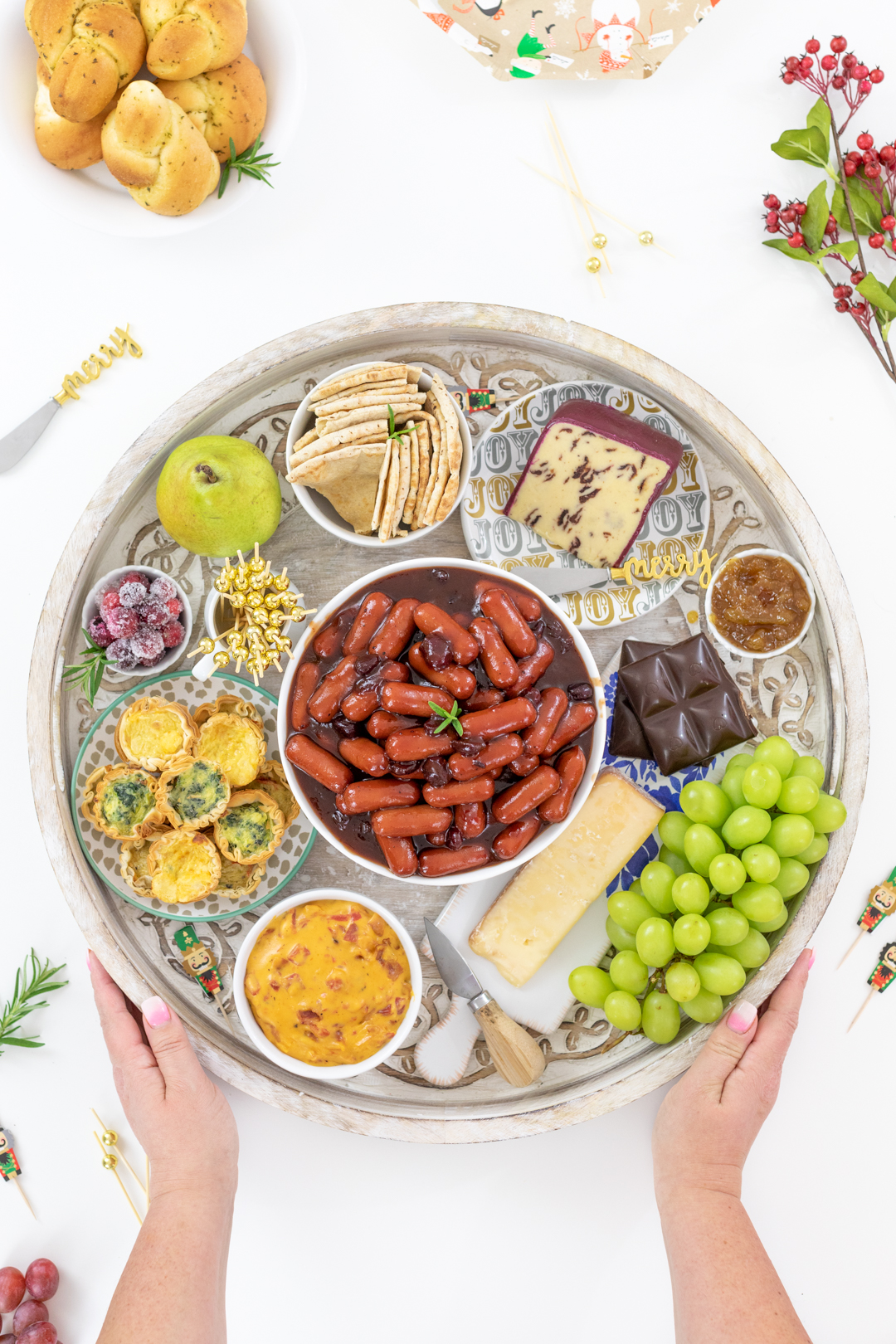 For more delish recipes this holiday season, be sure to visit www.Eckrich.com! Their products will help you keep the stress out of hosting for the holidays.