Halloween is absolutely one of my favorite times of the year. It's more than a day to me, it's more like an entire season. I mean here in Florida, we don't get much fall to speak of and I need to get my fun in. To look for some fun ideas this year, I haunted Tuesday Morning to get some inspo and I love what I came up with. Have you ever visited? Let me show you how they are a one stop destination for Halloween decor with my picks and super easy halloween DIY ideas with just a can of spray paint and a glue gun. This is a sponsored post with Tuesday Morning, all opinions are my own.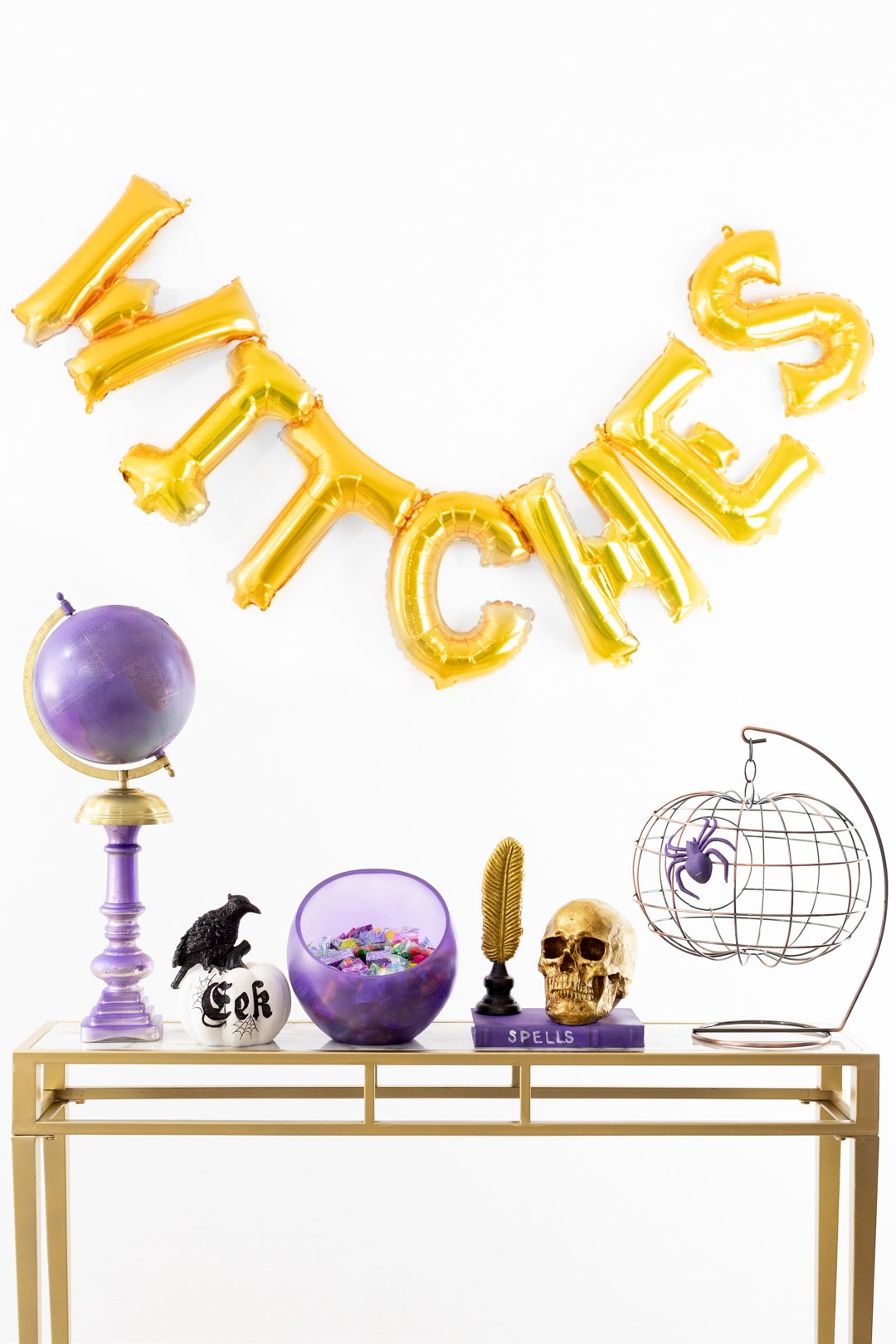 On my trip to
Tuesday Morning
I really had no idea what inspiration I would find. That's what I love about their store! It really is an adventure and you can always find something new and score incredible savings on brand name items. After looking around and seeing a lot of unique Halloween decorations that even witches would be compelled to purchase! Between their fun seasonal decor and regular home items, I immediately knew what I wanted to do with a few very simple DIY tweaks. I'm so excited with how it all turned out. Let me show you the goodness!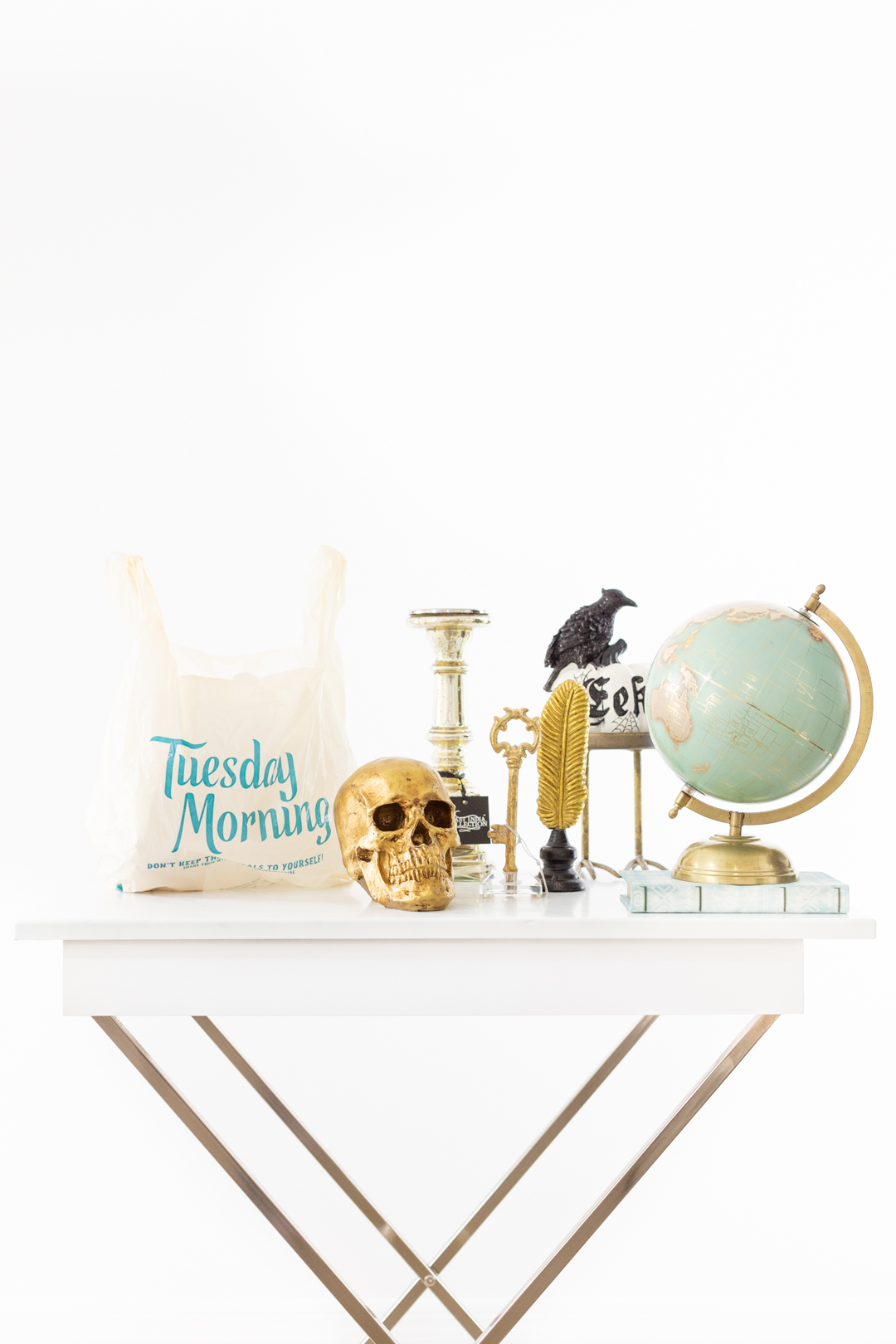 HALLOWEEN WITCH DECORATIONS DIY
In all of the many times that I set up Halloween decorations, I realized that I had never done much witch inspired decor. What time better than the present with so many fun finds. From wreaths to ceramic pumpkins to other complimentary intriguing decorating pieces that just really went with the theme that was forming in my mind and starting to pile up in my cart. It only took me about 30 minutes to walk into the store and then check out with literally everything I needed for my witch table and that includes candy, too.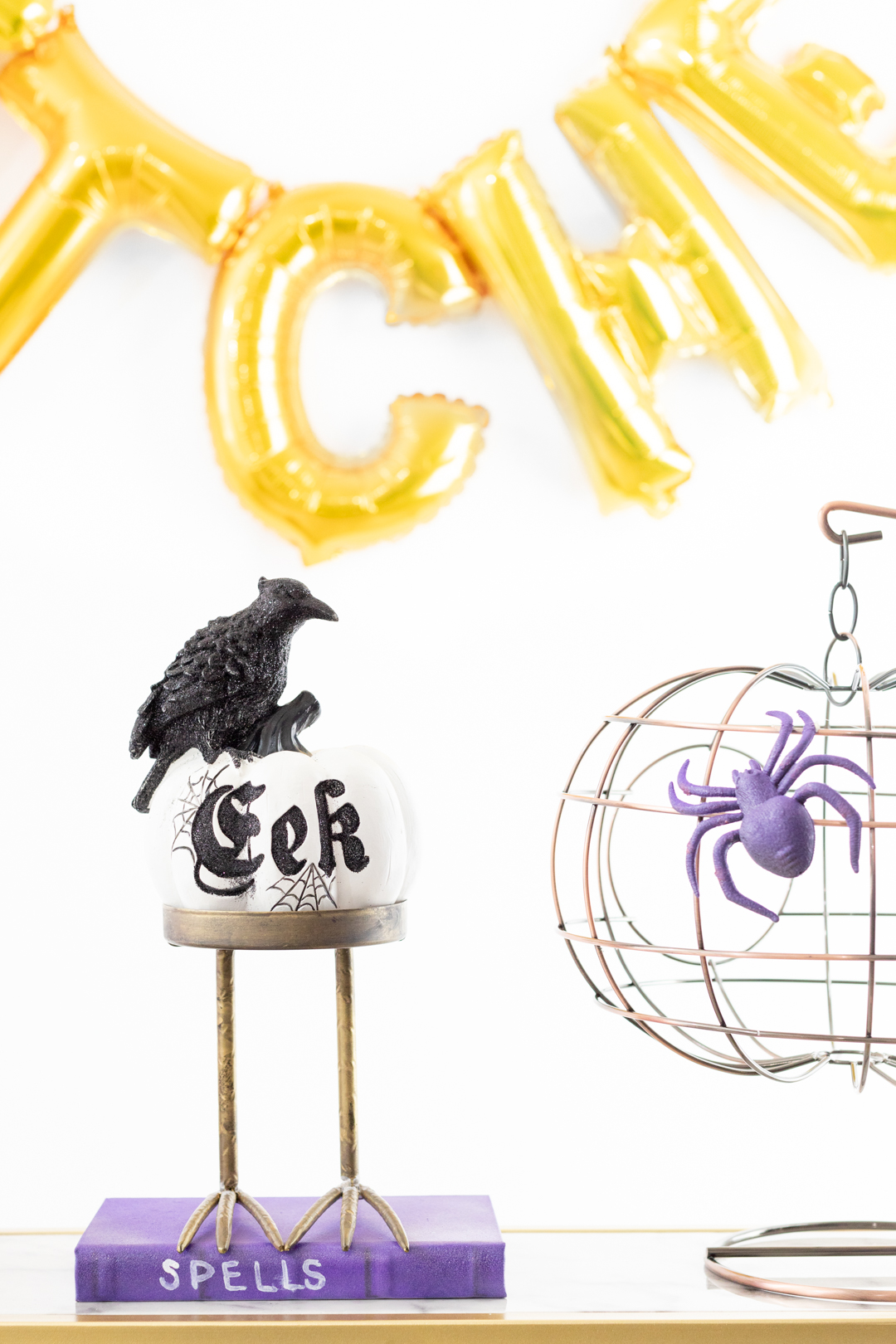 After we purchased our new home, I had chosen a console table to match my new decor. But, I haven't set it up the way I wanted to yet. I thought this would be the perfect time to get into the decorating mood. When thinking about how to style a console table, I love having a variety of decorations in different sizes to give it interest. Eventually, I also want to set up the perfect wall art to compliment it, too. For now, a Witches letter balloon is just holiday perfection! Let's have some fun!
Best part of all of this is that my family LOVED my picks, too. I think they were relieved to see a more creepy side of Halloween. Total wife and mom win, here. And, I was able to give it a very personal tweak with purple which is one of my very favorite colors. Winning!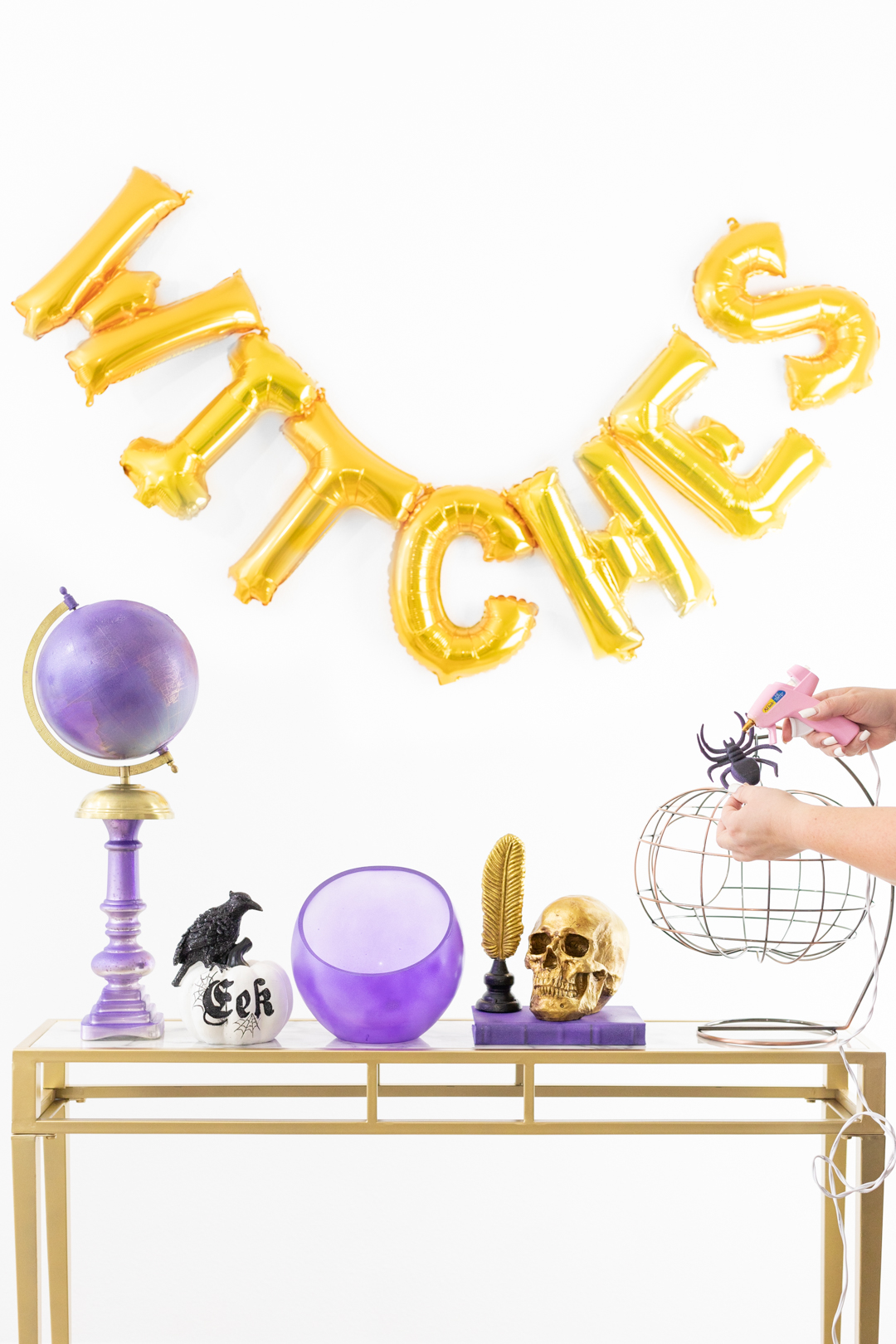 PURPLE AND GOLD HALLOWEEN DECOR
With so many Halloween decorations and regular home decor that had hints of purple and a lot of gold, it was easy to come up with this theme. And with one bottle of the perfect dark purple spray paint, all of the spellbinding witch magic came together SO fast. I mean like in less than an hour from start to finish.
HALLOWEEN DECORATIONS DIY
One of my favorite, yet simplest easy DIY ideas for this project is definitely the hanging fruit basket turned creepy witch cage. The possibilities with this are SO endless. Stick a plastic rat or crow inside and you can't go wrong. I decided to do a spider that I simply spray painted purple. Once it was dry, I used my glue gun to adhere to it. I was thinking it would look even more creepy if you added a faux spider web to the inside or outside.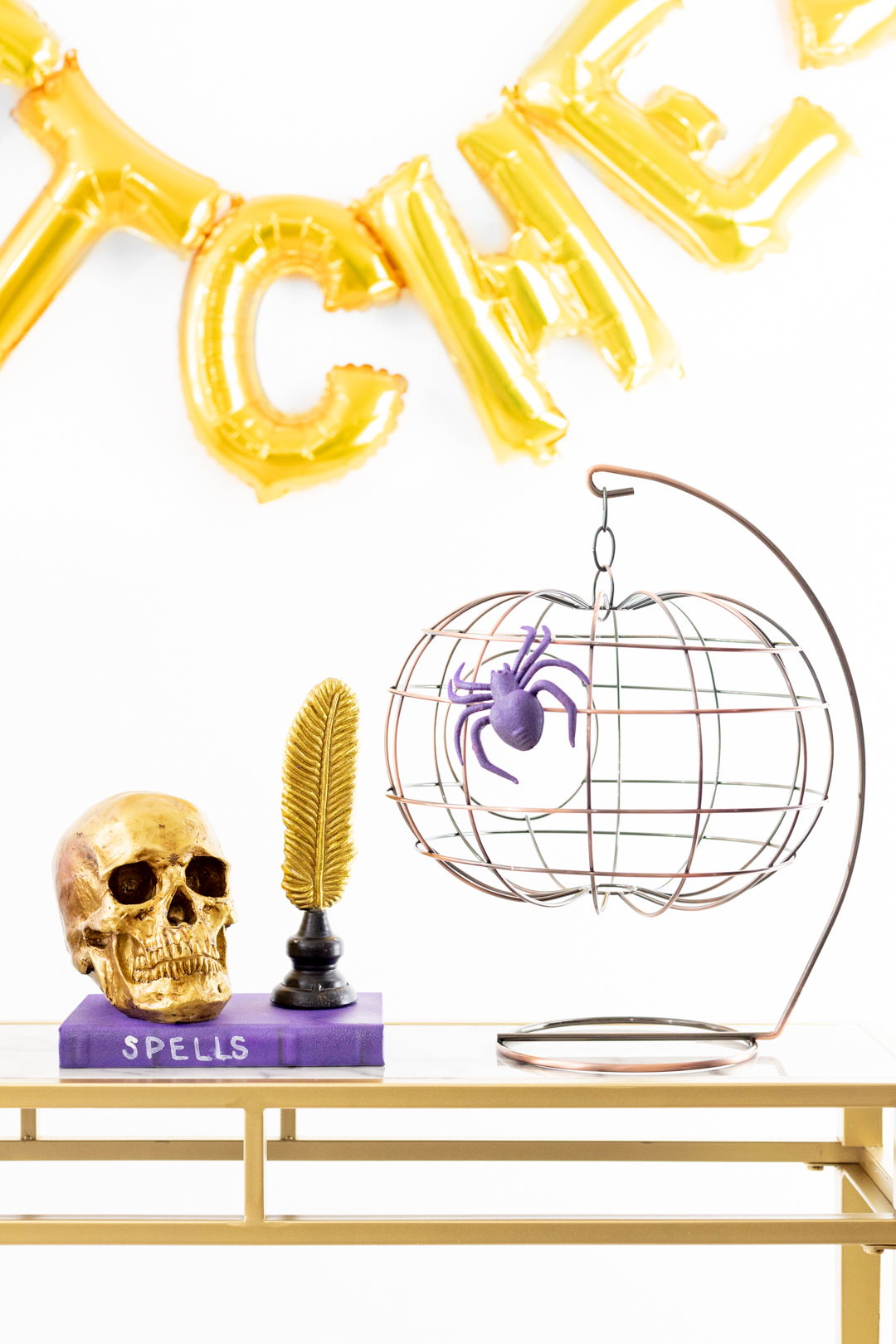 DIY HALLOWEEN SPRAY PAINTED DECOR
Before getting started with any diy project, make sure to read and safety precautions and directions on the products you are using. Some pieces that I picked out to compliment the decorations that I chose at
Tuesday Morning
were a small globe, candle stick, large glass bowl, and a little storage box shaped like a book. Let me show you how I worked with each of them to make them a part of my indoor Halloween decor this year.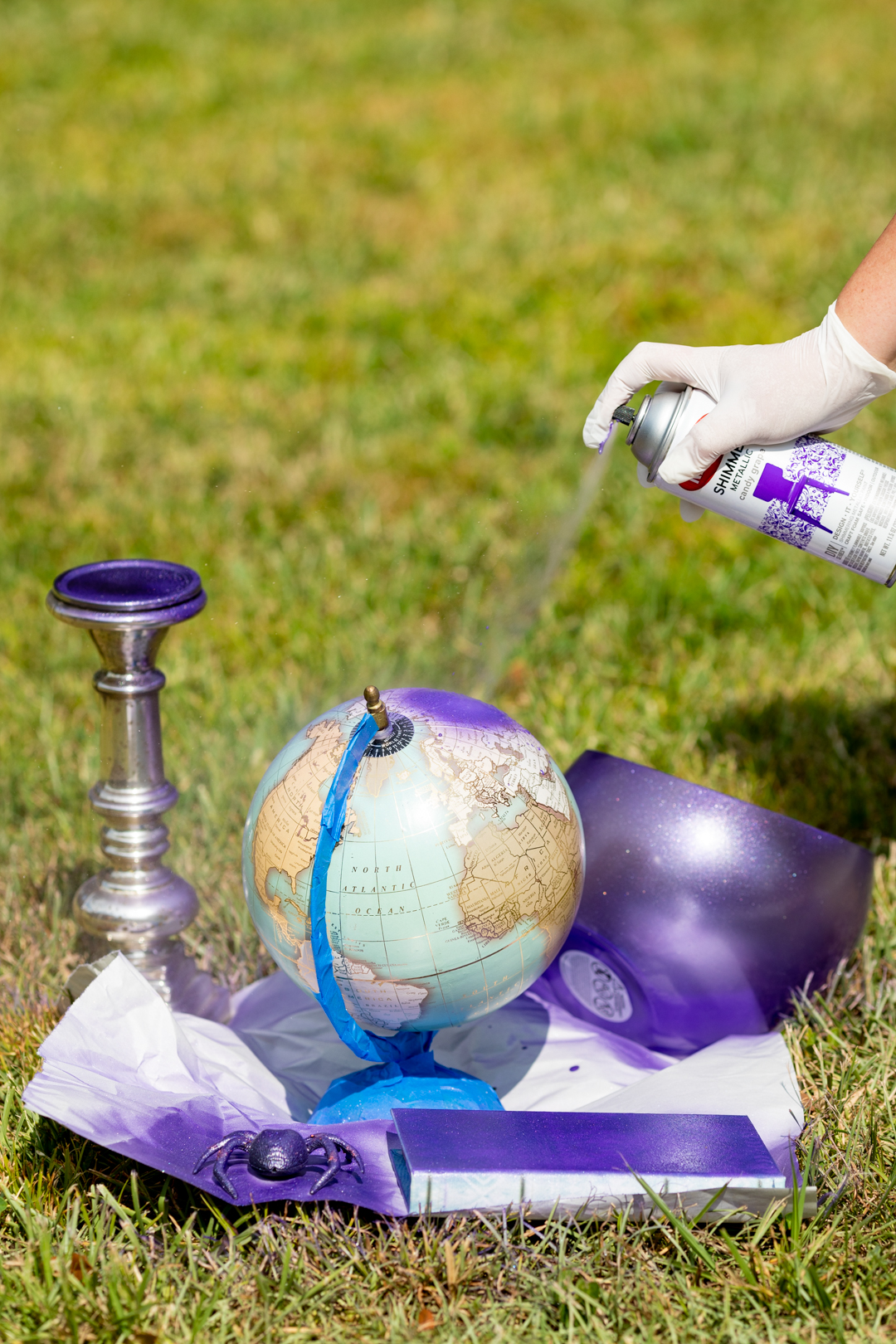 DIY HALLOWEEN SPELLBOOK
What you need:
Spray Paint
Paint Pen
Book shaped Storage Box
Spray paint your book box and let it dry. Then, use a paint marker to write "spells" on the side of it. Let that dry and you are ready to cast some Halloween goodness at home.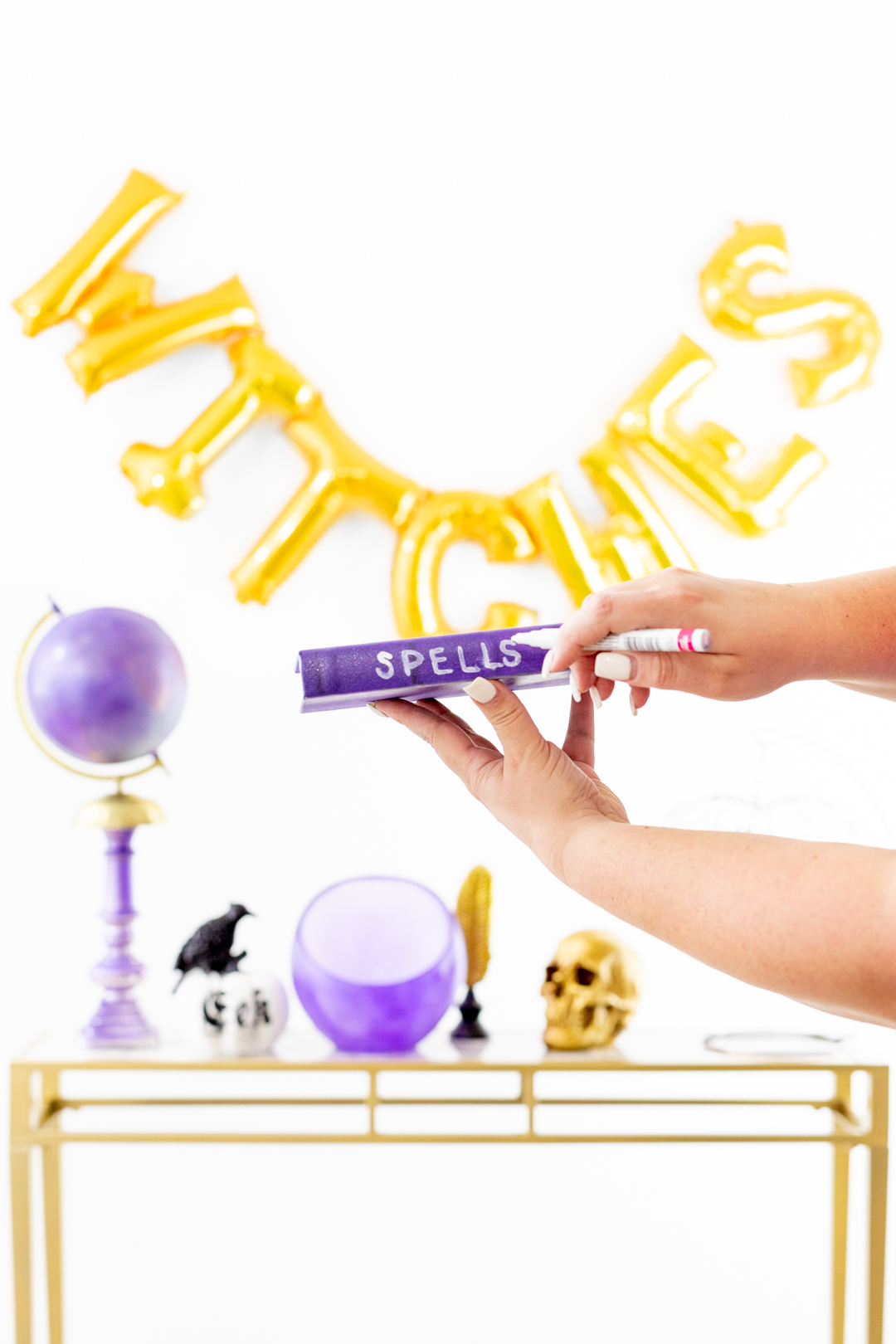 HALLOWEEN WITCH GLOBE
Here's what you need:
Small Globe
Painter's Tape
Spray Paint of Choice
Make sure your globe is free of any dust and then cover any surface that you don't want painted with painter's tape. Then spray paint. You can do two coats to cover completely or you can allow some of the map to show through for extra intrigue by going with one coat. Once you're done, let it dry. Once it's dry, you are good to go.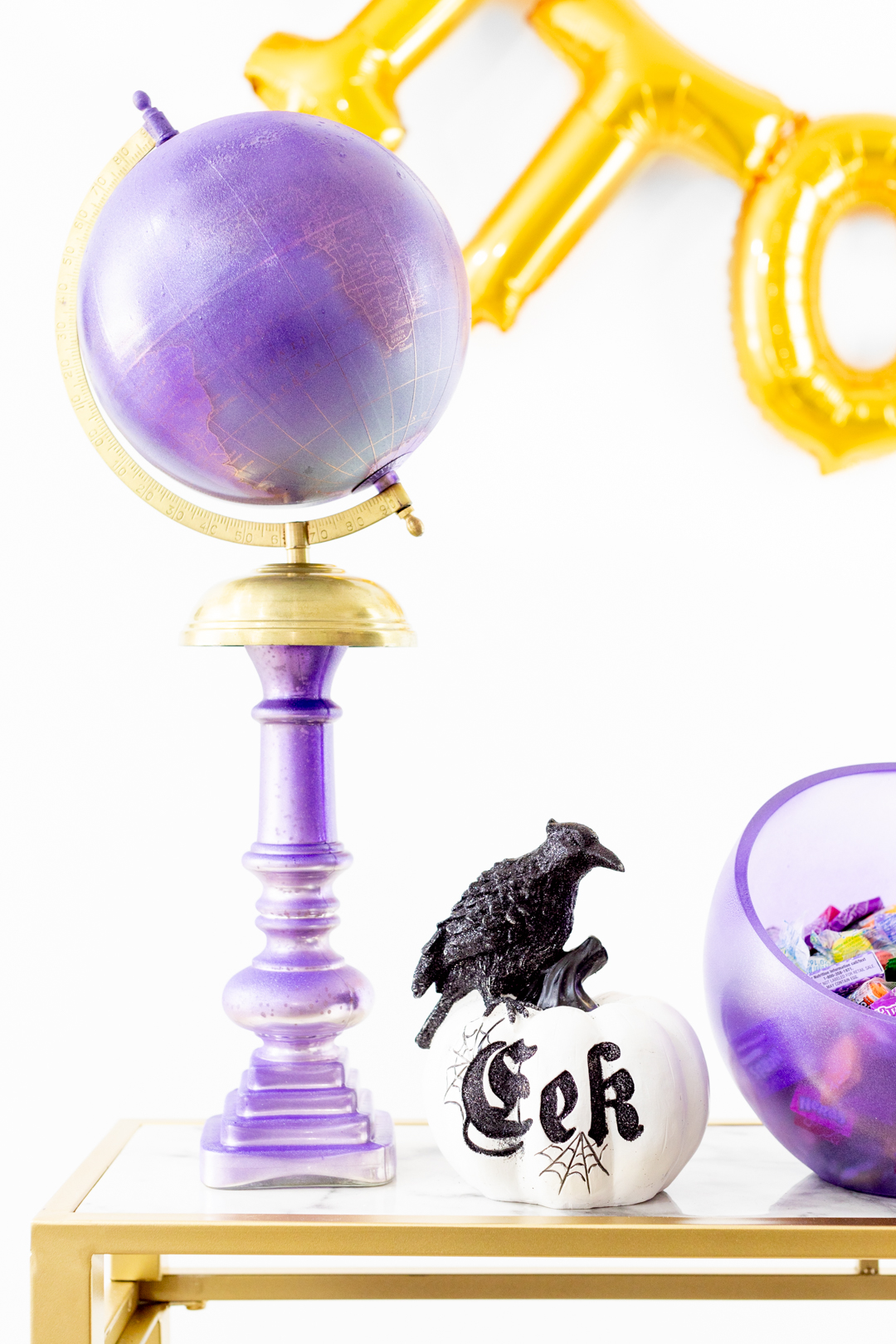 I loved placing mine on top of a candle holder that is also spray painted for some height for my decor.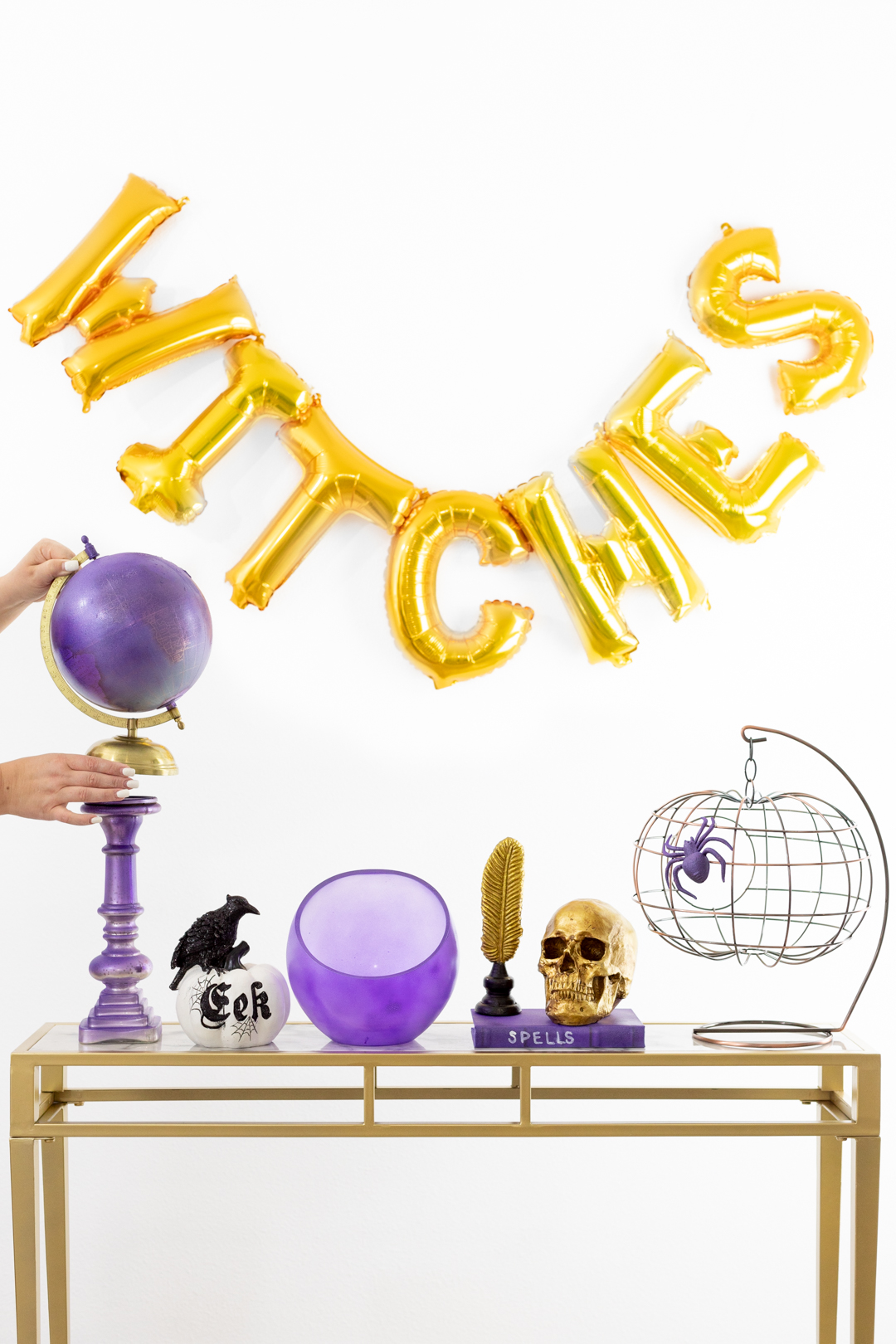 DIY HALLOWEEN CANDY DISH
Here's what you need:
Glass dish
Spray Paint of Choice
Make sure your dish is free of any dust and spray paint in one or two coats. You will want to spray paint just the outside if you plan to serve any unpackaged candy inside. Let it dry completely before using.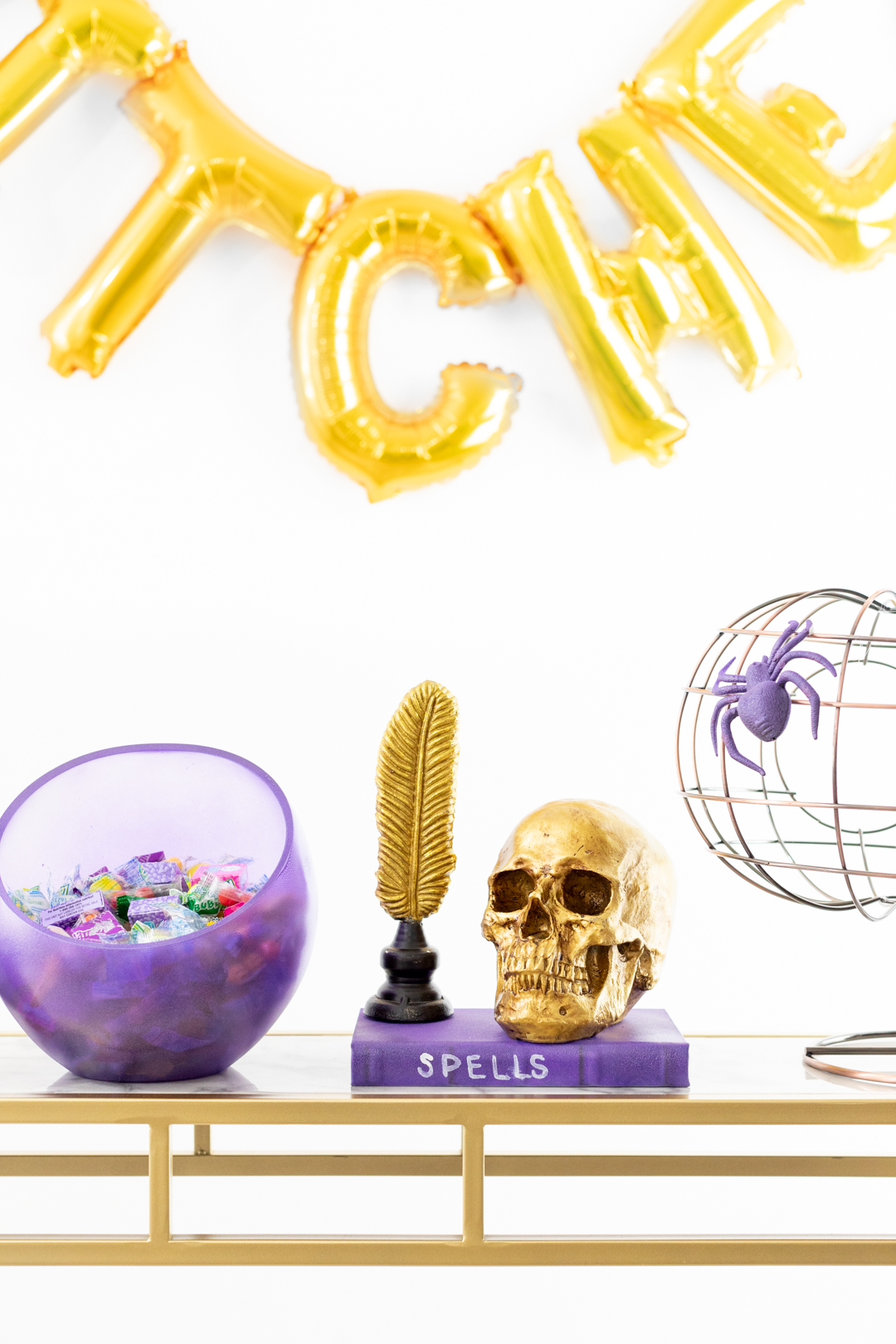 Now, it's all about those fun extra touches! I found the perfect gold skull and other awesome add ons to really complete my look. The witch theme is going to go further than just this table because I found SO many fun things that really made my theme pop. Let me show you a couple more: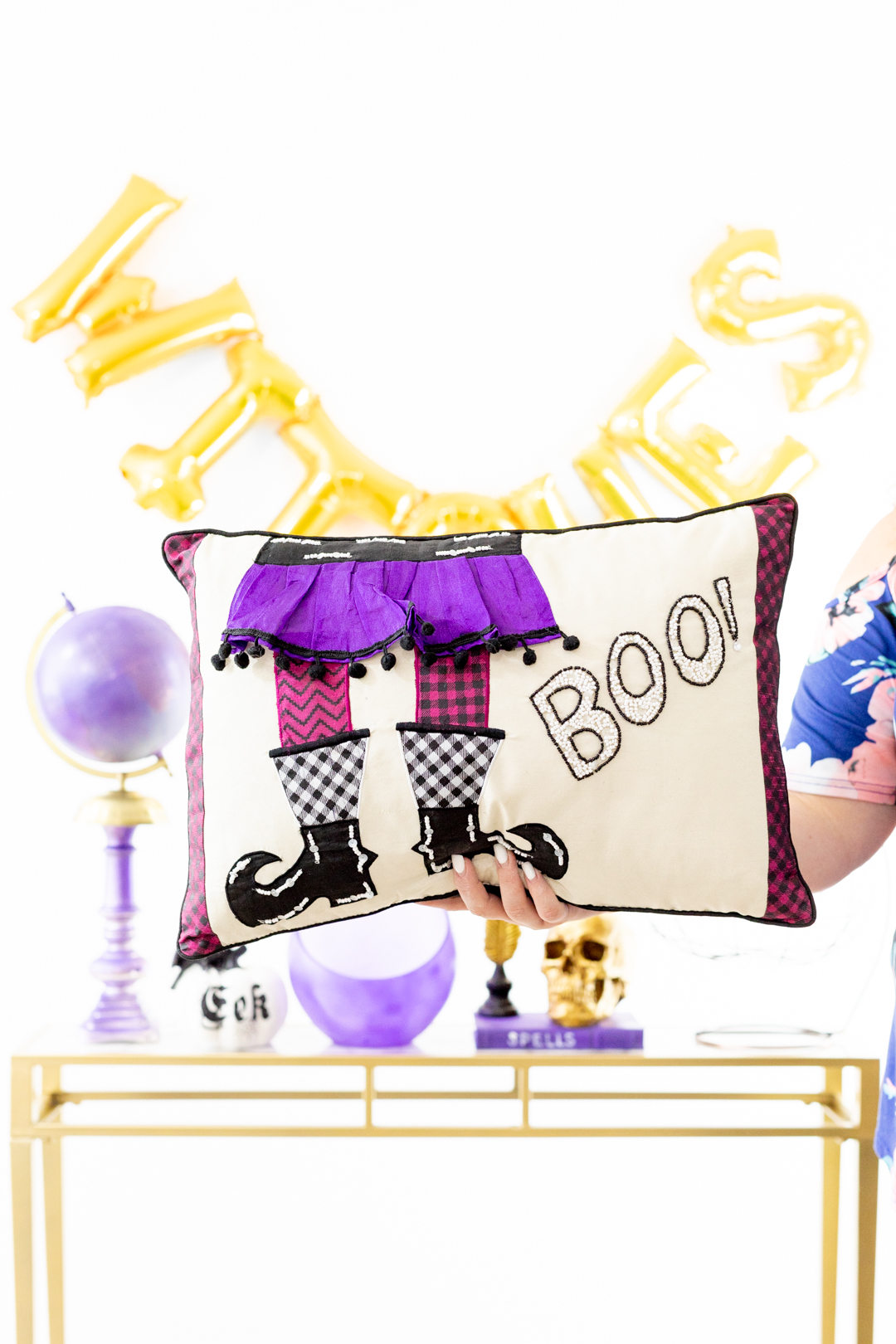 This witch pillow I found just might have helped me come up with my color theme. I love the fun pop of color with purple and pink.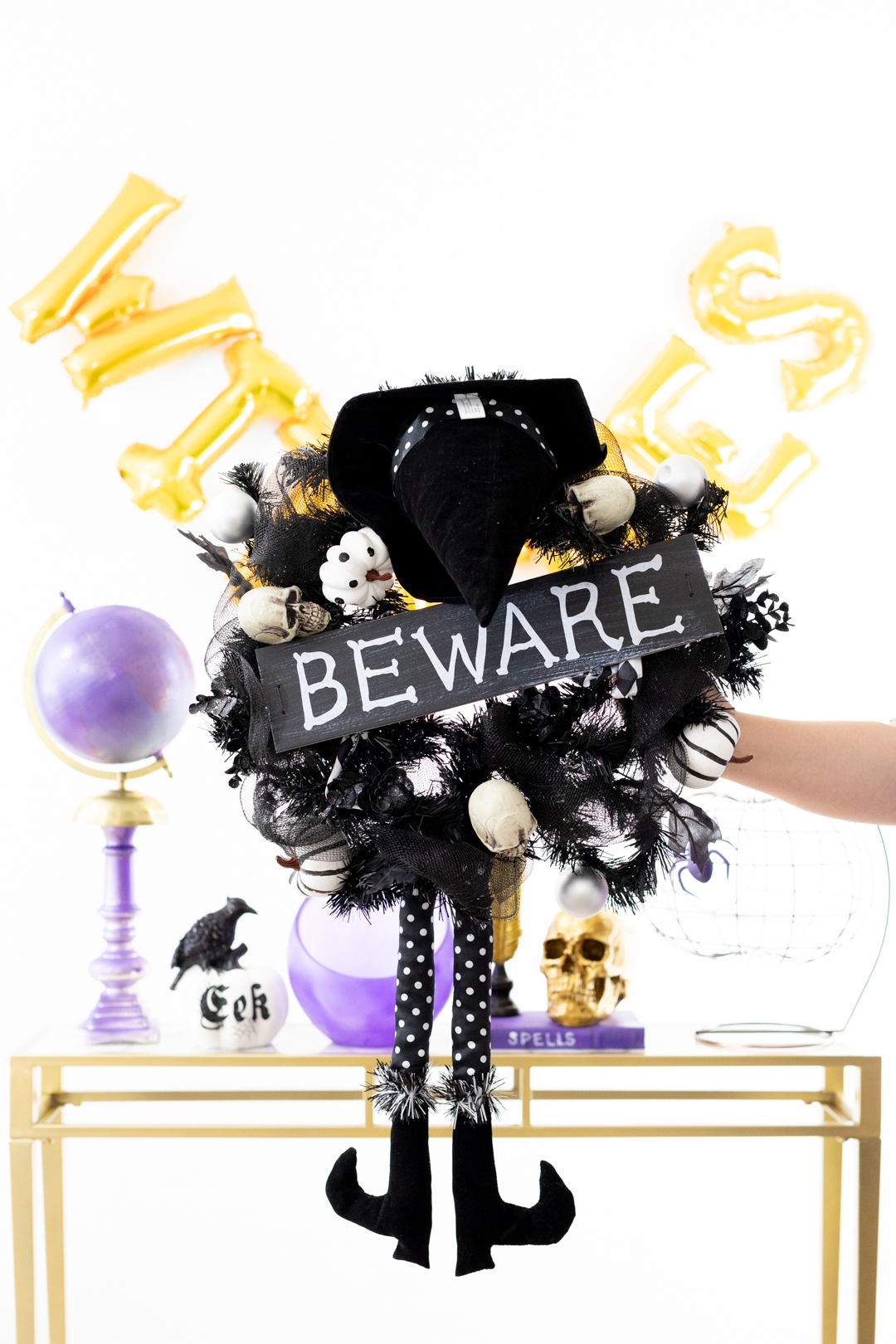 Another favorite find at Tuesday Morning was definitely the Halloween wreaths. They are so cool. Not just your ordinary plain wreath, these were very detailed and fun. Definitely the perfect way to welcome guests to your personal slice of Halloween at home!
Hope you loved these ideas! I can't wait to see what deals and inspo you can find at Tuesday Morning, too! Please share your fun and unique finds!