2021 is THE year to start making new traditions at-home. If you don't decorate your Christmas tree for Valentine's Day yet, it's the perfect time to start this new tradition. The color combo of this Valentine's Day themed Christmas tree is kind of dreamily vintage... no regrets. This post may contain affiliate links.
To keep things forever fresh, I decided to continue using my new teal Christmas tree for this romance themed decor.
I am obsessed with how it came out. The best part is that it came together so easily with very simple decorations.
ROMANTIC VALENTINE'S THEMED CHRISTMAS TREE
If you want to turn your Christmas tree into a
Valentine tree
, you have definitely come to the right place. I put together some fun Valentine's day Christmas tree ornaments for this look and I'm excited to share. Let me show you how I made this fun transformation so easily.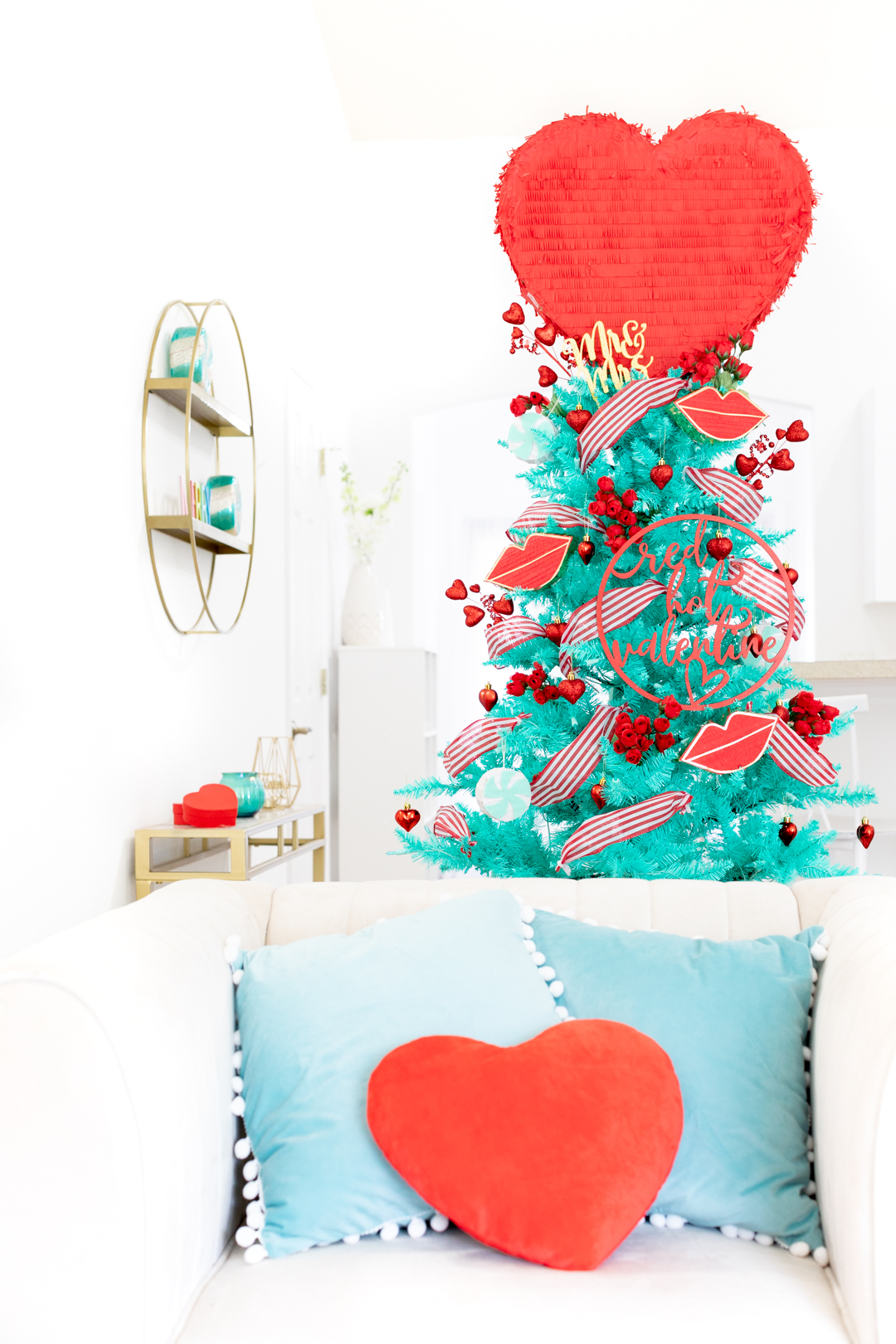 Here are easy things that I included to make it happen:
CHRISTMAS TREE FOR VALENTINE'S DAY– I'm totally obsessed with my teal tree this year but any tree can work including a traditional green one. It looks even more stunning when the light hits it. This particular shade is fairly hard to find. The main brand that puts it out is Vickerman. If you can grab one, I highly recommend it. Here is the smaller tree that I purchased, here. The full sized are very expensive, so it's little itty bitty tree for now.
The only ones for sale at the moment are very overpriced. Purchasing near Christmas is probably a better bet if you want this color for next year.
More perfect tree colors for this are white or
pink
if you want to buy something specifically for the occasion.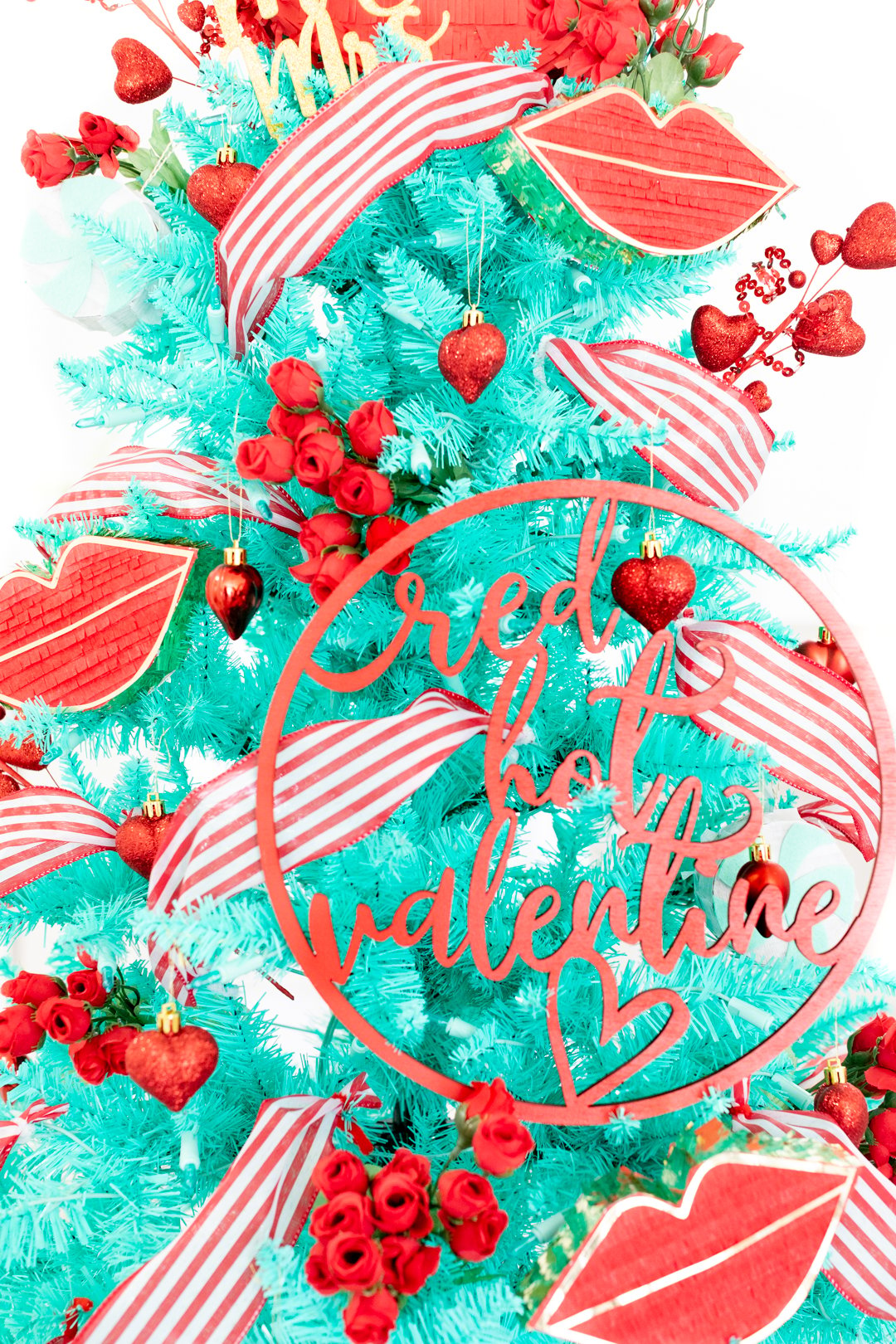 RED AND WHITE STRIPED RIBBON - One of the first things that I knew I wanted for this tree was the perfect garland. I couldn't find one that I loved, so I decided to go with this pretty striped ribbon. I cut it into strips and attached it around the tree using pipe cleaner. I adore how pretty it looks.
HEART ORNAMENTS
- One of the most popular Valentine's Day ornaments are hearts of course. You absolutely can't go without. Plus, they really drive the romantic Valentine's day theme home. I used a cute multipack that has a variety of finishes from glitter to matte to offer some variety. These are the
heart ornaments
that I used.
VALENTINE'S DAY PINATAS
- It's no secret that I'm obsessed with piñatas for basically everything. They are just too cute. For my tree topper, I used this
heart-shaped piñata
. I also love using mini piñatas as ornaments on my trees in case you haven't noticed yet. I instantly fell in love with these adorable
lip piñatas
. I also had some adorable candy
swirl mini pinatas
from Christmas and decided to use them for my V-day tree, too.
VALENTINE'S DAY FLORAL PICKS
- I wanted my tree to look very busy although simple. Adding floral picks really helped to do the job. I love these
cute heart picks
that I found at Michaels.
CUSTOM VALENTINE'S DAY SIGN
- I really wanted something for this tree that said "red hot valentine". I considered buying a Cricut so I could make something myself but decided that was too complicated for the moment, so I found a local shop called
Teak Lane Designs
that makes customized wood signs. I absolutely love how my vision turned out. You can also order
custom signs
on Etsy, too.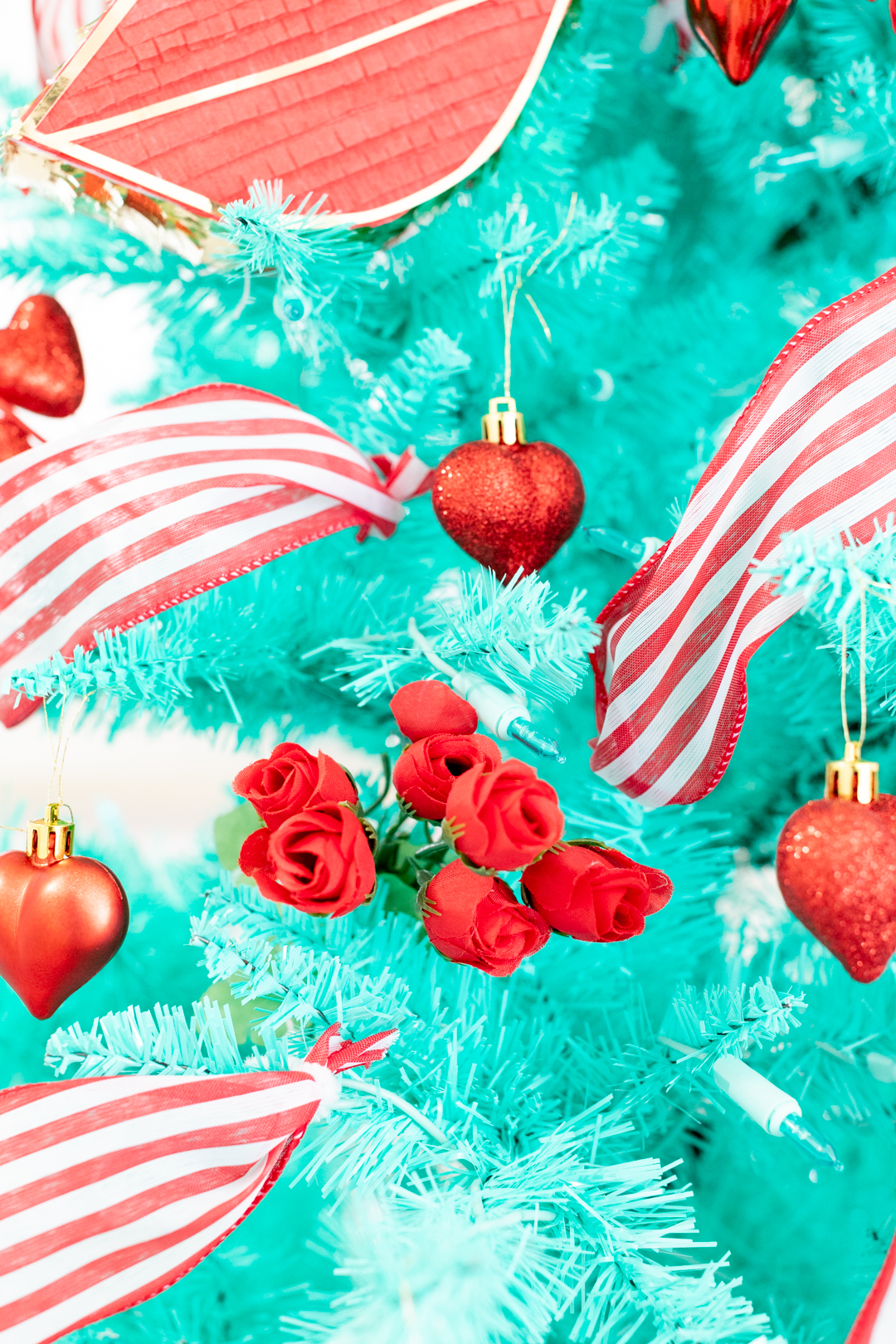 FAUX ROSE BUDS
- These affordable little bouquets are all too perfect for this romance theme and I just love how they look. Quick confession. I don't like the color red that much, but I became obsessed with how the aqua teal tree makes it pop. Here are the exact
faux rose bud bushes
I used.
MR & MRS CAKE TOPPER - Don't laugh, but I used this cake topper to add to the romantic vibe of this tree. Seriously, no regrets. I love it!
HOW TO ADD VALENTINE'S DAY CHRISTMAS TREE DECORATIONS
Now that I have shared everything that I used to decorate, I thought it would be a good idea to tell you exactly how I put it all together.
Add the heart piñata as a tree topper. When I add them in place of a traditional topper, I remove the bottom opening where you normally put candy in. Then, I use scissors to make the bottom larger so that I can wiggle it down further on the tree for a balanced look.
Position your sign if you are using one.
Add your garland or ribbon. It's important that this looks nice and balanced throughout your tree before adding your ornaments.
Place your larger featured ornaments like mini piñatas, faux rose buds, etc. before adding smaller ornaments.
Finally add all of your smaller ornaments to fill in all of the empty spaces until the tree looks nice and full.
Want even more fun ways to transform a Christmas tree for V-day?
I'm inviting you to go check out Amy's fun white and pink Valentine's Day tree ideas at Savvy Saving Couple now! We've been collaborating to bring you the very best ideas on decorating Christmas trees for every occasion from Christmas to Easter! Let me know if you have been enjoying it!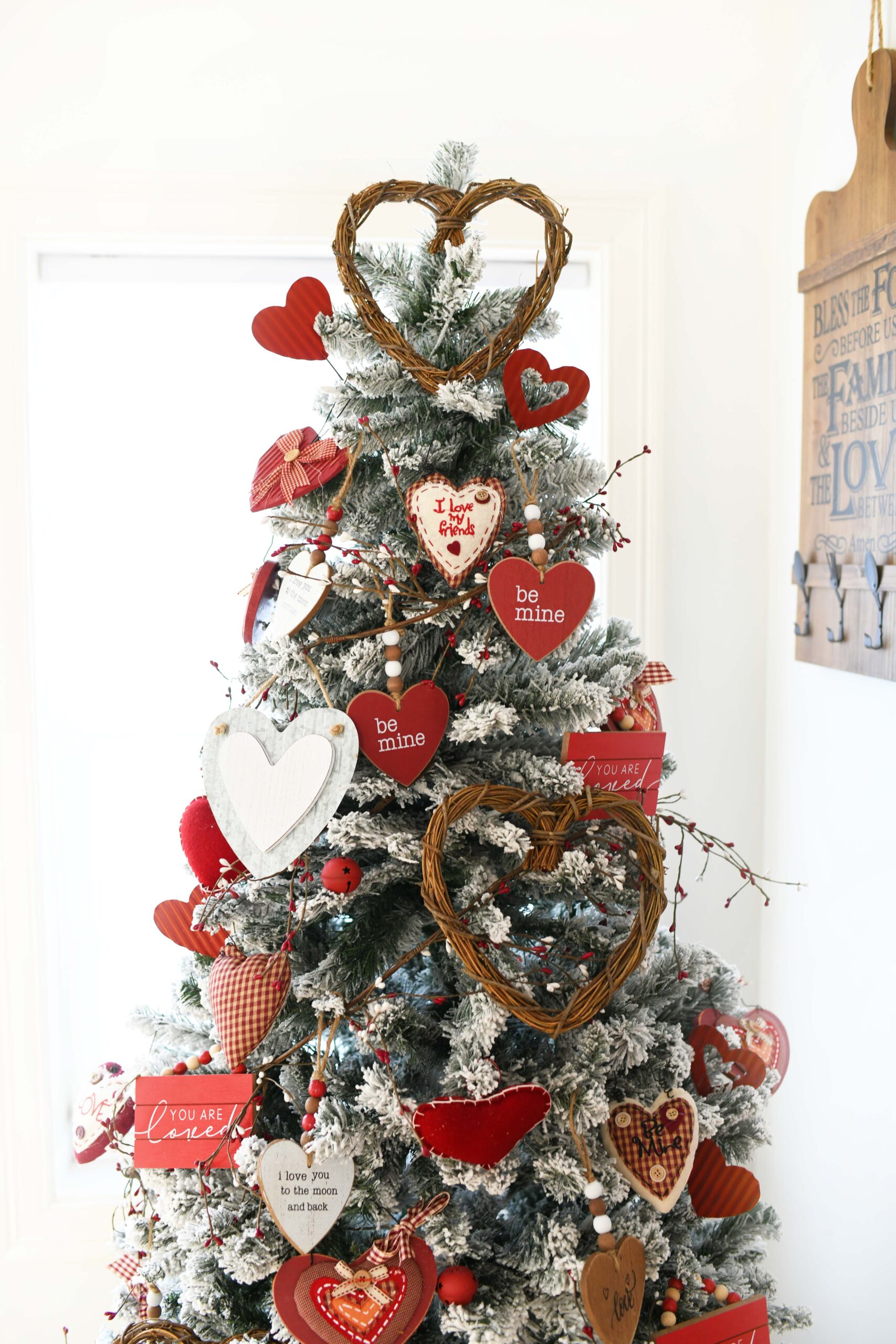 UPDATE! While planning for my Easter tree, I decided to pull out my very first pink Christmas tree.
I decide to swap out my decorations and I totally love it! I figured I would include it to give you more options if you are considering which colored tree to invest in.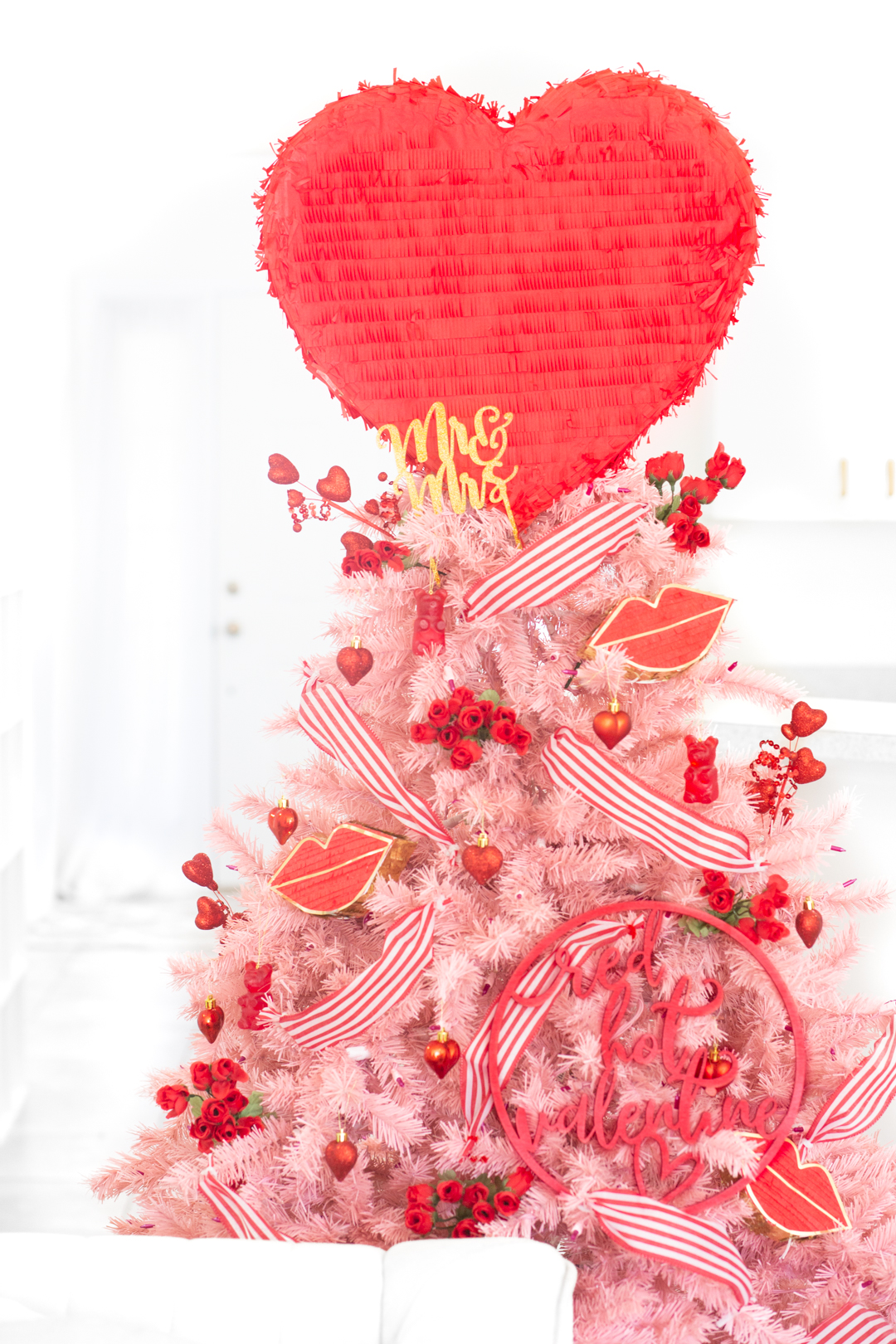 I had also planned on including these SUPER adorable gummy bear ornaments originally, but they arrived SO late. They finally came in and I am so happy with what a cute addition they made. Obsessed!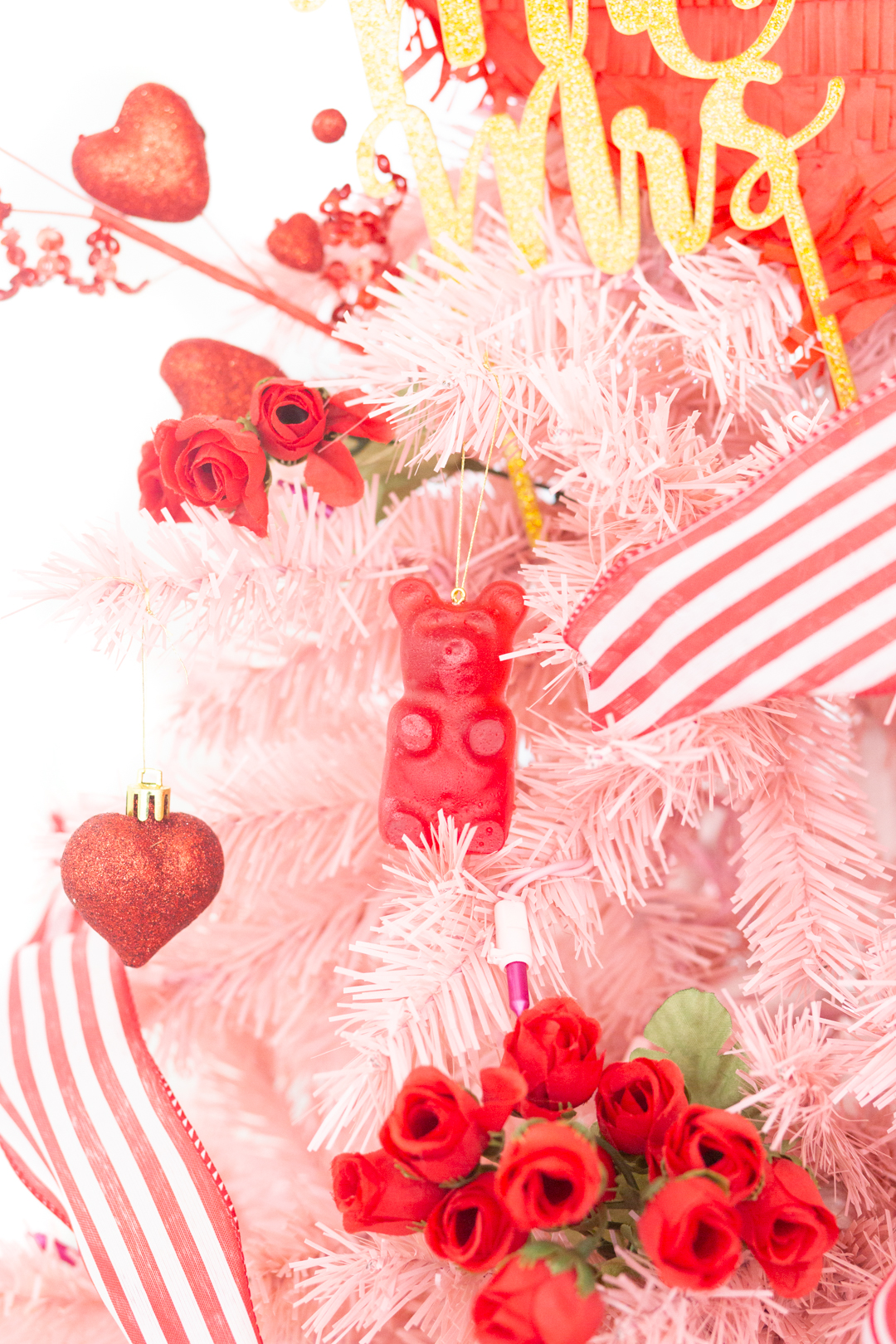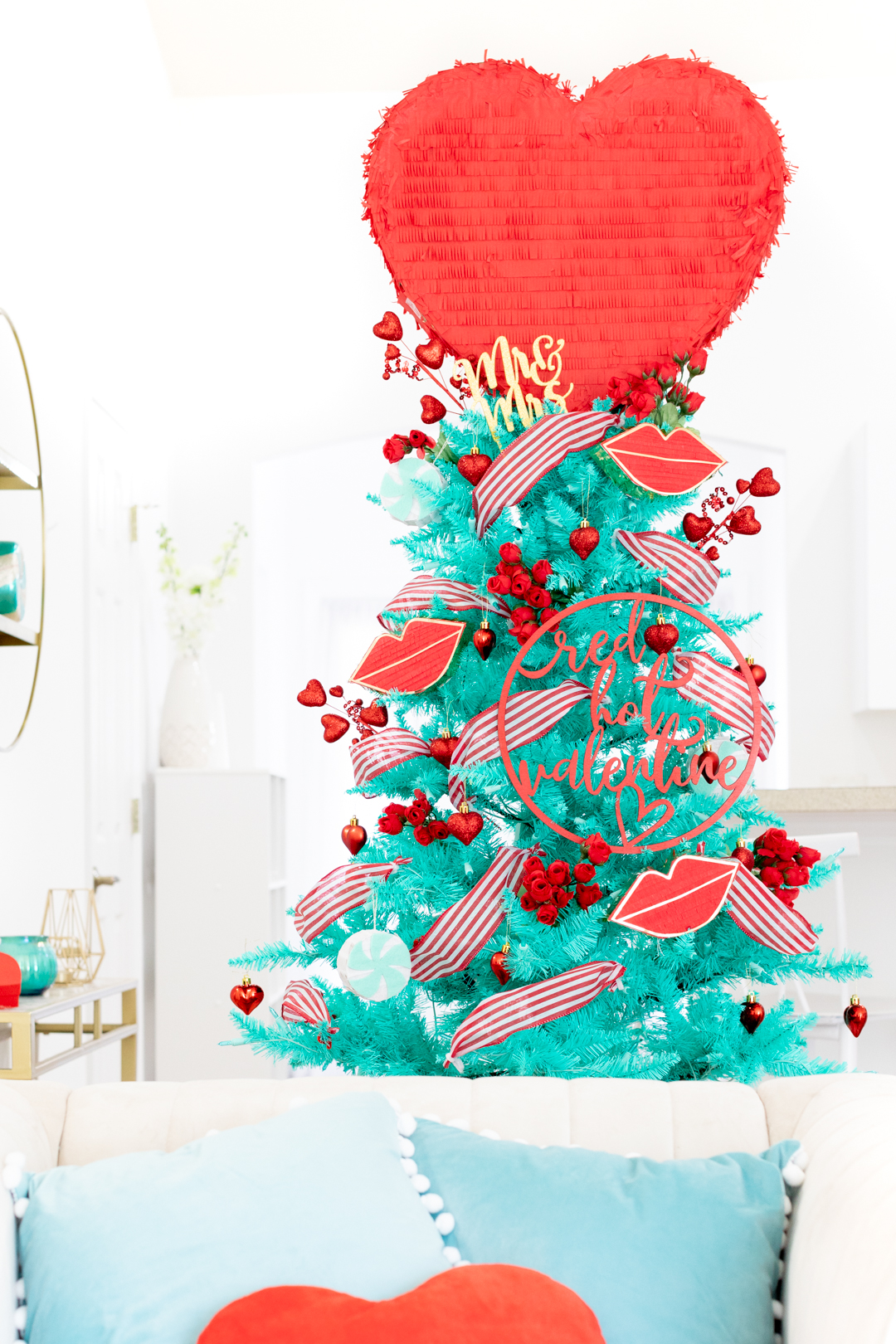 Do you decorate your tree for different holidays, too?