Oh what fun it is… to make and eat holiday treats! Celebrate PEEPSmas with me and get creative with something special for the holiday season. I'm excited to share my own festive creation today to help start the season right. Check out my irresistibly cute Marshmallow PEEPS Christmas Tree Cupcakes! This post is sponsored by SheSpeaks, Inc. and Just Born, Inc. All opinions are mine alone.

You are cordially invited to make December extra sweet this year!
12 Days of PEEPSmas
Join the fun and countdown to PEEPSmas! Visit marshmallowpeeps.com every day to see the reveal of a new recipe, craft or offer.

Getting Marshmallow PEEPS in my stocking was a tradition growing up and I absolutely love that they are constantly keeping the holidays fun with their new offerings. Just tried PEEPS Delights: Sugar Cookie and oh my. They tasted like rich and buttery cookies and so much more. Whether you're looking for treats to serve, eat or fill gift baskets with, make sure to check out new fun options for PEEPSmas!

Marshmallow PEEPS Christmas Tree Cupcakes
I absolutely adore how cute the PEEPS Marshmallow Trees are and knew that I wanted to make a holiday recipe with them. I didn't want these to be ordinary, so I spent time thinking of ways to make them super unique. Instead of serving traditional cupcakes I decided to set a little Christmas scene instead using frosted graham crackers. Totally loving these!

Marshmallow PEEPS Christmas Tree Cupcakes Recipe
Here's what you need to make these:
12 Prepared cupcakes with White or Vanilla Cake Mix (Follow directions on the box)
(1) Containers White Frosting
6 Graham Cracker Sheets (halved)
(12) PEEPS Marshmallow Trees
(12) Square Shaped Taffy Candy
Holly Berries & Leaves Sprinkles
White Ball Sprinkles (Nonpareils or Sugar Pearls)
Mini Marshmallow Sprinkles

First make your cute little gifts. Using a toothpick and a tiny dab of frosting, adhere holly berries & leaves sprinkles to the top of each candy gift as the bow. Set aside to dry.
Add a thin layer of frosting to each of the cupcakes and dip each into white ball shaped sprinkles and set aside.
Frost each piece of graham cracker. Then create your cute little Christmas scene by adding the cupcake and pressing it into the frosting on the graham cracker and adding a candy gift and a PEEPS Marshmallow Tree to each. Then, fill in the space by pressing mini marshmallow sprinkles into the frosting. Let all of the frosting set before serving and handle with care.

It's kind of crazy how easy these are to make!

Make PEEPS a part of your holiday! Check out PEEPS Delights with yummy flavors such as Peppermint Bark, Sugar Cookie (yum), Hot Chocolate, and Cinnamon Roll!


Be sure to also look for Chocolate Mousse Marshmallow Reindeer and Gingerbread flavored Marshmallow Gingerbread Men!
Holiday Creations Sweepstakes
Enter the Holiday Creations Sweepstakes for a chance to win amazing prizes! Share a picture of your own PEEPSmas Holiday Creation on Instagram and tag @PEEPSbrand & include these hashtags: #PEEPSONALITY and #Sweepstakes for a chance to win $500 plus a $50 PEEPS Card to score amazing PEEPS merchandise! Hurry, the sweepstakes ends on 12/13! See official rules on the @PEEPSbrand Instagram page for details.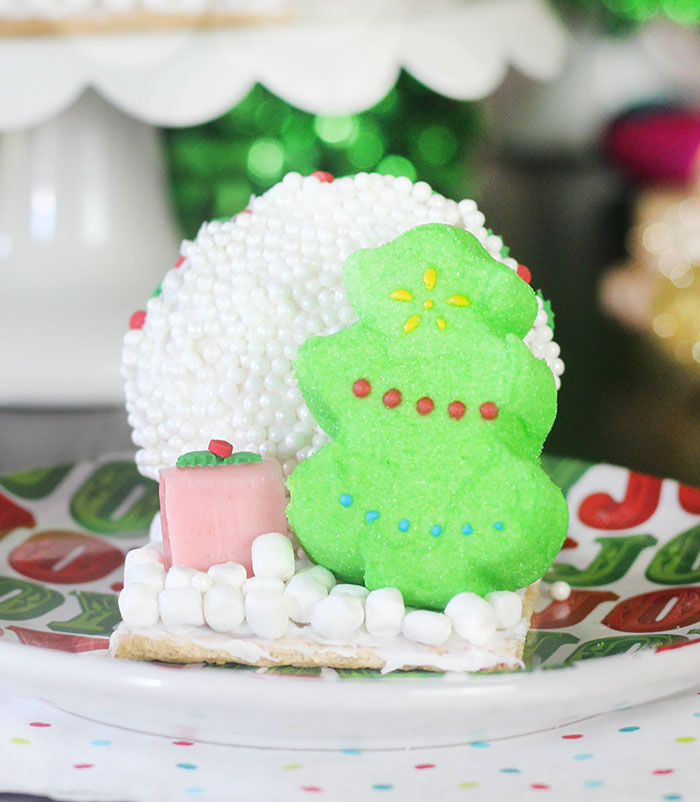 How will you celebrate PEEPSmas?