I love a good upcycling project, but I really don't do them as much as I'd like to. Well, you know, I'm always up for a little challenge to get my creative juices flowing, right? The highlight for me is that this is the first time actually creating something cool with a microwave tray and soup cans that would have otherwise been tossed in my recycle bin. A DIY Makeup Organizer made from trash? With Earth Day this week, I thought it was perfect timing to share a unique idea for upcycling! This is a sponsored post brought to you by Green Works®, all opinions expressed are my own.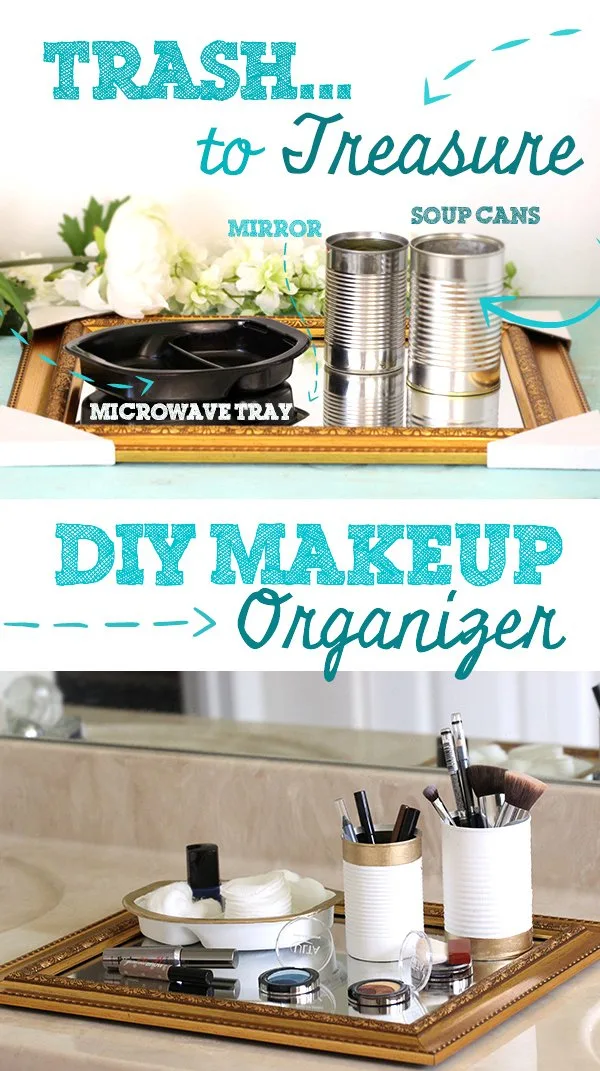 My hubby is the one to thank for most of this project simply because he was up really late one night and got hungry. Enter the rogue microwave tray.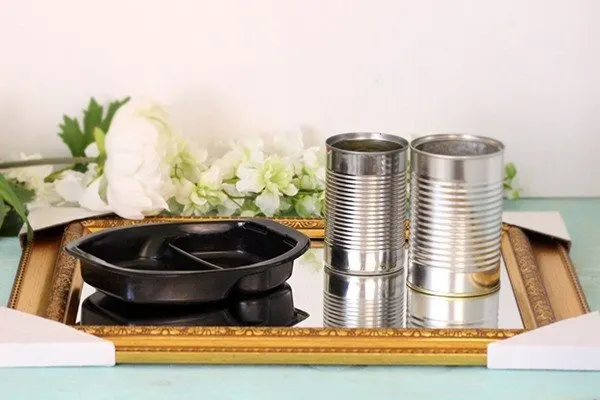 While I was brainstorming, I saw it sitting next to the sink awaiting a good rinsing and one-way trip to the recycle bin. It's pretty amazing what you can come up with when you get some inspiration (random or not) and let me tell you, it feels really good too!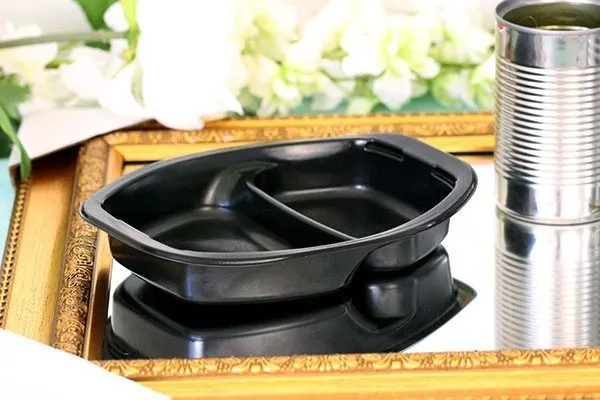 Like most people, spring cleaning is on my mind right now. With cleaning comes the nagging urge to get organized too. I mean, how can you clean with all that clutter? Getting cleaned up in a green way can be surprisingly effective. Have you tried Green Works yet? They have a whole line of cleaning products and even laundry detergent. They're naturally-derived and affordable too.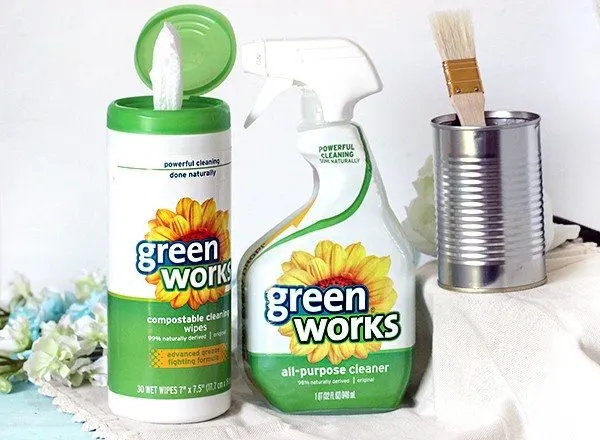 I'm guilty of being a cleaning wipes user, they ARE in fact, my favorite "get clean quick" plan for all areas of my home. I really like that the Green Works brand are actually compostable!? Makes them a really great choice for keeping a green home. The best part? They are perfect for getting your space ready to showcase your own awesome DIY projects this spring.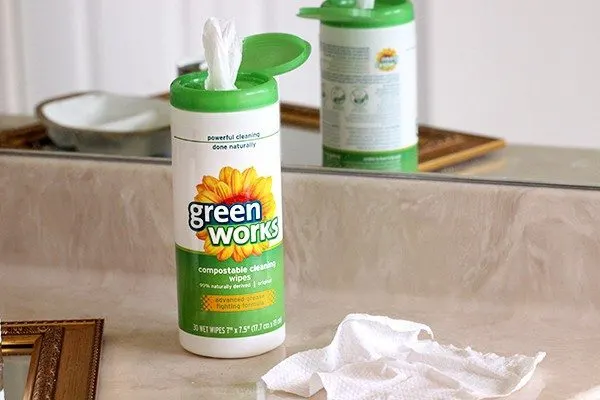 DIY Makeup Organizer
Want to know how I made mine? Squeee! I am really excited about this!
Here's what I used and some more upcycling ideas:
Soup, Vegetable or Fruit Cans (labels removed and cleaned)
Glass jars or plastic containers (labels removed and cleaned)
Microwave Trays (cleaned)
Paint of choice
Paint Markers (I used gold)
Framed Mirror (Upcycled, Goodwill or Dollar Store Purchase)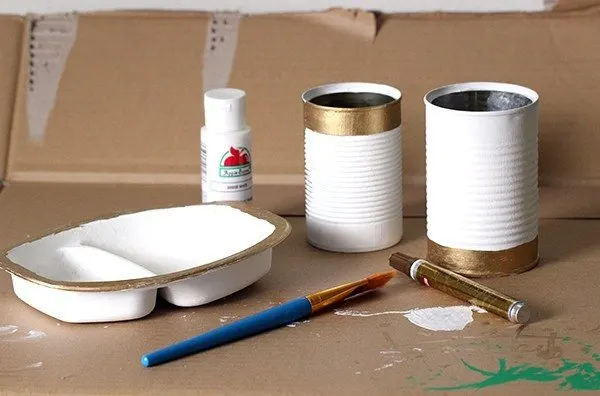 The mirror that I used has a copper colored frame, so I decided to paint the base of my cans and try in white first. Then, I used a gold paint pen that I had on hand to color the trim to give it some flair. It's a really quick way to give a boost of color. Once everything was dry, it was time to put it into action. The options are endless. You could also use this for jewelry if you wanted. If you want a more permanent look, you could also glue your cans or containers carefully to the mirror also. And, that's it! You now have taken trash and turned it into treasure! (At least I think so!) 😉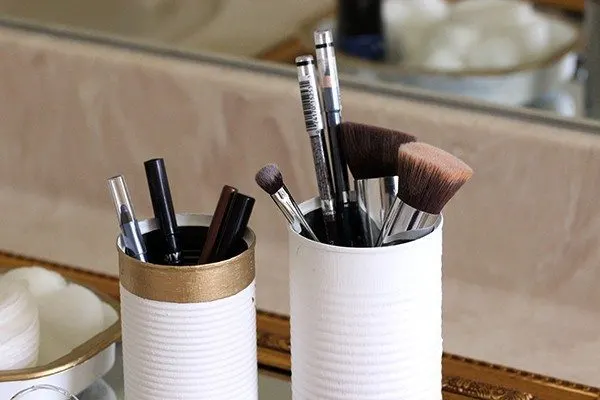 I'm really hoping you're feeling a little more inspired after checking out this DIY idea. If not, I know just the thing! You have to check out this ultimate Green Work of Art video! (See below) . Green Works teamed-up with the a local metal artist to turn the dirtiest, greasiest kitchen materials found in the bay area into an impactful sculpture of a daisy. Take a looky:
Can you even believe that? I get goosebumps watching it!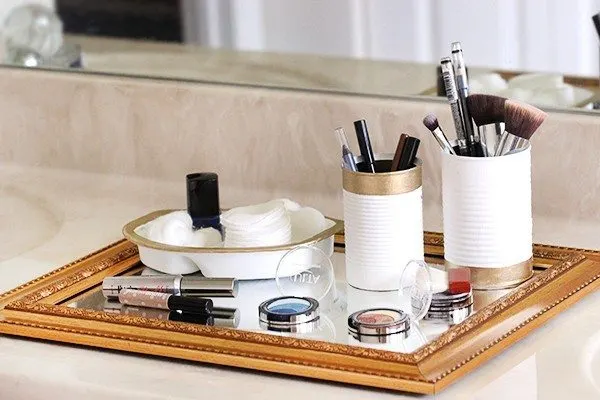 My takeaway? You don't have to compromise on clean to be green AND with a little inspiration and creativity we can really unlock true treasures in the world around us.
Check out the largest selection of Green Works in the natural cleaning aisle the next time your shopping at Target! Stay in the loop & connect with Green Works on Twitter and Facebook for updates!
Have you been on a mission to clean & get organized this spring?
What are some other upcycling projects you have come up with or would like to try out? Share!