Hey, guess what? It's Pinterest Remake time again! Since I hang out on Pinterest way more than I should, there are TONS of ideas that I've been wanting to try. One of them is a DIY Serving Tray that's typically made using an old picture frame or one purchased on the cheap at a $1 store. Now, do you remember the project I did last month? If not, check those out now! Pretty cool Gold Confetti Drinking Glasses. Those were fun to make! For today's little pin remake adventure, I have to admit is not really based on just one particular pin. There are just SO many of them with all different styles and ways to do it. Today, I'm putting my own twist on it based on the things I scoped out at Family Dollar. My total to make this? $4! Not too shabby since I purchased the items new. If you already have a frame or mirror you can upcycle, that's even better!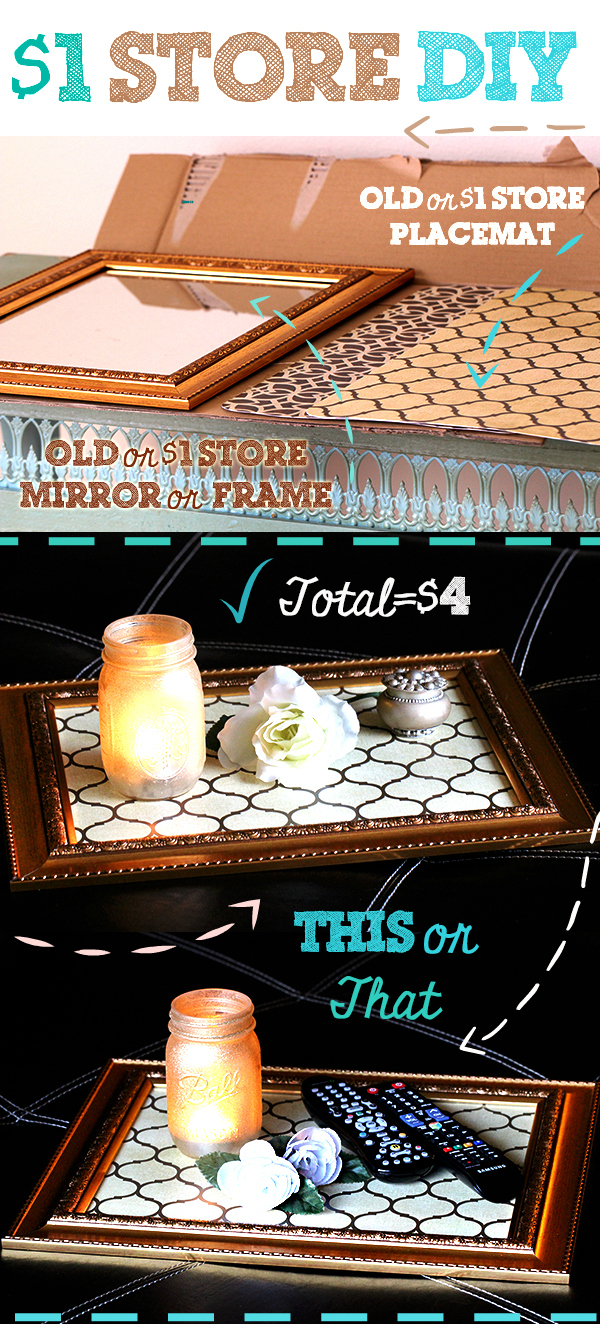 Although we moved two or three months ago, I still haven't put the finishing touches on my living room (oh and dining room too). Yeah, a lot of work to do yet. But, after spending a ton of moving costs, we're trying to really stretch our budget right now.
We've been desperately needing some living room decor because we're now using most of our old stuff in the dining room. Currently, we have a giant "brownie" colored and shaped coffee table thingy and it looks funny without anything on top. This quick and easy "serving tray" really did the trick. As an added bonus, all of the trays that I was considering buying run from about $20 - $40.
I just need to decide if we'll keep it functional to store our remote controls on or go the decorative route. Time will tell. You'll have to tell me what you think 😉
Sorry, I'm rambling big time. Can you tell that I haven't had company in a while? The price we're paying for moving so far away. See, there I go again. Anyway, here is one of my favorite Pins showcasing a DIY Picture Frame Tray. If you want to see a whole slew of different ways people have done these, just search "picture frame tray". Most people tend to either glue or screw in handles, but for the sake of simplicity I decided against that for the moment.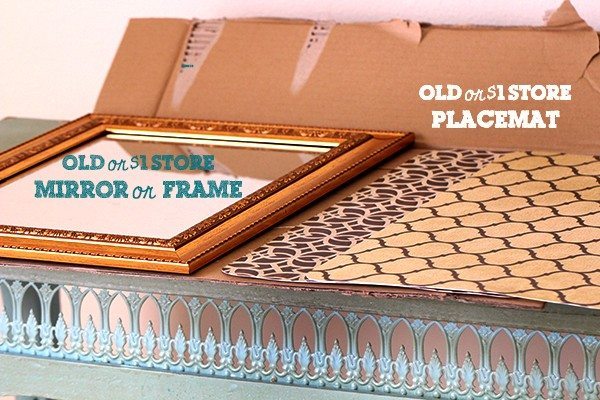 DIY Serving Tray
So, here's what I used:
Framed Mirror (You could use just a regular frame - upcycle or $1 store)
Placemats (I got some at the $1 store)
Just to clear up some confusion, I purchased the mirror because I fell in love with the frame. I would have preferred a frame as it would have made this project much more simple. I had some trouble trying to remove the mirror panel, so instead of putting the trimmed place mat in the frame, I had to trim and tuck in on top instead. I have to admit that I love it this way after all.
I used measuring tape to get the exact height and width, then I trimmed the place mat just a little longer and wider which allowed me to tuck it into the corners perfectly. The beautiful part? It will be easy to clean and since I didn't glue it, I can also switch out the place mat anytime. Total win!
Want more fun Pinterest Remakes? Make sure to visit a few of my favorite blogs to see what they came up with this month: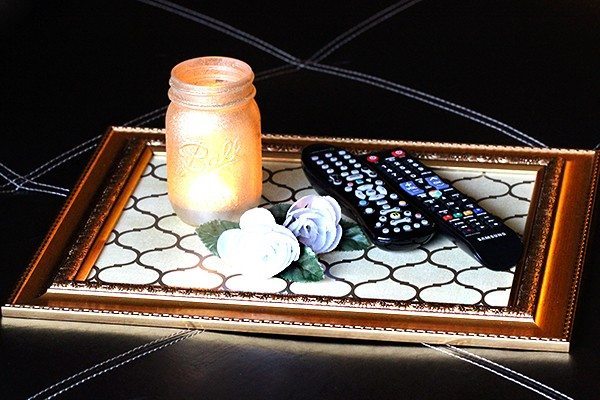 So, what do you think?
Should I use this tray to display and showcase things or should I use it to make my remote controls look a little less pointless?
(Oh and if you're not following me on Pinterest, you are a meathead totally missing out.) 😉