Time for a little spring cleaning! After spending so much time at home over the last year, things have shifted a whole lot. We've been doing a lot of organizing and purging while working on making our home more homey. With a shift to celebrating everything at home from birthdays to holidays, I thought it was time to go out with the old and swing in with the new. This is a sponsored post, all opinions are my own.
Let me introduce you to the idea of a Celebration Drawer! My motto here at Cutefetti is eat, create, celebrate and what better way to do that than to create your own party drawer or birthday drawer? I had a blast doing this thanks to Spectrum HEXA™ in-drawer organizers.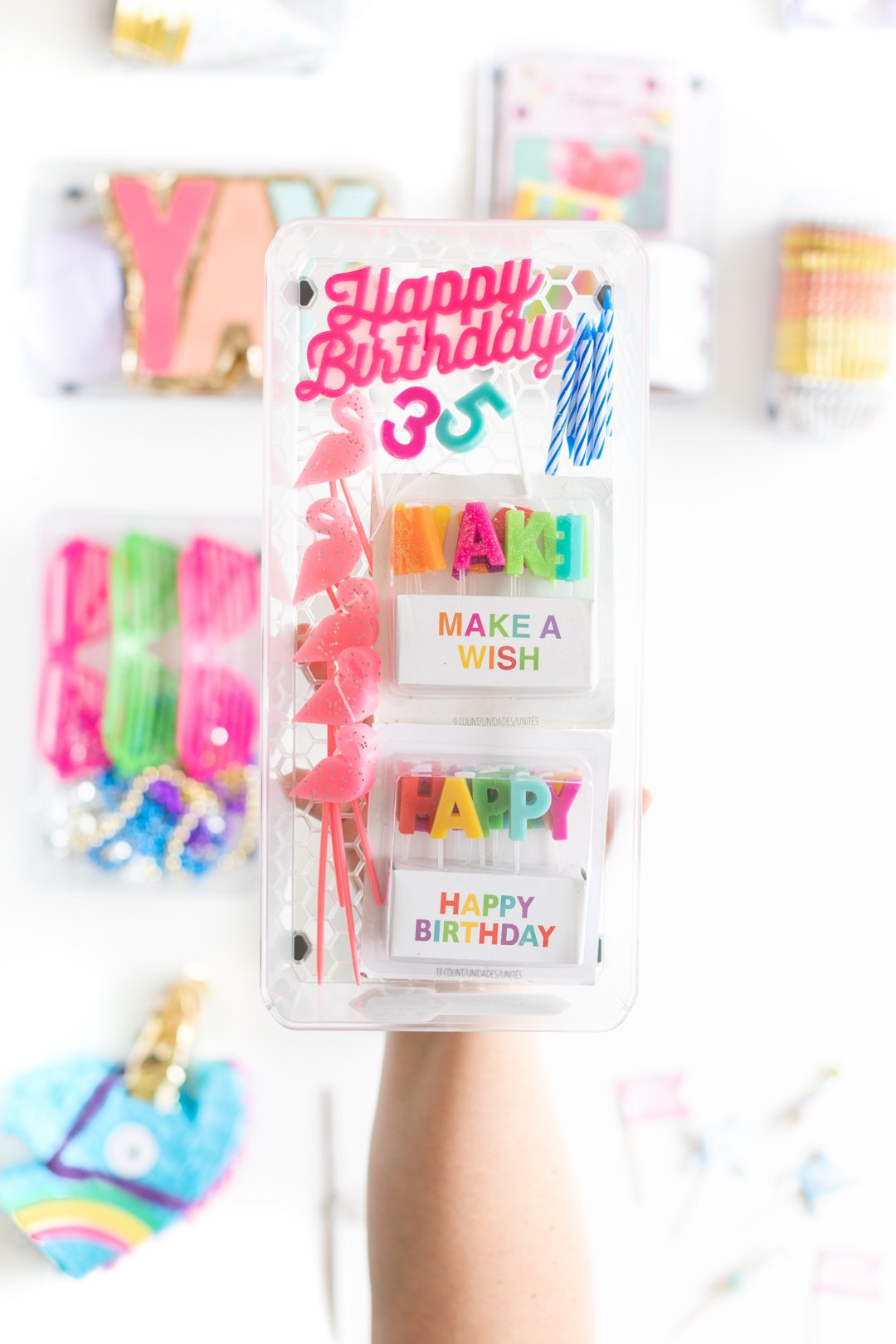 Let's face it, your junk drawer is not serving you any real purpose. Once I dumped mine out on the counter, I realized that 75% of everything I had in there actually belonged somewhere else. Then, a good 15% was literal junk as in trash, like wrinkled old fast food napkins and bent straws. I was left with about 10% that I could easily re-home. Took me minutes to do, then it was time to get some of my most-used party supplies organized so that they were not only easy to use but serve as a reminder to make every day a celebration.
WHAT IS A CELEBRATION DRAWER
Having a celebration drawer is a fun reminder to celebrate EVERYTHING. Life is precious and making every day one to remember is my goal in 2021. Let me show you how to transform your current junk drawer into a celebration drawer using a variety of trendy Spectrum HEXA™ in-drawer organizers.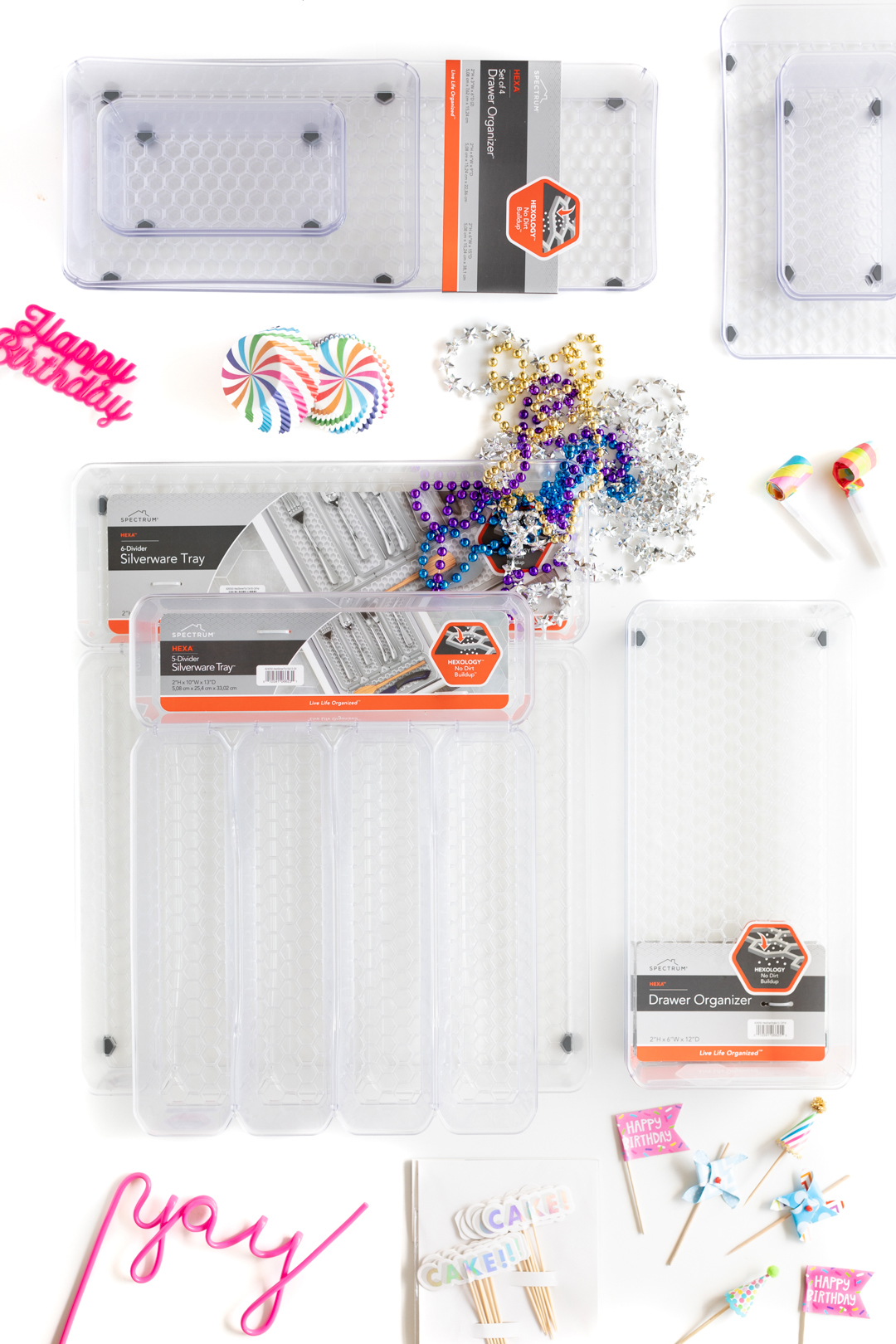 CELEBRATION DRAWER ORGANIZERS
Since we are switching up our old school junk drawers to something fresh and fun, choosing organizational tools that help keep it clean are a must. Spectrum HEXA™ in-drawer organizers are the perfect organizers for all of your drawers when you choose joy over clutter! I instantly fell in love with their fresh, clean and trendy look. If you look closely, they include a pretty hexagon shape at the bottom of each of their products. The hexagon shape known as HEXOLOGY results in no dirt buildup on your dishes, utensils or in this case party supplies.
The hexagon shape allows for water and dust or dirt to move through the organizer, keeping stowed items cleaner and allowing you to simply lift it out of the drawer to wipe away any dirt left behind. They have a variety of products and sizes that you can mix and match to your needs.
SILVERWARE TRAYS

- with expandable wings anchor the organizer in place for ease of use and have multiple dividers for an array of utensils/cutlery of different shapes and sizes. Bonus - the trays nest inside of each other.

IN-DRAWER ORGANIZERS

- keep your items clean without sacrificing style. Easily slides into drawers, with rubber feet to prevent sliding in-drawer. The modular design offers endless customization options for all of your organizing needs.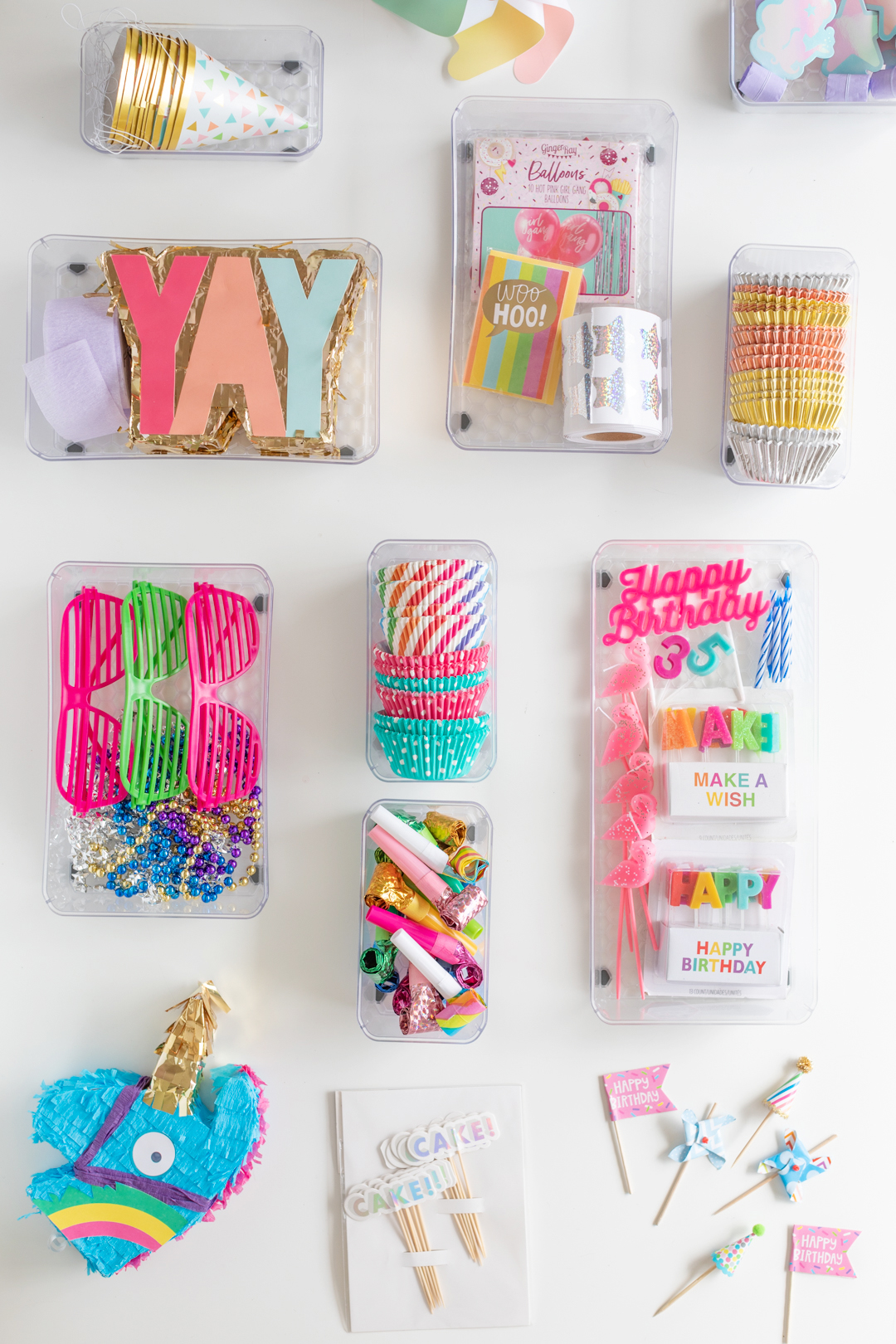 Once you have your in-drawer organizers selected, it's time to fill them up with all the good stuff.
WHAT TO ADD TO A CELEBRATION DRAWER
Here are some celebration drawer ideas to get you started. These are the party items that I decided to add to mine.
Cake Candles

Balloons

Streamers

Cupcake Liners

Cupcake Picks

Cake and Cupcake Decorations

Mini Pinatas

Party Favors

Party Blowers

Mini Party Hats

Party Straws

Candle Lighter

Scissors
Be sure to add any and everything that will help you get your at home party started! It's all about what brings you joy.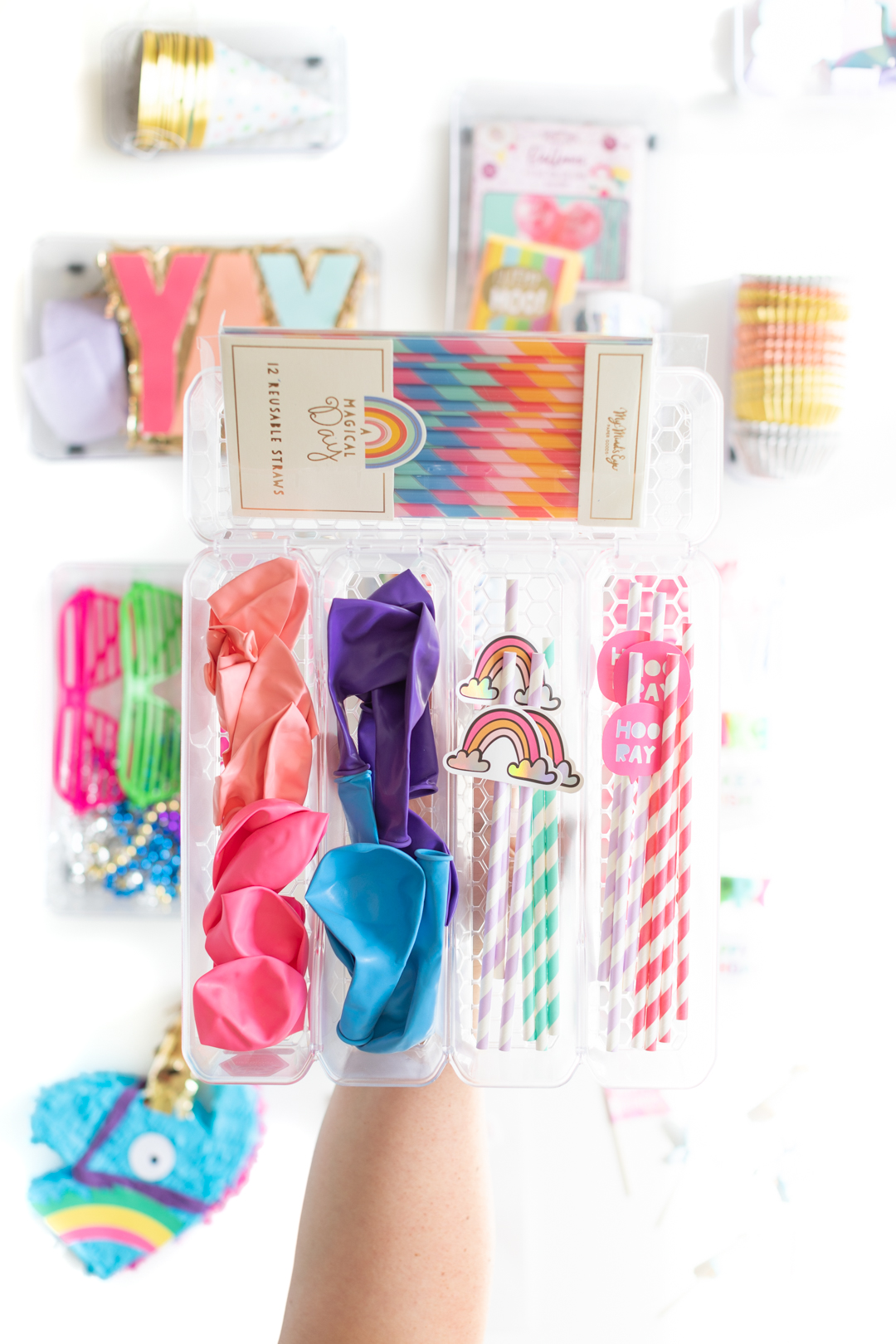 CELEBRATION DRAWER BEFORE AND AFTER MAKEOVER
Now that you've read this far, you probably want to see some good before and after junk drawer photos. You are in luck. First up, here is what my junk drawer looked like before this ultimate makeover. Warning, it's not pretty.

SURPRISE!! Here is my celebration drawer reveal! MUCH easier on the eyes and full of all the good stuff!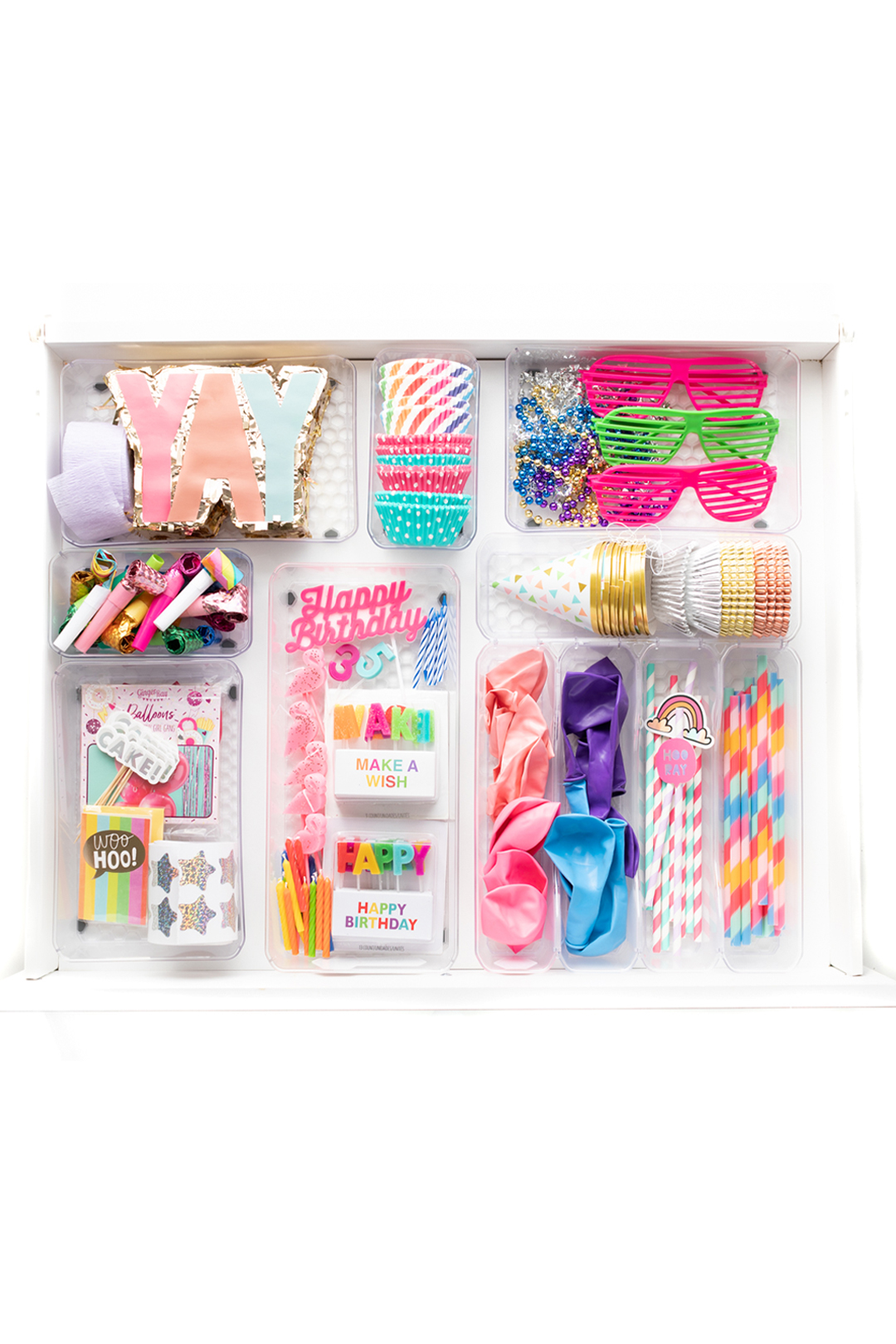 I couldn't be any happier with the outcome thanks to the gorgeous Spectrum HEXA™ in-drawer organizers I was able to use for this project. Now, I'm excited to announce your chance to win a selection of your own!
GIVEAWAY
PRIZE: One (1) winner will receive:
No purchase necessary. This giveaway is open to U.S. residents, 18 years +
The giveaway ends on 4/14/2021 at 11:59PM ET.
Enter through the form embedded below:
BUY YOURS NOW AND SAVE!
Score 10% off any order of select HEXA™ products with coupon code: 10HEXA™