Do you have any shark fans in your life? Today, I have the cutest shark-themed Easter basket ideas made with a small pool float just for you. I have found all the best Shark Themed Easter basket fillers from Baby Shark and beyond for the perfect unique gift for kids. This post may contain affiliate links.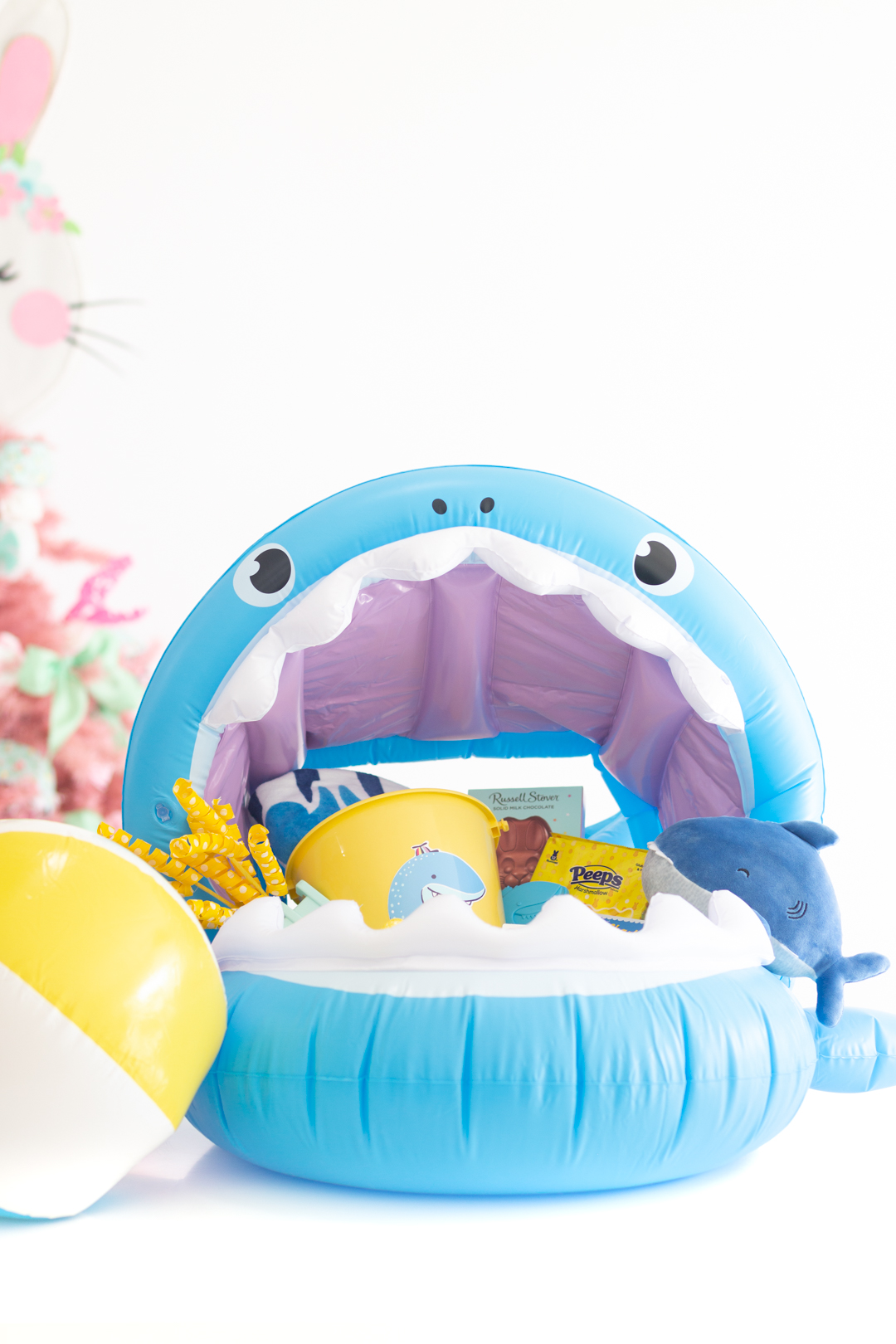 In guess you haven't noticed, I'm completely obsessed with using small pool floats for Easter baskets.
I just think they are adorable and give you so much option for a unique gift idea.
It makes for a big presentation which I think is perfect for making Easter very memorable.
SHARK-THEMED EASTER BASKET
Want to make an adorable shark themed Easter basket? You have come to the right place.
Here are all of the items that you will need to make this Easter basket special below.
These are just some thoughts starters, you can absolutely add anything that you like to yours.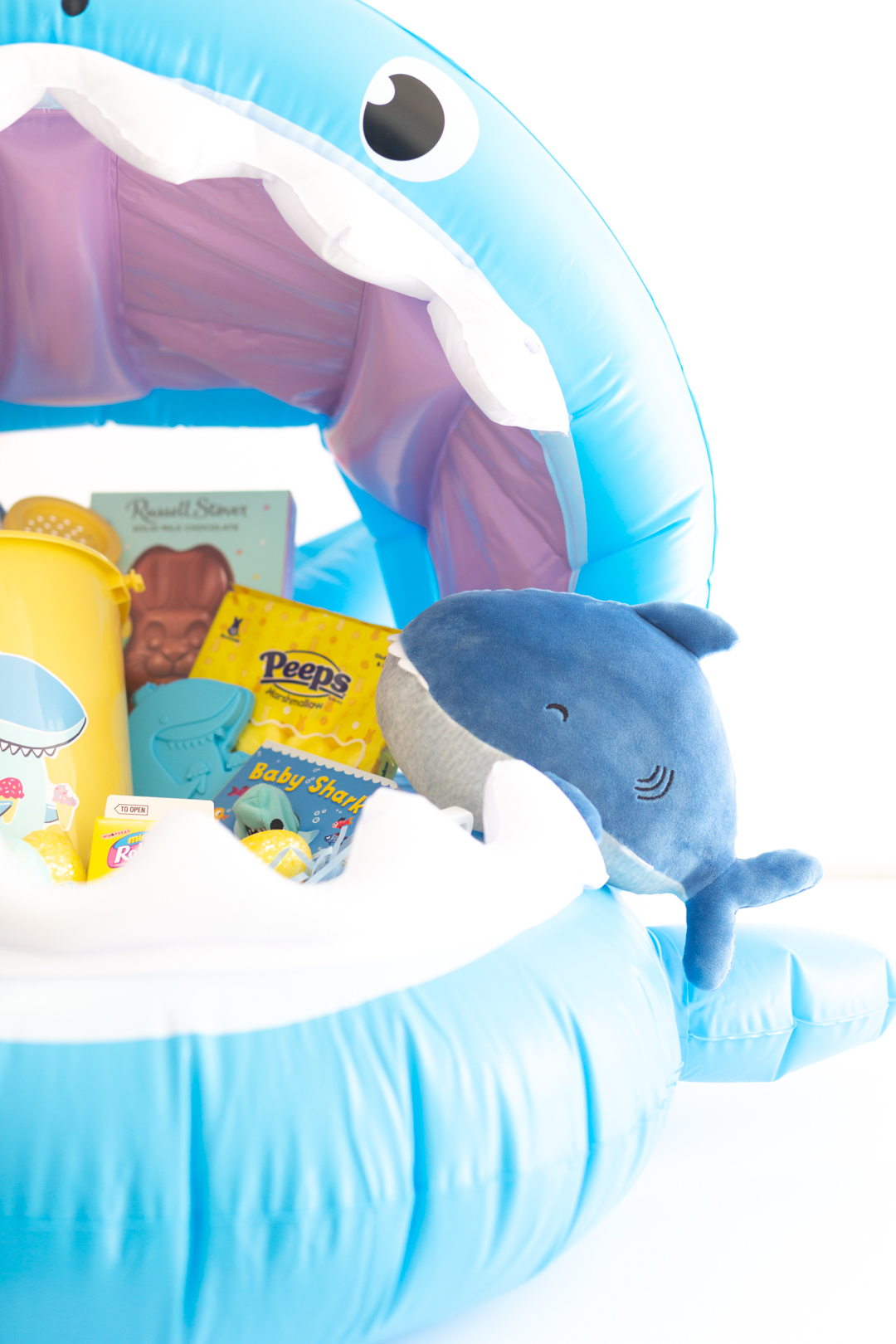 SHARK-THEMED EASTER BASKET CHECKLIST
Small Shark Float - The one that I used is infant sized but you can use any small shark float that you can find.
Baby Shark Books - I found a wide variety of small books and activity books with this theme that would be just perfect for this shark gift basket. I included this Baby Shark Mini Book with the cutest finger puppet.
Shark Plush - i'm totally obsessed with this cute Baby Shark shark stuffed animal that I found.
Traditional Easter Basket Fillers - think PEEPS and beyond. You can easily convert this idea into a regular shark basket when it is not Easter time. Choose any regular candies to include. Don't forget some matching eggs. I went with glittery blue and yellow for this.
Shark Bucket and Shovel - I found the perfect shark beach set that matched this theme so well. If you can't find any shark themed buckets you can always just do a regular set instead.
Blue Easter Grass - will match the theme so perfectly. I love this pretty blue gift filler that I found.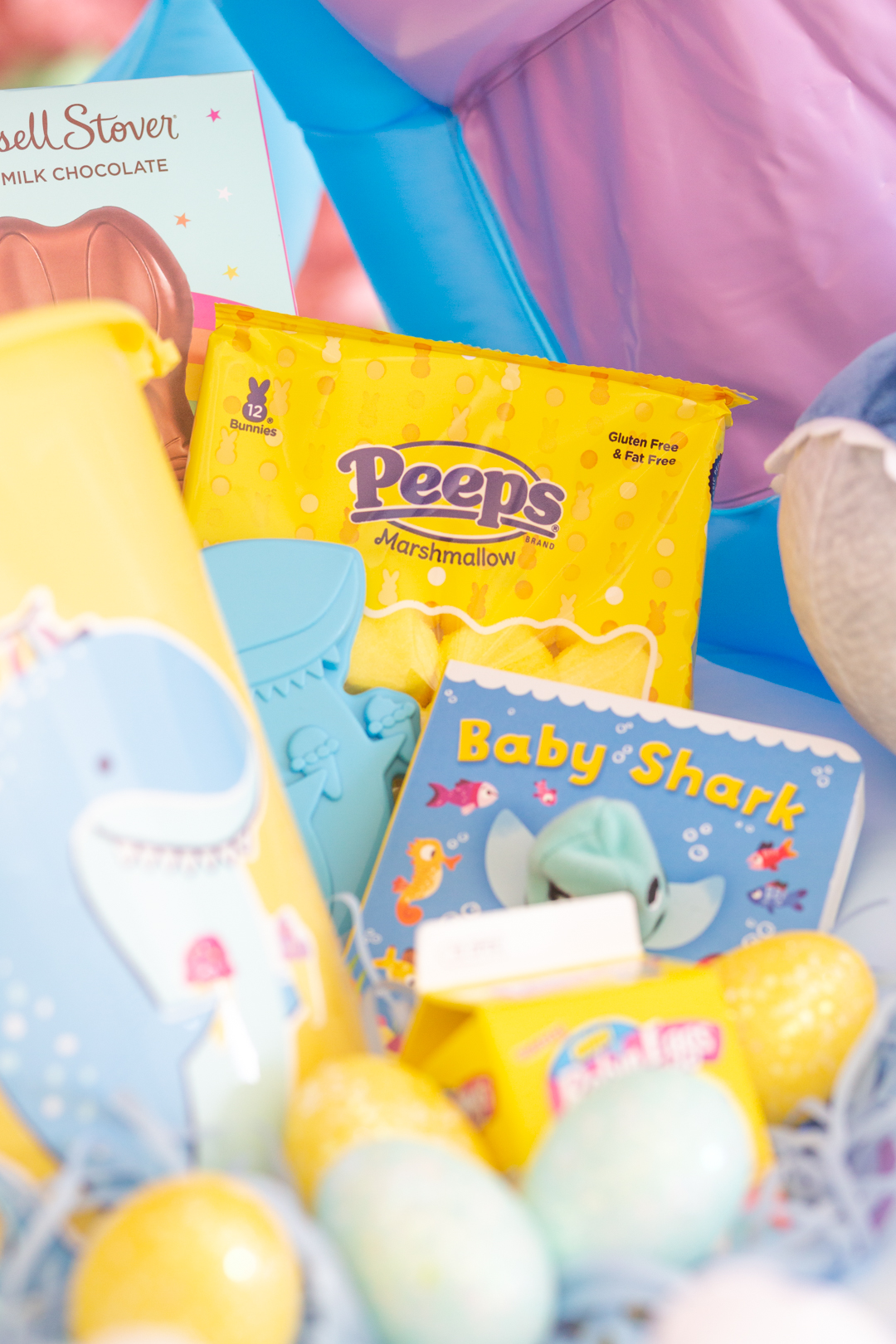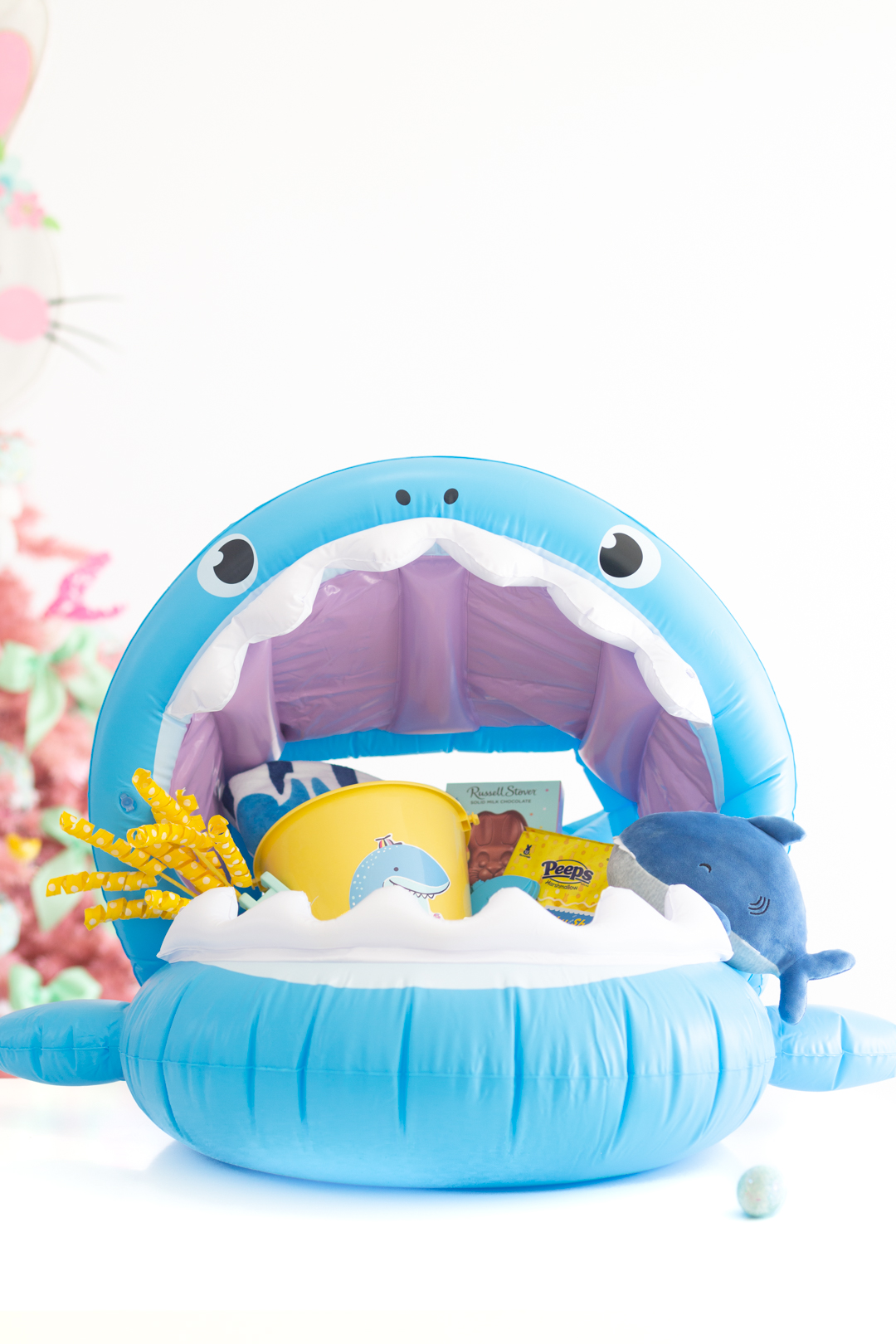 Once you have gathered all of the goodies that you want to use to make your special basket, it's time to put everything together. This is the easy part.

HOW TO SHARK-THEMED EASTER BASKET
To set up your Shark Easter Basket, there are a few steps to make it a breeze.
First, you'll want to inflate your shark float – a pump will be useful if you have one.
You may need to add something to the base of the float since there are leg holes there. A matching beach towel or taping paper plates to the bottom are good options.
Add Easter grass on top next.
Next, set up your Easter basket fillers with the tallest and largest items in the back.
Then, work your way forward with the smaller items.
Lastly, you can add some special touches to decorate the basket if you wish. A big gift bow would make a fun final addition.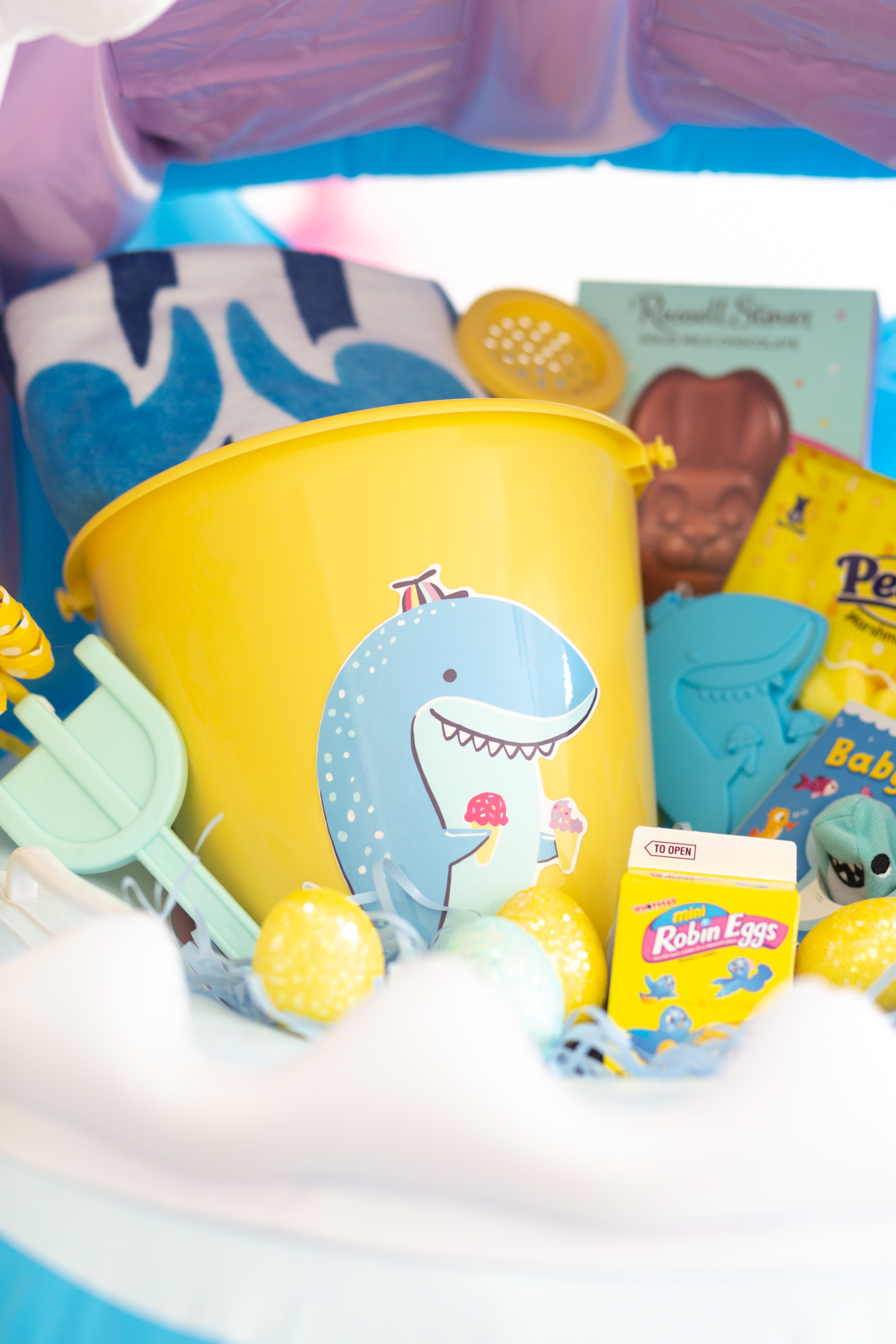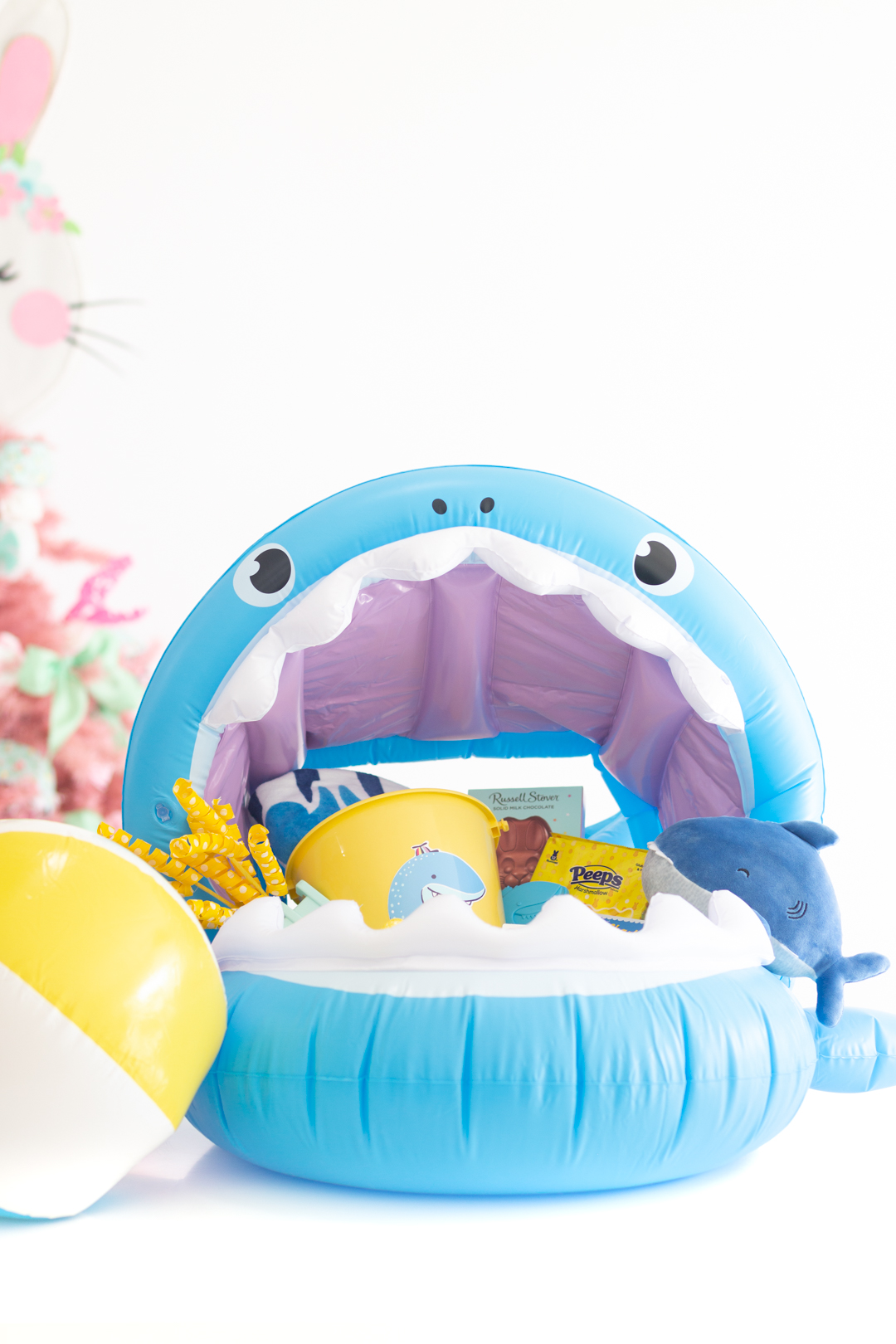 What would you add to your shark gift basket this Easter?