Are you looking to make Easter extra fun this year? I have just the thing for you! You can make an over the top ice cream Easter basket using a small float! With just a little ever you can make a memorable over the top gift for kids. This post may contain affiliate links.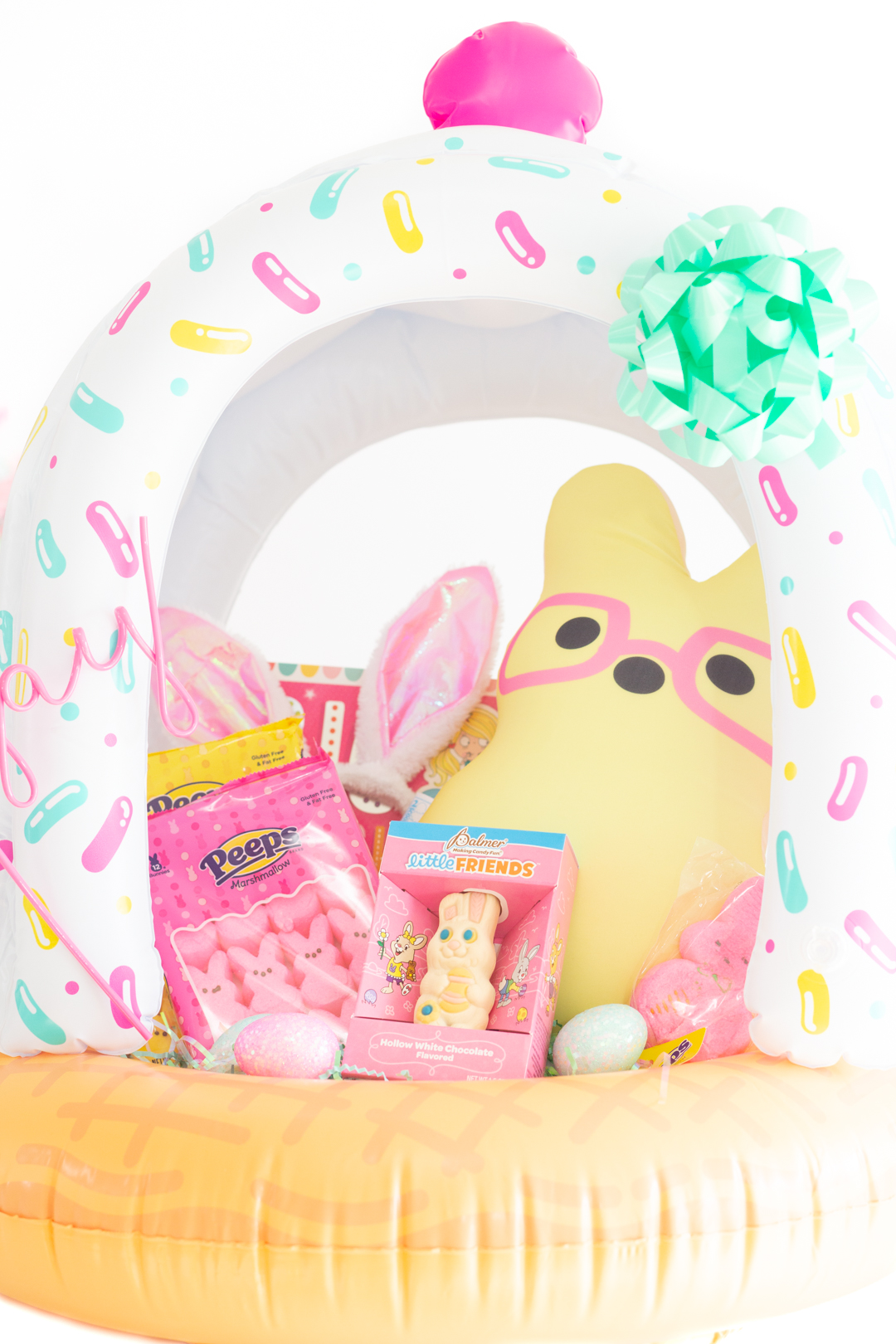 Last week I shared a rainbow version of this kind of Easter basket, too.
The possibilities are definitely in less since there are so many different kinds of floats available on the market.
For this DIY it is extra fun to get an infant sized float that has a built in canopy.
This type of float gives off the perfect Easter basket vibe if you ask me.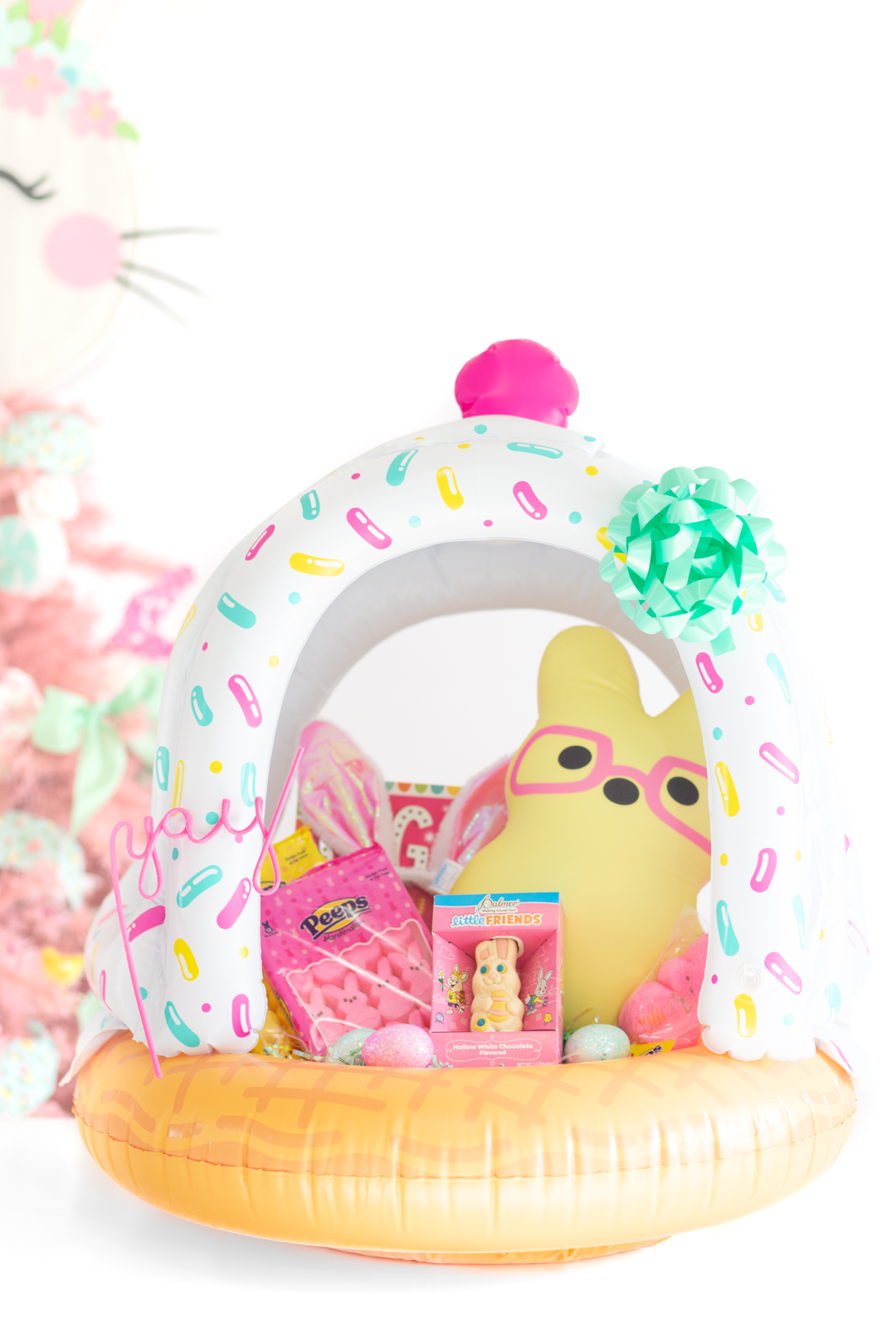 ICE CREAM THEMED EASTER BASKET IDEA
Want a unique Easter basket idea? This one is SO cute and SO easy. Once you pick your small pool float, you can fill it up with your standard Easter basket fillers. You can go with the theme for example you could fill this one with ice cream themed basket fillers.
I decided to just go with matching Easter basket fillers instead. The colors are just so fun.
I love pink and teal together. Enough rambling, next up.... I will show you exactly how I put this together and what I used inside of the basket.


ICE CREAM THEMED EASTER BASKET CHECKLIST
Ice Cream Cone Float - this is the cute float one that I used. They are sold at a lot of retailers.
Stuffed Bunny - there are so many options, but I'm obsessed with this scented bunny with pink glasses.
Bunny Ears Headband - makes a fun addition to any Easter basket.
PEEPS Lollipop - this sweet lollipop makes for one of the cutest basket fillers.
Glitter Eggs - or any eggs you like. Fill with extra goodies if you like.
Sticker Book - could also use coloring books, activity or reading books, too. This BIG Sticker Book is so cute.
Green Bow - add some decorations like a big bow to make it feel extra Easter-y.
Yay Straw - another fun idea for basket decor are available at a couple of retailers.
Easter Grass - will make for the perfect classic touch. Two bags fill this one nicely.
Tape - You might need some to hold the inflated float together at the base for gifting.
Once you picked the perfect small float, Easter basket fillers and decorations for the gift, it's time to put it together.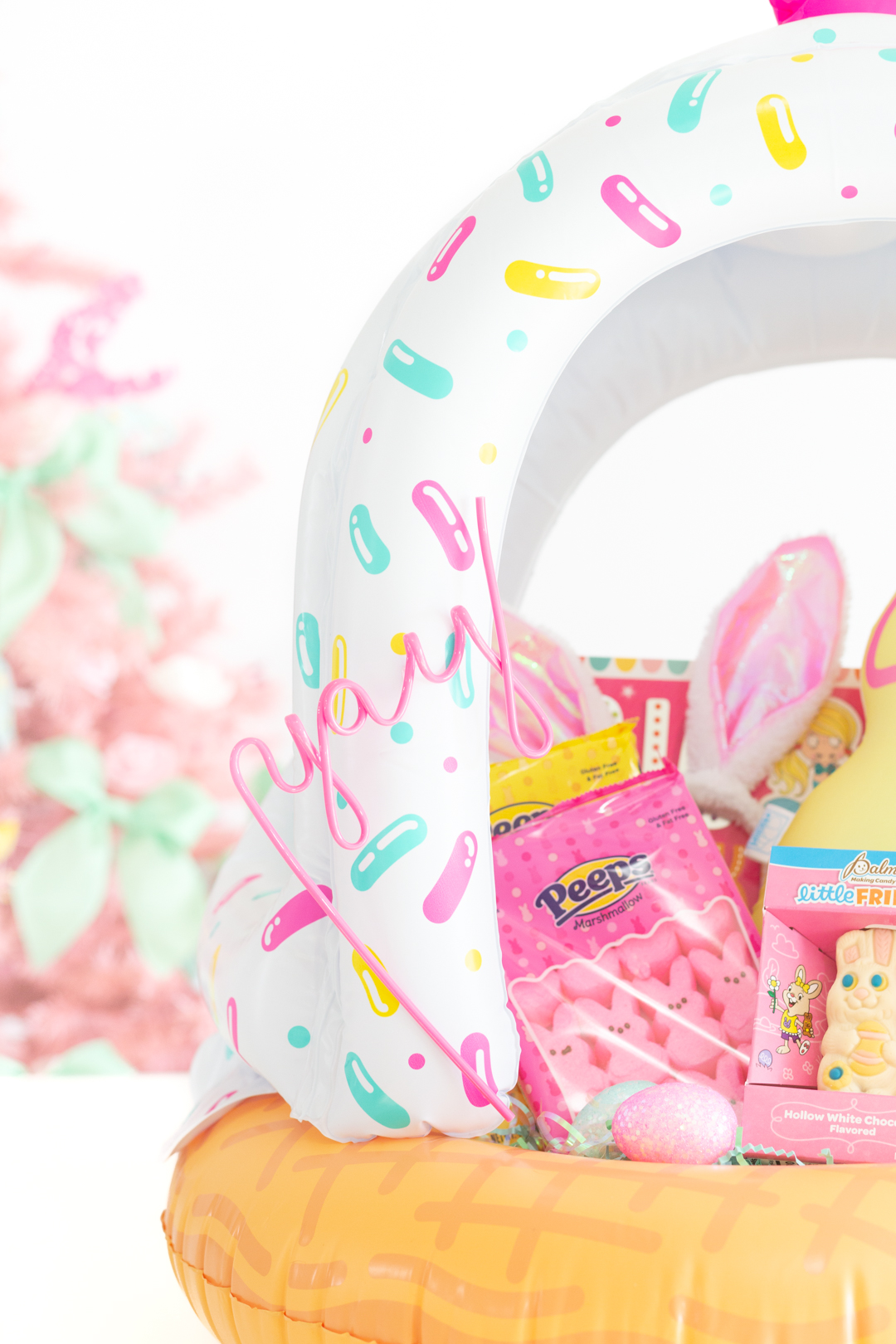 HOW TO ICE CREAM THEMED EASTER BASKET
To set up your super cute ice cream themed Easter Basket, there are a few steps to make it super simple.
First, inflate the pool float - might want to use a pump to help.
Add something to the base of the float since there are leg holes there. I taped paper plates to the bottom of this one.
Add your Easter grass to base.
Set up your Easter basket fillers with the tallest and largest items in the back.
Work your way forward with the smaller items.
Lastly, you can add some special touches to decorate the basket if you wish. I used a pretty green bow and a straw that says yay to add a pop of flair.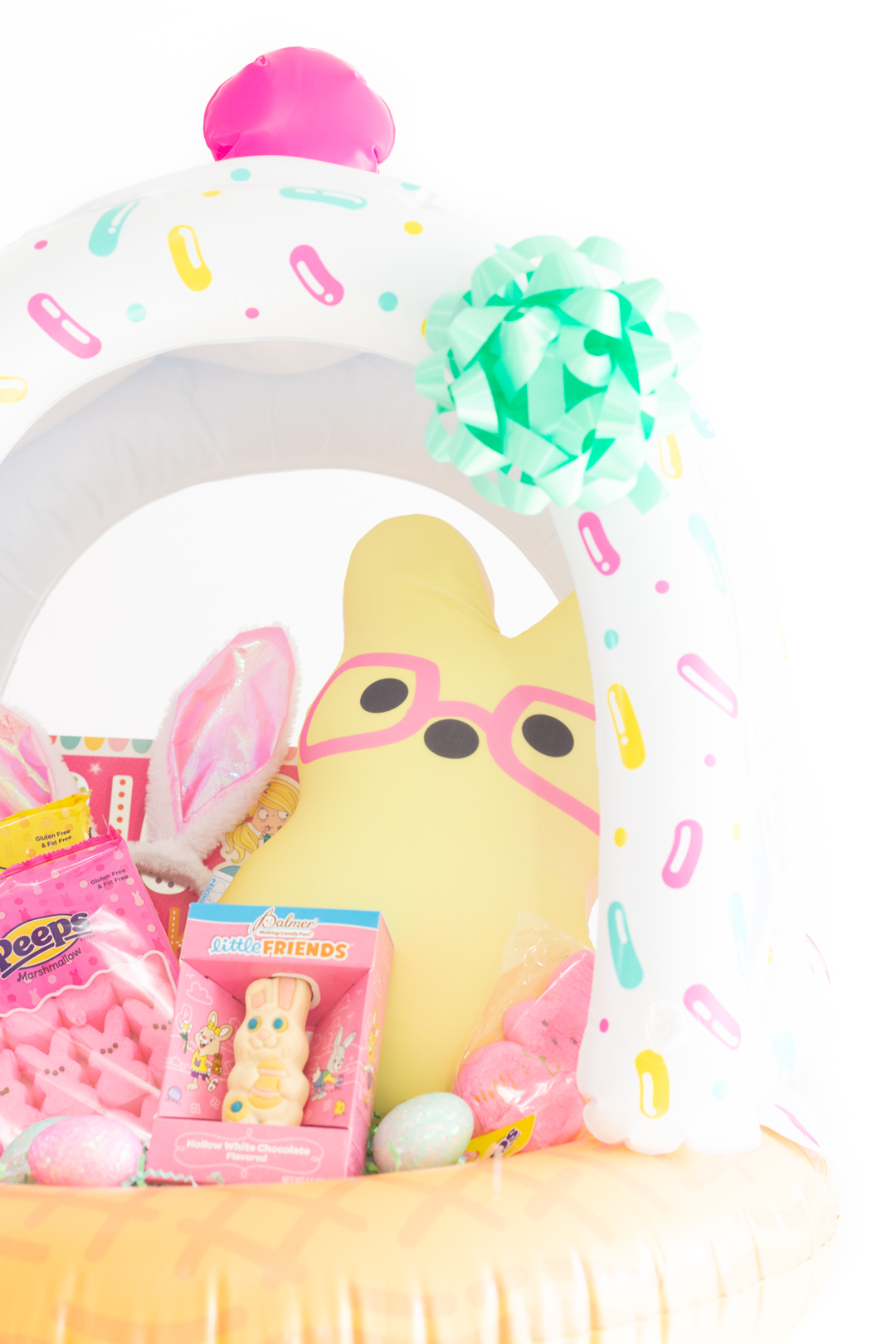 I absolutely love how this turned out! I hope that this fun DIY basket idea brings some extra joy this Easter.
Easter Basket Ideas
Want more of the best Easter basket ideas? This list of fun and creative ideas are so easy to put together.