Ah! Spring is here and soon it will be Easter. It's just a hop, skip and a jump away. It's totally time to help the Easter Bunny decide what to drop off at your house this year. I'm sure our favorite bunny will love this cute Homemade Dinosaur Easter Basket that's SO easy to make. Dino lovers will totally love these themed baskets waiting for them in the morning! If you're looking for the perfect toys to inspire creative play, you've come to the right place. This post is sponsored by Schleich, all opinions are my own.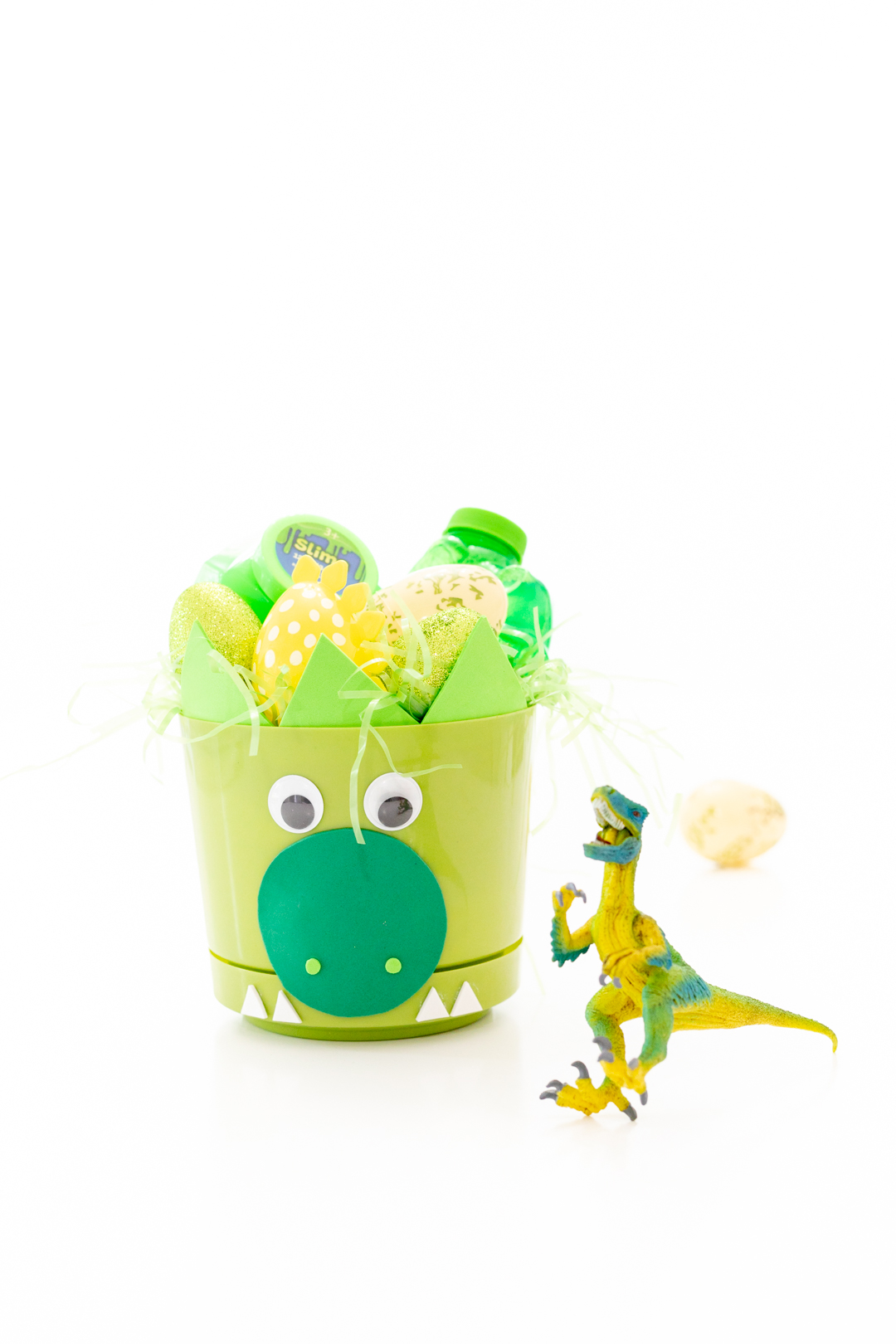 This is one of my favorite DIY Easter ideas so far. So many kiddos totally love dinosaurs, so this should be a hit this year. I was inspired to put together dino basket ideas after getting to see the cool Dinosaur figures from Schleich. They are really detailed and many of them have a moveable lower jaw for maximum rawr-worthy fun. Fun fact... Schleich is one of the oldest companies in the world. Originating in Germany, their unique toys are now found world wide!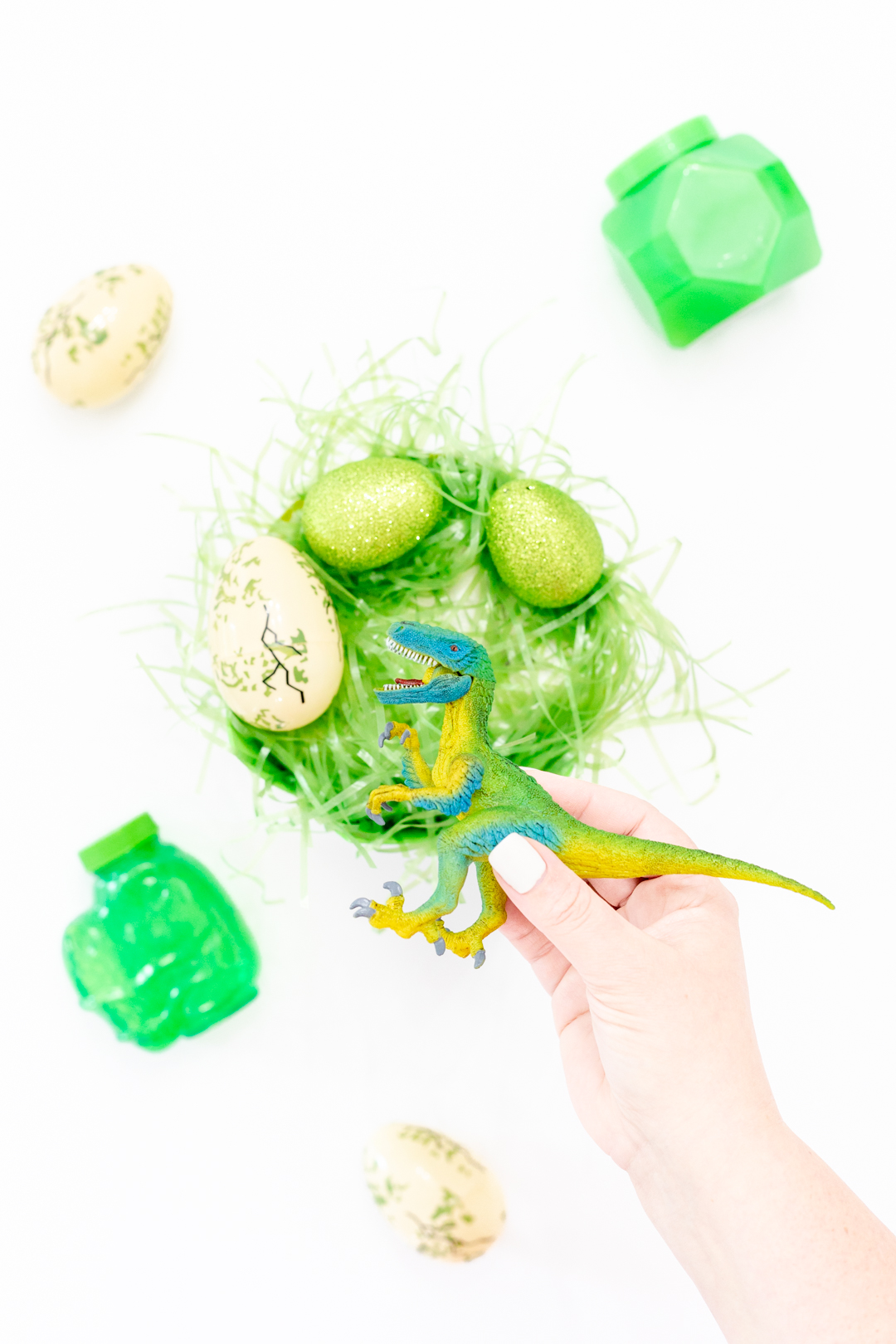 They are so many if their dinosaur figures that you can include in your DIY baskets including some favorites like Giganotosaurus, Brachiosaurus, triceratops, stegosaurus and the Velociraptor featured in today's fun project.
HOW TO MAKE A DINOSAUR EASTER BASKET
This Easter DIY is so fun and so simple to make. Here is what you need to create one:
Green Plastic Planter (Found mine for a $1)
2 Wiggly Eye
Green Foam Sheets (Light and Dark Green)
White Foam Sheet
Fast Drying Glue
Other tools: Cup for tracing, Pen or Pencil, Hole Punch, Scissors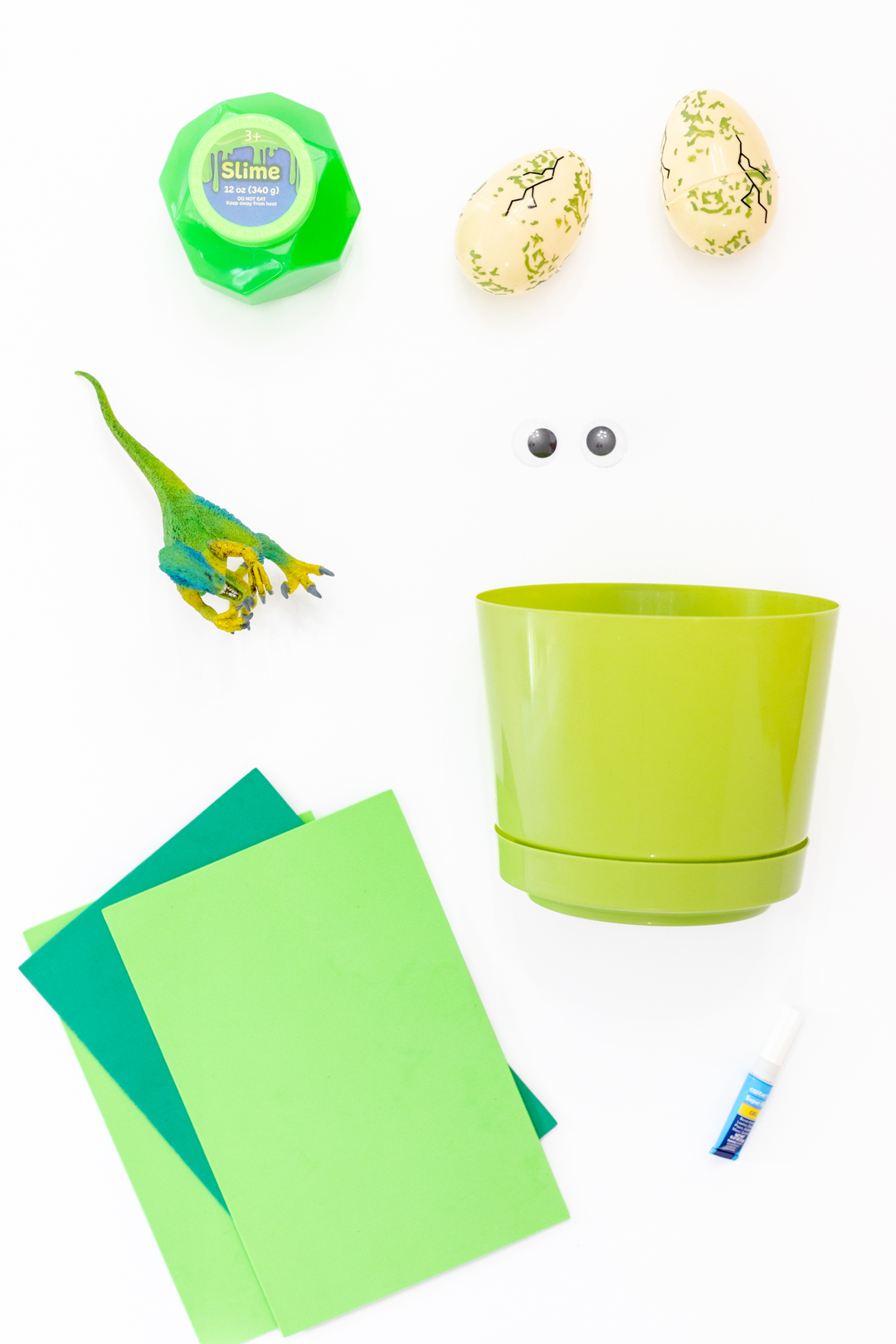 HOW TO MAKE A DINOSAUR CRAFT
STEP ONE: Cut three identical triangles out of a light green foam sheet.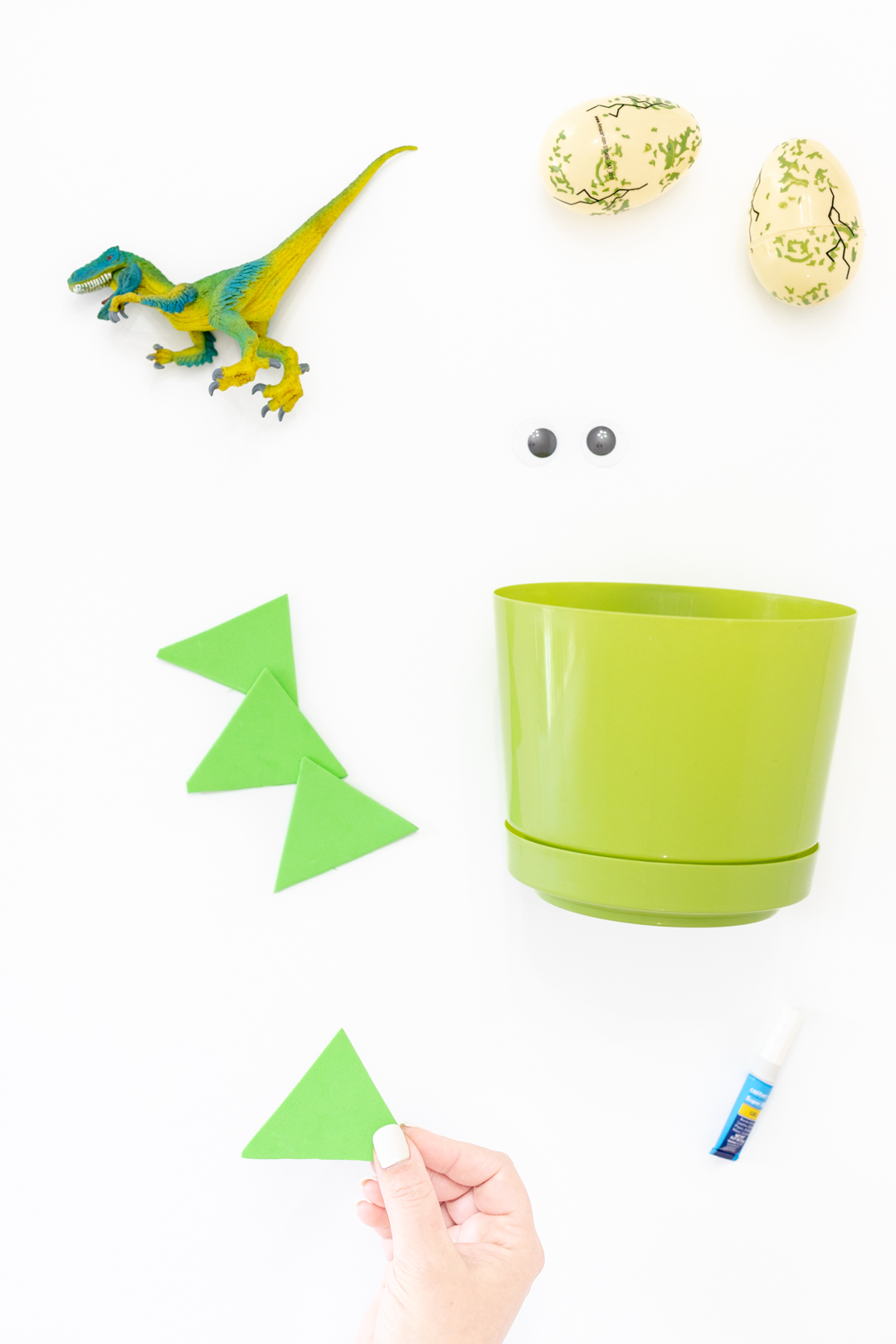 STEP TWO: Cut a large circle out of a dark green foam sheet. Use a small cup to help form the shape easily.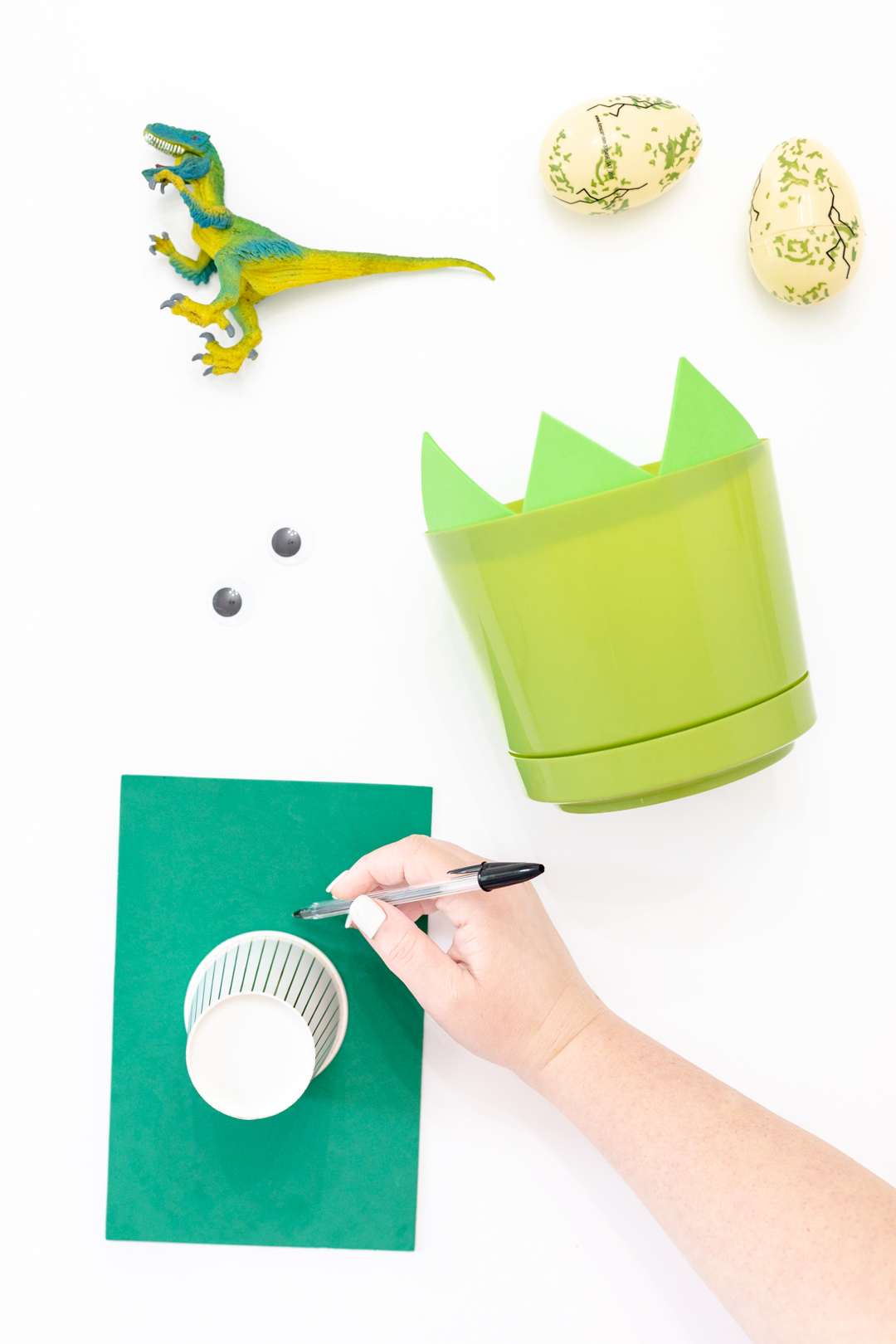 STEP THREE: Use a hole punch to finish up the nose with light green foam sheet.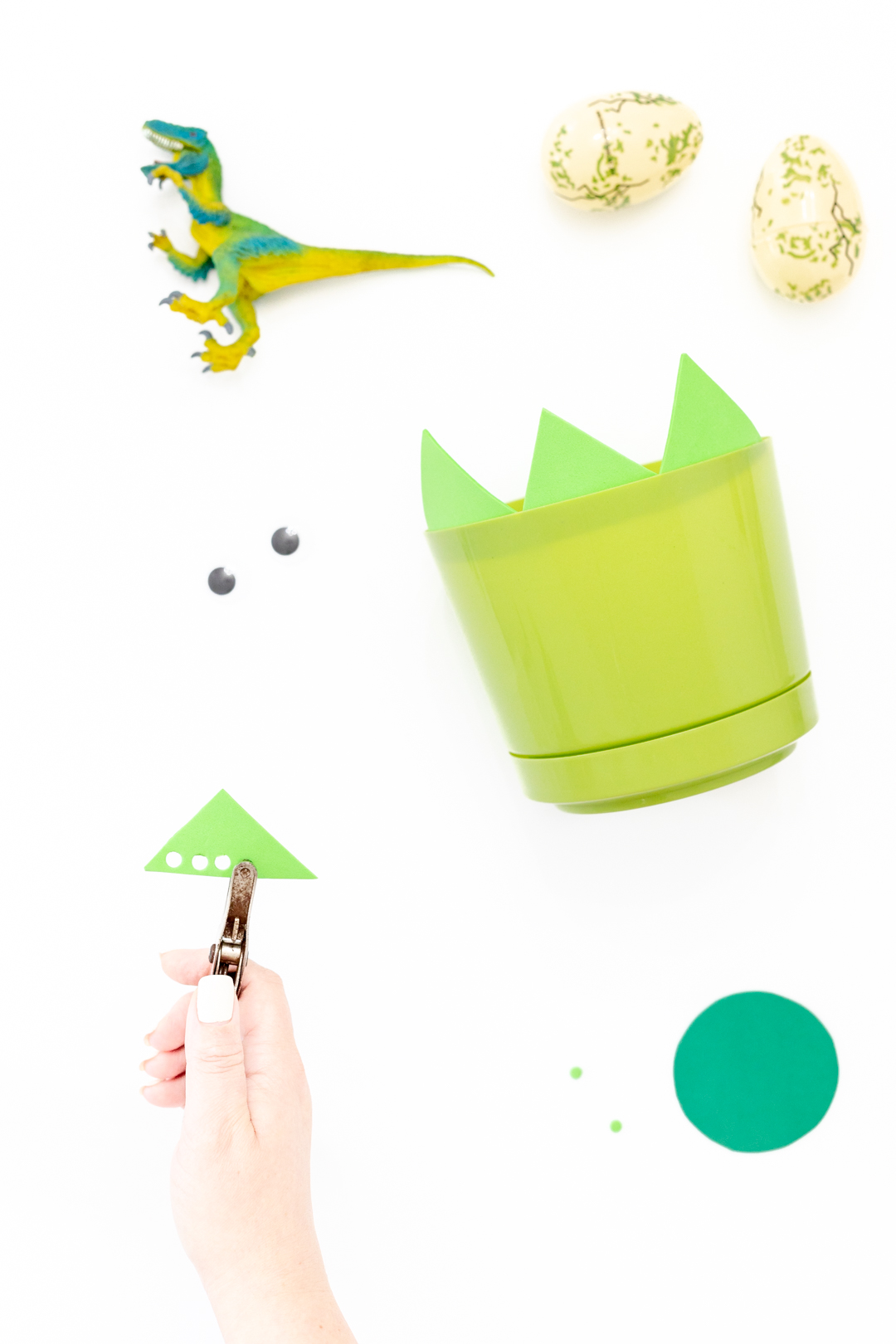 STEP FOUR: Cut four small triangles out of a white foam sheet.
STEP FIVE: Glue all of the pieces onto the planter and let dry completely.
Voila! You now have have a super cute dinosaur themed easter basket! Now, all you need to do is fill with fun dino goodness!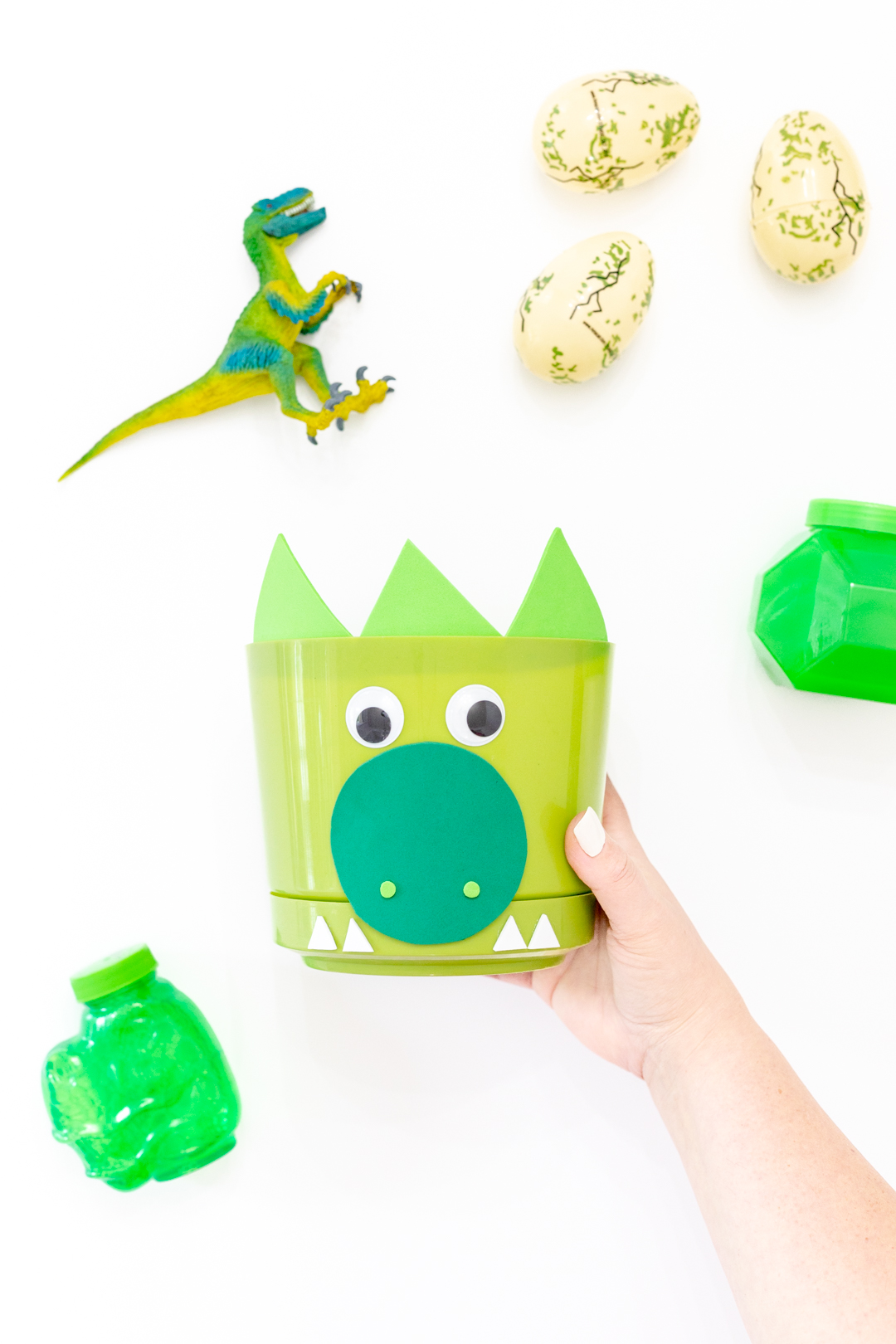 WHAT ARE SOME DINOSAUR EASTER BASKET STUFFERS?
You have your themed basket, but what to fill it with? Here are some easy stuffer ideas to get you started.
Dinosaur Figures that are collectible from Schleich
Dinosaur themed Easter Eggs
Dinosaur or Green Bubbles
Dinosaur Themed Books
Dinosaur Coloring Books
Dinosaur Games
Dinosaur Stickers
Dinosaur Pencils, Pencil Toppers and Erasers
Dinosaur Gummies
Dinosaur Lollipops
Dinosaur Stuffed Animals
Green Slime
Rock Shaped Candy
Candy Coated "Mini Eggs"
Bone Shaped Candy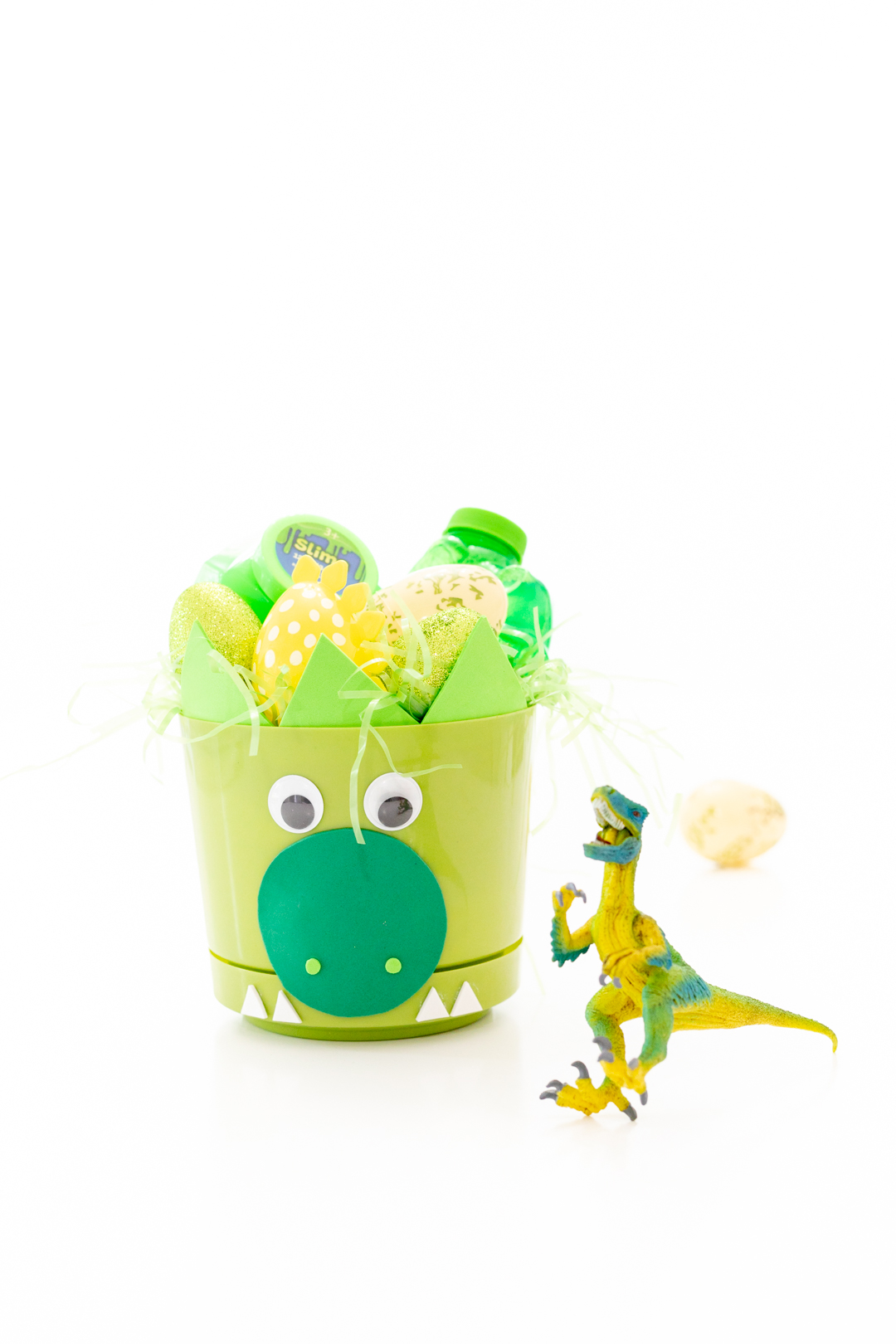 Make Easter extra fun by including Schleich Dino figures and more. See where to buy them here. Their unique toys and figures can be found at 40,000 locations worldwide!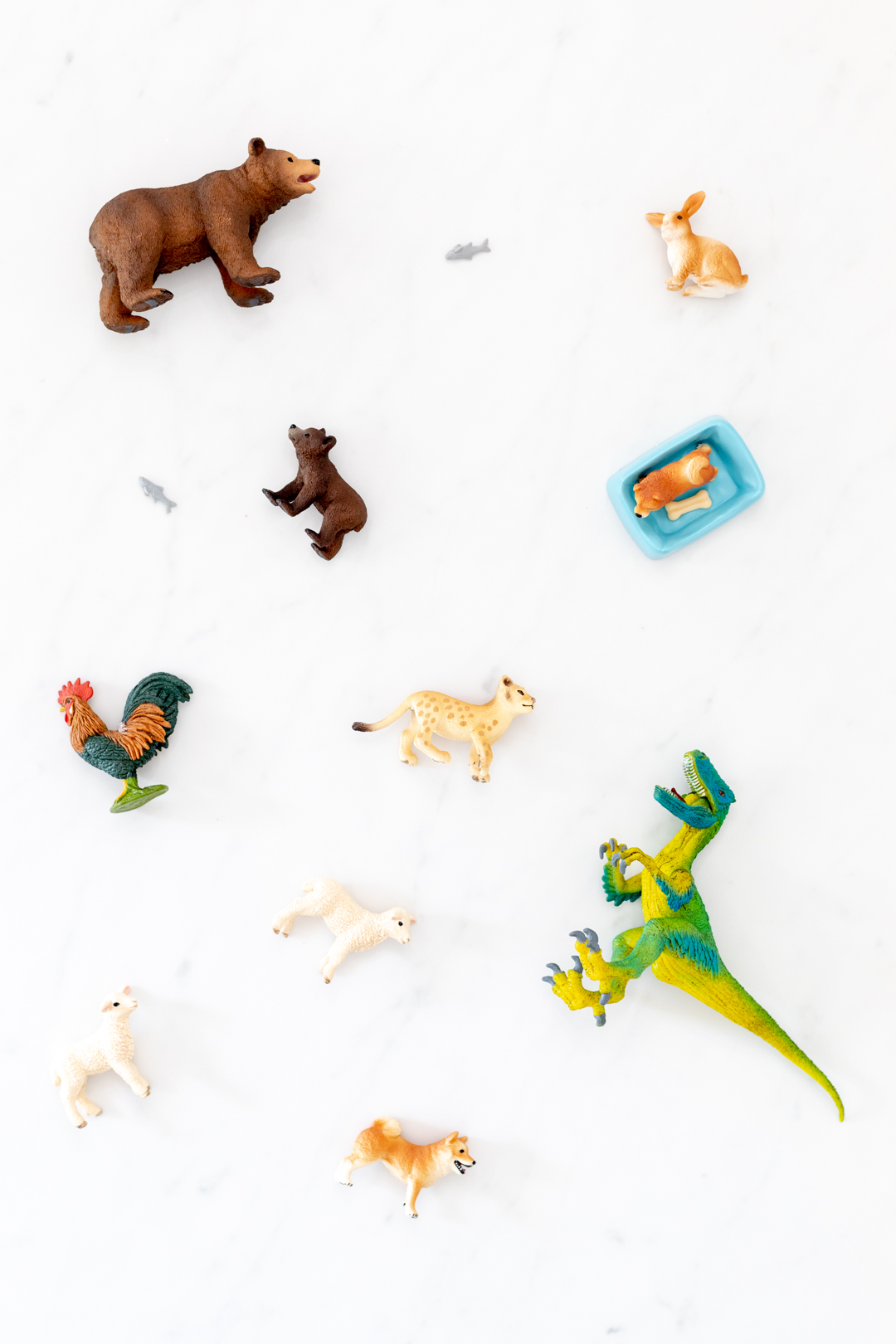 That's a wrap! You officially have Easter in the bag... or basket in this case! 😉
SCHLEICH RED RABBIT EASTER SWEEPS
Check to see if you live in a the participating areas here because you can enter to win 1 of 20 Schleich prizes! Get more details here. So cute!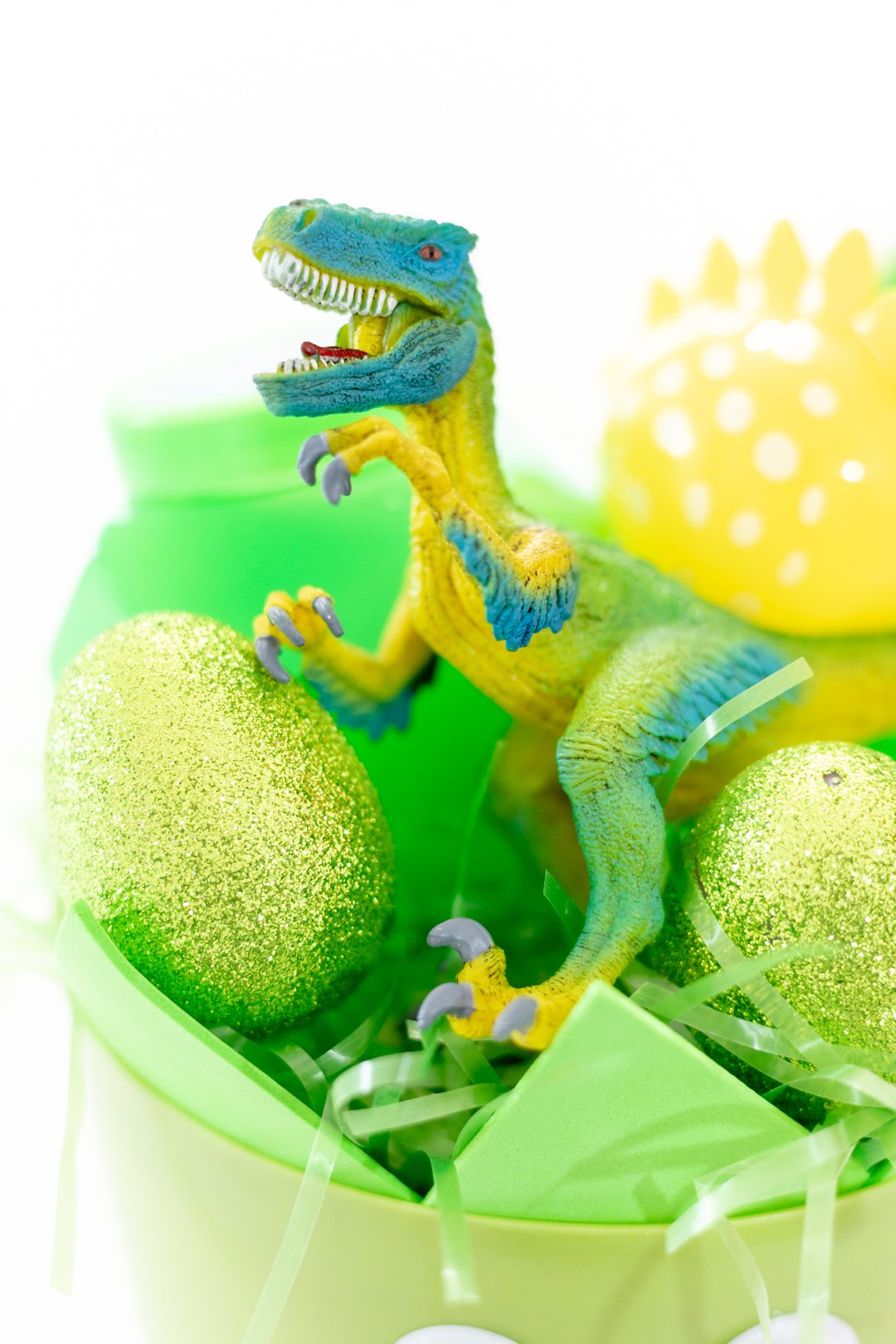 Want more Dino ideas?
Check out this ice cream party
Make these Dinosaur Dessert Bars
MORE DIY EASTER BASKET IDEAS
Easter Basket Fillers by Color
Easter Baskets for Men/Teen Boys
Bunny & Chick Upcycled Baskets
Check back soon! I will be highlighting more collectible Schleich animal figures for Easter.
Do you enjoy putting together homemade Easter baskets for your kiddos?