Fun birthday candles that pop edible confetti over your cake for the best birthday surprise.
Making birthdays special at home has been a big trend over the last year or so. These adorable party popper candles that I found were so cute that I wanted to share them with you in a big way. I had A lot of fun testing them out and I hope that you enjoy this fun birthday idea for your next celebration. This post may contain affiliate links.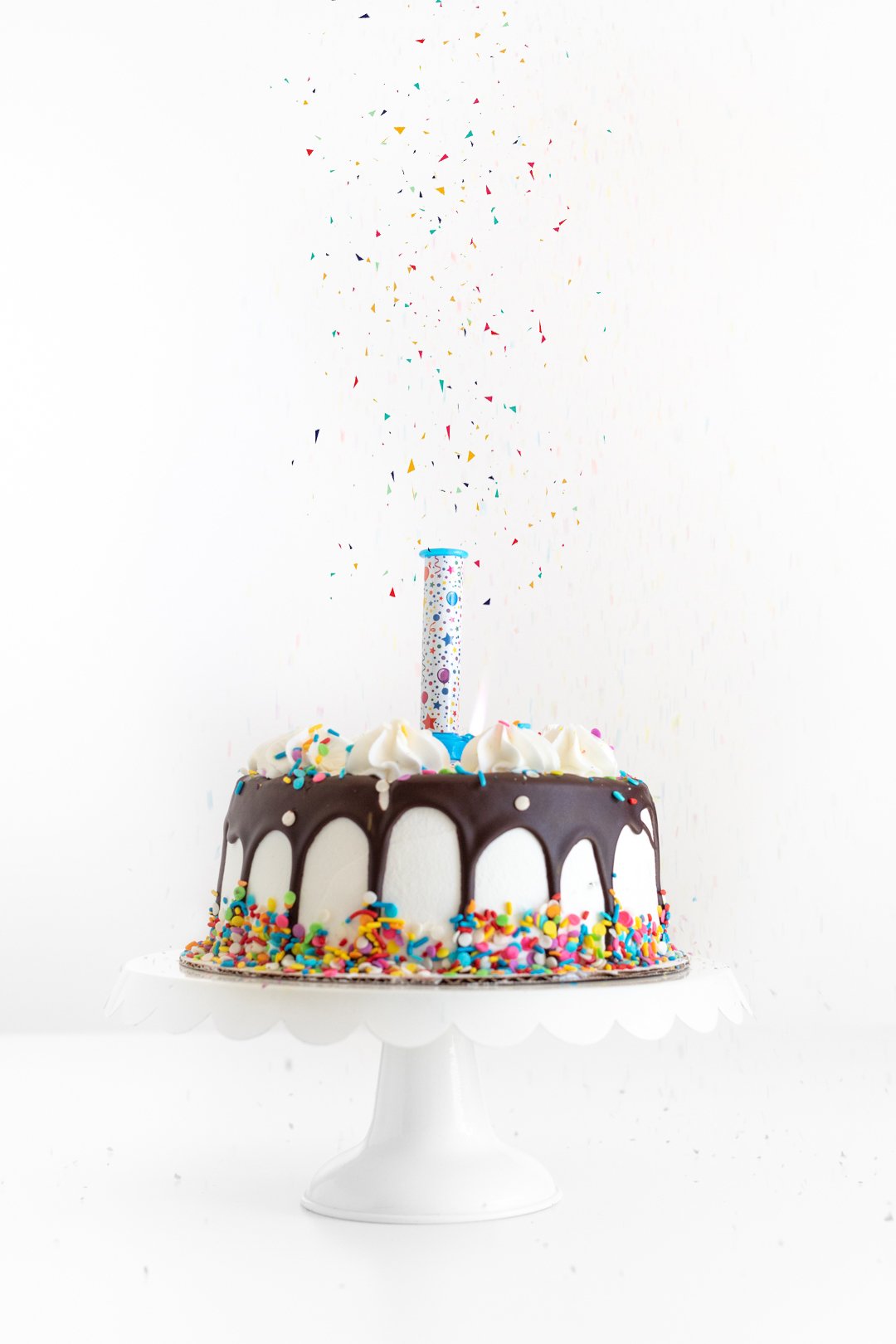 To make any birthday cake extra fun, picking out the perfect birthday candles is a must. These adorable confetti popping surprise birthday candles will be a huge hit for kids and adults.
I tested over 14 of these candles and they were perfect every time.
I can't wait to share them with you.
Cost is fairly inexpensive but the memory making is priceless.
Make sure to get your camera out for this one.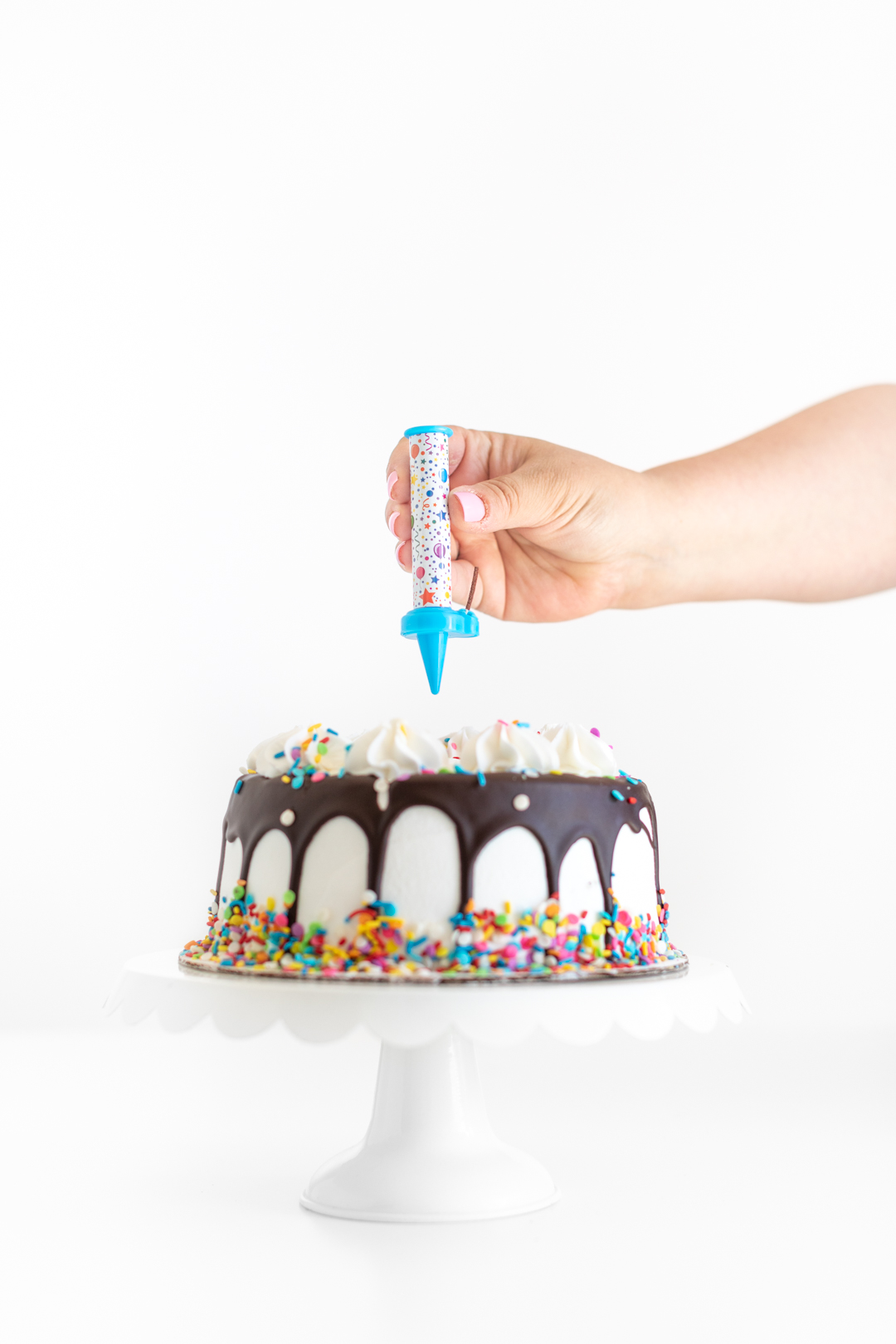 SURPRISE BIRTHDAY CANDLES
Watch the video below for a full visual of how these amazing party popper candles work.
These candles come in pink or blue as well as a silver and gold mix depending on where you shop for them. Scroll to the bottom of the post for tips.
I kept seeing these birthday candles at Walmart and could not deny them any longer. You will soon see why.
Make sure to watch the video in this post to see them in full action. It is so fun and cool.
If you love a good surprise, then you will love how these birthday candles pop edible confetti.
These are one of my favorite surprise birthday candles yet. And they definitely will make any celebration extra special.
HOW DO SURPRISE BIRTHDAY CANDLES WORK?
These surprise birthday candles are so easy to prepare. Each package comes with two candles with wicks and one package of edible confetti.

Here are step by step directions on how to use these:
Open the package.
Add one candle onto your cake.
Next, pour half of the edible glitter package into the candle top.
When ready to use, light the candle and step back a little.
The candle will burn briefly (approximately 5-10 seconds) before popping.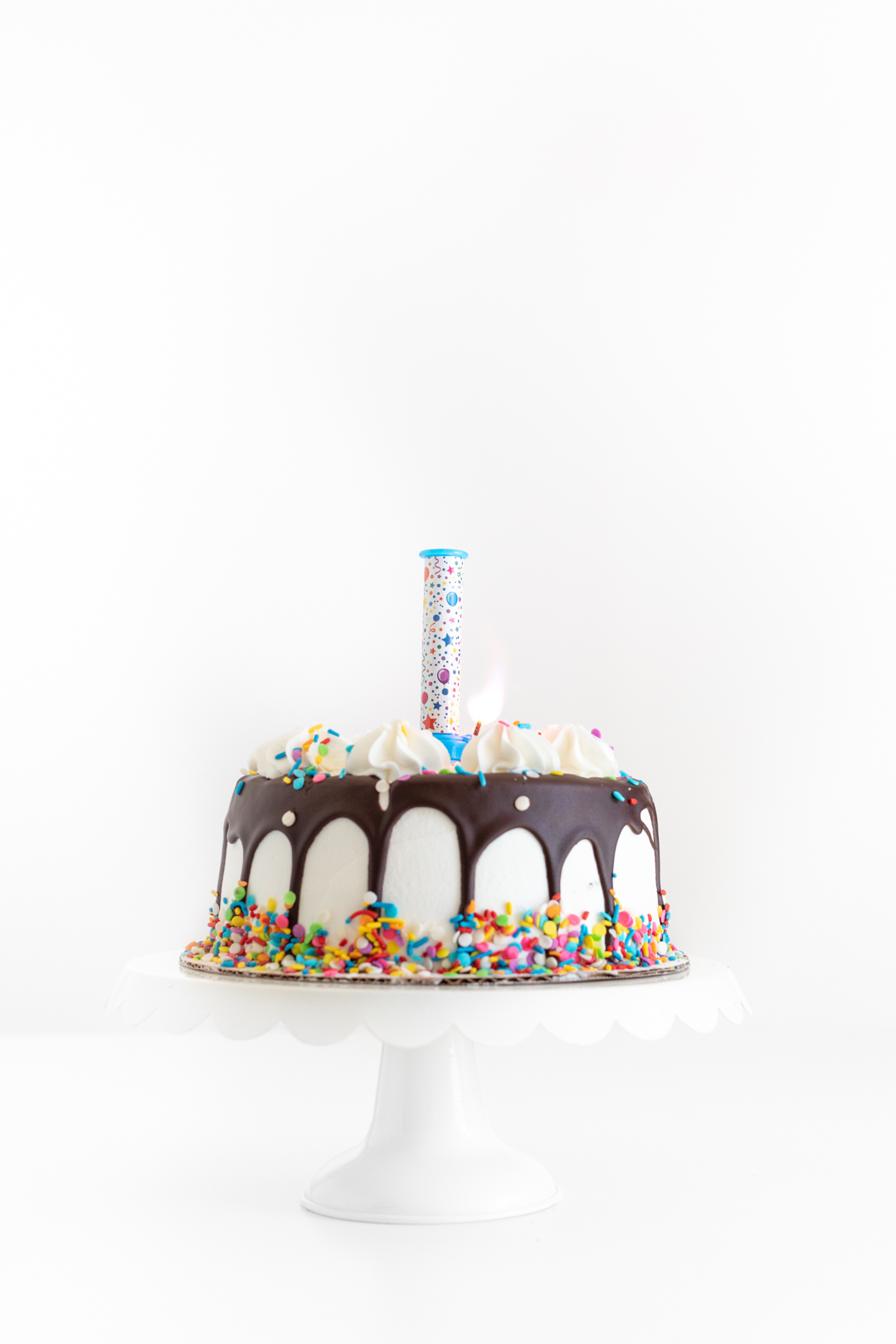 The VERY quick pop of confetti comes out of the candle and then falls down onto the cake and surrounding area.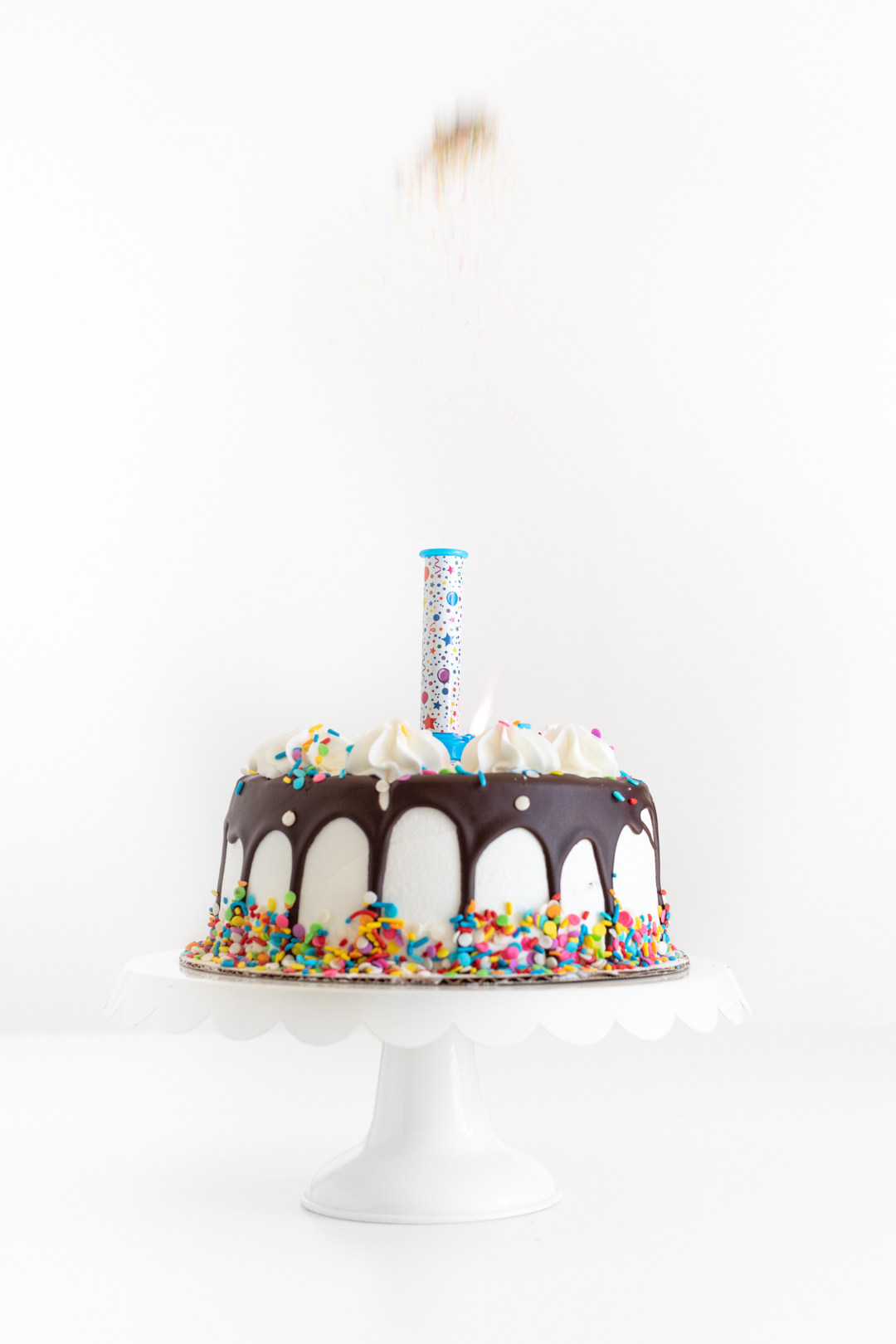 Voila. That's it. It is such a quick process, you will not want to blink.
Love this idea as much as I do? Scroll down to find out where to buy yours.
I can't think of a better way to surprise someone on their birthday.
This fun party popper candle will be fun for people of any age.
ARE SURPRISE BIRTHDAY CANDLES MESSY?
Yes, these surprise party popper candles are fairly messy. However, the cleanup is very easy. The edible confetti is not sticky by nature, so a quick dry wipe is all it will take to get them off your table.
Once the candle has popped, the reach of the edible confetti is pretty small. I would say that it spreads no more than 8" away from your cake in any direction.
To keep the mess in check, I would try to avoid having it pop over any table linens if you can.
WHAT DOES EDIBLE CONFETTI TASTE LIKE?
You might be wondering if the edible confetti has any flavor or if it will alter the flavor of your cake.
Surprisingly when eaten over your cake, you can't really taste anything.
Even when you taste them alone straight from the package, they really don't have much taste at all.
BEST BIRTHDAY IDEAS
Want more unique birthday celebration ideas in addition to this magical cake candle idea? I totally have your back.
Best Birthday Ideas at Home
Make a birthday at home extra memorable with these perfect ideas to celebrate.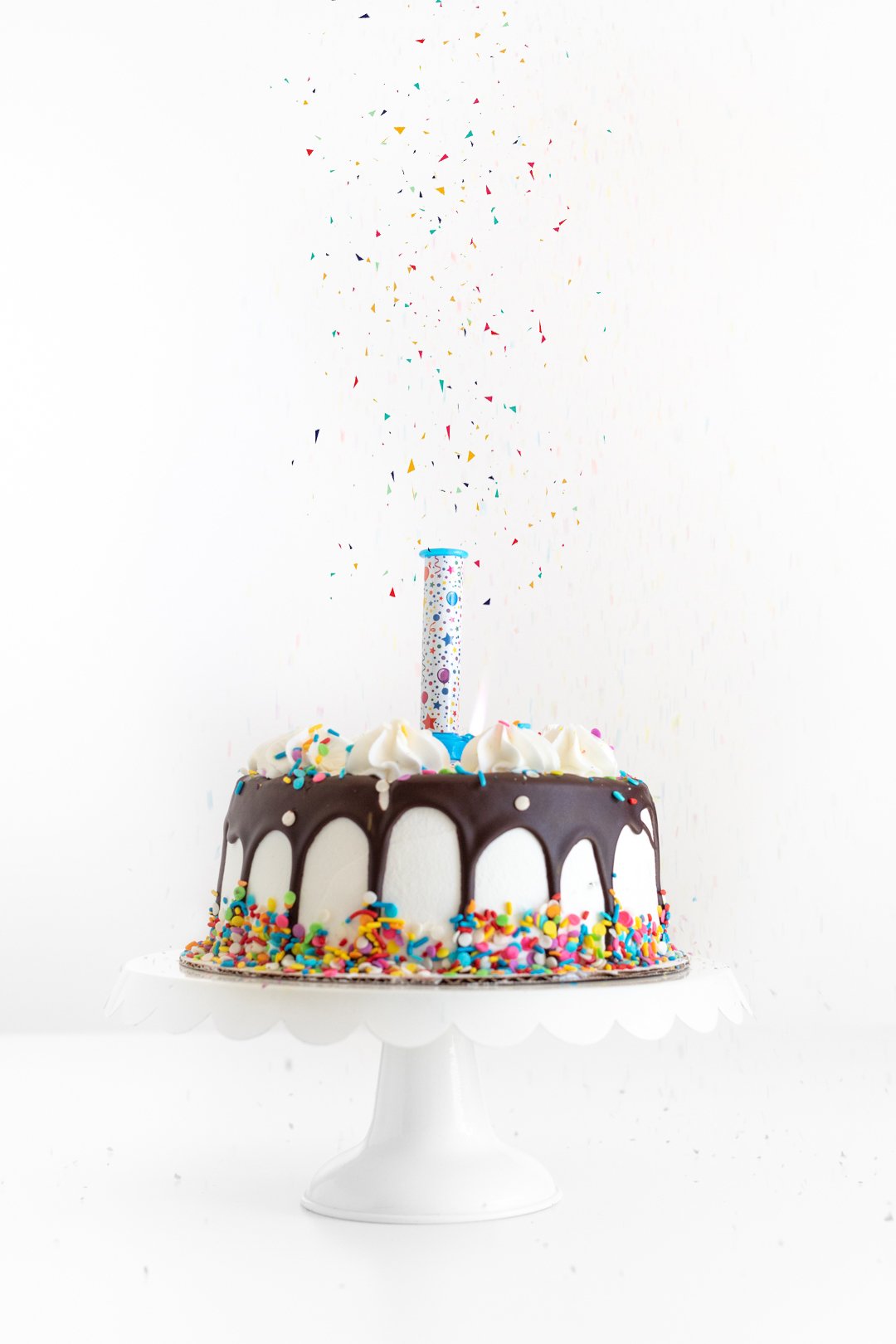 WHERE TO BUY SURPRISE BIRTHDAY CANDLES

I found the blue version of these surprise birthday candles in-store at Walmart. I found that you can also purchase the silver and gold and pink versions online only. Then, I also spotted pink and blue available at Hobby Lobby as another option.