Looking for ideas to celebrate birthdays? This adorable candy charcuterie board for one is perfect for surprising someone with. Individual sized charcuterie boards are trending right now on Instagram, so I thought it would be fun to do one with candy. Basically a mini version of my classic Birthday board. Enter this personal candy charcuterie board that is as easy to make as it is magical! Want to send a thank you to Mother's® Circus Animal® for helping to facilitate this post.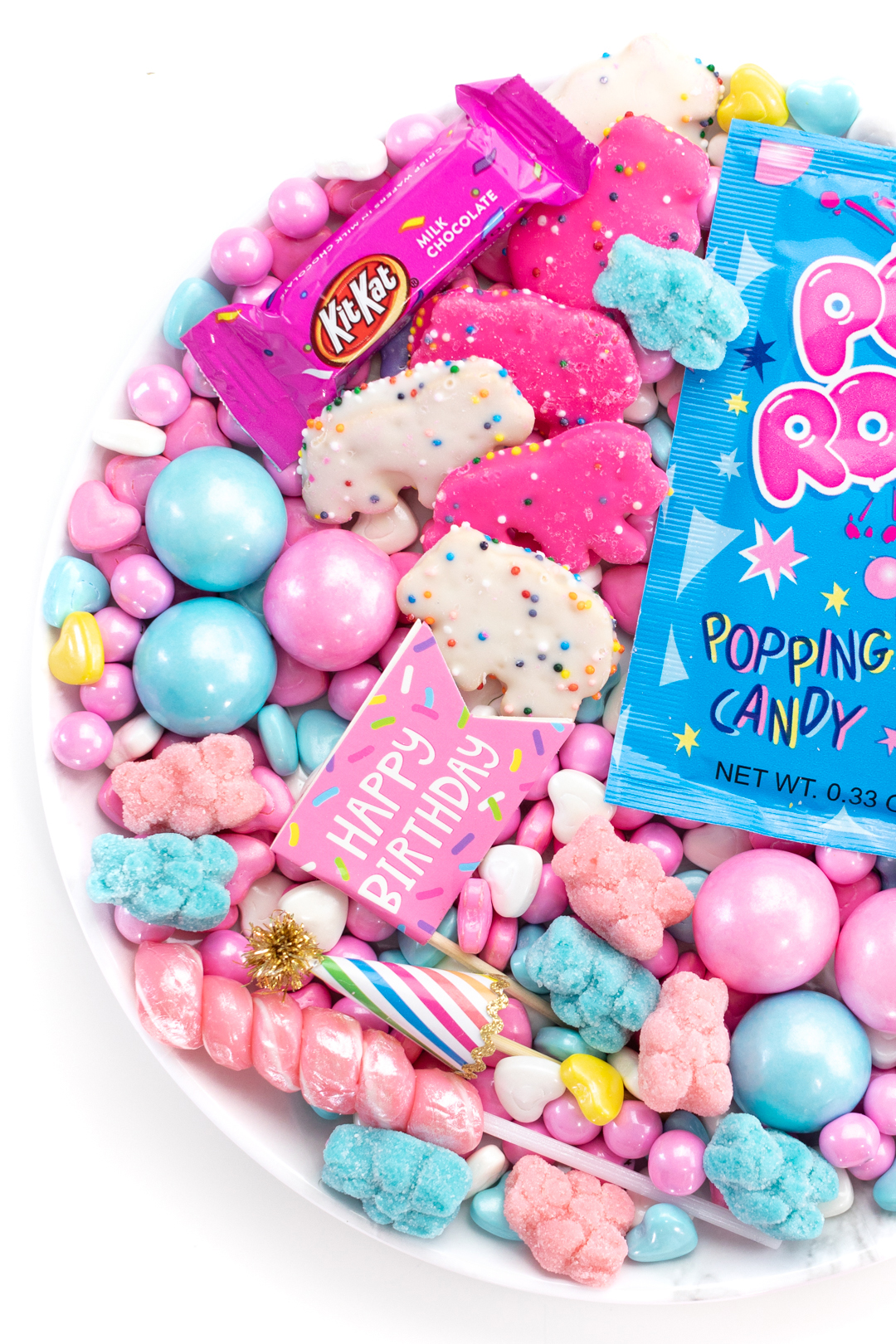 When it comes to treating someone special for their birthday celebration, I always focus on presentation and experiences over just gifts. I feel like that creating special memories is way more valuable than material things. We all know buying gifts can be stressful, so why not skip that hassle and go right for a fun birthday presentation.
So on that note, let's go!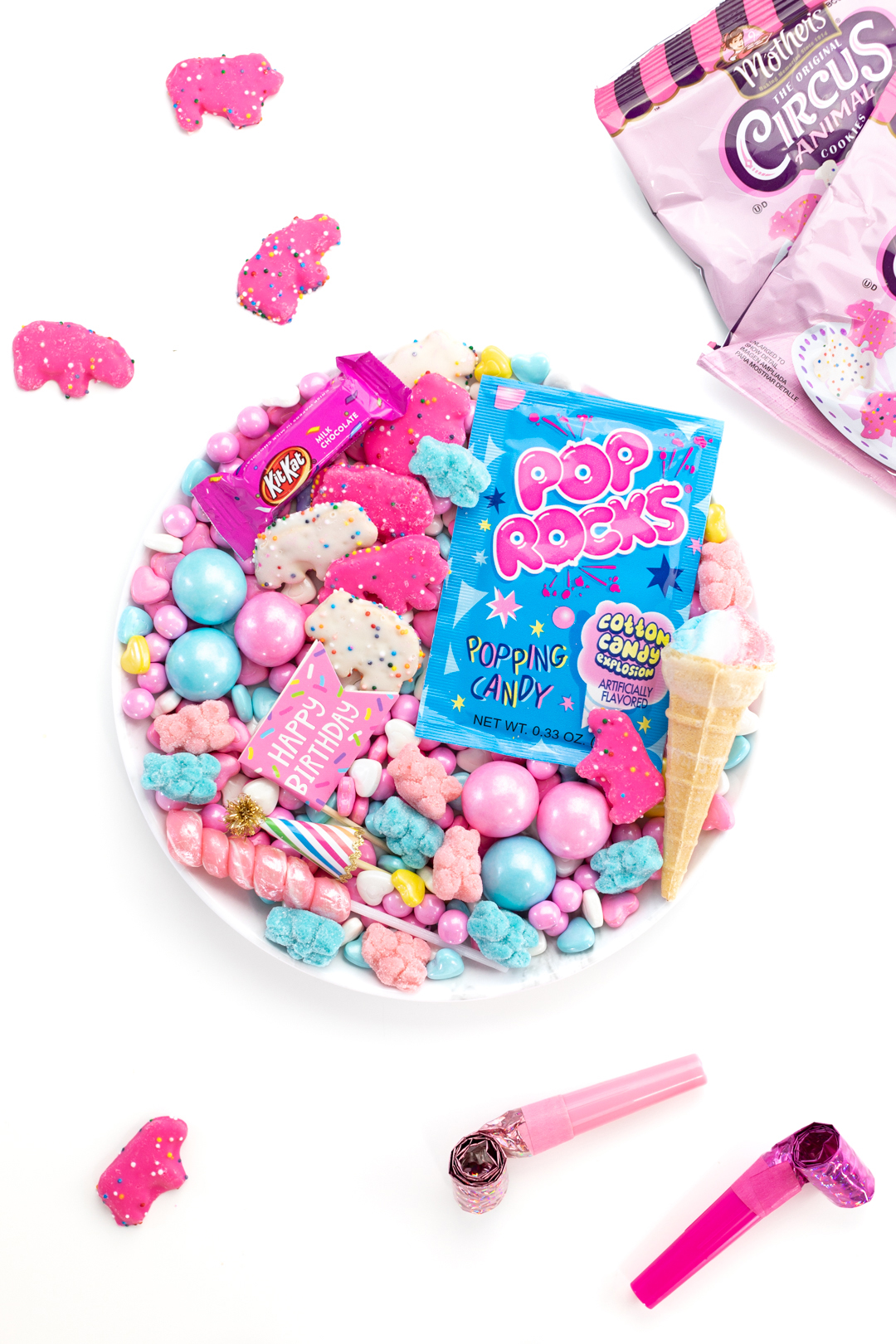 Candy, candy, candy! You know that I'm obsessed with fun candy boards, here is my next installment! Enter the mini candy charcuterie fun!
INDIVIDUAL CANDY CHARCUTERIE BOARDS
All about that mini? These super cute birthday-inspired candy board built for one is guaranteed to make em' smile big. Making personal charcuterie boards with candy is currently my favorite thing.
Here are the some basic thought-starters on what you can add to your own creation.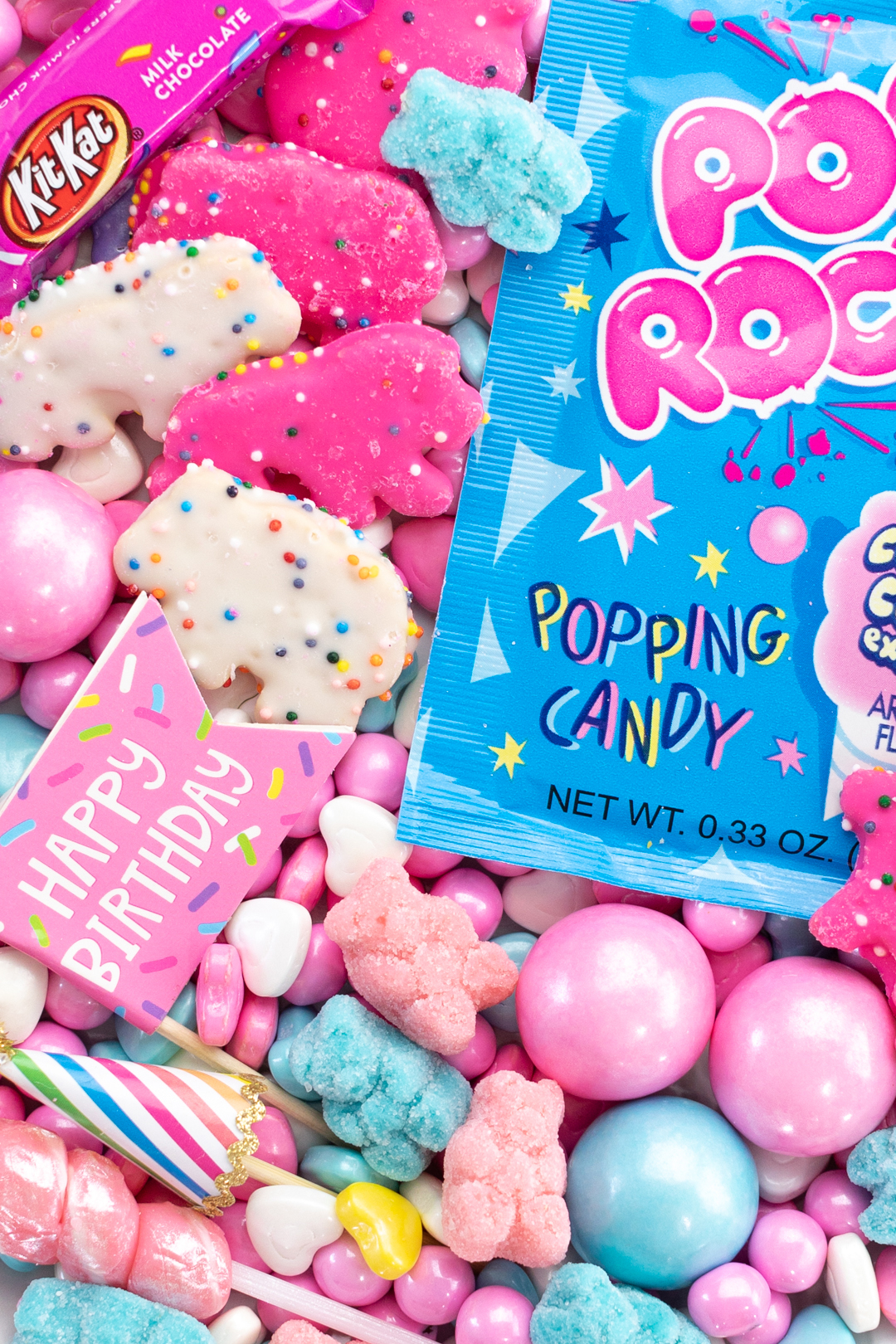 BIRTHDAY CANDY AND TREATS
Here are some fun options to fill your mini individual board/tray with. Of all the kinds of Individual Charcuterie Board Ideas, this one filled with candy is my favorite.
Get the links and printable list below.
Birthday Cupcake Toppers & Trinkets
Pastel Cookies with Sprinkles such as Mother's Circus Animal Cookies.
Pastel Gummy Candies
Pastel Lollipops
Pastel Gumballs
Pastel Sprinkle Mixes
Pastel Candy Coated Chocolates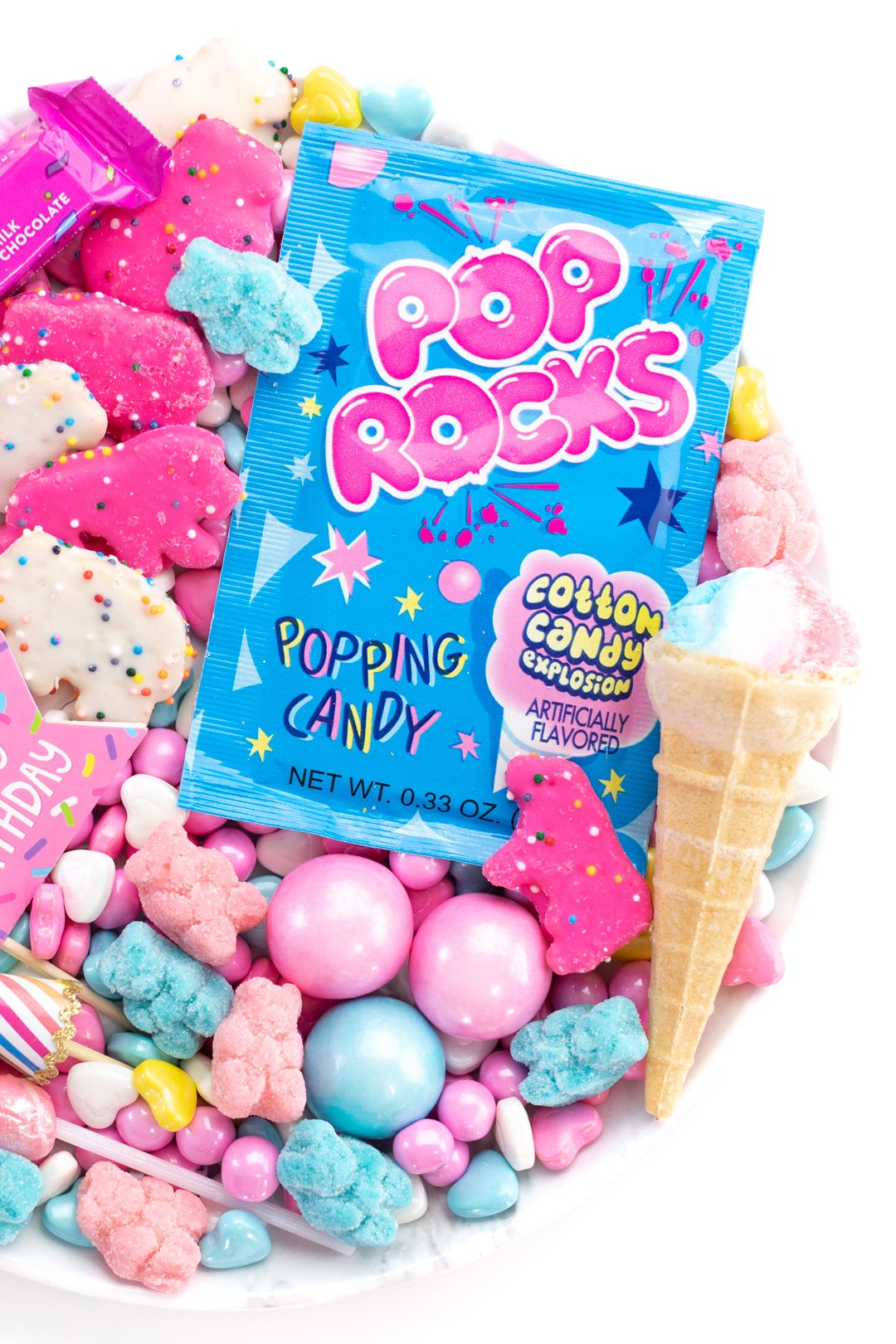 What you decide to add is all up to you. I love being able to match my candies and stick to a theme like pastel, but you could definitely focus on your recipient's favorite colors or candies.
While I adore a gorgeous party-sized candy charcuterie board, I am loving how easy it is to whip up an individual sized candy board! There's really nothing to it, but it will speak volumes to whomever you gift it to.

HOW TO MAKE A MINI CANDY BOARD
With little prep time, this fun treat is an easy winner! Here are the simple steps to make one of your own.
Find a small flat plate to use, something like a lunch plate but smaller than a dinner plate is perfect.

Spread out your smaller candies and sprinkles all over the plate as a base.

Place the larger candies on top by alternating the colors and textures. This will make your candy board prettier to look at for that grand presenation.

Add a Happy Birthday Cupcake Topper as a final touch for your recipient!

Take a picture of their reaction for added fun.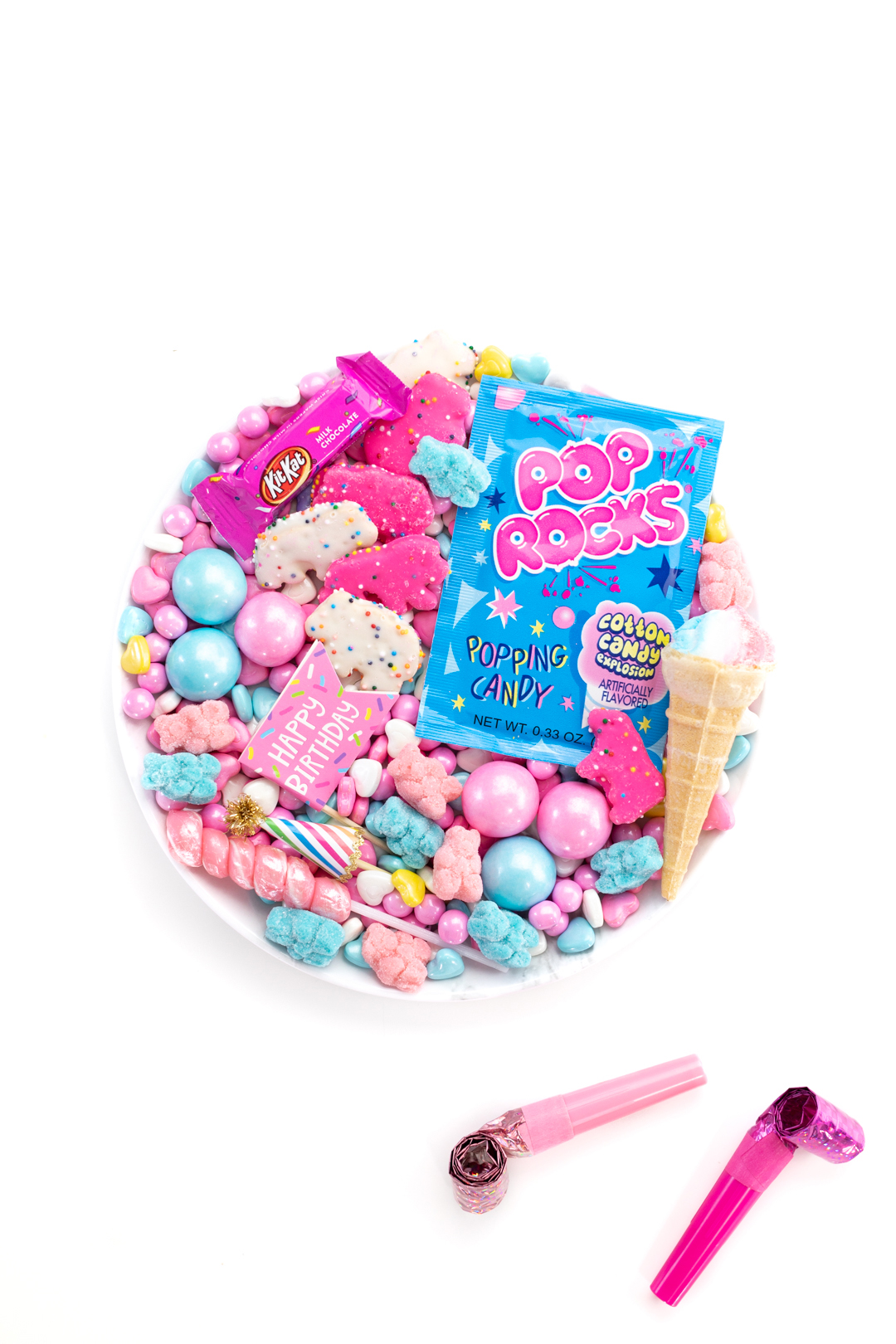 BEST BIRTHDAY IDEAS
Looking for more fun ways to celebrate a birthday? I totally have your back.
This full sized birthday candy board is a guaranteed crowd pleaser using very similar candies to this one.
Calling all Bluey fans, this adorable all-blue candy board is the cutest.
Looking for a different kind of sweet treat? These yummy birthday bars are so easy to make and they are no bake.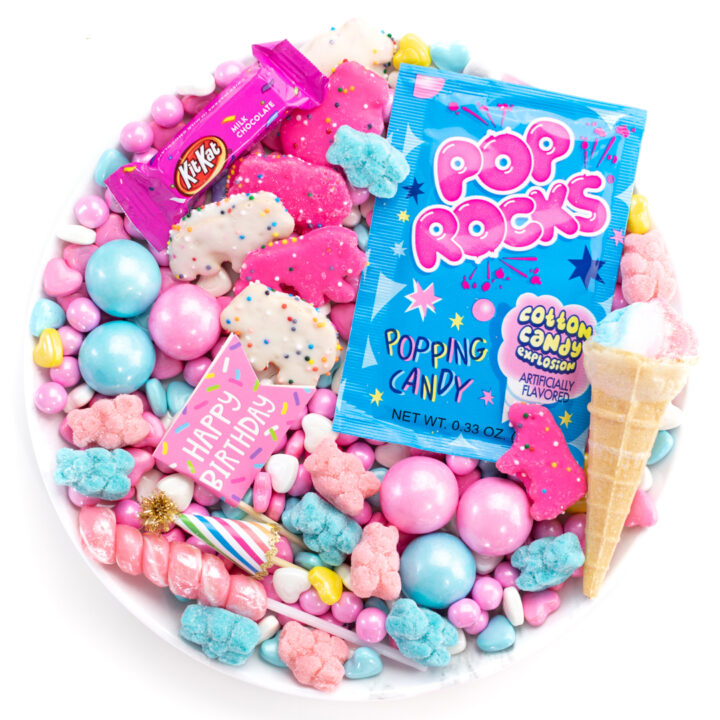 Birthday Candy Board For One
Mini Individual Candy Charcuterie Board for one person.Made with the prettiest pastel candies and treats. Perfect for birthdays.
Ingredients
Mother's Circus Animal Cookies
POP ROCKS Popping Candy, Cotton Candy
Kit Kat Miniatures Candy - Pink
Pastel Gummy Bears
Pink Mini Twisty Lollipops
Yum Yum Marshmallow Cones
Sugared Rainbow Gummy Triples
Shimmer Powder Blue Color It Gumballs
Shimmer Light Pink Color It Gumballs
Pastel Sprinkles of Choice
Sweetworks Celebrations Shimmer Pastel Hearts
Instructions
Find a small flat plate to use.
Spread the smaller candies and sprinkles all over the plate to start.
Place the larger candies carefully on top. Alternate colors and textures to make a more interesting looking board.
Add a Happy Birthday Cupcake Topper as a final touch.
Recommended Products
As an Amazon Associate and member of other affiliate programs, I earn from qualifying purchases.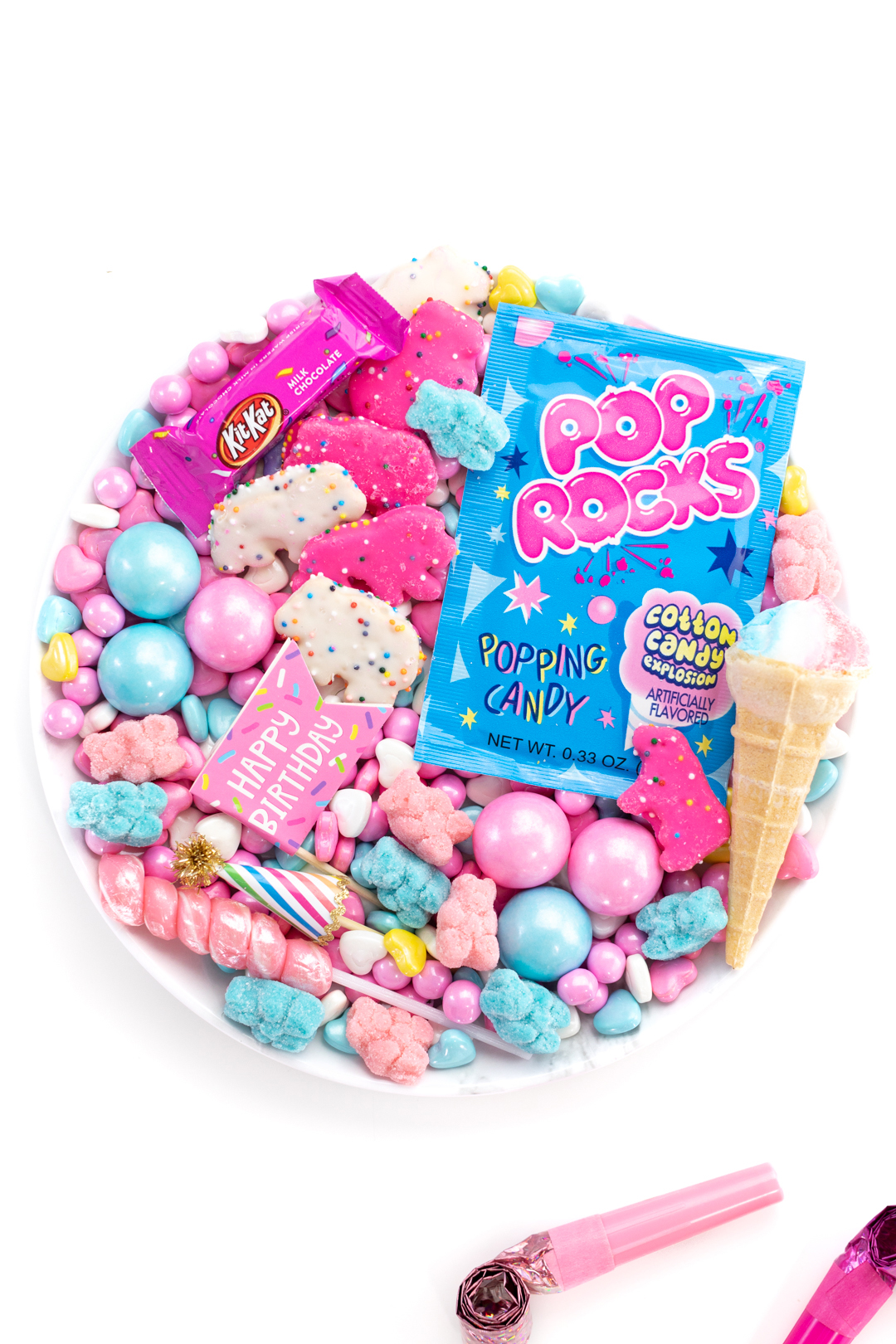 If you make your own individual candy board, I would love to see it! Tag me on social media! Happy creating!