Everyone has a birthday. Seemed like a no-brainer to share a birthday celebration idea or two here on the blog. When I got the idea to put together a Birthday Candy Charcuterie, I got pretty excited. I wanted to make it all birthday cake color themed which means pink and blue candies and treats galore. These little things make me all giddy. Hoping this list of all the perfectly colored birthday inspired mini cakes, cookies and candies for a dessert board or tray will help you plan the perfect celebration. This is definitely the ultimate birthday candy charcuterie board filled with the best sweet treats and birthday-inspired eats.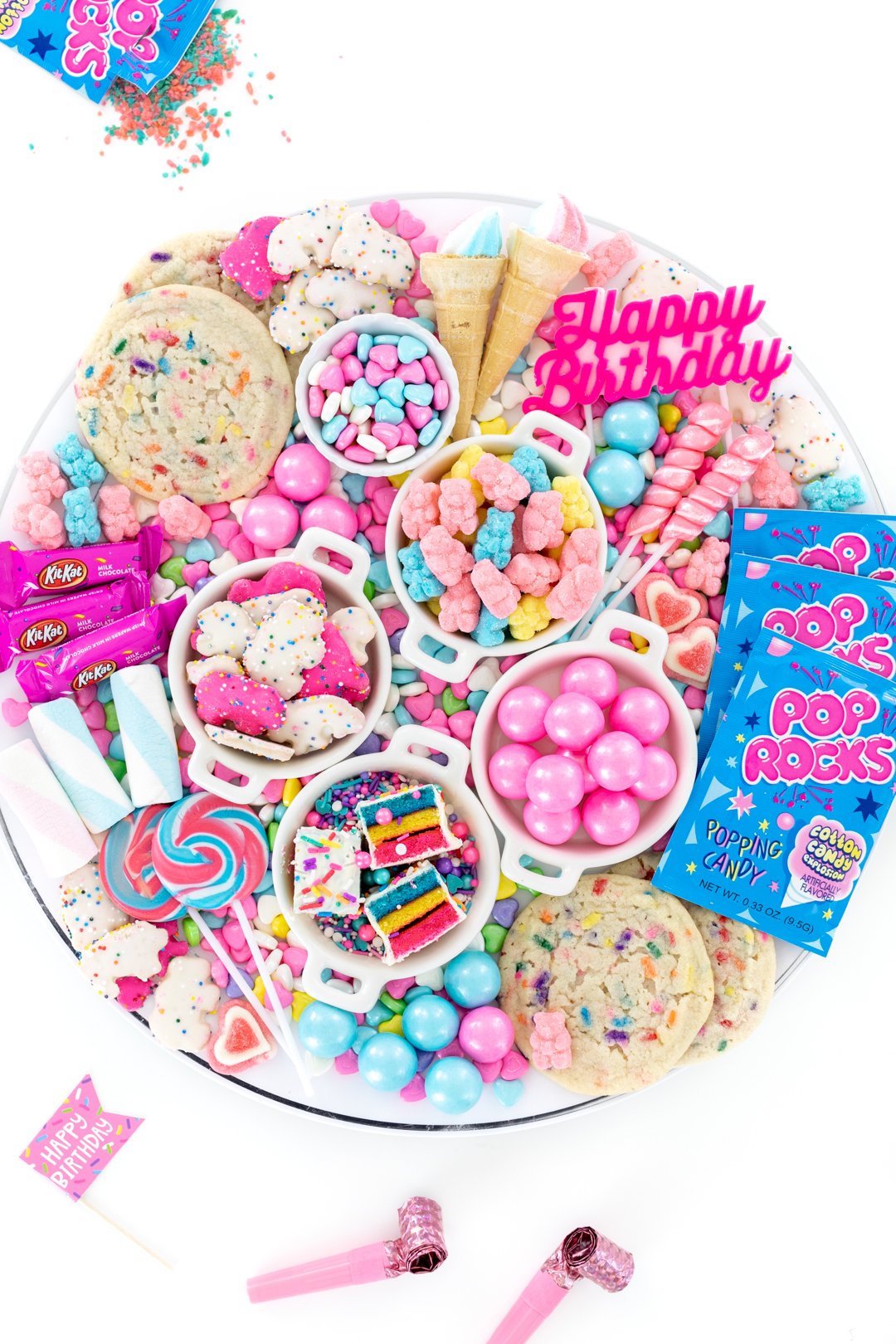 If you're looking for birthday dessert ideas or a birthday cake alternative, this colorful dessert board is just perfect. This list of perfectly selected goodies is going to be a crowd-pleaser!
BIRTHDAY PARTY FOOD CANDY CHARCUTERIE
It's not always easy to come up with unique birthday food ideas and that's what makes this dessert charcuterie such a great idea. You can mix and match, omit or add your favorite candies, hand-held cakes and cookies.
You can easily customize this for the birthday boy or girl by adding their favorites or by choosing treats inspired by the decade they were born. There are so many fun options! Perhaps the best part about these birthday food ideas are good for both kids and adults. Score.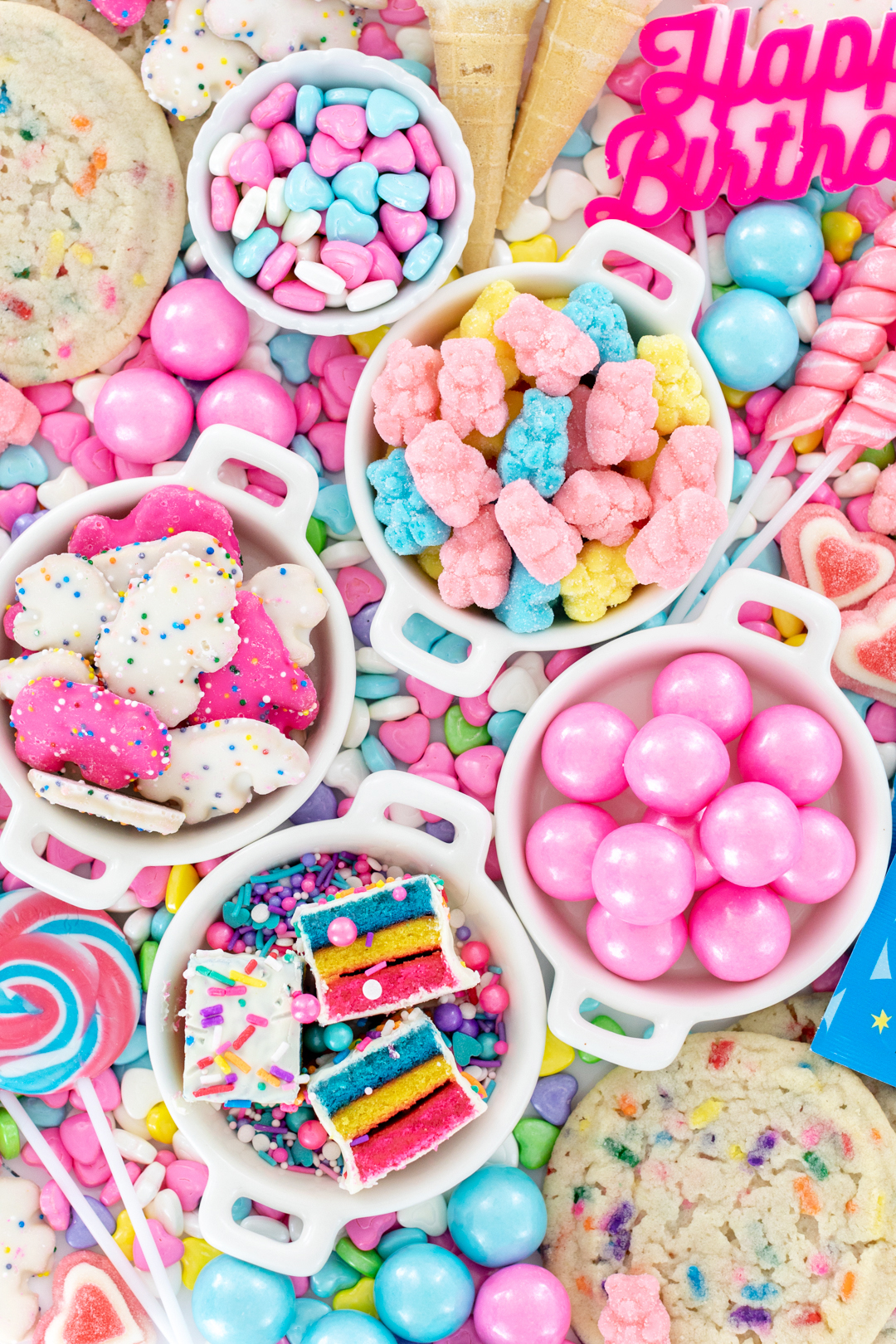 I happen to think this is one of the best birthday party ideas around. When it comes to planning birthday party food, I tend to lean towards whimsical ideas. Indulgent treats that you might not enjoy very often.
HOW TO CHOOSE A TRAY OR BOARD
Your guest list will help you to know which size tray or board you'll need. The more people who are coming, the larger tray you will want. Alternately if you have multiple party tables, you might want to prepare one for each table.
If you are looking for really large trays, they are harder to find. I've found the really big ones at Pier 1, custom made on Etsy and then a simple one like the one that I used at my local party store. For only $4, I have no regrets on this one vs the latter which are a pretty penny.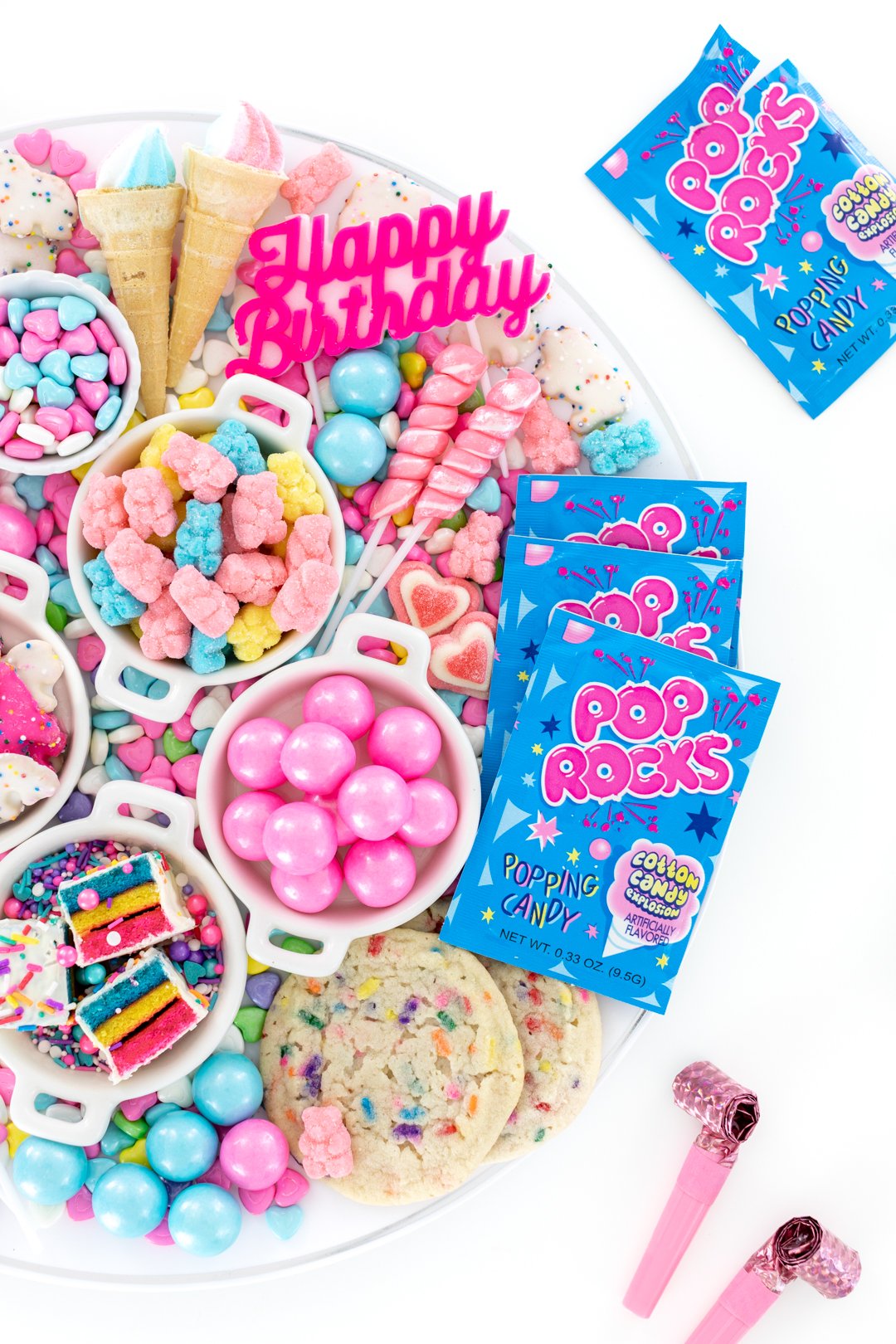 PASTEL BIRTHDAY CANDY AND TREATS
Here are some fun options to fill your board/tray with. Get the links and printable list below.
Pastel Gummy Candies
Pastel Marshmallows
Pink & Blue Wrapped Candies and Chocolates
Pastel Lollipops
Pastel Gum Balls
Pastel Sprinkle Mixes
Birthday Candle
Cookies & Cakes with Sprinkles & Pastels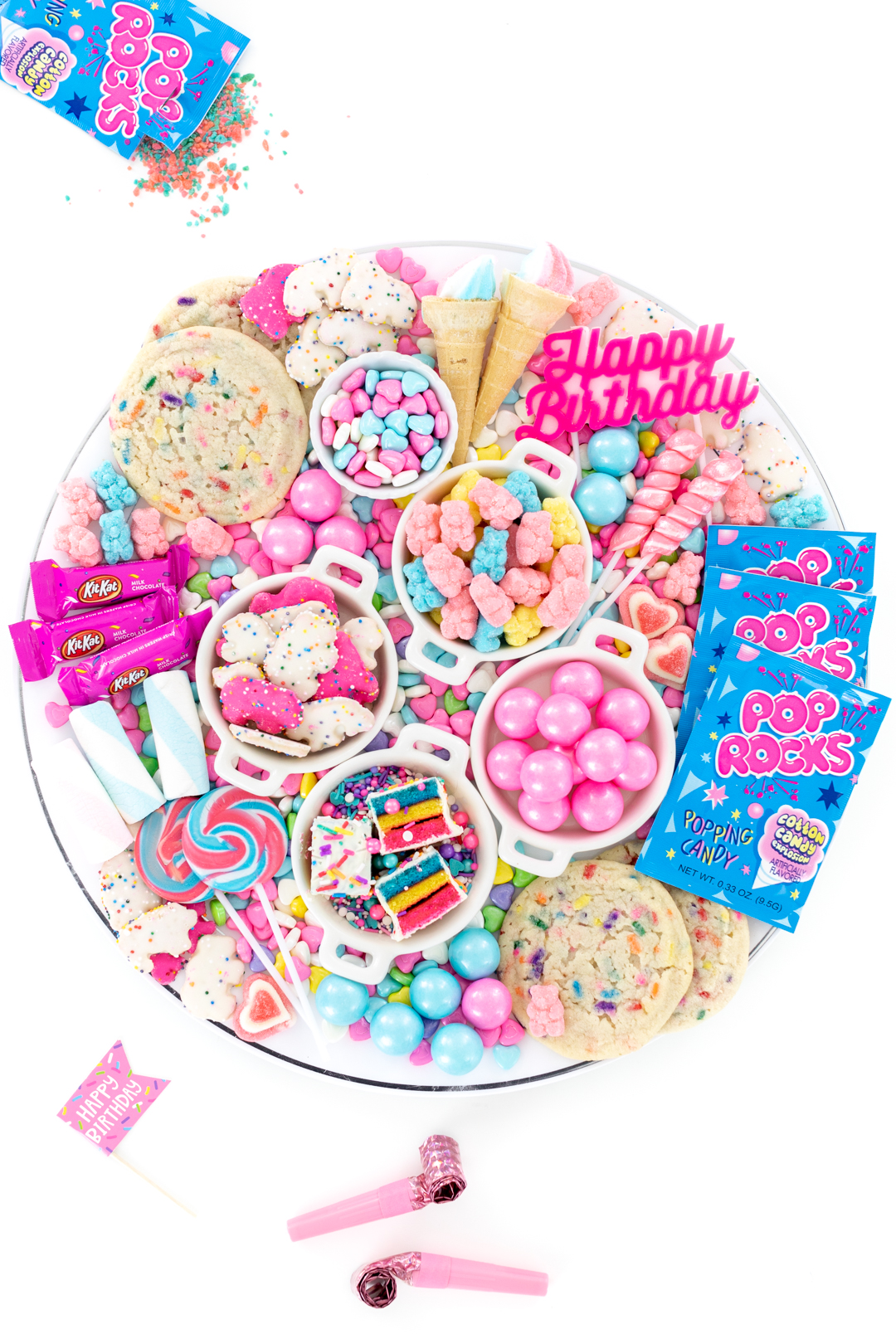 TIPS FOR SETTING UP A CANDY CHARCUTERIE
After you choose your candy, mini-cakes and cookie selections, spread them out evenly over your tray or board.
For the most attractive outcome, alternate textures and colors when you lay out your sweets.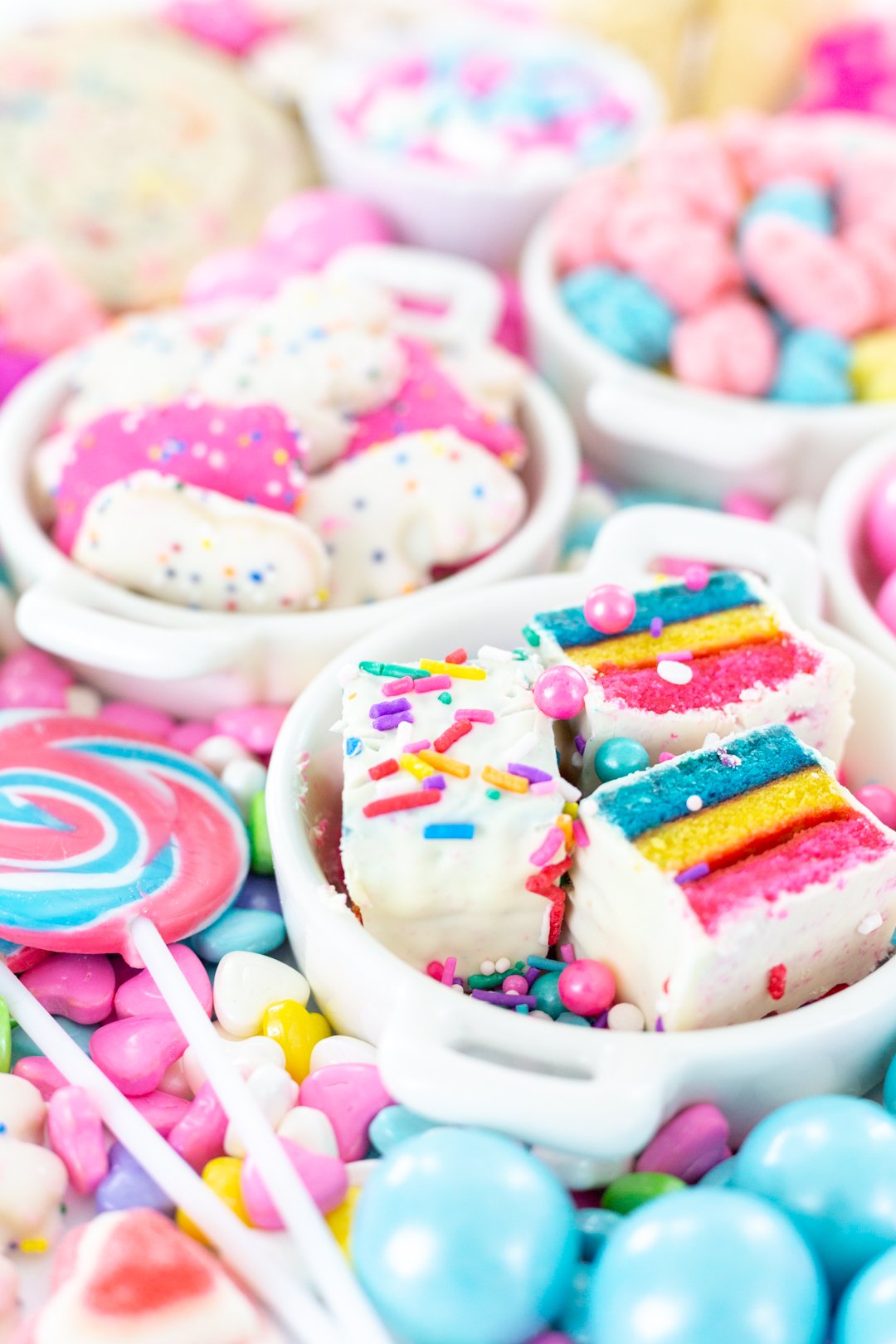 Use smaller dishes and containers to divide treats and add more visual interest.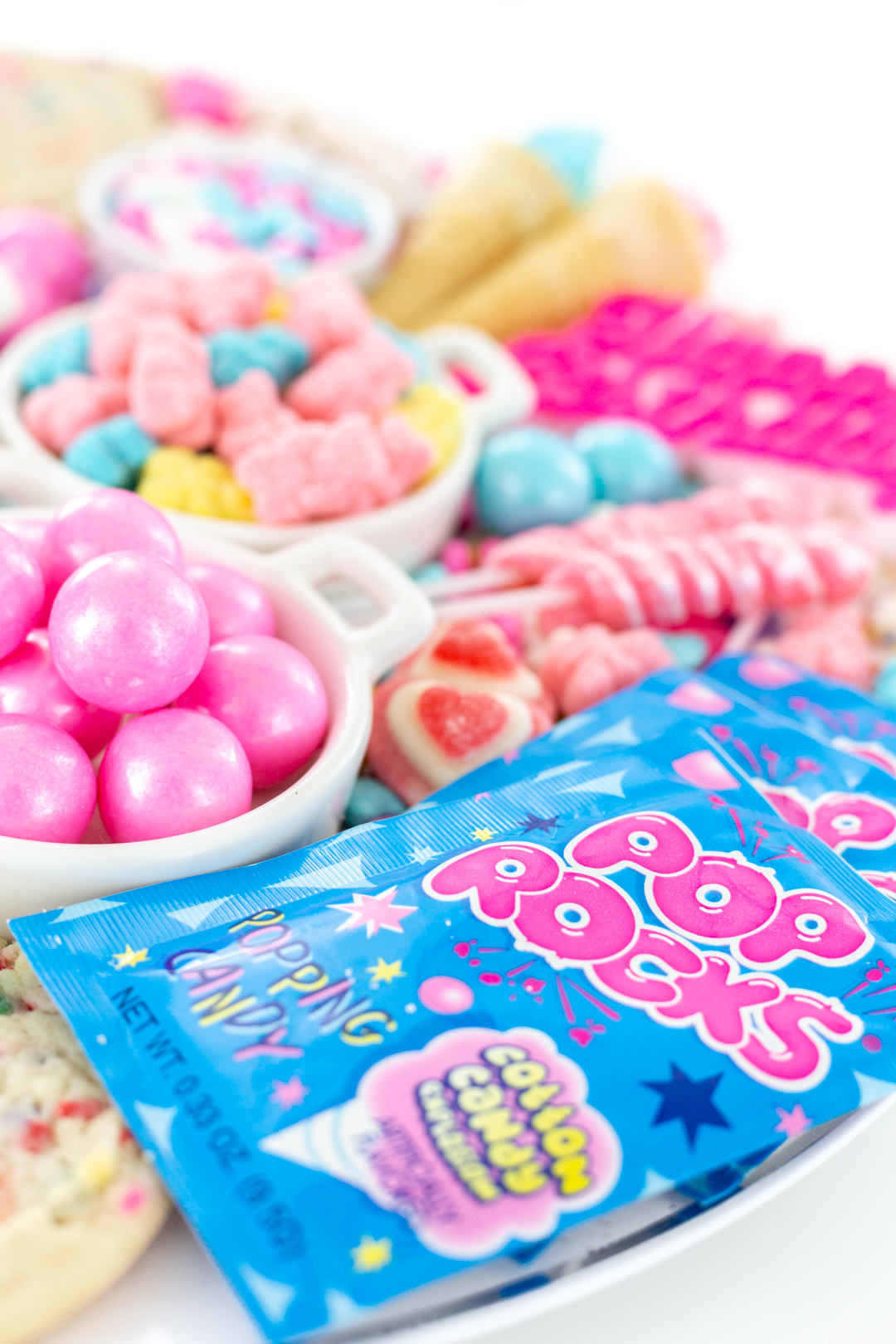 Add sprinkles and/or smaller candies in between everything to make the board feel more full and look prettier.

For the perfect final touch, add a Happy Birthday Candle or sign to the board.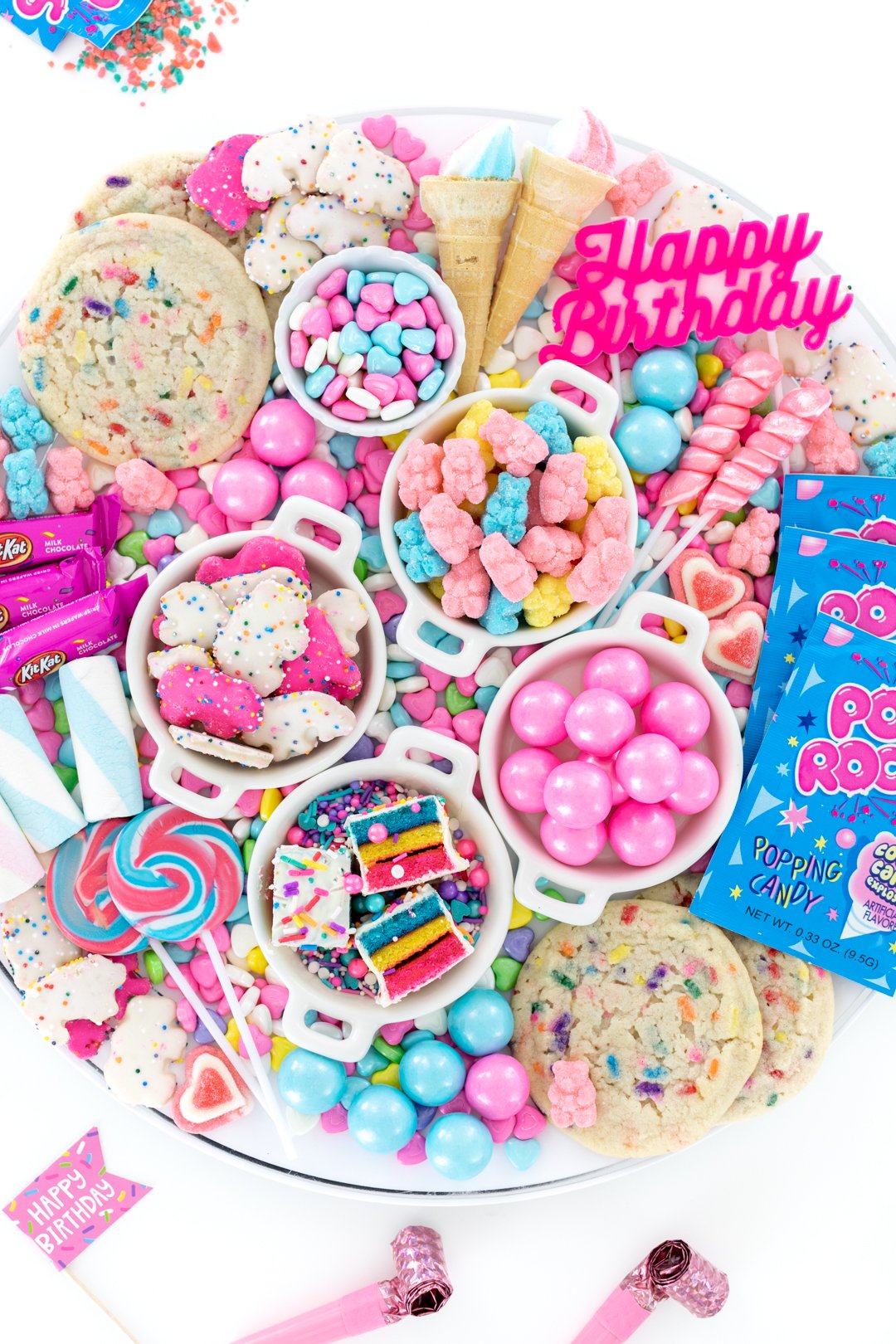 Best Candy Charcuterie Boards
Find the best candy charcuterie boards for every occasion on the Cutefetti blog.
DESSERT CANDY BOARDS
Candy board made with all heart-shaped candies and chocolates.
Cookie DIY cookie decorating tray is a dessert and a party activity rolled into one.
Easy cookie tray using all store-bought cookies.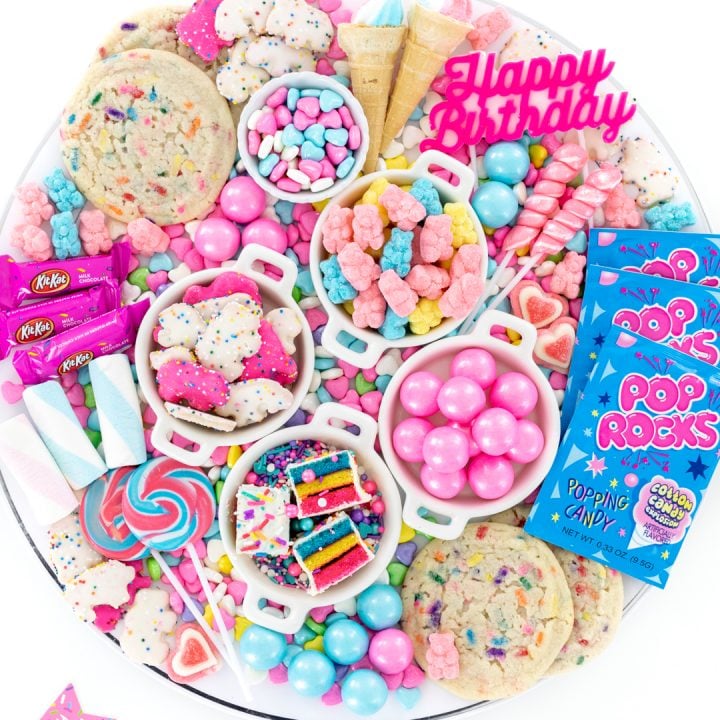 Birthday Candy Charcuterie Board
Prep Time: 30 minutes

Total Time: 30 minutes

Best birthday party charcuterie board with pastel candy. cakes and cookies.
Ingredients
POP ROCKS Popping Candy, Cotton Candy
Kit Kat Miniatures Candy - Pink
Pastel Gummy Bears
Puffy Poles Pink & White Jumbo Marshmallow Twists
Puffy Poles Light Blue & White Jumbo Marshmallow Twists
Pink, Blue & White Swirl Lollipops
Pink Mini Twisty Lollipops
Yum Yum Marshmallow Cones
Sugared Rainbow Gummy Triples
Shimmer Powder Blue Color It Gumballs
Shimmer Light Pink Color It Gumballs
The Original Cakebites, Ultimate Party Cake
Pillsbury Confetti Big Cookies, prepared
Pastel Sprinkles of Choice
Sweetworks Celebrations Shimmer Pastel Hearts
Meri Meri Pink Happy Birthday Candle
Instructions
Choose your size tray or board based on how many guests you are serving.
Spread your candy, mini-cakes and cookie selections out evenly over the tray/board.
Alternate colors and textures to make a more interesting looking board.
Divide treats out by putting some into smaller dishes and containers.
Spread smaller candies or sprinkles around the main treats to create a full and attractive tray/board
Add a Happy Birthday Candle or sign as a final touch.