Imagine if eating healthier was easy? It's something I'm always venting about with my husband. With my busy schedule, I'm often struggling to put together a healthy lunch for myself. The only thing that has worked is planning ahead. As soon as I get off track though, it's pure mayhem. Can you relate? A recent discovery of the new Rubbermaid Balance Meal Kits has me feeling hopeful again. I created 3 cafe style protein boxes that are changing my lunch game. This is a sponsored post about Rubbermaid Balance Meal Kits, all opinions are my own. 

Meal planning with just the right portions just got so much easier. Each Rubbermaid Balance Meal Kit comes with pre-portioned protein, grain, fruit, and vegetable containers. Now, all we have to do is fill em' up and we're good to go. Less thinking and no measuring. Right up my alley.  The kit also comes with plenty of ideas if you need a kick-start too. *Raises hand*.  From hummus, chicken and yogurt combos to rice and salad based ideas.  There are some magic foodie combo ideas right in your box.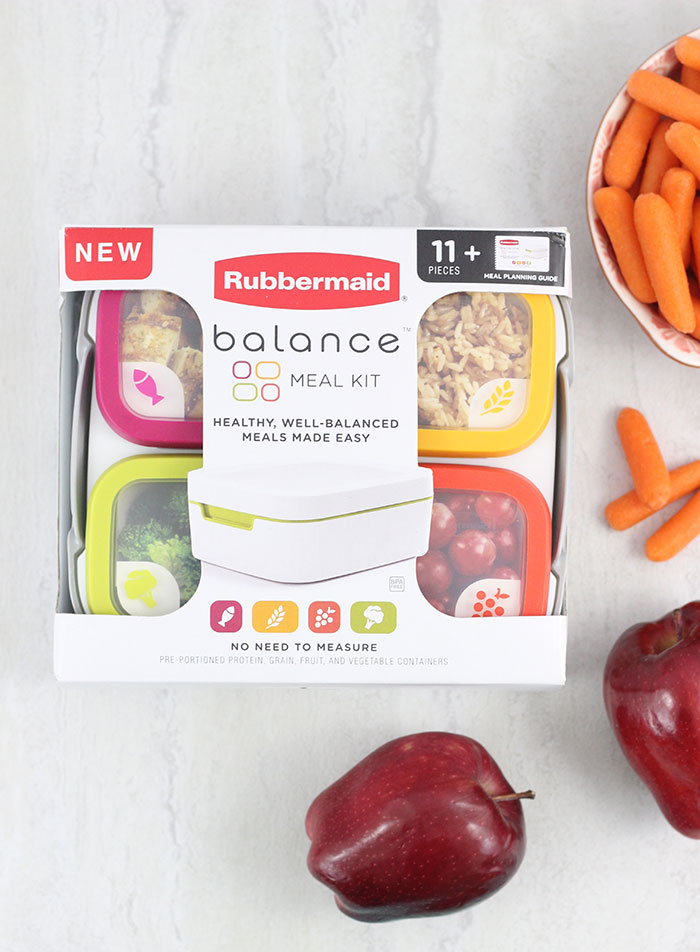 Each container has a coordinating symbol on it, so we won't forget which is which. My mind is racing with fun ideas on how to fill each container up with fun and fresh combos. I thought it would be cool to start experimenting with copycat cafe style protein boxes. You know, the ones you can pay big bucks for at the drive through in a pinch? I love those so much, but my wallet does not. Plus, sitting at the drive-through at lunch is a major time sucker. I'm a fan of working smarter, not harder. I love the three ideas that I came up with and I hope you do too!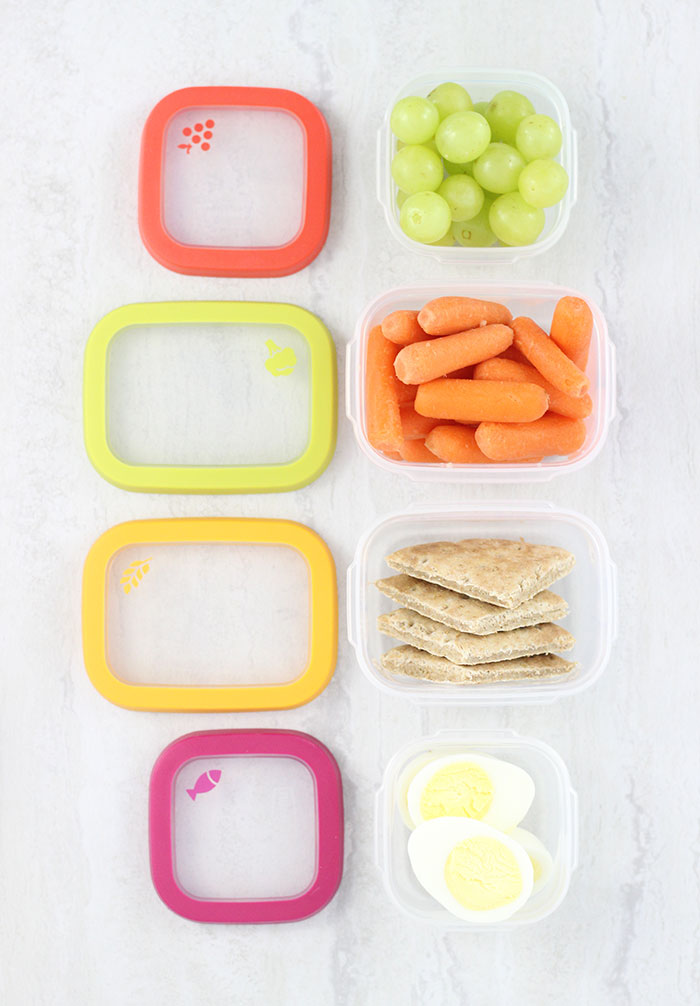 Want to join me for an inspired pre-portioned lunch? Let's eat!
3 DIY Protein Boxes
Cheese & Fruit Protein Box
Make a tasty cheese & fruit box with your choice of add-ins. I love apples, celery, cheese, crackers, a boiled egg to help keep me full for this one.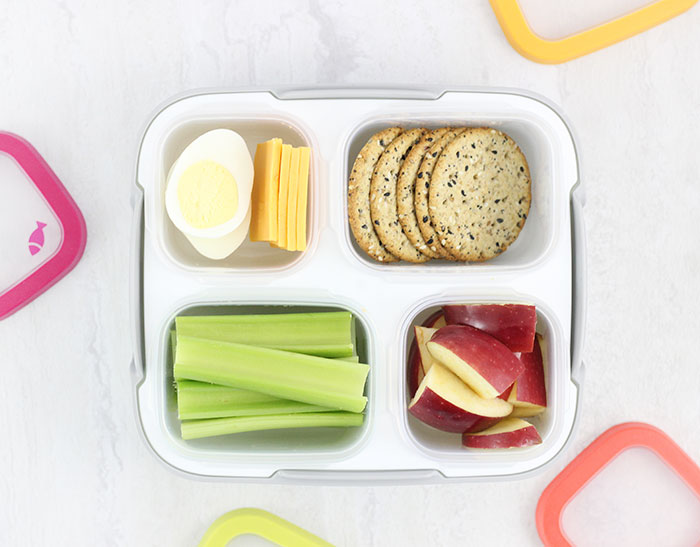 PB&J Protein Box
I love PB&J so much! Total classic throwback. Make it better by adding peanut butter and jelly to whole grain pita and add cheese, apples and carrots for a filling lunch on-the-go.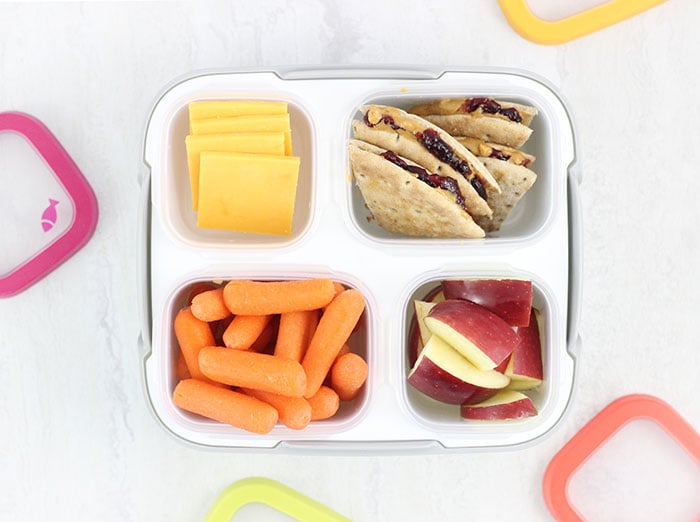 Egg & Cheese Protein Box
This box features boiled eggs, grapes, celery, wheat pita with peanut butter spread on it. Another filling lunch idea.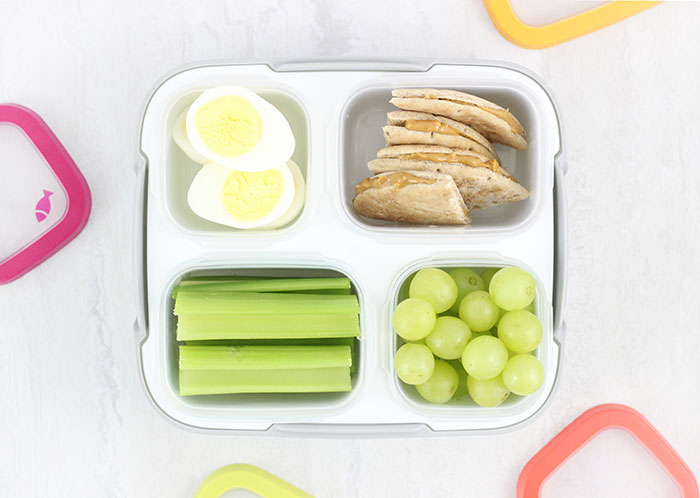 I just made myself hungry! Time to go grab a protein box.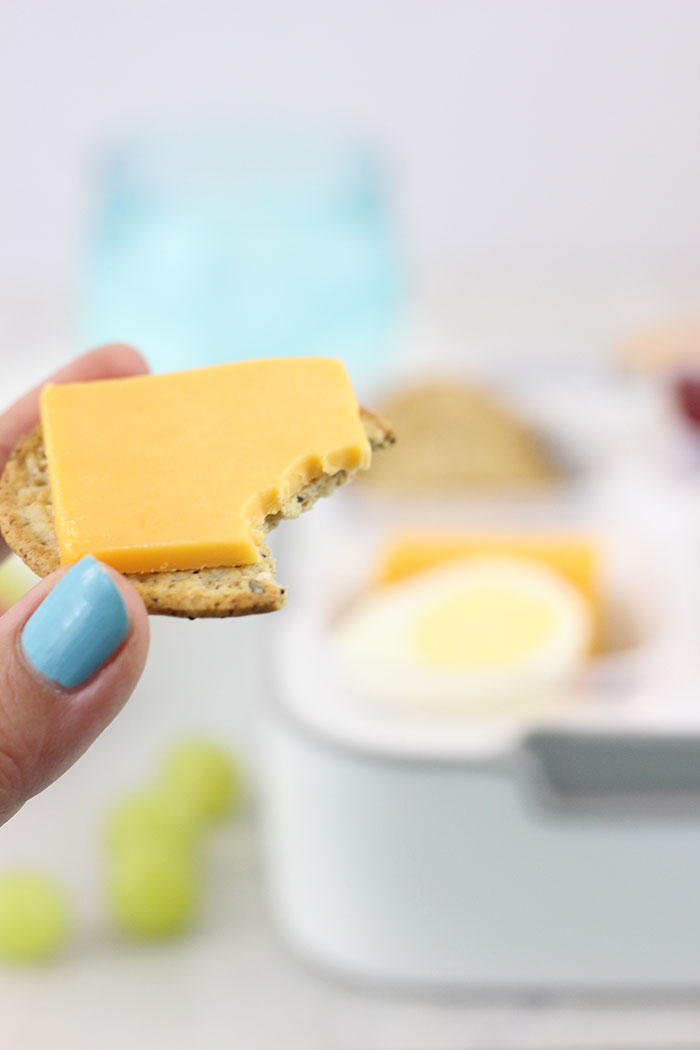 Oh you guys! I almost forgot to mention these extra bonuses! These meal kits are BPA-free AND microwave, dishwasher, and freezer safe. The kits are available at retailers nationwide. 
Join me for better lunches!
Visit Rubbermaid.com for more info about these new Balance Meal Kits.
What would you add to your kit for lunch?