"Yo ho yo ho a pirate's life for me". Pirate parties have been super popular for years. I know I've hosted one! With movies like Pirates of the Caribbean and continued love of characters like Smee and Captain Hook, they will continue to grow in popularity for years to come. That's why I knew that I had to create a Pirate Candy Charcuterie Board asap. This post may contain affiliate links.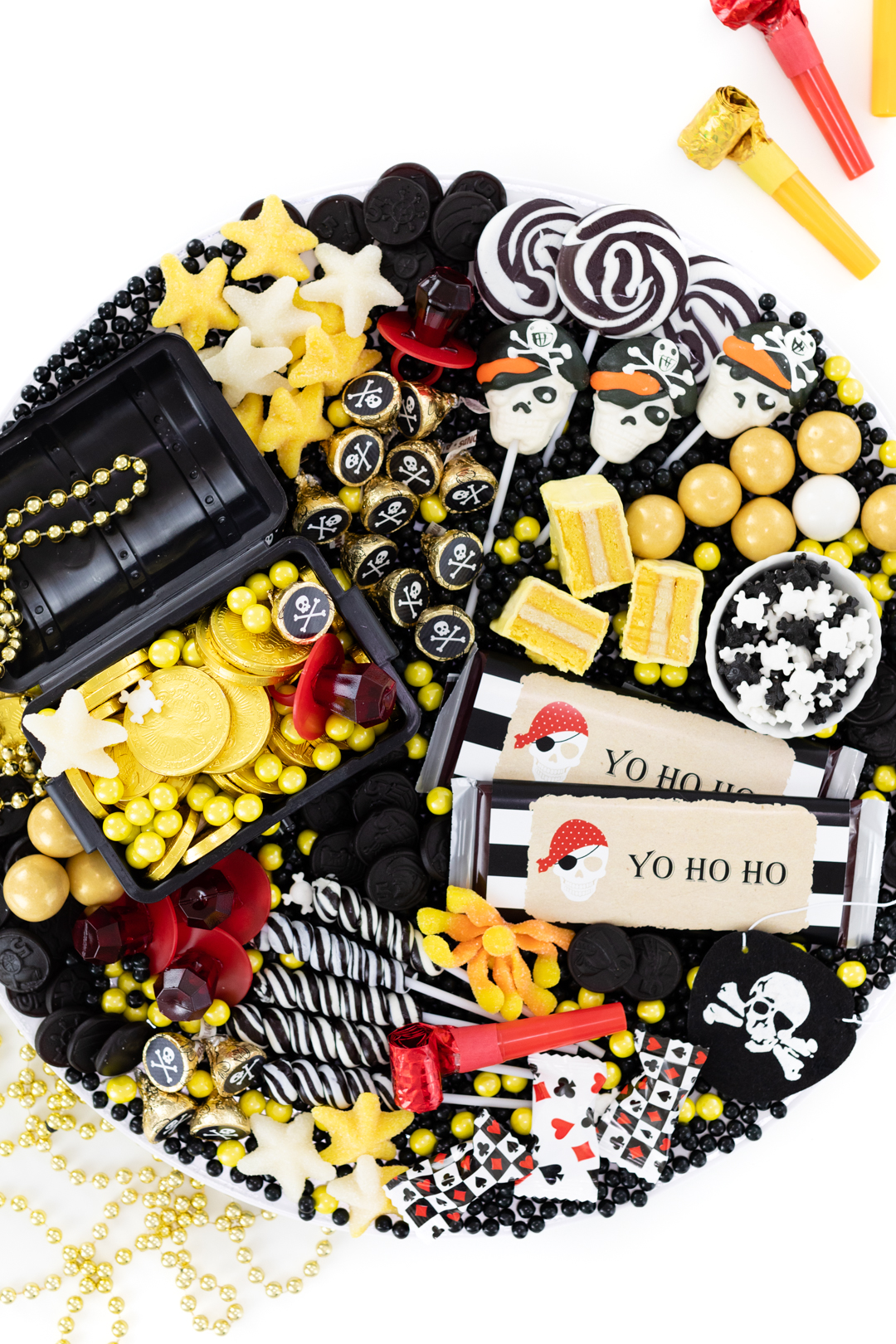 I'm also super excited to be going on my first Disney Cruise aboard the Disney Dream next week where they have a special Pirate's Night! I'm seriously looking forward to it the most. I'll be sharing how it goes, so watch out for that if you're intrigued!
I have to admit that this candy board was really hard to put together and I almost gave up. I wanted it to look absolutely perfect and after sending much time curating and placing the candy charcuterie goodies in just the right place, here we are!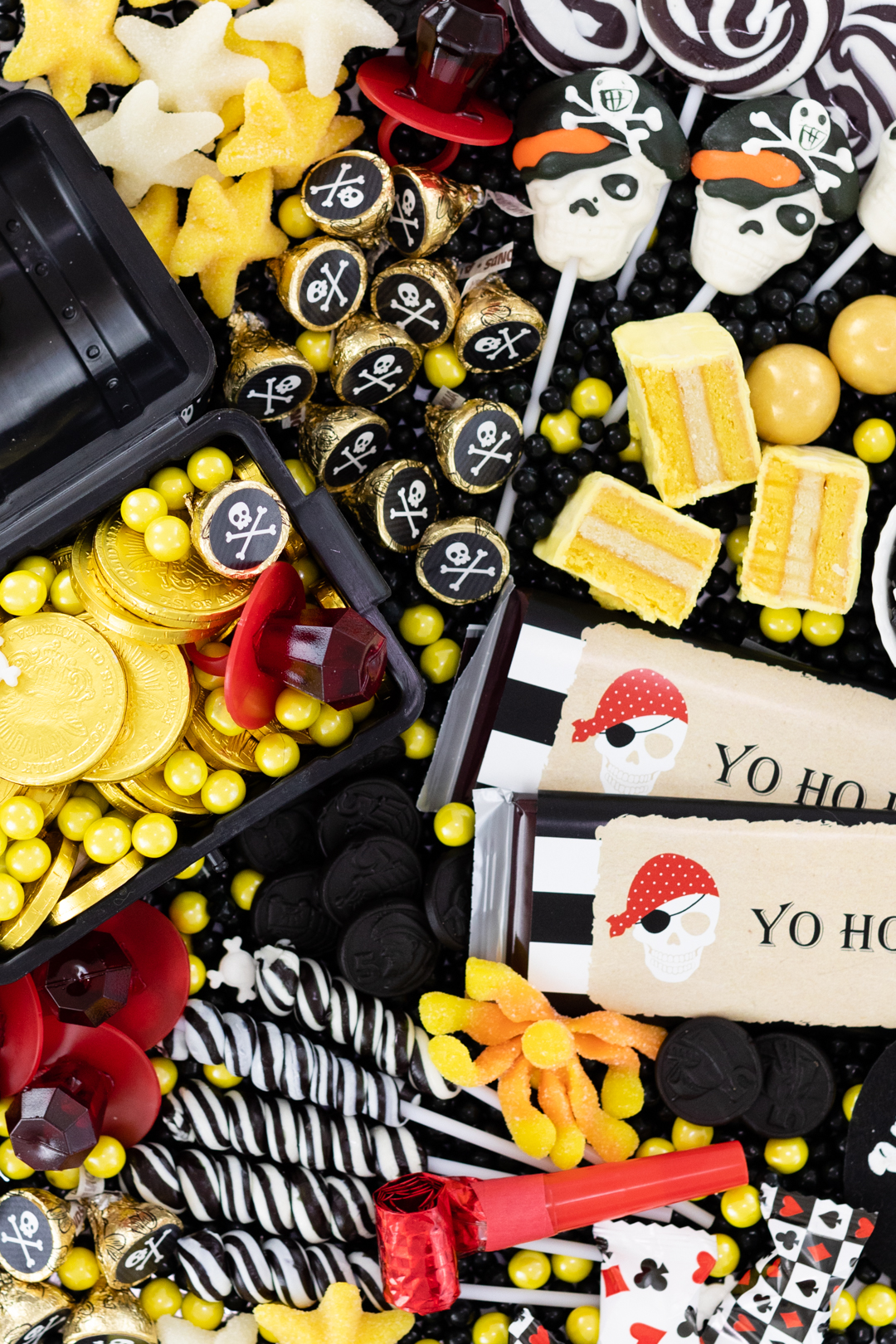 PIRATE PARTY CANDY BOARD
If you're looking for ideas for a pirate party, this dessert board loaded with the perfect hand-picked pirate candy is just what you need. With so much not-so-buried treasure to discover, there is something exciting for all of your little pirate pals.
One of the first things to do when planning out your Pirate candy spread is to decide on tray or board.
Use mini dishes or toy "treasure chests" to separate smaller candies and add visual interest.
Choose which colors you will stick to. I recommend no more than four if you can. I chose gold, black, white and red for this one.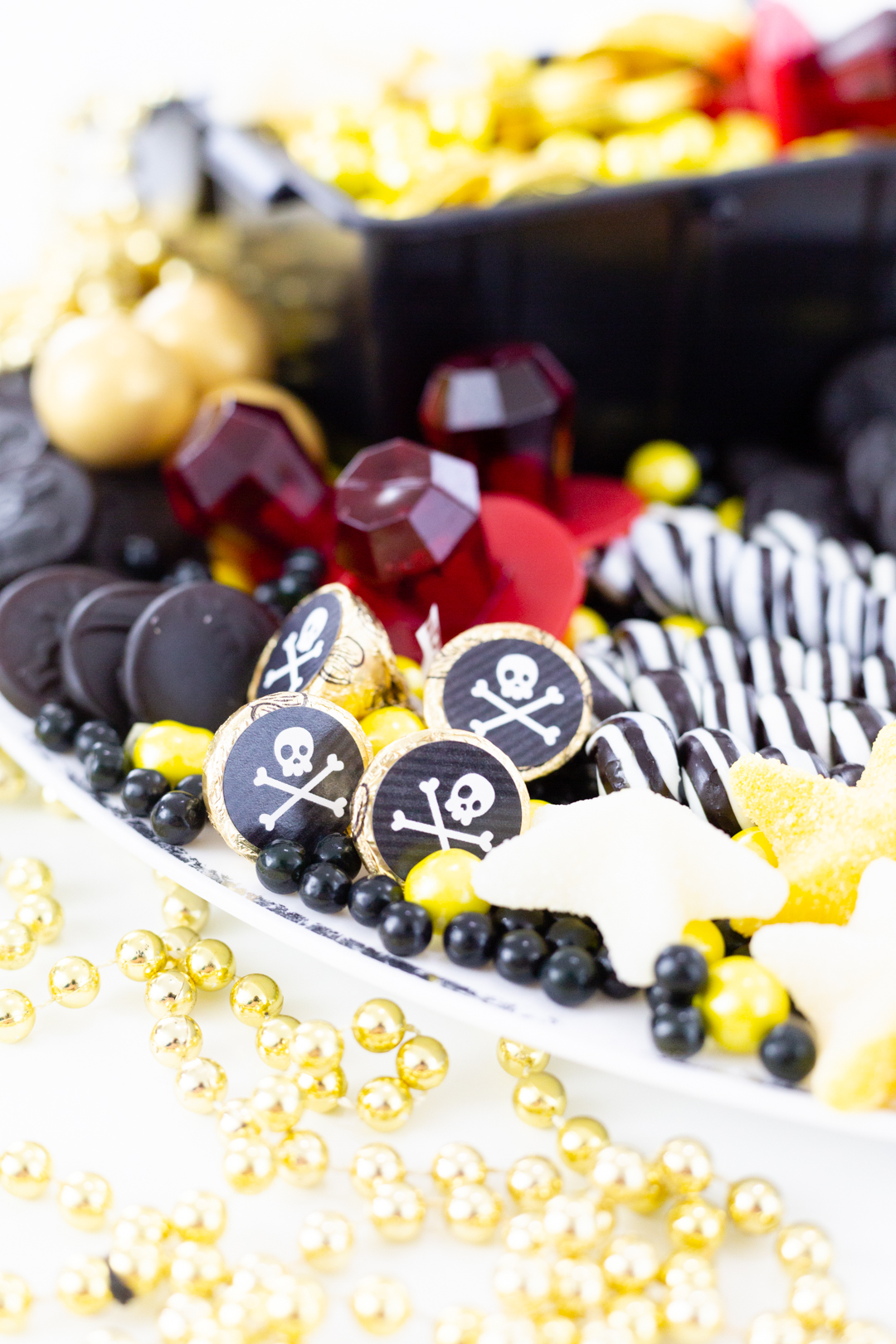 Let's chat about the perfect pirate booty by the way of candy! I am breaking them down in a few categories to help you navigate and choose which candies you want to serve.
PIRATE CANDY
Frosted Pirate Skull and Cross bone Suckers, here.
Haribo Piratos, here.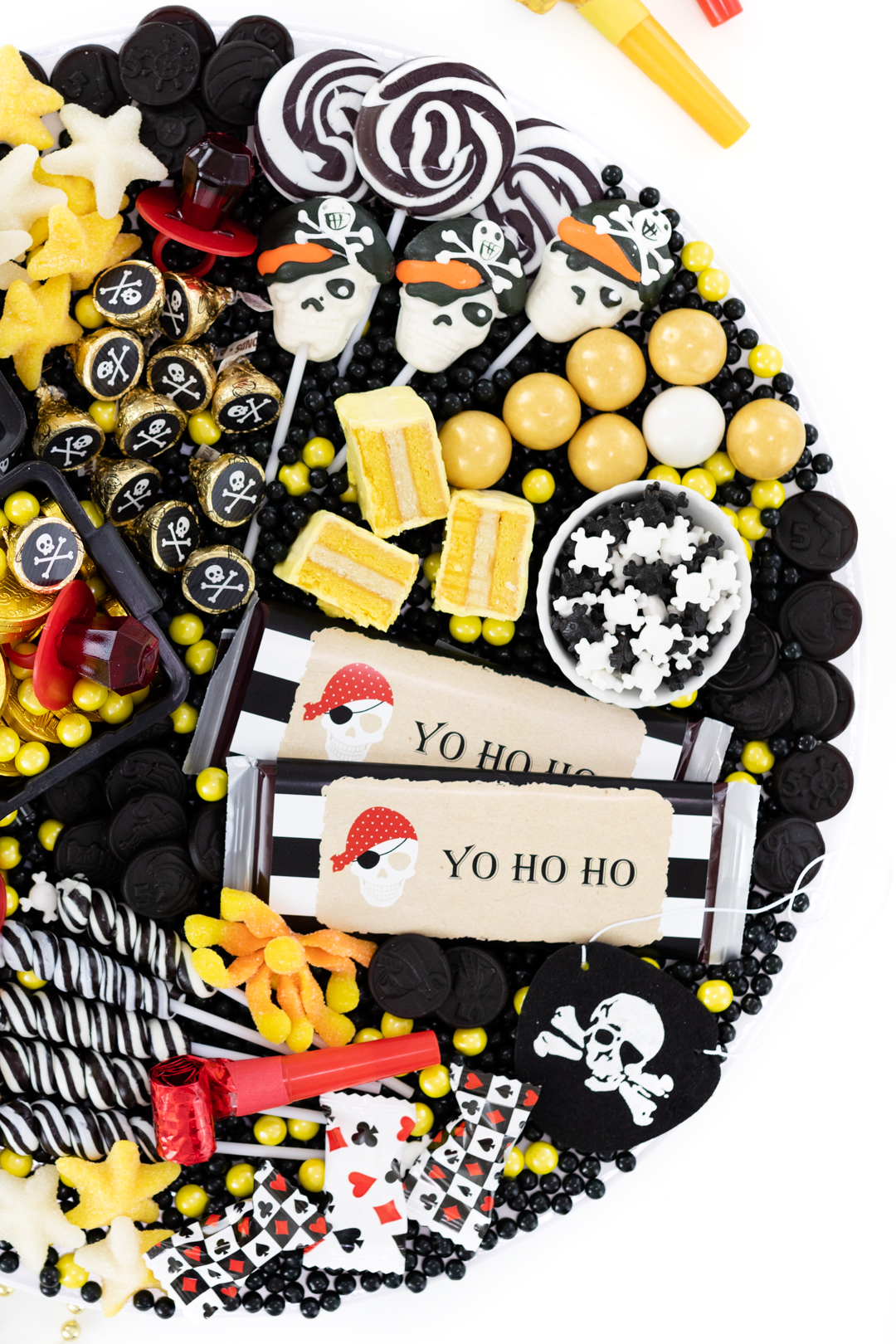 GOLD CANDY
Hershey Kisses Creamy Milk Chocolate With Almonds, here.
Gold Chocolate Coins, here.
Gummy Tropical Starfish, here.
Not completely gold. but totally worked for this. This lemon party cake, here was perfect.
Trolli Sour Brite Octopus, here.
Color it Candy Shimmer Gold Gumballs, here.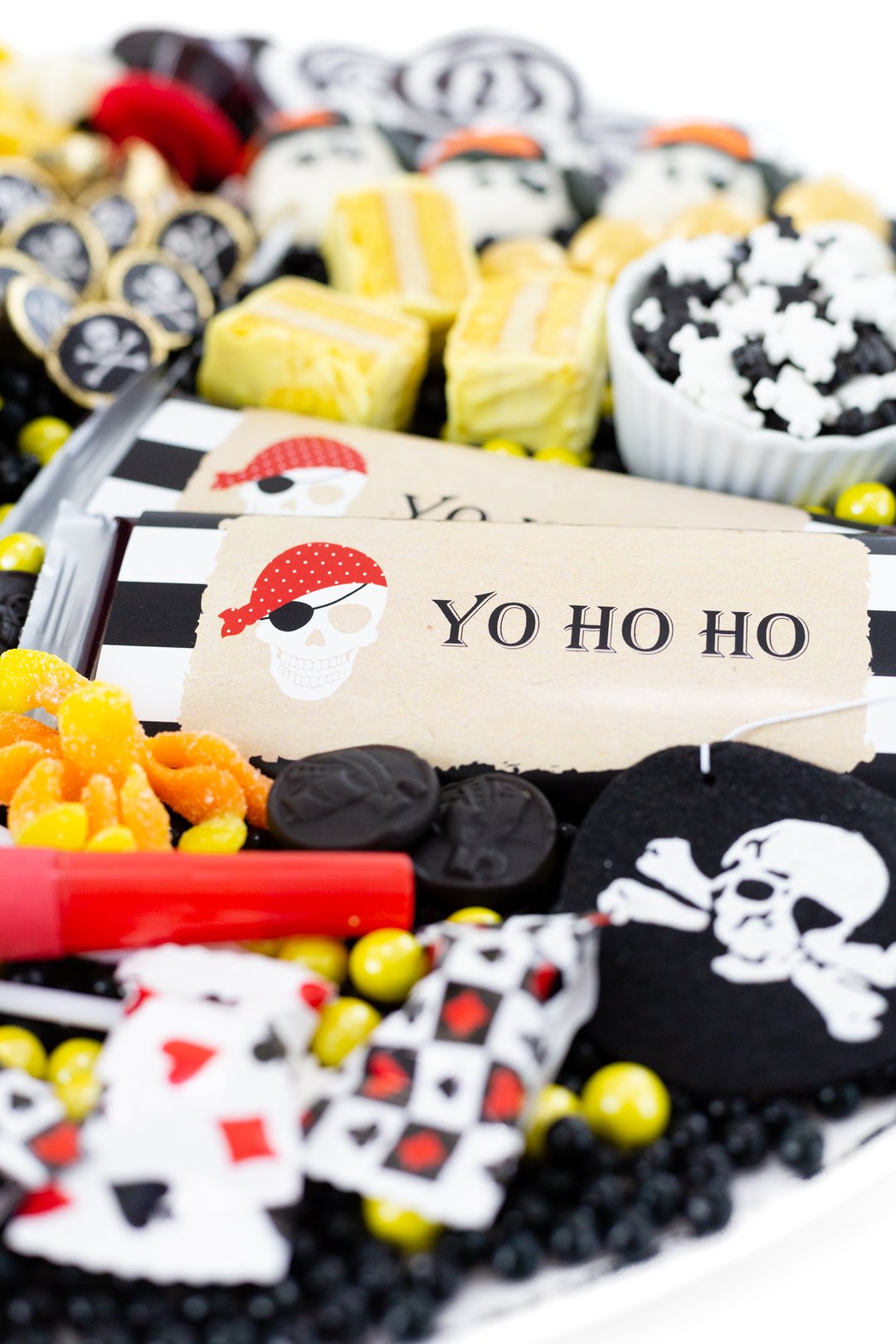 BLACK AND WHITE CANDY
Black & White Swirl Lollipops, here.
Black Mini Twisty Lollipops, here.
Frosted Pirate Skull and Cross bone Suckers, here. Your candy board will not be half as cute without these!
Card Games Buttermints, here. These have pops of red as well.
PIRATE PARTY STICKERS
Beware of Pirates - Candy Bar Wrapper, here. Fits perfectly on regular sized Hershey Bars, here.
Pirate Skull and Crossbones Stickers, here. These are a perfect for for the gold Hershey Kisses I linked above.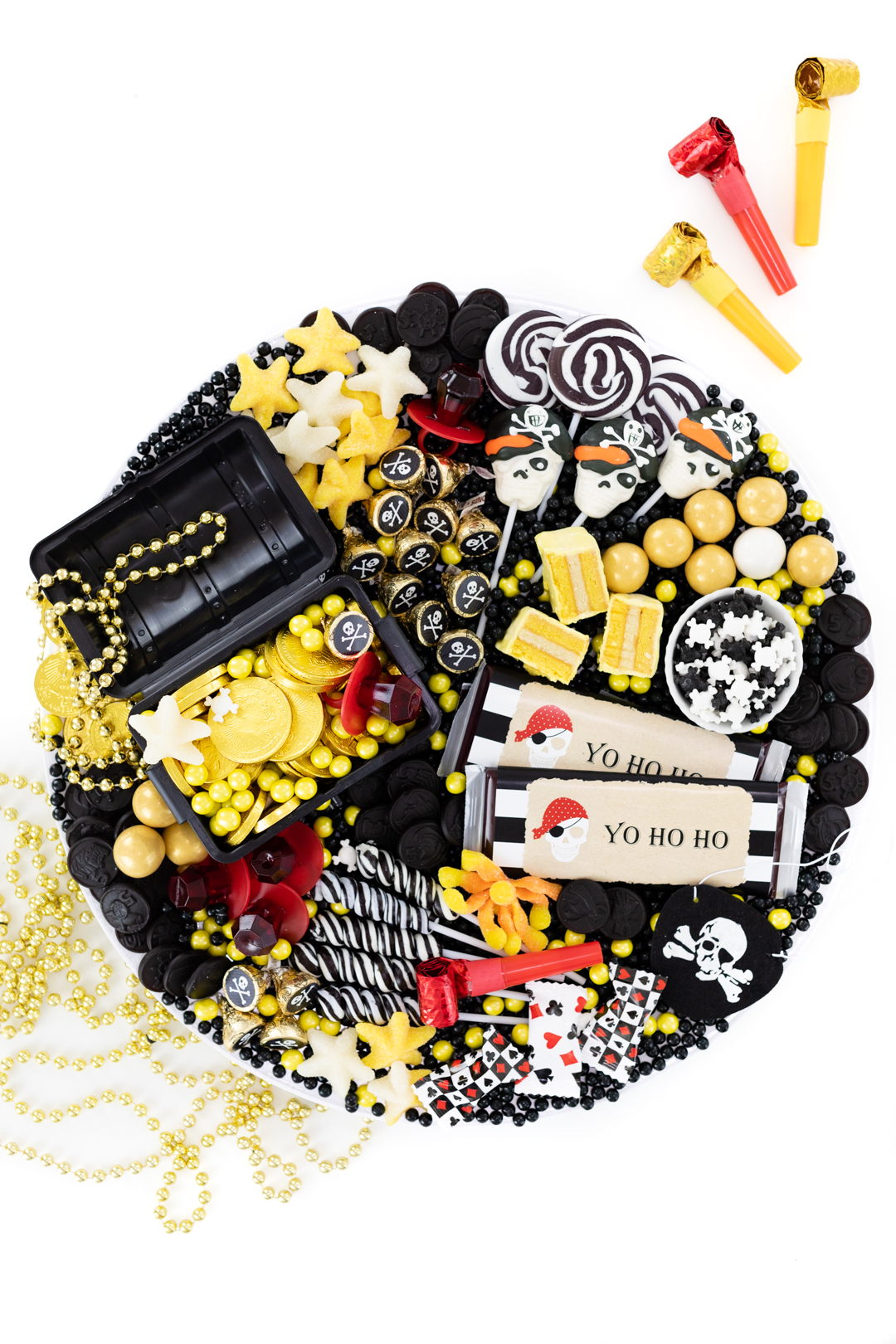 PIRATE PROPS
Mini Toy Treasure Chests, here.
Gold beads, here.
Pirate Eye Patches, here.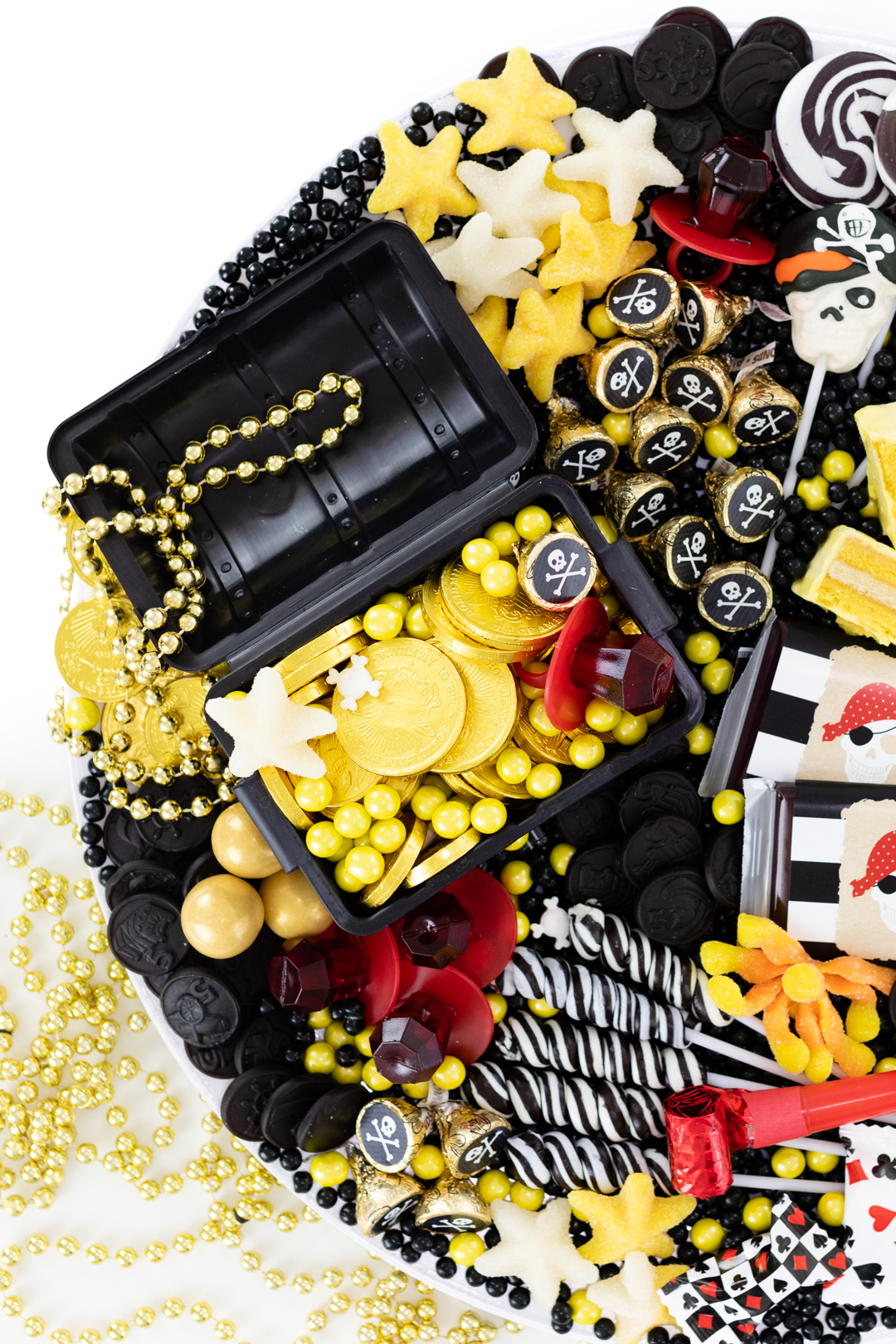 TIPS FOR SETTING UP A CANDY CHARCUTERIE BOARD
Alternate candy colors when layering your selections onto your tray.
Use fillers like smaller candies and sprinkles to fill up the entire tray or board to give that feeling of abundance that is desirable.
Once you are doing setting up, go back in with smaller filler candies/sprinkles to fill in any unexpected spaces.
PARTY CANDY BOARDS
Planning a Unicorn party? This pastel candy board is super adorable.
This birthday board is loaded with the perfect candy selections to celebrate.
For a bold and sparkly treat, this Mardi Gras board is stunning.
Pirate Candy Charcuterie Board
Pirate Candy Charcuterie Board. Best Pirate Party Candy Ideas. Gold Coins, Skull Candies.
Ingredients
The Original Cakebites, Sweet Lemon Layers
Gummy Tropical Starfish
Haribo Piratos
Trolli Sour Brite Octopus
Hershey Milk Chocolate Bars paired with Beware of Pirates - Candy Bar Wrapper.
Hershey Kisses With Almonds paired w/ Pirate Skull and Crossbones Stickers
Card Games Buttermints
Gold Chocolate Coins
Color it Candy Shimmer Gold Gumballs
Color it Candy Shimmer Gold Sixlets
Skull and Crossbones Sprinkles
Black & White Swirl Lollipops
Black Mini Twisty Lollipops
Cherry Ring Pops
Frosted Pirate Skull and Cross bone Suckers