These epic Mickey inspired Halloween ideas are for all of the Boo To You fans out there. From all you can eat popcorn to special character appearances, these super easy Disney inspired party ideas will be a hit. This post may contain affiliate links.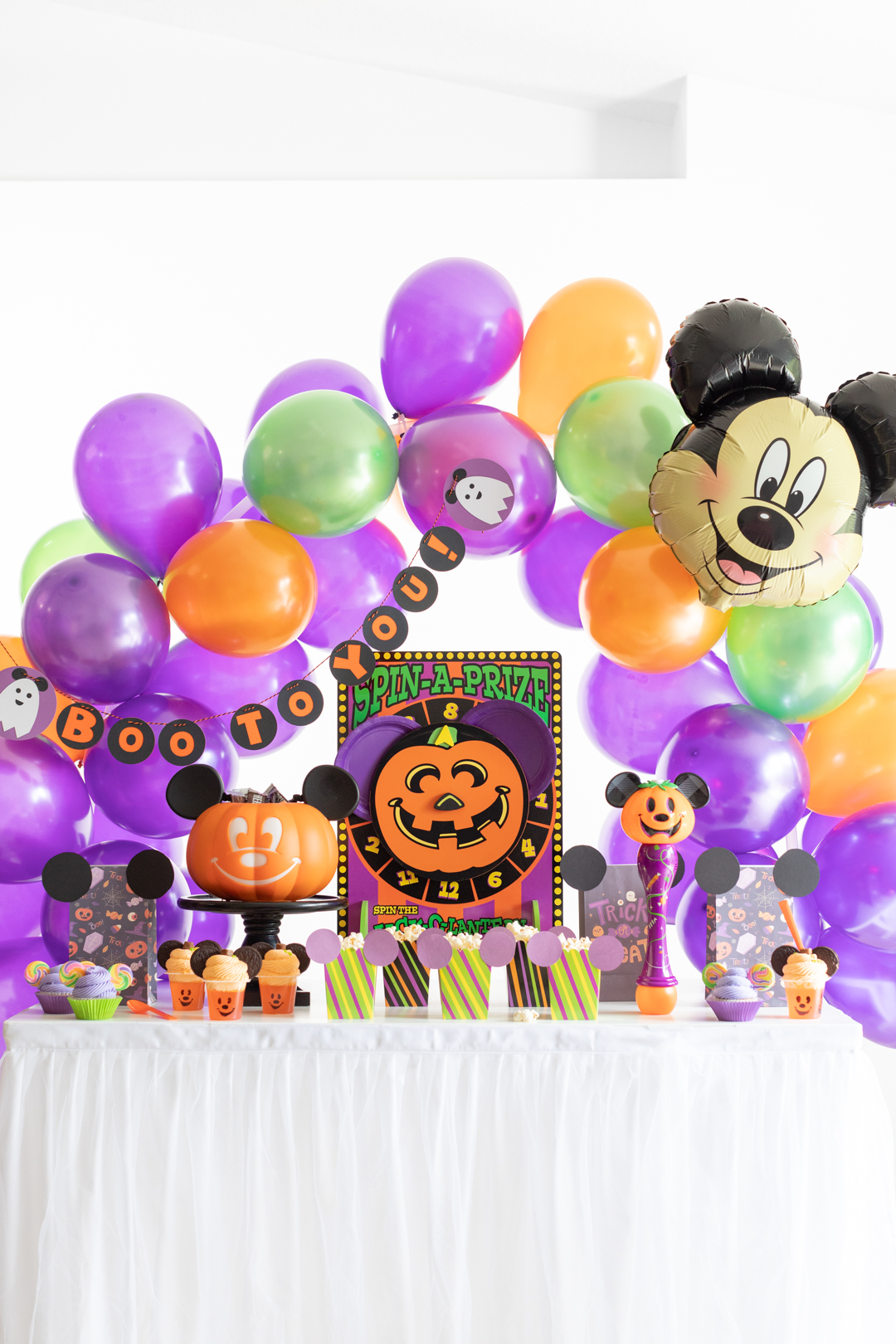 Just say BOO to you and you!
BOO TO YOU PARTY IDEAS
Over the last couple of seasons, I've been missing the Walt Disney World event SO bad that I had to put those feelings into a project. So, here we are.
In Cutefetti style, here are some fun party ideas that are SO easy to recreate. Most of these ideas can be done in the last minute, so have some fun!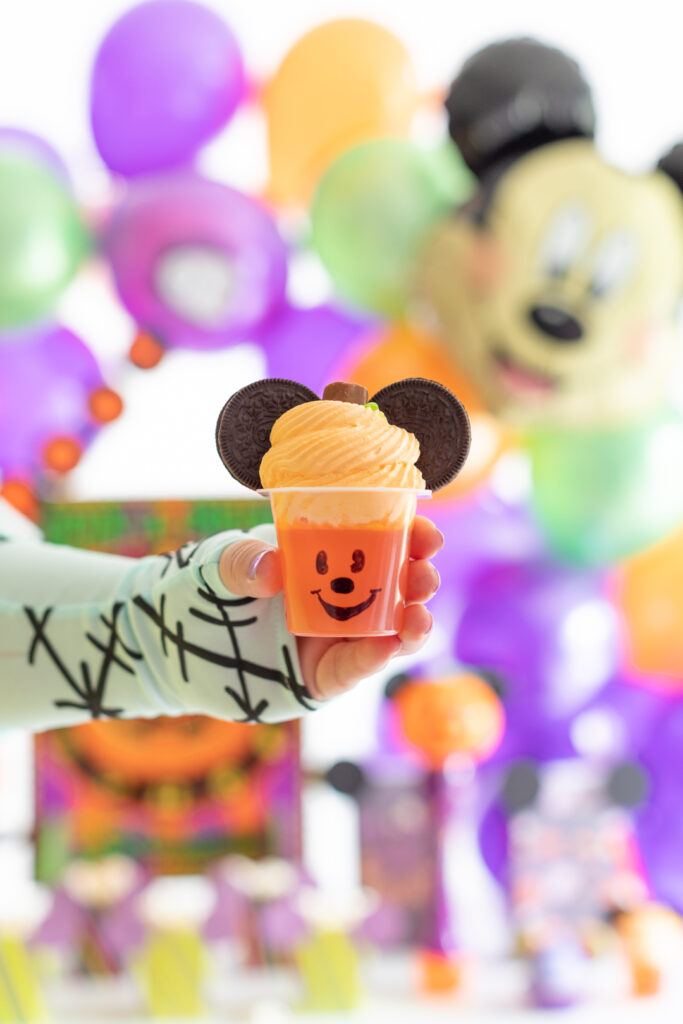 DISNEY HALLOWEEN PARTY FOOD IDEAS
It's just not a WDW party without the cutest eats and treats! Make sure to keep the candy dishes and popcorn bowls overflowing.
Here are some fun thought starters.
Mickey Popcorn Boxes - Popcorn is a must for any trip to a Disney Park. Make your own cute boxes by simply adding Mickey Ears. To get the perfect ears, you can use a circle punch or simply trace a circle and cut them out. I love these colorful Mini Halloween Treat Boxes for this.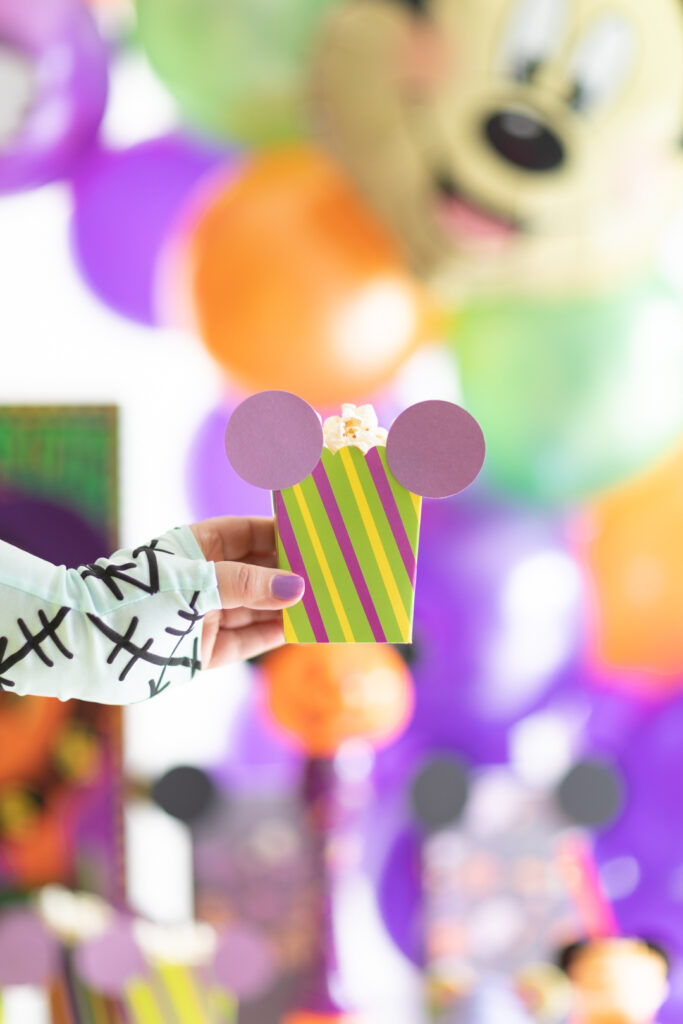 Mickey Mouse Gelatin Cups - these easy-to-make treat cups are the the cutest. Start by drawing a Mickey face onto orange gelatin cups. Either like these Mickey jack-o-lanterns snacks or a more traditional look. Adding orange tinted whipped cream and OREO cookie ears to orange gelatin cups turned them instantly into a Halloween dessert. Add a tootsie to the top and a little green icing to turn them into "pumpkins".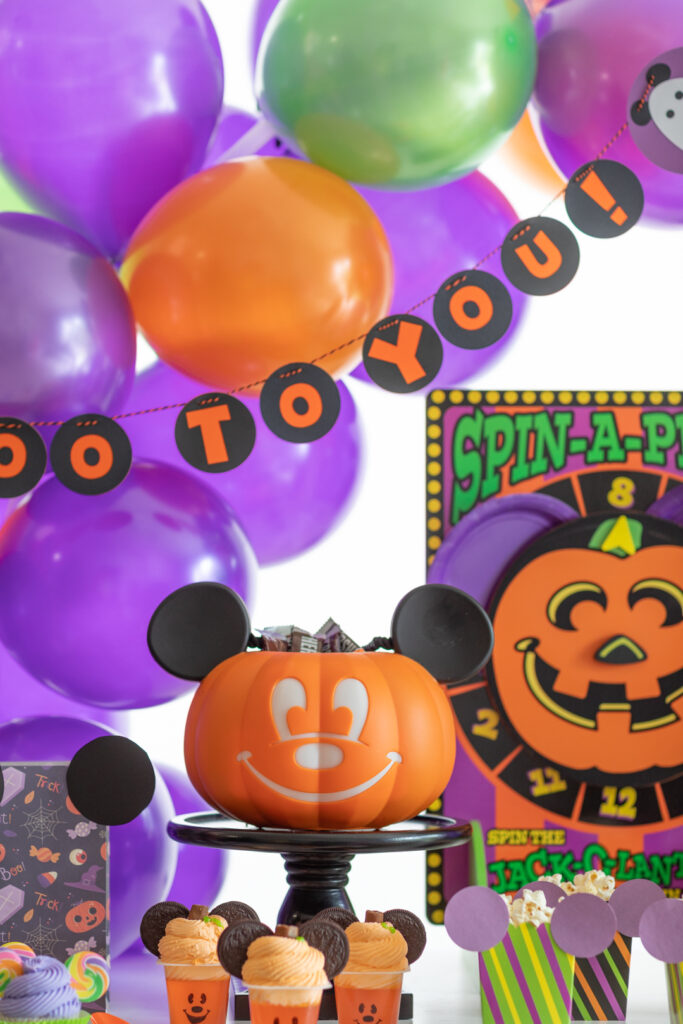 Candy, Candy, Candy - It's not a Boo To You party without unlimited candy. Be sure to set out a Mickey Trick or Treat bucket loaded with the good stuff. This Mickey Jack-O-Lantern bowl is adorable.
Nightmare Before Christmas Treats - If you want to tap into the slightly spookier side of things, these Jack Skellington Mickey Cookies are the so much fun. For Oogie Boogie fans, these dessert cups are easy, too.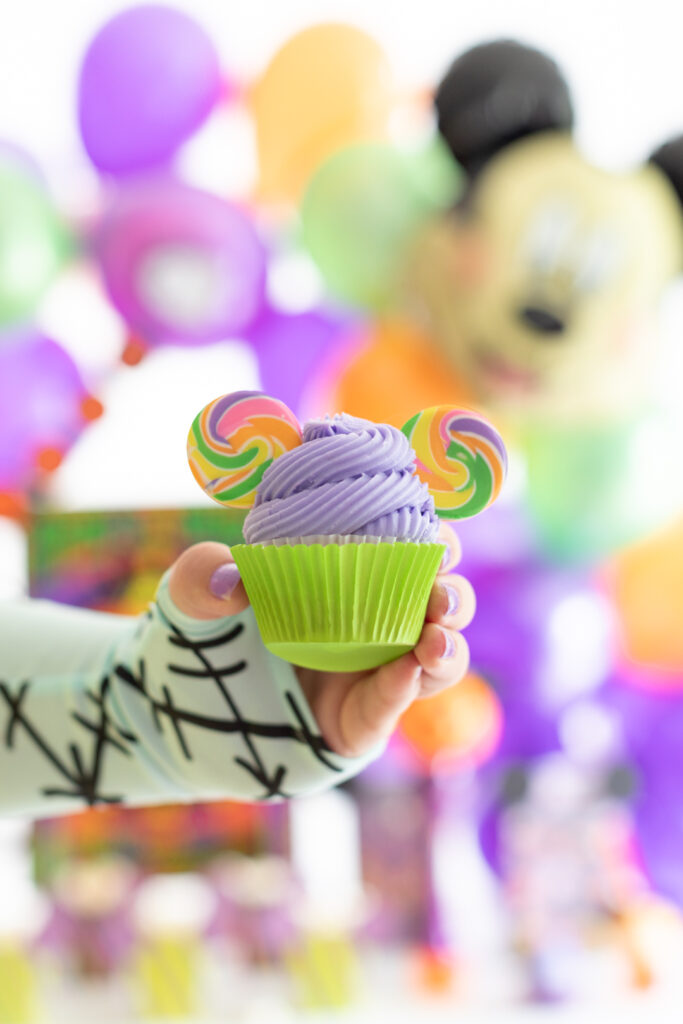 Mickey Halloween Cupcakes - There are so many ways to make easy Mickey inspired cupcakes. You can easily purchase Halloween cupcakes or any cupcakes and add edible Mickey Ears such as OREO cookies or my favorite, adding Halloween swirl lollipops like these cupcakes.
Hocus Pocus Treats - If you want to add a little witchy goodness to your party table, this themed candy charcuterie board would be perfect. You could also do a candy buffet or these Sanderson Sisters dessert cups.
BOO TO YOU BALLOONS AND DECORATIONS
When planning my Disney Halloween party ideas, I found a few favorite decorations are that simply perfect.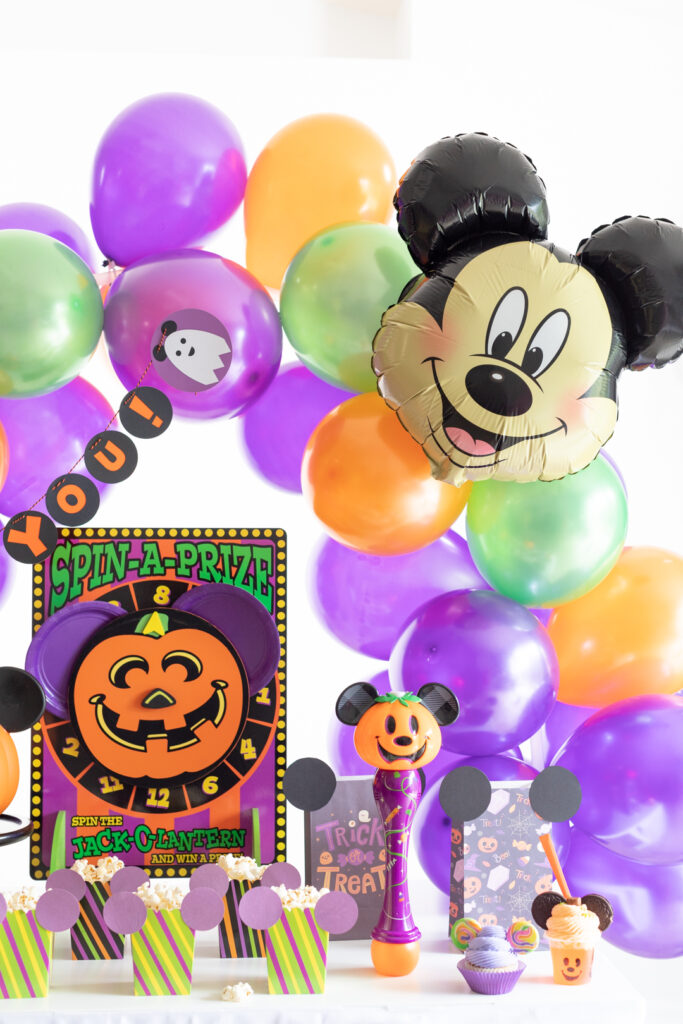 Boo To You Balloon Arch - creating one might be a whole lot easier than you think. With a very inexpensive balloon arch kit, you can create one in a little as an hour. I used high quality Purple Balloons, Orange Balloons and Green Balloons. For an extra special touch, I added this Mickey Mouse Foil Balloon. Bonus balloon hack! This Electric Balloon Pump will help to inflate your balloons so much quicker.
Mickey Balloons - I found these black Mickey Ears Balloons at my local Walmart that are easily perfect for Halloween parties.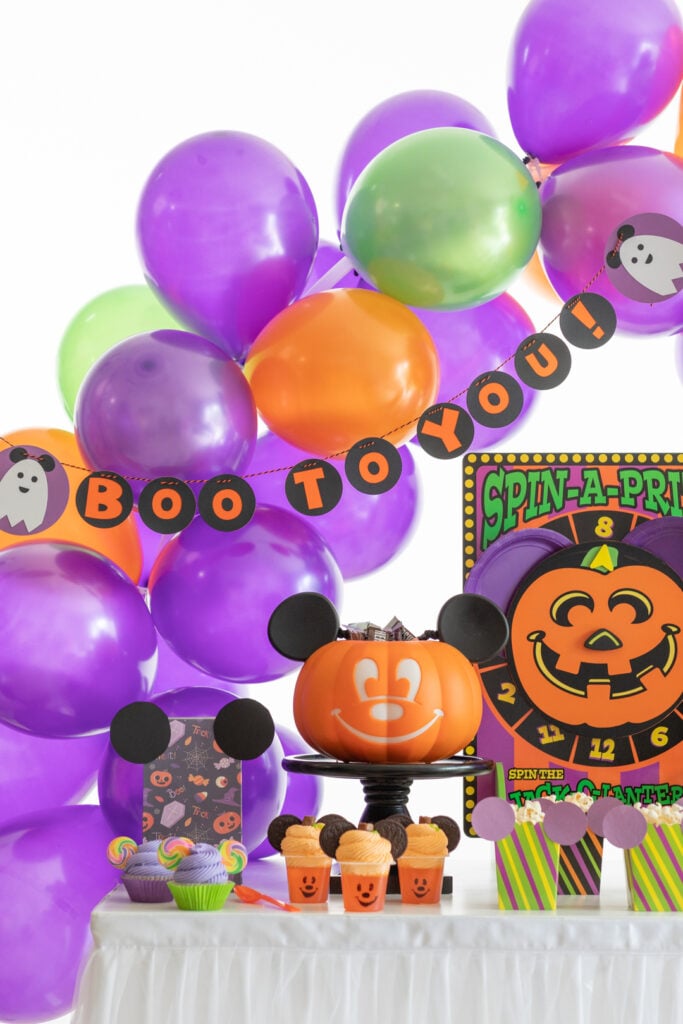 Boo To You Party Banner - If you are crafty, you can make your own with a printer or Cricut. I absolutely adored these Boo To You banners I found on Etsy.
BOO TO YOU CHARACTER APPEARANCES
I really love the idea of having Mickey Mouse attend a good at home Boo To You party, but you really can't get a good costume due to licensing. However, you can totally shop for Nightmare Before Christmas characters like Jack Skellington and Oogie Boogie. It's also fairly easy to whip up a Sanderson Sisters costume on the fly, too.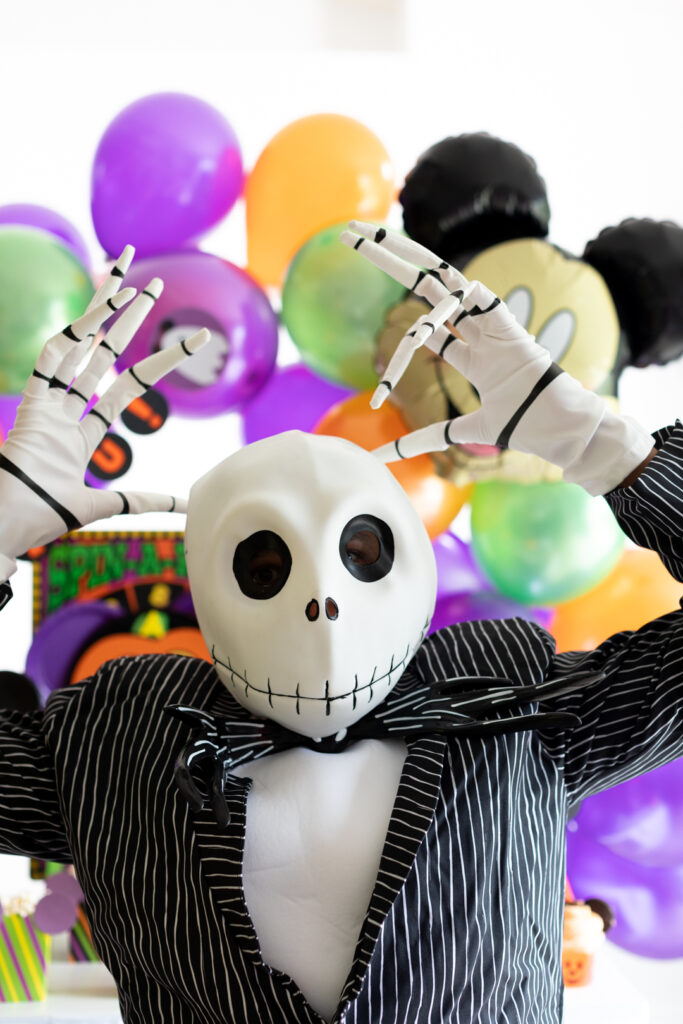 Somehow my hubs managed to be convinced to wear this Jack Skellington costume for me.
I also scored Mickey Mouse Gloves and Sally Gloves at Spirit Halloween and of course, you will find amazing costumes at Shop Disney.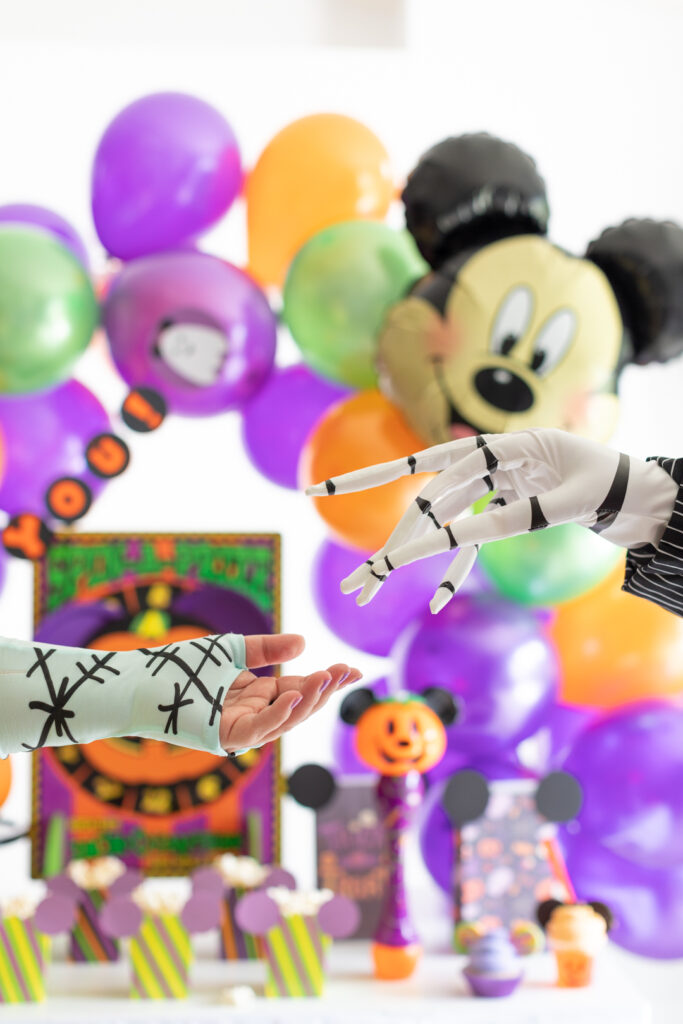 MICKEY MOUSE HALLOWEEN ACTIVITIES
There are so many ways you can go with this. Here are a few easy thought-starters.
Spin to Win Game - I turned a regular game into a Mickey game by simply adding paper plates are ears. Gather up some small prizes and let the kids have fun. Check out this Spin To Win Halloween game. It's sold out at many places already this season, but if you might be able to grab this same one if you shop around.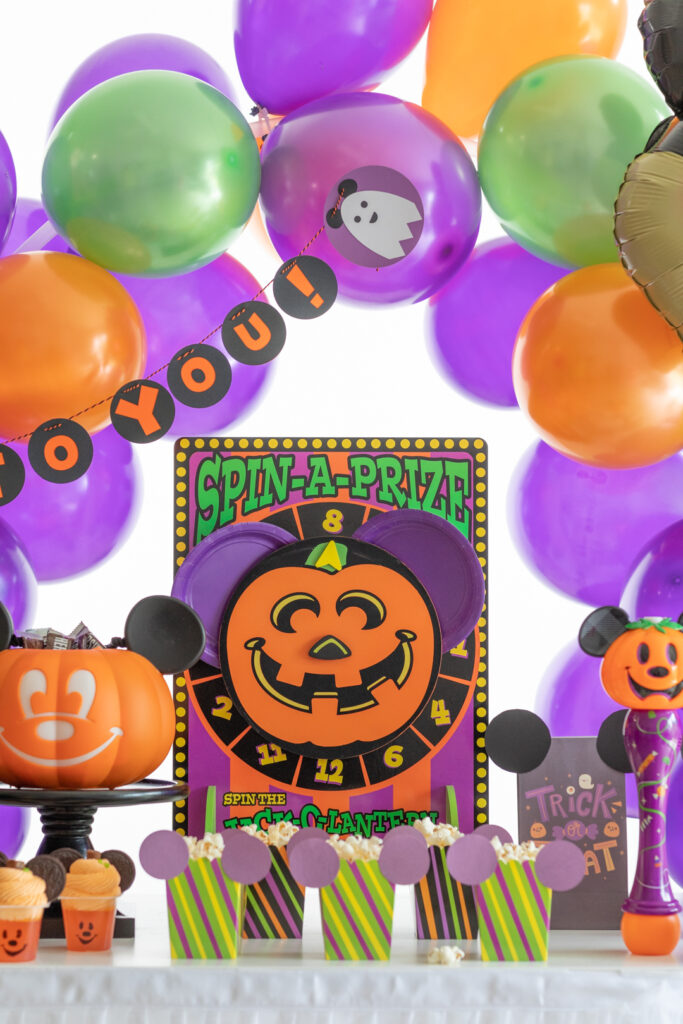 Costume Parade - One of the very best things about the Boo To You parties? The parade of course. Have the kids wear Disney costumes to the party, assemble and showcase their costumes in a little at-home parade. If you want to plan something larger, get tips on planning a foot parade.
Pin the ? on the Pumpkin - Just add Mickey ears to any Halloween pumpkin games for a hot Halloween party hack. I've seen pin the "nose" on the pumpkin as well as pin the "grin" on the pumpkin. This is also something you could easily draw on poster paper as well.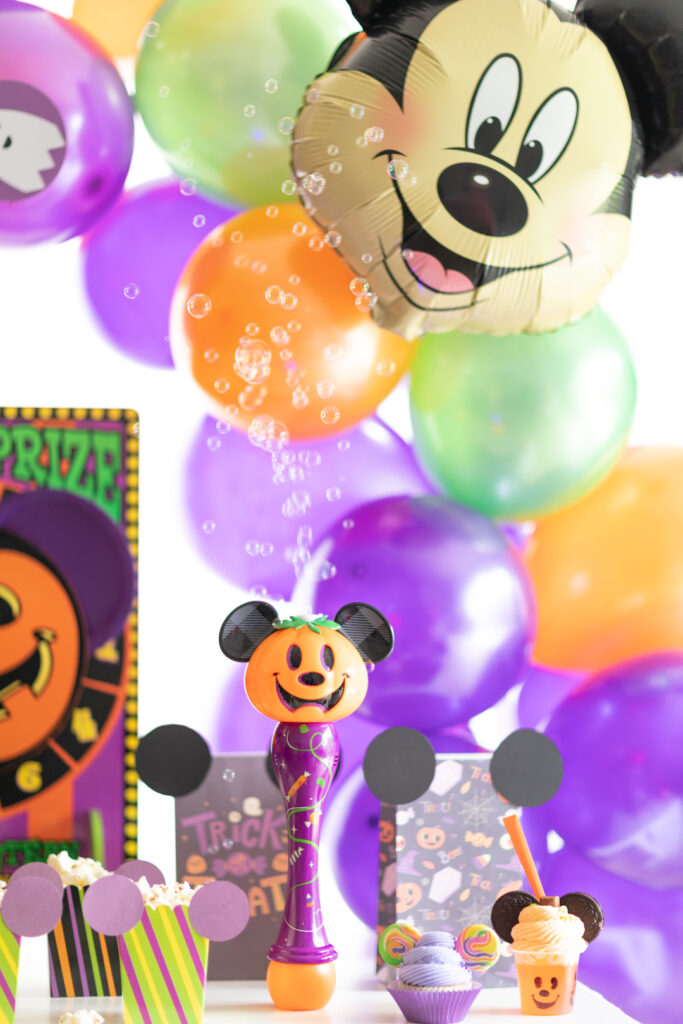 Bubble, Bubble, Toil & Trouble - If your party is outdoors or you can send the kids outdoors for an activity, having Disney Park bubbles will be a blast. I am obsessed with this Mickey Mouse Jack-o'-Lantern Halloween Light-Up Bubble Wand.
MICKEY HALLOWEEN TREAT BAGS
Send everyone off with some favor bags to commemorate your fun Disney Halloween celebration. I came up with a super easy idea and once again, you just need to cut out some Mickey ears to make it happen.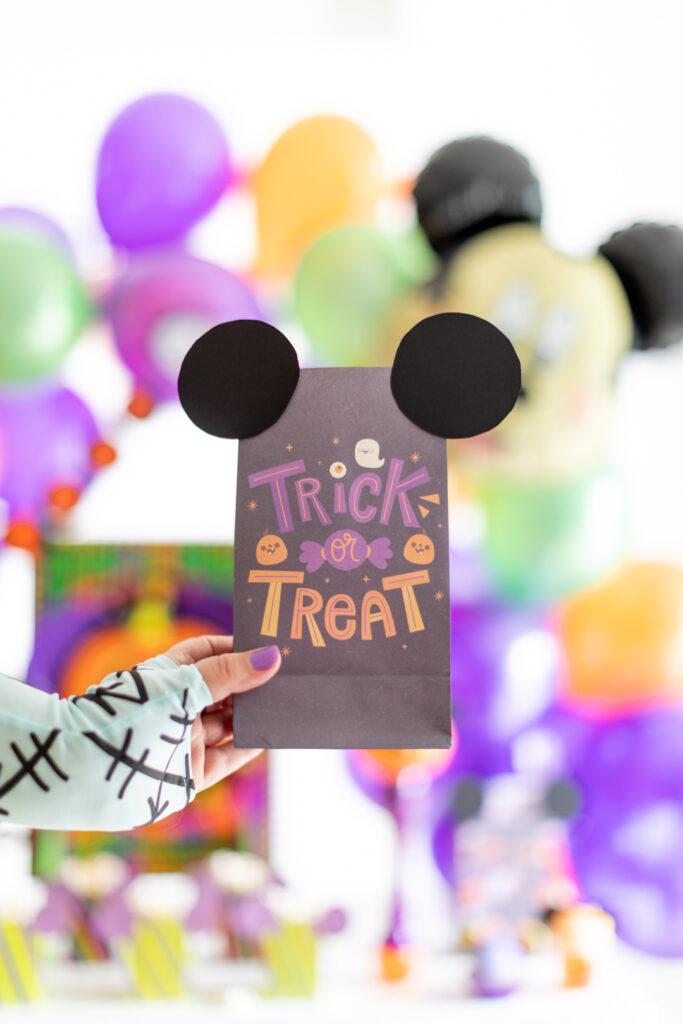 Mickey Halloween Treat Bags - Take a set like these Trick or Treat Goodie Paper Bags and add circles and tape on as Mickey ears. You can either fold the bag and then add the ears or keep the top open like I did. I kind of like it that way so that the kids don't have to rip the bag or ears off in order to see the treats inside.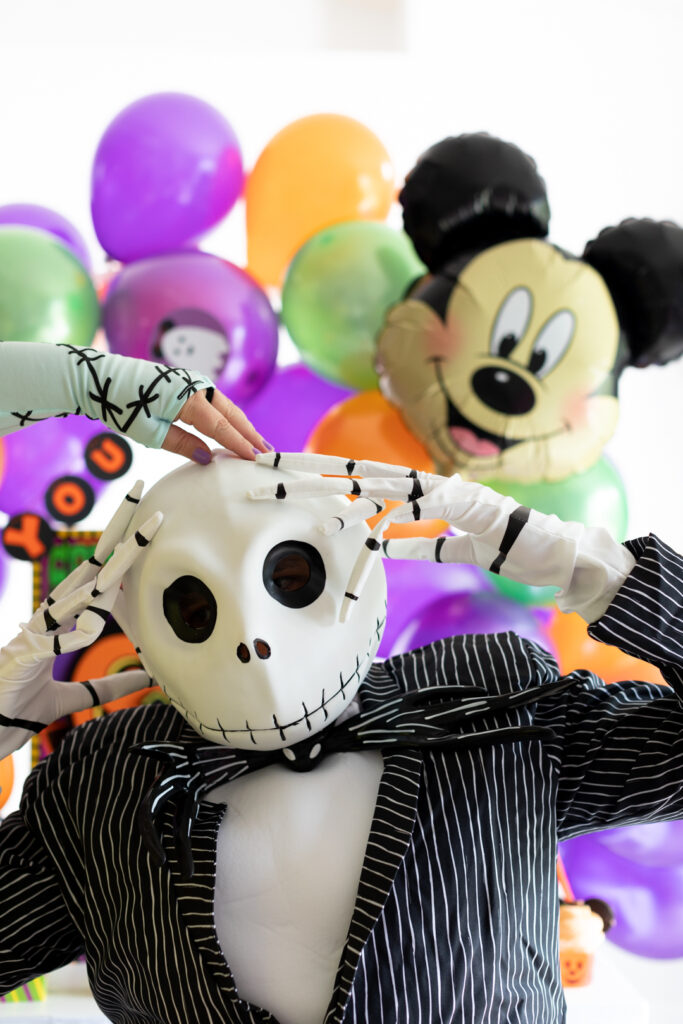 Hope you enjoyed these easy Walt Disney World Boo To You inspired party ideas. Tell me, which are your favorites? What else would you add to this?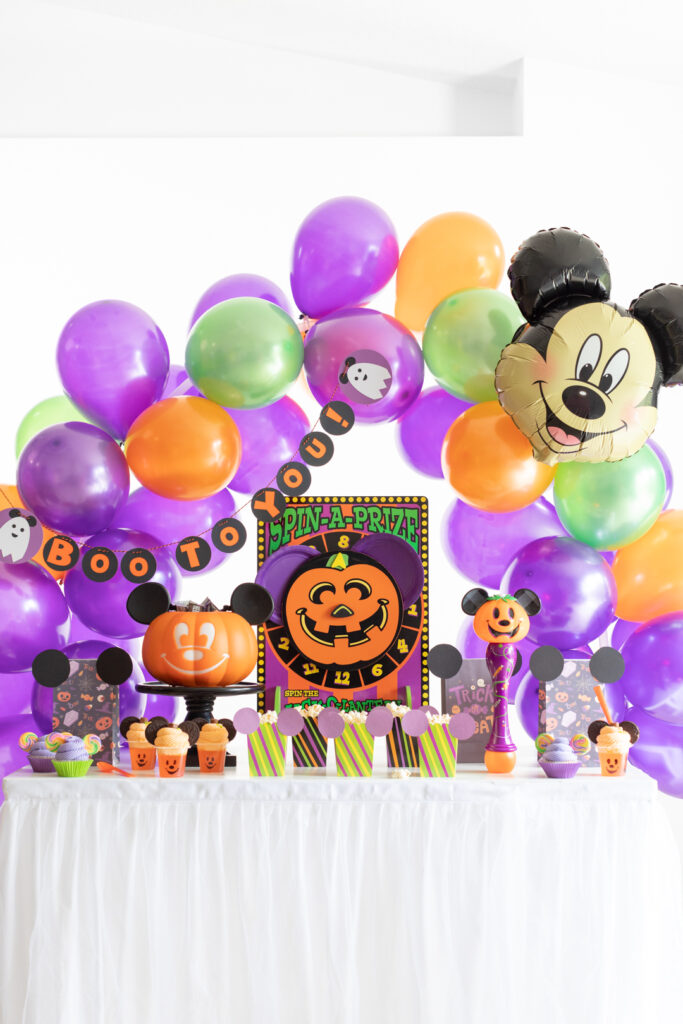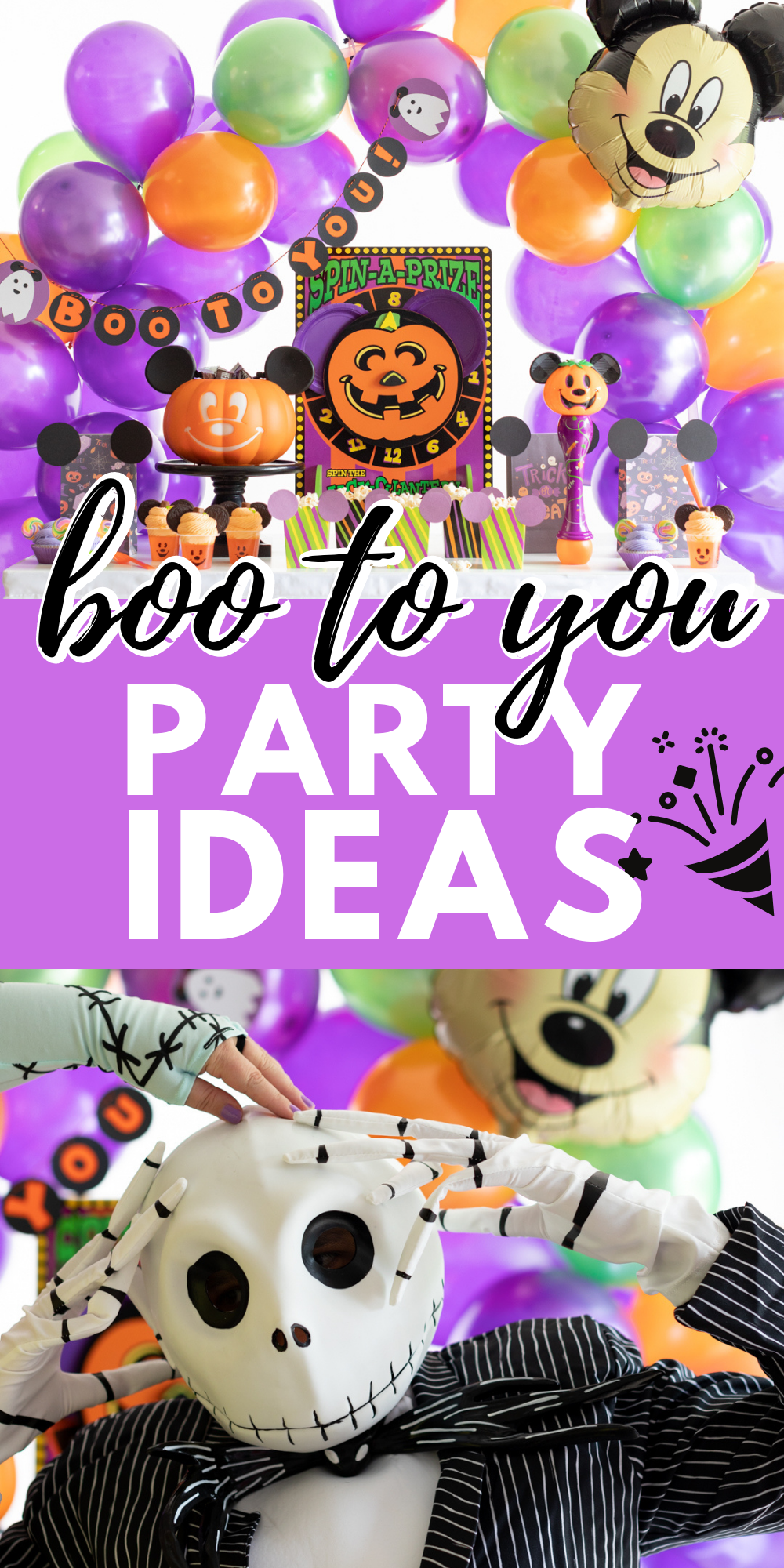 If you loved this post, please share with your BFF.