Oh boy! Are you planning a party and looking for Mickey Mouse Party Food Ideas? You have arrived! These Mickey Mouse Jello Cups are both ridiculously cute AND so easy to make! Individual cups make this a win/win way to serve up a special dessert to celebrate your favorite mouse. This post may contain affiliate links.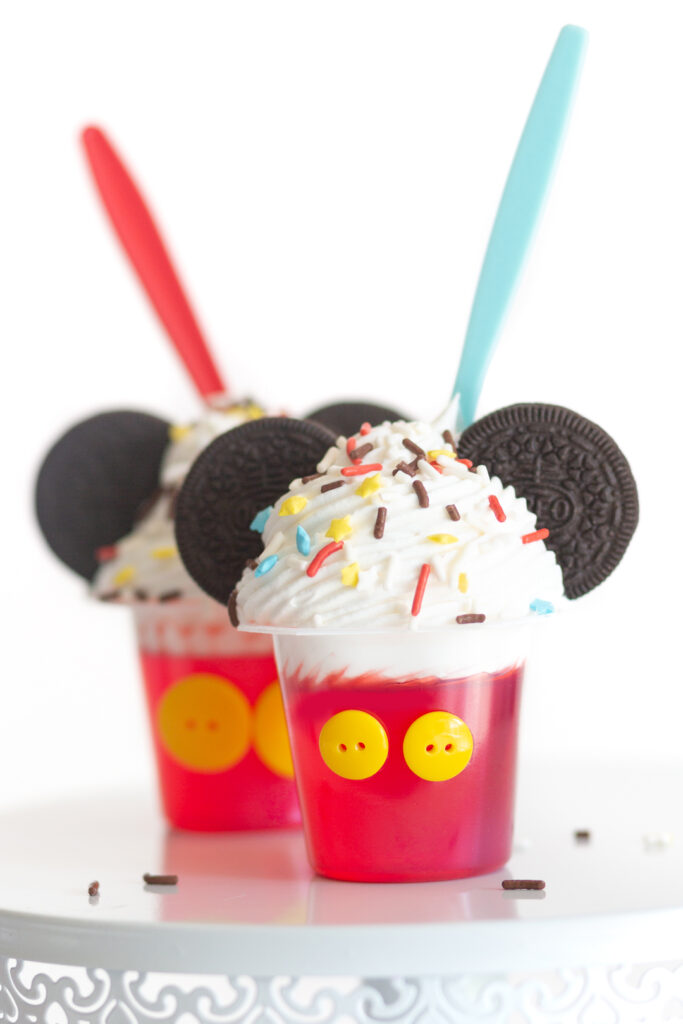 Mickey Mouse Jello Cups are a Mickey Mouse Party Food Idea that your family is sure to love.
Mickey Mouse Birthday Parties have been popular for decades with kids and adults alike!
Mickey's iconic red shorts and big ears make him the perfect party theme - who wouldn't want him at their celebration?
Are you ready for this fun Disney DIY? Let me show you how easy they are to make.
MICKEY MOUSE GELATIN CUPS DESSERT
These Mickey Mouse Jello Cups are easy to make and they taste great.
They are the perfect Mickey Party Food Idea for any Mickey Mouse Birthday Party or even a countdown to a Disney Parks visit or a Disney Cruise Line Adventure!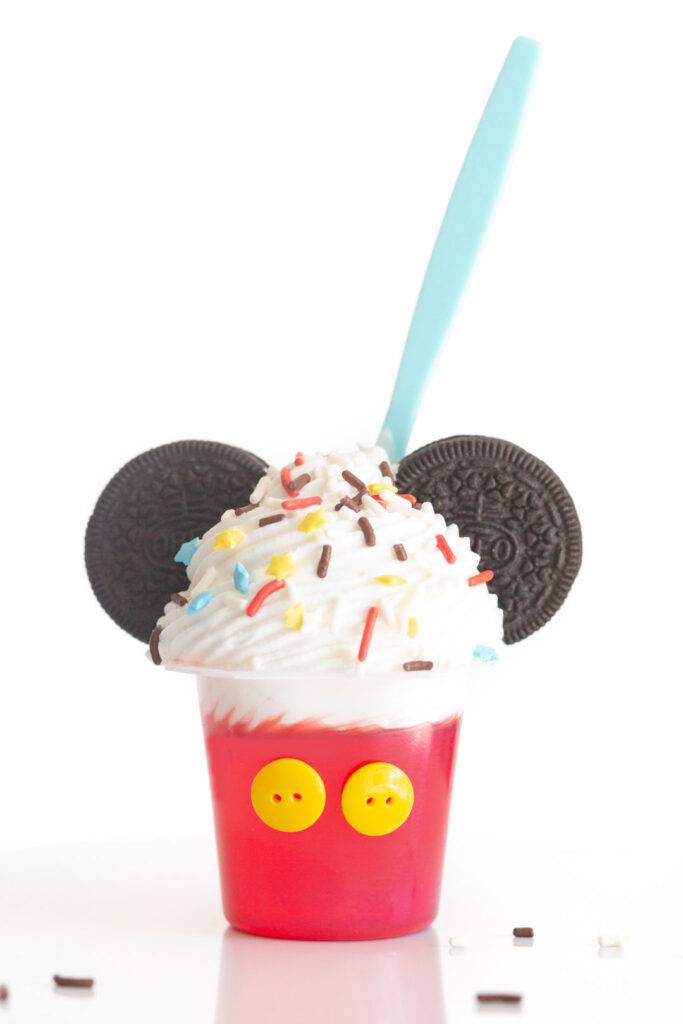 MICKEY MOUSE GELATIN CUPS INGREDIENTS
RED GELATIN SNACK CUPS - There are a few options you can typically find at your local grocer. Pretty much all of them will work. The common brands are Snack Pack, JELLO, Kool-Aid and often there are more generic options in larger packs at stores like Walmart.
For this tasty DIY, I used Snack Pack Strawberry in a 4 pack, but I also spotted a Snack Pack Strawberry in their "Super Size" pack which is a slightly larger size than the standard which might be a fun option.
OREO COOKIES - are used to make delicious Mickey ears. I used Birthday Cake OREO Cookies for a pop of added fun.
WHIPPED TOPPING - Cool Whip or store-brand Whipped Topping is perfect for this. Real Whipped Cream would not stand up to this, unless it is "stabilized".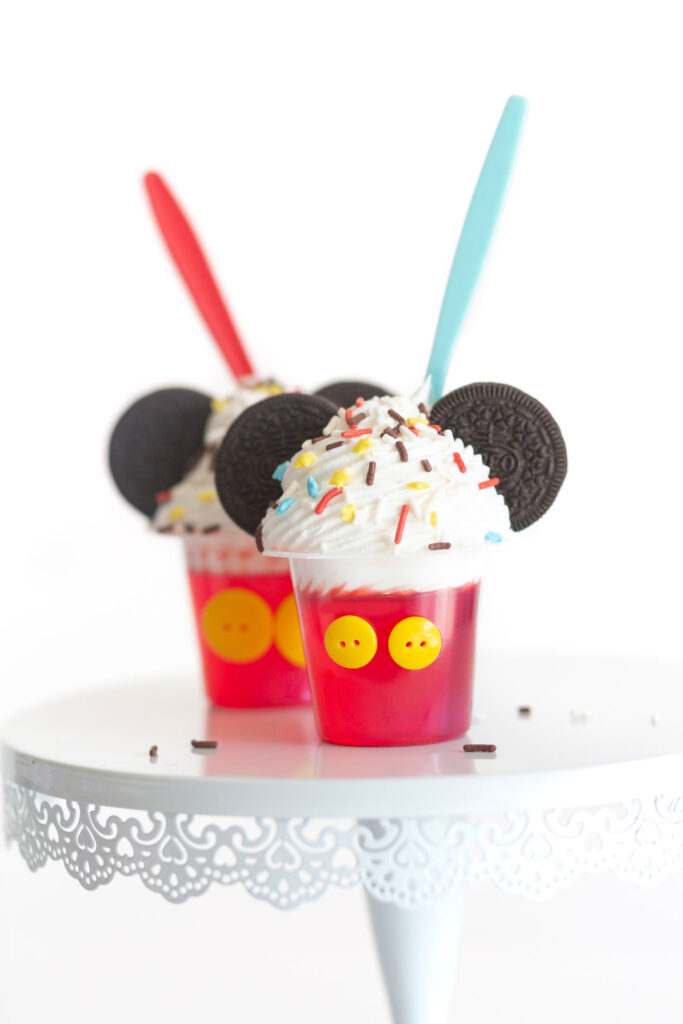 SPRINKLES - Matching sprinkles are a must. You can keep it simple or add matching Mickey Mouse themed sprinkles.
I used a simple blend of colors inspired by the mouse. Wilton has cute Mickey Mouse Sprinkles you might like for this.
MICKEY MOUSE GELATIN CUPS MATERIALS AND TOOLS
YELLOW BUTTONS - these treats would not be half as cute without Mickey's signature buttons. The smaller ones that I used are 5 / 8 inches and the larger ones in the back are 1 inch.
DOUBLE-SIDED TAPE - To attach the buttons, it works awesome to use something like a double sided sticky adhesive such as Glue Dot or balloon tape.
This will allow the buttons to be removable and reusable. You can use another fast drying non-toxic glue if you prefer. Do not use a hot glue gun though.
ICING BAG AND TIP - to make these snack cups extra cute, you will want to use an icing bag and icing tip of choice to pipe on your whipped topping.
I used a French Star tip and looped around about four times for the perfect tall stack of cream on top.
HOW TO MAKE MICKEY MOUSE GELATIN CUPS
They take only about 10 minutes or less to prepare a batch- making them one of my favorite Mickey Mouse Desserts ever.
First, unpack your gelatin snacks. Next, use your double-sided tape/adhesive to secure two yellow buttons to the front middle of each snack cup. This step can be done in advance.
Open up each snack pack by removing the tops. Using Cool Whip or Whipped Topping and your choice of icing tip such as a French Star Tip to pile it on in tall swirls. You can also make pretty swirls with a star tip of choice.
Then, carefully press two OREO cookies into the right and left top of the whipped cream evenly for the ears.
Finally, it's time to add your choice of matching sprinkles on top of the whipped topping.
Don't forget to serve with spoons. Voila!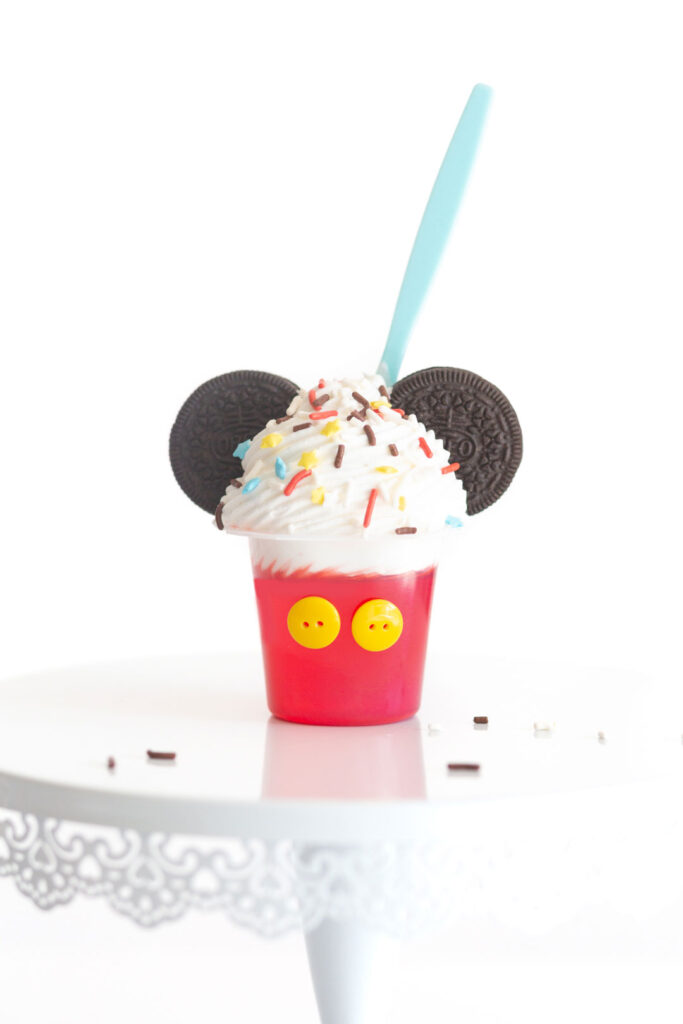 MICKEY MOUSE PARTY FOOD IDEAS
For your next party, just add Mickey Mouse Cupcakes or Mickey Mouse Cake for a party food idea that will impress kids of all ages!
Mickey Mouses desserts are super easy to make - no special skills required.
You'll have these cuties on the table in no time. Print the tutorial below.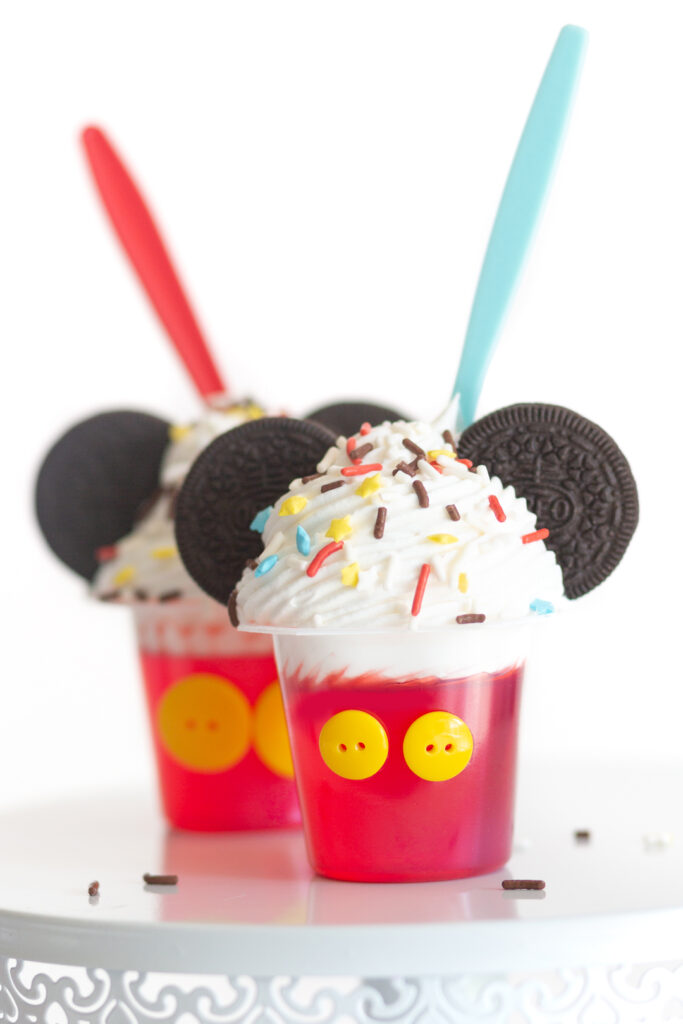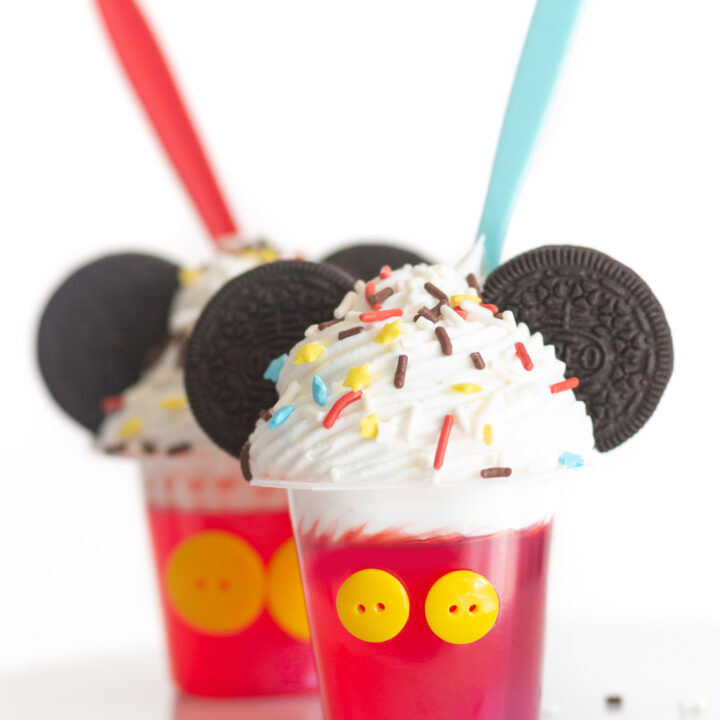 Mickey Mouse Gelatin Cups Dessert
Easy Mickey Mouse Desserts using gelatin cups, Yellow Buttons and OREO Cookie Ears to decorate. Best Mickey Mouse Party Food Idea.
Materials
4 Pack Red Gelatin Snack-Sized Cups, Chilled
8 OREO Cookies
2 Cups Whipped Topping
Mickey Mouse Themed Sprinkles
8 Glue Dots or Small Strips of Double Sided Tape/Adhesive
8 Yellow Buttons (5 / 8 or 1")
Tools
French Star Frosting Tip
Disposable Pasty Bag
Instructions
Unpack your gelatin snacks.
Use Glue Dots or double-sided tape/adhesive to secure two yellow buttons to the front middle of each gelatin cup.
Peel off the tops of the gelatin cups.
Add Whipped Topping to a Pastry Bag fitted with a French Star Tip (or tip of choice) and press it down toward the tip.
Press the whipped topping downward to dispense whipped topping onto each cup using a circular motion to stack 3-4 layers of topping on. Taper upwards and end at a soft point.
Press two OREO cookies into the whipped topping on the right and left top of the cups. Make sure they are set and secure.
Add a small amount of sprinkles to the whipped topping.
Refrigerate until ready to serve. Best on same day.
Don't forget to serve with spoons. Voila!
Mickey Mouse is the star of any party, so this treat is especially awesome if you're looking for easy Mickey mouse party food ideas.
We love these adorable JELLO cups with yellow buttons and OREO cookie ears because they are so simple to make and pack a big punch in terms of how much fun they bring to your celebration!
Who doesn't want to eat cute gelatin creations out of their own little cup?
Please share this post with your friends on Facebook or pin on Pinterest - I know that everyone will enjoy them just as much as I do!
Let us know what other easy Disney recipes and DIY ideas you'd like to see on Cutefetti?