This is a sponsored post as a part of my Cool Food Panel participation with the National Frozen and Refrigerated Foods Association (NFRA), all opinions are my own.
It's not a party without chips and dip, don't you agree? With summer in full swing, it's time to take our snacking festivities to the next level. These simple and delicious red, white & blue patriotic dips ideas won't disappoint. I'm pairing up colorful chips and veggies with classic Heluva Good!® French Onion Dip that will be perfect for upcoming 4th of July celebrations.

I've learned that great conversation happens easily around tasty eats. Serving up this special dip and chip spread will definitely score you some host-with-the-most points, too.
Red, White & Blue Patriotic Dip Ideas
With just a handful of ingredients like Heluva Good!® French Onion Dip, you can easily elevate your summer gatherings. Adding little festive touches makes this party food really inviting. As we're saying goodbye to June and National Dairy Month, don't forget all of the tasty foods that you can enjoy anytime right from your grocer's dairy case! Now, let's dig in!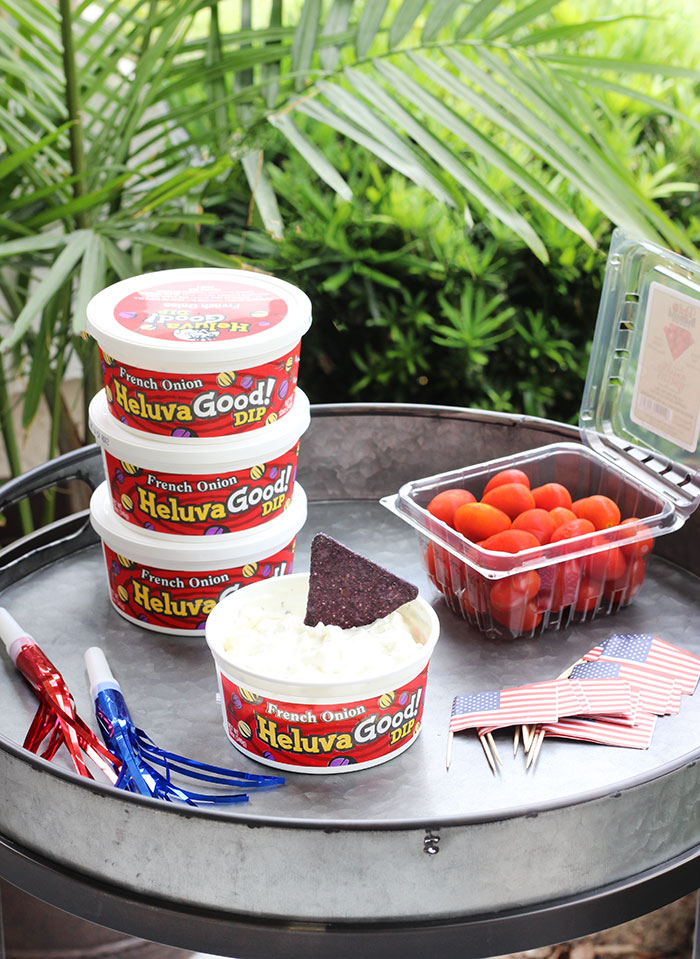 I love serving trays, they make hosting gatherings easier and they make it easy to style your food in a fun way. This extra large tray that I just found is absolutely perfect for this chip and dip spread. You can also set up a little party table if you prefer. My best tip is to keep it smart, but simple.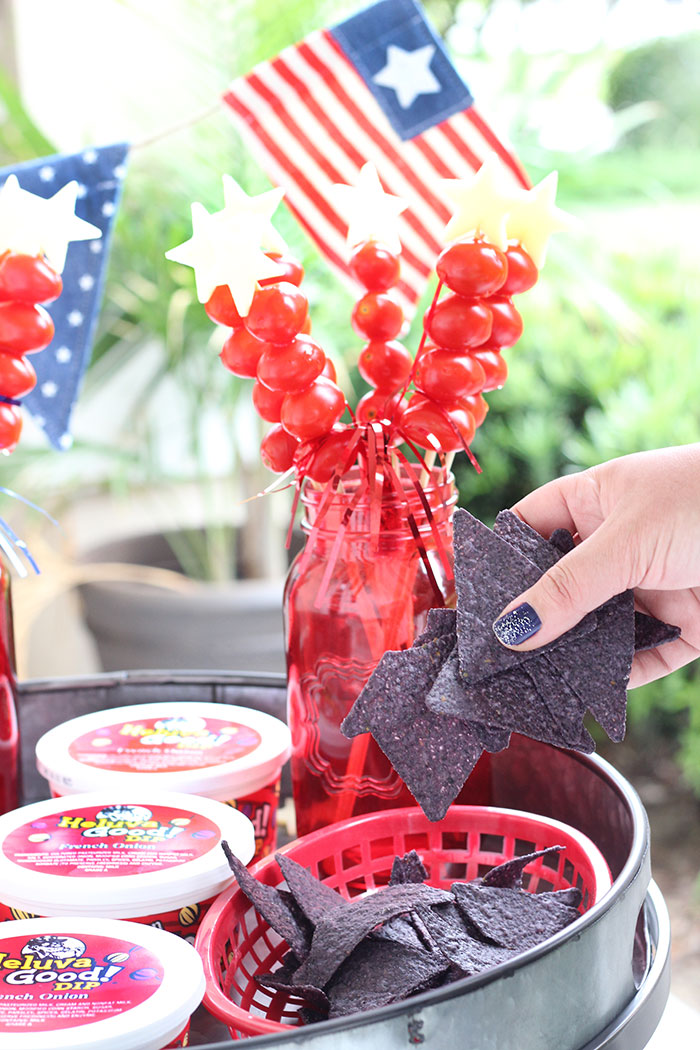 For the perfect festive dip and chip combo, blue corn chips are the way to go. They are the perfect blue food to round off this colorful spread. I added a couple of baskets of chips for easy reaching.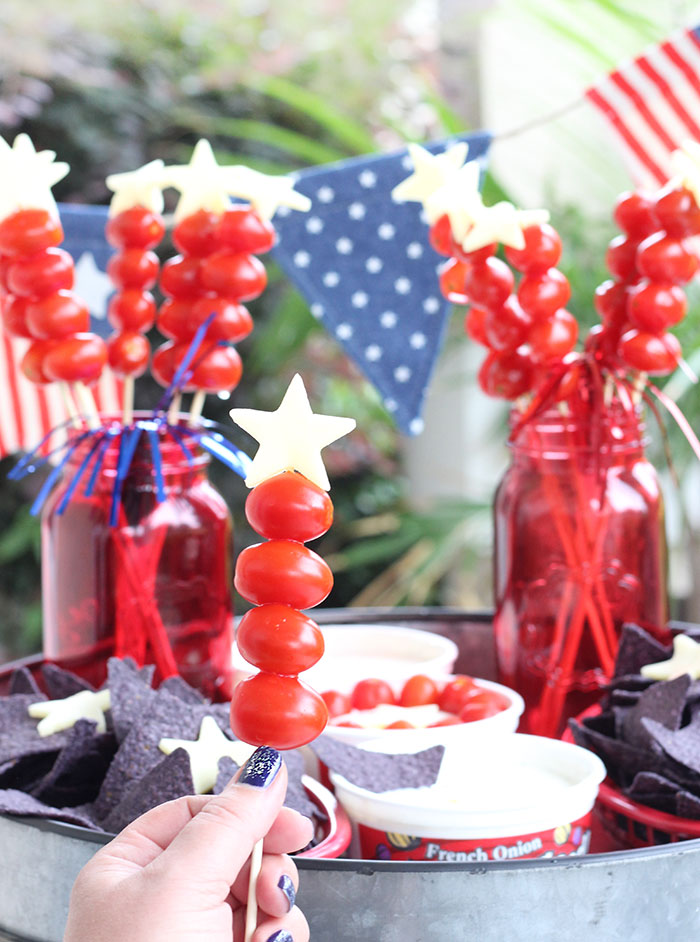 Vegetables are another favorite of mine when it comes to dipping. Grape tomatoes couldn't be any cute stacked onto skewers and topped off with stars made out of cheese. For this added cuteness, use a small star-shaped cookie cutter. Give your serving tray a little height by adding the veggie skewers to mason jars.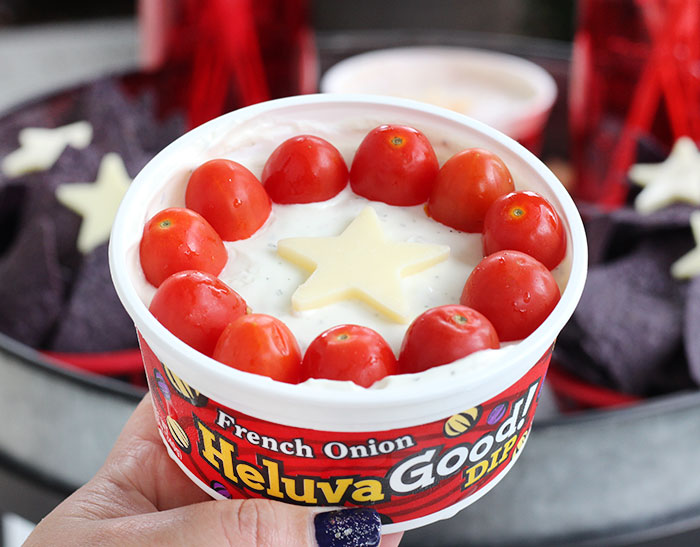 Fancy up that dip! Heluva Good!® Dip is ready to eat out of the container, but you can make it fit your theme by adding a pop of color. I lined my container with halved grape tomatoes and one more cheese star for the center.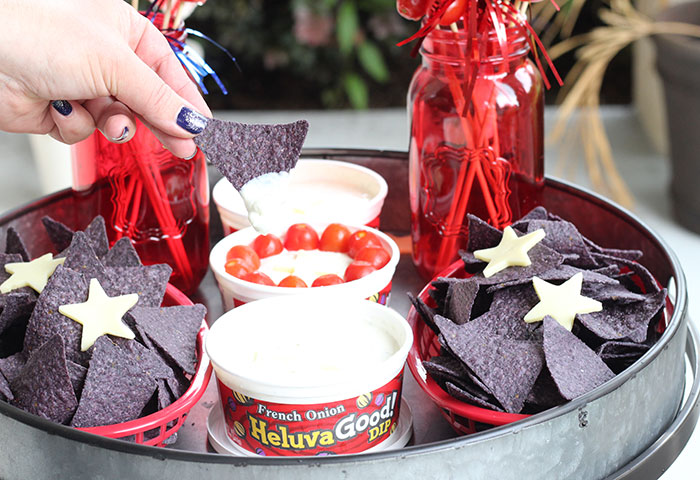 This patriotic dip spread comes together easily so you'll have plenty of time to sit back and relax with your summer guests. Perfection.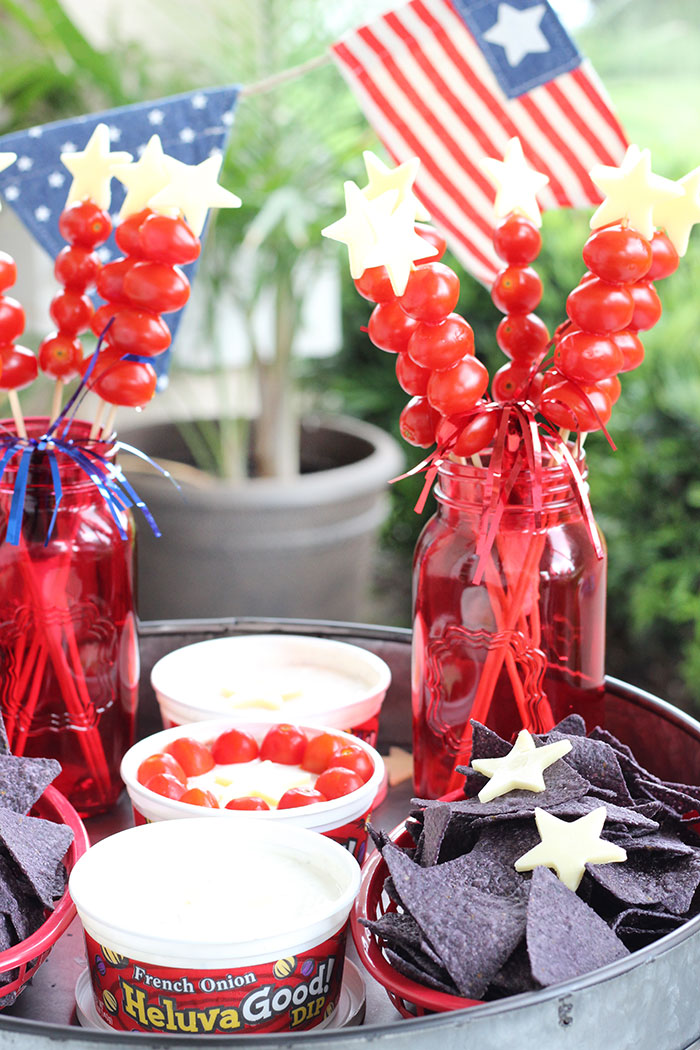 Add Heluva Good!® French Onion Dip to next summer celebration and watch the magic happen.
What else would you serve along with Heluva Good!® French Onion Dip for a festive red, white & blue themed party?