This post is sponsored by The National Frozen & Refrigerated Foods Association (NFRA). All opinions are my own. For more inspiration during #JuneDairyMonth, be sure to check out delicious ideas from NFRA at EasyHomeMeals.com #JDM2020
Are you ready for some summer fun? Wonderful weather, fun activities and a delicious spread of food is all it takes to set the tone. I'm getting pretty excited at all of the possibilities! To set things off the right way, I'm excited to share this extra-large charcuterie dipping board. I've paired some of the best dippers with a tasty selection of Heluva Good! dips. Keep reading for a tasty list of ingredients, tips & tricks.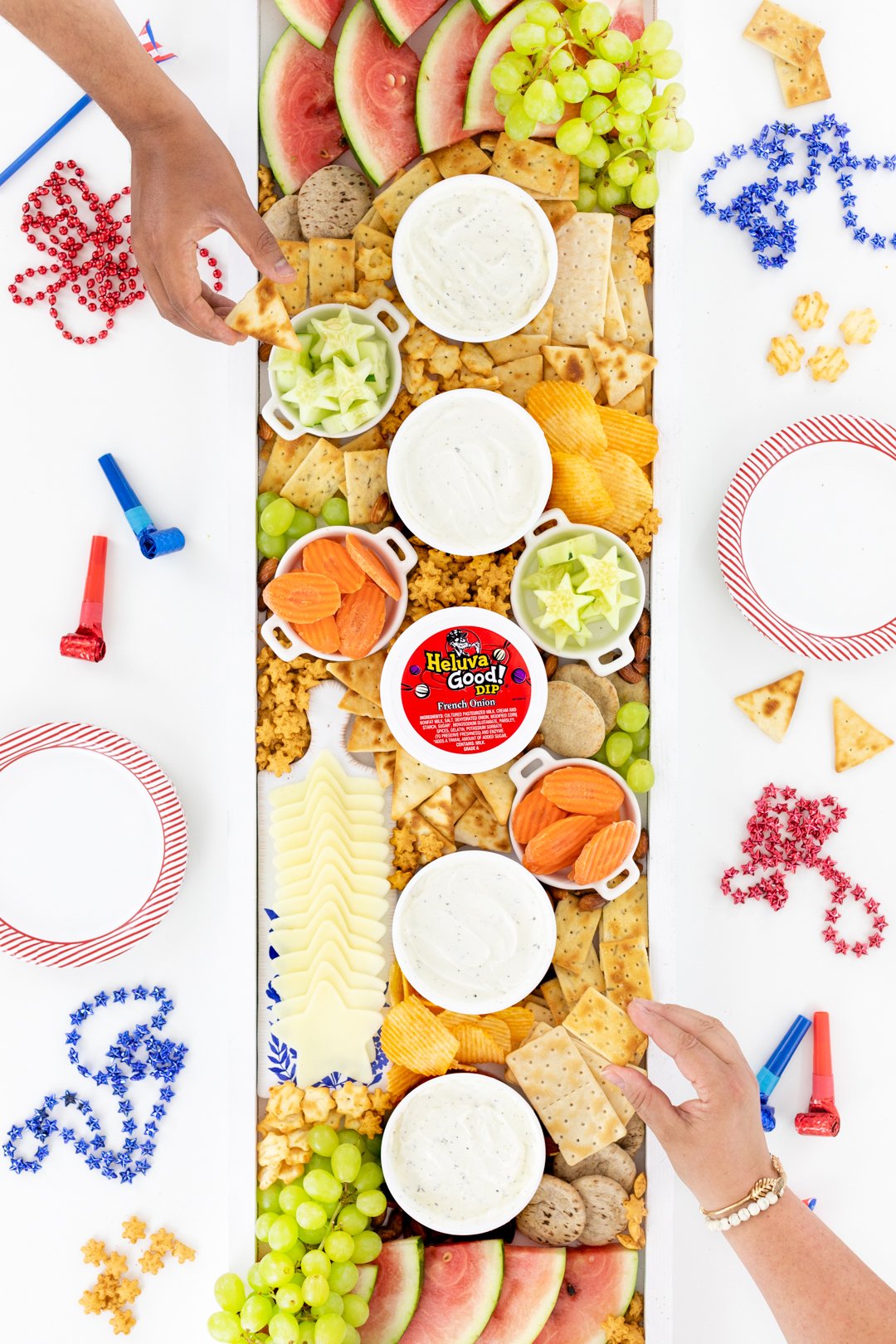 First, let's talk about the perfect dips for summer snacking. I'm thinking 4th of July celebrations and beyond! One of my all-time favorites that pairs with almost any savory snack is Heluva Good! French Onion Dip. My mouth waters anytime I think of it! Another delicious dip variety that I just tried for the first time is Heluva Good! Buttermilk Ranch Dip. Yum! Another tasty dip that easily pairs up with anything you are wanting to dip from crackers to pita bread!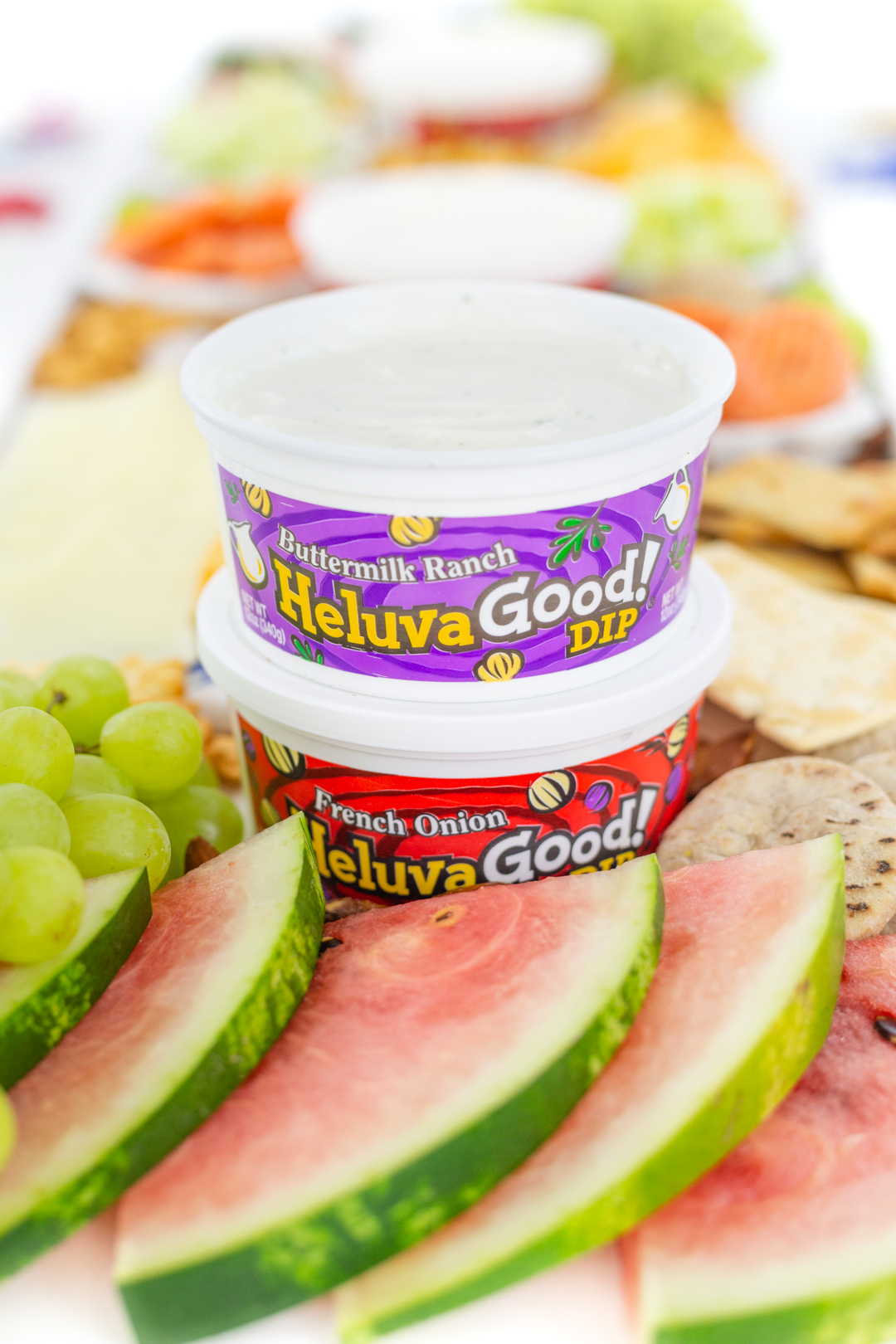 When it comes to easy dips that you can pick up in the refrigerated section at your local grocer, nothing compares to Heluva Good! It makes sense that their dips always start with real milk and cream, not from oils or water. You can taste that real creamy goodness in every bite. Bonus: Heluva Good! is always free from artificial growth hormones, too.
Now, let me show you how to build the very best grazing board items to pair up with these amazing drool-worthy dips.
EXTRA-LARGE DIPPING CHARCUTERIE BOARD
Dip time! The clever thing about an extra-large charcuterie board is that you can add so much dip and so many fun things TO dip into it. It's actually surprising to fill up a board of a larger size and these fun pairings can really be done on any size board from small to extra-large. I loved being able to alternate the flavors down the board. Mixing and matching makes for some really yummy grazing.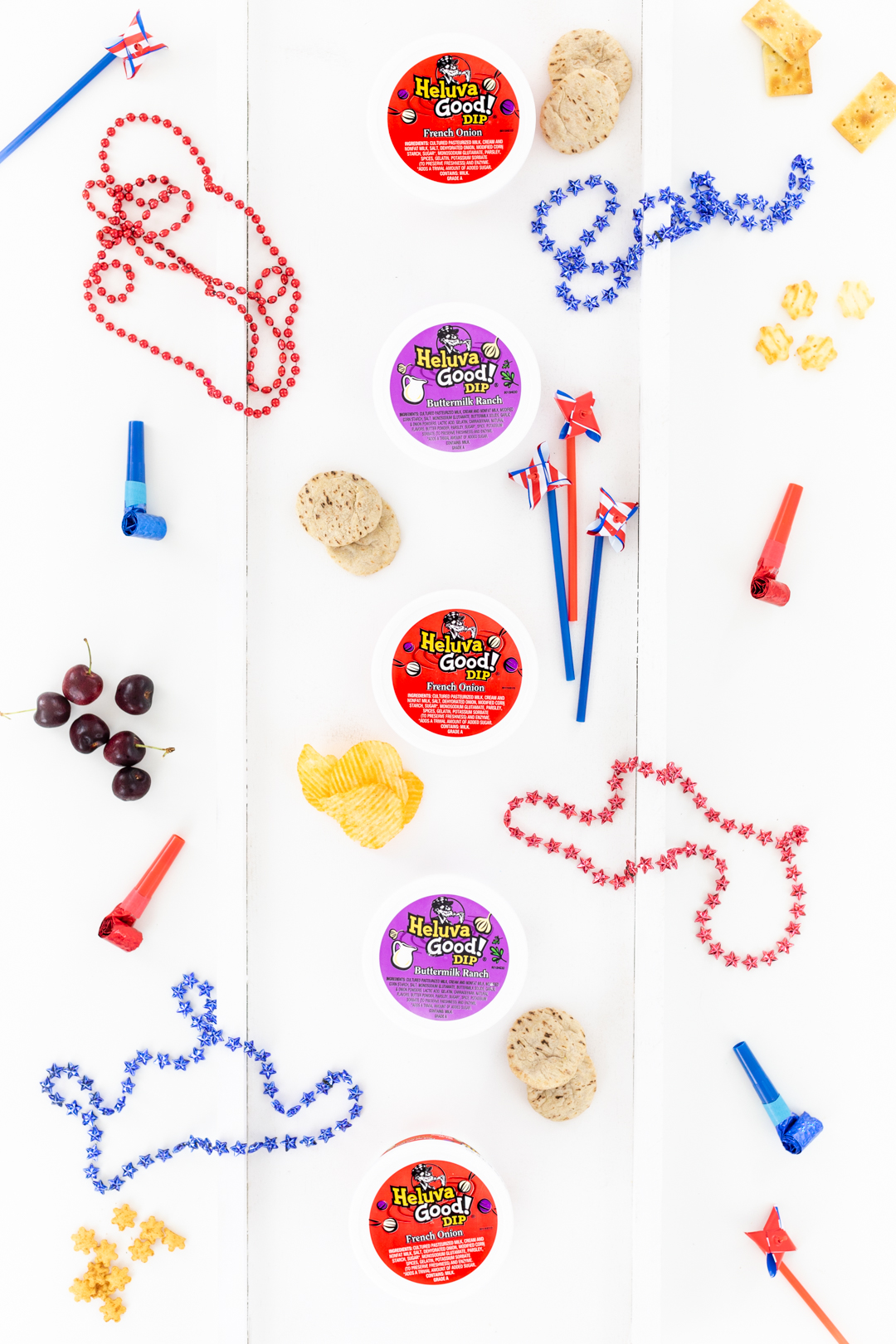 The dipping possibilities are endless, but let me share everything that I added to this summer snack board.
WHAT DIPS TO ADD TO A CHARCUTERIE BOARD
You already know my favorite picks! You can learn more about these tasty flavors to decide which ones you will add to your snack board.
I haven't tried it yet, but Heluva Good! Nacho Queso Supreme Dip sounds absolutely amazing if you want a unique twist.
HOW TO SET UP A DIPPING CHARCUTERIE BOARD
To begin setting up, alternate dip flavors down your board. It's all about options if you ask me. Add a variety for more maximum deliciousness.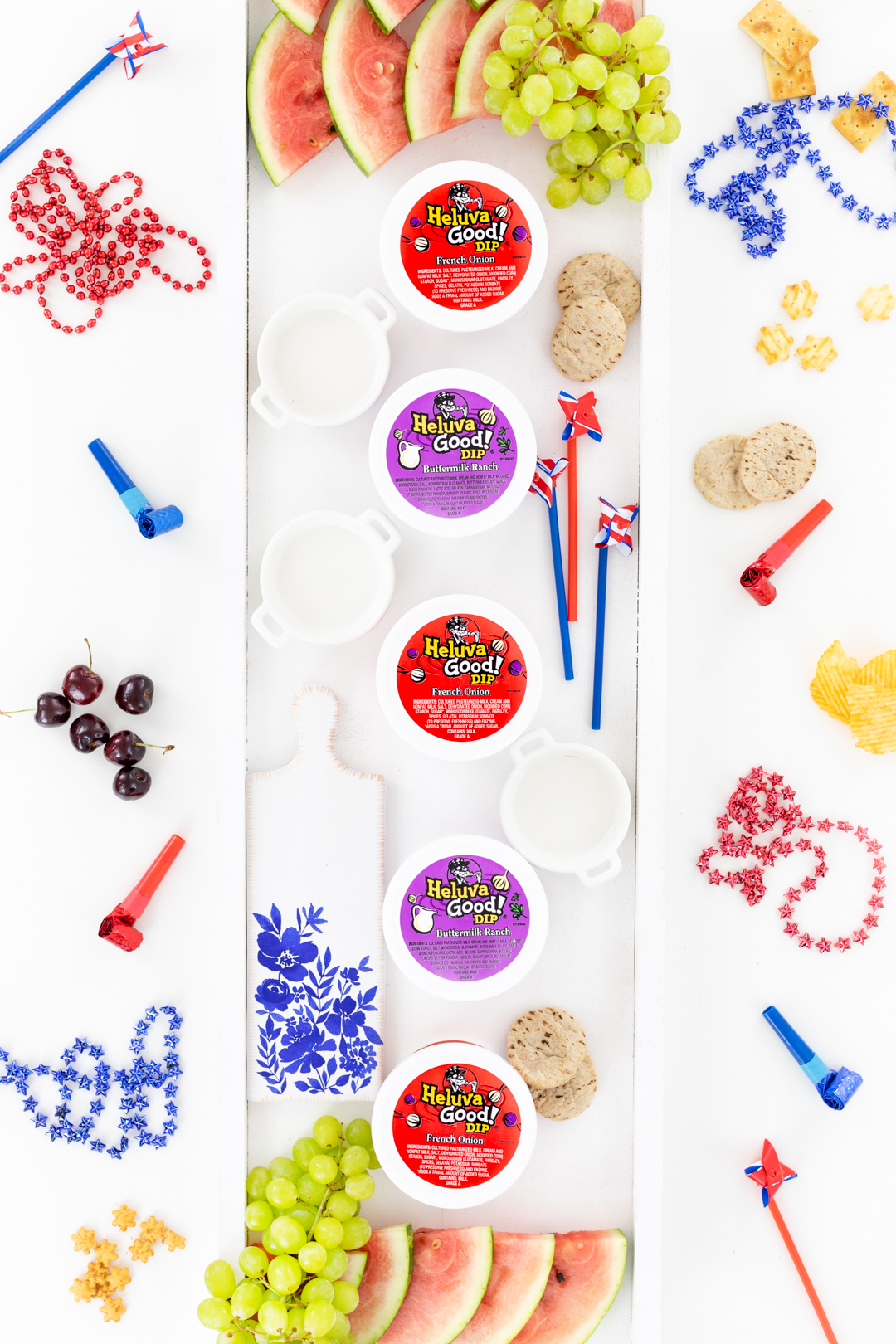 Use smaller dishes, bowls and trays on top of the charcuterie board to add visual interest and to also hold items that might have more moisture like veggies, fruits, cheeses and foods like olives and pickles.
Add a variety of ingredients that are different shapes, colors and types for maximum visual and flavor interest.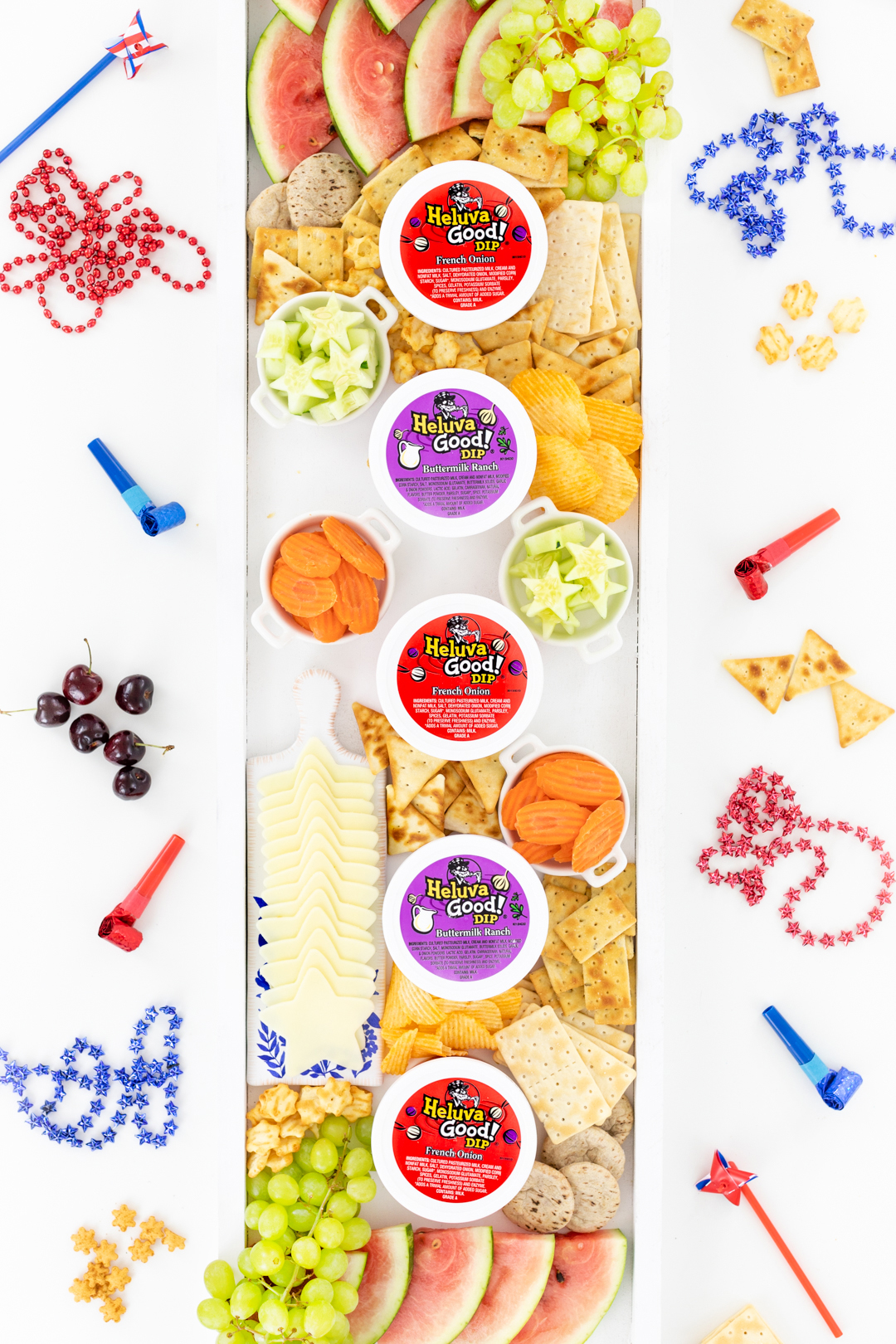 Use star-shaped cookie cutters to make some of your ingredients a bit Patriotic. I used a couple different sizes for my cucumber slices as well as cheese slices.
Choose a wide variety of ingredients that are shaped and colored differently so that everything stands out.
Space and separate your items so that there is a little bit of everything no matter which angle you are snacking on over on the charcuterie board.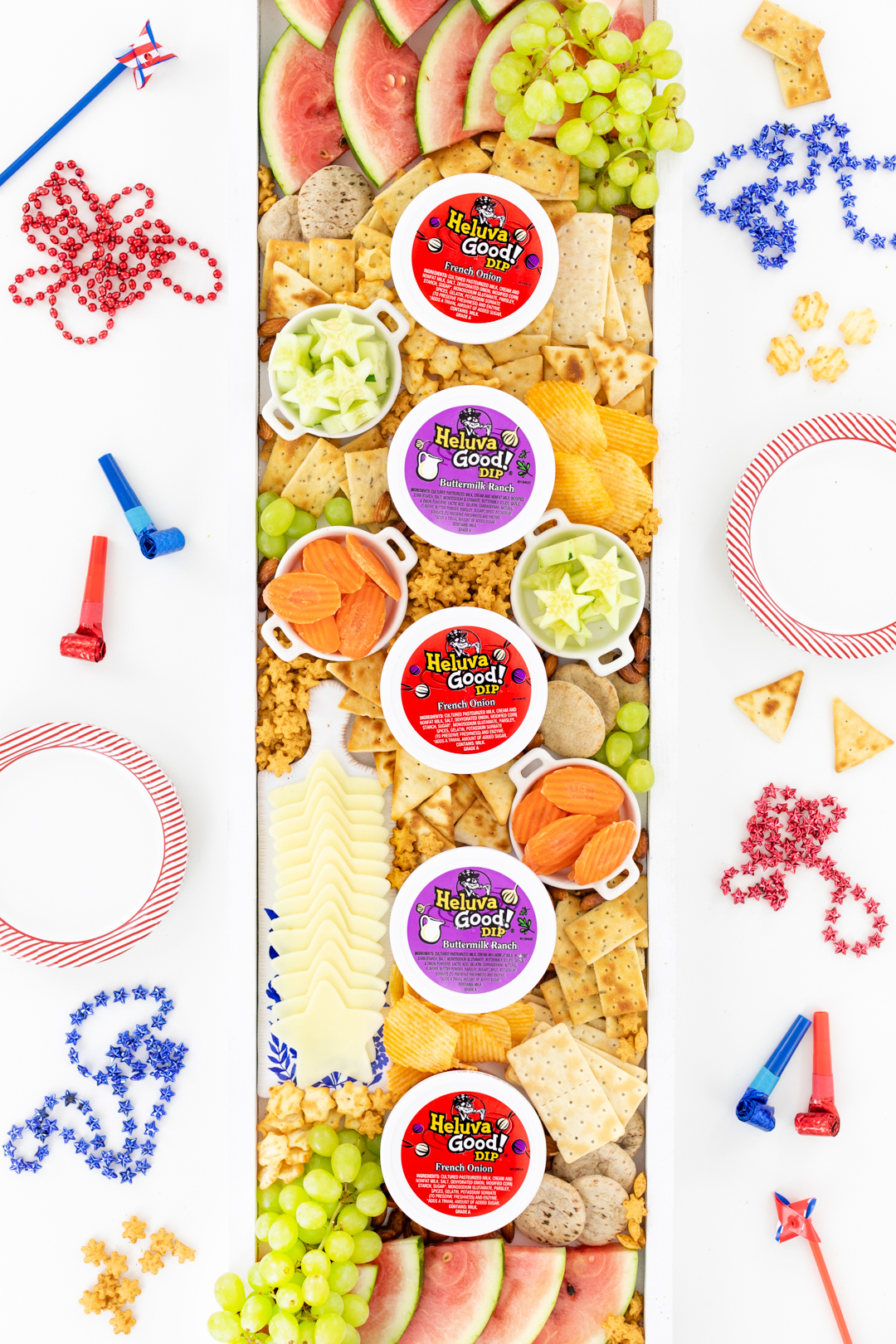 Are you getting hungry yet? You'll soon agree that Heluva Good! Dip makes every snack better! Now let me share what I specifically added to this tasty board.
WHAT ITEMS TO SERVE WITH DIP
Cheeses (Star-Shaped)

Cucumber sliced (Star-Shaped)

Carrot Slices

Mini Pitas and Pita Crackers

Crackers (Wide Variety of Shapes and Flavors)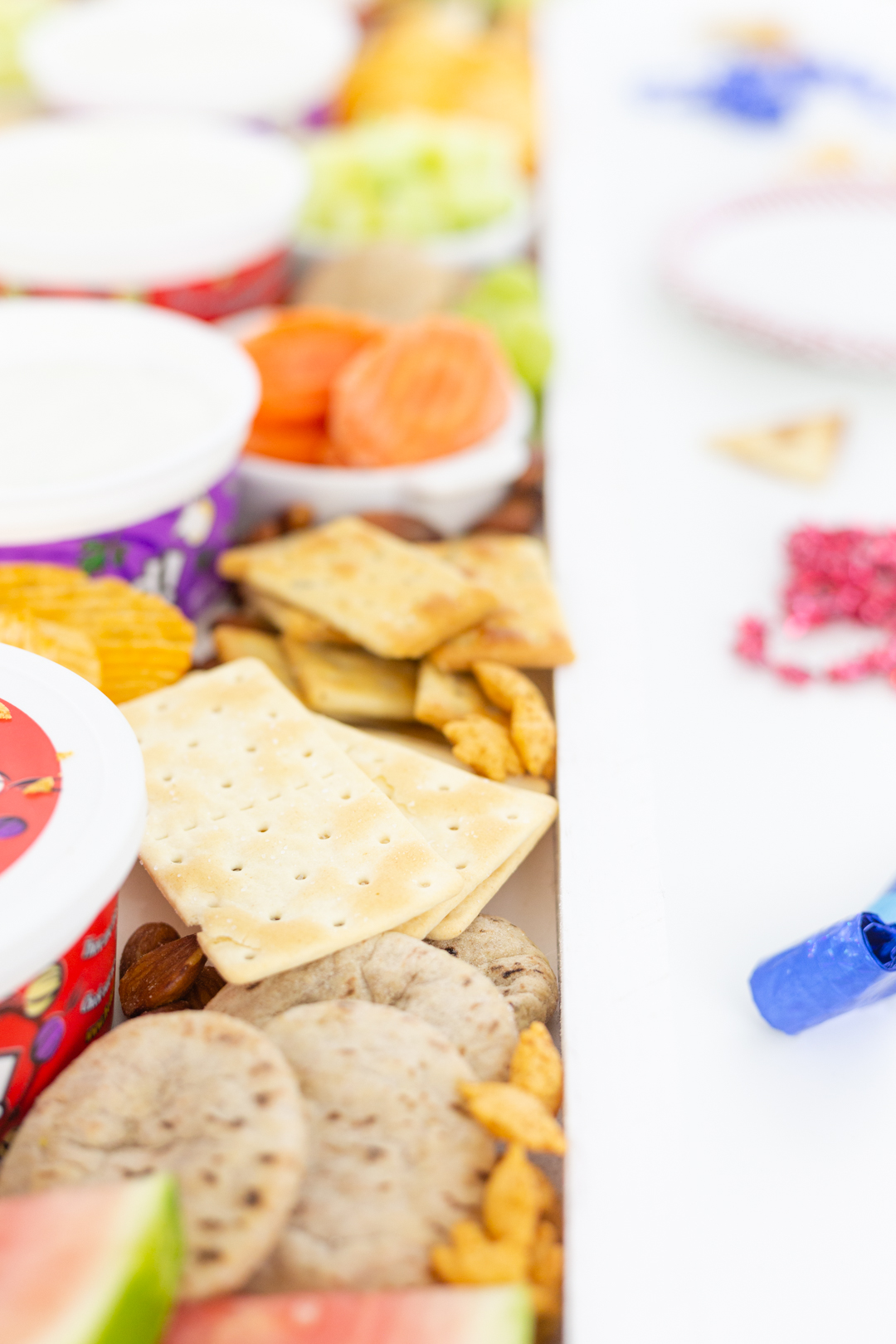 Small Star-Shaped Crackers

Chips (I love Ridged Cheddar for this)

Flavored Almonds

Grapes

Watermelon Slices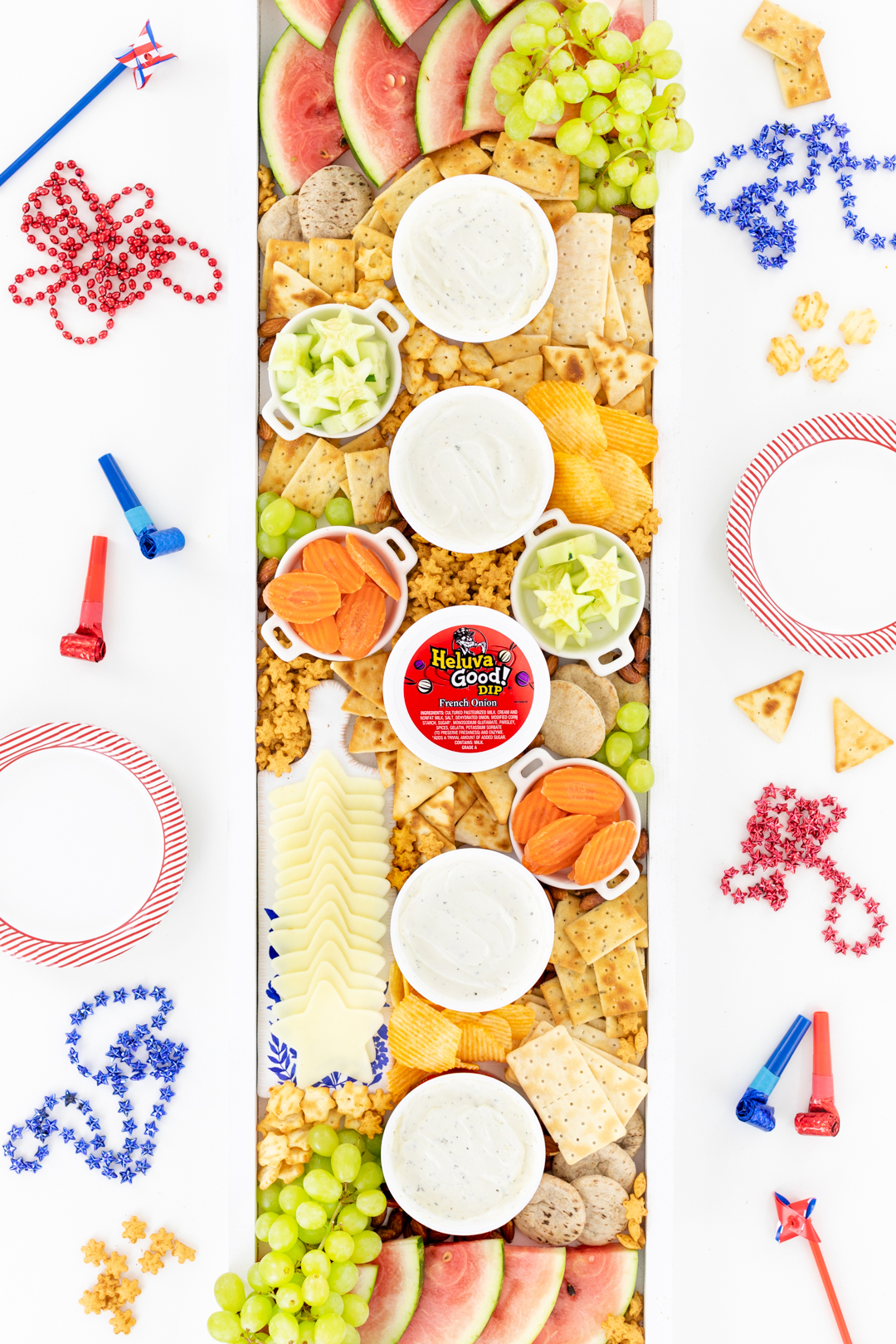 Voila! You are now ready to start planning your delicious summer inspired festivities! It's going to be such a great time! You just can't go wrong.
Be sure to kick off the fun by adding some tasty Heluva Good! dips to your summer shopping list.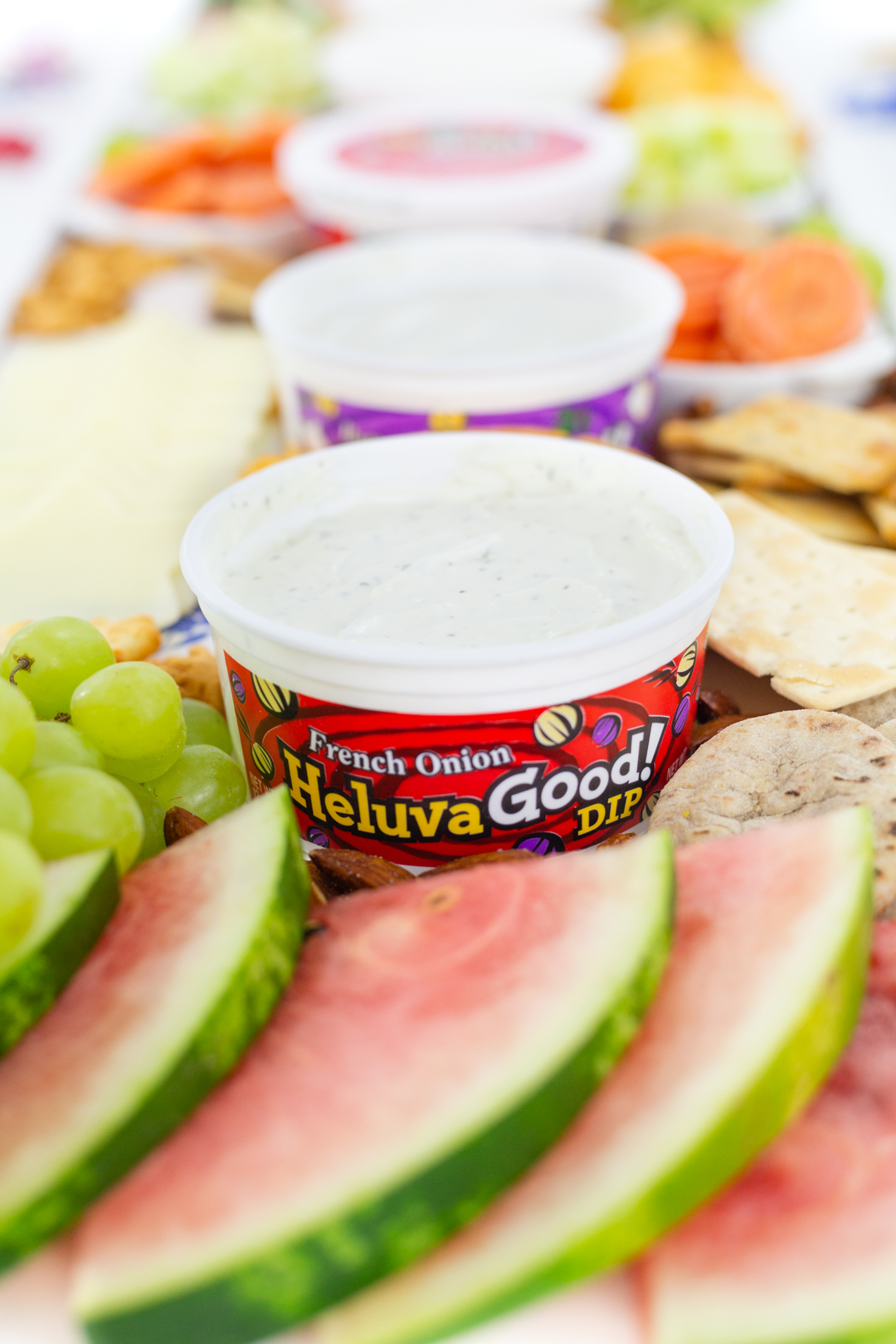 Remember: A chip is just a chip without the creamy delicious taste of Heluva Good! Dip!
Visit Easy Home Meals for great recipe and meal solutions and to enter the June Dairy Month Sweepstakes for a chance to win up to $10,000 in prizes!