After a hot summer day, it's extra fun to cool off with a good movie. There are a few simple musts for the perfect impromptu movie night at home and that includes snacks like the S'mores Popcorn I'm sharing today. Add a movie that the whole family can actually agree on and you'll be good to go. Our movie nights are going to be next level thanks to our new TV that I'm sharing today. Think affordable and smart! I was provided a VIZIO SmartCast™ M-Series 50" Class Ultra HD HDR Home Theater Display™ for review purposes, all opinions are my own.

Smart TV for Movie Night
If you haven't purchased a TV in a few years, there is a whole new world of features and experiences nowadays. We've had mostly smart TVs for a while now, but even though ours weren't that old, technology has already far surpassed the features we've been enjoying. One thing that was starting to get annoying is that we had to watch Netflix through our gaming console in our bedroom. Once the gaming system stopped working, the party was over. We were ready for an upgrade and the timing to experience the VIZIO SmartCast M-Series couldn't have been better. Being the girl that mostly grew up without cable TV, simple luxuries don't go unappreciated.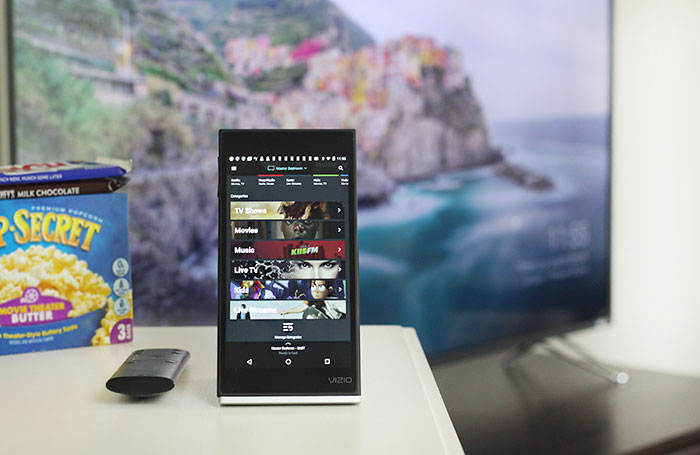 Now, you know that I'm not any kind of tech guru, but I know what works for us and what I like. Starting with the basics, the VIZIO SmartCast M-Series 50″ comes with a tablet remote. That's right, you can use a tablet to gain access to a ton of programming and also stream Netflix, Hulu and more. And as an added bonus, you can actually just download the SmartCast app on your phone. They can all be used interchangeably. Get this, you can take over on whichever SmartCast device you want to use. So, let's say your husband put on something super boring, you can hijack the TV by pressing play on your phone. Not saying you should do that :P. Just saying, you can. It's actually helpful if my husband falls asleep when he was controlling the TV through his own phone. I can just take over with a click or two.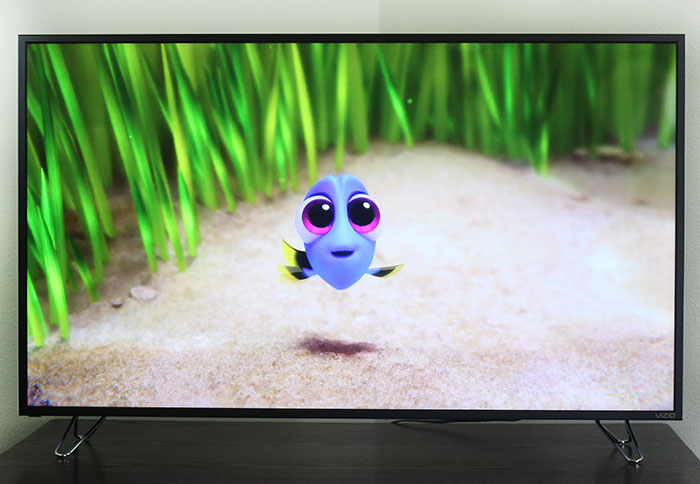 Now on to the screen quality. We're enjoying high-quality screentime with the VIZIO SmartCast M-Series. Pictures don't do it justice, but you can see from this simple capture that the picture is very vivid and bright. This model has "High Dynamic Range", this is where the vibrancy and colors really pop for a truly rich experience. It's been referred to as being highly captivating and I couldn't agree more.
My final review? This TV is more than fit for the perfect impromptu movie nights.
Easy Movie Night S'mores Popcorn
Not sure about you, but when we're doing an impromptu movie night, there's no time for fuss. Tossing together just a handful of ingredients, you can have an epic movie treat.
Here's what I used to make this yummy popcorn recipe on the fly:
1 Bag of Extra Butter Popcorn – popped
1 Hershey's Chocolate Bar
1 Cup of Mini Marshmallows
1 Cup of Graham Cereal
Simply toss all of these ingredients together for the perfect movie munch!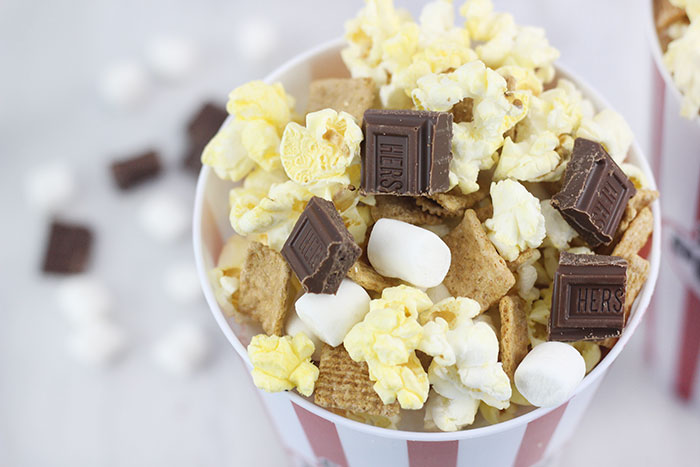 Now, all you need to decide is which movie you will watch. What I do know is that you'll have a ton of choices with the SmartCast app!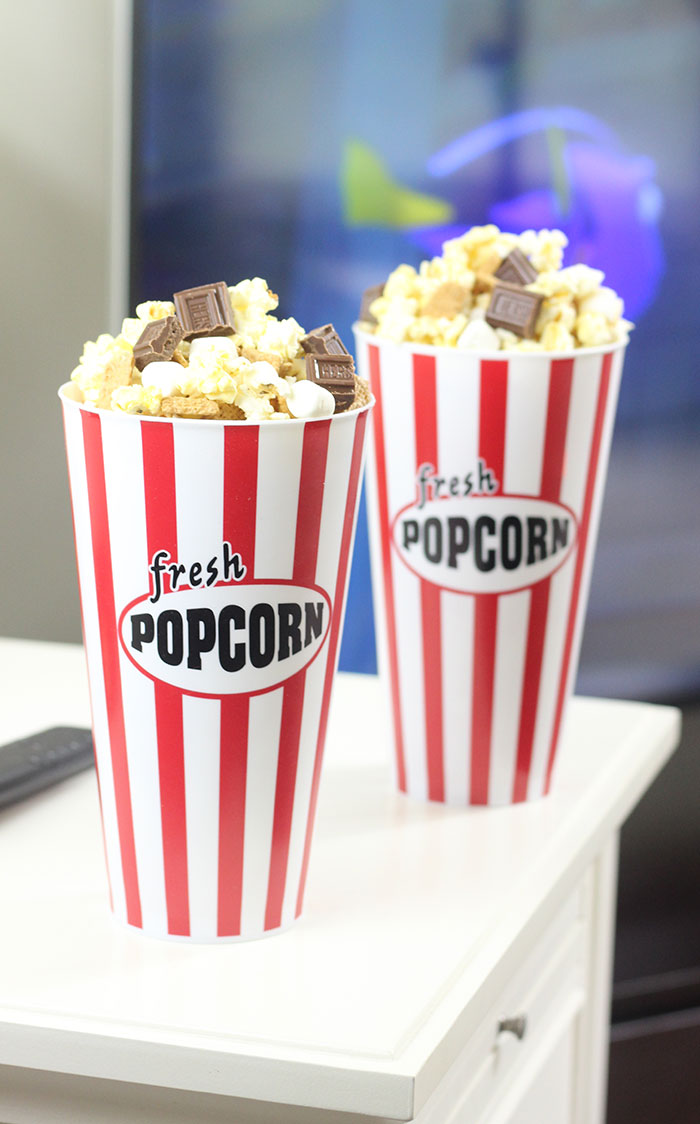 For more added shenanigans, you might be able to cast the app onto other TVs or devices in your home. We literally just pulled the funniest prank on my son this past weekend. We're able to basically take over his Xbox on our network with the SmartCast app. So while he was streaming Netflix, we took over his TV and played that creepy part from The Ring movie. You know the part where the girl climbs out of the well and makes her way slowly out of the TV? Yeah, that part! At first, he thought it was a fluke, so he put his show back on and then… we did it again. Har har har. He finally came to our room to see what was going on. It was a good bonus laugh for all of us. He denies being scared, but we know the truth.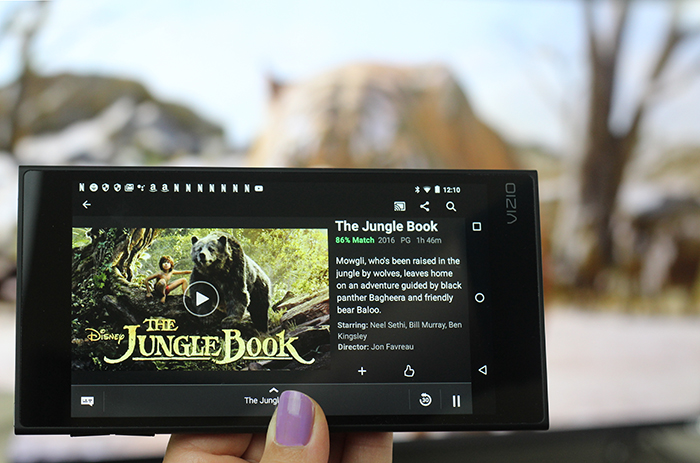 Want to learn more about the VIZIO SmartCast M-Series 50" Class Ultra HD HDR Home Theater Display? Visit Vizio.com today.
This TV is also available at retailers such as Best Buy and Walmart.