It's the perfect time of the year to break out your slow cooker for some simple meals and dishes. I wanted to put together a nice go-to resource for some of the easiest slow cooker recipes on the web. Recently, I shared a roundup of recipes with 4 ingredients or less, which was really popular. Why not go even further and rally up slow cooker recipes with 3 ingredients too? From meat to sides all the way to desserts and snacks, there is lots of tasty goodness on the horizon. Sounds good to me!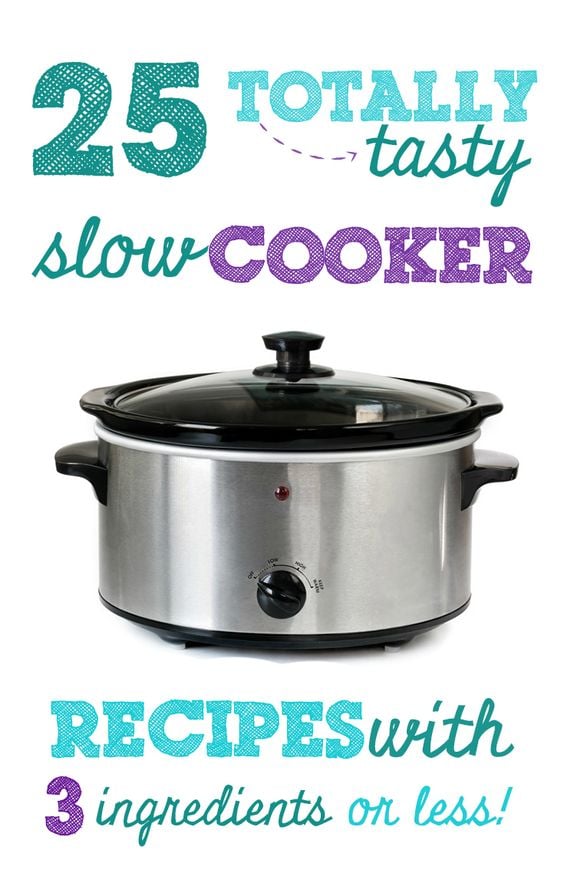 I summoned these tasty tidbits from my blogger friends around the web so that you could grab them all in one place! Visit them, pin them, bookmark them, they are incredible! So, get your shopping list ready and let's do this!
SLOW COOKER RECIPES WITH 3 INGREDIENTS OR LESS
Slow Cooker Recipes with Chicken, Turkey and Fish
3 Ingredient Fiesta Chicken from Cutefetti
Portobella Mushroom Chicken from Cutefetti
Slow Cooker Salsa Chicken from Cupcakes & Kale Chips
3 Ingredient Chile Chicken from Cutefetti
Garlic Butter Tilapia from 52 Kitchen Adventures
Slow Cooker Nacho Chicken from Tammilee Tips
Savory Citrus Chicken from Miss in the Kitchen
3 Ingredient Zesty Cheddar Chicken from Cutefetti
Crockpot Qdoba Night from Wine & Glue
Slow Cooker Recipes with Beef
Ultimate Party Meatballs from Domestic Executive Online
Slow Cooker Beef Tacos from Miss Information
3 Ingredient Crock Pot Beef Tacos from Frugal Foodie Mama
Slow Cooker Recipes with Pork
Sweet Korean BBQ Ribs from Back for Seconds
Brown Sugar Pineapple Ham from Julie's Eats & Treats
Slow Cooker BBQ Pulled Pork from Simmworks Family Blog
Slow Cooker Rootbeer Pulled Pork from Cupcakes & Kale Chips
Slow Cooked Ranch Porkchops from In Mom's Test Kitchen
Slow Cooker Fruits and Veggies
Slow Cooker Corn on the Cob from 52 Kitchen Adventures
Slow Cooker Breads and Breakfasts 
Slow Cooker Steel Cut Oatmeal From Thifty Jinxy
One Hour Slow Cooker Bread from Cutefetti
Slow Cooker Snacks and Sides
Slow Cooker Cinnamon Roll Monkey Bread from Call Me PMC
Slow Cooker Hard Boiled Eggs from 52 Kitchen Adventures
Amazing Queso Dip from Embracing Beauty
Want more? Check out these posts:
44 Slow Cooker Recipes with 4 Ingredients or less.
45 Slow Cooker Recipes with 5 Ingredients or less.
15 Gluten Free Slow Cooker Recipes.
Of course, no meal is complete without dessert!