This post contains affiliate links, which means I receive earnings if you make a purchase using these links.
We're slowly but surely adjusting to live here in central Florida. We've been having fun checking out the new foods and stores nearby. As we were waiting for our moving truck to deliver our stuff, we used the opportunity to eat out often to try new things. One of the very best places we found is Vitalize Natural Market where they sell healthy supplements and foods. They have a juice bar that we tried and was an instant favorite. We were craving something with fresh fruits and veggies, we couldn't help but order their French Toast smoothie. It just sounded too good.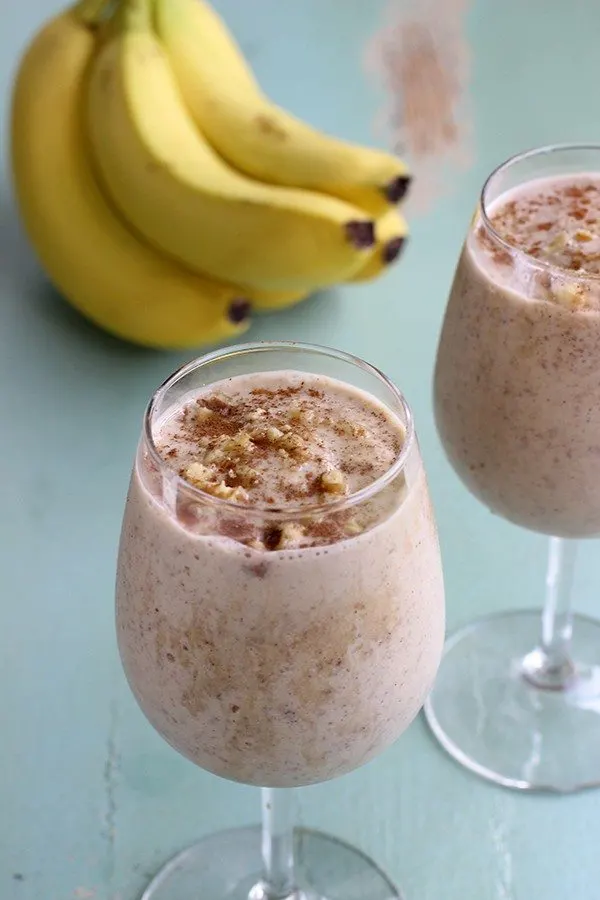 However $8 a pop for a (delicious) smoothie is just not cost effective for regular sipping. Now that we finally have our blender back, I decided to give making my own a try based on the ingredients they listed. I was pleasantly surprised when I came up with something that tastes very similar, if not nearly identical. While sharing protein shakes aren't a norm around here, I do think this one is worthy of a try. It's really filling too, which is just perfect for breakfast on the go. I had lost a good amount of weight last year, but with the stress of the holidays, I totally dropped the ball. Really dropped the ball. I had reduced my gluten and dairy intake to lose the weight and it really worked for me. So, now that we've moved from blizzard central to basically SPRING, I wanted to fast forward my attempts and get back on track immediately!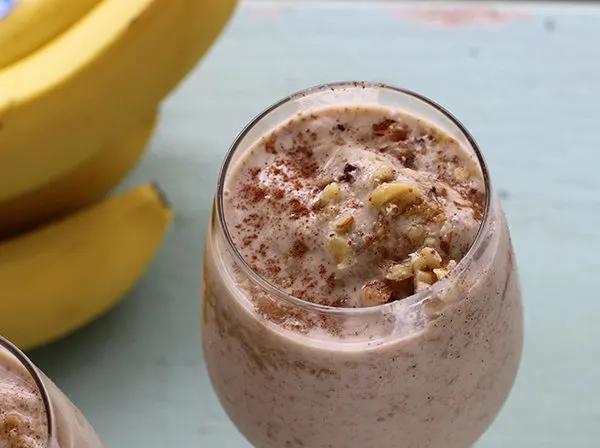 This French Toast Smoothie uses a a scoop of vanilla protein shake. I've tried quite a few in my day, so I wanted to share a couple of my preferred options. Now, to be super transparent, I've never used a plant based protein powder that tasted like my favorite ice cream shake or a divine dessert. Being realistic, some taste horrible and others are just more pleasing to the palate. My go-to option has been Vega brand over the last year. I generally prefer their chocolate flavor, but they also offer French Vanilla Vega One too.
When I stopped into Vitalize, I ended up trying a different one called Plant Fusion's Phood Shake which comes in vanilla. I think this is the best vanilla flavored protein powder that I've had to date. This is the one that I used when I was making this recipe. Another mentionable is Raw Meal or Raw Protein, I was really impressed by the ingredients, but found this one extremely difficult to enjoy in comparison. I'd love to hear about your favorites if you have one, too!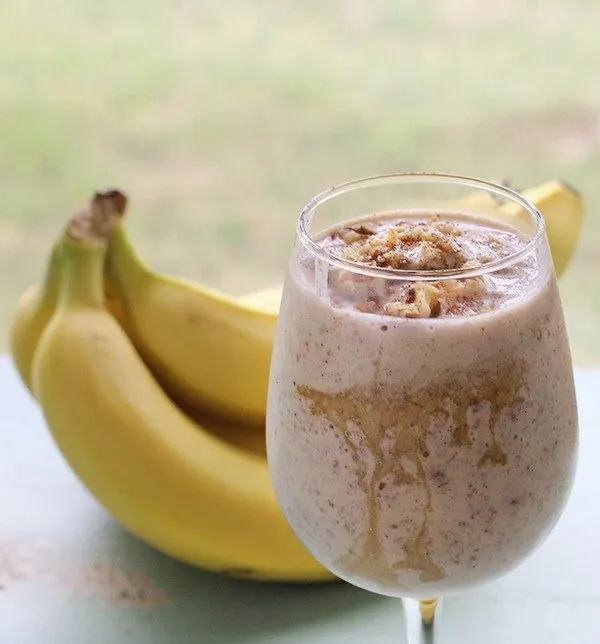 For this recipe, I tried something new. It calls for "flax meal". I found Bob's Red Mill Organic Flaxseed Meal and it worked great. It was under $5 for a bag at my local grocery store. Aside from an extra boost of nutrition, this helps to make the smoothie extra thick too. Total bonus.
Ready to try a protein packed smoothie that tastes like a carb loaded breakfast favorite? Check out this French Toast Protein Smoothie! Oh and don't judge me if I opt for real French Toast from time to time, okay? *wink*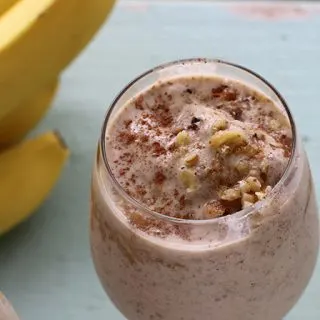 Protein Packed French Toast Smoothie
Ingredients
1 cup almond milk
1 scoop of vanilla protein shake
2 tbsp walnuts
1 tbsp maple syrup
2 tbsp flax ground
¼ all spice
¼ cinnamon
2 cups ice
Instructions
Using a powerful blender (or food processor if needed) add walnuts and break down until they are ground into a powdery consistency. Add all of the ingredients (except ice) including the ground walnuts into a high powered blender and mix. Add your ice and blend until smooth. Enjoy immediately. Makes 1 to 2 servings.
What are your favorite smoothies?