Calling all soccer fans! Time to make this adorable soccer themed donut recipe to celebrate the season! I recently learned that Post is the official cereal sponsor of Major League Soccer and they also support youth teams and tournaments, so I thought it would be extra fun to share easy soccer party ideas to *kick* off the fun. This is a sponsored post with Post Cereals, all opinions are my own.
Plus, if you're local to Orlando, you are invited to go to a special MLS All-Star Week Celebration on Wednesday, July 31, so keep on reading for these exciting details!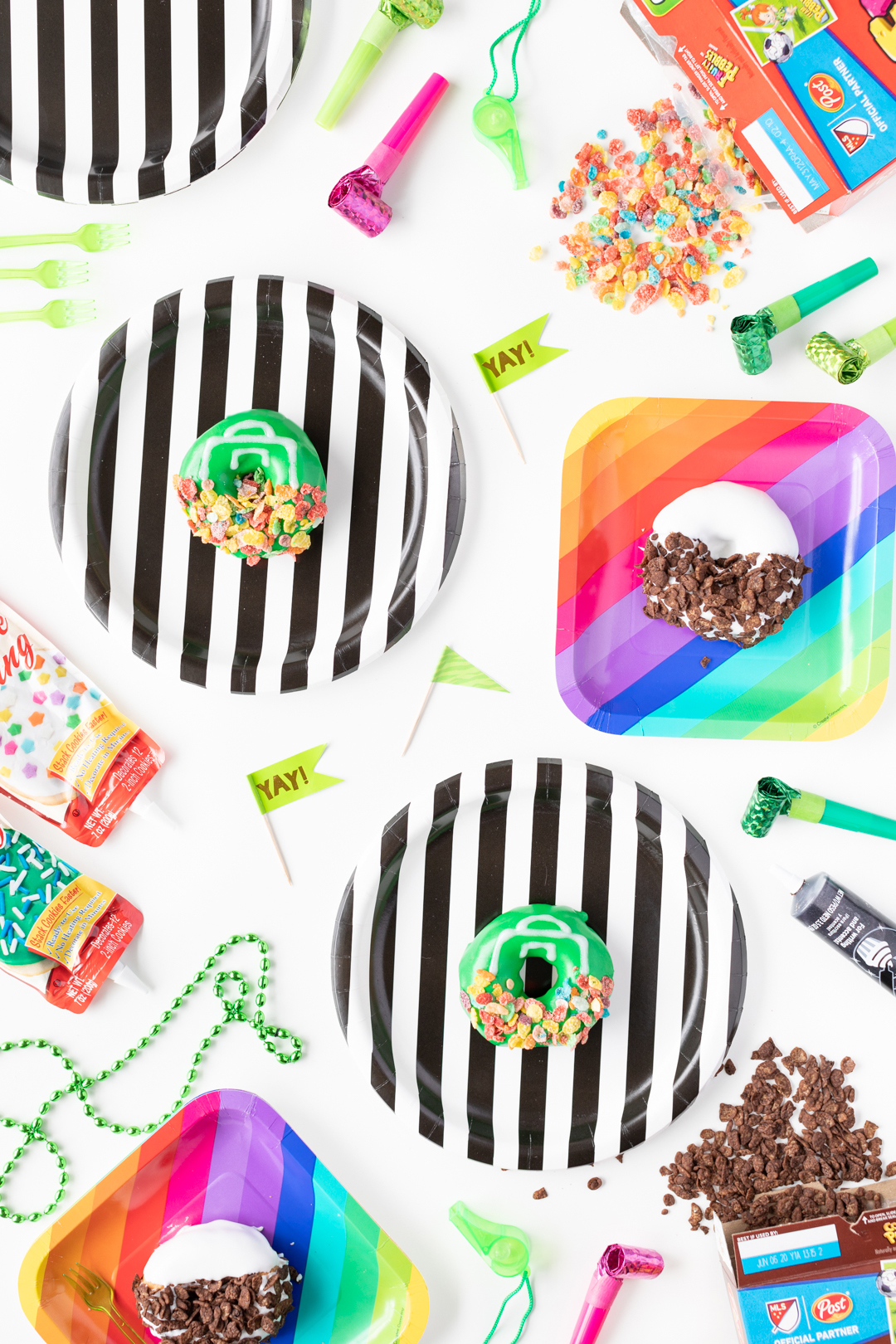 SOCCER PARTY THEME IDEAS
Are you planning a sport party theme? You have totally come to the right place. These yummy soccer party snacks are a great way to kick off your efforts. With the help of delish Fruity Pebbles® and Cocoa Pebbles®, these soccer party donuts that I'm sharing today could not be more perfect between flavor and presentation. Whether you're planning something for a birthday party at home for your soccer party or something for the soccer team at the end of the season, this is an easy and fun way to serve up themed food that everyone will instantly fall in love with.
SOCCER PARTY FOOD
Whether you are putting together a soccer party dessert table or just looking for easy soccer themed foods, these cute donuts are pretty Pinterest perfect if you ask me. Making foods that look like a soccer ball would be so perfect to serve from cakes to cookies and cupcakes, it can really add a lot of fun goodness. I wanted to make something that could work for so many things from breakfast or as a snack or dessert, too.
To make this easy recipe, I thought it would be so perfect to use some of our favorite cereals for extra fun. Adding a major kick of fruity flavor with Fruity Pebbles and some yummy chocolaty flavor with Cocoa Pebbles took these treats over the top. I love a good themed recipe, so I'm excited to share this fun new option to amp up the fun with you. Now, let's make these ultra yummy donuts!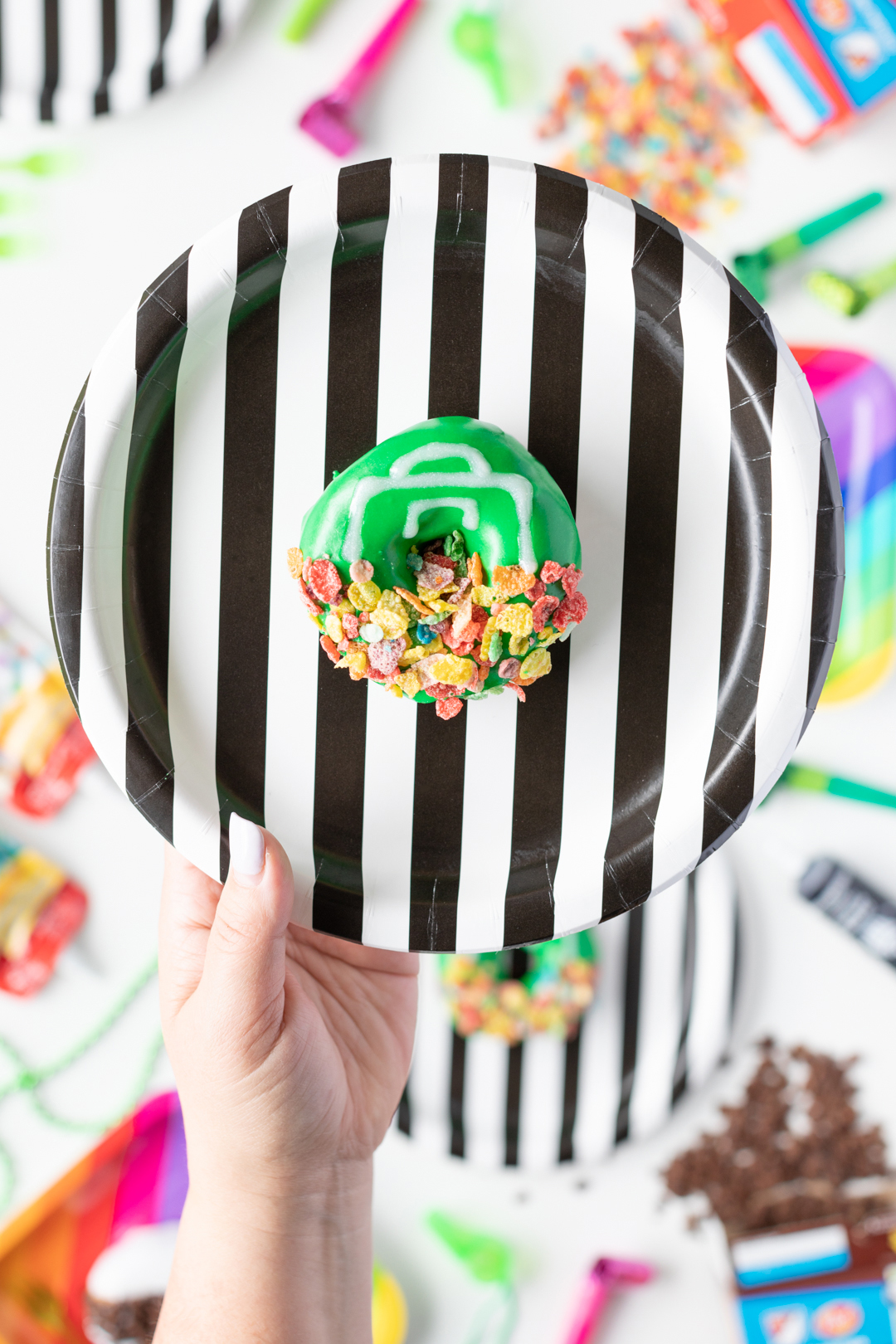 HOW TO MAKE SOCCER PARTY DONUTS
Imagine the cutest little donuts that are so easy to make. The kids can even help decorate them. The best part is that you only need a few simple ingredients to whip them up. I'm sharing two different donut designs today, both referee inspired donuts as well as soccer field (goal post) donuts.
Here is what you need:
Plain Donuts
Post Cereals (Fruity Pebbles and Cocoa Pebbles)
Cookie Icing
Sparkle Gel or Icing Writers
Let's start by making the soccer field donuts. Imagine the Fruity Pebbles as the "crowd" eagerly waiting for a goal for their home team!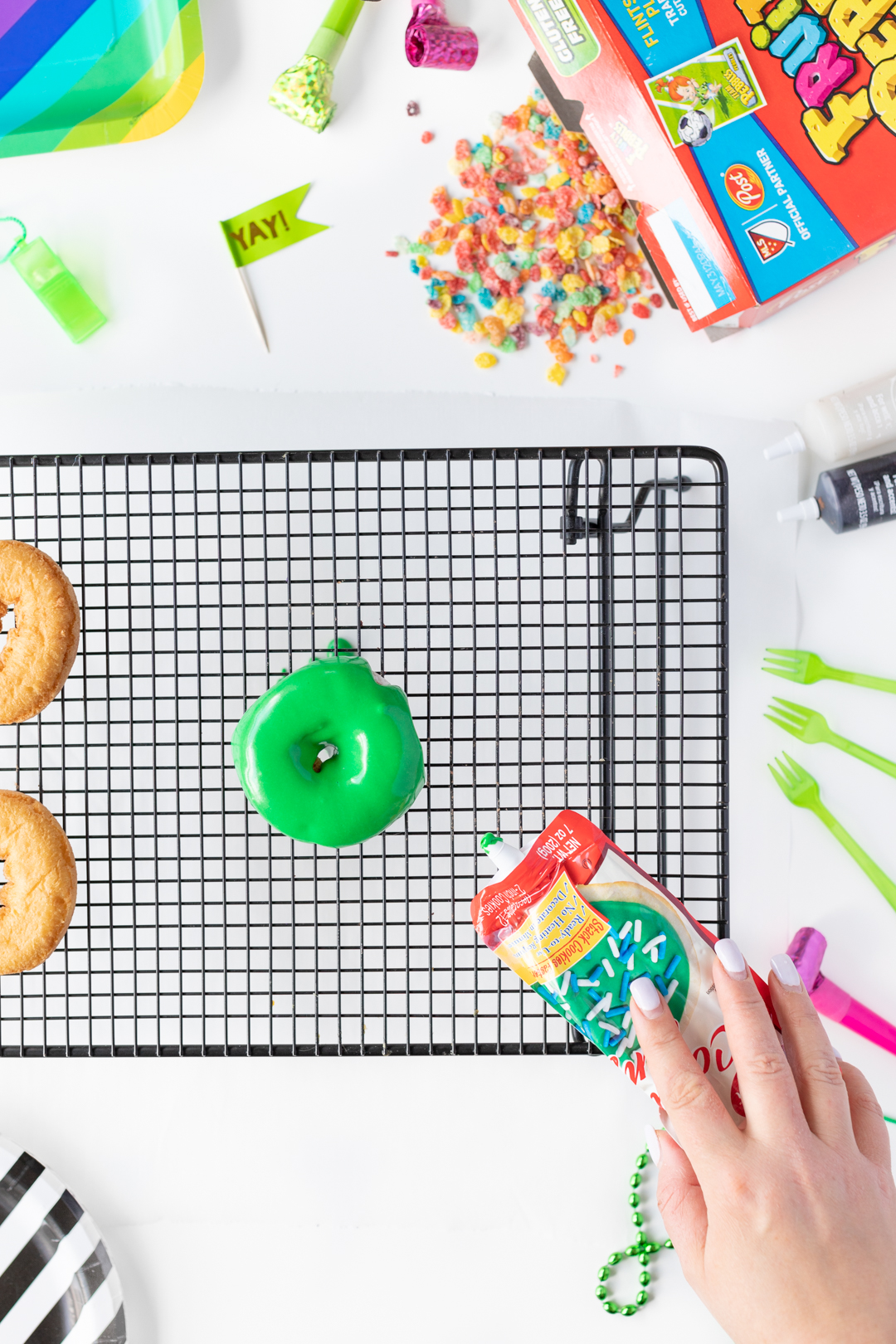 First thing to do is drizzle green icing to represent the field over the entire donut.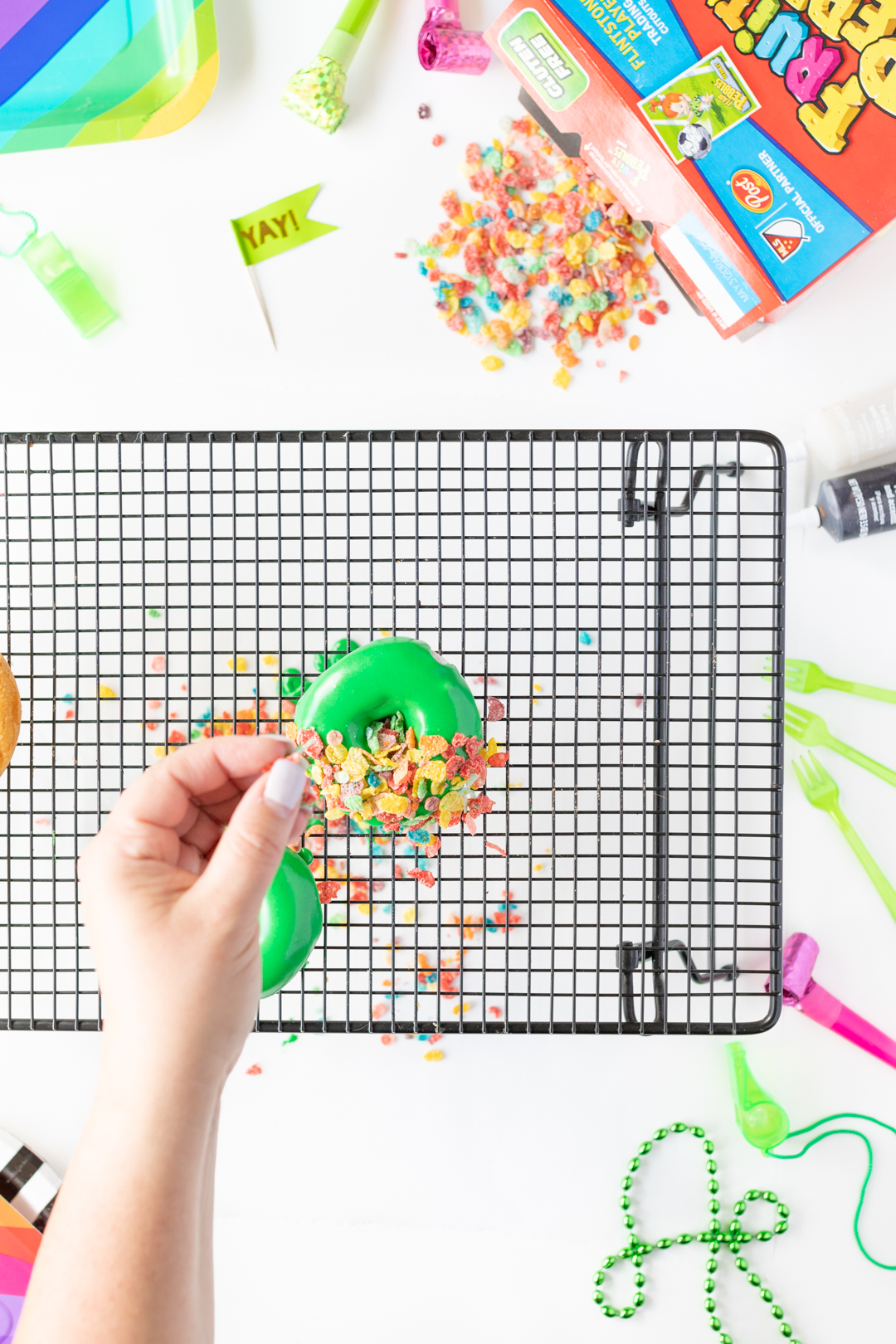 Then, quickly sprinkle Fruity Pebbles over the bottom half of each donut. Make sure to do this immediately after you ice the donuts so that the cereal sticks to them. You can very gently press the cereal into the donut to help it stick, if needed.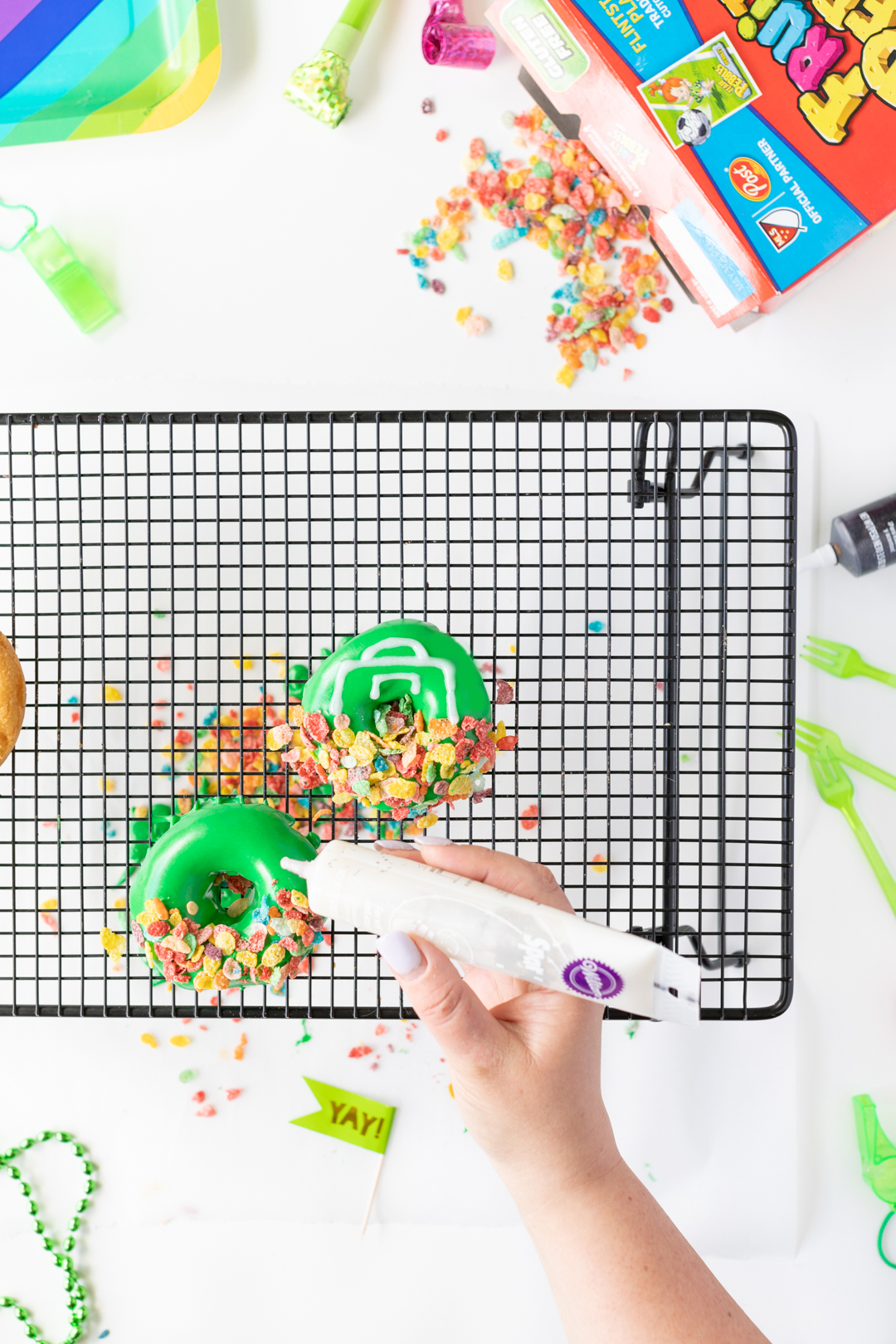 Finally, draw in the goal post using your favorite white icing writer or sparkle gel. You can basically do this by drawing a 3 sided rectangle without the bottom line and then a much smaller version inside of that. Then, make a half circle on top of the larger rectangle shape. That's all! Set these donuts aside to set.
Next up, we have referee inspired donuts which are simply white and "black" (or brown technically, ha) using Cocoa Pebbles.
Start off my icing half of the donuts in white cookie icing.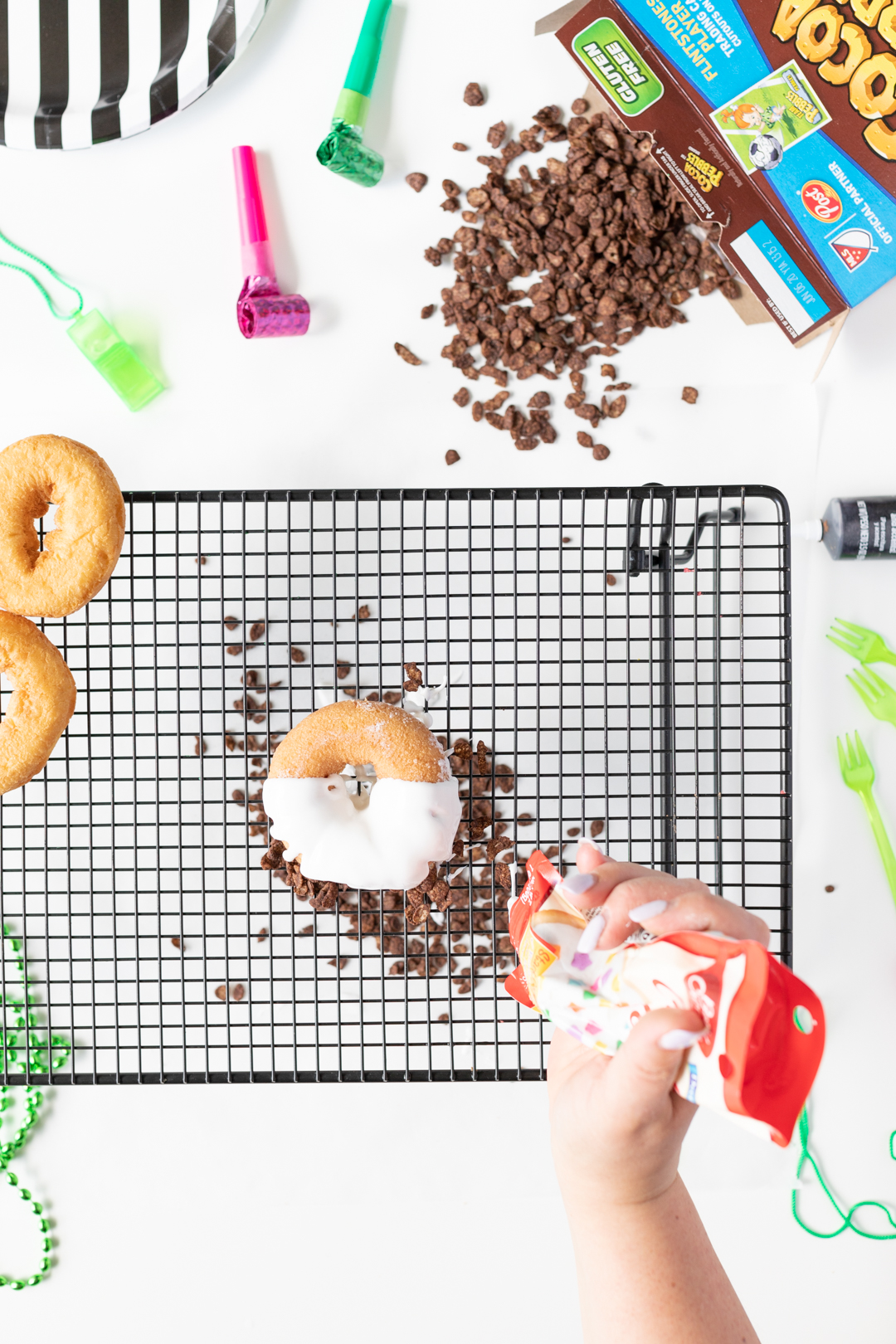 Then, with the same method above, sprinkle and gently press the Cocoa Pebbles into the icing.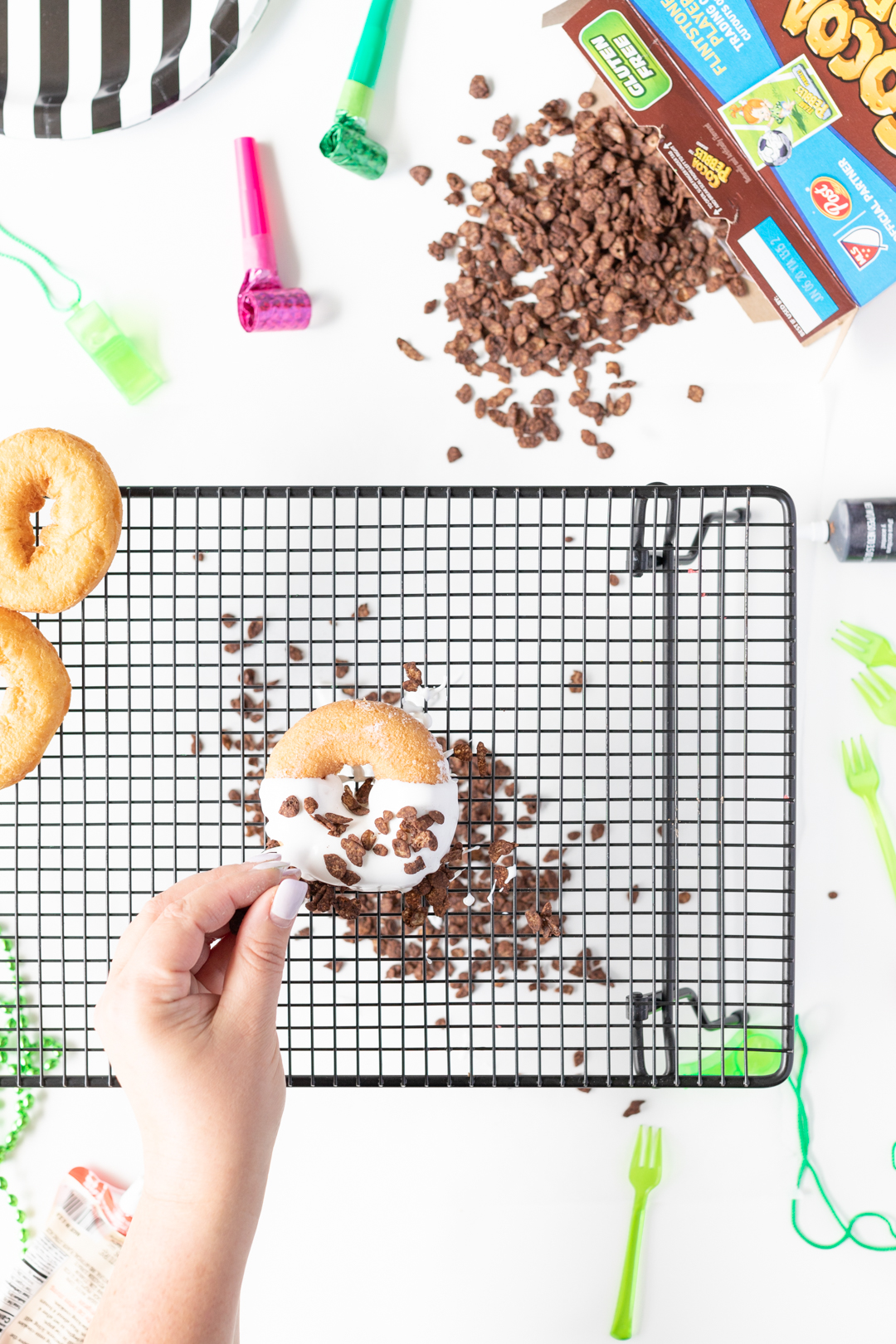 Then, proceed to ice the other half of the donut. Let the icing set and they are ready to enjoy. Yum.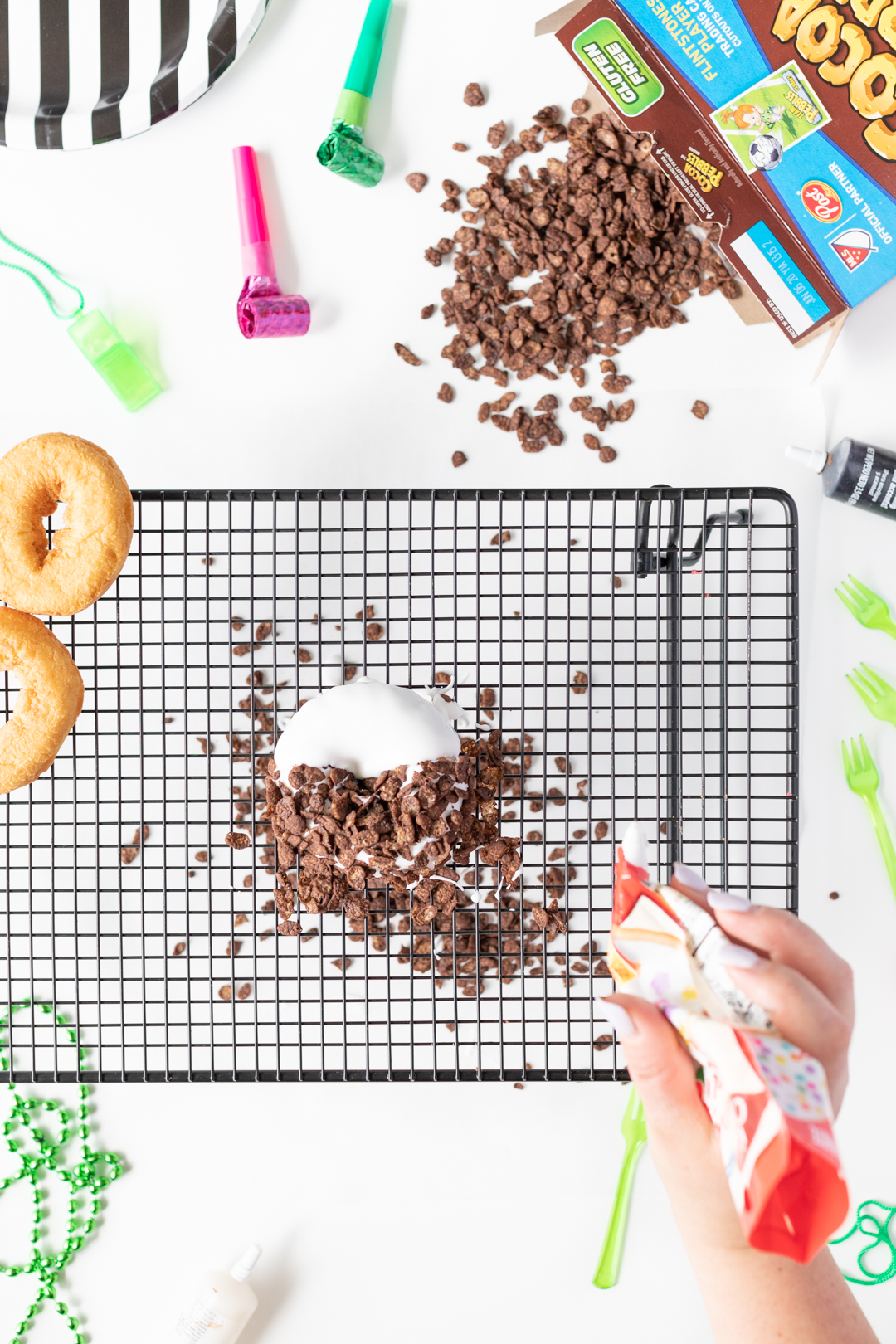 TIPS FOR DECORATING DONUTS
The easiest way to decorate donuts is with cookie icing. It goes on perfectly smooth and sets pretty quickly. You can easily press sprinkles or cereals into the icing to get it to stick quickly. If you are using icing, it works best using a cooking rack to do your decorating and use parchment paper below to catch all of the excess icing and donut sprinkles and cereal. To make specific designs on your donuts, you can use icing that is meant for writing and decorating. I also love sparkle gels for this. If you are making a face on your donut, you can use candy eyes and a variety of other candies. You might need extra frosting or a dab of icing to get everything to stick once the base icing has set. Have fun with it.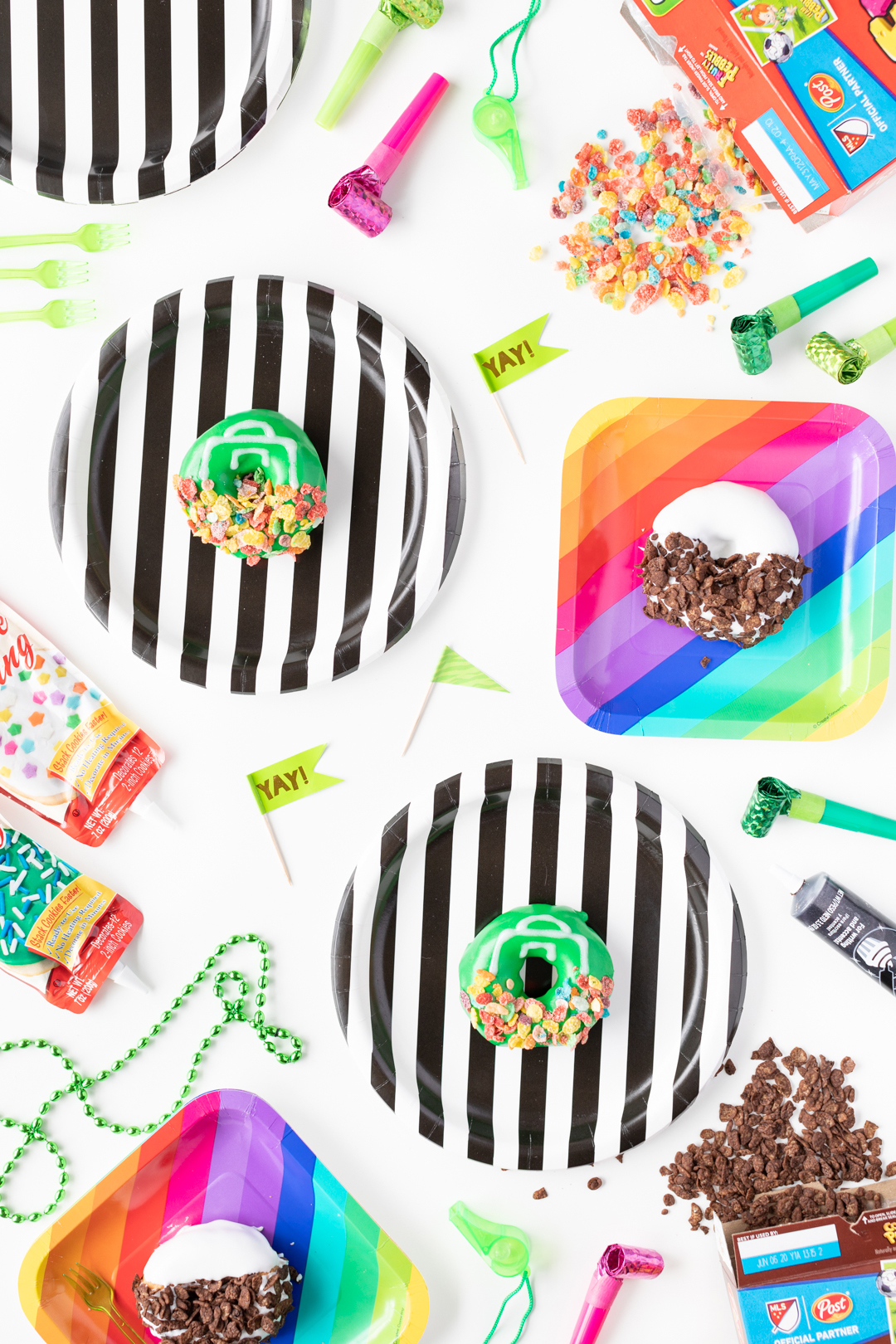 Now, about that awesome opportunity for local Orlando friends! Don't miss the extra fun
MLS ALL-STAR CELEBRATION IN ORLANDO
You're invited to Post's soccer themed family friendly experience!
WHEN: 3:30 – 7:30 p.m. on Wednesday, July 31. (before the game)
WHERE: Southeast Side of Exploria Stadium
WHAT: MLS All-Star Game Soccer Celebration presented by Tide.
Post is hosting a family friendly experience where fans can test their soccer skills on a soccer dart game, take a picture in a giant cereal bowl filled with soccer balls, get your face painted to show team spirit and more!
Plus, they are offering a sampling of Honey Bunches of Oats, Golden Crisp and Pebbles. Yum!
BONUS: Orlando City SC player Oriol Rosell will make an appearance at the experience at 4 p.m. Get a signed player card!
If you visit, be sure to use hashtags: #KickItWithPost and #MLSAllStar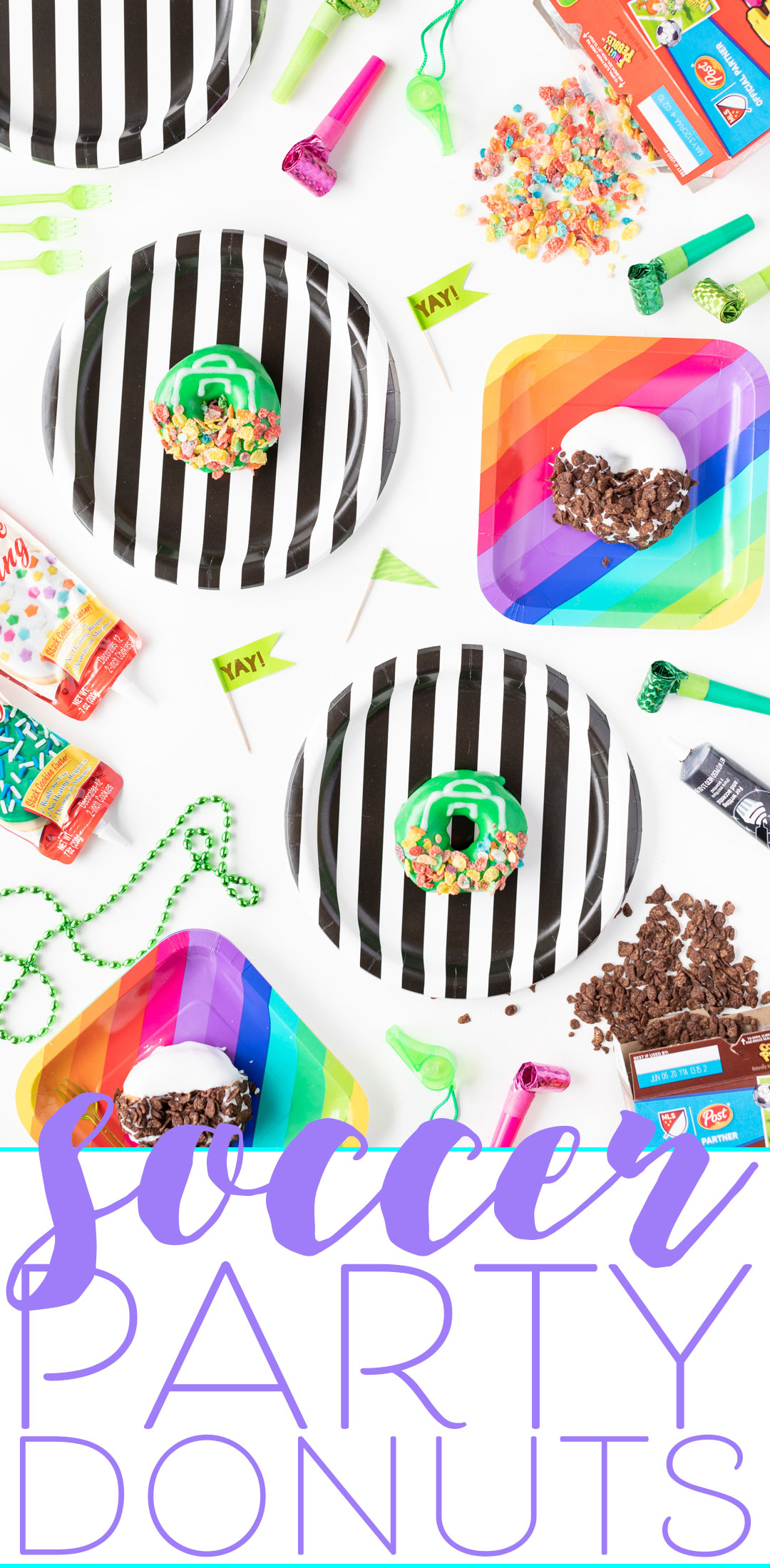 Hope that you loved these easy soccer party ideas featuring Post cereal and that you can make it out to this event!