This post is sponsored by OREO. The opinions and text are all mine
One of my favorite things to look forward to during the holiday season? Dessert! It has the power to bring families to the table year after year. Today, I'm sharing a fun twist to one of my all-time favorite holiday sweet treats. This pretty and delicious OREO Cookie Ball Wreath can be made easily and quickly with products available at Publix.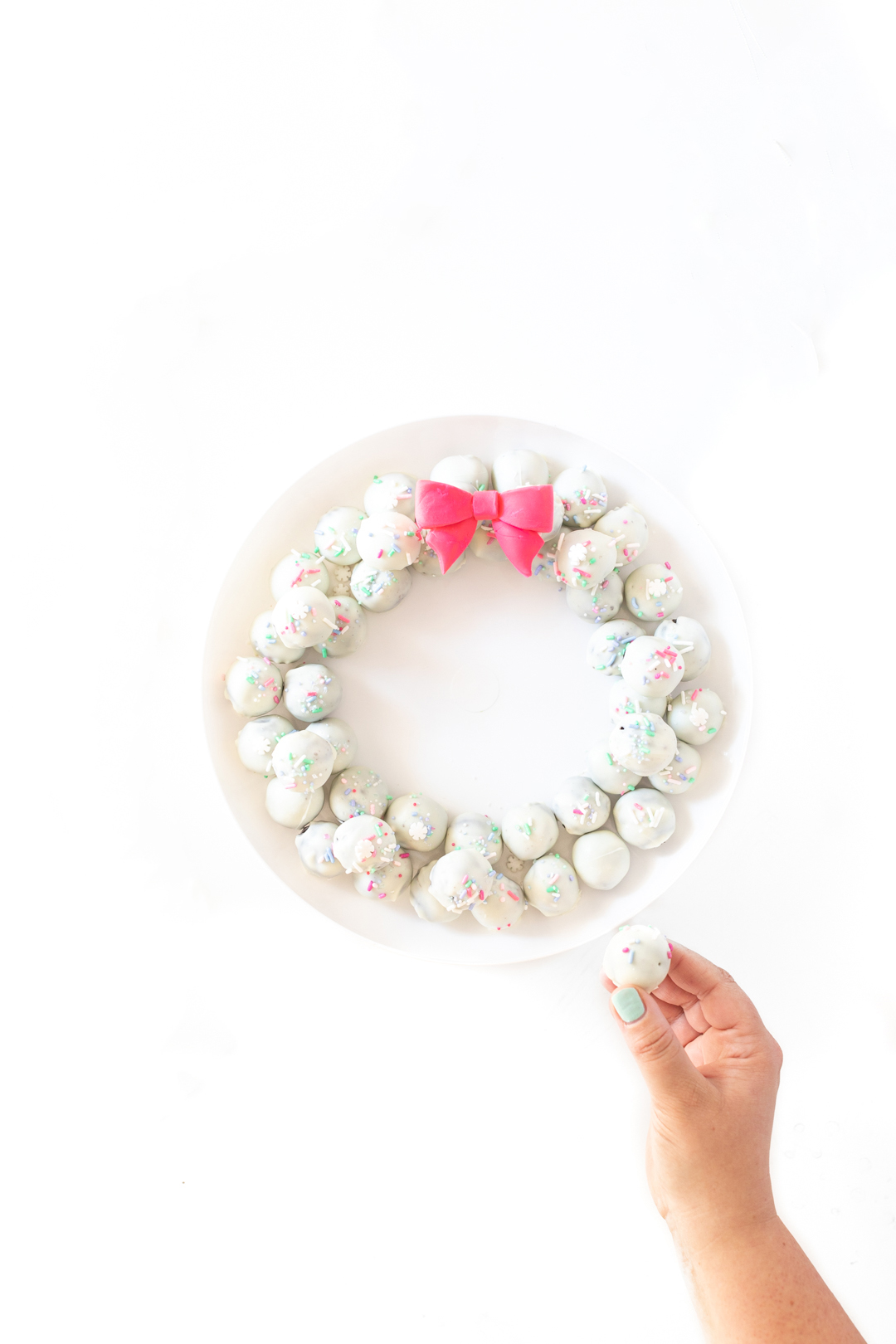 I still remember the first time that I made a traditional OREO cookie ball recipe. I made a peppermint version and they were SO good that I almost immediately made a second batch. Fast forward to now and I'm still loving this classic treat. The best part is the basic idea can be reinvented over and over again with different toppings or flavorings and it's so simple to make.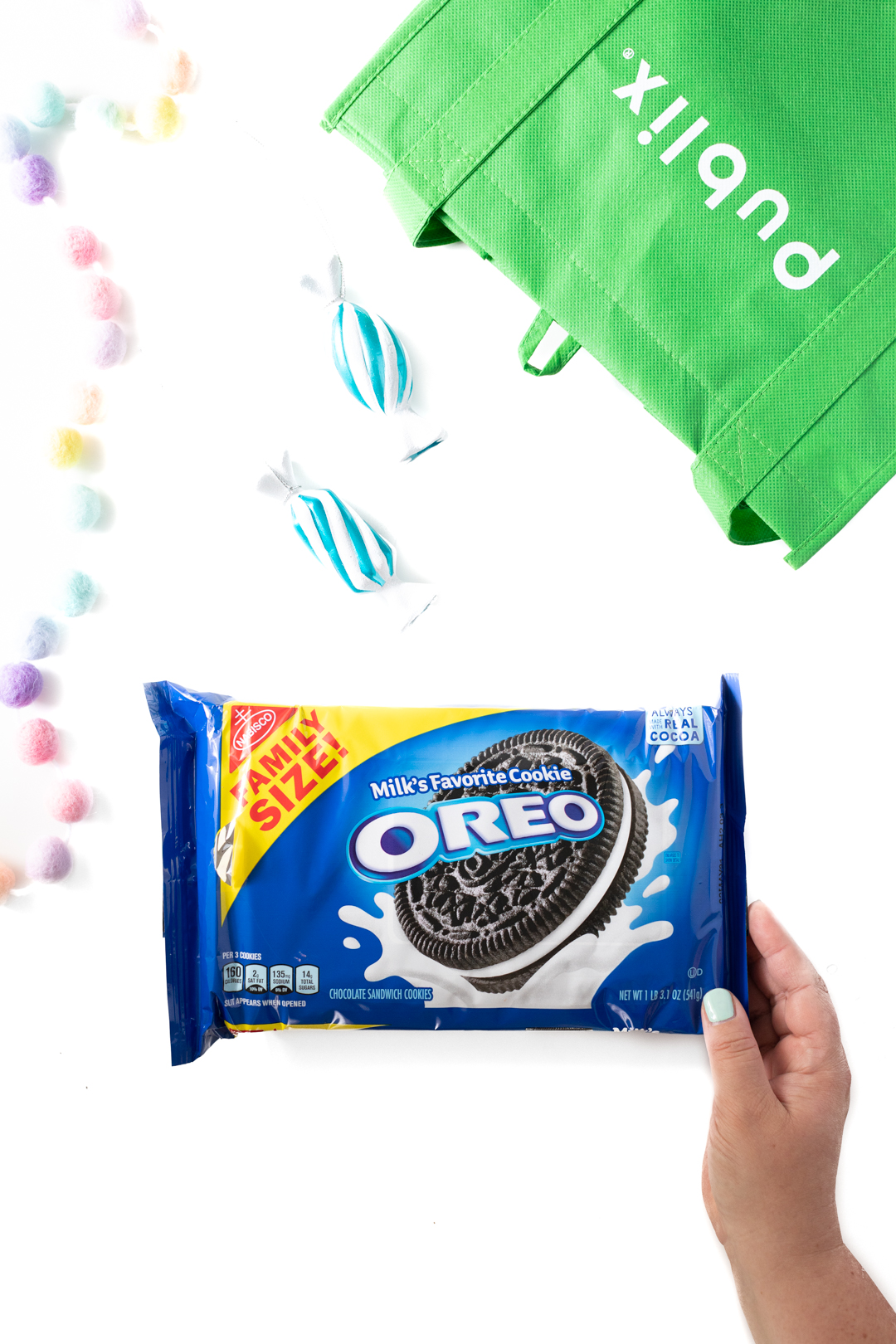 Today's recipe is the basic recipe with added sprinkles to form an eye-grabbing, trendy wreath. For a final pretty touch, I added an edible pink ribbon made out of fondant. This cute idea gives you a chance to serve a totally delicious treat that you know everyone will love already in an all new way. I love making things extra special with such little extra effort. That's a total holiday win.
Let me show you how to make your very own. The beauty is that you can use your own choice of melting chocolate colors, sprinkles and bow. You could actually make many different versions very easily.
OREO COOKIE BALL WREATH RECIPE
The magic starts with a trip to Publix to grab the basic ingredients. I picked up a package of Family Size OREO cookies, cream cheese and white melting wafers. Add sprinkles to your shopping list if you don't have any on hand.
To start creating this yummy recipe, you need to crush your OREO cookies.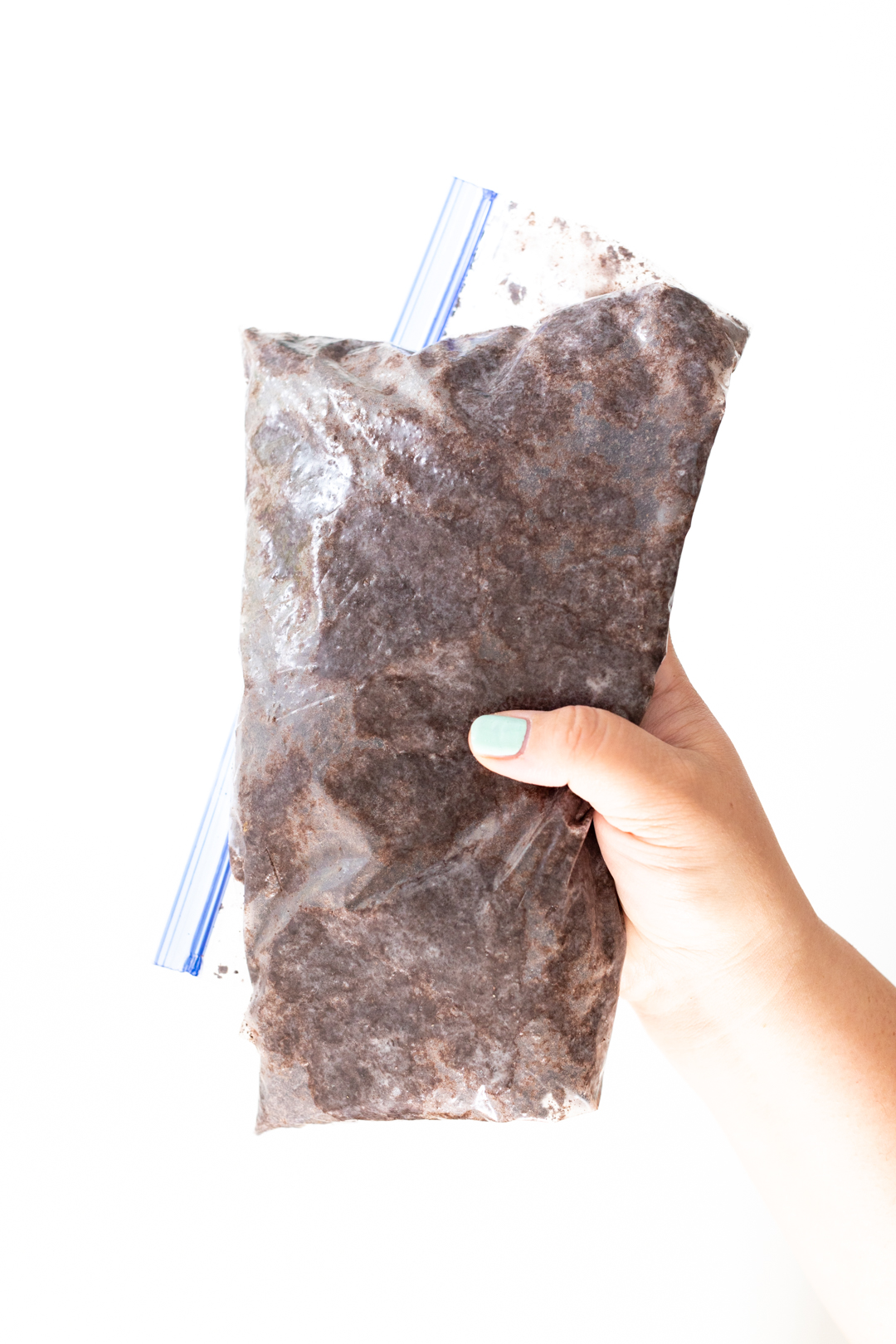 I like using a rolling pin and gallon-sized bag for less cleanup, but it might be easier pulsing in a food processor. You want to crush them finely for a nice smooth cookie ball. Then, blend the cookie mix with softened cream cheese.
Next, you will form 40 small balls that are 1″ in size. Once you have rolled the balls, store them in the freezer for 10 minutes. Then, you will follow directions on your melting wafers for the best method on melting to perfection. It's all about dipping each ball to perfection and then setting in the refrigerator for an hour before assembling into a wreath.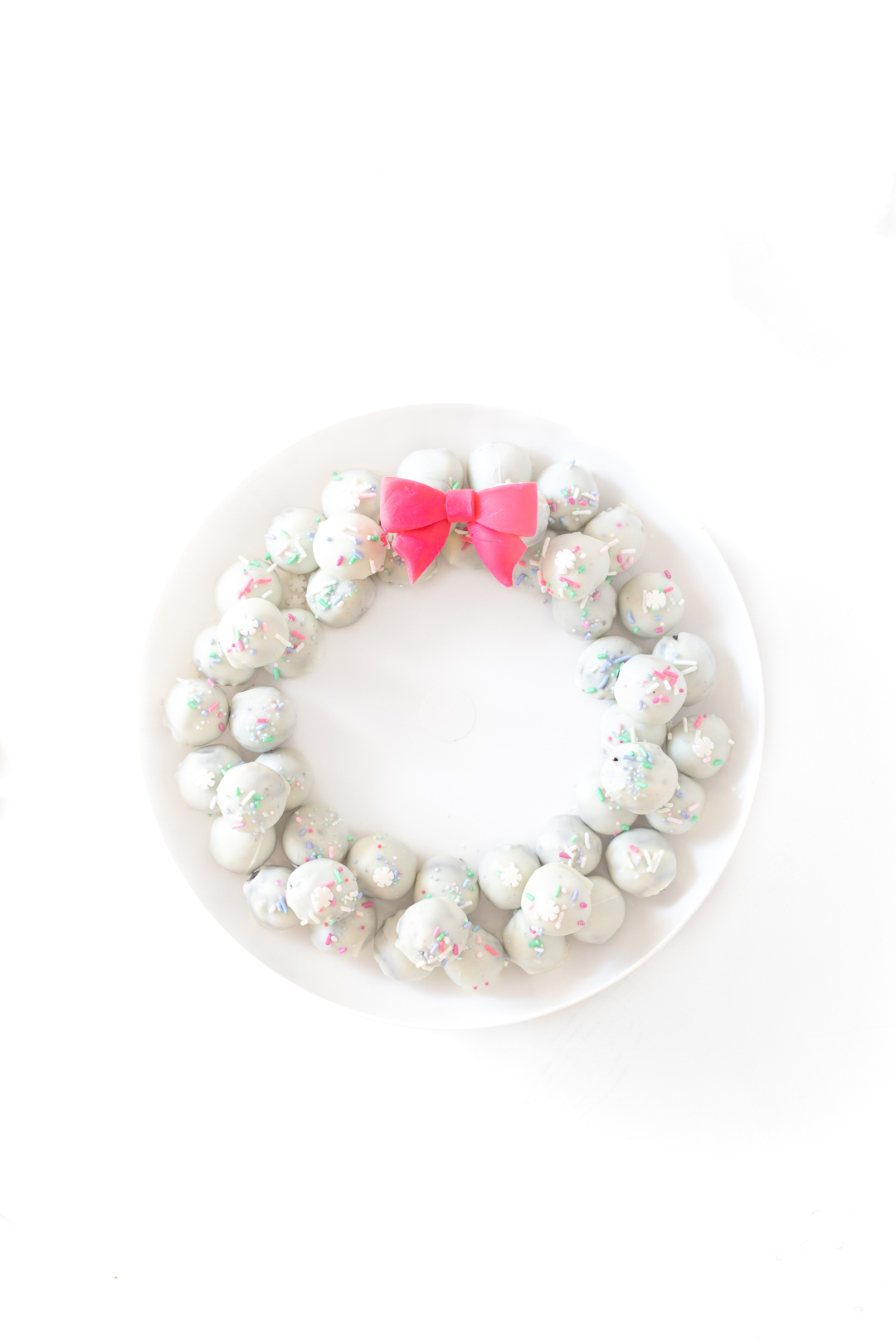 That is the perfect time to make your fondant wreath if you are adding one. You will need a silicone ribbon mold, or you can roll out your fondant and create your own if that floats your boat. I love the bright pink colored fondant that I used to make this really pop.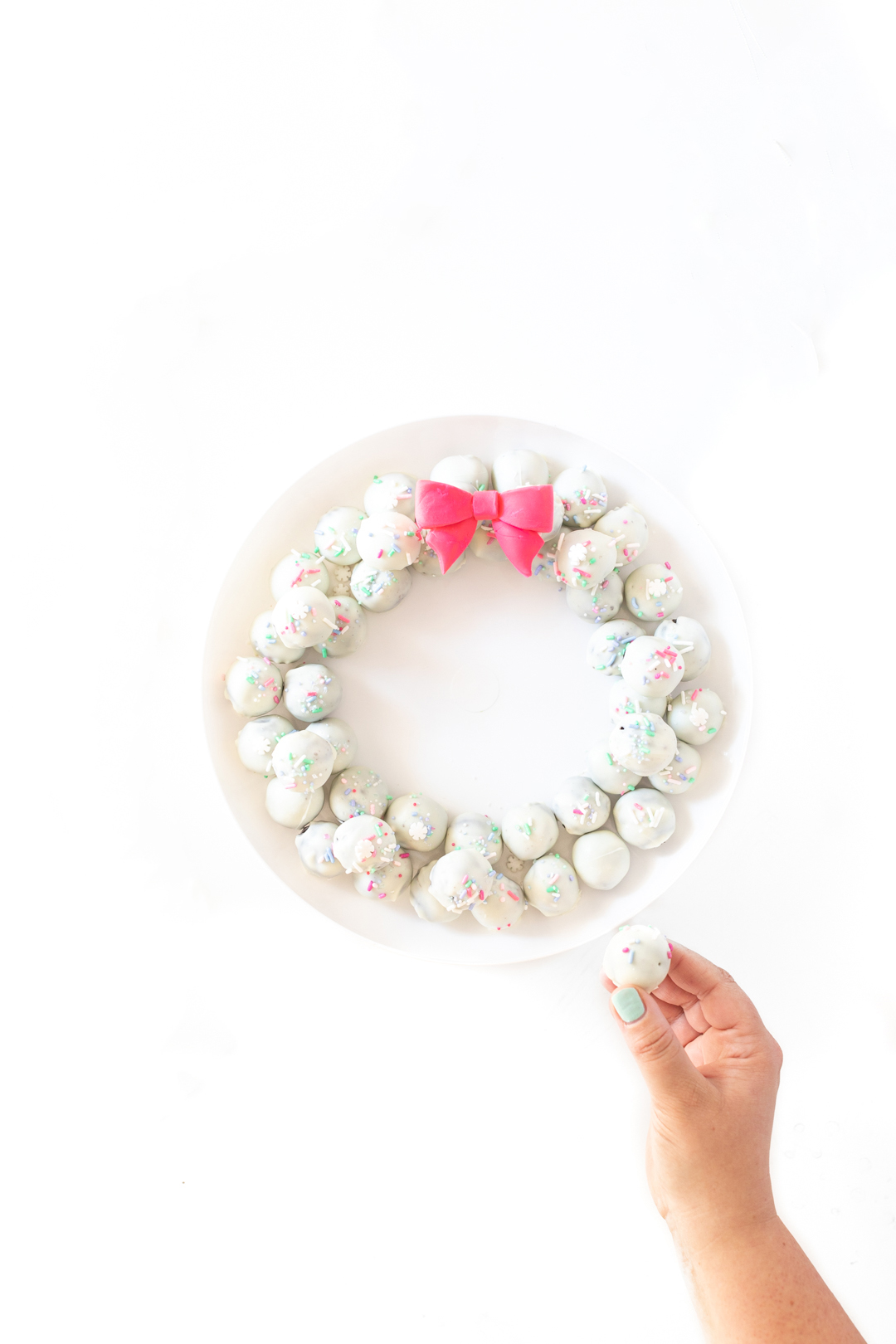 Keep your platter refrigerated until you are ready to serve them. They are SO amazing when perfectly chilled.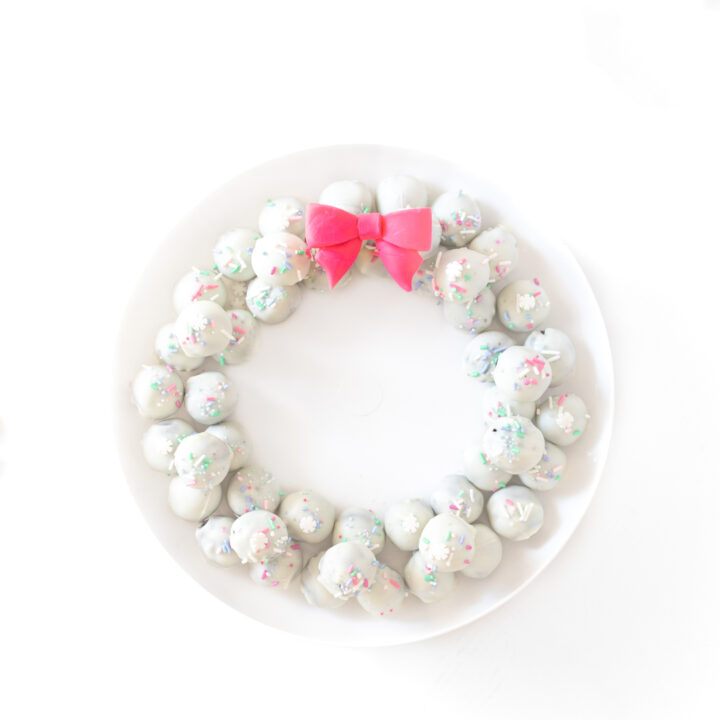 OREO Cookie Ball Wreath
Dessert wreath made with OREO Cookies.
Ingredients
1 pkg. (8 oz.) brick cream cheese, softened
36 OREO Cookies, finely crushed
16 oz. white candy coating wafers, melted
Pastel Sprinkles
Pink Fondant
Tool: Fondant Ribbon Mold
Instructions
Mix cream cheese and cookie crumbs until fully blended.
Shape into 40 (1-inch) balls.
Place cookie balls onto parchment lined baking sheet.
Freeze for 10 min.
Melt Candy according to package directions.
Dip the cookie balls into melted candy and cover completely. Place on the backing sheet.
Refrigerate for one hour or until cookie balls are firm.
Arrange the cookie balls in circle on a round serving plate to resemble wreath.
Place fondant or candy bow on top.
Hope you love this festive idea as much as I do! It's ready in just an hour!
Be sure to shop Publix and add Family Size OREO cookies to your list!
Save $1 off any 2 OREO Family Size Cookies at Publix between 12/5/20 and 12/18/20 and make sure to check out the savings online here!