Layered Peppermint Pie is the perfect holiday dessert. This simple pie is as delicious as it is easy to make. This beautiful, festive, light, fluffy, delicious dessert will make you wonder why you haven't seen more of it in past Christmases!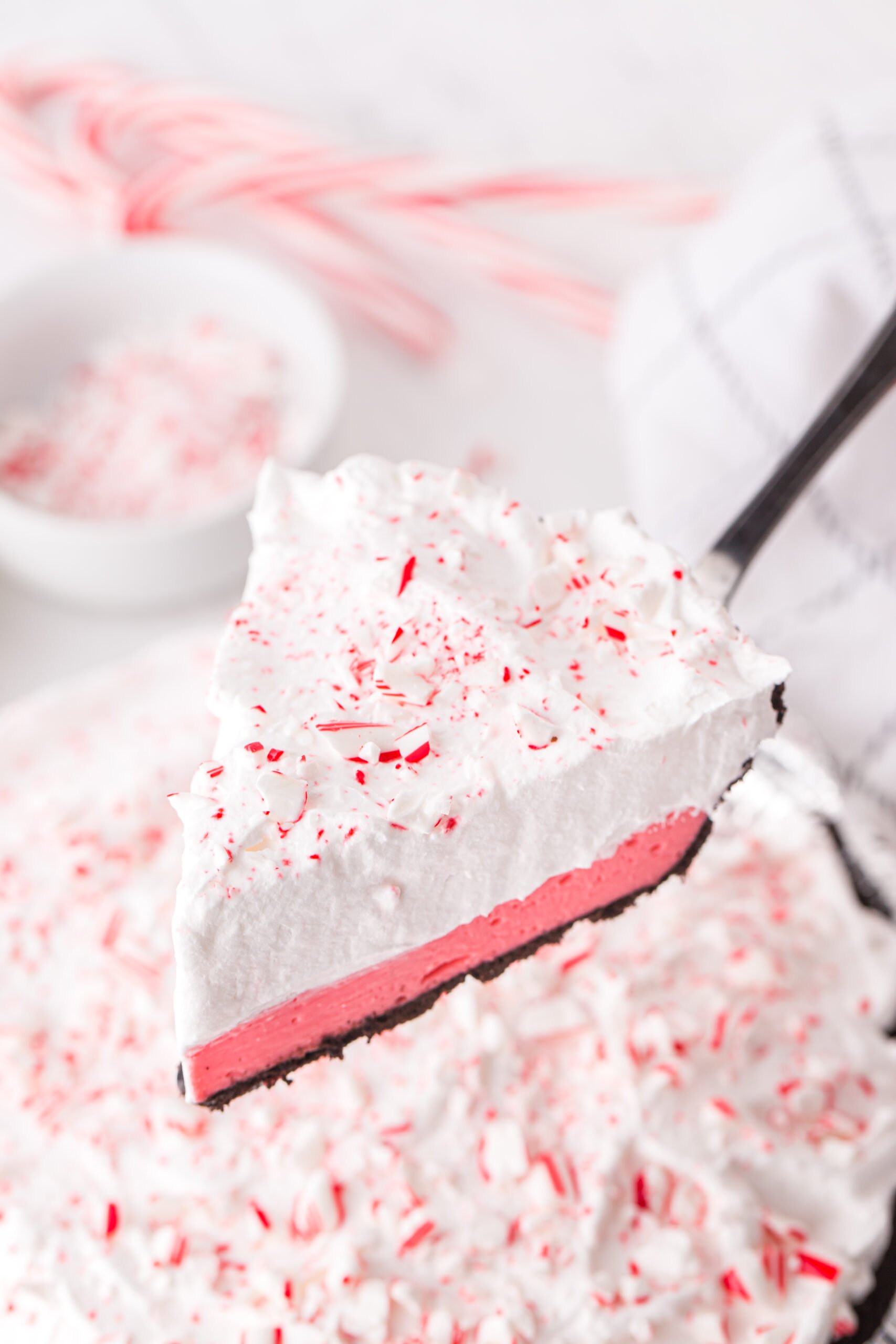 With the hustle of the holiday season, it's easy to get lost in it all. But this easy peasy holiday pie will let you know why we do it all with just one bite. If I could capture the season with one dessert, this is really it.
Bonus. The pretty pie layers will wow everyone.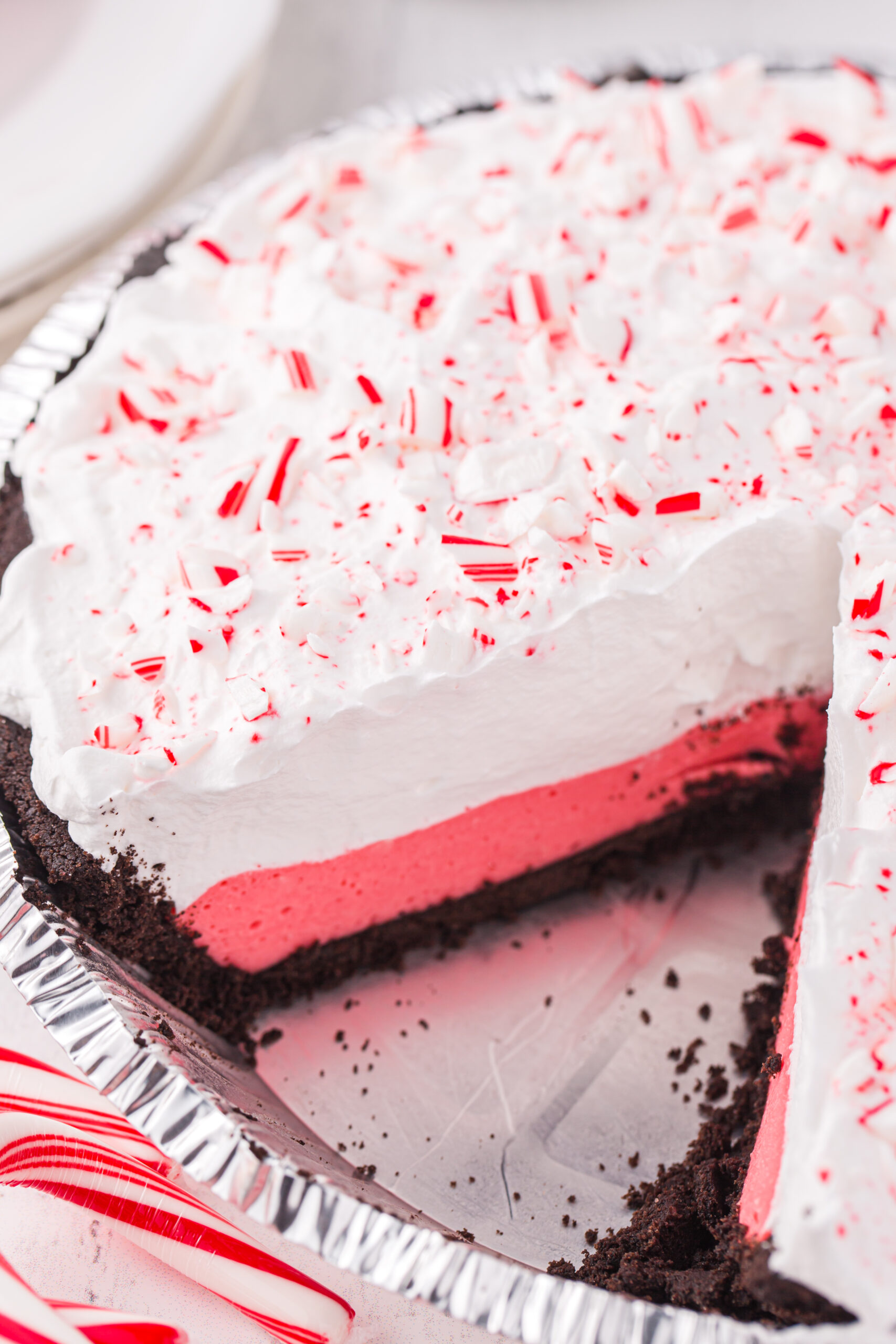 This pie uses an OREO crust which is the perfect balance of flavors, but feel free to experiment with your own favorite crust.
LAYERED PEPPERMINT PIE RECIPE
This easy no bake peppermint pie results in a gorgeous show-stopping holiday dessert. It will look beautiful on your holiday table. Let me show you what you need to make this and then we'll go over the very simple instructions.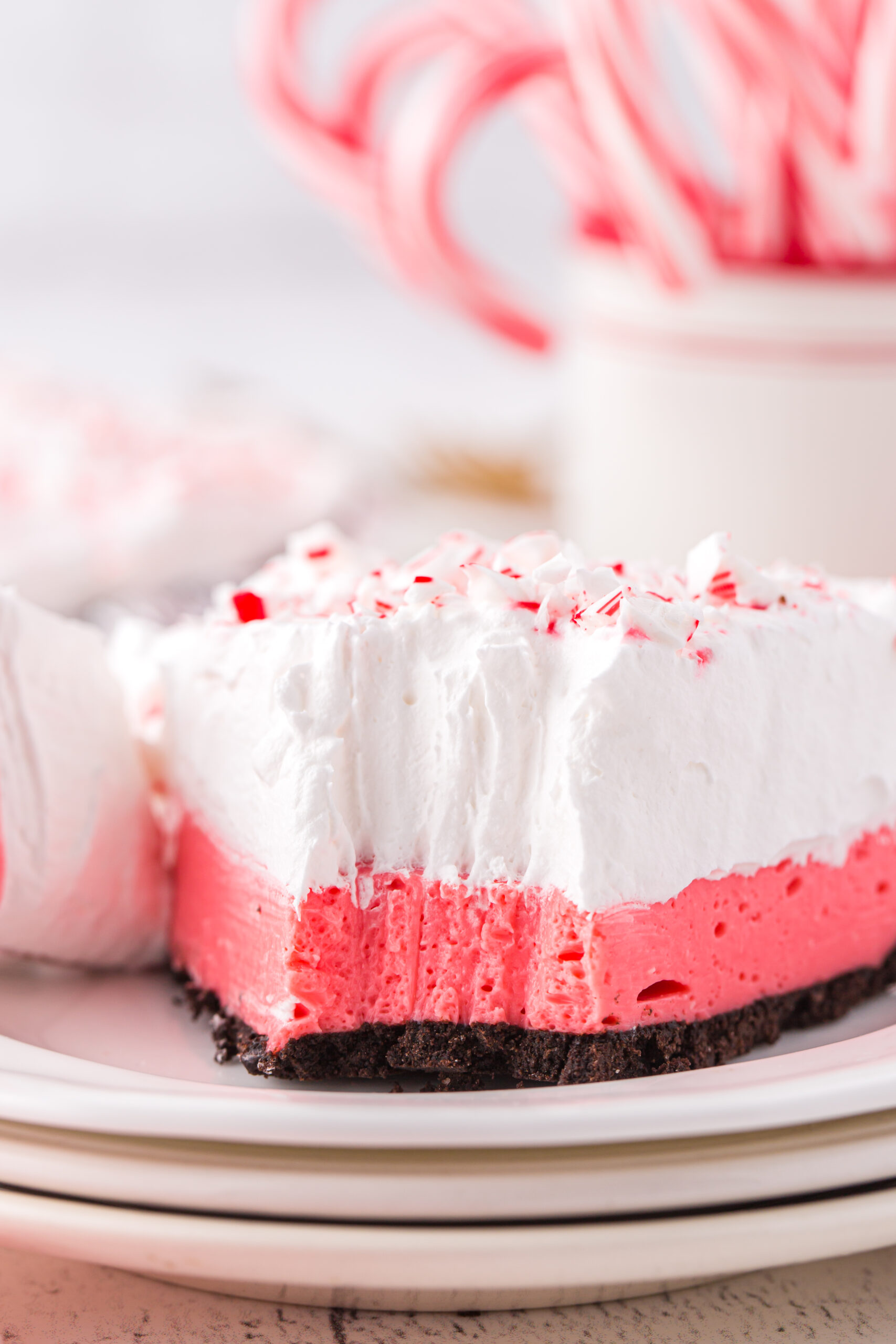 LAYERED PEPPERMINT PIE INGREDIENTS
Here are the simple ingredients needed to prepare this layered peppermint pie. Scroll down to the recipe card to find the exact measurements.
OREO Pie Crust - Pre-made OREO pie crust: You can make a homemade oreo pie crust by crushing OREO cookies and combining them with melted butter and letting it cool in the refrigerator. Or you can buy or make a graham cracker crust.
Cream Cheese
Large Marshmallows - Feel free to use small marshmallows, but you will need about 60. Use more marshmallows if you want a thicker layer on the bottom of the pie.
Half & Half - Use milk and/or heavy cream as a replacement here.
Peppermint Extract - Mint extract works just as well.
Red Food Coloring - You only need a few drops to create a nice pink shade.
Whipped Topping - Homemade whipped cream can also be used. It uses cold heavy cream and powdered sugar.
Peppermint Candies - I recommend using candy canes because they are easy to crush.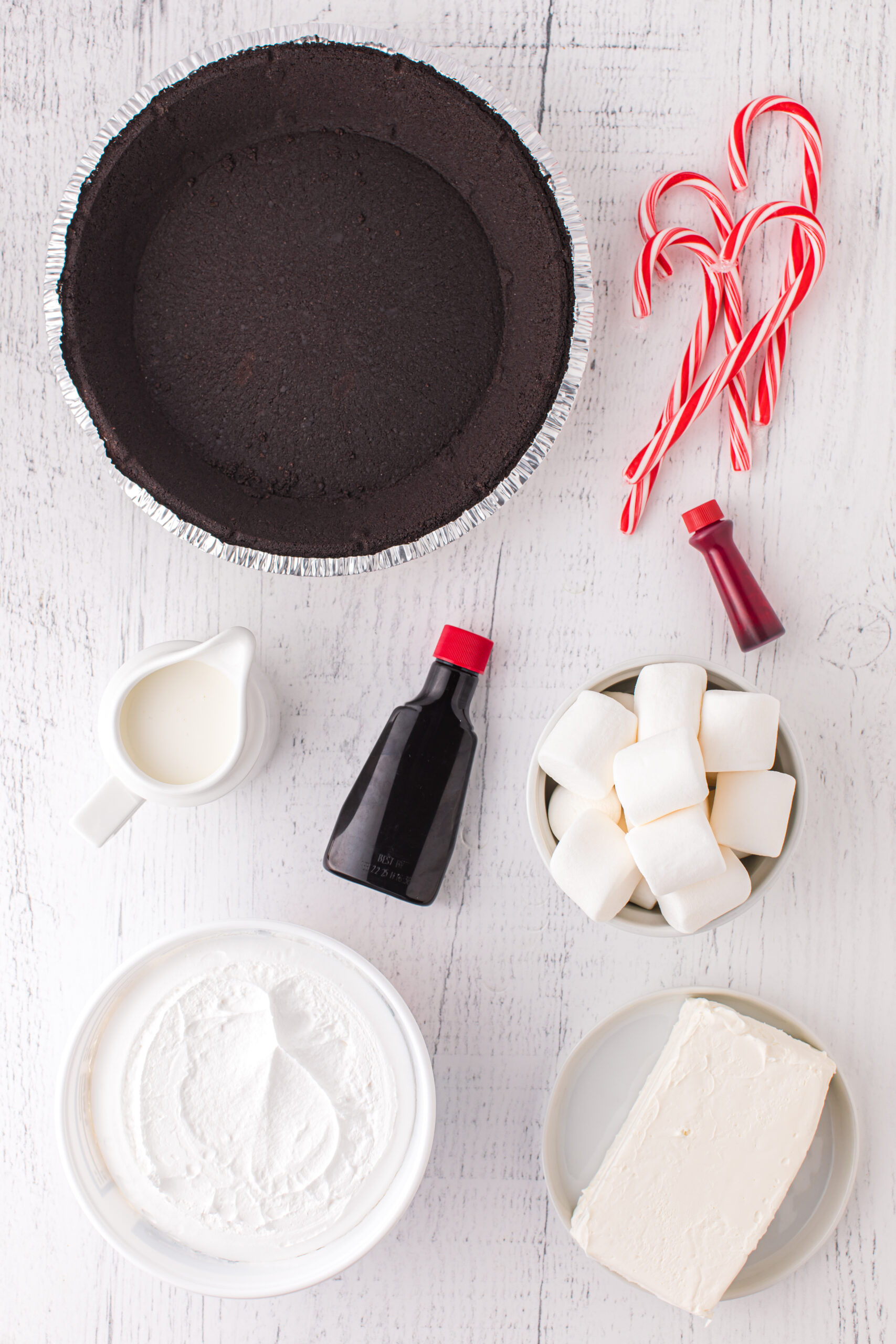 HOW TO MAKE LAYERED PEPPERMINT PIE
This pie is super quick to make in just about 20 minutes before letting the pie set. The steps are super simple to follow. Be sure to print off the photo card below to get the exact instructions.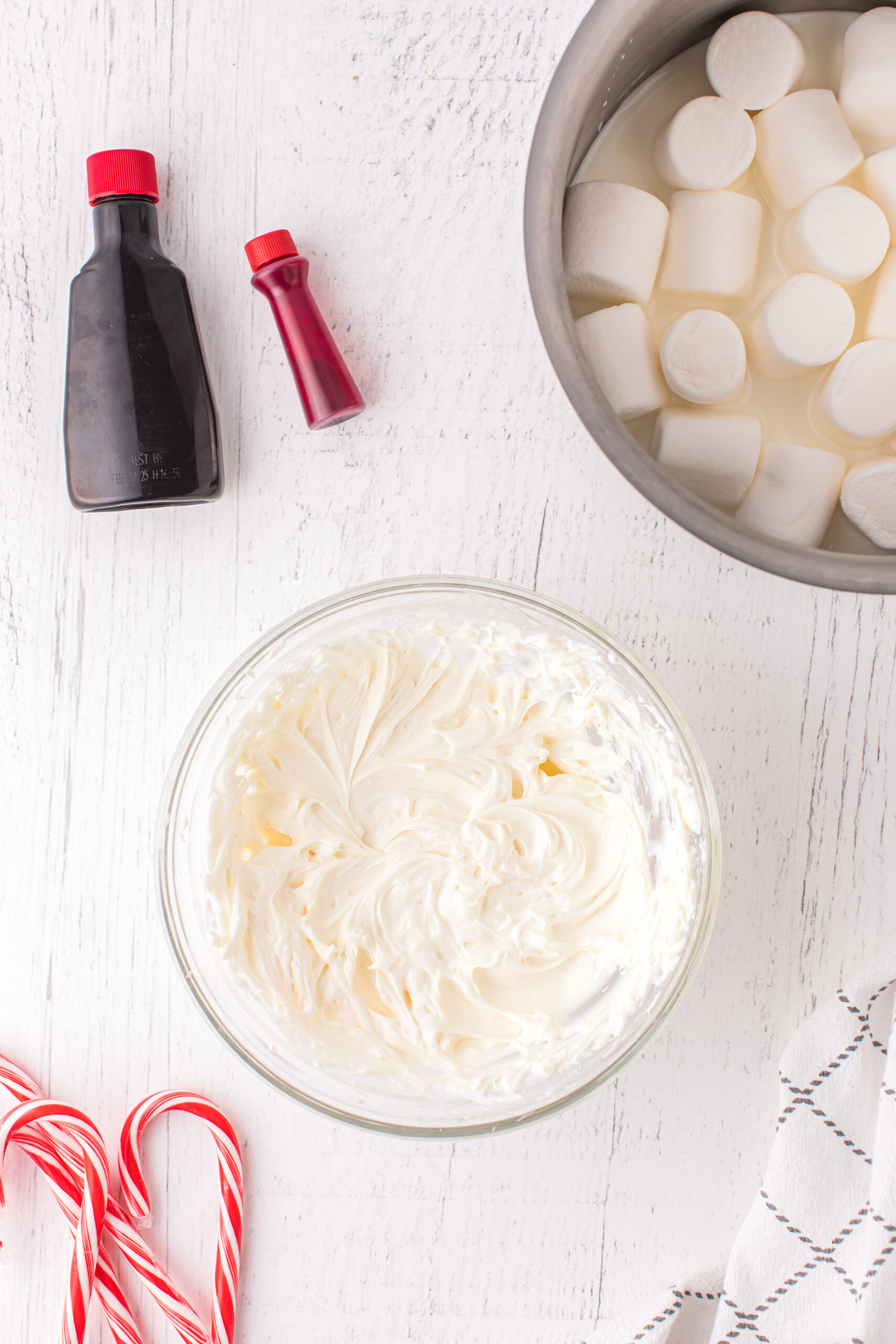 Start out by beating the cream cheese until it's fluffy, then set it aside.
Then, it's time to heat the marshmallows which we will do over medium heat. We will stir them until they are completely melted.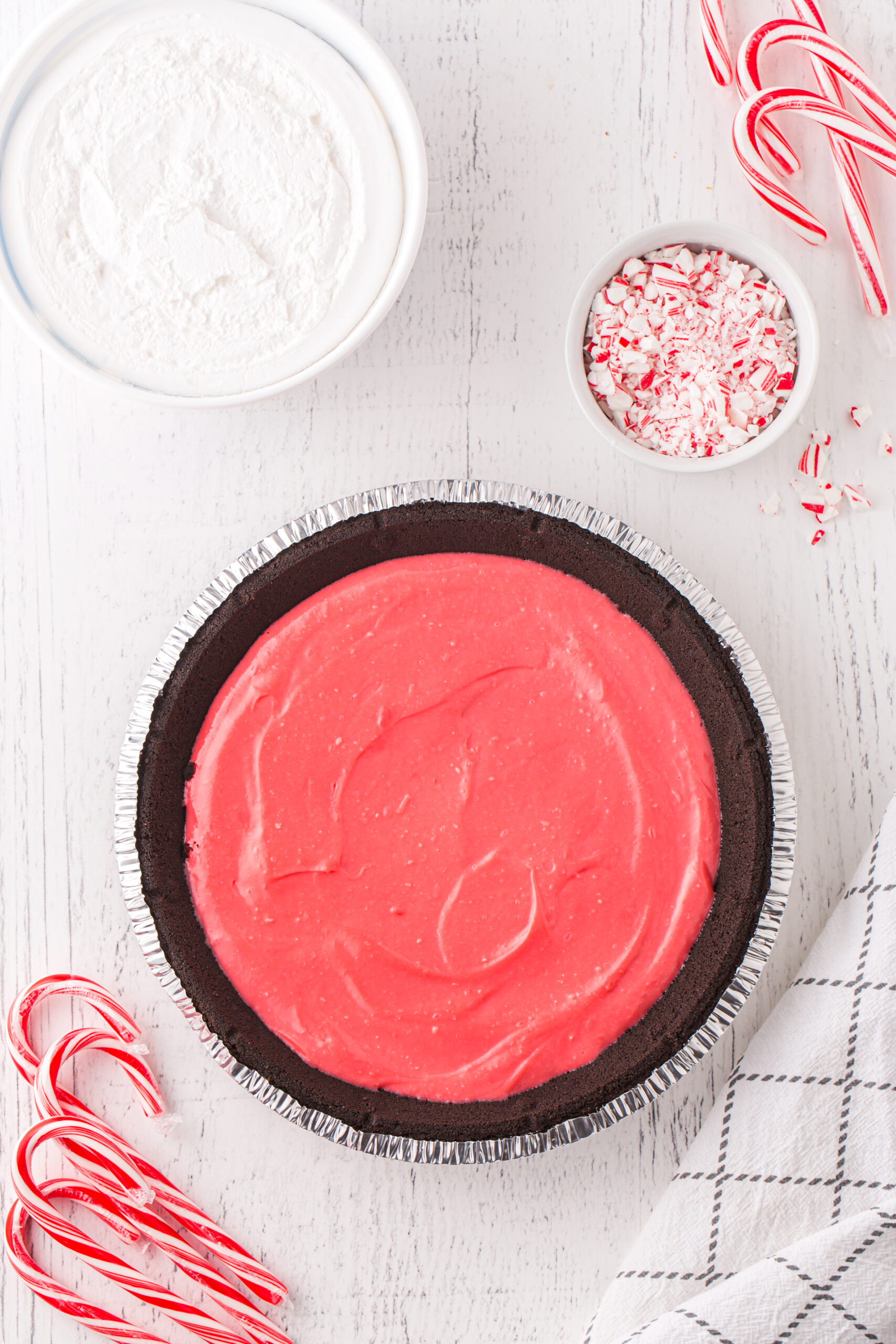 Next, remove the marshmallows from the heat and add the peppermint extract and food coloring. Once that mixture is cool, we will be whisking the cream cheese into the mixture.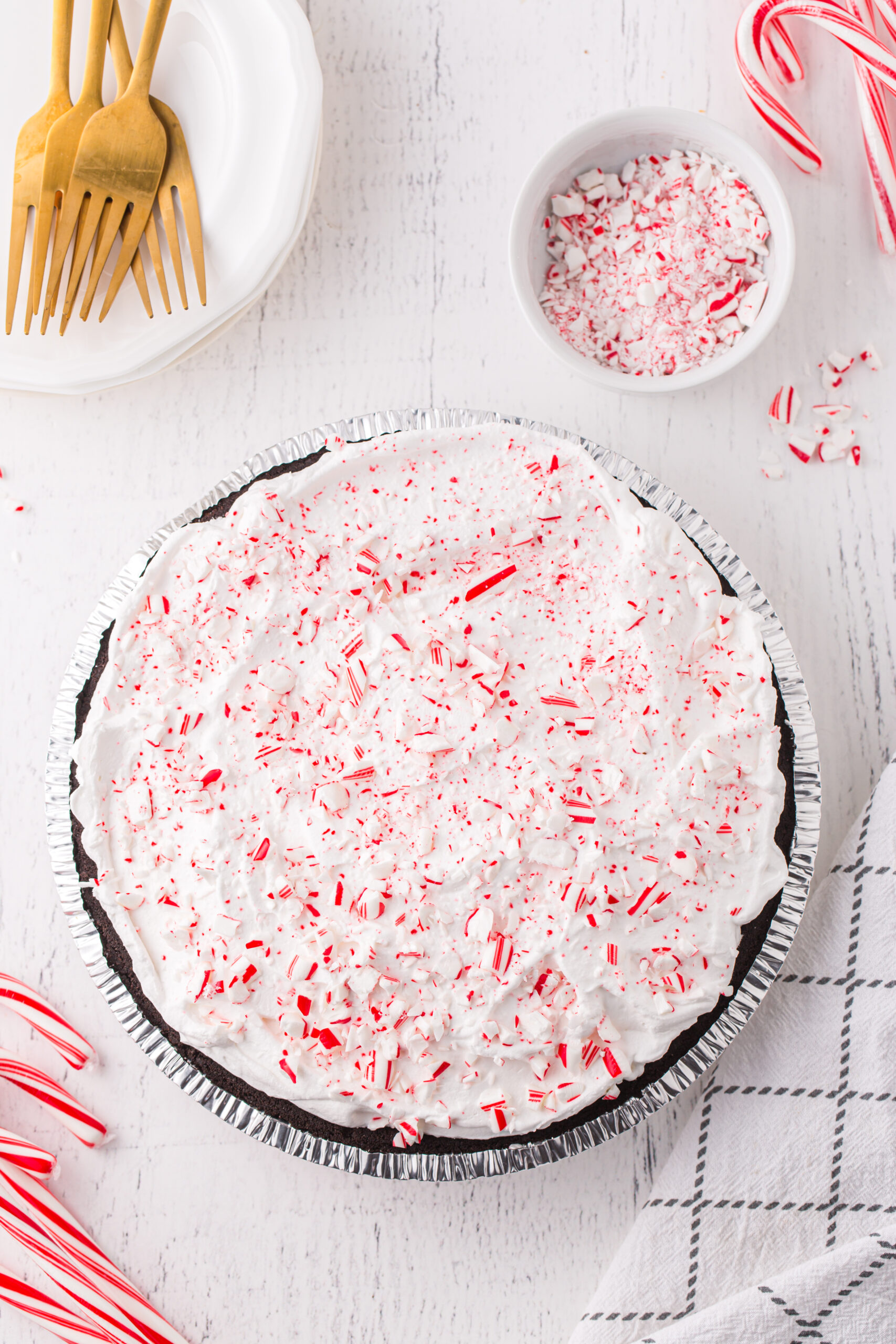 Then, it's time to spread into the pie crust. This is when we need to set the pie in the fridge for a good 2 hours or even overnight.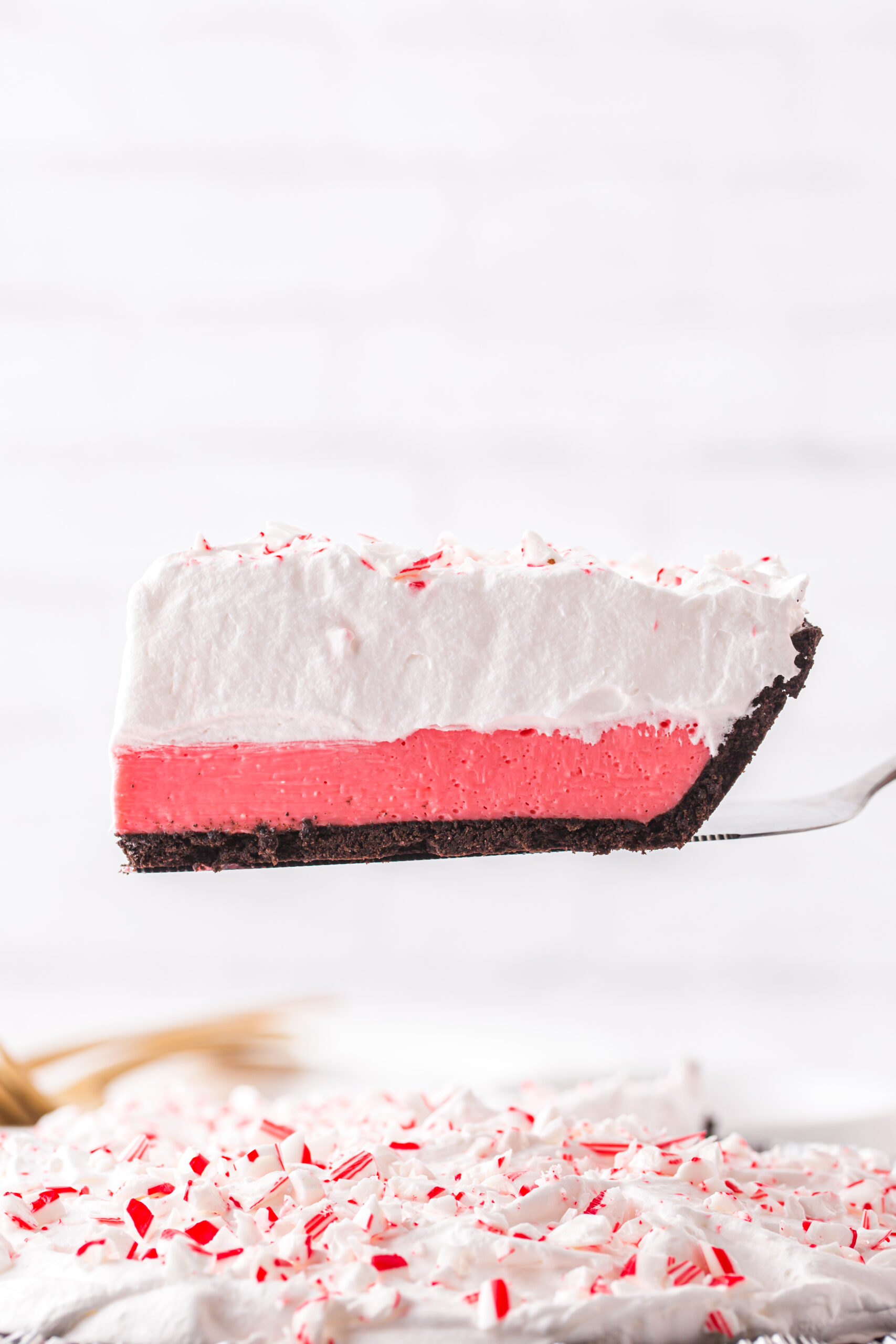 Finally, top the pie with the whipped topping and sprinkle crushed peppermint over the top.
Serve this yummy pie nice and cold.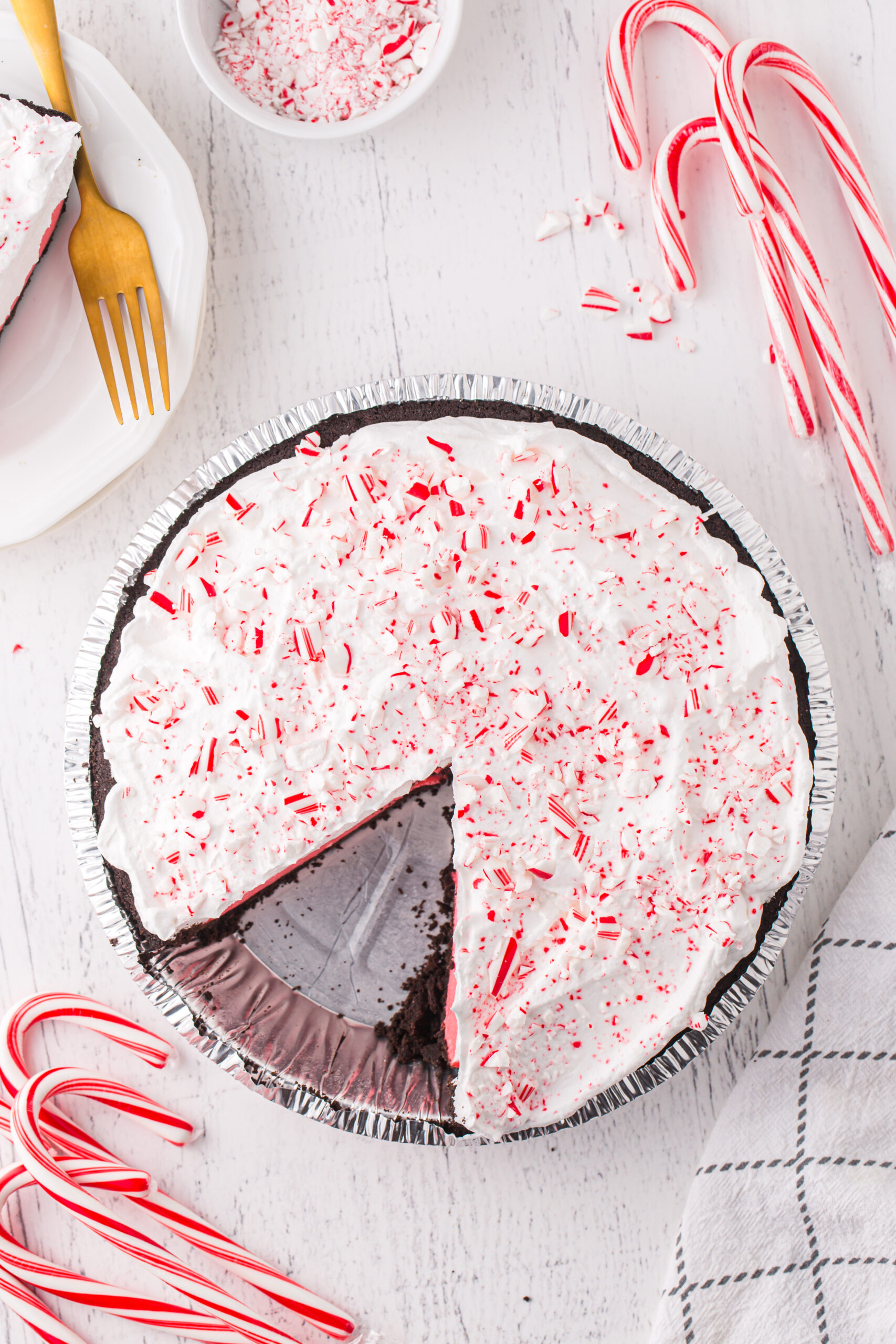 HOW TO I STORE THIS PEPPERMINT PIE?
You can store this Peppermint Pie in the refrigerator. Cover it well and it will keep for 3-4 days. If you decide to freeze it, make sure you don't add the peppermint candies.
DO I REALLY NEED THIS MUCH WHIPPED TOPPING?
I personally love whipped topping, and could eat loads of it. However, if you would prefer to have more of the marshmallow layer, you can add an extra 4 ounces of cream cheese and another 10 marshmallows for a thicker bottom layer. Decrease the amount of whipped topping by half, and enjoy the new proportions!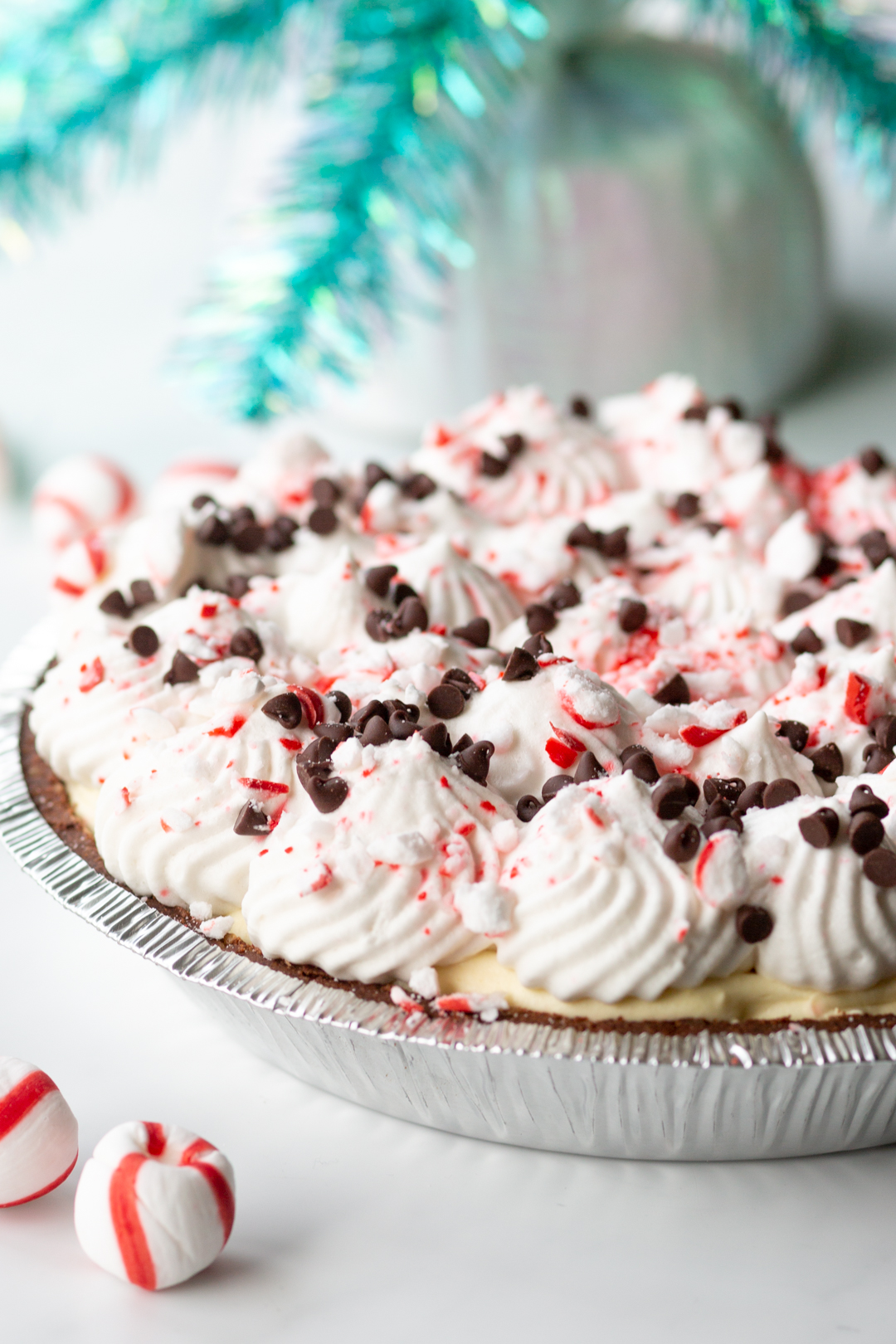 If you love a pudding pie, you might also love my Peppermint Pudding Pie, too!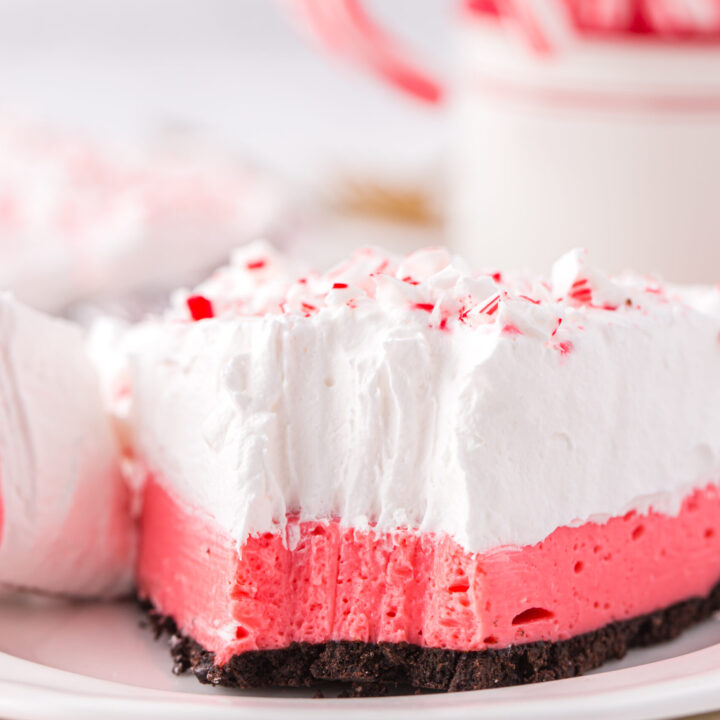 Layered Peppermint Pie
Easy no bake layered peppermint pie featuring an OREO pie crust, large marshmallows, half and half, cream cheese, peppermint extract, whipped topping, peppermint candies.
Ingredients
Crust:
1 (9-inch) pre-made Oreo pie crust
Filling:
1 (8 ounce) package cream cheese, softened
20 large marshmallows (about ½ of a 10 ounce bag)
½ cup half and half
1 teaspoon peppermint extract
Red food coloring
Topping:
1 (8 ounce) tub whipped cream topping
⅓ cup peppermint candies, crushed
Instructions
Use a mixer to beat the cream cheese until fluffy in a medium sized bowl. Set aside for now.
In a medium sized saucepan, heat up the marshmallows and half and half on medium heat. Stir often until marshmallows are completely melted.
Take off heat and stir in the peppermint extract and desired amount of red food coloring (Don't use too much if you just want a slight pink color on the bottom layer, use more for a Christmas red color).
Allow marshmallow mixture to cool off for about 20 minutes, stirring every five minutes or until cooled.
Whisk the cream cheese into the marshmallow mixture and then pour the mixture into the pie crust.
Refrigerate 2 hours to overnight or until the pie is set.
Once set, spread whipped topping on top using a spatula. Then sprinkled the crushed peppermint candies on top of the whipped topping. Serve cold.
Notes
Using the entire tub of whipped topping is quite a lot, which you may or may not love. Feel free to use less whipped cream if you prefer.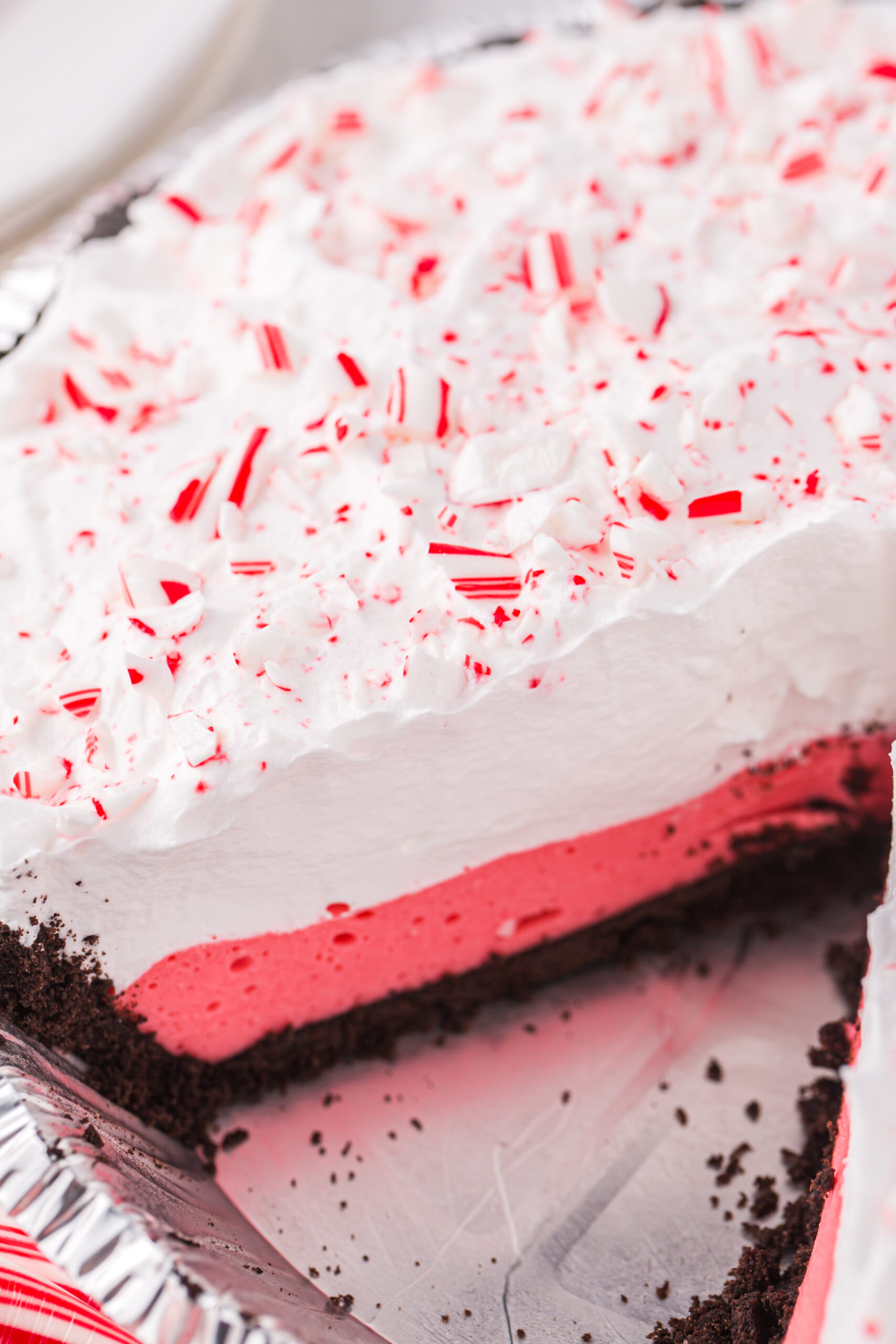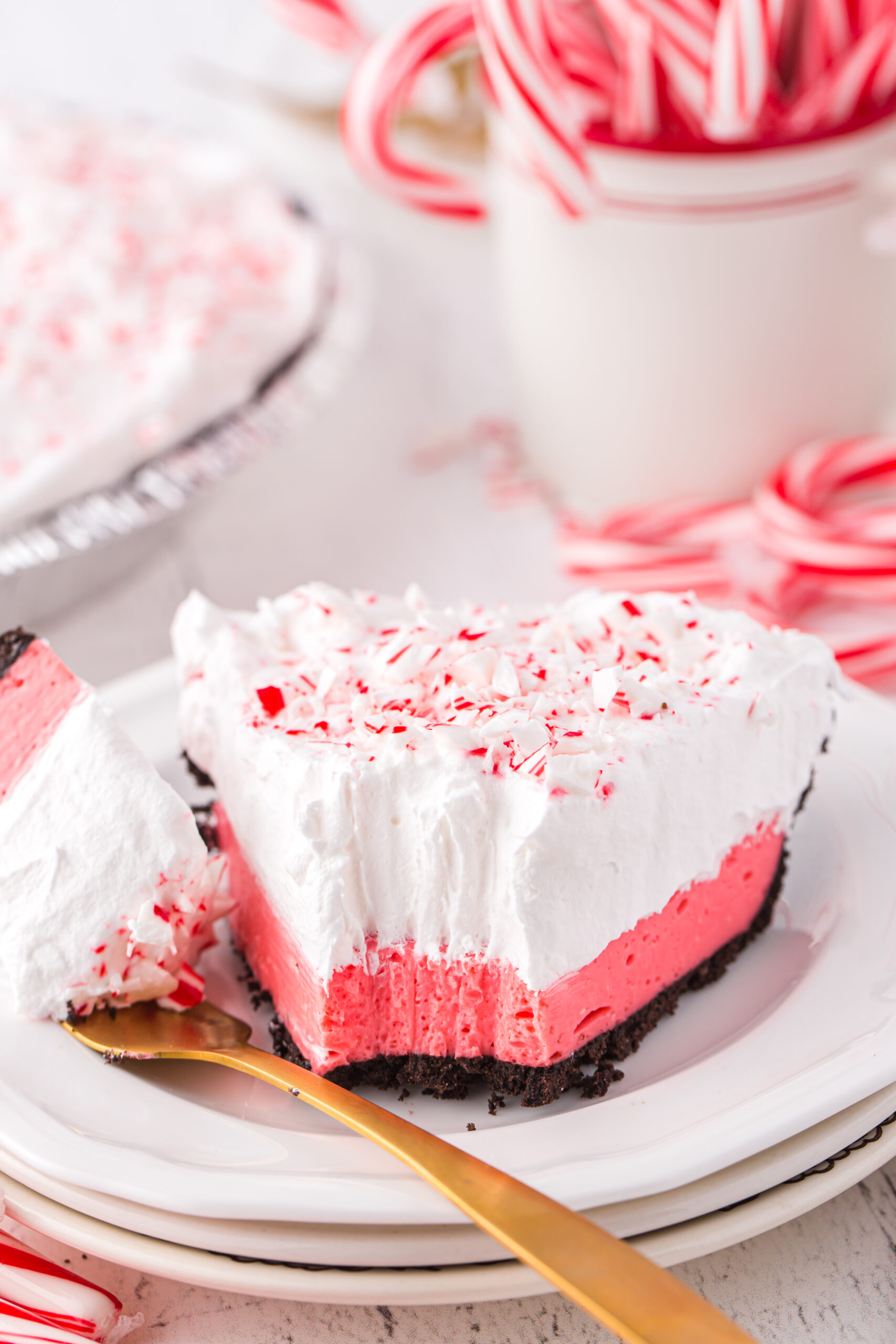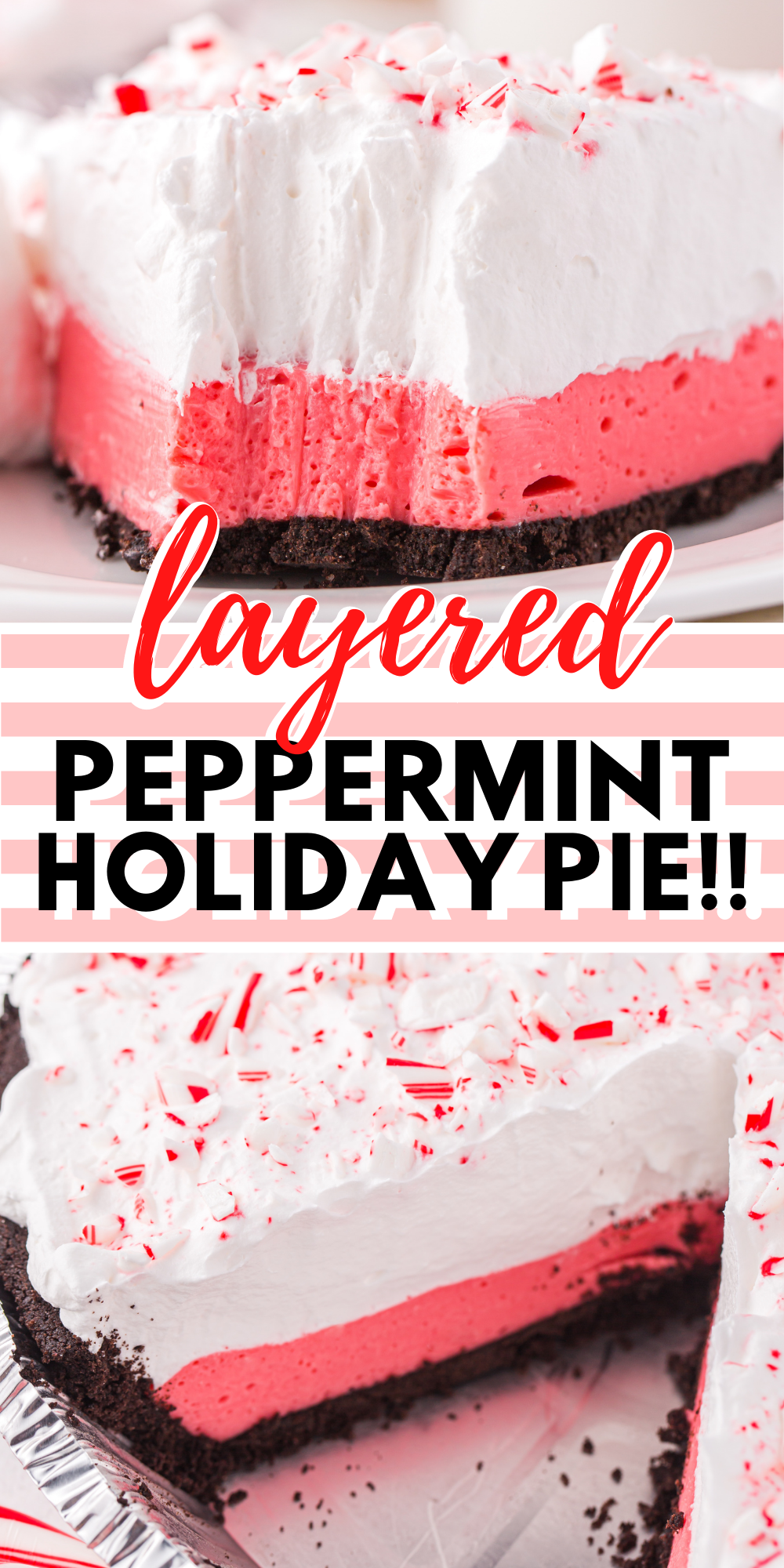 If you like this recipe, please share with a friend or two. 😉