Chocolate milk always reminds me of my childhood and I haven't met many kids that don't love the stuff. Ever since we first heard about TruMoo chocolate milk, my son has been wanting to drink it. He's 14 and still can't get enough of the the stuff. This blog post is part of a paid SocialMoms and TruMoo blogging program. The milk-pinions (opinions) and ideas expressed here are my own.
Knowing that TruMoo chocolate milk uses 1% lowfat milks with no artificial growth hormones helps me feel good about keeping in our fridge. I recently learned that their milk has also been formulated to contain less added sugar and calories than other chocolate milk formulas as well as no high fructose corn syrup. That's something I can feel good about. So, off I went to create something really fun. There are many ways to enjoy the milk, but I wanted to create an ultimate ice cream sundae milk that could be slurped and eaten all at once. Kids will totally love this and I'm not gonna lie, I totally dig it too!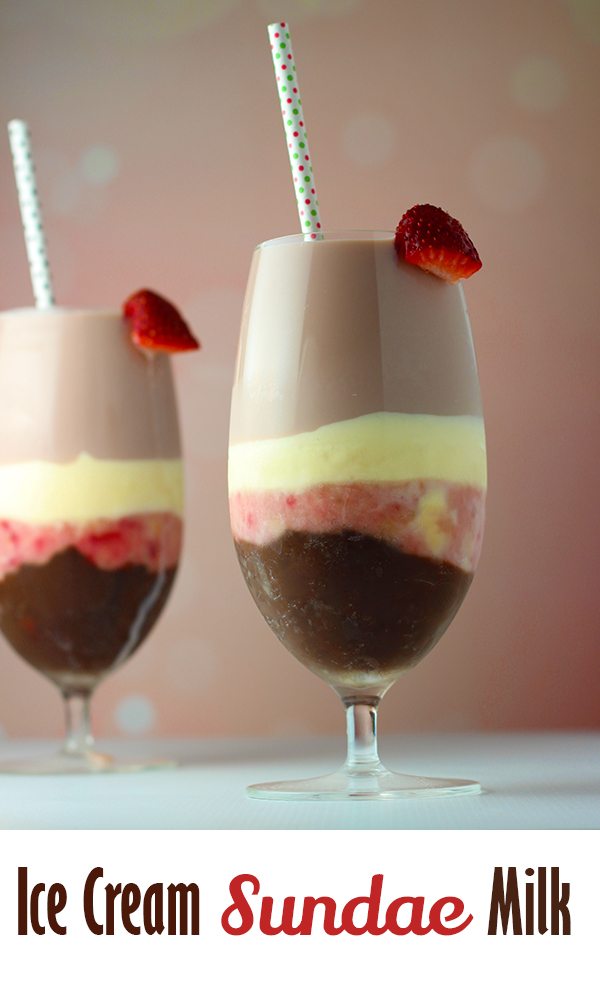 You might be wondering how in the world I layered milk? Well, here is the deal... I gently froze the layers of ice cream goodness at the bottom of my cups first. Then, I poured TruMoo Chocolate Milk on top to serve. It's a fun little "trick" that makes these drinks beyond pretty and a hoot for the little ones. The best part is that you can make them with healthier ingredients like light chocolate fudge or syrup, frozen yogurt and I've also included pureed fresh fruit as well. It's a nice lighter version of an ice cream sundae, yet promises to tickle taste buds everywhere!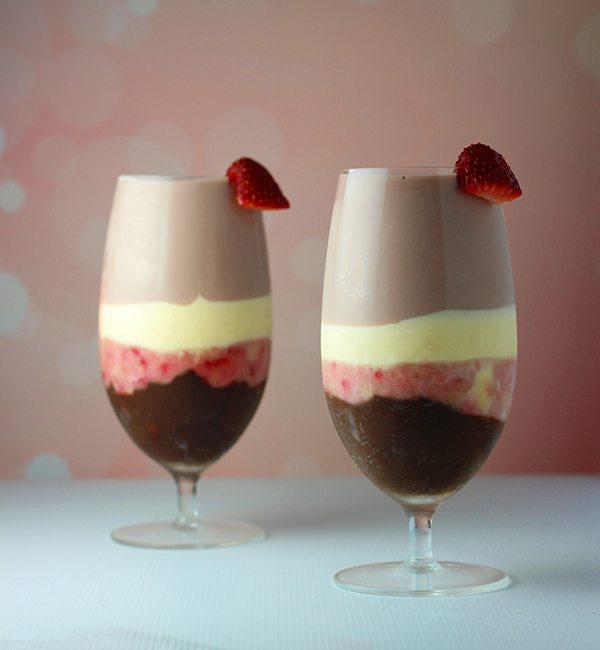 To make these you'll need chocolate fudge or syrup to decorate the bottom of your cups. I used about two tablespoons and "rolled" it around in the cup to make a pretty chocolate coating for the first layer. Then, stick the cups in the freezer to start setting while you create your fresh banana and strawberry puree for layer #2. In my KitchenAid mixer, I combined 3 large strawberries and 1 ripe banana together until lightly pureed. You want to break down the big chunks but still see some of the pretty fruit. Add this layer next. For the last layer, you'll want to use softened up vanilla ice cream or frozen yogurt. Make sure it's soft enough to make a nice and smooth layer. After adding it, keep your cups in the freezer for approximately an hour. You want to make sure the top layer is frozen enough to keep it separated from the milk, yet not frozen solid because the fruit puree will get too hard to eat easily. So, don't keep them in there too long. The last step before serving is to pour TruMoo chocolate milk to fill up the rest of your cup. These are best served with a straw and a spoon!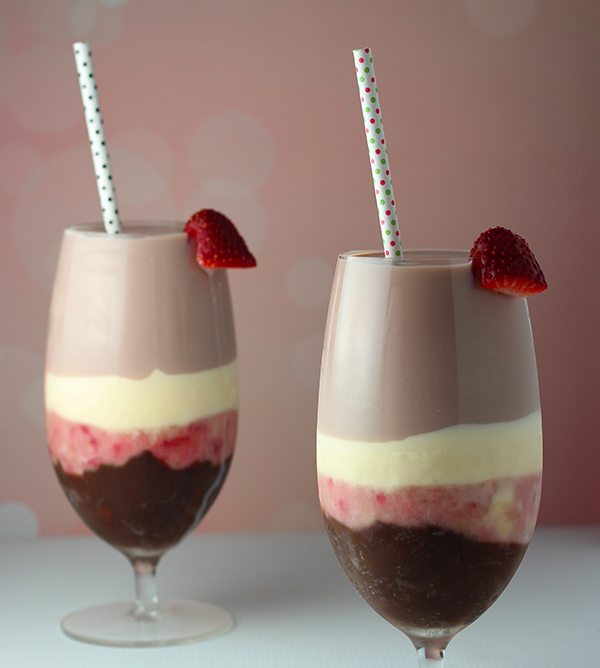 Yum, yum!
Ultimate Ice Cream Sundae Milk Recipe
Ingredients
1 Serving of Chocolate Syrup or Fudge (approx 2 Tbs)
3 Large Fresh Strawberries
1 Medium Ripe Banana
1 Serving of Vanilla Ice Cream or Frozen Yogurt (softened)
TruMoo Chocolate Milk
Instructions
In a large cup, pour your chocolate syrup or fudge into the bottom. Tilt your cup and swirl the chocolate around to create a pretty chocolate layer. Store in your freezer and puree the fresh strawberries and banana. Pour and smooth into cups as the second layer. For the third layer, smooth your vanilla ice cream of frozen yogurt over the fruit. Store in the freezer for approximately an hour. Don't freeze too long, the idea is to have the ice cream/froyo frozen enough to keep it seperate from the milk. You don't want the fruit to freeze solid. When ready to serve, our TruMoo Chocolate Milk on top. Voila!
Want more TruMoo fun, info and recipes? Make sure to like TruMoo Milk on Facebook.
Have you tried TruMoo Chocolate Milk yet? What kind of fun recipes would you create with it?