My mom has been on an interesting diet, per doctor's orders. It's called "The Virgin Diet" and it's not your typical diet plan. Now, your first thought might be… Virgin diet, wha? Surprisingly, the name actually comes from it's author J.J. Virgin so get your minds out of the gutter! The plan scales back the types of foods you can eat with the goal of getting healthy and also ruling out foods that you might be sensitive to. The plan is to drop 7 foods and as a result it says you will also lose 7 lbs in a week. How could it be that bad, right? Can't say that I wasn't intrigued. Could these 7 foods be the magic key to finally dropping unwanted pounds?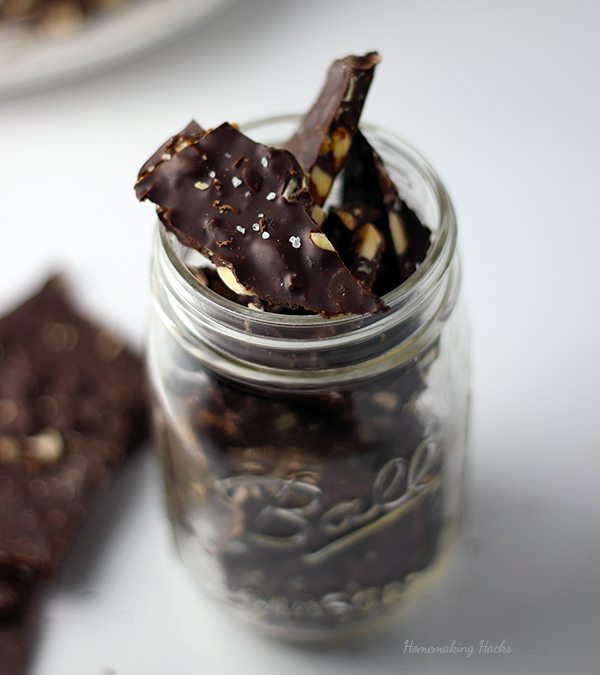 At this point, you probably want to know what those forbidden foods are right? Okay, spoiler alert for those who haven't opened up the book yet, I'm going to share these 7 foods. The diet suggests removing dairy, soy, sugar and artificial sweetener and gluten. The foods that surprised me most were peanuts, eggs and corn. Yeah, what? Truth is, according to the book these foods might be preventing us from losing extra weight. As someone who eats eggs almost every morning, this certainly "could" explain a lot. My diet obsessed brain is perked and listening!
My mom has lost 12 pounds in three weeks. That's about 4 pounds per week so far. Not sure which has me more interested, the weight that could be lost OR this Dark Chocolate Almond Bark recipe that I found in the The Virgin Diet Cookbook?! LOL.
Now you see where this is really going, right?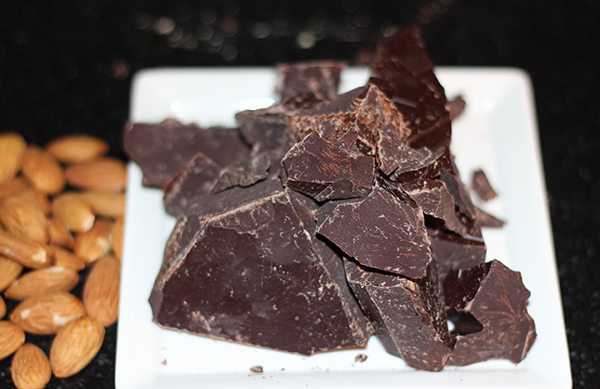 After the initial cycle of the diet plan, you can do trials to re-introduce some of the foods to see if in fact they are irritating to you. After all of this fun trial and error, you can eat Dark Chocolate each week. That's right!
So, that is where I am. Haven't done the diet, but I'm somehow thinking about the delicious dark chocolate I could consume IF I had. *mouth waters*
My hubby is also a big fan of dark chocolate, actually he is the reason I started loving it too. After I wolfed down tried some of this fabulous bark, I did myself a favor and packed his up to hide in his office. It's addictive! I picked my ingredients for this at Whole Foods Market in Cranston, Rhode Island. It was a bit pricey, but so worth it. I was able to by a big old slab of 70% dark chocolate, raw almonds and coarse sea salt for the recipe. You can certainly swap out for more convenient ingredients at your local store, no worries! As long as your measurements on on point, the bark should be tasty!
Want this fab recipe? Happy bark-ing! So easy with only 3 ingredients!
Recipe adapted from The Virgin Diet Cookbook.
Dark Chocolate Almond Bark with Sea Salt Recipe
Ingredients
1 Cup of Raw Almonds
12 oz Dark Chocolate
1/3 Tsp of Coarse Sea Salt
Instructions
If using raw almonds, preheat your oven to 350°F (if you opt to use roasted almonds, you can skip this part). Place raw almonds on a baking sheet, spread them out. Bake for approximately 10 minutes or until lightly toasted. Let cool completely, then chop coarsely and put aside. Put three-fourths of the dark chocolate in a microwave safe bowl. At intervals of 15 seconds, melt the chocolate and promptly stir and repeat until the chocolate is melted. Add remaining chocolate and mix until completely melted together. Add the chopped almonds and pour the mixture into a non-stick baking sheet or pan. Sprinkle evenly with the sea salt. Set the chocolate in the refrigerator until it is set. This could take up to 30 minutes. Once the chocolate is solid again, you can break the bark into pieces and serve!
7.8.1.2
91
https://cutefetti.com/dark-chocolate-almond-bark-with-sea-salt-recipe/
So easy and decadent! Have you ever made chocolate bark? What did you put in yours?