Do you like to celebrate St. Patrick's Day? I sure hope so, because I have some cute and simple ideas that I'll be sharing over the next couple of weeks. I was really sad that I didn't get to share many Valentine's Day projects because I was smack in the middle of moving. Actually, who am I kidding. I am still really sad about that. So, now that were (mostly) settled in our new home, I am definitely not letting St. Patty's Day go un-celebrated! That's a big ole promise! This post contains affiliate links. I will earn a commission if products are purchased through these links. Any links to products shared are things that I've personally used and feel comfortable sharing them with you.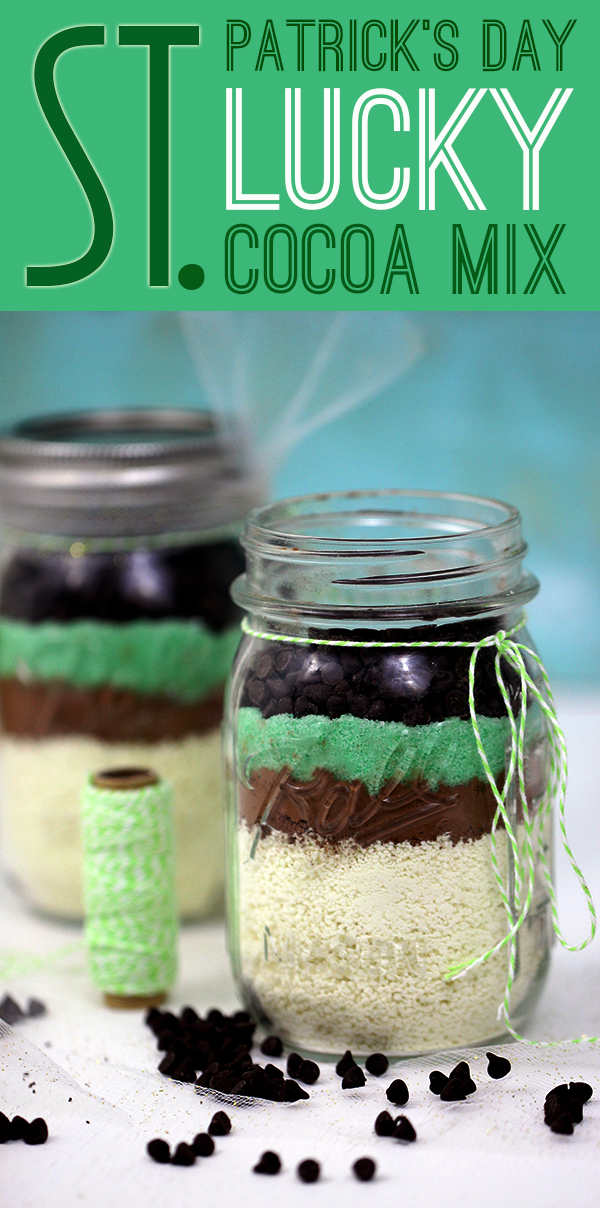 Out of the few V-day projects that I shared was a quick hot cocoa gift made with pink sugar for a festive touch. The original recipe was adapted from the ➘Make it in a Jar book. When brainstorming for St. Patrick's Day ideas, I thought it would be cool to make the same cocoa gift jar but with green sugar instead. This cocoa is seriously good too, the ingredients are spot on and the real chocolate chips add extra oomph to it. My son was really impressed with it and he is apparently a hot cocoa connoisseur all of a sudden. *wink*.
To simply color sugar, all you need is some food coloring. It's really easy to do.
Making Green Sugar
To make green sugar, you simply use white granulated sugar and green food coloring. For this recipe I used 16 drops and blended with 1.5 cups of sugar. After adding the coloring to your sugar, take a spoon and press and fold the color into your sugar until it's fully blended. This will take about 5 minutes or so. While you are preparing your other ingredients for this mixes, spread your sugar out on a baking sheet and let dry a bit. When adding this much color, the can get a little wet and lumpy. Allowing it some dry time will do the trick. You can also do this whole step in advance if you want. If you want a darker green, you can add even more drops of food coloring. If you do, be sure to allow more drying time. The more you add, the more "wet" the sugar will be.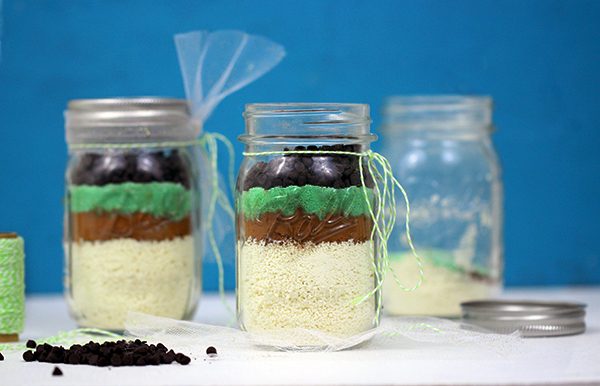 St. Patrick's Day Hot Cocoa Mason Jar Gifts
Recipe adapted from: ➘Make it in a Jar
This recipe makes: 6 pint sized mason jars with 6 servings each
Ingredients:
6 cups instant dry milk
1.5 cups unsweetened cocoa powder
1.5 cups green sugar (see directions above)
1.5 cups chocolate chips (or for an extra flair, you could add these mint chocolate chips)
Directions:
Divide ingredients and pour even amounts into each jar.
➘The measurements work out to be 1 cup of instant dry milk, ¼ cup of cocoa powder, ¼ cup of green sugar and ¼ cup of chocolate chips in each jar.
➘This mix keeps for up to 6 months in a cool, dry place. Important! I left some of my jars near a window and the chocolate chips started melting.
➘Make sure to include these directions for serving with your gift. Would be great to write on a sticky label for the top of the jar or on a note tied up with string around the jars.
"Pour the contents of the jar into a medium bowl and mix to combine. For each serving, put 3 tablespoons of the mix into a mug and add ¾ cup hot water or milk. Stir until the mix is completely dissolved. Serve immediately."
Check out some more simple St. Patrick's Day ideas!
How do you celebrate the green holiday? Would love to hear some of your fun craft and recipe ideas!